Hello and welcome to the 100k Cloner Review.
Have you seen this product that claims to help you generate hundreds of dollars per week?
You have probably already read some positive reviews about the 100K Cloner, but you are not quite sure whether this is a good deal or not.
I am glad you do your research and don't believe the first review you read.
(If this happens to be the first review you read about 100K Cloner, after reading, go check others, to have a stronger opinion. You can always get back to me and leave a comment below).
In the following article you are going to find out:
How does the 100K Cloner Work
How much does it cost (what is the real total price)
Whether or not this can help you generate income online
Pros and Cons of the product, and more
Disclaimer
Please note, that I am not a member or an affiliate for 100k Cloner.
This review is based on research and information available online in the public domain.
Any recommendations and conclusions are only opinions and may not apply to all persons or situations.
Quick Overview
Name: 100k Cloner
Website: www.100kcloner.com/activate
Price to Join: $17 + Upsells
Recommended: Not really
100k Cloner Review – Summary
100K Cloner is a page builder that allows you to create a simple website.
Then you can add specific offers on this website and when people buy through your link you earn a commission.
The problem is that no one will see this offer, since the website won't rank on Google.
The other problem is that the products that you offer are low-quality and in many cases obsolete.
It will be very difficult to make some money with the 100K Cloner and according to my experience, it is close to impossible.
In order to be efficient, one must put more effort into the website and also come up with content that will be naturally found in Google and other search engines.
There are certain steps and rules, but if done correctly it is possible to have a consistent income in the long term.
Here is the link with more details.
What is 100k Cloner?
100K Cloner is a page builder where you can create your own page and promote digital products. If someone purchases the product through this page of yours, you get a commission.
That is in a nutshell, what the 100K Cloner is.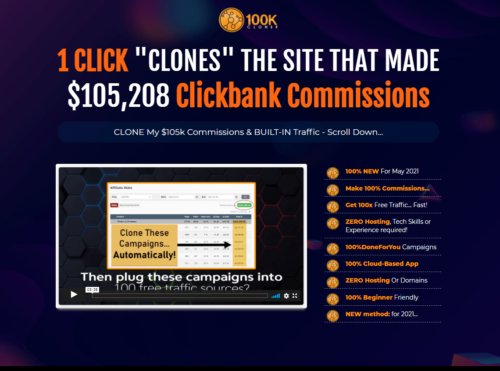 Seems easy and very affordable, especially when you can get a discount.
As you see they claim that you get 100% Commission, Free Traffic, 100% done for your campaigns, Zero hosting, and so on.
A person coming to their homepage probably doesn't know (yet) but the commission is to be made from selling mostly Clickbank digital products.
You might be familiar with Clickbank if you can find out more in the following article, where it is explained how to make money with ClickBank:
Basically, it is a marketplace with tons of products. You as an affiliate marketer, can join the Clickbank Affiliate Program and promote whatever product you want, within your niche.
The best way is to write a review (like this one) and explain to readers how it works, and what benefits it has, and ideally, you want to include the Cons as well.
Apparently, with 100K Cloner, it is easy to make the commission, since the "hard work" is already done for you.
Is it really?
Right off the bat let me tell you that people who purchase this product will have a hard time making a single dollar.
Let's check the product deeper.
Founder of 100k Cloner
It is always a good sign when there is clear information about who runs the website or who the creator of a specific product is.
Richard Williams is the founder of 100K Cloner.
Although there is not a lot of information about this person.
It seems that he is not alone and works with Chris and Vivek…

But who they really are – it is difficult to check the background of these individuals.
One thing is for sure.
Since 2018, Rich Williams already created at least 12 similar products. That is up to now, 4 per year.
Most of them are very similar (almost identical).
In fact, he changes only the name, the minor thing on the website, and there you go – again a new product with 100% Free traffic that generates hundreds of dollars per day…
Is it really that easy?
Who Is 100K Cloner For?
In theory, 100K Clone is for newbies who are looking for ways how to generate income online.
But I personally don't recommend purchasing this product, simply because it does not work.
We are going to include the list of red flags but the most important thing is the website that one creates within the 100K CLone is useless.
It won't be ranking anywhere – that means no traffic and thus no sales.
Besides, this program doesn't have any training whatsoever.
It doesn't even have support, which is essential when it comes to platforms like this.
How Does 100K Cloner Work?
After purchasing the product you have access to the back office of this platform.
There you find the page builder.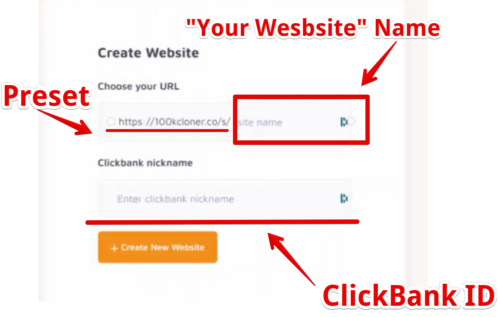 You add your sub-URL name and add the Clickbank ID (also called hoplink).
As you see the name of the URL is pre-set, so there is no way you can change it.
This is the major issue with this page builder, you can only choose the name of the subdomain.
Nevertheless, you can now create a new website. A few more steps, where you can fill out some text (about you, disclaimer, you can change certain colors, and so on).
It also says that you can set up the SEO.
Make no mistake about the hat – It takes a lot more to optimize the webpage for the SEO than just what is offered here in this 100K Cloner website builder.
In other words, no one will see that site and that is the problem that I refer to.
And there are more issues:
Towards the end of building "your" page, you can choose products that you want to promote. These are mostly ClickBank products.
You can choose also from other products, including products that are created by the owner of the 100K.
It is common that these fake gurus to keep creating products and then one promotes the other and vice versa.
Let me share with you a few products that you can promote:
and many others.
I am familiar with all of the above and you can check the individual reviews by clicking on each of them.
You will find out that most of them are poor-quality products.
But not all products that are inside the 100K Cloner are that bad.
For example, Speechelo is a good product.
Here is what the website will look like:
Here is another big problem I see with this page builder.
First of all, you don't own the website and you actually create only a subdomain of a domain that goes: 100kcloner.co/"your name".
This site won't see anyone, since it doesn't rank on Google.
Now imagine there are about a hundred customers that paid for this page builder.
They all have the same site, only the subdomain changes.
Besides, it is not secure as you see from the browser.
Google doesn't recognize such sites anymore, especially in 2021 (and onwards)

So, yes this page builder "works" but it is absolutely useless.
What to do with such sites?
The only way how you can reach out to people is using Social media (or Solo Ads), assuming that
You have a lot of followers on social media
you have your own email list of people that sign up already
Regarding the Solo ads – It is a horrible idea to buy the email list from the vendor these days.
Especially for beginners.
The more advanced marketers already know how to build their own list, so there is really no use in solo ads, whatsoever.
(This article explains why Solo Ads are not worth it. )
And Another Issue
Check the bottom of the page:
Unde the Lega, there should be links that direct to the actual pages (Term and Conditions, Privacy Policy, and so on).
But they redirect you to a different page called Commission Creator.
The other link doesn't work at all…
What is the Price?
You may have noticed that it is not that expensive, right
Although by now you already know that this is not worth a penny.
The price they ask for the basic module is $17. When you are about to leave the sales page, you get a pop-up window offering you a $3 discount: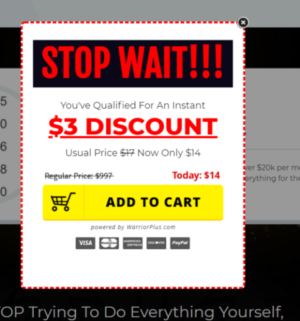 "Awesome".
I have not mentioned yet, that right after purchasing the product you are "pushed" to buy the upgrades in order to get "more traffic".
At least that is what you are told.
The truth is, these are just a bunch of upsells:
Upsell #1 – Unlimited Edition – The price is $29
This is the 1st upgrade where you are supposed to get unlimited offers so you can scale the commissions.
Upsell #2 – Autopilot Edition – The Price $39
You can activate up to 60x affiliate programs per day and have access to over 1,5000 campaigns instantly.
Upsell #3 – Done For Your Edition – The price is $197
Apparently, the Elite team within the 100K Clone will set up a done-for-you site "FOR YOU"
Upsell #4 – Reseller Edition – $197
With this upgrade, it is possible to earn 100% across the entire funnel selling.
You keep the 100% commission
Upsell #5 – MegaBundle Edition – $197
This is access to "insane" 37 software tools.
According to the founder of 100K Clone, these are worth more than $300,0000.
One might end up paying more than $670!
Not bad for the creators of this product.
But people soon will find out that this is a very low-quality system and eventually they lose interest in it.
Therefore guys like Chris will launch "a new product" to get even more people…
This is not a moral way how to make money online.
Solution
I understand that a person who wants to learn about ways how to make money online can fall for such a claim that you get "Free traffic" and make a commission daily.
But it does not work that way.
To make a consistent income online requires some time and effort.
Just go to google and search for something, for example, "the best coffee machines for home".
What do you see are websites with a lot of content and most likely all of them are at least 1-year-old.
That is the answer to how to make money online.
In a nutshell:
1) Choose a Niche (As the example suggest it can be the best coffee machine for the home)
2) Build a website and create content
3) You get traffic (or visitors)
4) There are many ways how to monetize the traffic
I know, it is simpler said than done
But again, with proper knowledge, I believe most people can make it.
And then of course patience is important.
What I like about 100k Cloner

Site builder that works but again it has no value
What I don't like about 100k Cloner
Payment proofs are just copied from other very similar sales pages
Unrealistic income claims
You get a pre-built website that no one will see (just a subdomain)
Too many upsell with no real value
Some Thoughts at the End
You might be asking, is 100K Cloner a scam?
Well, it is not an outright scam, but not far from it.
The only thing that keeps me from calling it a scam is that you can get a refund.
It is a WarriorPlus product therefore it must have such a policy.
But even if you get your money back, you still lost some time with this system…
Making money online requires something more than 100K Cloner offers.
I have also touched on the subject above, but if you have specific questions, let me know in the comment section below.
Thank you for reading
Mike
Do you really want to learn how to make money online?
First of all please realize that there is no such thing as a push-button system generating money on autopilot.
Choose a specific business model, first.
While you are here, let me share with you that the simplest business model is Affiliate Marketing.
You don't have to create any products, you don't deal with suppliers or customers.
Just learn how to create a website about a specific topic and inform your readers about the product or service.
Check the link below to learn more about a specific platform teaching these skills (and beyond).