Is Perpetual Income 365 going to show you how to make hundreds of dollars per day?
Do you believe such claims?
You are probably sick and tired of all the scams and misleading products, right?
It is always recommended to do research before purchasing the product.
Good for you – this is the only way how to avoid scams.
In this Perpetual Income 365 review, we are going to check how it works and find out:
Who is behind this product,
What is the price
What are the pros and cons (including some red flags),
and beyond
Let's get started;
NOTE:
Originally I did create this review back in February 2021.
The product is still available in 2022, which is a good thing and I was wondering whether there has been some improvement since 2021.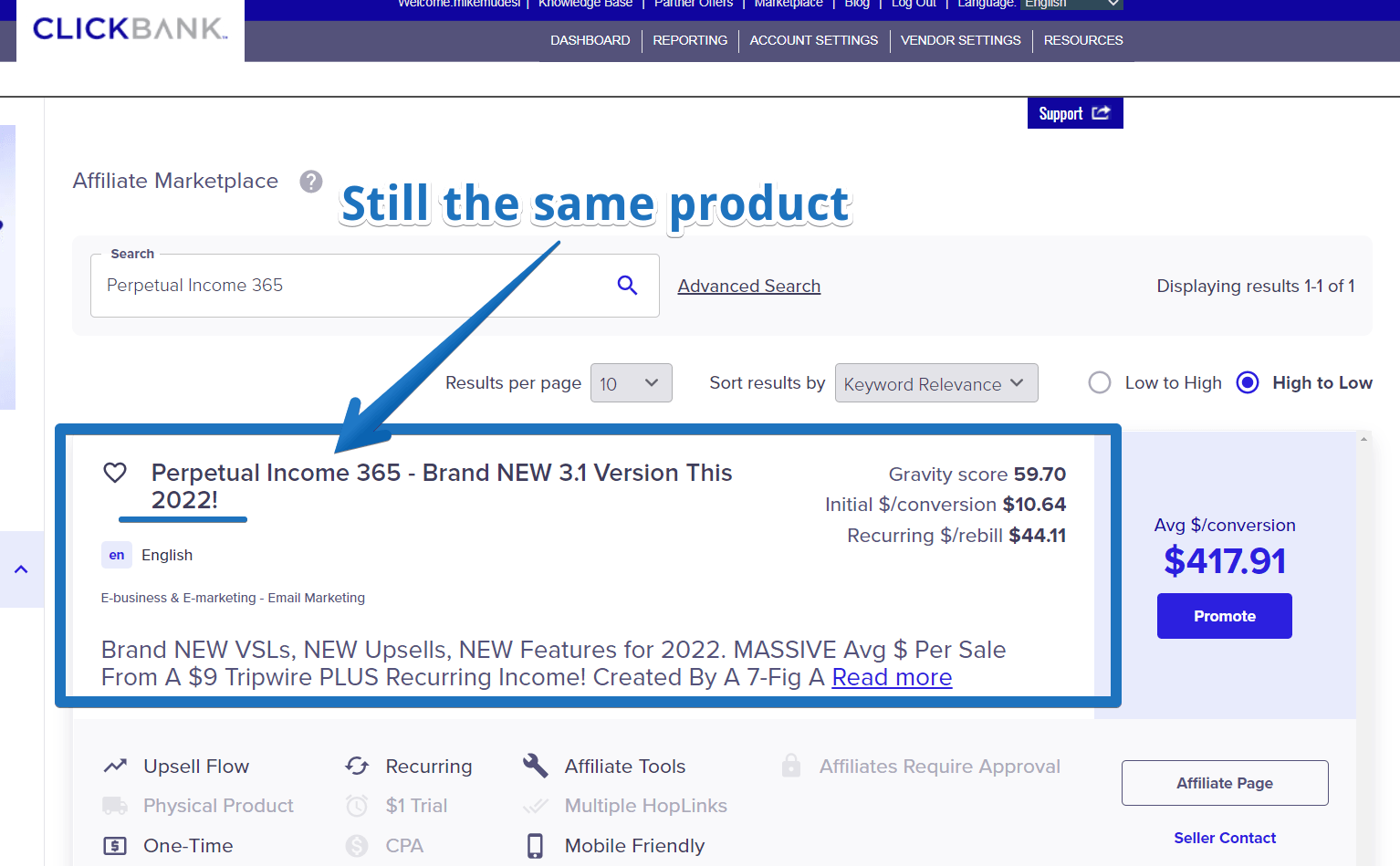 With that being said, this is a fresh update review of this ClickBank product.
Disclaimer
Please note, that I am not a member or an affiliate of Perpetual Income 365. This review is based on research and information available online in the public domain.
Any recommendations and conclusions are only opinions and may not apply to all persons or situations.
Perpetual Income 365 Overview
Product Name: Perpetual Income 365
Price to Join: $9 + $47 per month + Upsells up to $600!
Creator: Shawn Josiah
Rating: 03/10
Do I recommend it? Not Really
Perpetual Income 365 Review – Summary
Perpetual Income 365 is a ClickBank product that is supposed to teach how to promote other digital products, but most importantly how to promote this very same product – Perpetual Income 365.
The way you are supposed to promote it is via Email Marketing. That means you have to send a bunch of emails to strangers and hope that some of them will purchase the Perpetual Income 365.
How do you find the email addresses?
Using Solo Ads means additional costs.
The advertised price for Perpetual Income 365 is $9, but once you make a purchase you are advised to "upgrade" your membership and you may end up paying a couple of hundred dollars.
Perpetual Income 365 is focused solely on self-promotion using Solo Ads.
In other words, the founder of Perpetual Income 365 just wants you to buy traffic for them to sell their own product.
This is not how affiliate marketing works.
The proper way is to learn how to build a website and how to drive free traffic to the website. After providing value to your visitor you can monetize the traffic.
If you want to learn affiliate marketing the proper way, you can check the link below.
Just use your email and you can test this awesome platform for free, for 7 days.
No Credit Card is Needed.
What Is Perpetual Income 365?
Did you have a chance to watch the introduction video they present at the beginning?
They talk about an algorithm that some guy was able to pull out from Netflix.
In other words, they say that Netflix is popular because of a certain algorithm and now you can make easy money because this system called Perpetual Income 365 uses the same algorithm as well.
Apparently, you can make $10,000 per month as a secondary income.
This is a very audacious statement, and I find it hard to believe.
But let's break it down.
First of all the Perpetual Income 365 Review has nothing to do with Netflix, and there is no loophole or secret algorithm.
Another example they use is a website called BarkBox, where members pay monthly fees to be educated about dogs and everything related to dogs.
The guys who run the Perpetual Income 365 Review claim that this is a great business model.
And I agree.
But the truth is that there are teams working behind the BarkBox business and they constantly provide value to their members. Without the value, members would just leave.
The point is that the examples they use in the introduction video are very misleading and they have nothing to do with the actual product.
What Is Perpetual Income 365 About?
This system promises you to make about $430 a day and you don't need to have any technical skills, you don't need any website, and it is almost Done-For-You System.
In other words, all heavy lifting is automated, so you just "sit back and enjoy".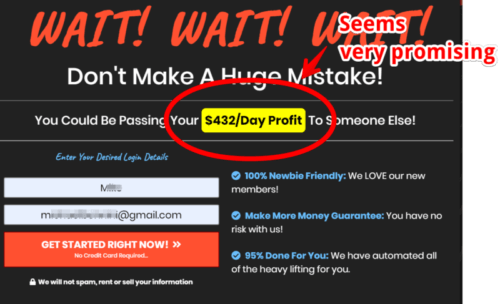 Apparently, it isn't about any secret code or algorithms.
But they use the following phrases:
Loophole
The secret algorithm,
Done-For-You
just to draw your attention.
The bottom line is this course is supposed to help you to make money using email marketing and affiliate marketing. Both are legit ways and there are a lot of people making 6 figures (and more) income using affiliate marketing.
But none of the successful marketers use any automation tools – since such tools do not exist.
Note:
Whenever you see the term "automation tool" pay close attention to the details. There is a big chance that you have stumbled upon a scam.
Regardless of what it says in the introduction video Perpetual Income 365 is about promoting this very same product, using email marketing.
They use some examples that people without prior experience were able to make $332 on the first day after applying this "Done For You" system.
Let me share with you a real "secret":
There is no magic button or some kind of algorithm that can make your passive income on autopilot.
Who Is Behind The Perpetual Income 365?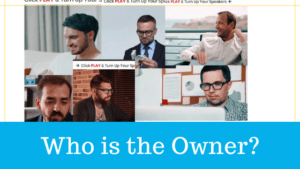 The guy behind the Perpetual Income 365 (PI365) is Shawn Josiah.
In the original version of PI365, it was not clear who created this product.
But with the current version, he introduces himself right at the beginning.
Also, there is no "About" page with information about who runs the company.
You won't find any Terms and Conditions either, which is a red flag.
With that being said, I am a bit surprised that PI365 is one of the most popular ClickBank products.
One may ask whether ClickBank is legit having such products still available.
When we compare it with Super Affiliate System or Commission Hero, (which are also "long-time" popular products on ClickBank) we see that the owners of these two products are not afraid to reveal their identity.
But I digress.
After a bit of digging, I found out that Shawn Josiah is probably a real person.
It even brought me to another marketer called Jamie Lewis (an internet marketer who keeps coming up with new products – I am going to mention them later).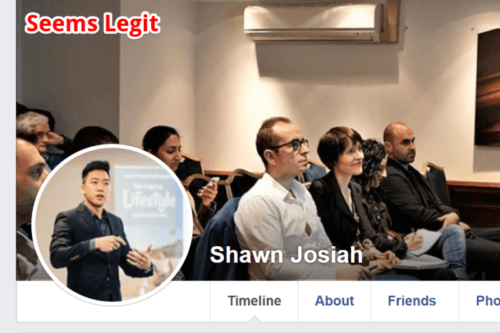 It seems that this guy named Shawn Josiah promoting Jamies's product.
Or, it is just a kind of alias, and this product belongs to Jamie himself.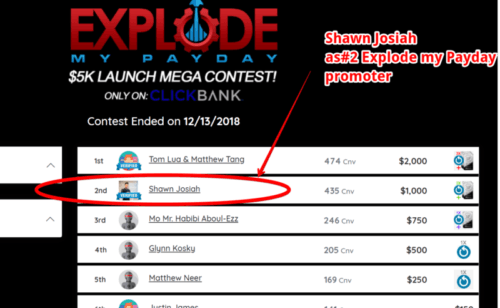 How did I find the connection between Shawn and Jamie Lewis?
The Facebook page led me to Jamie's ClickBank product called Explode my Payday.
Now here is another interesting fact – Jamie has also another product called Profit365.
It is probably just a coincidence, but the Perpetual Income 365 looks quite similar (even the name).
So even if Shawn is a real person, the fact that he is partnered with Jamie, means that the Perpetual Income 365 Review belongs to the same category as Explode My PayDay or Profit365.
Both systems focus on self-promotion.
This means that you can make some money, but what happens if this product is taken down?
You have nothing to promote, and you have not learned anything that you can use in potential future projects.
Who Is Perpetual Income 365 For?
Perpetual Income 365 is supposed to be for newbies and beginners.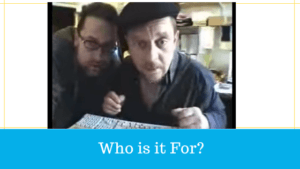 People who are looking for ways how to learn how to make money online and are willing to invest $9.
But the truth is that:
This system does not teach how to make money online, other than how to promote the PI365
The price of $9 is misleading. There is a membership for $49/month, plus upsells
You need to be prepared to pay additional costs for Solo Ads (at least $200 per month to get some traction)
If you are a newbie and you don't have any experience with affiliate marketing, I would like to show you what it takes to make money online.
First of all, there is no automated system that generates income for you. Everyone would be rich by now.
Sure it is possible to generate 5 or 6 digits online, but it requires time and effort.
If you want to find out more what is the easiest way how to make money online, I suggest you read this article about How to Start an Affiliate Marketing Business.
Perpetual Income 365 Members Area
Once you purchase the product you can access the member's area.
On the left-hand side, you see a menu with at least 3 options on how to "upgrade" your membership.
In other words, these are upsells, with no real value.
What is good about this system, is they have an active Facebook Group.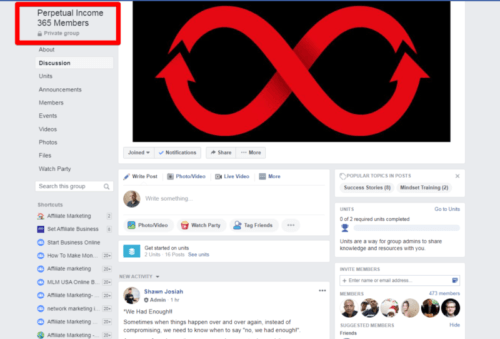 According to a few success stories, it seems that some of the members made a couple of bucks but it does not say how much they "invested" in the Solo Ads.
How Much Does Perpetual Income 365 Cost?
This product looks very affordable.
I think everyone can pay $9 for a product, right?
Well, not so fast.
The advertised price of $9 is just the beginning and basically, it is only an incentive to get your credit card information so you can be charged for the upsells.
But don't worry.
You won't be charged automatically.
It is explained that to take full advantage of this system you need to buy these upsells. These are most likely one-click upsells, so you better watch out where you click.
Even if you decide to buy the entire package (meaning all the upsells) you won't get any secret method, nothing that can boost traffic or sales.
You may get just more leads (meaning more email addresses) but the quality of these leads is very low and the conversion rate is almost zero.
Meaning that people (assuming that these leads are real people) receiving these offers are not interested in them.
They will be ignored.
How to Make Money with Perpetual Income 365?
This is just a way how Shawn makes money and of course his affiliates:
Yes, that is right – this is the only way how you can make money with Perpetual Income 365 -> to become an affiliate partner and start promoting it.
But even if you decide to go ahead and start promoting this product using the Perpetual Income 365 method, keep this in mind:
Monthly Membership $49 per month
Autoresponder is $20 per month (there are free services as well, but they have certain limitations)
Price for Solo Ads – The cost for the advertising ranges from $50 to several hundred per month (depending on your budget)
As briefly mentioned the traffic you get is questionable.
Solo Ads seem an easy way how to reach people, but without the proper experience, you won't get relevant traffic (and therefore minimum to zero sales).
And any sort of paid advertising is for experienced marketers only.
Sure you can throw some money and watch how people click on your affiliate links. But clicks do not pay the bills.
How do you know that people receiving your offer are interested in buying ClickBank products, especially Perpetual Income 365?
Perpetual Income 365 Red Flags
Here we go over a few red flags that I think it is important to mention before we jump into the final conclusion.
1)

Fake Testimonials
Using paid actors for testimonials is quite common when it comes to ClickBank Products.
There are two of them in the introduction video. As you see both of them can be found on Fiverr (an online marketplace for freelance services).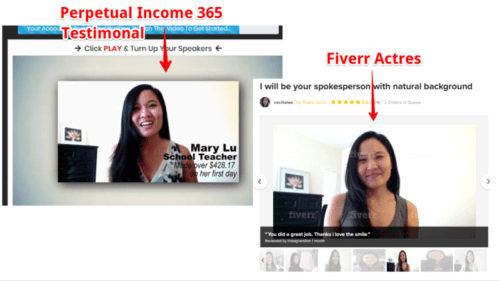 …and here is another
In 2021, we have done an update on this product and found out that they have changed the testimonials.
In fact, there is only one in their introduction video. Her name is Laura and she is supposed to be Stay a home Mom.
For 2022, they have not changed anything and they use the same actress as in 2021.
Well, that might be the truth, but she is also an actress.
You can hire her at Fiverr: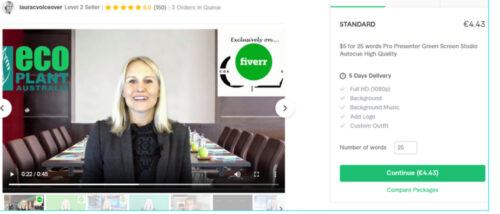 Her Fiverr user profile is called "lauravoiceover".
(Just a note. I have nothing against these actors. The thing is that PI365 has been around for a while so they should have at least 2 satisfied customers willing to shoot a short testimonial).
2) Price/Upsells
Don't you hate it when you are told to pay $9 for a product, but once you are inside the members' area you need to pay several hundred to get the full service?
3) Misleading Examples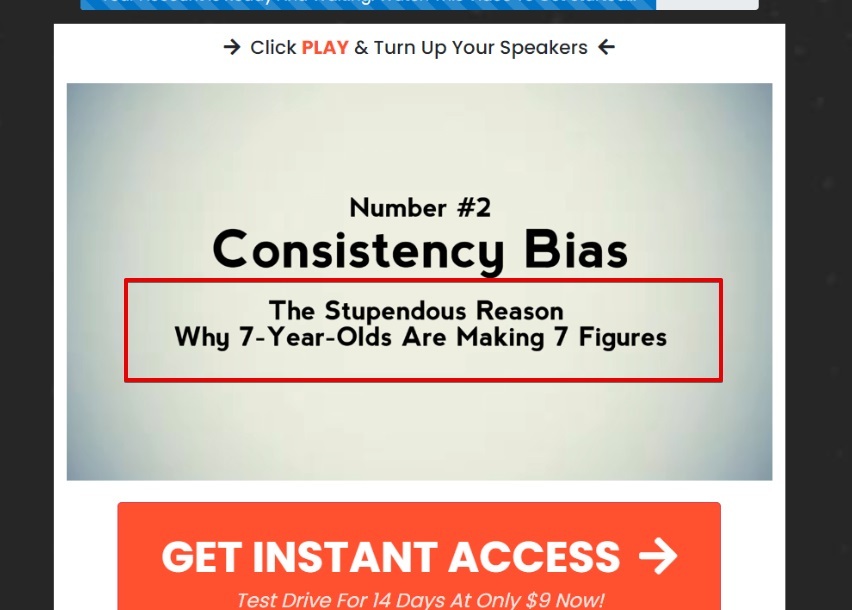 First of all, they compare the success of Netflix with the potential success of Perpetual Income 365.
But this comparison is very misleading and it has nothing to do with reality.
Another statement they say is that even 7 years old can make money using the Perpetual Income 365 system.
As proof, they give an example of Ryan's World.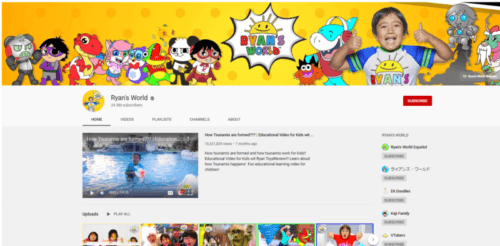 These two are not related at all.
I understand that a newbie can see a connection but it is important to see the whole picture.
Ryan's world YouTube channel started in 2015 and it has tons of videos. First of all these videos are Toys review, experiments, exercises and so much other stuff that people love to watch – genuinely.
What does Perpetual Income 365?
The only value this product has is the potential of making an affiliate commission in case you sell it.
Do you see any connections?
I don't.
Let me know in the comment section below if I made myself clear.
What Do I Like About Perpetual Income 365?

Money-Back Guarantee (it is a ClickBank policy)
Active Facebook group
It is possible to make money if you are OK with promoting the Perpetual Income 365
What I Don't Like About Perpetual Income 365?
Misleading introduction page (non-related examples)
Fake Testimonials (Fiverr Actors)
The price for the product was not revealed at the beginning
Additional costs for Solo Ads
Focused on self-promotion
How About An Alternative?
I know how you feel.
Disappointed.
I spent over a year searching for products, checking the ClickBank marketplace, and ended up learning nothing…
Being frustrated – it is not easy to recognize something that works. One is skeptical about everything.
Even when I finally found the platform teaching how to generate income online, I was doubtful.
The good news about this platform is that you can get started for free. No Credit Card is needed and you have access to the first 10 lessons.
Is Perpetual Income 365 a Scam?
No, it is not, but I don't recommend buying the Perpetual Income 365!
It is a misleading product.
You don't pay just $9, but there is a hidden fee of $47 per month! What do you get for it?
Not much – actually only a chance to spend more money, by purchasing other products (upsells).
Sure there is a chance to make some money by promoting this product and making an affiliate commission. But you have to consider the additional cost of the Solo Ads.
The way I see it, you buy Solo Ads for $300, and you make $20 or $40 back (the promised affiliate commission of $338.50 is only in a case where the prospect purchases the entire package, worth about $600).
This does not seem like a profitable business.
If you have questions regarding Perpetual Income 365 let me know in the comment section below. I will be more than happy to give you hand.
Thank you for reading
Mike
Learn How To Make Money Online
Do you really want to learn how to make money online?
First of all please realize that there is no such thing as a push-button system that generates money on autopilot.
They want you to believe that Perpetual Income 365 is a get-rich system, but the truth is that no one has made any significant money with this tool.
It is important to pick a business model that has been proven that works.
The simplest business model is Affiliate Marketing where you don't have to create any products, you don't deal with suppliers or customers.
You simply create a simple website about a specific topic and inform your readers about the product or service within that topic/niche.
And I am here to tell you that there are some skills needed, but it is perfectly doable for any person, reading this review.
It takes a bit of effort and time but generally speaking it is possible to have a consistent revenue within 10 to 14 months.
Check the link below to learn more about a specific platform teaching these skills (and beyond).