I assume that you already know what ClickBank is.
Just as a reminder, ClickBank (CB) belongs to the Top 100 online retailers with 200 million customers. Clickbank focuses on selling digital products created by individuals or companies.
It has been founded in 1998.
I remember old internet marketers (like John Reese) saying, that in the past you could go to ClickBank, choose a product, get the affiliate link, then just go to Google, create an ad with this affiliate link inside the ad, and you could generate money without owning a website.
BTW, John Reese is the first guy who made a million dollars in 24 hours.
Well, this is not possible anymore. In fact these days it is quite difficult to run an ad through a bridge page. Google (and also Bing) in most cases recognize this bridge page and your ad will not run.
So, how to make money with ClickBank (CB). Is it still possible in 2021?
There are 2 approaches when it comes to making money with CB.
We can sell our own product
We can promote other products as affiliate marketers.
We will be looking at both methods, the pros and cons, and at the end, we will check the alternatives to ClickBank.
ClickBank as a Marketplace Where I Can Sell My Own Product
If you have your own product you can add it to the product database of ClickBank. All the necessary work is done for you by the ClickBank guys. You must pay the activation fee which is like $50. This is to be paid only once.
Here is a short video on how to add a product:
Also keep in mind, that when you make a sale, you are charged $1 + 7.5% of the sale. That is the "tax" for all the technical parts you don't have to pay attention to.
I guess it is pretty fair, and with the tons of products within the ClickBank, it is safe to say, that product owners do not have a problem with that fee.
How to Set up ClickBank Account as an Affiliate Marketer
To set up an account with CB is a very easy process and it takes a few minutes. If you don't have your account yet and you would like to have one, just watch this video below (a little over 8 minutes):
(I have added an updated video since ClickBank updated the webpage)
Once you have your account you go to the Marketplace, select Category you, and from there choose a specific product.
Quick tip:
It is a good idea to sort the results according to popularity as you do want to promote a product that is already selling.
Check the Gravity – this number shows how many other people are successfully selling this product.
The point is, that you want to sell such a product that is already popular, so you don't have to "waste" money on marketing and letting people know what is it all about.
How to Promote the Product – Choosing Niche
We have already touched on this above.
You might already have heard, that you should create your business around your passion. Well, this idea has good intentions but sometimes it does not work. Or, build your business around a niche that interests you the most.
In the ideal case, your passion might become also your business. If you are truly passionate about something, you will not feel tired of your hobby, almost never, right?  – that is the idea behind saying "Build your business around your passion"
Unfortunately, this is not the case for everybody.
So how does one find the proper niche?
I believe if you have an interest in something and you can get some results in terms of sales, you will start to like any niche – as soon as it generates a profit for you.
The point is, to sell what is already selling.
That is why I mentioned in the previous paragraph the selection of products according to popularity.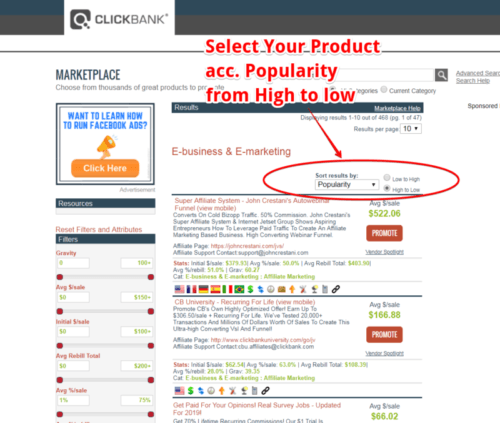 Here you can find a brief explanation of the data for each product:
Initial $/sale: This is how much you can make for each sale
Avg %/sale: Commission you make
Avg. Rebill Total: Average total of all rebilled commissions
Avg. % rebill the commission in % you make in case the recurring payment is available
Grav: Number of other marketers who made money in the last 12 days
Once you have chosen your product, just click on the "PROMOTE" button, where you will get your affiliate link.
Now you can share this link anywhere you want. You can post it on Facebook with some text or a short story, you can send it to your friend(s).
I don't know about you, but I personally do not like sending such affiliate links to my friends, in other words, I don't like spamming them (unless I know that some of them would be really interested in such and such products).
You can also create an Ad on Facebook. But that requires some previous experience and of course the budget.
If you are a newbie, I recommend checking some free videos on Facebook on how to run a FB Ad. But most importantly start with a low budget. For example, spend $5-10$ on the Ad and then check how it did go.
There are also paid courses where you are taught how to create a specific Ad.
The point with Ads is to reach as many people as possible.
If you have a website, you can include the link within the post or blog. Again with a website, you can either run an ad, or you can get organic traffic. Getting organic traffic requires time and some effort, but the results from organic traffic are usually the best.
You don't ask people to visit your site. Your site is found naturally by people entering a keyword in search engines.
Of course, the key in all the above-mentioned ways is Relevancy.
Advantages and Disadvantages of ClickBank
Here are the main advantages, if you want to make money with ClickBank.
Commission – Most digital products offer 50% to 75% of the commission. That means if somebody will purchase a $50 product using your affiliate link, your commission is from $25 to $37.5.
You sell 1 product a day and you have 1,000 bucks per month.
Tons of products to be promoted. Even if you select the E-business category you have lots of products you can promote. Also, they are being added, so you can't run out of them.
No need to deal with product creators – Once you have your CB account, you don't have to worry about any suppliers or customers. You only deal with CB, regardless of the product you promote. CB will deal with all the payments and this kind of "administration" stuff.
Nothing is perfect so here is a short list of main downsides as well.
Quality of products is low – The quality of digital products listed on ClickBank is pretty low, and some of them have patterns of scams. Apparently, ClickBank used to have better products years ago, but unfortunately, it is getting worse.
On the other hand, there are a bunch of products providing value to end customers, but many of them are expensive – around $1,000.
Competition – Since signing up with CB is so easy, that also means that there might be also a huge competition. So you want to make sure that your ad, website, or promotion is better than others.
I have reviewed many CB products and here are many of them that I do not recommend (and do not promote). If you have not had a chance to check them, you may take a look to get an overview.
Alternatives to ClickBank
Promoting CB products is pretty easy. The worst part is getting the sales.
What I find a better alternative is the Amazon Affiliate Program. You can get into a partnership with Amazon also within a few minutes. You can choose any product you like, but keep in mind that Amazon offers mostly physical products with a lower commission.
On the other hand, selling physical products is much easier than digital.
You can watch a tutorial where it is explained How to Create Amazon Affiliate Marketing Websites:
There are tons of other affiliate programs, and it is easy to find them.
I would suggest checking the affiliate programs first, choosing the niche or field you like, and starting to build your website.
Conclusion?
At the early stage of my digital marketing, I was very limited and the only way I saw how to make some money using affiliate marketing was through ClickBank.
As my knowledge grew I learned that there are tons of other affiliate programs and on top of that there are many other ways how to monetize the website.
I am not saying that you can't make money with ClickBank.
You can certainly create your CB account, check the products listed in the category you prefer and if you find a valuable product, go ahead and promote it.
But also keep in mind that CB is not the only way (as I used to think).
Let me know how you are doing with affiliate programs. Or if you are not sure where to start, drop a line or two.