Just recently I was doing a review about the ClickBank product called AppCoiner.
As I was doing the review I went to check the support section. To my surprise, it redirects me to a different product called Paid Social Media Jobs.
That is why I went ahead, purchased the product, and did a review on this one as well.
Is Paid Social Media Jobs a Scam? 
Let's find out. 
What Is The Paid Social Media Jobs About?
With this digital product, you should be able to learn how to become a social media manager.
That means that after the training you should have enough knowledge to apply for a job where you can help businesses and corporations to manage their social media accounts such as YouTube, Twitter, and Facebook.
I believe you could be a freelancer as well.
Name: Paid Social Media Jobs
Website: www.paidsocialmediajobs.com changed to payingsocialmediajobs.com
Price: Advertised Price $27 with downsell $17
Owners:  Annie Jones (questionable identity)
UPDATE:
The platform formerly known as Paid Social Media Jobs has been rebranded as Paying Social Media Jobs and has been relocated from paidsocialmediajobs.com to payingsocialmediajobs.com. However, the fraudulent nature of the platform remains unchanged.
Product Overview
Paid Social Media Jobs promises you to start doing the paid jobs immediately after the sign-up.
The jobs are simple and with this training, you shouldn't get stuck. Inside you can find hundreds of Facebook, Twitter, and YouTube jobs that are updated daily.
Apparently, these are daily updated "high-paying jobs" that anyone can do.
The Pros

Lots of information to go through (although at the same time it turns out to be a downside)
Money-back guarantee
Low Price
The Cons
Too much theoretical stuff without practical examples
Inside information which can be found for free
Outdated video material (from 2010 and 2014)
Who is it For?
This digital product claims that it is for anyone who likes to use Facebook, Twitter, or YouTube. Regardless of your age or gender or your location, anybody can do this job.
You are shown also the calculator to give you an overview of how much you can earn.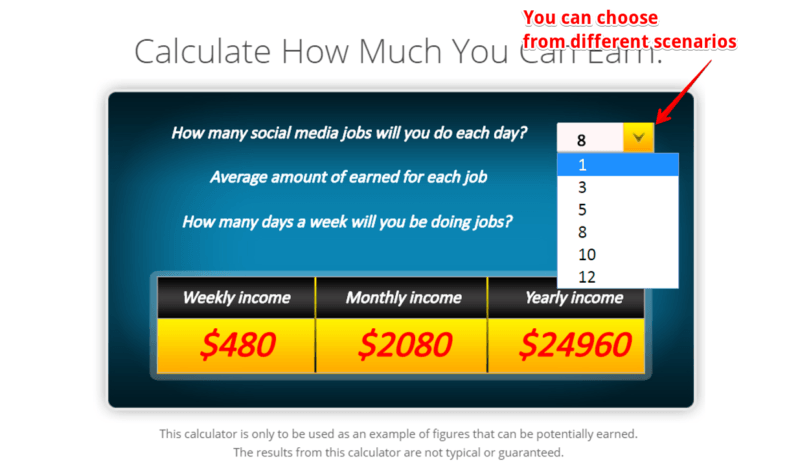 This very same calculator is being used in other ClickBank products. I have already mentioned the AppCoiner. Then I went to the AppCoiner sales page and it resembles this sales page.
Just check the description below – it says that the results are not typical or guaranteed. So please keep that in mind. You have no way of knowing how many earned jobs you can get a day if any.
Fake Testimonial?
Many of these systems use fake testimonials. 
It is not always easy to find that out, but there is a way. 
I am sure I have already seen this guy in a pink shirt in some other ClickBank product. To me it is a red flag – why would anybody need to hire a paid actor?
Besides, it looks like they have assigned the wrong name to that guy.
He says he is Brian, but under the video the name is different.
I mean if I will make money with this product, I'd be happy to share my success. I do realize that not all people are OK to share their faces publicly, but come on, Paid Social Media Jobs must have thousands of happy customers… or don't they?
Paid Social Media Jobs Tools & Training
When you access the Members Area you have a welcome message and 2 options on how to start earning the money.
Social Media Jobs – we will be reviewing this section only. Here you will be learning how to become a social media manager. After the training, you should be ready to be hired for social media jobs.
The social media manager does setting up business social media accounts, replies to customer comments, and/or uploads YouTube videos.
Social Media Affiliate – This section is for affiliates who can earn commission promoting this business model on social media, or whenever it is possible. As you see you can get $30 for each sale.
Just a quick note – I am not affiliated with Paid Social Media Jobs, so I will not get any credit. In fact, I do not even share an affiliate link on this post.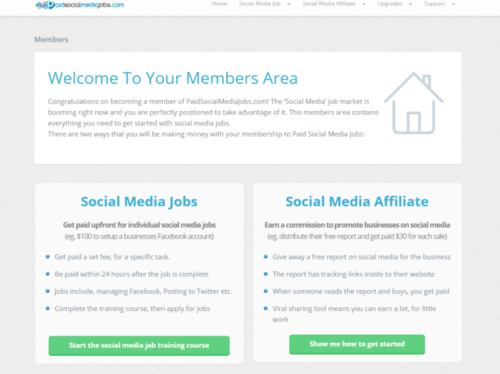 Regarding the 1st part of Social Media Jobs, there are 4 steps you can go through.
1 Step – Go Through the Training Modules
In this 1st step, you find 3 Modules with video training and also written text. Besides these 3 modules, there is a section called Advance training.
It is said that with this material you should be able to start your career as a social media manager.
Previously these modules were separated and you were able to access them 1 at a time, meaning it was spread out over 4 days.
Seems to me that they updated this platform, which is a good sign.
Here are the steps the cover in the modules
Module 1 – There is a video (about 20 min long) and also material in written form. They cover what social media jobs are, and why a business needs people like you to help them. They ask you whether you are ready for a career change and explain social media clients.
They also cover an interesting issue, which is "what if English isn't my first language". Simply, it doesn't matter.
You will be able to apply the knowledge to any business in any country and in any language.
Module 2 – In the second module, you should learn how you find social media jobs, and what are freelance marketplaces. How you can start social media jobs and how to become an expert.
Module 3 – Third Module contains information about the kinds of businesses that may hire you, and examples of good social media management. It should have also information on how to find your clients and how much you can make as a social media manager.
I went to dig deeper inside the training, but could not find the actual training on how to do specific steps. There is lots of theoretical information, but something like a tutorial, or a video training showing you the specific Facebook environment is missing.
My personal feeling is like being in the classroom, studying a bunch of theoretical stuff.
Where is the practical part?
2 Step – Create Your Online Resume
OK, this looks more practical. You can use this section to create and maintain a resume. You find here Resume templates, resume samples, and a LinkedIn resume builder.
Also, some tips on the best CV Photo, why you should include your photo, and also why you shouldn't include a photo.
Lots of information regarding the Resume.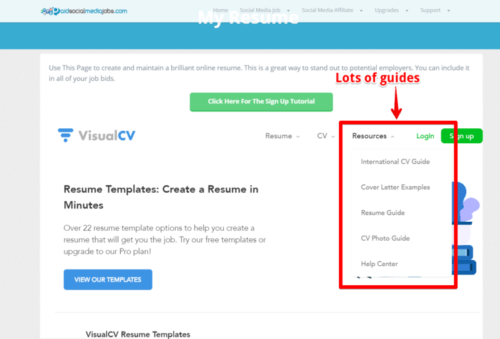 To be honest with you I did not know what is the difference between a CV and a Resume. I have googled it and here I found a very useful website explaining the difference between a resume and a Curriculum Vitae.
My point is that so far I have not found a single piece of information inside this platform, which would be worth my money.
I would expect something like: "I take your hand and will show you how to create a post on Facebook which goes viral and people will engage, so the business owner can send you a paycheck".
Nothing of the sort.
3 Step – Start Finding Jobs
This is actually the practical part of the product where you have access to a database of available jobs.
According to the description within the members' area, the owner(s) put together a resource that gives you step-by-step instructions, strategies, and tips to make sure that you always know where your next job is coming from.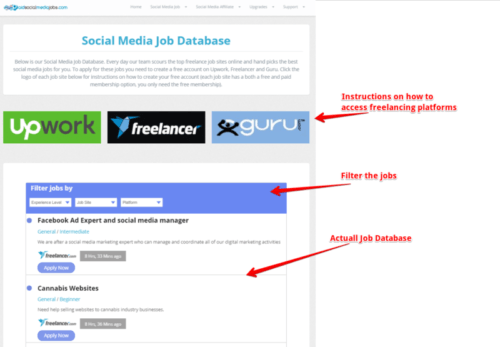 To access these job platforms can be done directly through their link – you don't have to pay for this "course" just to have them on one site.
Also how to set up an account for each platform is pretty easy. In the worst case, you can still check YouTube videos.
4 Step – Free Bonuses
You get also these bonuses, which seem like a good deal. Here is the overview of the bonuses, you get 2 e-books and a bunch of videos.
I have gone through the videos, they are pretty long. They could have been valuable back in 2010 or 2014. These videos are pretty old, which is obvious just from the way how the website looks at the videos. I am sure you will find a lot of new videos for free.
Again, I am saying that having such bonuses is not so beneficial.
Support
Their support site is accessible also for non-users. It looks like a general support site, not necessarily connected to this product only. The same support site has also already mentioned a digital product called AppCoiner.
Here is the link to the support site.
You can also raise a support ticket.
Not sure how long it takes for them to respond.
Paid Social Media Jobs Price Structure
The initial price is $27. It is not difficult to get a discount of $20. Just try to leave their sales page and regardless of your geographical position you will have a pop-up window with offered discount.
The front-end price is then $17 bucks.
Once you join the platform (actually prior to joining it) you are immediately shown the upsell product called Social Media Arbitrage.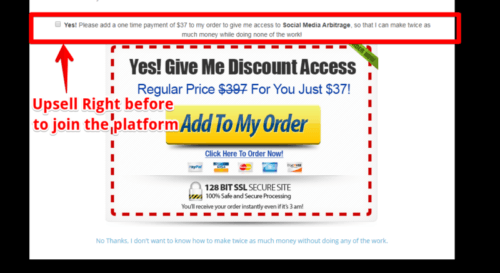 Apparently, you can make twice as much money while doing none of the work.
With first-hand experience, I am pretty sure this has no value whatsoever, and the only one who makes twice as much money is the person behind this product.
My Final Opinion of Paid Social Media Jobs
There is a lot of material to go through. But you only read and watch theoretical stuff and there is no "looking over the shoulder"training, which I would expect.
This product has been around for several years, and the price getting lower and lower.
The reason is obvious.
They may be updated their website but the material inside, especially the video tutorial is outdated. What value has a 10-year-old video tutorial?
In my opinion, the Paid Social Media Jobs used to be quite a good product, but it is outdated for 2019 and I would not waste time with that.
Also, the idea of becoming a social media manager used to be much more lucrative in 2010 than it is these days.
Not to mention that this particular product will not give you enough information to compete with other social media managers.
Paid Social Media Jobs at a Glance…
Name: Paid Social Media Jobs
Website: www.paidsocialmediajobs.com
Price: Advertised Price $27 with a downsell $17
Owners:  Annie Jones (questionable identity)
Overall Rank:
VERDICT:
The good news is that paid social media jobs are not a scam.
It could be even a valuable product if we were back in 2010. The material inside the member platform is really outdated. They only improved the inside of the members' area, but the core products remained the same.
I would not waste money or time joining this digital product.
If you are interested in a thorough online educational platform, I recommend you go to check this review. Take your time to read it – it does not take long and you can learn how to really start an online business.
I would like to open a discussion about the topic above. Would you like to become a social media manager, or you prefer to build your own website? Maybe you want to know how to generate free traffic and how to monetize it.
Let me know your thoughts in the comment section below.
Cheers, Mike