Hello and welcome to my site.
The original article (on this website) about the Solo Ads was written in the Spring of 2019.
Since then I have noticed that there have been many online courses in the make money online niche, teaching how to generate income and how to become financially independent.
Many of them promise that you can start making thousands of dollars per week.
You may have heard about the courses like 12 Minute Affiliate, or Perpetual Income 365. 
People behind these courses claim that they can sell you great leads, in other words, Solo Ads.
So even if you have to pay a little bit extra for these leads, according to them, the return on investment is high. 
Is it really? 
Are Solo Ads worth it? 
Let's answer these questions.
In the following article, we are going to break down the Solo Ads, so by the end of it, you have a good understanding of what is Solo Ads all about. 
First of all, we need to understand what are Solo Ads, where to get them, what are the Pros and Cons and finally we will understand the real value of Solo Ads.
What Are Solo Ads?
Solo Ads are a way of promoting a certain offer using email.
The good part is that you don't have to have an email list of your potential clients or buyers. 
Where to find the prospects?
You simply find a vendor who has (or claims to have) a lot of subscribers and you pay him for sending out your offer. 
In theory, these subscribers click on your offer and if they make a purchase, you make money. 
A really simple form of advertising, isn't it? 
Therefore it is quite common, especially among internet marketers who just starting out. 
Depending on the service, you pay either for
Clicks your offer gets
or
For the number of prospects (or emails) 
So basically Solo Ads are an alternative to Google Ads or Facebook Ads. Essentially it is a form of pay-per-click advertising.
Whereas with Google or Facebook, the Ad is shown on the screen of the search engine or somewhere on a certain website, solo ads are sent directly to a potential buyer in his/her email box.
That seems like a better way of promotion, right?
But let's slow down a bit since it looks too good to be true.
Where to Buy The Solo Ads?
Just enter the word "Solo Ads" in Google (or any other search engine) and you will find ads on websites like Fiverr or Udimi (and others). 
The problem is that many of these vendors sell very low-quality solo ads and it is not easy to distinguish between a legit vendor and a shady one (especially for a newbie). 
We are going to check a few tips in a bit, but let me also mention who uses the solo ads as well. 
Solo ads are very often part of online courses teaching how to make money online (mentioned at the very beginning of this article). 
To be more specific, they are part of their upsells, since we know that many of these misleading courses have 3 or 4 or even more upsells (for example Embassy is supposedly a could-based app generating revenue on autopilot and has 7 Upsells).
And there are many of these misleading courses, and platforms offering Solo Ads. 
The truth is that majority is just fake traffic. Meaning the clicks you get are fake generated by bots. 
That's why be careful when you see a course claiming how you can learn how to generate $400 a day on "autopilot".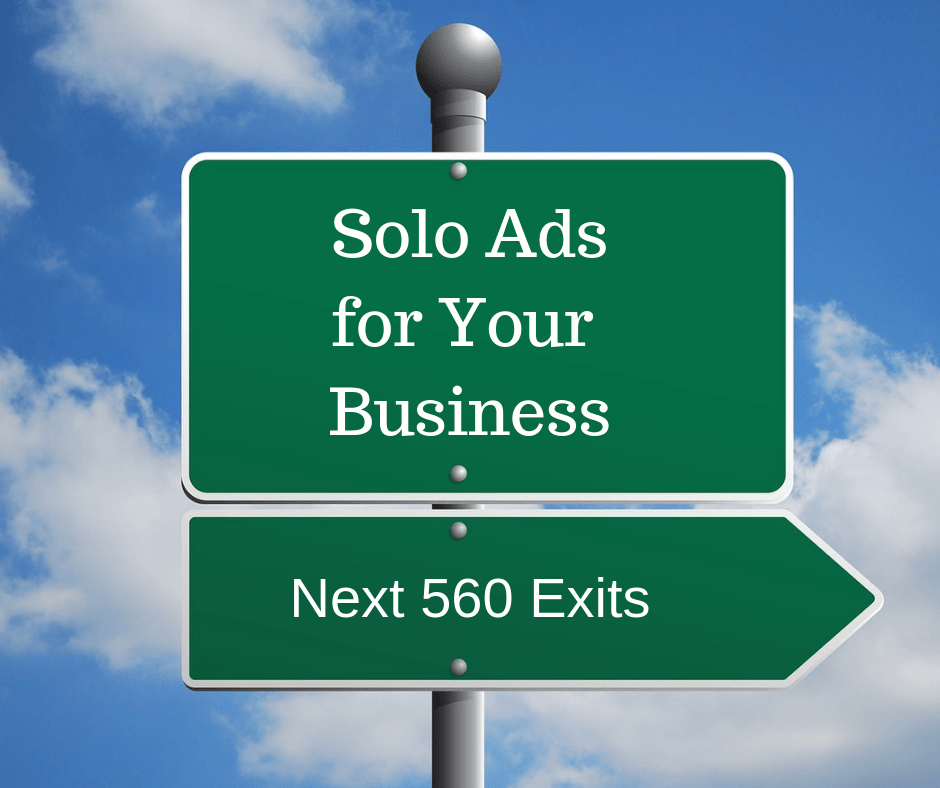 It is a great business model – for those who sell the Solo Ads, no questions about that. 
Tips on Finding  Solo Ads
You have plenty of choices starting from individual vendors (not recommended) to platforms like Udimi, which is considered reputable.
"Udimi is the best marketplace to find quality solo ads providers."
I have seen this statement, but is it entirely true?
You should be careful there as well.
There are certain aspects you need to take into consideration when you choose the vendor at Udimi
Regarding the Udimi Sellers, make sure to do research.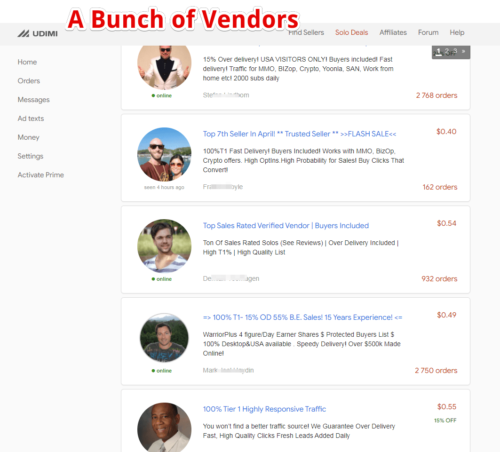 Go through the vendor list and check those that are interesting to you. 
Click on each vendor and below you see some information, and if you scroll down, you also find the customers who bought from the vendor and their reactions. 
Also before making any purchase, get in touch with the vendor, and ask how they build the list.
Based on the answers and the way they communicate you can determine who tends to tell the truth and who does not.
But still, I personally don't recommend this way of advertising. 
Even on Udimi, there are many vendors selling fake traffic and it might cost hundreds of dollars. 
It is waste of time and money. 
Issues with Solo Ads
Let's sum up the main issues:
It is not easy to find quality leads that convert.
Therefore do not go blindly to buy solo ads, even though on a supposedly reputable platform such as Udimi.
What happens, is that you can be provided with fake email address clicks, and/or sign-ups are done by bots.
Solo Ads vendors might also hire people (for a few bucks) to respond to your offers/emails and sign up.
For you, it means that your clicks are "burned up" and thus your "invested" money. 
With the questionable quality of leads, you might end up scamming people.  Your offer can easily be sent out to persons who have no interest in it. 
The thing is that there is a huge business going on, meaning selling and buying email addresses…
…Imagine you get an email from the source or company where you signed up, in the past.
Now you get a new email from this source with a certain link, saying something like:
– "if you click on this link you get a VIP membership …"
You would expect some kind of update from this company.
But the thing is that the link directs you to a totally different company offering you something else.
That is sad in my opinion. Somebody just sold your email to 3rd person/party.
Now, this particular email will be full of spam pretty soon.
Also be aware that there are dozens (probably hundreds) of data harvesting scams, that pretend to be a GPT site. 
More on these scams here.
Here is a real-life example where people were buying solo ads, but they did not get any results.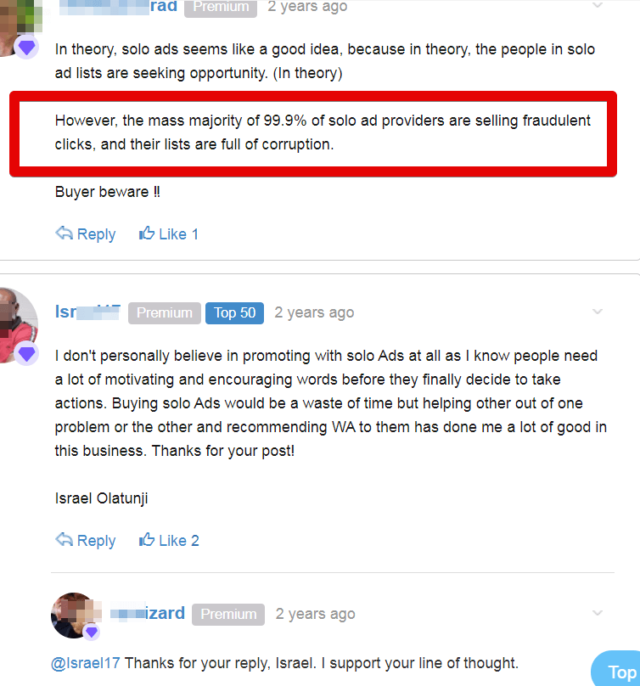 Here is the link to the forum you can check.
Are Solo Ads Worth It?
With everything we have covered above, In my opinion, Solo Ads are not worth it.
Buying links can also result in Google penalization. That means that your site won't be ranking as well as it used to be, or it can disappear from the google search for good. 
(This is probably an extreme case, but you should keep that in mind). 

You might have a different opinion and I respect that.
Please let us know why you think Solo ads are worth it, in the comment section below.
On the other hand, I understand that if one is careful and knows how it works, it is possible to get some results
It is also important to have a budget for it. 
Start with the smallest amount possible. If you see results, then increase the list.
This kind of advertising is worth it in fields where google ad-words is already too expensive.
I mean, with google ads you chose the maximum price per targeted keyword – per click.
If you have a niche where you would have to pay 5$ per click (in order to show your ad in the google search engine) then, it is probably worth trying to buy some solo ads.
The price range goes from $0.40 to $0.80 per click.
But let's summarize the main Pros and Cons. 
Pros

They might work well in the make-money-online (MMO) niche
Generates additional traffic to your squeeze page, or website
Cons
Hard to find a legitimate vendor selling quality traffic (too many scammers among the vendors)
In most cases, you pay for dead traffic (bots, hired people to click on the offer, just to make you feel that the "campaign" work) 
Many people end up having the same leads (1 email list sold over and over again)
The price for quality leads has gone up (it is not cheaper than Google Ads or FB Ads, anymore)
Generally speaking, Solo Ads are not as viable as they used to be. 
This market became oversaturated with shady vendors and they sell only clicks (meaning no conversions). 
If you want to sell your offers via email, make sure to build your own list.
Check how email marketing works, but be prepared that it may take a while. 
Although it depends on the traffic your website gets. 
Key Takeaways
Check the vendor you want to buy from (does he have a good track record?)
Have a squeeze page, that is clean and simple
Make sure to have something in return for their email – something valuable within your niche (for example 9 keys to how to rank well on google) 
Conclusion
You see statements saying that Solo Ad is the fastest way to build your business. And it really seems like an easy and straightforward way how to promote your business.
This kind of promotion has been on the market already quite a while.
So by now, you will find tons of Solo Ads sellers/vendors. Just google the term, and you see many ads offering Solo Ads with claims like:
"Want Solo Ads Traffic That Converts Into Sales?
With a Money Back Guarantee; Our Traffic Gets You High Conversions.
Try This Risk-Free Solo Ads Directory."
It is a PPC form of advertising, so as soon as you know what you are doing in theory some Solo Ads might work
Remember please that requires some experience and maybe also some trials and errors.
Again, same with PPC you can go ahead and test it. Let's say spend $5-10 and see how it goes.
Regarding the Solo Ads, keep in mind the following rules and you minimize the risk that your money will go down the drain.
Check ratings and feedback, concerning the vendor.
Start small – 100 clicks (or even less)
Choose a seller that is already at the market for a while
Hopefully, you have a better understanding of the Solo Ads.
I have tried to give you basic information regarding the Solo Ads, if you need additional information please let me know in the comment section right below.
I believe you find this article helpful,
thank you for reading.
Mike