I was doing research on one particular product promising to make affiliate commissions.
It turned out that it was just a promotion of a different very similar product called Commission Creator.
I went ahead and decided to take a better look at the Commission Creator since it seemed suspicious right from the beginning.
There are many products promising to make easy money and Commission Creator is just one of those.
So I wanted to create this short review to make you aware of the Cons of such digital products so you won't fall for them.
Let's start with the Commission Creator Review right away.
One note before we begin:
When you do research on google you see that there are many websites with such reviews, but many of them just promote the product, so people behind these sites make a commission.
Usually, those reviews are very biased claiming for example that that particular product has no Cons. Obviously, that can't be right, since all products have some Cons (including the platform where I have learned about SEO and how to rank well in search engines).
Disclaimer
Please note, I am not a member or an affiliate of Commission Creator. This review is based on research and information available online in the public domain.
Any recommendations and conclusions are only opinions and may not apply to all persons or situations.
Quick Overview
Name: Commission Creator
Website: www.commissioncreator.net
Price to Join: $14 + Upsells
Recommended: No!
Commission Creator Summary
Commission Creator is supposed to be a "Done-For-You" website that generates affiliate commissions on a daily basis.
Apparently, it is 100% Beginner friendly, you don't need to have your own website and you can get 60x Free traffic.
There are several red flags with this product, but the main problem is that the website generated within Commission Creator will never rank in search engines.
In other words, nobody will see the page and zero visitors mean no sale.
They want people to believe that it is super easy to make a commission using this system, but the reality is a bit more complicated.
Below is a link where it is explained what it takes to make a consistent income online, in the long run.
It shows an evergreen method, tips, and tricks about how to create a simple website, how to rank well, and how to generate income online.
Sign up for Free and I will guide you through the platform.
No Credit Card Needed – Just your email.
What is Commission Creator?
As the name of the products suggests, this is supposed to be a system that will generate commission for you on autopilot.
Apparently, after purchasing the product, you can easily use a pre-made website.
On top of that, you get access to free traffic and people will start clicking on the offers, and if they purchase you get a commission.
Great business model and it is called affiliate marketing.
This is actually a legitimate business model but it does not work as described on their sales page.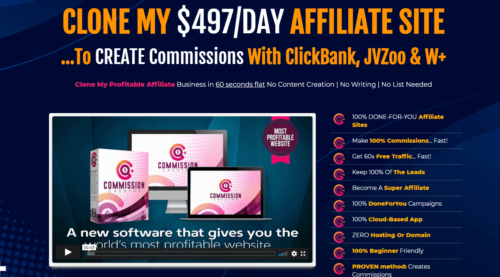 The people who created this product want us to believe that it is super easy to make hundreds of dollars daily, using their webpage builder.
In fact, they use some screenshots that seem like earning reports: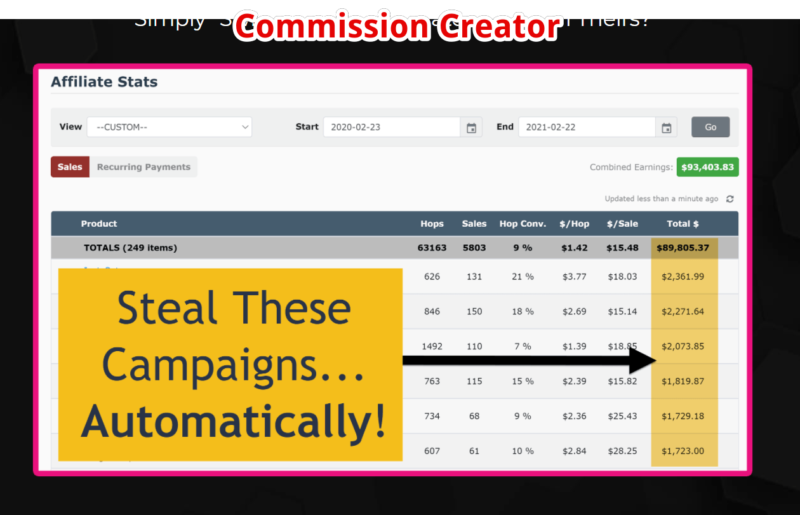 Are these real?
In meanwhile I was checking a different product, called Profit Pusher, and I did find the exact same "earning report".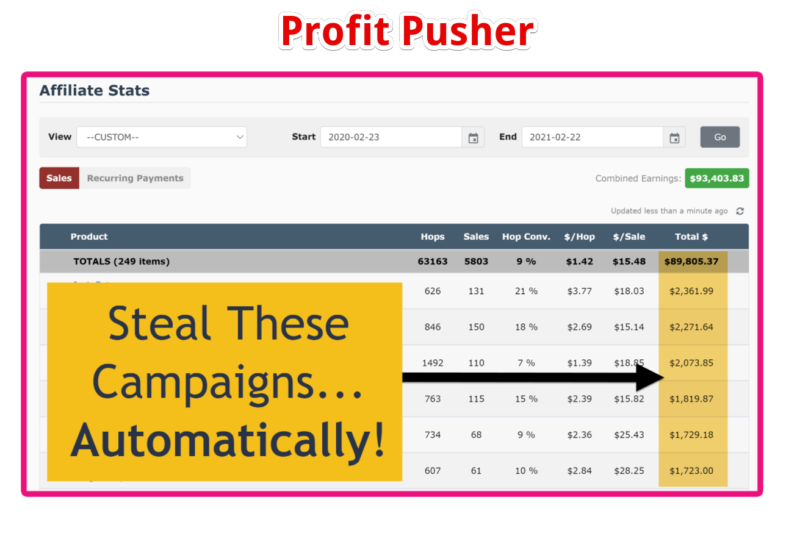 Now is this a coincidence?
I doubt it very seriously.
Let's break it down a bit to see what is this Commission Creator really about.
Founder of Commission Creator
It may not surprise you that the person behind the Commission Creator is also a creator of other products, for example, the 100K Cloner.
As mentioned in the 100K Cloner review, there isn't a lot of information about Richard Williams, who is also behind the Commission Creator.

Who is it for?
Everybody who is interested in how to start making money online wants to know whether the Commission Creator works.
First of all, there is no training, no tutorials.
You realize that in order create a successful business online, it is essential to learn certain skills.
But Commission Creator doesn't teach that.
It is just a website builder (that, in reality, doesn't work), where one might briefly understand how affiliate marketing works, but that's it.
Does it mean that it is for advanced marketers?
Not at all.
Advanced marketer already knows that it is essential to own a website and not just a subdomain that is available within the Commission Creator.
With that being said, Commission Creator is for nobody and I don't recommend spending a dime on this product.
In the next section, it is explained why.
How Does it work?
Basically, you purchase the product and you get access to the Dashboard.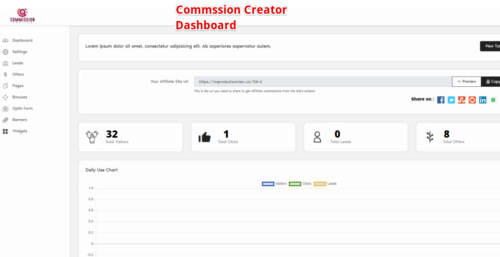 Over here you can start building your website.
You can change some settings like color, you pick up products that you want to promote, and here it is how it will look like:
It is not a bad-looking website. It is simple, clean and the potential visitor can easily navigate throughout the site.
But do you know how the website of another Commission Creator client will look like?
Exactly the same.
But the main issue I see, that the website you have just created is not really yours.
It is just a subdomain that no one will ever see.

You are allowed to change only what is written after the https://improductsreview.co/______
(Meaning the text after the slash that reads in the example above "?id=4" – the core name remains the same).
As a result, the site won't get any traffic.
Imagine there are dozens (if not hundreds) of exactly the same websites.
What are the chances that yours will rank well?
In reality, this is what happens, the site ends up in the 80th position…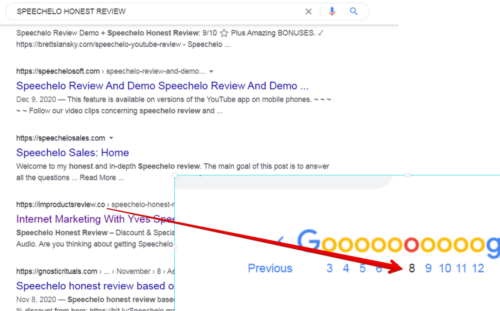 And who goes there?
You have probably heard the saying:

Screenshot from Reddit.
You see that it will be difficult to get traffic to "your website" and here it is explained why.
Does it really Work?
Ín reality this method doesn't work.
The main issue is that this site you have created will never rank in google. And that means no traffic and inevitably no sales.
Here the issues:
All members using the same webpage. They only change the subdomain but they are all the same.
How else to get traffic?
You can leverage social media if you have enough followers that are interested in the MMO niche.
Youtube – if your channel has enough subscribers
If you know how to rank well on google.
But any person who has at least one of the above skills doesn't need any Commission Creator.
If a person wants to learn how to make commission online the best advice is to learn how to drive organic traffic.
There is no magic in SEO, no push-button system,  but it requires investing in knowledge.
With proper training, anyone can learn how to rank well.
Fake Earning Reports
By now we know who created the Commission Creator, and he also runs other very similar (almost identical) products or clones if you will.
As we see he uses the same earning reports over and over again.
This one is from Profit Pusher:
This is from Commission Creator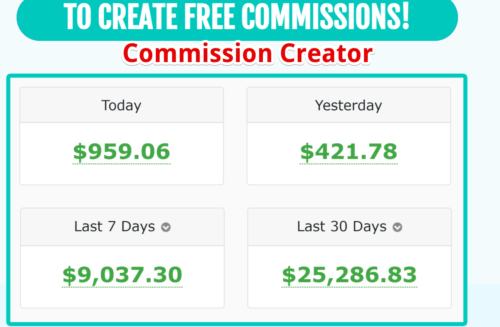 And from the 100K Cloner.
Again, isn't it strange that there are all exactly the same numbers?
The thing is that these figures are just all made up and it is a major red flag.
This fact alone makes me not trust the guy and the products he creates.
What is the Price?
It is $17, but you have a chance to get a discount of $3.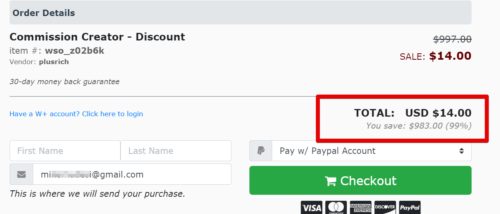 So you end up paying only $14.
Is it the final price?
Of course not.
Very similar price structure as 100K Cloner has.
So here are all the Commission Creator upsells:
Upsell #1 – Unlimited Edition – The price $29
This is the 1st upgrade where you are supposed to get unlimited offers so you can scale the commissions.
Upsell #2 – Autopilot Edition – The Price $39
You can activate up to 60x affiliate programs per day and have access to over 1,5000 campaigns instantly.
Upsell #3 – Done For Your Edition – The price $197
The Commission Creator Elite team will set up a done for your site "FOR YOU". You only need to provide them with your ClickBank ID.
Upsell #4 – Reseller Edition – $197
Apparently, it is possible to earn 100% across the entire funnel selling.
You keep the 100% commission.
Upsell #5 – MegaBundle Edition – $97
You can get access to 37 software tools that cost more than $300,000 to build.
Let's Sum It Up
Here are the main issues with the Commission Creator (and the same applies to 100K cloner or other similar products).
Your site is just a subdomain
Every other member of Commission Creator use the very same domain
Even if you get some visitors, they must be interested in the products you offer (most often the ClickBank products that are low quality).
Meaning, most of the people that purchased the product will ask for a refund.
If we add up the 3 points above, we get the main problem and that is:
No one visits the website
In order to make a sale, you need visitors (or traffic). And there are only a few ways how the website gets traffic primarily
Organic – Some SEO Skills Needed
Social Media – A lot of Followers needed
Referral – From another website (or Forum)
Paid Search – A Budget for advertising needed
Yes, there is also email marketing, but that is a result of the sources above. (In case you have Solo Ads in mind, I don't recommend it, and here is why).
Probably the most difficult is the Organic, but it is the most effective and most likely the primary source of traffic in the long term.
There are many courses teaching how to set up a simple website and what steps are needed to take in order to rank well in Google and other search engines.
Most of these courses are either expensive, or they don't offer a lot of training.
In my experience, one of the best courses offers the educational platform called Wealthy Affiliate.
I understand that not all people starting with affiliate marketing like the WA.
But there is an option to test it out for free for an entire week. At the bottom of this article, there is a link with more details
What I like about Commission Creator

30 days money-back guarantee
What I don't like Commission Creator
There is no training
A very low-quality website builder
Fake Income Claims
It is just a copy of another product with the same results (meaning it doesn't work)
Some Thoughts at the End
Commission Creator is just a low-quality website builder that won't be working in the real world.
A newbie who sees the offer thinks that for $14 will get a system that will generate income online.
The truth is that he will be "convinced" to buy the upgrades, for additional few hundred bucks.
The result?
The founder of Commission Creator gets his money and the client only access to the useless website builder.
This is a borderline scam and I don't recommend purchasing it, as well as other clones of this product.
Every website that earns money must rank well in search engines.
The questions are:
What kind of website do I need?
What kind of topic should be on the site, so there is not a big competition?
How to optimize the page in order to rank well?
How to monetize the website?
These are great questions and it is not difficult to answer them.
More details are to be found at the link below, so if someone is interested in affiliate marketing, below is access to one particular educational platform.
The starter membership is for free and one can test the platform, goes through the 1st 10 lessons, and has direct contact with me.
In case you have questions, feel free to leave a comment below, or let's meet inside the educational platform.
Thank you for reading
Mike
Please Take a Look at Platform Teaching How To Start Business Online
I have been a member of Wealthy Affiliate since late 2017 without a prior marketing experience.
Beginning of 2018 I have learned how to build a website that drives traffic and makes sales.
Since the summer of 2019, I am a full-time internet marketer and I work from anywhere I want, whenever I want.
Training within Wealthy Affiliate teaches how to generate a consistent income in the long run.