Does it happen to you sometimes, that you have a small period of time (a few days in a row) when you keep bumping into the same thing over and over again?
Like for example, you had not seen a certain person for 10 years, but in the last 3 days, you have met him 4 times already.
Or you receive the same questions from 2 or 3 different persons in the last 2 days.
These examples crossed my mind just these days, where I see some discussion about the Bots and automated bots that can supposedly increase the traffic to your site.
There are apparently products that might "do work for you".
One of them is called Traffic Bots, and I was curious about what it is all about.
So, what is the Traffic Bots?
First of all, we are going to check what is it they want to offer to us – as potential customers.
Then we check if there are any red flags, how the platform looks like. We will try to evaluate whether this product works, how much you have to pay for it if there are upsells so at the end we will be smarter whether it worth it to invest our time into the Traffic Bots, or not.
Name: The Traffic Bots
Website: www.trafficautobot.com
Price: Advertised Price $17 + Upsells
Owners: Chris
Traffic Bots Review – Overview
Like in many other similar products they (the owners) try to impress the visitor of their site, with the earnings potential, this program has.
They back up this claim with some screenshots from their ClickBank account or bank account.
How valid is that information, is questionable. Especially when they say that they earned more than $1,100 in one day.
Don't get me wrong. It is possible to earn such an amount in one day, but as far as I am concerned, people who earn $1,000 a day are in this business for more than a year. And I know they have been working 10 hours a day to get there.
Some of them are in the business for 3 years and they have a nice full-time income, just from affiliate marketing. Not mentioning the real potential if you do things right (with proper training that is not so difficult) and you are persistent.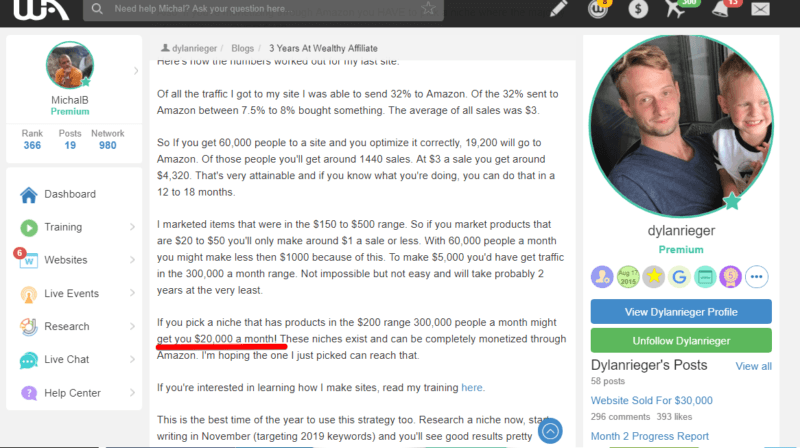 But I digress, so let's go back to the Traffic Bots. Maybe you can do well there, as well.
The Traffic bots is offered by a guy named Chris.
He says he is the affiliate marketer – one of the insiders, earning thousands a day. He says, that you – as a potential customer, can follow his system and make a profit too.
Btw, I think by now nobody has seen this Chris guy. But, on the other hand, I appreciate that they do not use paid actors like they do in other products.
Here is the formula he suggests you follow. Meaning how you can make an affiliate commission, with his 10 Bots:
Step 1: You need to choose a niche that is profitable.
He does this with 2 free traffic software:
First is Niche Money software which should help you to find over 100 niches for e-commerce, Amazon, ClickBank, and JVZoo affiliates.
The second is Keyword Titan software to find the most profitable keywords that will give the fastest traffic.
Step 2: Get Free YouTube Traffic.
He has 3 new software.
Affiliate Video Bot, which includes 1500 pre-made templates to the top JVZoo and ClickBank affiliate programs.
Website2Image and Image2Video – you can create videos with these 2 software – image-based videos for 100 extra affiliate programs. Allegedly in under 2 minutes…
Step 3: Get Free Traffic with Google
Domainaveli software and Titan WordPress theme. – Turnkey video Live on YouTube generating views and driving traffic to your site. It supposed to find the best domain name for each keyword, then register the name and install the "Done For You Theme"
Step 4: Explode Your Traffic and Sales
With the Sites DB & Traffic DB software, you should get traffic from thousands of websites. Then with additional GeoBots tools, you can increase conversions on any website by displaying custom content to the user's geographic location.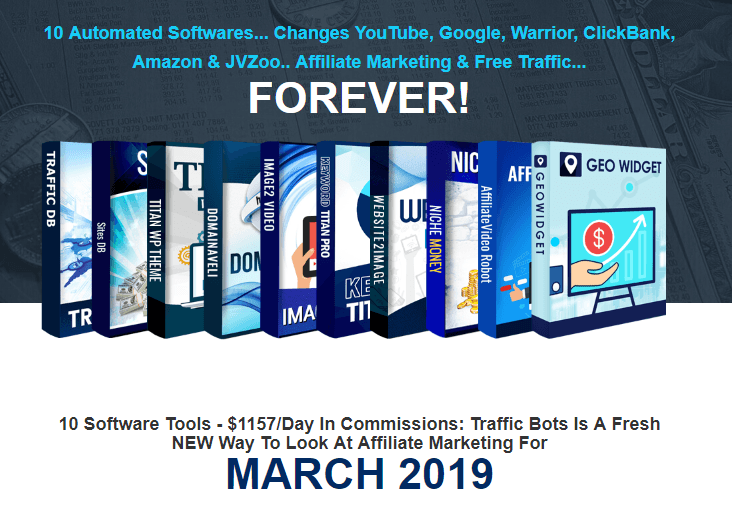 The Good & the Bad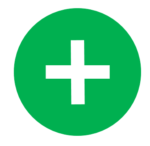 Price – only $12
Money-back guarantee
Some training/information available (videos)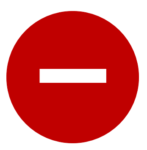 No Structure in training – chaotic and overwhelming
Upsells (you might be charged for all of them once you choose to buy 1st one)
Traffic bots barely work
Who is it For?
It is announced that this package of software is for everybody and everybody is able to make money with it.
Well, if you have no experience with similar platforms, you might feel a bit lost inside of the Traffic Bots. Since this platform is confusing also for advanced affiliate marketers.
Traffic Bots Tools & Training
Let's take a look inside the platform. You are shown that the purchase you have done is made through ClickBank. That means, that the purchase is safe and you can always contact ClickBank in case of any queries.
Right below the welcome section you have the Steps you can follow.
Just to give you an idea of how it looks like:
Then if you scroll down you have other steps in the following sequence:
2 Step: Access The GeoBots "GeoWidget" Software
3 Step: Access Niche Money Software
4 Step: Access Keyword Titan Software
5 Step: Access Website2Image Software
6 Step: Download The Image2video Software
7 Step: Download the Affiliate Video Robot Software
8 Step: Access The Domainaveli Software
9 Step: Access The Titan WordPress Theme
10 Step: Access The SitesDB Software
11 Step: Access the IM Traffic DB Software
Then you have Training Videos for each Software. The length of each video is different, from 6 minutes to 30 minutes.
There are some Bonuses as well as for example:
Bonus #1: Download T-Shirt Titan 1
As part of the Bonus, you can download 9 Plugins.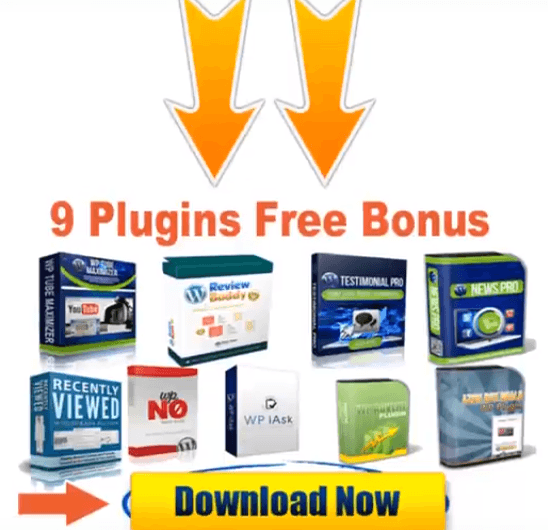 Support
You have an email address for support, in case you have any problems. You can just click on the address and it should open your email client.
Before you write an email, they ask you to include the receipt info. Then they have 48 hours to give you feedback.
Traffic Bots Price Structure
Right off the bat, you are notified to claim your $5 discount. Then the price for the product is $12.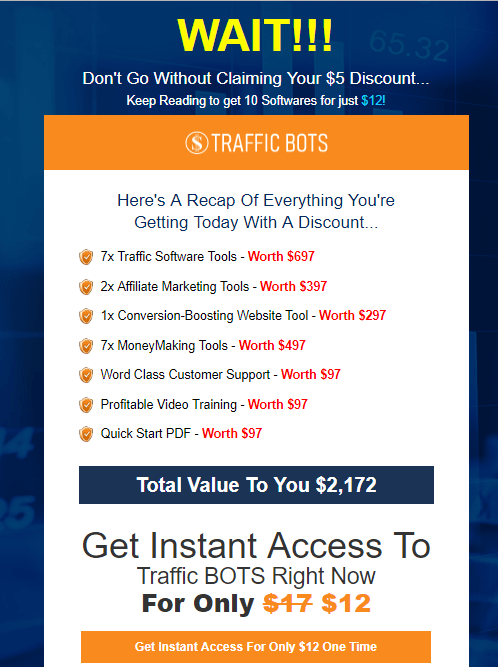 As a regular marketing technique, you are shown how much the entire product is worth it, and how much you only pay for it. So the front-end price is then $12, which is very cheap. Or to be precise it is $14.40 with VAT (the VAT depends on the location where you are).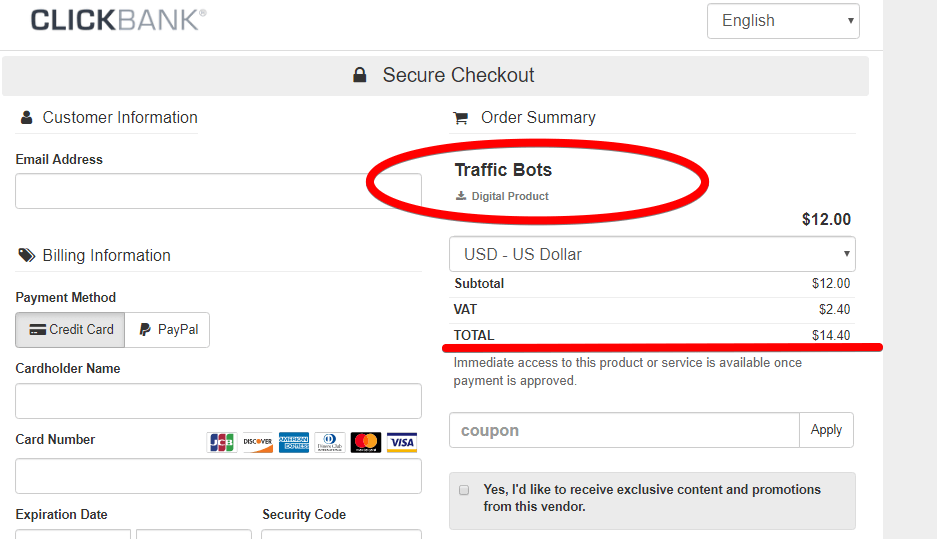 So far I have not seen a ClickBank product without an upsell. This one is no exception.
Here is the structure of the Upsells:
Upsell is called Traffic Bots Pro Club and it is for $97
Upsell is the "Done-for-you website". The price is $1 where you get a 7-day trial. After 7 days you would be charged $27 a month.
Upsell is called Affiliate bots and the price is $17.
One interesting note – I was reading another review regarding this product, just to get 2nd opinion. This person has revealed that he decided to buy the 1st upsell, making sure that he won't be charged for the rest of the upsells.
Guess what – he was automatically charged for the rest of the upsells at once.
Fortunately, you can get your money back. Also, the owner(s) claims a money-back guarantee, no questions asked. Nevertheless, I would suggest you contact ClickBank support directly, as you may get the money back faster and no questions asked.
My Final Opinion of Traffic Bots
Free traffic software – in my opinion, if they work, they work only for a while. Not to mention that if you use them you jeopardize your website since search engines go after such bots. It is only a matter of time when this artificially generated traffic will stop flowing in your direction. You might have then hard time recovering your reputation.
Also, I would like to point out that the entire Traffic Bots platform is a bit overwhelming to me. It does not have a training structure as I would expect. It is just a bunch of information chaotically thrown in one place.
Well, I know that for the price of $12 I cannot expect much, but you might get overwhelmed also for free, watching YouTube videos about learning how to make money online.
If you would like to know what I call a training platform, you can check my review about a platform called Wealthy Affiliate. There is a ton of training material including more than 300 hours of videos.
The training is divided into different levels and you have several tasks for each level. You can apply your knowledge right away. I love the process of learning by doing.
How to Really Make Money Online – Proper Education is Essential
There is no way that some tools will start to generate revenue for you.
The Internet is basically not different from the offline world.
How to make money online? Someone has to decide to give you the money for a service you offer for him.
Or you can give valuable information to your customers.
You can recommend some products for them and get a commission.
You know that more and more people buy stuff on the internet. But they are also careful so they seek advice.
They want to buy the stuff that suits their requirements.
There are many products available online but not so many reviews.
Now, if you learn how to write such reviews on your own website, you will attract visitors to your websites. That means traffic and that can be monetized if done correctly.
If you are interested in doing such reviews, and how to have a website that attracts people (and thus Google and other search engines) then I think I can help you.
There is one place that provides great training for beginners and intermediate marketers as well. Everyone can join for free and form an opinion about the training.
You can have a look as well, it costs you nothing.
Traffic Bots at a Glance
Name: The Traffic Bots
Website: www.trafficautobot.com
Price: Advertised Price $17 + Upsells
Owners: Chris
Overall Rank:

VERDICT:
Affiliate marketing works. It may need some time to get free traffic to your site and generate income, but once done properly, you can reach to the level of having a passive income.
Is there any shortcut? Like using some automated bots? I don't think so. Maybe temporarily you may get some results but in the long run, I am sure it does not work.
Of course, you are free to try it out on your own – then I would like you to get back to me,
Leave your opinion in the section below. If you are interested in real online business, I would recommend visiting the following site.
This platform has been on the market for about 15 years, and it keeps teaching many people how to build a sustainable online business, where you have your own website. You rea taught how to pick your own niche and how to get free traffic.
There is a 7-day free trial – no credit card needed.
You only need your email, and you can take advantage of the training for an entire week.
Let me know if you have any comments or questions regarding any of the issues mentioned above.
How to Get Started with Affiliate Marketing Business?
I have been a member of Wealthy Affiliate since late 2017 without a prior marketing experience.
Beginning of 2018 I have learned how to build a website that drives traffic and makes sales.
Since the summer of 2019, I am a full-time internet marketer and I work from anywhere I want, whenever I want.
Training within Wealthy Affiliate teaches how to generate a consistent income in the long run.