I assume you've already come across the name Wealthy Affiliate, and you're now in the midst of researching to determine the legitimacy of this platform.
Let's pause for a moment:
…I can anticipate your thoughts… is this going to be just another mundane review of Wealthy Affiliate?
Before delving into the comprehensive Wealthy Affiliate review for the year 2023, I'd like to inform you that I've been a member of this platform since November 2017.
On one hand, you might perceive me as here to endorse this platform, and that's certainly accurate.
On the flip side, the forthcoming review will also shed light on certain shortcomings of this platform.
Throughout the creation of this article, I maintained a skeptical stance… Furthermore, I'll expound on why Wealthy Affiliate might not serve as the optimal educational platform for everyone.
Numerous reviews available exhibit biases, leaning in one direction or another…
Now, you might be thinking, will this review be any different? Why invest your time in reading it, you might question?
The reason is simple: I've been a member since late 2017 and I'm still grappling to consistently earn four figures per month. Although there were months when I achieved that milestone, as of my current writing, it's not the case.
I'll elaborate on this matter later (actually, it's explained below in the FAQs section).
Disclaimer:
Please note, that the following post might contain affiliate links.
That means if you click on them and purchase the product, I will receive an affiliate commission at no extra cost to you.
This review is based on research and information available online in the public domain.
Any recommendations and conclusions are only opinions and may not apply to all persons or situations.
Wealthy Affiliate Overview
Name: Wealthy Affiliate
Website: WealthyAffiliate.com
Owners: Kyle and Carson
Founded: 2005
Recommended: Yes (and No – read also section who should not become a premium member)
Wealthy Affiliate Review – Quick Summary
Wealthy Affiliate stands as an online platform dedicated to instructing individuals in the art of website creation, the tactics of generating organic traffic, and the strategies of effective monetization.
At its core, the platform offers two primary courses:
The first course zeroes in on niche marketing,
while the second one centers around promoting Wealthy Affiliate itself.
This comprehensive platform provides an array of training options, encompassing micro training sessions, informative webinars, and detailed classes.
Furthermore, it boasts a social component that facilitates communication, the exchange of ideas, and a convenient Q&A system.
Having been established in 2005, Wealthy Affiliate prides itself on a user base exceeding 2 million, with several thousand actively participating.
Distinct from various other platforms, Wealthy Affiliate extends the opportunity to access the initial ten lessons at no cost upon signing up with an email address.
What is Affiliate Marketing?
First of all, by now you know that this platform teaches how to make money with affiliate marketing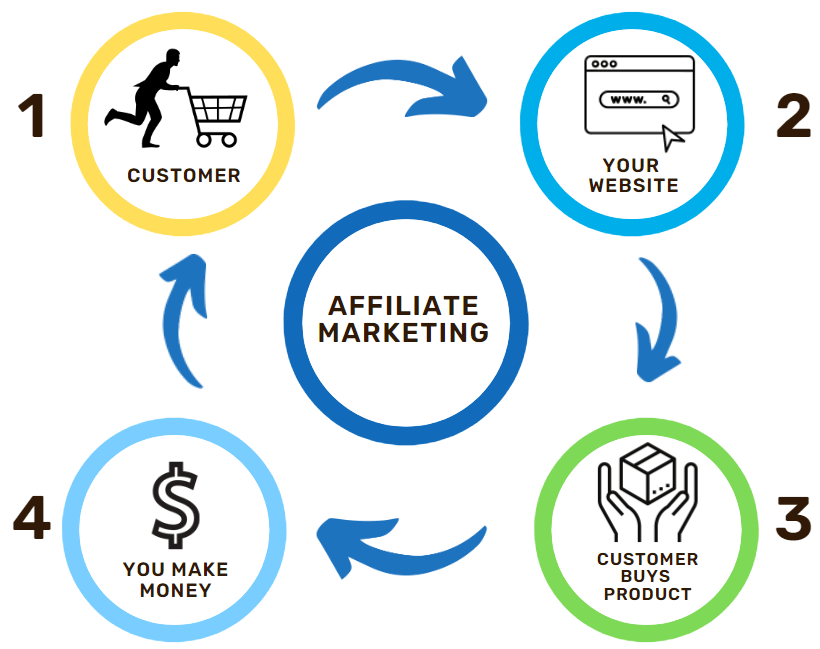 What is affiliate marketing?
Simply put – a business model that connects potential customers and vendors.
Affiliate marketing is one of the, if not the simplest business models that are on the market.
That's why it is recommended for beginners.
But many experienced marketers who already have experience in eCommerce or freelancing are inclined to affiliate marketing as well.
It is also the first step if you want to become an SEO expert or you want to sell your own course.
In case you are interested in e-commerce (or dropshipping), it is also useful to know how affiliate marketing works.
What Exactly Is Wealthy Affiliate?
Wealthy Affiliate is an educational platform teaching how to generate consistent income online, in the long term.
That includes:
How to choose a proper niche
How to create a website
How to get organic traffic (free traffic)
And how to monetize the traffic
The affiliate marketing business model is one of the simplest business models there is, so it is great for complete newbies with no prior experience and intermediate marketers as well.
WA platform has also its social aspect, where people can chat, share their opinions and ideas, ask questions, create micro-courses, give advice, and so on.
It has great support, so if there is an issue with the website or WordPress, one gets feedback within minutes.
Wealthy Affiliate was established in 2005, and as of this writing, it has about 1.5 million users.
Who Is Behind the Wealthy Affiliate?
Kyle and Carson are the guys who founded the Wealthy Affiliate.
They are still active within the community, well, Kyle is closer to the members. Carson is more behind the technical aspect of the platform.
There are 30+ people behind the platform who constantly keeps an eye on it, so everything runs as smoothly as possible.
Jay is an official Wealthy Affiliate live video training coach.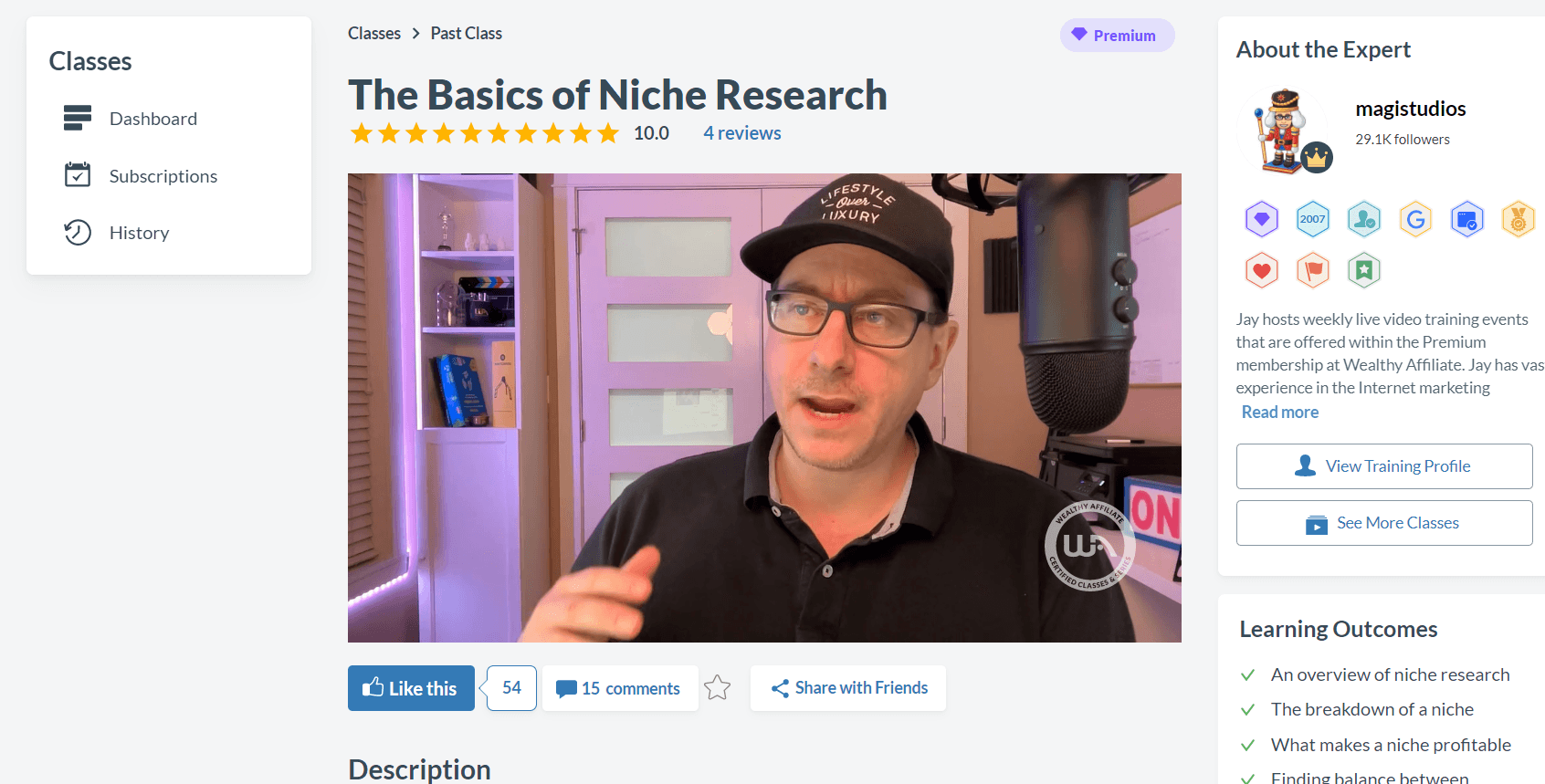 His weekly video training is a necessity for the skill development of online marketers.
All the webinars are recorded so if the time of live training is not convenient (for example due to the time zone), it is always possible to watch the recording.
For example, in December 2021, Jay hosted "Research to Profits"; a Step-By-Step 14-day live case study. That includes:
Researching Niches
Researching Affiliate Programs
Researching Keywords
Building the Website
Setup Tracking, Socials
Writing the Core Content
Building the Content Creation Spreadsheet and Calendar
Writing the 1st Blog Post, the 2nd Blog Post
How to Hiring Writers
Information like these is priceless and you can find them probably elsewhere, but for a couple of hundred dollars, at least.
(I know digital courses that offer less and charge more than $1,000).
Wealthy Affiliate Login
It is very easy to log in to Wealthy Affiliate.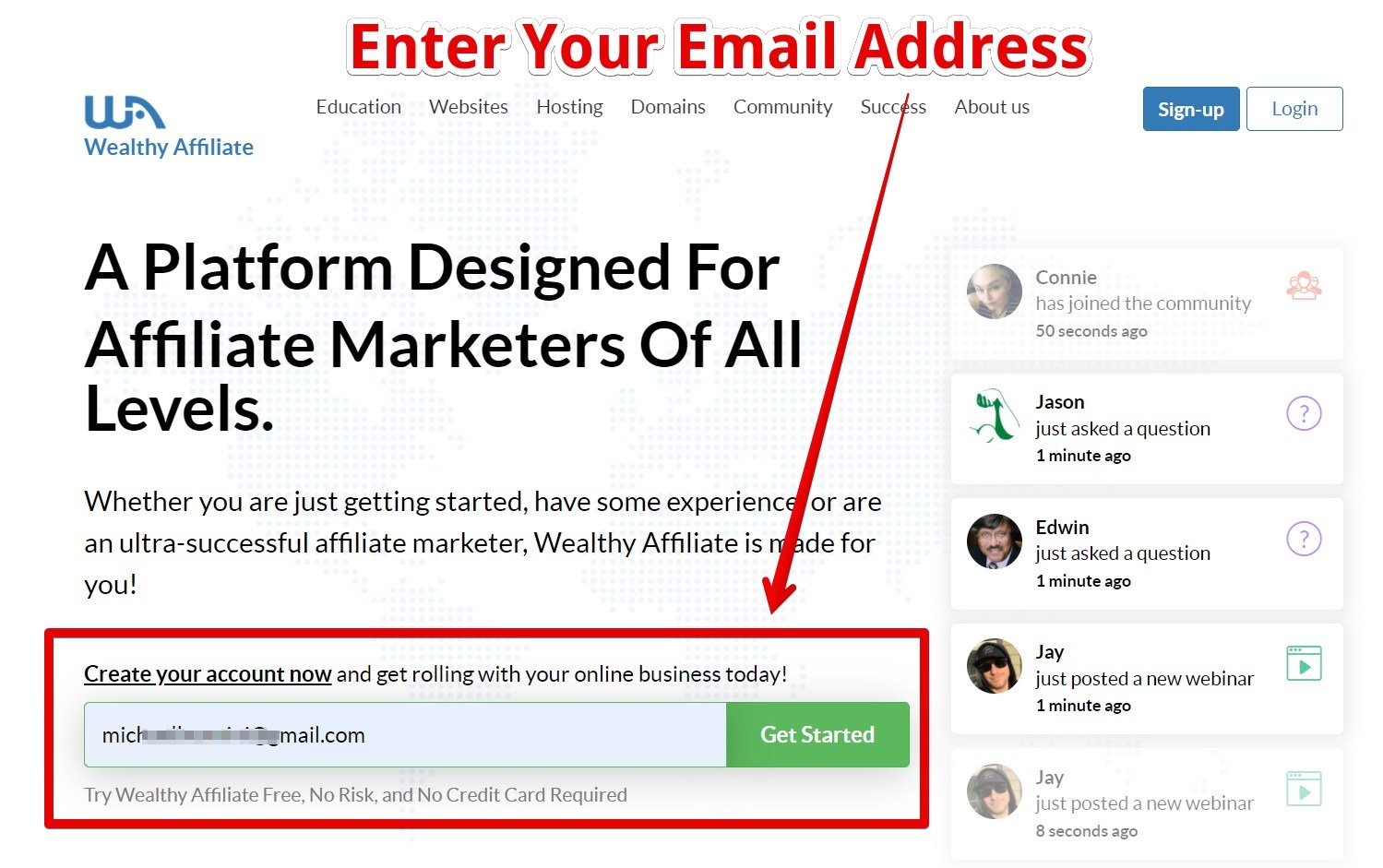 You only need your email address.
And if you are skeptical, you can use any email address. But I can assure you that this is a legitimate platform and you won't be spammed.
Then, just enter your:
and voilà, you are all set.
Then just follow the steps as it is recommended.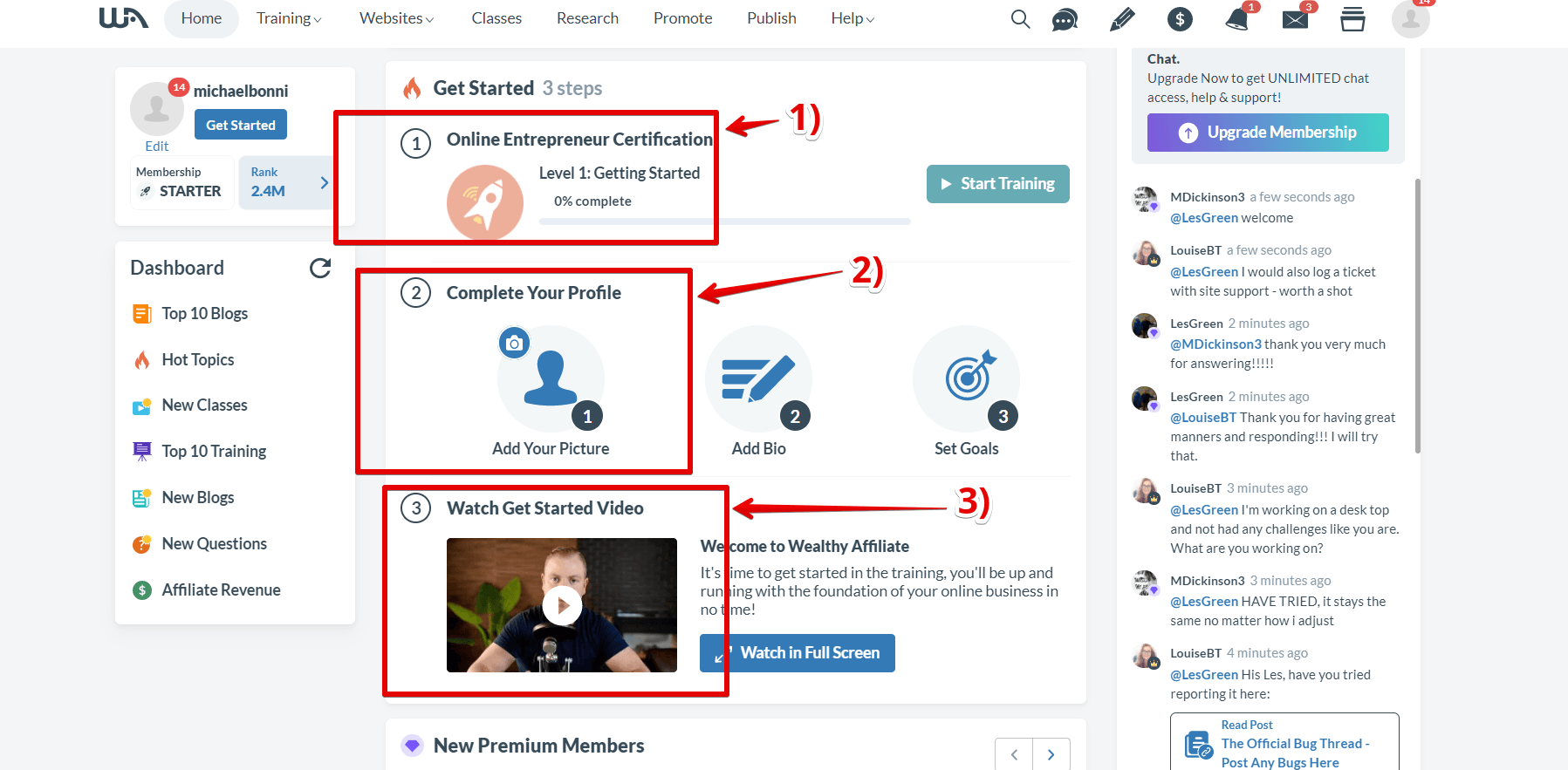 I personally wouldn't miss the Welcome to Wealthy Affiliate Video. It is a 30-minute walk-through video where you learn a lot about what to do and how to start.
With that being said, let me share with you right away what is inside the platform.
What Is Inside the Wealthy Affiliate Platform?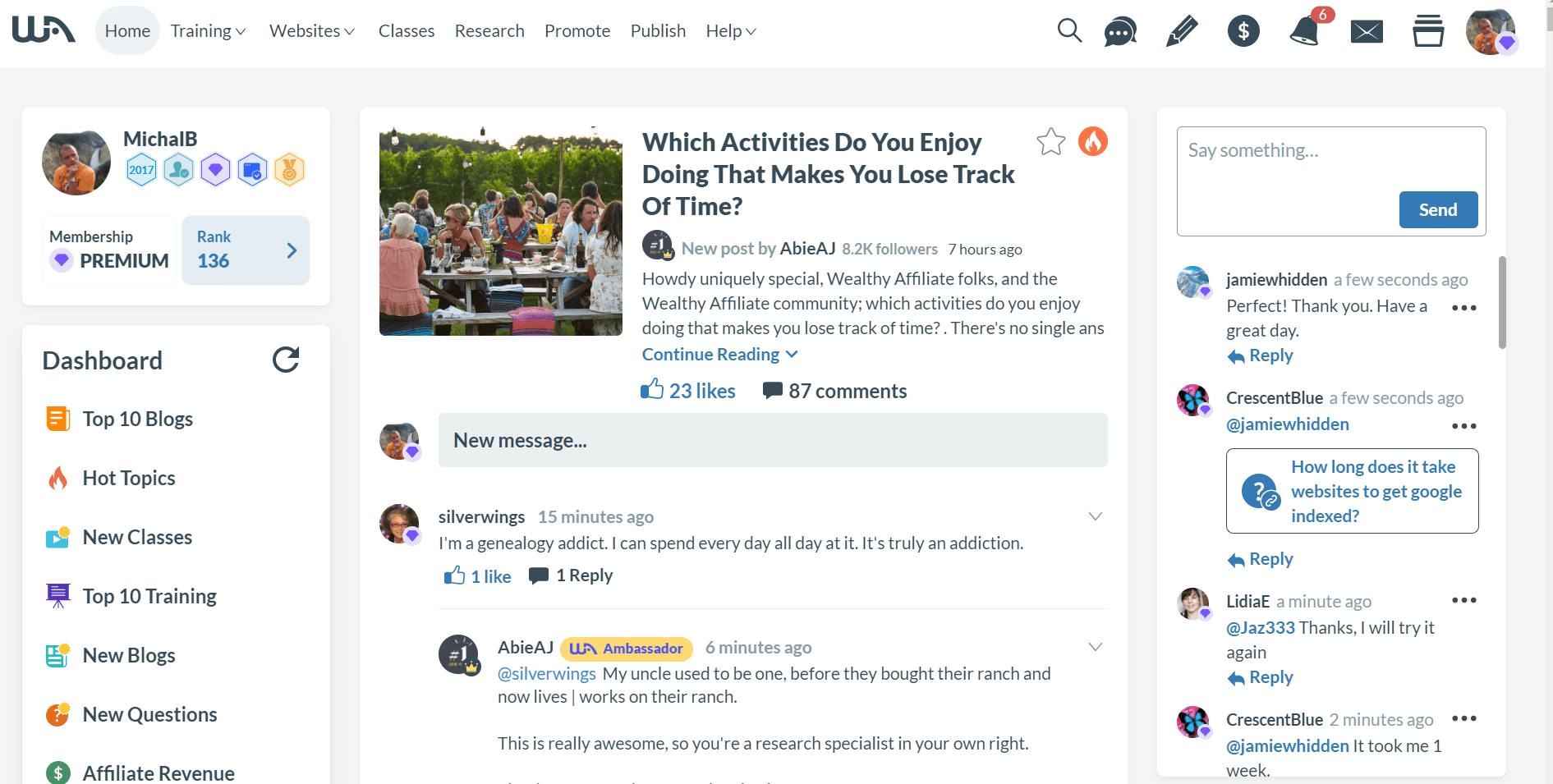 In the section above I have already touched on what you can find inside the platform.
Here I want to share information about the core training within the platform.
I try to keep this review concise, so I won't bother you with details.
You can actually check it out for yourself, for free, but let me give you a brief introduction to the training platform.
There are 2 main courses, one is about niche marketing and the other one is called Bootcamp. It concerns mainly the make money online niche, where you can promote Wealthy Affiliate.
Online Entrepreneur Certification
Online Entrepreneur Certification training teaches how to create and grow a business in any niche.
You can either choose a niche that you are passionate about or have at least an interest in.
In case you are not sure about the niche, you will learn how to choose a proper and lucrative niche.
The training is divided into 5 levels. Each level has on average 10 lessons with practical tasks, so you are building your business as you are learning.
Depending on the niche, it is possible to make consistent income online within 6 to 10 months.
Of course, some niches take longer, so it is better to focus on so-called, evergreen content.
If you are reading this and you would like to learn more about niches, let me know either in the comment section below or directly inside the platform.
Choosing a niche is the very first step and it is very essential. I waste almost an entire year until I made a decision.
Don't waste your time as I did.
Wealthy Affiliate Bootcamp
This training is a bit more complex than one before.
Students are being taught how to create a business in a specific niche that is related to the promotion of the Wealthy Affiliate.
As you may have guessed, I have gone through this training as well (actually have not finished it yet).
Also if you are interested in the make-money-online niche, this Bootcamp is for you.
Other Training
There are many other micro-courses, training, and tutorials concerning specific topics.
These include webinars (hosted for example by Jay, as mentioned at the end of the previous section), but also training created by already experienced marketers.
Who Is Wealthy Affiliate For?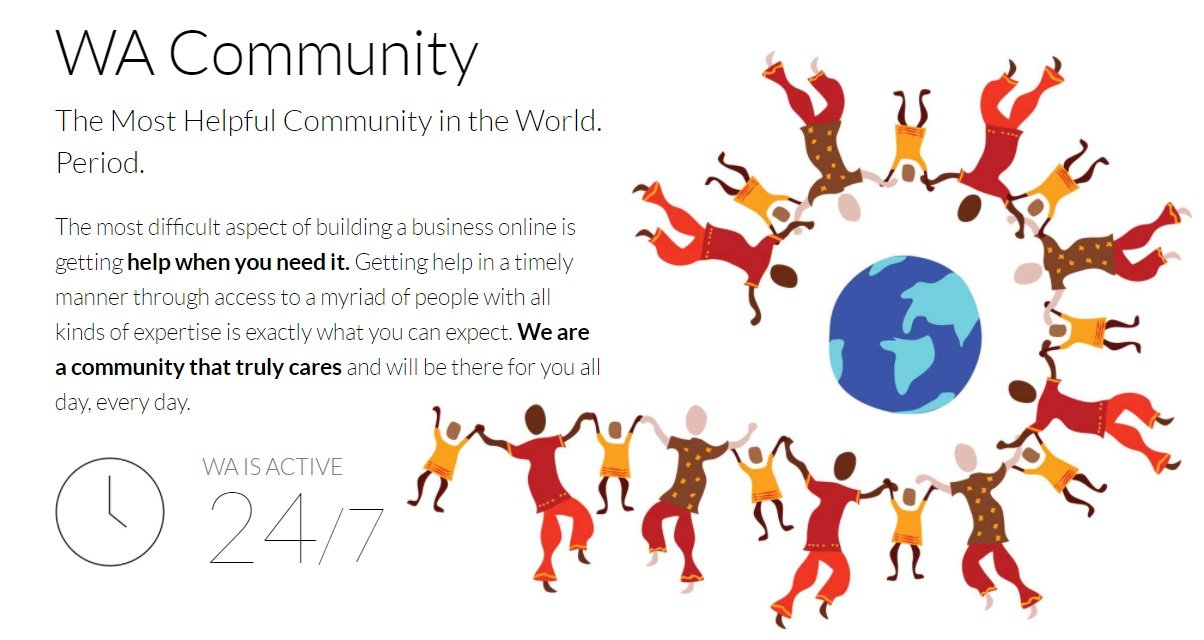 I remember when I first stumbled upon this platform, I wanted to know only how to create a website.
I was determined to figure it all out on my own and did not want to be a member of any big platform.
Well, it took me another month of research until I decided to give it a shot.
After a few weeks, I paid for the yearly membership and did not leave the platform since then.
With that being said, this is for people that searching for information on how to make money with a simple website.
They want to have step-by-step training, with support in case they have some issues during the process.
Also, many beginners don't realize that WA also offers additional tools, such as for example keyword research tools.
This tool is crucial when it comes to organic traffic and you will learn how to use it, so your website will rank well on Google within weeks.
In my experience people coming to WA are not entirely newbies; most of the members already tried at least one training and were disappointed.
They either had been scammed or did not get enough education, or information.
Who Is It Not For?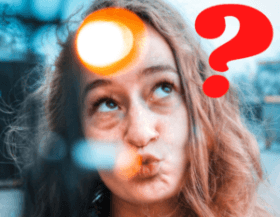 Being a Wealthy Affiliate member I can tell that this is not for everyone.
People often are enthusiastic about starting something new, but if there are no results within 4 or 5 weeks majority of them just quit.
They either go look for a different platform or just realized that a 9-5 job is actually not a bad thing.
Speaking of 9-5; that is actually one of my biggest motivations.
Already said it loud and clear – I will never work for somebody else, never ever.
I used to work in several companies in 3 or 4 countries and even though the salary was OK, I still used to feel that lack of freedom.
I understand that being your own boss is not for everyone.
It requires a bit of discipline and time management and basically, you are both, at the same time:
your worst boss
and your worst employee.
Regarding the Wealthy Affiliate platform – it offers the best tools I am aware of… but still – even the best Tool is only 50% of success.
Maybe even less.
My point is, that if you are motivated you are able to find a lot of information for free.
– how to set up a website
– choose a proper hosting
– how to rank well
– keyword research
– how to choose a niche…
I am sure this information these days are available for free… somewhere and everywhere. Most likely.
Back in 2016, and 2017, I tried to learn only how to build a website… but ended up becoming a WA member.
And I don't regret it.
You have everything under one roof, so to speak.
Am I here to sell you the product?
You know what – maybe I am, but I don't feel like "forcing" anybody.
Just wanted to show you what is the wealthy affiliate all about. And it is up to you to make the decision.
You know you can try it for free.
Check the training – the 1st five lessons, and then decide whether it is something you have been looking for or not.
I have seen many tutorials, training, and courses, but this was the closest to the one I wished for.
Feel free to go and check other courses, as well.
There is plenty of them and I am sure you might like a different approach.
Anyone Can Test It Out For Free
Kyle and Carson, these guys are in the business for more than 15 years.
I can tell that they think in the long term. They are not the kind of guys/gurus that come up with training and then live on a beach for the rest of their lives.
They are hard workers and dedicated and they teach long-term strategy. The Evergreenmethod.
And they made the platform available for everyone.
And here I am again sounding like a salesman.
Do you know why I feel confident that you won't hate me – there is a 7-day free trial.
Check it out for free.
You only need your email address. That's it.
How many courses are there that offer a free trial?
I can't think of any.
Sure there are many offering a 30-day money-back guarantee. Quite often there are some requirements for a refund.
How Much Does Wealthy Affiliate Cost?
This is probably the section that interests you the most.
It makes sense. It is your hard-earned money.
And I can go on saying that this is an investment and you won't regret it and blah blah…
Well, if you don't have the budget for it, don't buy it.
But still, you can check the platform and educate yourself. You will at least gain a better perspective.
So there are actually 3 different memberships.
1) Starter Membership – 0$ (No Credit Card Needed)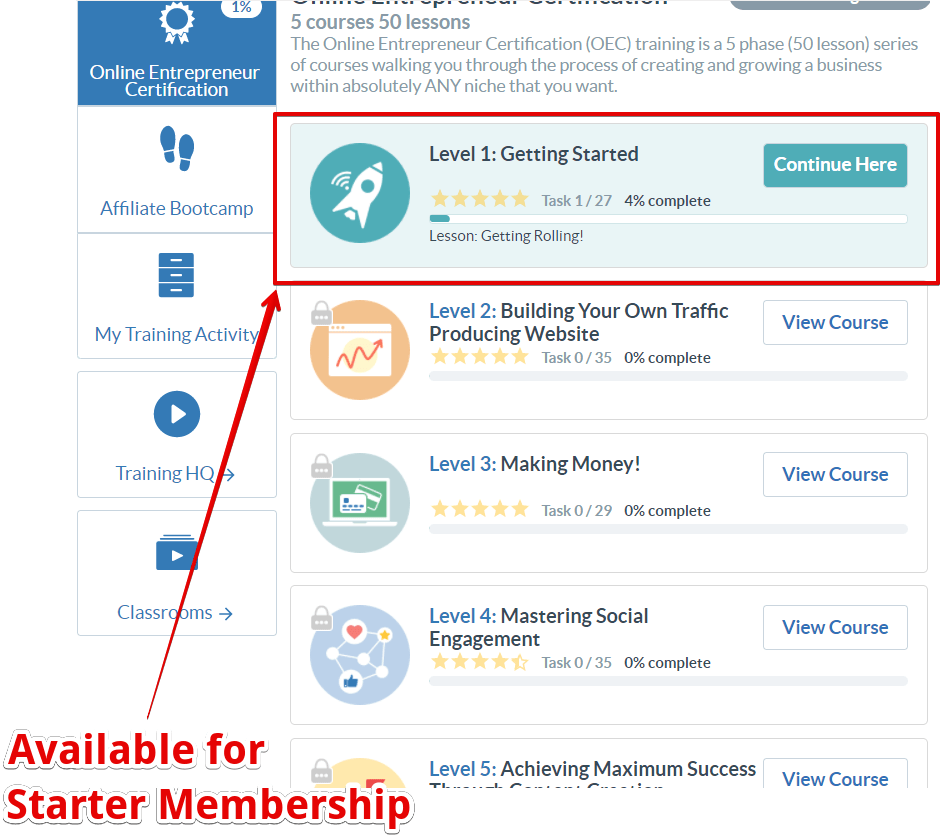 The starter membership doesn't cost anything and it is possible to sign up just using your email.
You have access to the first 5 lessons, so you know what to expect.
Obviously, it is just a brief touch of the entire training, but anyone can test it out.
There is no need to use a credit card.
I am sure you know that there are many programs online offering you a free trial, but you have to use your credit card in order to get access. Then after a week or so, you are charged for the membership automatically.
This is not the case with the Wealthy Affiliate, Starter Membership.
You just need to enter your email and you have access to the free trial.
If you don't like it you don't have to spend anything.
Well, otherwise…
To get access to the main training area, it is necessary to use your credit card.
2) Premium Membership –  $49 Monthly | $41.42/mo billed yearly ($497)
You have everything you need to have and until 2021 this was the only paid membership within the WA platform.
So the access to the entire training remains the same even after 2021.
On top of it, there is a premium plus:
3) Premium Plus – $99 Monthly | $58.08/mo billed yearly ($697)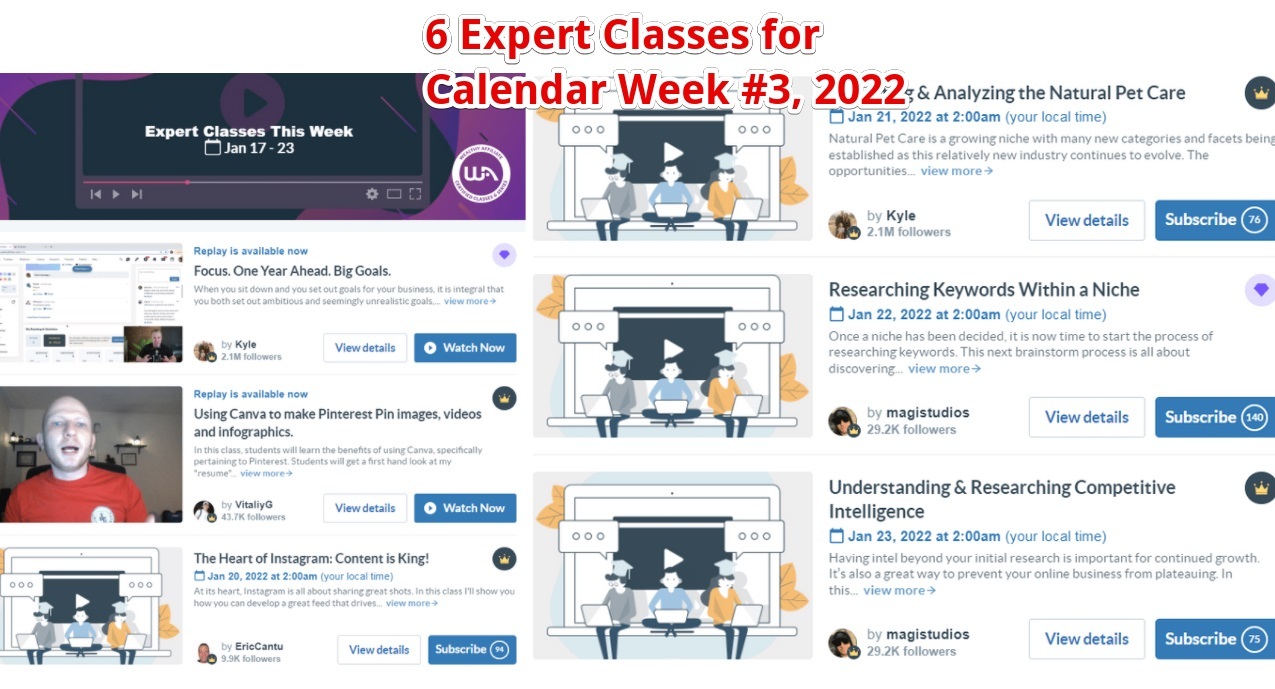 This is a new bundle that was introduced only in 2021.
On top of the main training, you get access to several other webinars, that are more advanced.
Generally speaking, this is for those that have already had some income online.
But don't get me wrong. Also, a lot of newbies upgrade to the premium plus, just to take full advantage of the WA platform.
It is also possible to get a 50% discount on the 1st month, then the price is $49 for the 1st month.

Wealthy Affiliate Complaints
Let me just briefly go through some of the complaints you might have seen in other reviews.
1) No Refund

This is not entirely true.
And from the screenshot above it is obvious that members asked for a refund in September 2021.
There are a lot of reviews out there, revealing only half-truths.
2) Rankings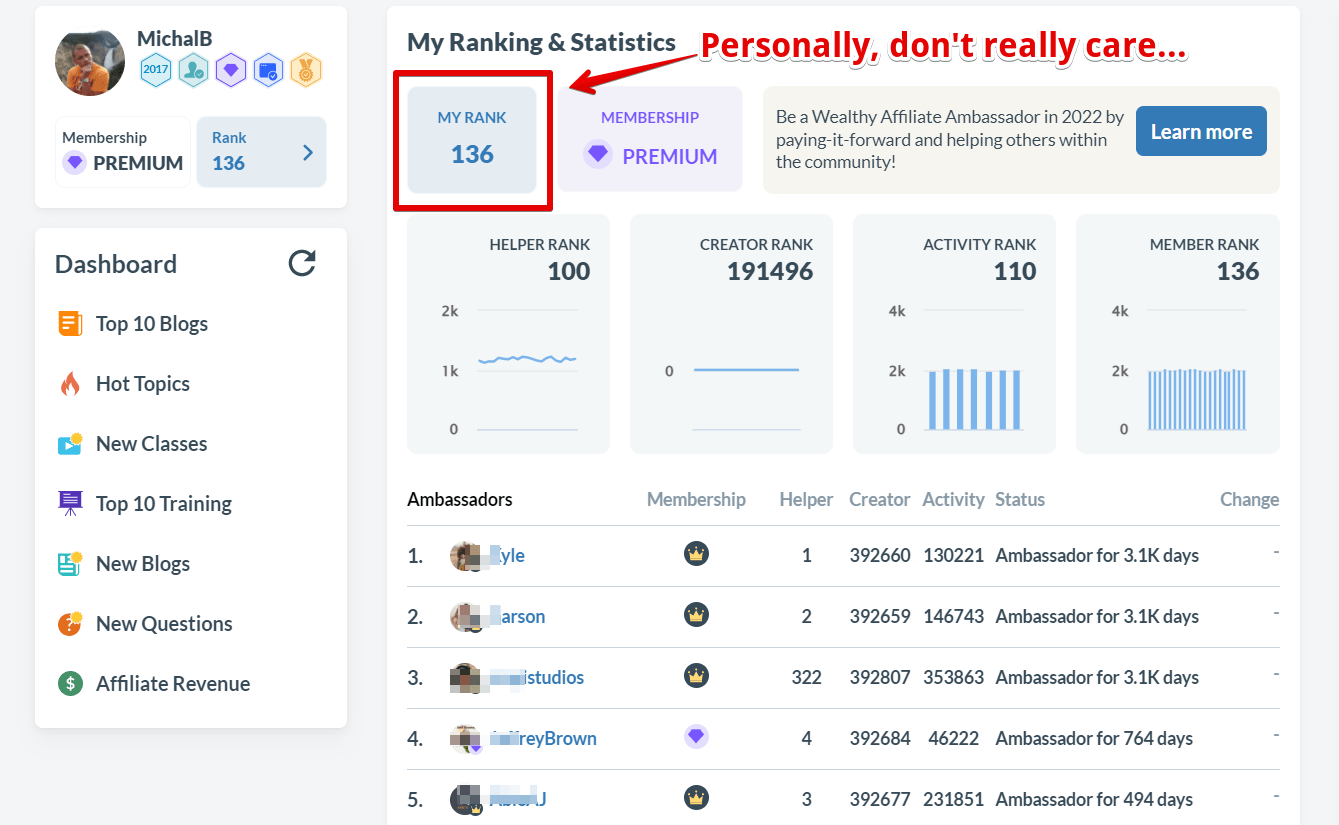 This might be annoying for some people, but for others, it is very important to have good rankings within the WA.
It has no real use, meaning if you are in the top 50 you don't necessarily make more money than a person with a ranking of 300.
It is mostly about how active you are within the platform, how helpful, and how creative.
Me, I personally don't really care about the number.
3) Obsolete Training
This is true and many videos are recorded some years ago.
As already mentioned there is a plethora of training within the platform, so it takes some time and energy to update all the videos.
Nevertheless, the principle remains the same.
Here each member learns an evergreen method, regardless of the environment, so to speak.
But it has been already announced that, in 2022, they are going to introduce and update all training videos.
And I have seen that some of them are already updated.
4) WA Members are not Making Living
Most of the more than 1 million members probably do not make more than $300 per month.
I agree.
Many of them don't make anything. The majority quit within a few months.
That's the reality in any walk of life, do you not agree?
I would like to see a platform where the majority make more than $300 per month.
Even the best university in the world doesn't produce millionaires. In fact, only 5% of people really get to the point of being financially independent.
And please note that it will take years (assuming they are not in debt).
So if a person is dedicated and consistent, and has access to the tools Wealthy Affiliate offers, success is inevitable.
5) Bad Structured Course
It might be overwhelming at the 1st sight.
This is a platform that has been updated for more than 15 years and they do their best to have it as simple and clean as possible
At first, a lot of training and tools are sometimes not easy to find. It takes a little while and soon you will find out that they did a good job.
Besides, you have a walk-through video in the very 1st lesson so you are going to learn how to easily navigate the platform.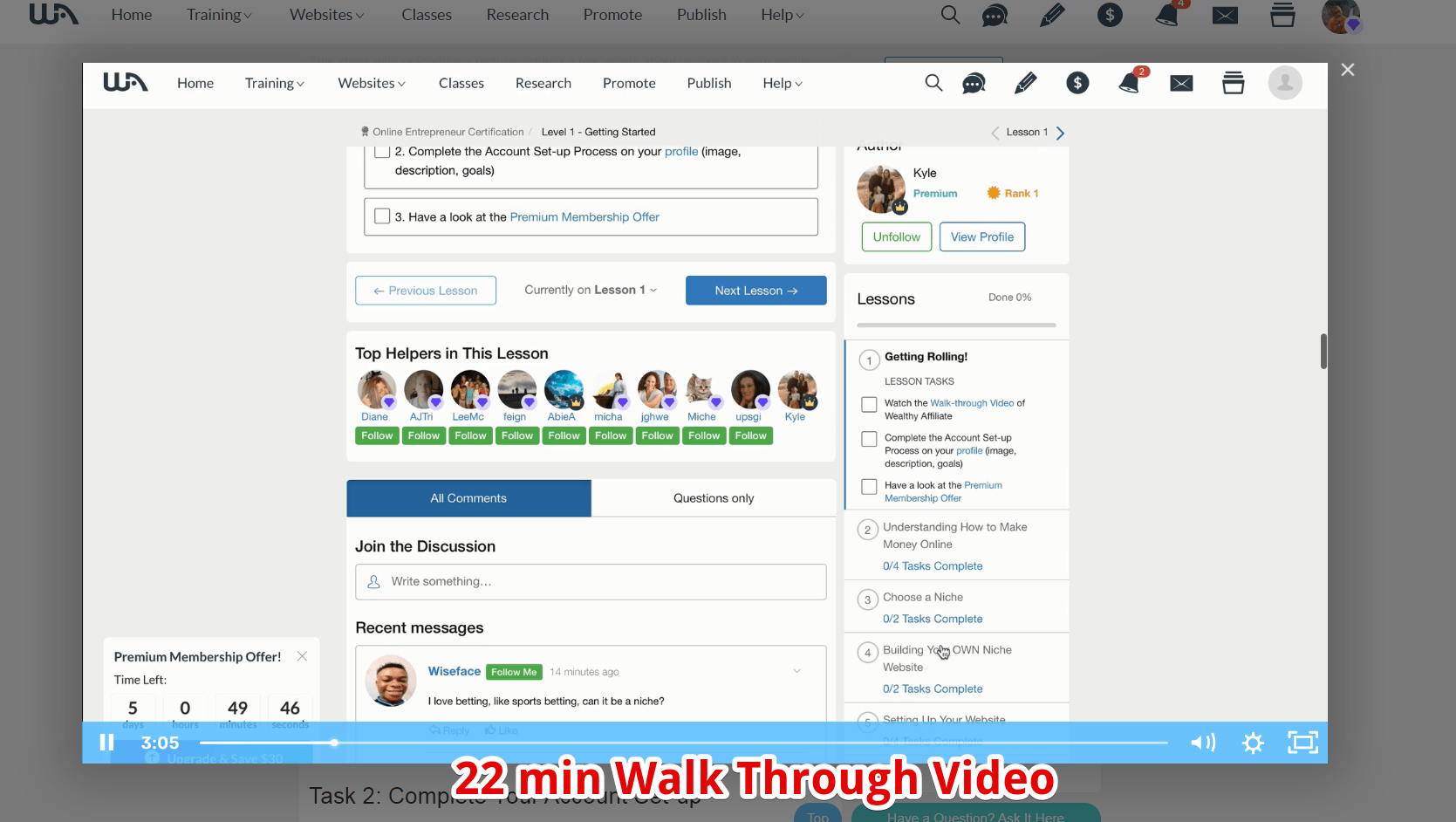 You can actually get inside the platform and check the 20 min video by yourself.
Is Wealthy Affiliate a Real Deal?
In my 10+ years in the aviation industry, I have undergone many courses and tutorials, so I know what kind of training works.
On my way to becoming independent, I had seen many digital courses… and it took me a few years until I stumbled upon Wealthy Affiliate.
Once I saw how the training is structured and the approach from existing members together with Kyle and Carson, I was 95% sure that this is a real deal.
I know that some members make 4 digits within 8 months For others it takes a bit longer.
But there are a lot of people within the WA that understood how to apply the knowledge and many of them outsource the work, so they can focus on another aspect of the business.
So there must be something about the WA.
Wealthy Affiliate FAQs (Or 6 Things You Should Know)
1) Is Wealthy Affiliate Legit?
Yes, the Wealthy Affiliate platform is legit. 
The WA (Wealthy Affiliate) platform is available for everyone, it offers a 7-day free trial (no credit card needed), with access to the first 5 lessons for free.
Even after 7 days, you have access to the platform as a starter member, with limited access but still, you are a member of the platform. 
Platforms that are not legit, scammy, or even misleading ones, do not offer a free trial.
They just want your money, throw at you a bunch of upsells and on top of it you have a hard time getting your money back. 
2) Is Wealthy Affiliate Outdated?
WA teaches affiliate marketing for more than 15 years. The core of this business model has not changed since then. 
It is essential to provide value to your audience which is what Wealthy Affiliate focuses on.  
Affiliate marketing connects potential customers with product/service providers by providing truthful and objective information. 
The main focus is on organic traffic and once student masters these skills he or they can promote anything. 
It might be true that some of the training videos might be a bit outdated, but the core information remains the same. 
People behind the scenes keep working on updating the training video, so it corresponds with the new layouts and environment, whether is Google Ads, Bing Ads, or any other platform. 
Note:
Please note that the MMO niche is very saturated now so I would suggest selecting a different niche. 
Many websites in this niche have been hit by Google Algorithm (or Google Core Update), including my own. That's why the traffic dropped, drastically.
Now I am doing my best to convince Google that the content on my website is actually valuable to the audience.
That's why I would recommend choosing a different niche.
Build it up, have revenue, become confident, and then you can choose the MMO niche and promote Wealthy Affiliate. 
It is even recommended inside the training.
3) Is Wealthy Affiliate an MLM?
Not at all.
MLM has a pyramid structure meaning you recruit a person and you ask the person to recruit at least another 2 or three. 
You then make a commission off of all the people below you. 
The misconception that WA is MLM, is because of the bottom training. 
Each member can prompt the WA (even though it is not recommended for newbies or for people that has not made money in other niches). 
WA members promoting WA make a commission from people that join the premium membership
It is a recurring commission. 
If this person recruits a new member the 1st person doesn't make a dime. Meaning it can't be labeled as MLM
4) How Much Does It Cost to Join a Wealthy Affiliate?
WA offers 2 paid memberships and one starter which is for free. 
You can start as a starter member, just by signing up using your email address (there is no credit card needed). 
With the starter membership, you ache access to the 1st five lessons. You can ask questions, and test it out to see whether it is something you have been looking for. 
In case you like it, you have two option
Premium $49 per month ($580 Yearly
Premium+ for $99 per month ($998 Yearly)
In case you choose yearly payment, you have a discount and additional tools as part of the membership. 
Premium+ was introduced only in 2021 without limiting Premium membership. 
It is a top-notch bundle with access to training and classes hosted by successful WA members.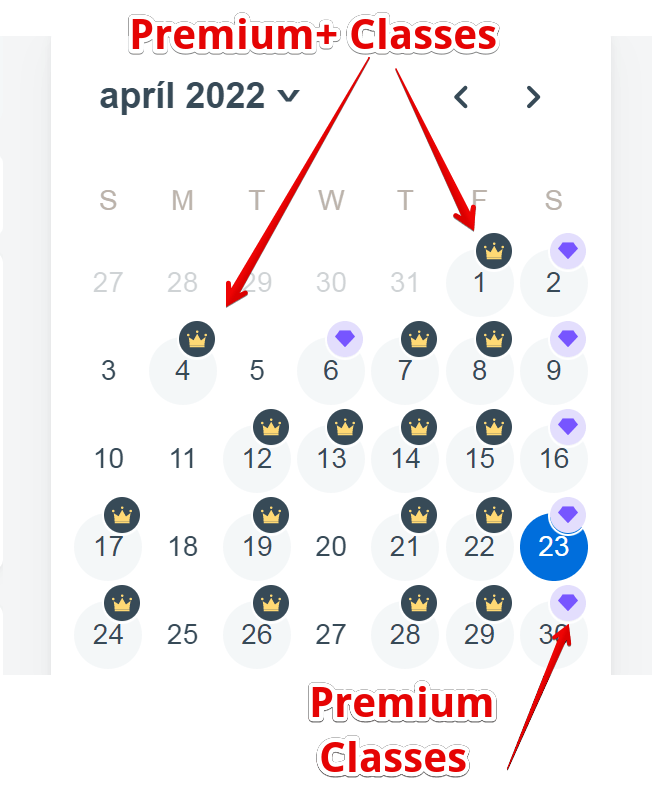 5) Is Wealthy Affiliate Worth the Money?
Compared to other affiliate marketing online platforms, Wealthy Affiliate has an advantage in that it has been around since 2005.
Since that time it has developed tremendously and currently, there are more than 1 million members.
That means that the price can be lower than its competition and yet they are able to offer great training.
Let's take a look from a different angle;
If you are looking for ways how to start an online business or any other business, think about the investment you need. 
Just for a second think about the restaurant business or maybe something that already works – a franchise restaurant.
How much do you need to invest? 
And even if you want to sell pancakes on the corner of the street. 
You need to go through a lot of administration, and paperwork, you need resources to buy or rent the stuff, you need to buy the ingredients and tools… 
I believe You get the picture.
With an online business, you need:
Website (hosting)
Investment in education
Additional tools (Keyword research tool)
Many online courses offer that for $1,500+.
WA – the most expensive bundle costs about $1,000 per year. 
OK, If your concern is budget – choose the premium (regular) for about $500. 
That's it. 
Oh sorry, that's not it. 
You still need to invest your time and energy – but that applies to any sort of business, right?
With that being said Wealthy Affiliate is definitely worth the money. 
6) Does a Wealthy Affiliate Make You Money?
A Wealthy Affiliate can make you money.
In fact, they offer lifetime recurring commissions. So if new members purchase the premium membership through your affiliate link you get paid. 
As long as the membership lasts, you get paid on a monthly basis. The commission is something 40%+. 
So WA can make you money. 
But as already explained above – if you have not made money online before, and the first thing you want to do is to promote the WA I must tell you that you would need to work hard, and it may take even a year until you get your first sale. 
People promoting the WA have come into an MMO (Make Money Online) niche that is very saturated. 
In other words, if a person promotes coffee machines, the audience is not searching for ways how to make money online.
So if you choose niche coffee machines – WA will not make you money directly.
But it will definitely teach you how to make money with your website (which is hosted on a top-notch hosting server).
Wealthy Affiliate Success Stories
Before we go to the success stories let me tell your right away, that not all WA members make 4 digits per month.
Is it because of the training?
Of course not.
It is about people that don't take action or they simply quit.
Let me rephrase;
I don't know about you but when I started to study mechanical engineering, we were 1,500 students in the first semester.
5 years later, there were about 150 students that finished their studies (including me, of course:) )
Is it because of the school?
No.
I remember one classmate after failing a math exam said honestly – "I am not a responsible person. I am gonna leave the university". And he did.
My point is that don't blame the tool you get. At least not always.
Be humble and make objective decisions.
And be positive.
With that being said let's take a look at some of the stories; people that did not quit and kept on keeping on.
Real Testimonials
Dylan sold his website for $30,000.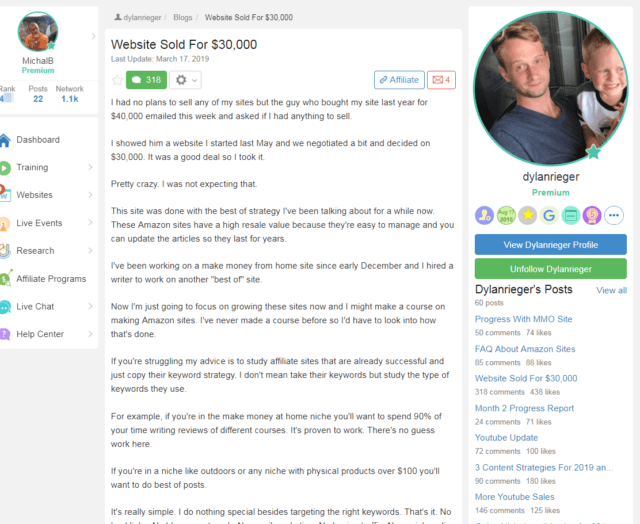 And this is not the first website he sold.
He also sold another website for $40,000 in April 2018.
KennyLee is an Amazon Associate and made 4 figures. That's just from Amazon.
As an affiliate marketer, you can join as many affiliate programs as you want.
And here is a bit different example;
Chris made $2,000 with YouTube Ad-sense.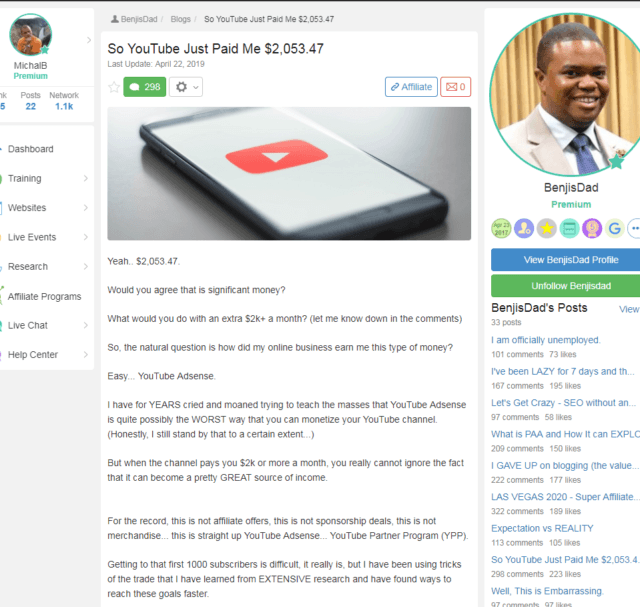 In many cases, the first sale is the most exciting one.
And sometimes it happens when you are not aware of it.
And another example of a person considered a beginner:
There are many different success stories among the WA members, and here is Eric who is successful with Instagram.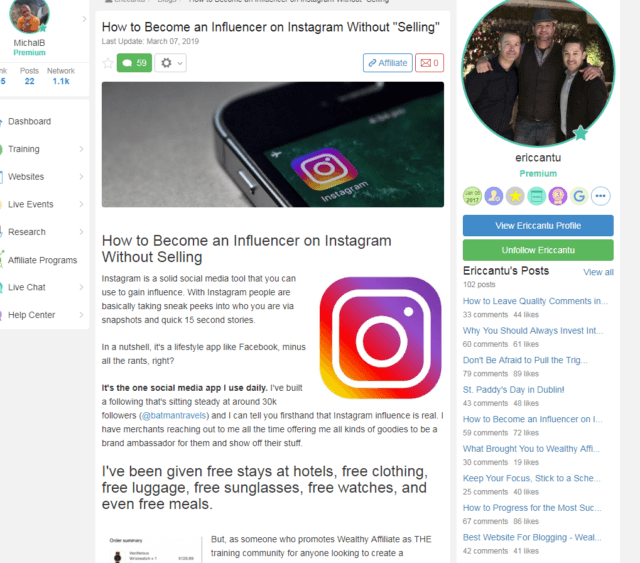 The best part is that he shares his knowledge with others and he teaches others how to do the same.
There is no extra charge for it.
You are a premium member (or in some cases premium plus) and you have access to this training as well.
"Or would you like to make $5,000 a week?"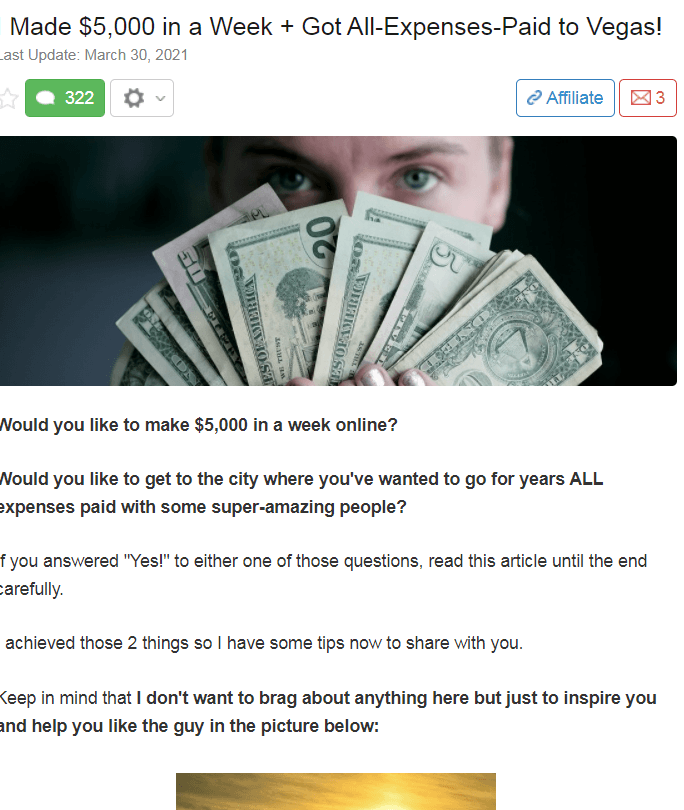 Of course, a person that starts today won't make $5,000 a week next month.
Regarding such stories, I can go on and on but I guess you get the picture.
And it is not only about success in the financial sector.
You can learn how to get traffic to the website and how to get to the first page of Google and Bing/Yahoo.
You will know how to outrank the other websites and become an authority within your niche. Once you master that, then the sky is the limit.
Tools within Wealthy Affiliate will help you with the technical part of SEO (since the hosting is provided and it is top-quality hosting).
Conclusion
Is it for you?
Well, I understand that reading one or two reviews about WA might not be convincing for you.
But I believe you have already tried several courses or at least checked what they have to offer.
Since you are a curious person and I believe you want to check it out for yourself, you can sign up and test the 1st 5 lessons for free.
You only need your email address.
At this link below you are going to land on a landing page, where I summarize what is going on but feel free to join and I will welcome you inside the platform.
Should have questions or concerns, you can let m know here in the comment section below or also inside the WA platform.
Thank you for reading;
Cheers!
Mike
FAQs
Can you really make money with Wealthy Affiliate?
It's possible to make money with Wealthy Affiliate, but success depends on various factors, such as the amount of effort and dedication you put into your online business.
Wealthy Affiliate provides training and tools to help individuals build and monetize their websites through affiliate marketing, but ultimately, the level of success achieved varies from person to person
How does a Wealthy Affiliate pay you?
Wealthy Affiliate provides multiple ways for members to receive payments, depending on the specific affiliate program they are promoting.
Some affiliate programs pay commissions through PayPal, while others may use direct bank transfers, checks, or other payment methods.
Wealthy Affiliate also offers its own affiliate program, which pays out commissions through PayPal on a monthly basis.