Welcome to the Speechelo Review.
You are going to find a lot of digital product reviews here, mostly related to the make-money-online niche.
However, this time I have decided to do something a little bit different. I have found a new product on the Clickbank site that does not teach how to make money online.
It is called Speechelo and it can help you to create voiceovers.
In the following Speechelo Review we are going to learn how it works, what are the pros and cons and how much does it cost.
Disclaimer:
Please note, the following post might contain affiliate links. That means if you click on them and purchase the product, I will receive an affiliate commission at no extra cost to you. This review is based on research and information available online in the public domain. Any recommendations and conclusions are only opinions and may not apply to all persons or situations.
Quick Overview
Name: Speechelo
Website: www.speechelo-offer.com
Price to Join: $47
Recommended: It can help people who need voice-overs
Speechelo Summary
Speeechelo is a tool that supposed to be the most natural-sounding text-to-speech software on the market. This statement might be a bit overstated, but the truth is that the voiceovers are pretty darn good.
Read the full review where you can listen to different languages that Speechelo has to offer.
However, if you type your own text, the quality might be slightly worse, but overall I can recommend this product.
It is perfect for those who think their voice is awkward or are just shy and are afraid to talk to the mic.
I personally earn money as an affiliate marketer and currently, I consider using Youtube as an additional source of traffic.
Since I don't feel comfortable using my own voice I find Speechelo as a useful tool.
What is Speechelo?
Speechelo is text-to-speech software that can transform any text into speech.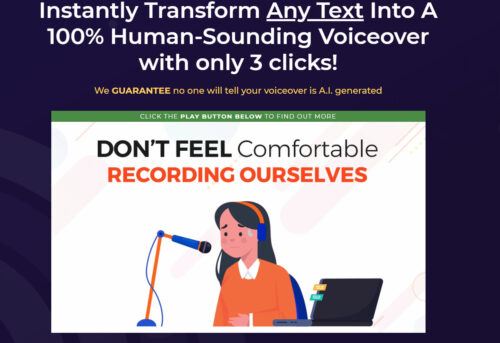 According to the introduction video, Speechelo uses sophisticated AI, so their voices are able to read in a natural-sounding way.
It is easy to use and in 3 clicks you can have your text converted into an mp3 file.
The price for this product seems to be reasonable as well.
Speechelo offers a lot of different voices and languages (from English, Spanish, Portuguese, Polish Japanese, Russian French, and many more).
Besides a lot of languages, you can add breathing or pause so the final version is very similar to the human voice.
Apparently, 98% of people hearing a voiceover generated with this product can't tell it's not a real human voice.
What Else Do We Know About Speechelo?
This is a relatively new product. Their website was registered only in May of 2020.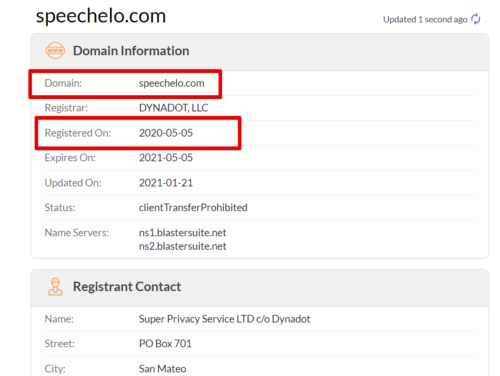 The traffic to their website is already quite significant and in January it got more than 300,000 visits.

Most of the traffic is coming from the USA, about 27%.
Then it is
UK 5.3%
India 5.2%
Germany 4.7%
Malaysia 4.2%
Please note that these data are valid for today's date and it changes over time.
Who is it for?
Speechelo is for those who create videos, or people who just need a voiceover concerning their products or services.
I have tried to create a video review about one product, but I did not like my voice and the way I spoke.
It is probably due to lack of experience and therefore using a voiceover like Speechelo offers is a good idea.
So if you are in a similar position you may appreciate this product.
How does it work?
As mentioned above your little project can be done in 3 clicks.
1st Click – Paste text you want to convert
2nd Click – Choose the language and voice (Female, Male, Kids)
3rd Click – Click on the button "Generate" and your voiceover is ready.
And it really is that easy.
Just briefly let's go over these different fields within the Speechelo Dashboard.
Add script or copy and paste it from another source.
You need to have a lot of punctuation so the software can understand what you want it to say.
Once you have read your text you can preview the Audio.
You can adjust the voice by selecting between Normal Tone, Friendly tone, or Serious tone.
You can select a word that needs to be emphasized and just click the "Emphasize Words" button.
After hitting the Add Pause button, you have an option to select how long the Pause should last (from 0.2 seconds to 4 seconds).
You can adjust the volume, speaking rate, and pitch.
You will see that it adds some code before and after the word.
As you see at the very Right-hand side, you see other voices and you can choose whatever suits your needs the best (male, female, or Kid)
Once you are ready with your input, choose the "Generate Voice Over" and at the bottom of the line, you can play it and decide what to do with it (Download it or deleted it).

You can even select more of the recorded voiceovers and merge them together in one mp3 file.
What I find as a drawback is that the basic version offer only 4 voices.
If you want to have more voices and more languages, you need to pay a little bit extra.
Before we go to the pricing structure you can watch and listen to different languages:
How Much does it Cost?
The regulars price is $100, but here is the link where I find the product for $47.
I am not sure whether it is a temporary discount or just a marketing trick.
In anyways, this is a one-time payment.
The disadvantage is that you won't have access to all languages and different voices.
In other to have full access you will have to "upgrade" in other words to pay a bit more.
The Pro Upgrade costs additionally $47 and this is paid quarterly.
I don't like these upsells, but mostly due to my experience with other ClickBank products.
Most of the time these upsell costs at least twice as much as the advertised price and there is no real value.
But when it comes to the Speechelo Upgrade here is what you get:
More than 60 voices (instead of 30 with regular price)
You can create longer voiceovers u to 2,800 characters (instead of 700 with regular price)
You also get access to 40 music tracks that you can use as a background in your videos.
Is there more?
Yes, and this is also an interesting part.
With the Pro version, you also purchase a commercial license. Meaning that you can sell the voiceovers within the Speechelo to other people without sharing the profit.
Where to sell these voiceovers?
Create your account at Fiverr and you can offer the voiceovers over there.
Ano one more upsell the Tube-Add on for $37 (One Time Offer)
What does it do?
You can take any Youtube video voiceover (simply by using the YouTube link), use that voiceover, and based on that make a brand new voiceover using the Speechelo voices.
That includes the translation, so for example you can take the English video and have it translated into French.
Before We Wrap Up
In my opinion, the AI voices can't compete with a real person, and depending on your needs, it may be worth considering hiring an actor for a few bucks on Fiverr.
However, I must say that the voices that Speechelo offers are quite good.
I am not an expert in linguistics, but I can speak a bit of Polish, Russian and also I speak German (and a bit of Italian).
When I was listening to the voices in other languages (other than English), it was obvious that for example Polish was done by Artificial Intelligence.
On the other hand, the German version is quite good.
(It may be due to the German language itself).
But there is no risk at your side;
My point is that Speechelo offers a 60 days money-back guarantee.
So in case, you decide to purchase this product, and for some reason, you don't like the result you can ask for a refund. No questions asked.
(You can even keep the voiceover you have done).
What I like about Speechelo

60 Days Money-Back Guarantee
Very easy to navigate through
The quality of voiceovers is quite good
What I don't like about Speechelo
Sounds are limited for the basic price
Two additional upsells (but at the same time it is worth mentioning that you get an additional value)
Some Thoughts at the End
The AI has developed over the recent years, and I remember watching some video on Youtube where it was pretty obvious that the voiceover is artificial. I am sure you remember that voice as well.
Well, with Speechelo one has difficulties saying that it is not a human voice.
I mean, it is still not perfect but I am sure there will be a lot of satisfied customers.
If you have questions about Speechelo or would like to learn more about the mentioned affiliate marketing, please let me know in the comment section below.
I will be happy to provide you with feedback, hopefully within 24 hours.
Thank you for reading
Mike
Please Take a Look at Platform Teaching How To Start Business Online
I have been a member of Wealthy Affiliate since late 2017 without prior marketing experience.
Beginning of 2018 I have learned how to build a website that drives traffic and makes sales.
Since the summer of 2019, I am a full-time internet marketer and I work from anywhere I want, whenever I want.
Training within Wealthy Affiliate teaches how to generate a consistent income in the long run.