Are you interested in learning more about Speechelo, the text-to-speech software? Is it worth the price?
Let's find out.
I'm Mike and I started blogging in 2018.
In 2019, I began reviewing products from ClickBank, including Speechelo.
I'm actually glad that you're doing your own research. It's crucial, especially when it comes to digital products on ClickBank. You're probably aware that there are many misleading products out there.
In the following Speechelo review, I will provide you with everything you need to know about the software, including:

If you're searching for a specific voiceover tool, this article provides comprehensive and unbiased information.
Disclaimer:
Please note, that the following post might contain affiliate links.
That means if you click on them and purchase the product, I will receive an affiliate commission at no extra cost to you.
This review is based on research and information available online in the public domain.
Any recommendations and conclusions are only opinions and may not apply to all persons or situations.
Quick Overview
Name: Speechelo
Website: www.speechelo-offer.com
Price to Join: $47 (+ two upsells)
Recommended: Yes. It helps people who want to turn text into voice-overs.
Speechelo Review – Summary
Speechelo is a tool that claims to have the most natural-sounding text-to-speech engine/software available. While this statement may be a bit exaggerated, the voiceovers created by Speechelo are indeed quite impressive.
To get a better understanding, read the full review where you can listen to the different languages offered by Speechelo.
However, it's important to note that the voice quality can vary depending on the specific language. Overall, I can recommend this product.
It is particularly beneficial for individuals who feel uncomfortable with their own voice or are hesitant to speak into a microphone. It can also be helpful if you are not fluent in a particular language or feel self-conscious about your English accent.
As someone who earns money as an affiliate marketer, I am currently considering using YouTube as an additional source of traffic.
Since I don't feel confident using my own voice, I find Speechelo to be a very useful tool for generating voiceovers.
What Is Speechelo?
Speechelo is text-to-speech software that can transform any text into speech.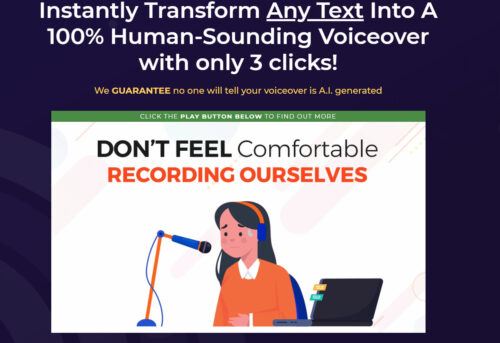 According to the introduction video, Speechelo uses sophisticated AI (Artificial Intelligence), so their voices are able to be read in a natural-sounding way.
It is easy to use and in 3 clicks you can have your text converted into an mp3 audio file.
The price for this product seems to be reasonable as well.
Speechelo offers a lot of different voices and languages (from English, Spanish, Portuguese, Polish Japanese, Russian French, and many more).
Besides a lot of languages, you can add breath sounds or pauses so the final version is very similar to the human voice.
Apparently, 98% of people hearing a voiceover generated with this product can't tell it's not a real human voice.
Speechelo Website Information
This is a relatively new product.
Their website was registered only in May 2020.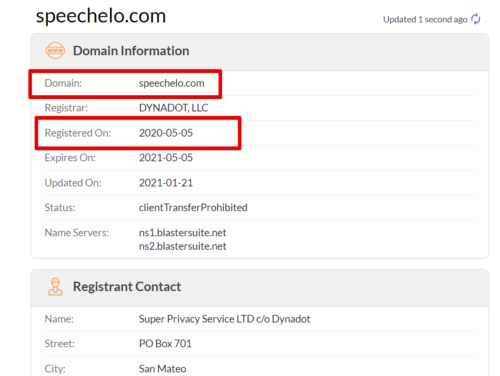 The organic traffic is mostly from these regions:
Since autumn 2021, the traffic has been consistently growing and today it is more than 8 times larger.

If they wouldn't provide a good quality product do you think they would still get this amount of traffic?
It is kind of proof that this software works and people do use it.
Another Domain [Speechelo-Offer.com]?
Yes, Speechelo has 2 different domains.
Both were registered in 2020, but the 2nd domain Speechelo-Offer.com was registered a bit later, in September 2022, according to Whois.com.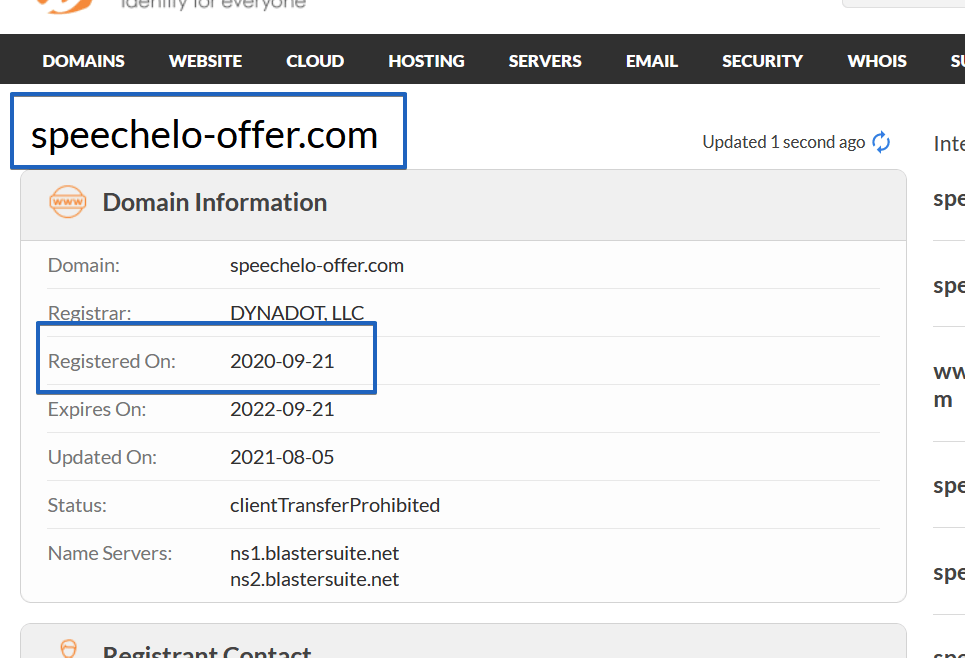 I have found nothing suspicious about that.
The website's traffic has fluctuated throughout 2022, but it has been stable since the beginning of 2023:

Both offer the same product, for the same price (more about the price, below in the How Much Does Speechelo Cost? section).
Who Is Speechelo For?

Speechelo is for video creators, business owners, or people who just need a voiceover concerning their products or services.
Whether you want to make money with affiliate marketing by posting videos on YouTube, or you want to make educational videos, this tool is worth trying.
It doesn't matter what is your field of interest, whether you are:
Video maker
Social Media Marketer
Content Creator or copywriter
or affiliate marketer
…you can always take advantage of Speechelo.
Of course, it has some drawbacks as well (you can find the list of Cons, below).
I have tried to create a video review about one product, but I did not like my voice and the way I spoke.
It is probably due to a lack of experience. Therefore using voiceover software like Speechelo is a good option.
Are you in a similar position?
I believe you find Speechelo useful and the best part is that if you don't like it, you don't have to pay for it.
But more about the price in a bit.
How Does Speechelo Work?
After purchasing the product you get to the dashboard.
It is actually very user-friendly and after a few minutes of playing with it, you can start working on your actual project.
It can be done in 3 clicks:
1st Click – Paste the text you want to convert
2nd Click – Choose the language and voice (Female, Male, Kids)
3rd Click – Click on the button "Generate" and your voiceover is ready.
Just briefly let's go over these different fields within the Speechelo Dashboard.
Add a script or copy and paste it from another source.
You need to have a lot of punctuation so the software can understand what you want it to say.
Once you have read your text (double-check) you can preview the Audio.
You can adjust the voice by selecting between a Normal Tone, a Friendly tone, or a Serious tone.
Emphasize Words
You can select a word that needs to be emphasized and just click the "Emphasize Words" button.
Add Pause
After hitting the Add Pause button, you have the option to select how long the Pause should last (from 0.2 seconds to 4 seconds).
Adjust Speech
You can adjust the volume, speaking rate, and pitch.
You will see that it adds some code before and after the word.
As you see at the very Right-hand side, you see other voices and you can choose whatever suits your needs the best:
male voice
female voice
or kid voice
Once you are ready with your input, choose "Generate Voice Over" and at the bottom of the line, you can play it and decide what to do with it (download it or delete it).

You can even select more of the recorded voiceovers and merge them together in one mp3 file.
What I find as a drawback is that the basic version offer only 4 voices.
If you want to have more voices and more languages, you need to pay a little bit extra.
Before we go to the pricing structure you can watch and listen to the review video:
What do you think about the quality of the voice?
Please drop a line or two in the comment section below, so more readers can learn about this tool.
TIP
In case you don't like the way how a certain word ( or more words) is/are pronounced, you can change the spelling.
For example, if you want to use the word "speechelo", just type "speecheelo" to see (I mean hear) if that sounds better.
Whenever you are not entirely satisfied with the pronunciation, use this simple method until the sound is right.
How Much Does Speechelo Cost?
There is a regular version and then a premium version.
Let's take a closer look at the price structure.
The price for the standard version is $100, but it is possible to get a special discount on the product and then you pay $47.
I am not sure whether it is a temporary discount or just a marketing trick.
In anyways, this is a one-time payment. You don't pay on a monthly basis.
The disadvantage is that with the Speechelo standard, you won't have access to all languages and different voices.
In other to have full access you will have to "upgrade" in other words to pay a bit more.
The Pro Upgrade costs additionally $47 and this is paid quarterly.
I don't like these upsells, but that's just me, mostly due to my experience with many ClickBank products.
Most of the time these upsells cost at least twice as much as the advertised price and there is no real value.
But when it comes to the Speechelo Pro you get access to premium voices but that's not all:
You also get:
More than 60 voices (instead of 30 with the regular price)
You can create longer voiceovers to 20,000 characters (instead of 5,000 with the regular price)
You also get access to 40 music tracks that you can use as a background in your videos.
With Speeches Pro, you can listen to each voice sample and decide which suits your needs best.
Is there more?
Yes, and this is also an interesting part.
With the Pro version, you also purchase a commercial license. Meaning that you can sell the voiceovers within the Speechelo to other people without sharing the profit.
Where to sell these voiceovers?
Create your account at Fiverr and you can offer the voiceovers over there.
And one more upsell is the Tube-Add-on for $37 (One-Time-Offer)
What does it do?
You can take any Youtube video voiceover (simply by using the YouTube link), use that voiceover, and based on that make a brand new voiceover using the Speechelo voices.
That includes the translation, so for example you can take an English video and have it translated into French.
The upsells within the Speechelo are really worth it in my opinion.
But it depends on what you need it for.
In any case, this is a ClickBank product and you do have a 60-day money-back guarantee. From my personal experience, I can tell, that there are no issues regarding the refunds.
What Do Others Think About Speechelo?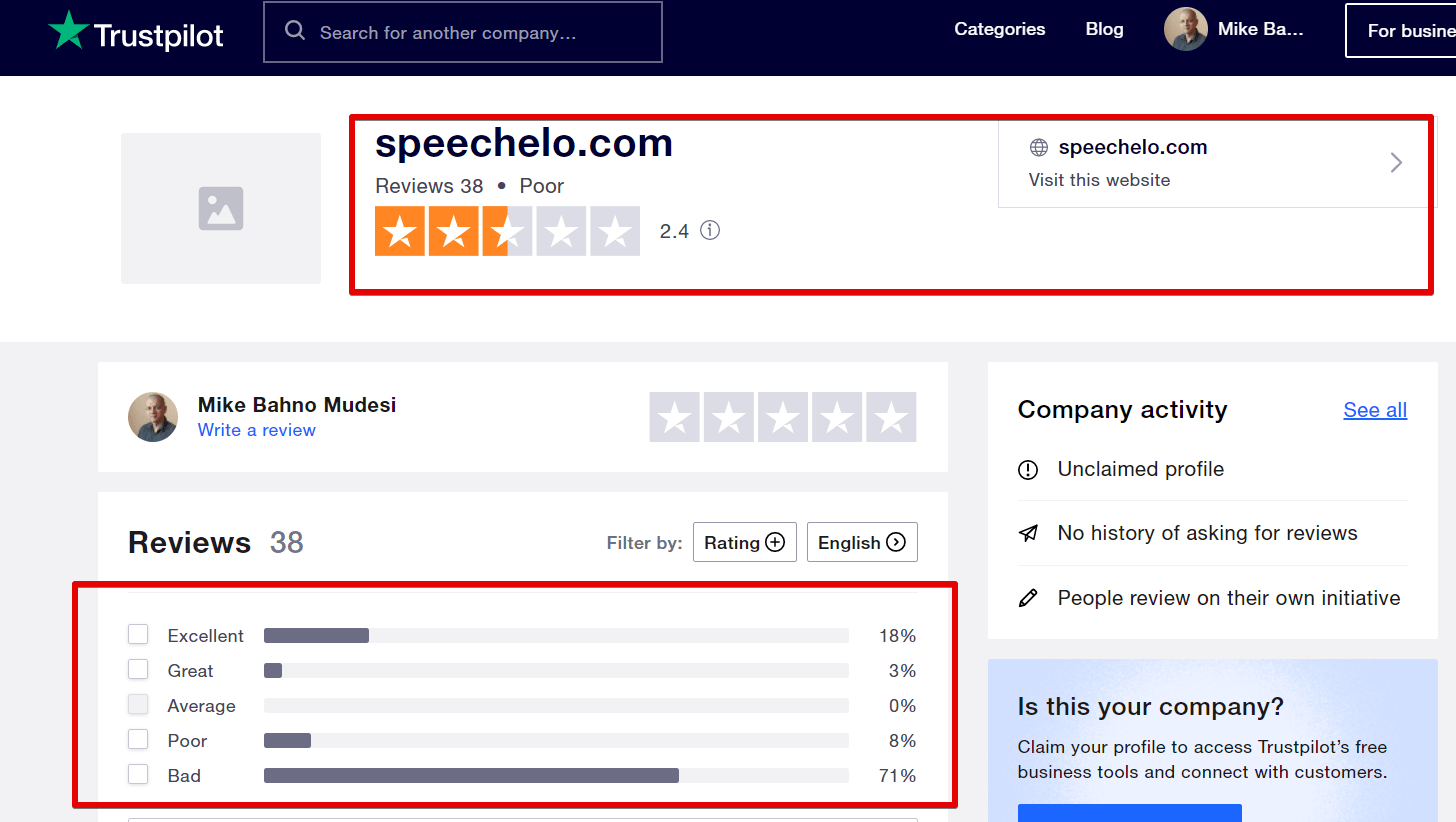 I have checked TrustPilot to check what other people say about Speechelo.
Trustpilot is a great source of information if you want to have a different opinion.
Being able to see and evaluate other's people opinions gives us more accurate data.
So based on that we can then make better decisions.
According to the overview, it seems that people are not very satisfied with Speechelo:
Let's take a better look and pick some specific reviews.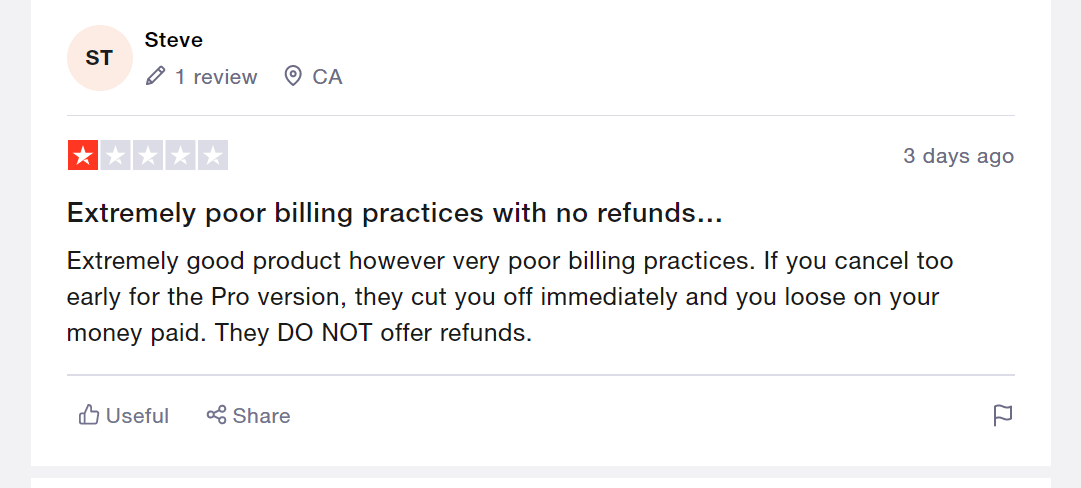 This person is not alone, who complains regarding the money-back guarantee.
I think he might be right but here is the workaround:
Purchase Speechelo via ClickBank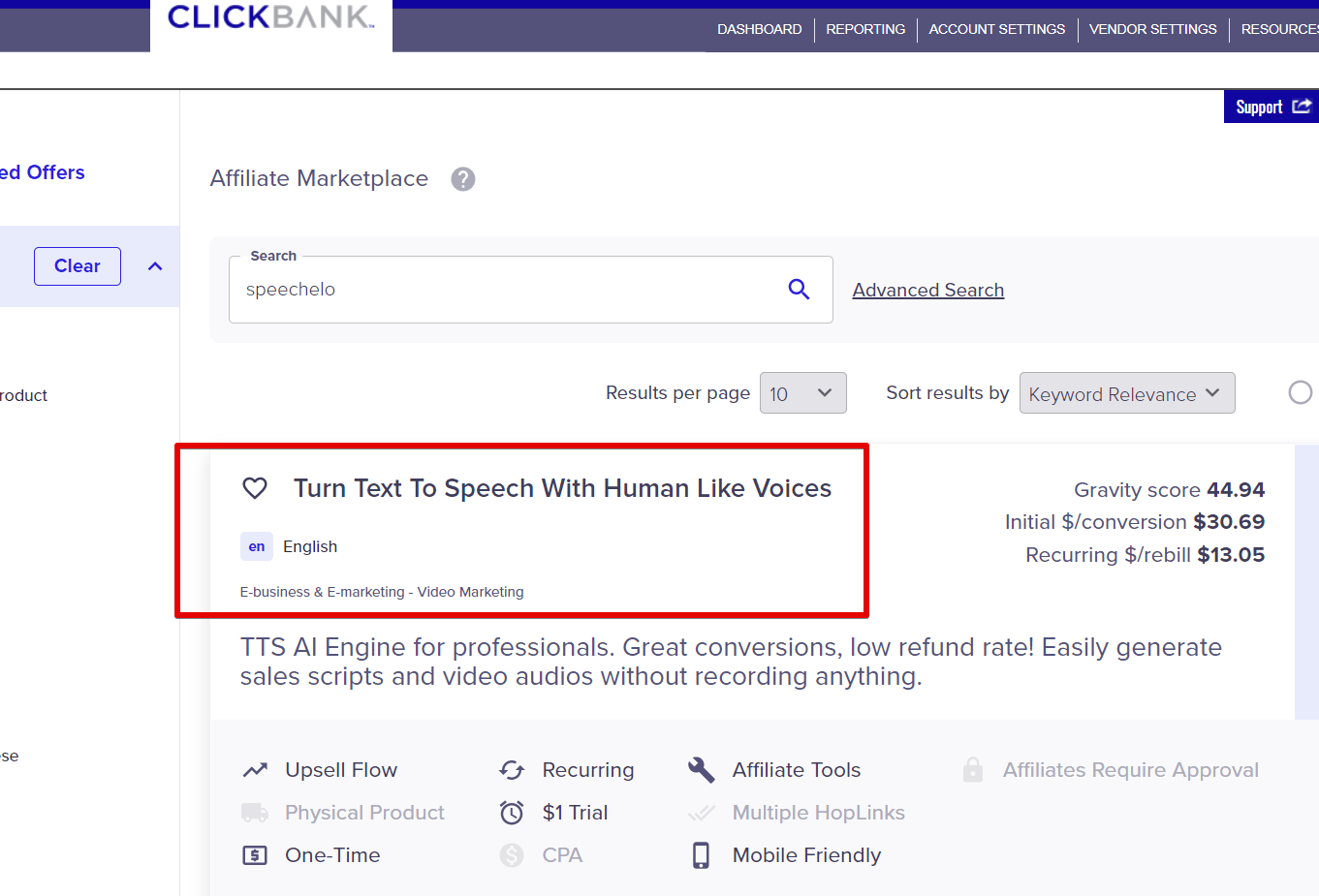 Speechelo is a ClickBank product and therefore it is recommended to contact ClickBank Support, directly.
Here is a link to How to Request a Refund for a ClickBank Product.
You can have your money back within a few days.
(In my experience when I wasn't satisfied with the ClickBank product I got a refund within 3 days).
Most of the complaints are about the refund.
But once you how to purchase the Speechelo via ClickBank, you don't have these issues.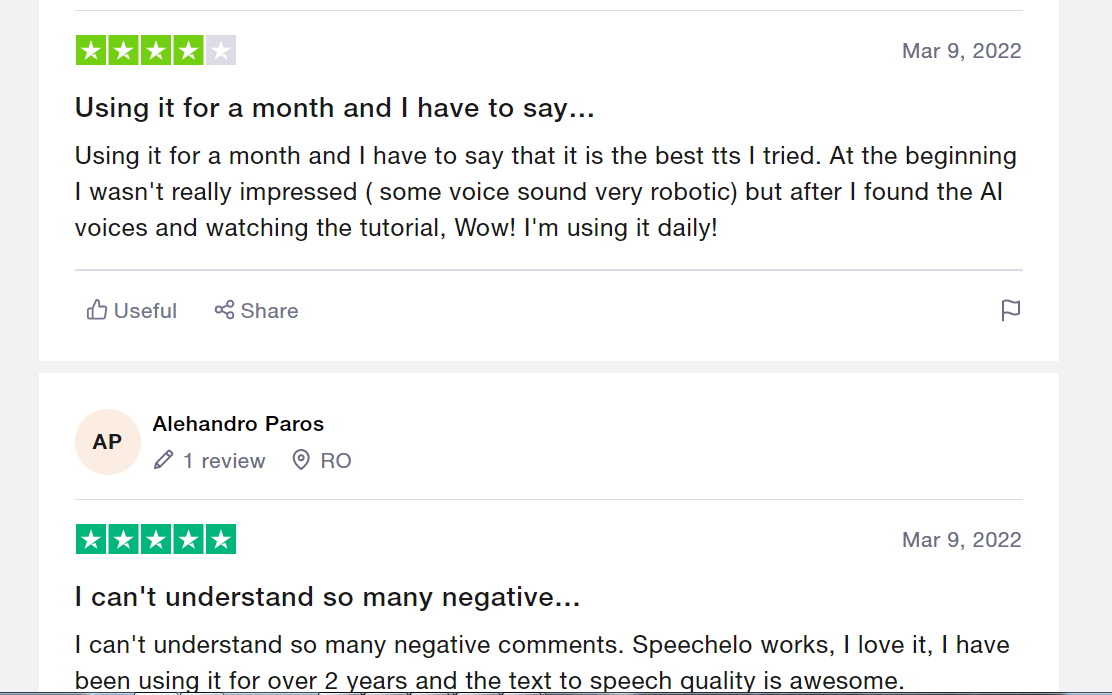 Other than that, it also depends on your expectations.
It is necessary to realize that this is an AI tool. It is not 100% human voice and some people are sensitive to it.
But test it out, check whether you like the voice, and then decide.
Before We Wrap Up
In my opinion, the AI voices can't compete with a real person, and depending on your needs, it may be worth considering hiring an actor for a few bucks on Fiverr.
However, I must say that the voices that Speechelo offers are quite good.
I am not an expert in linguistics, but I can speak a bit of Polish, and Russian, and also I speak German (and a bit of Italian).
When I was listening to the voices in other languages (other than English), it was obvious that for example Polish was done by Artificial Intelligence.
On the other hand, the German version is quite good.
(It may be due to the sound of the German language itself).
If you want and/or need Voice Over Software, Speechelo is a good option.
And there is no risk at your side;
My point is that Speechelo offers a 60-day money-back guarantee.
So in case, you decide to purchase this product, and for some reason, you don't like the result you can ask for a refund. No questions asked.
(You can even keep the voiceover you have created).
And let's take a look at the Pros and Cons of Speechelo
Speechelo Pros

1) 60 Days Money-Back Guarantee
This is a ClickBank product so you can get your money back if you are not satisfied with the product.
Unlike with other platforms, (for example, WarriorPlus where you have to contact the vendor), If you are not happy with the product you contact ClickBank Support.
And I had a good experience with ClickBank, meaning that when I asked for a refund I got my money back into my account within 3 days.
2) User-Friendly environment
Once you are inside the dashboard, it takes only seconds and you know how to navigate throughout the platform.
3) A Very good voice-over quality
Did you have a chance to listen to their voice? Maybe just the "sales" video?
It does sound like a real voice, doesn't it?
Well, that guy is a product of Speechelo software.
To me pretty amazing. And with the pro version, you can choose even a different accent, or another gender if you want to.
Speechelo Cons
1) Limited Voices for the front-end price
You don't have access to many voices with the basic price.
Depending on your requirements, this might or might not be enough.
But if you want to have access to a variety of voices (accents, languages, men, women) you need to pay extra.
2) A limited number of words (characters) per voiceover
There are only 5,000 characters per 1 voiceover.
However, you can create more voiceovers if you need longer speech.
Speechelo Conclusion
AI has developed over the recent years, and I remember watching some videos on Youtube where it was pretty obvious that the voiceover is artificial. I am sure you remember that voice as well.
Well, with Speechelo it is difficult to say that this is not a human voice.
I mean, it is still not perfect but I am sure there will be a lot of satisfied customers.
Speechelo is a legit tool that I can recommend.
It is a ClickBank product and they have a money-back guarantee, so there is nothing to lose in my opinion.
Do you find this Speechelo review honest?
Or do you think I am a bit biased?
If you have questions about Speechelo or would like to learn more about the mentioned affiliate marketing, please let me know in the comment section below.
I will be happy to provide you with feedback, hopefully within 24 hours.
Thank you for reading
Mike
Speechelo FAQs
1) What is Speechelo Used For?
Speechelo is a platform that turns text into voiceovers.
This text-to-speech system offers human-sounding voiceovers in more than 20 languages.
Besides the variety of different languages, it is probably the only software that offers more than 60 different voice variations.
This is a great tool for people who want to create voiceovers for:
sales videos
educational videos
tutorials
or just want to turn their blog into audio (whether podcast or audiobook).
2) Does Speechelo work in different languages, other than English as well?
Yes, it does.
Speechelo works also in Arabic, Mandarin, Danish, Dutch, French, German, Icelandic, Italian, Japanese, Korean, Norwegian, Polish, Portuguese, Romanian, Russian, Spanish, Swedish, and Welsh.
3) Are there any free updates?
Yes, there are.
Whenever there is a new update, you will be upgraded automatically.
4) Is Speechelo Cloud-Based software?
Everything is hosted on their (Speechelo) servers, so yes.
This is a cloud-based solution, that can be used on your PC, Apple, or smartphone.
5) What Much Is Speechelo?
The basic price is $47. This is a one-time fee.
But in order to have access to access to all available languages, you need to buy the Pro version.
The pro version costs an additional $47, but this is paid quarterly.
There is one more upsell called Tube Add On that costs $37, again a one-time fee.
6) Is Speechelo cloud-based?
Yes, Speechelo is a cloud-based software.
You don't have to download or install anything. Everything is hosted on their servers.
It is possible to use this software on your desktop, or Apple and you can even use it from your smartphone.