Are you curious about the 12 Minute Affiliate system? My guess is you would like to find out whether you can make money with this system or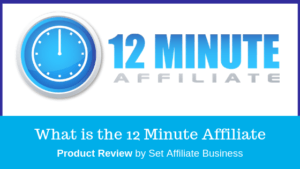 not.
We are going to find out if there is a value in this program, or it is just another misleading ClickBank product.
Is 12 Minute Affiliate a Scam?
We will go through this system and we will point out the pros and cons. In about 4 or 5 minutes of reading this review, you will be able to decide whether it's worth it to invest in 12 Minute Affiliate or not.
Disclaimer
Please note, I am not a member or an affiliate for 12 Minute Affiliate. This review is based on research and information available online in the public domain. Any recommendation and conclusions are only opinions and may not apply to all persons or situations.
Name: 12 Minute Affiliate (12MA)
Website: www.easy.12minuteaffiliate.com
Price: Advertised Price $47 + Upsells (up to $800)
Owners: Devon Brown
Who is Devon Brown
The owner, Devon Brown is a funny guy; He seems to have a lot of energy. The way he talks and behaves reminds the character "Alan Harper" from Two and a Half Men 🙂
Just take a quick look, and let me know if that is only my impression 🙂

Just a quick note: This video is from 12 MA  (12 Minute affiliate) website for JV partners, meaning for those who decide to promote this product and earn a commission.
As mentioned in the disclaimer above, I am not affiliated with this program.
Nevertheless, Dan Brown is a real person and that is always a good sign when it comes to any digital products promising you to make money online (if you spot a system without a real person behind it, for example, Viral Market or AZ Formula stay away from it).
According to the description on Twitter, he is very active in other fields as well.
Usually, when there is a proven identity of a product owner, we can say that the product is not a scam.
But, let's investigate a bit further to have a complete picture.
Product Overview – Can You Make Money with 12 Minute Affiliate?
12 MA is a ClickBank product teaching how to make money with affiliate marketing. Actually what this system claims is that it simplifies the process of making commission with affiliate marketing.
Here it is how the 12 Minute Affiliate works (at least according the sales page):
Step – Log in and purchase the product. The starter price is less than $10. You have 14 days to decide whether you want to go on with the training or not. After In case you want to continue you are charged a full price.
Step – Follow the Check List inside the members' area.
Step – Order some "Done-For-You traffic" according to your budget.
Apparently, the 12 Minute Affiliate system is associated with a number of Affiliate Networks, so the process of making more sales should be easier.
The affiliate networks they are associated with are:
JVZoo
Warrios+Plus
ClickBank
Here are some reasons why you should grab this 12 minutes affiliate system.
It is easy for beginners.
You can profit daily
Creates multiple streams of income
Easy to Set-up
Work from anywhere
Perfect side business
Done-For-You email follow-ups
You don't have to create your product nor website.
I disagree with the last point.
To start an online business the best and safest way is to create your website. Lots of people are still scared of building up a website.
Believe me, today as of this writing (2019), it is a process that takes up to 1 minute.
Here is a short video showing how easy it is to build a website (done within the WA platform).
So back to the 12 Minutes Affiliate.
They explain why this system is the easiest way to succeed online and here are their reasons:
Done-For-You Funnels – this system includes affiliate funnels in the hottest and most profitable niches (weight loss, make money online and personal development)
Done-For-You Emails – You will be getting months worth of written done-for-you, follow up messages, so you don't have to hire copywriters
12 Minute Setup – Copy/paste easy instructions. It is said that even the newest marketer can set up this system quickly and it is possible (for some) to have it done within 12 minutes
E-Z Funnel Wizard – You can create your custom affiliate funnel without any coding. This can be done in 5 minutes
Private Community – You are offered to be part of the Private Facebook Community.
Done-For-You Traffic – As it is correctly stated, that traffic is "life-blood" for the online business, I am not sure how easy they can get traffic for you. You are told that their easy traffic solution allows you to get targeted niche traffic in minutes, but this is based on your budget.
So I assume, this must be either paid traffic or Solo Ads.
Bonuses – You are offered 3 Bonuses. We describe them in the Price structure section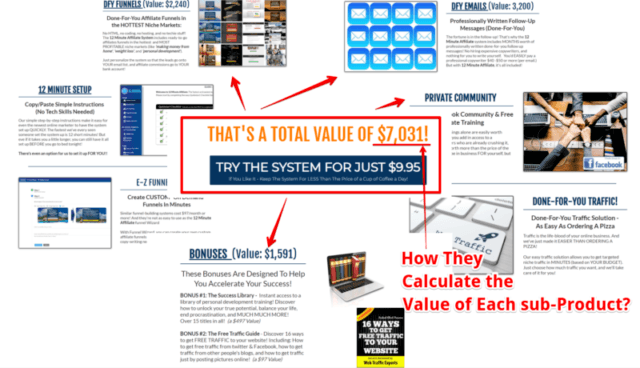 Above you can see the screenshots of the sub-products you can get. I was wondering based on what do they come up with these numbers?
In my opinion, these numbers are just made up to make you think that you are basically "saving" your money.
Having looked at that stuff above, they make look the process looks like a piece of cake. Sure, the sign-up process is pretty easy, but the earning part is a different story that is not revealed to you.
But I must highlight, that they do mention that this is not a "Get-Rich-Quick" scheme. You are told that your success will be based on your consistency.
This you should keep in mind whenever joining any sort of program.
Also if you are interested how long this product has been on the market;
Regarding some stats about their website: The website 12minuteaffiliate.com has been created in October 2018. It started to get a large amount of traffic in March 2019. So it is kind of a new product.
The Good & the Bad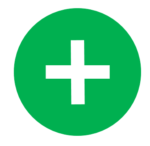 They offer a trial for less than $10
60 days money-back guarantee
Material to learn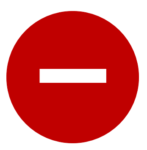 Too many upsells with questionable value/results
Most likely low-quality traffic and therefore the small probability of conversion
With upsell becoming quite expensive (over $800)
Who Is It For?
I believe this particular product is addressed for newbies. Anyone who comes to an online business thinks that there must be some easy way how to earn money quickly. It is the internet with about 4 billion users, so there must be a quick solution, right.
Well, that is just a misconception many people fall for (including myself – I used to think that ways as well)
Let's see what guys behind the 12-minute affiliate say. This product is apparently perfect for people who:
wants to make money online but do not have their product or service
does not want to write content, nor create sales funnels
wants to earn a commission without dealing with customer support
is trying to make money online without success
wants to earn potentially daily omission online
I like the example they have on their website. You can either learn everything on your own, which is just too much work and time, or you can buy the so-called "done-for-you" system.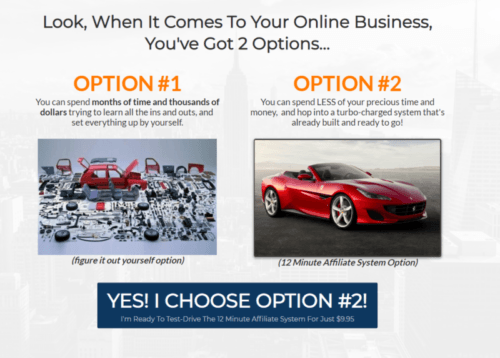 At first sight, this example might seem like a good idea.
But the reality is that you will have to use their own system, under the 12 Minute Affiliate hosting. You are tight with them and if something goes wrong with the 12 Minute Affiliate, your site goes down as well.
Not mentioning the price  – $97 per month is steep. If you really want to learn about affiliate marketing there are cheaper platforms, and you don't have to spend a dime to test it out.
12 Minute Affiliate Tools & Training
Here is how the 12 Minute Affiliate dashboard works.
First thing you need to do is, you are asked to do is to go through the 6 step checklist:
Create an affiliate account – Here you can create your ClickBank account so whenever you will promote CB product you will use this unique link. You can create your CB link also just by clicking on the Sign Up for a ClickBank Account website.
Get your autoresponder – If you click on the arrow on the right, you will get to the video tutorial on how to set up your autoresponder. Please note that many autoresponders are paid service. They currently use the AWeber.
For example, here you can check the AWeber pricing.
Set up your autoresponder
Activate your 12 MA funnels – Use your Unique ID from AWeber for each niche when you set up an autoresponder. By clicking on the "ACTIVATE" button you activate all of the funnels for a particular niche.
Again, here you also find a video on how to do it.
Done For You Setup (Optional)
Get done-for-you traffic – You can buy traffic here. I have already mentioned that here, that the traffic will be generated by Solo Ads.
The quality of traffic might be really low. I mean there are many examples when people bought thousands of clicks and no conversion whatsoever.
Solo Ads is a pay per click kind of advertising, so if you don't know how to get the click, you may waste lots of money. Can we rely on 12 minutes affiliate that they will find quality traffic for each member who bought this system?
On a left-hand side you have the navigation menu as per screenshot:
The menu on the Left-Hand side continues with the Step-By-Step section.
Here are simple steps for succeeding with this 12 minutes affiliate.
You will find there 11 Steps here, including the link. You are asked to order the traffic as frequently as possible.
Also, you find there a link to a Facebook private group, which you can join as a member. Today, as I am writing this review, it is Friday, June 28th, 2019 and I see 268 members.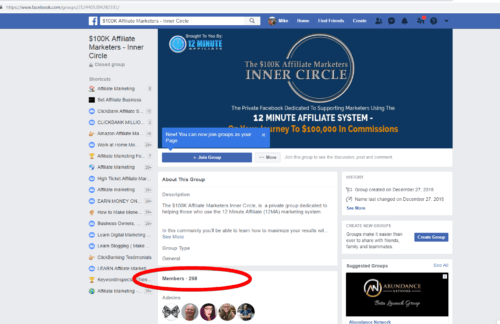 Just doing an update of 12MA and recently (as for October 1st, 2019) there are 803 members inside the Inner Circle of 12 Minute Affiliate system.
So it is growing.
In further steps, you are advised to check the "Custom Funnel Builder", which should allow you to build niche specific opt-in pages and bridge pages on demand.
Then you can get 1-on-1 coaching (which are 3 private 1-hour sessions). You have a real person to walk you through the things you are not familiar with yet.
And finally – you should be patient. You never know when someone will be ready to buy what you are selling.
I agree with that last sentence, but it to me it is even harder when you have no control over your traffic. You buy some "traffic package" but it can easily be just some bots clicking on your links…
You have a link to the support-site and also a telephone number.
As the 3rd button on the left-hand side menu, you find "Get Coaching"
Please note that this coaching is not included the price. This is an extra $297 for a 3x 1-hour coaching session.
One menu below, you can upgrade your account: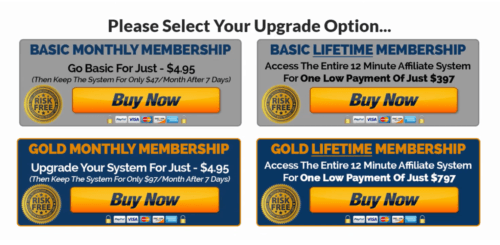 These upgrades are nothing else than upsells.
Then when you go to Done For You Traffic – you can buy traffic there, as mentioned before – Solo Ads, since you can buy clicks, not leads or opt-ins. They cannot guarantee sales. They claim though, that the traffic is real. You have an option to buy this traffic as often as you want.
Other Traffic Methods:
If you have no budget for the paid traffic you can get this course on how to get free traffic. It is an E-Book called 16 ways to get free traffic yo your website
Under the Resources – Educational Center, You find a webinar which is recorded so you can watch them afterward as well. 
Email Swipes there are email swipes for each niche:
Make money online
Weight Loss, and
Personal Development.
The 12 MA Integrations, here you find documentation on how to integrate 12 MA with other services:
How to add external tracking code to your funnels
How to set up additional autoresponders such as MailChimp and GetResponse
Under the Personal Development Library, you find PDF or MP3 files regarding personal development, such as "Finding the perfect harmony between life and work", or "Making the right decision at the right time".
There are 20 books (including audio) which you can use.
The last one Top Affiliate Products
Here are current recommended products you can promote and get a commission if someone purchase. For each product, you see the commission you can get, which is 50%
Support
At the very bottom of the menu, you see a FAQ, where you can go and check the questions and answers before you contact the support.
As we have already gone through the structure we have touched the possibility of contacting the support. If you have any sort of issue, you can call the number or just raise your ticket clicking at the link.

For any other enquirers, you can become a member of the private Facebook group.
There are more than 800 members, including the owner, so I am sure you will get your question answered.
12 Minute Affiliate Price Structure – Beware of Upsells!
There is a trial for $9.95. You have 14 days before you are charged the full price of $47 per month.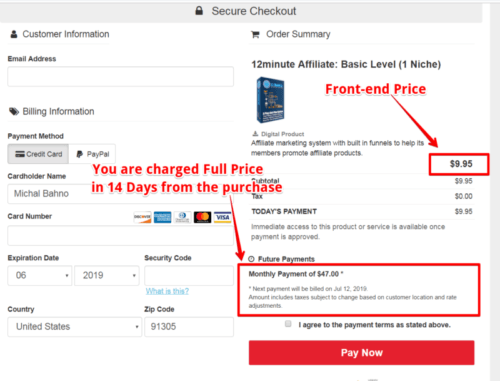 This is just a front-end price and one has no idea how much more he might end up paying.
The easiest way how to get complete information regarding the price structure is to go to the affiliate page of the 12 Minute Affiliate product.
You see the calculated commission, so the potential affiliate must have an overview of the pricing and commission as well.
I enclose the screenshot of that page so you can get an overview.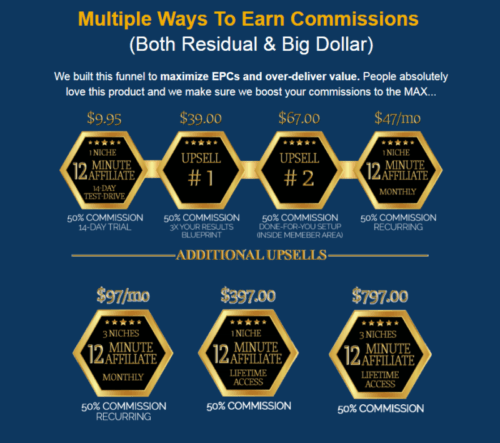 Obviously, the $47 is just a price to get you into the system.
Then the user is advised to pay for the upgrades and "One-Time-Offers" and he can easily end up spending several hundreds of dollars.
With this upsell structure one can easily spend hundreds of dollars. And there is no extra value for the customer.
As far as I am concerned there is undoubtedly a cheaper platform with better training.
My Final Opinion of 12 Minute Affiliate
There are lots of material you can go through. I do not like the fact that they recommend buying the traffic using Solo Ads. Even they say that the traffic is real, it is still questionable. You can waste a lot of money before making any sale.
I mean the same applies to free traffic as well, but at least you don't have to have a budget for building up organic traffic. All you need is time.
Another thing that I find disturbing, is these "bridge pages" they mention inside the members' area. In most of the cases, these so-called bridge pages are on the blacklist of Google and other search engines such as Bing as well.
You can't even run Ads using a bridge page. These search engines review your ad and if they recognize the bridge page, your ad simply won't run.
But comparing 12MA with other ClickBank products, I think this one is quite decent.
On the other hand, to get everything out of it, you may end up paying more than $800, not mentioning the costs for running Solo Ads.
Is There a Better Program? How Can You Make Money Online?
The simple answer is yes, there is.
And you don't have to spend $800!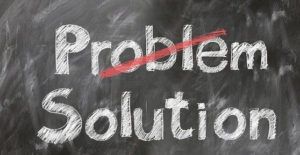 There are alternatives and the one I personally recommend has more thorough training.
You can also get started for FREE and take advantage of the training for 7 days.
What can you learn?
For example, you can become an SEO specialist, you will learn how to create and monetize the website or other ways how to make money online.
Here is the link to the review of that platform I recommend.
With a premium membership, you can take full advantage of this system. There are no additional fees (other than a fee for a domain – $15 per year). In fact, the price has not been changed for the last 10 years.
But the training is constantly updated so you can leverage that information and become an authority with your website/online business.
As I mentioned, you can get started for Free and test it out for the entire week. After 7 days you don't have to pay anything if you don't like it. Your account will still be valid, with limited access.
If you decide to upgrade, you can do so anytime you want. Only then you will be asked for your credit card.
But at that point, you already know what you paying for.
So there is nothing to lose.
12 Minute Affiliate at a Glance
Name: 12 Minute Affiliate (12MA)
Website: www.easy.12minuteaffiliate.com
Price: Advertised Price $47 + Upsells (Up to $800)
Owners: Devon Brown
Overall Rank:

VERDICT:
12 Minute Affiliate is not a scam.
It is not a bad product either but it is a bit pricey. Especially with the upsells structure they have I would not recommend the product.
Another thing is the way they teach you how to get traffic.
Running solo ads simple does not work without a budget. And I mean more than a couple of hundreds per month.
If you like the idea of promoting other products and getting the commission, I have one option for you (Actually I have already mentioned above).
Because this idea of affiliate marketing is cool since you do not have to deal with suppliers, products nor customer service.
I must warn you though, that the alternative I am about to offer you, require time and effort. But in the long run, there is no better alternative. Once you learn the basic and intermediate stuff, you will become an authority in any niche you choose.
If you have any sort of question let me know in the comment section below. I'd be more than happy to answer you back, whether it concerns the 12 Minute Affiliate or my #1 recommended platform.
Thank you for reading
Mike
This is a Better Alternative
I have been a member of Wealthy Affiliate since late 2017 without a prior marketing experience.
Beginning of 2018 I have learned how to build a website that drives traffic and makes sales.
Since the summer of 2019, I am a full-time internet marketer and I work from anywhere I want, whenever I want.
Training within Wealthy Affiliate teaches what works.