Welcome to my site setaffiliatebusiness.com.
I am Mike and, I am a founder of SetAffiliateBusiness.com
First of all, I would like to shoot straight from the very beginning.
To create an online business – It is not something you can build overnight. Most likely it will take a bit longer to have full-time income online. But if you like challenges, you are willing to educate yourself along the path, in a reasonably short time, you can set affiliate marketing business within 6 to 12 months.
Once you find a proper method, you get yourself a good guideline you will become an authority in your "chosen field of endeavor".
Little Bit About Me
My full name is Michal Bahno, but you can call me Mike 🙂
I am a regular guy coming from middle Europe who tried quite a lot of jobs from construction working in different countries, in McDonald as a cook, through selling sponge bobs in Universal Studios, to a mechanical engineer in Germany and France – for Airbus.
I love traveling. I had a good job where I used to have 30 days of paid vacation. That allowed me to visit the USA twice.
Well, not just visit. In 2009 I and my friends did a round trip in the RV. In 5 weeks we did the "loop", visiting more than 20 states. It was an awesome trip.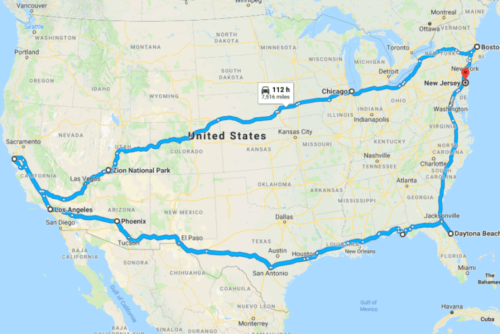 In 2011, we made a 2nd trip to the US, but his time only west coast. This time we traveled by rented car – actually I felt in love with Ford Flex. Great car for long trips, comfortable and very spacious.
Other than the US, I did trips to South East Asia as well. I visited Laos, Cambodia, Vietnam, and of course Bangkok- Thailand.
And because of my work in France, I did several trips to Spain (Barcelona, Valencia, Costa Brava), more than 10 times in Andorra, and also France (Paris Lyon, Marseilles, Nice, Carcassonne, Bordeaux, etc), UK London, Ireland Dublin, Belfast.
In the Summers I love to go to Italy, which includes Sicily as well where I love the countryside.
It was all great .. but only for 30 days a year or so.
I used to have a great time, but even though the work was OK I always wanted to do something where I have a better influence. Also, I met a lot of great people.
In the aviation industry, you meet people from all over the world. But you meet them and leave them.
It used to happen more and more regularly, that I had to change places due to different projects.
So there was some inner voice telling me that this is not the right way to earn money and I must change my attitude and find other ways how to generate income.
The corporate world simply has not been my cup of tea. Slowly but surely I came to decide that real freedom lies in the status of being independent.
And yes I do love traveling but I want to go where I want and when I want and not because of some kind of project that I have to be part of.
So after reading some books, watching YouTube videos, searching the internet, checking some online courses I came to the decision that Internet Marketing seems to be something I am looking for.
The main idea behind this internet marketing thing is the vast amount of people connected to the internet. So when you build your business online – you never close and you don't have to be in the office all the time.  In fact, you don't even need an office.
Having a business with a market where more than 3 billion people go daily – is the right place.
How Did I start with offline/Online business?
I started using the internet for a business in 2014.
I was asked to sell a service for one local company offering an outdoor activity. The targeted groups were to be people from Europe.
I have "invested" in google ads and later in the 1st half of 2015 I started to run Ads on Facebook as well.
I spent several thousand Euros on Ads on Google, FB Ads – learning how to sell using free YouTube tutorials, following marketers.
It took more than $2,000 out of my pocket on FB Ads and more than twice on Google Ads.
I was shooting blindly for 2 years or so till the first group made a purchase.

I was so happy. It did not cover the money I invested though.
Fortunately, they liked our service and they come back 4 months later. I got almost break even.
But did not earn a cent as a profit. I was forced to find a 9-5 job, again just to make living and pay the bills.
Also, this specific business was not something that I have 100% influence on.
Besides, you have only certain hours when you operate, and people have to travel to your place … So I knew it may not last for very long. Not mentioning that you are in partnership and it can happen that partner will want to go another way.
Therefore I was constantly looking for some kind of online education or platform where I would be guided by experienced guys. Because these days find so many scams out there offering thousands of bucks in a day. And it does not work like that.
Don't get me wrong, some courses are fine some are worse.
What I also do not like is, for example, they teach you the stuff in the right way, but you have to pay something like $50 months (plus TAX) and you get only basic knowledge. If you are willing to go deeper into the training there are upsells involved which cost in many cases much more than the initial fee of 50 bucks.
I wanted to find some free online affiliate marketing courses.
Eventually, I did find such a Platform and I am more than happy that the training I follow. I am constantly learning and one of the learning parts is also to apply the knowledge and also to teach others, fewer experienced members.
Have you been struggling?
TV, radio, magazines, especially the internet with social media – there is just so much noise out there, where one can be lost and nothing solid comes out of that. This can go on and on for your entire
life.
I fell into that trap as well and realized that in many cases I just wasted my time.
There is a good chance that some people do realize the same thing and thus, they come to the point where they feel like bringing some value to others.
You can build on that you can learn something and with the help of either this site or another, you can become more valuable for your loved ones and of course for society as well.
The Purpose of this Website?
As you know by now, I was struggling to make my 1st dollar online as well.
And I have check tons of digital course, online training and what not… only to learned that there are so many scams and misleading proucts.
I dare to say that 90% of all the coures I have stumbled upon were (are have been) misleading. Extremely misleading and I decide to creat this website where everyone can read unbiased reviees of such digital products.
I also want to people know that it takes time and effort to make consisten income online.
Ther is no such a thing as get-rich-quickly.
If you take nothing from this short article pleae remember:
Do resrach first, check and double check the specific producta and only then use your credit card.
…But Most importantly
It is acutaly possible to build a website and start creating content for free. There are many information out here available for you that once you add all up, you can drive free traffic and make revenue within 4 or 6 months (depends on a niche).
I know how important is to find valuable information out there, that are for free.
So my maingoal is to povide my audience with such information regarding:
Niche
Keyword Research
Organic Traffic
Basic SEO
Affiliate Marketing
and more
I hope you find a lot of useful inforation on thsis webiste.
Feel free to contact me, I will maek sure you provide you with a feedback within 24 hours.
All the best,
Mike
mike@setaffiliatebusiness.com
setaffiliatebusiness.com