Hello and welcome to the CashCrates review.
You want to find out whether you can truly make some money with the website called CashCrates.co, right?
Did someone share the link on social media or you just somehow stumbled upon it…
It doesn't matter how you did you find out about it.
The most important question is, Is CashCrates a Scam or Legit system that helps you to make some extra bucks on the site?
In this CashCrates Review, you are going to learn what is this all about and how to check whether it is a scam or legit, and by the time you are done reading this post, you will know for sure how CashCrates works (or does not work).
As a bonus, you will learn about legitimate GPT (Get-Paid-To) and also I will show you what to do in case you want to start your business online.
Without further ado let's jump into the CashCrates.co review.
Disclaimer
Please note, that I am not a member or an affiliate of CashCrates.
This review is based on research and information available online in the public domain. Any recommendations and conclusions are only opinions and may not apply to all persons or situations.
CashCrates Overview
Product Name: CashCrates
Price to Join: $0
Creator: N/A
Rating: 0/10
Do I recommend it? No! CashCrates was a Scam!
CashCrates Review – Quick Summary
CashCrates is a website promising you to make easy and quick money. Just for signing up, you are promised to get $50! You can refer friends and other people on social media and for every one of them, you are supposed to get $10.
The problem is that these are just empty promises.
CashCrates does not pay.
It is a scam and whoever is behind this website made this system to harvest personal data (email addresses and passwords, credit card information, and others as well).
My advice – Stay Away from CashCrates!
Their Doman CashCrates.co does Not work Anymore!
Making Money Online requires something more than just posting a referral (or affiliate) link.
Would you like to know how affiliate marketing works? Join the platform and get started for free
You might start earning consistent income online within a year.
What is CashCrates? (Updated in June 2020)
CashCrates.co is supposed to be a GPT site (get-paid-to), meaning that after signing up you can perform specific tasks and make money by downloading the apps, testing them, or watching videos.
They want you to think that they have been around for at least 5 years and that this is a well-established website.
It is simply not true.
CashCrates.co is a new website and we are going to discover soon the domain registration date.
What I find very disturbing is that the site is getting more and more attention. In April 2020 the website has reached more than 150,000 monthly visits in June 2020 almost 400,000!
No wonder people go visit this site. They believe they can make some fast money.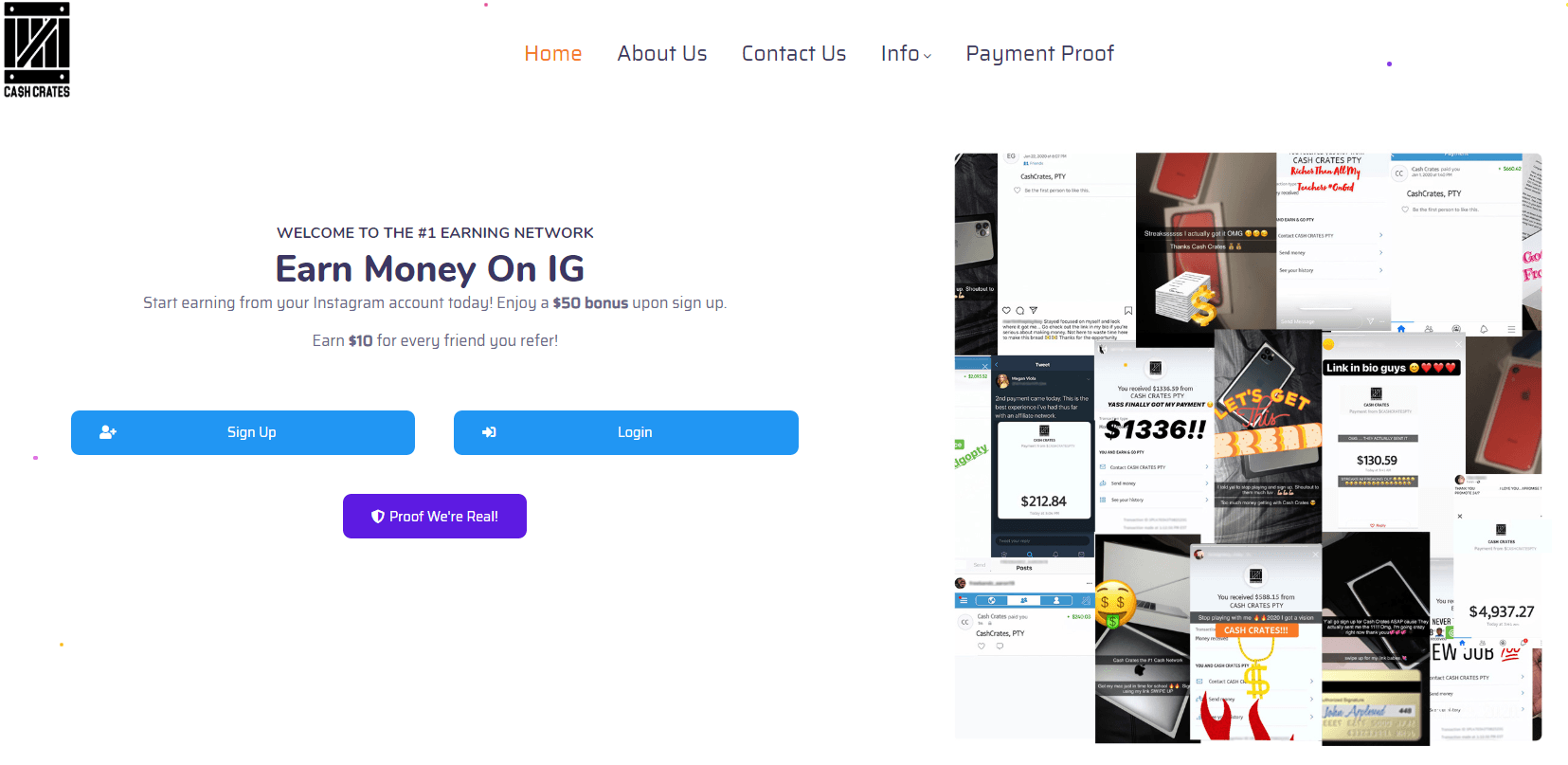 Apparently, you can make $20 or $40 bucks for each task.
Right after signing up, you are said to get a $50 bonus!
Let me tell you right now that these are just empty promises and no one gets paid.
We will go over the red flags of the CashCrates so you know that this entire system is just a scam.
It is a clone of other systems for example CashForShare, SwiftBuck, and many other scams as well.
Who Is Behind?
When it comes to money-making websites or any website where you have to sign up, it is always a good idea to check who is behind it. There should be an "About" page on a website or some contact information where you can reach the support or creator of that website.
The CashCrates "About Us" section says something about how they started back in 2015. It says that in 2015 was "The launch of Cash Crates…"
Now, this is an outright lie.
The website CashCrates.co was registered only in April of 2020.
Here is the proof.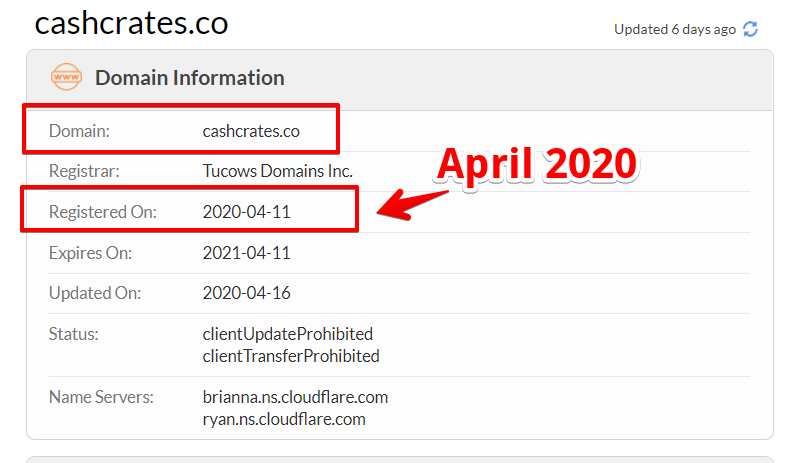 When you see such a discrepancy, just stay away from it.
And here is a short video showing how you can also check the details about any domain.
(This specific video shows how to check the date of domain registration.
In that particular example above I was checking another scam website called inboxdollar.co.
This site does not exist anymore – or to be more prices it redirects you to a different clone of the CashCrates.co called RewardDollars.
Why do I mention these different scams?
I just want to point out that there are lots of these scams and they look pretty similar.
In fact, I am almost certain that all these scams are created by one group of people.
Once you know how to identify one or two of them, you sure will be able to recognize new versions of these Fake websites.
Unfortunately, it is not easy to find who really is behind these scams.
How about the email address on the CashCrates.co?
Here is another proof that the CashCrates site is not legit.
They have this email where you can contact them. So I have sent a short message to the email address "hey@cashcrates.co" and this is the feedback I got:

Obviously, the email address does not exist.
I wanted to be sure so I did find another email address on their site:
"contact@cashcrates.co":

The same "feedback" as well.
This is another big red flag.
If there is no valid email, there is no person who you can contact.
Who is it For?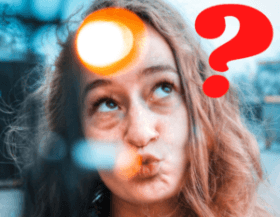 By now you understand that CashCrates is better to avoid.
I mean, this system does not pay and everyone who signs up and is about to perform the tasks jeopardizes his/her personal data (email, credit card information, and other sensitive information).
I know that it seems tempting, especially the $50 sign-up bonus, but it is just bogus.
The entire CashCrates system is Fake.
It pretends to be a legit GPT site or also called a survey site.
Legitimate GPT sites are perfect ways how to make some money on the side.
The problem with these websites is that they don't pay a lot. You can make approximately $100 or $200 (max) per month.
You can't scale it up either in terms of revenue.
If you are interested in how to generate consistent revenue online, stay with me and I will point you in the right direction.
Basically, it requires effort and persistence. But in about 12 months you can generate 4 or 5 figures per month.
When it comes to the "easy money", I will leave links to legitimate sites at the bottom of this article.
In case you want to read some reviews about these sites first, you can check the following reviews:
TimeBucks Review
InboxDollars Review
CashCrates pretends to be one of the legitimate sites but it is highly recommended to stay away from it.
How Does the CashCrates Work?
We know that CashCrates.co is a data harvesting scam and they want to get your personal data, right?
Therefore it is very easy to join and it is absolutely Free.
In fact, you are told to get a signup bonus.
Then, we will see in the next section where you can get a unique link that you should share all over social media.
People you refer to join the CashCrates should earn money for you (just by joining this system).
The CashCrates dashboard "Earnings" rise as you perform the tasks, surveys, and a number of other activities.
But make no mistake – this is just an illusion.
Here is where the real problem occurs:
It is said that there is no minimum threshold to cash out your earnings.
However, you must meet certain criteria to be able to get your money.
20 clicks
5 Referrals
6 Completed task walls tasks
10 posts and reviews
The truth is though that even if you meet those requirements you won't get paid at all.
All these incentives together with the empty promises about earnings of $2 for every person who clicks on your link are just BS.
You will be told that your request is put on hold. After a few weeks, your request will be denied.
As a reason, you are told that you have used fake clicks and that your referrals are not real people.
That is why you won't get a dime and your account is closed.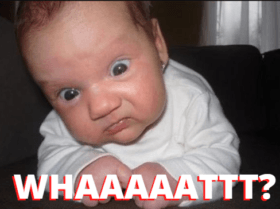 So this is how the CashCrates works.
Let's Have a Look Inside the Members Area
The CashCrates dashboard is pretty much the same as the dashboards of the other scams.
There is a main menu on the left-hand side, a few notifications saying that you should finish your payment methods, and also there is a unique link that you should share on social media (and other platforms as well).
If you scroll down you see a bunch of tasks that you can perform and allegedly make money.
One of the tasks says, that you can earn $2 for every person who clicks on your unique link. Apparently, when they sign up you earn an additional $15.
These claims are ridiculous.
No system can pay you just for clicks.
And how come you get $15 for each person that signs up via your link?
That person obviously joins the CashCrates.co for free, so it does not make sense that you are being paid for it.
Where would the money come from?
And there is more ridiculous stuff;
At the bottom of the dashboard you have other tasks and some fake claims about the earning potential:
Refer a friend – Earn $15
Get Clicks – Earn $2
Download Apps – Earn points
Complete Surveys – Earn $50
Creat YouTube Videos – Earn $50
At the very bottom, you have options to share your link on social media – again.
Unfortunately, I see people do that quite a lot, especially on Facebook groups.
They probably don't realize that it is useless and even if they see their "earnings" on the CashCrates dashboard going up, it is just a fake figure.
No one is able to cash it out.
CashCrates does not allow you to withdraw the earnings.
There is no real earning at all.
The Claims vs Facts or List of Red Flags
There are more red flags within CashCrates.co so here is a list of them. At least the major ones.
As you go through them, I am sure you will find them helpful.
The thing is that there are many similar scams like CashCrates so being aware of these red flags makes you more alert and you won't fall for scammy systems that easily.
1) Age of the system
We have already covered this.
As of this writing, the CashCrates is only a few months old. So the claim about how they have begun back in 2015 is false.
2) Fake Payment Proofs
CashCrates wants you to believe that they are legit. They post a lot of screenshots showing the people actually did get paid.
The problem with these screenshots is that they are not showing anything.
In the older systems (for example Tap2Earn, ShareCash, or Social Bounty) they have fake screenshots with dates before those systems were even registered.
CashCrates uses the following screenshots:
There is no date, it only says "Today".
Waw – I mean pretty convincing, isn't it?
The point is, that there is no value whatsoever in these "payment proofs".
Oh and here is the one payment that was supposedly done in February 2020: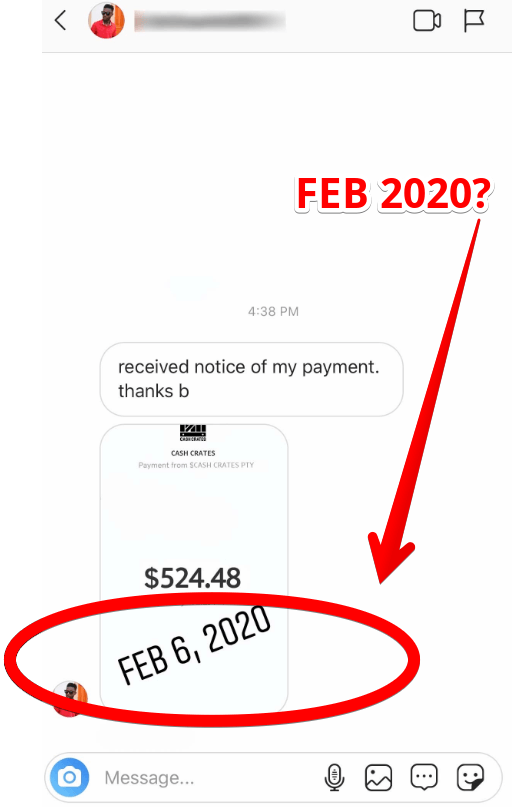 At that time the domain CashCrates.co was not registered yet!
3) No One Gets Paid
We have explained how the CashCrates work, right?
First, you are told that you get $50 just for signing up, $10 for each referral – or is it $15?
It seems that even this information is not clear within the CashCrates site.
It just shows that this website (along with the other clones of this system) is created in a rush and there are obvious errors.
4) Contact information – Not working
There is no way of getting in contact with the CashCrates creators.
I did fill up the Contact form – it does not work.
They have 2 email addresses that don't work either.
How about the Chat that is supposedly available in the Dashboard?
Nope.
Doesn't work either.
5) FAQ Does not work
Do you want to find out more about CashCrates?
Check the Frequently Asked Questions at the bottom of the homepage.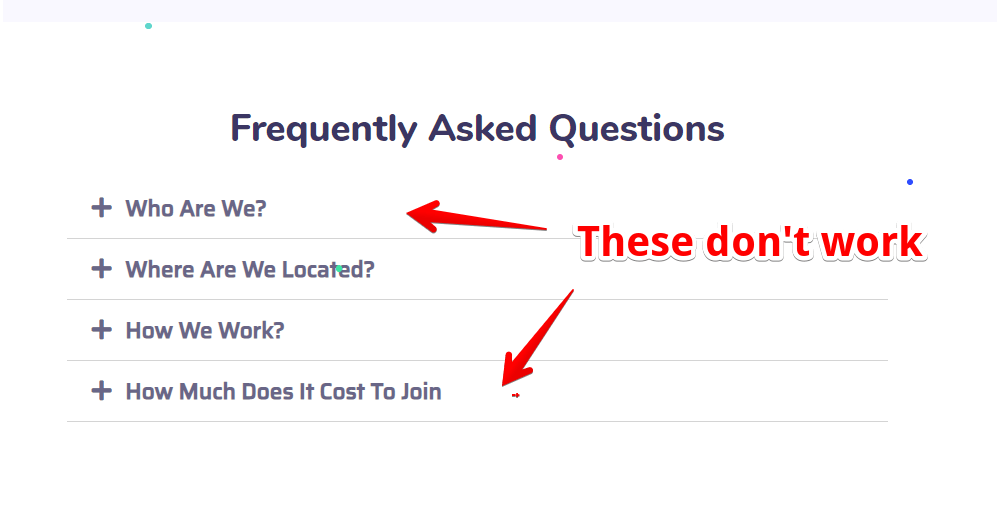 Click on the question and you will get to the top of the homepage, with no answer to pop down.
This is another error on their website.
6) Support – Forget About It
Within the Dashboard, you can go and check the Quick support.
It says that you can DM the CashCrates on Twitter.
Unfortunately, their Twitter account is suspended.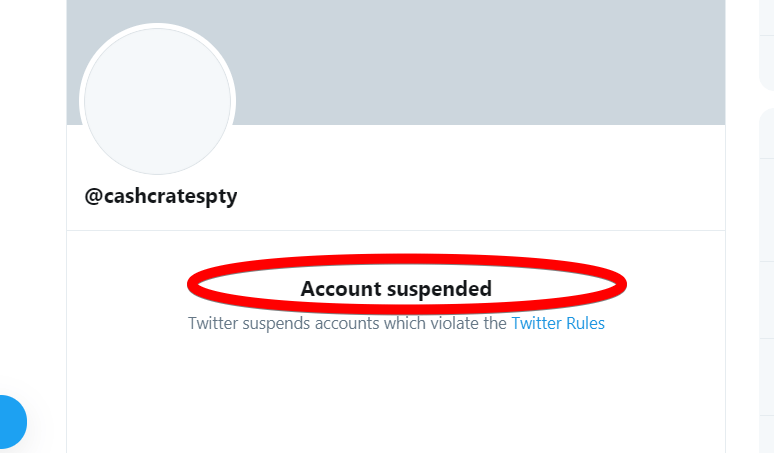 7) Terms and Conditions – Error
I know that most don't read the Term and Conditions, but since CashCrates belongs to the "big Scam family" I knew what to look for.
This is a very interesting paragraph, saying that you are not allowed to use the CashCrates if you're under the age of nighty nine.

It says:
"If you are under the age of ninety-nine (99), you are not allowed to use the Cash Crates Sites and Features nor our Services"
Is this an error or is this on purpose?
Either way, it is just another proof that CashCrates is just a waste of time.
What I like

Absolutely nothing
My Advice: Stay Away from CashForShare
What I don't like

Wrong information regarding the foundation (Instead of 2015, CashCrates is found in 04/2020)
None of the email addresses work, including the Contact Form
Payment proofs – fake screenshots
Errors on the website
Where to Go From Here?
I am not sure how long have you been trying to find a system or a course that actually works.
I remember times when I was looking for training that would teach me what I have to do to make some money online.
In 2015 I was doing research, trying to find a system or course, and I was already prepared to invest some money in education.
Unfortunately, a lot of these systems were just kind of "push button systems" or some "get-rich-quick" schemes that did not really work.
I kept checking digital products, and following Gurus but none of that worked out for me.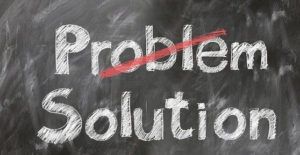 I mean I learned a lot but I needed some kind of step-by-step training showing me what to do and also being able to get feedback about the progress I do.
It wasn't until the end of 2017 that I did find a legit platform teaching how to start an affiliate marketing business or website.
To be honest, at that time I still was thinking that there must be some kind of shortcut or quick way how to earn thousands per week.
I was wrong.
It requires effort and time.
Of course, you can check the platform where I have learned (almost) everything about affiliate marketing – in fact, you can check it out for free.
Just click on this link and I will guide you through.
"Easier" Solution?
Well, Easier or simpler alternative does not mean that it is better.
But it also depends on what you are looking for.
1) Do you want to start your own business and learn how to scale it up?
Go read this post. It is a review of a legitimate education platform teaching how to start a business online.
2) Are you OK to make just a few bucks, and you don't really care about your future?
Go check the following links:
All these 3 GPT sites are legit, but the earning potential is low (about $100 a month).
www.inboxdollars.com
www.swagbucks.com
www.surveyjunkie.com
As I mentioned above, you can make some pocket money with these survey sites, but they don't require any special knowledge.
Conclusion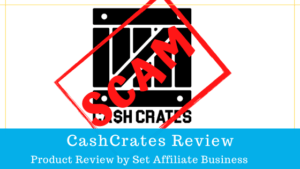 CashCrates is a scam!
No questions about that.
Don't even sign up as it is just a waste of time.
If you looking for quick bucks, please do realize that you won't earn a lot.
The survey sites that are legit, do not require a lot of special knowledge, so anyone can do that and that means that the learning potential is pretty low.
Do you want to find out how to earn real money?
How to start generating revenue online?
In my opinion Affiliate Marketing is the easiest way.
I don't mean it is easy at all.
But with proper education, you can see some results within 6 to 12 months. Please realize that building a successful online business requires time and effort.
There are many platforms and courses that teach affiliate marketing but only a few of them are for the right price and deliver the knowledge you need.
Do you want to learn more or do you have any questions?
Let me know in the comment section below. I will be happy to provide you with feedback, hopefully within 24 hours 🙂
Thanks a lot for reading
Mike