Hello, and welcome to Inboxdollar.co Review.
Are you wondering what the website Inboxdollar.co is all about?
Before we get into it, please note that this is not a review of the system called Inbox Dollars (www.inboxdollars.com).
This is a review of a new system called InboxDollar.co without "S" and the domain extension ".CO".
What is the difference?
Inbox Dollars (inboxdollars.com) is a legit GPT site and if you want to find out more about this system, you are welcome to read the review here.
In this particular article, we are going to talk about (and let me call it right away) a fake version of the Inbox Dollars.
Why fake?
Does it mean that the "InboxDollar Dot Co" is a scam?
Let's find out.
Disclaimer
Please note, I am not a member or an affiliate for Inboxdollar.co. This review is based on research and information available online in the public domain. Any recommendation and conclusions are only opinions and may not apply to all persons or situations.
InboxDollar Overview
Product Name: InboxDollar (domain extension CO – not COM)
Price to Join: $0
Creator: N/A
Rating: 0/10
Do I recommend it? No!
Important Notice: Inboxdollar.co is no longer available.
The website is currently for sale.
Beware of Inboxdollar.co, a deceptive system promising to earn you $500 daily. It claims that by referring friends on social media and completing simple tasks, you can make money.
The true identity of the people behind this system is unknown. They have created InboxDollar.co to deceive individuals seeking additional income.
This website is just one among many fraudulent platforms with the same objective: to collect your personal information, including your email address, password, and potentially your PayPal and credit card details.
I strongly advise against signing up for inboxdollar.co, especially with your regular email.
Additionally, in this article, I will provide information on a legitimate website where you can earn some extra money. Alternatively, I can guide you on how to establish a genuine online business.
What is InboxDollar.co?
This supposed to be a Get-Paid-To website (or GPT) where you can earn money by performing simple tasks, like watching videos, reading emails, or just surfing certain websites.
I say "supposed to" because InboxDollar.co has not paid anyone yet (or at least 99.75% of people have not been paid).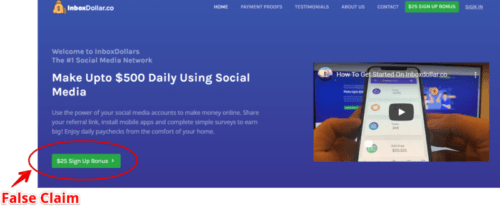 This fake version claim, that you can make $500 daily using social media. It is theoretically possible to make that amount of money, but certainly not with this system. Even though it says that they are #1 Social Media Network.
Well, we will check social media to see how many followers/posts InboxDollar.co has.
Another bald claim is the sign-up bonus of $25. This is a lot of money for nothing.
Whenever you see a website promising you more than $10 for just sign up, stay on the alert. There is a high chance that something is wrong with the website/system.
The legitimate systems pay up to $5 and they have been in business for 2 decades now.
Who Is Behind Inboxdollar?
I have reviewed many systems, that are clones of the InboxDollars, such as Swiftbucs, Social Bounty or Paid Leaf and they all have 2 things in common:
We don't know who is behind it (only the information that they are new systems and registered in Panama in 2019/2020)
They all are the same scams
We can easily double-check that the information in the About Us section is just copied text from the original system.
This is the screenshot from the fake website inboxdollars.co.
It is obvious they are not able to come up with their original text. It is simply copied and pasted.
This is a screenshot of the original and legit website:
The truth is that the domain inboxdollar.co was registered in 2020.
Just go to the website whois.com and you see that the registration date is on January 2nd.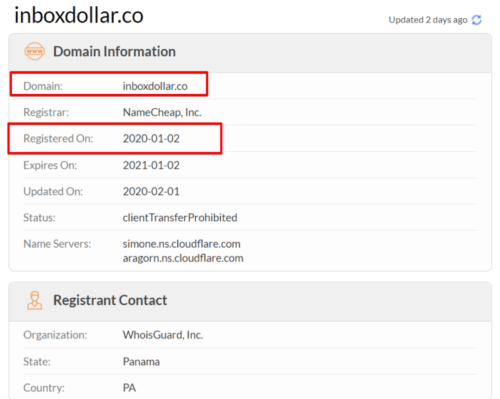 This is a big red flag and everyone by now should realize that one can't trust the inboxdollar.co – not a single word. Especially when it comes to the claims about how much you can make with this system.
Who is Inboxdollar For?
I don't recommend this system to anyone.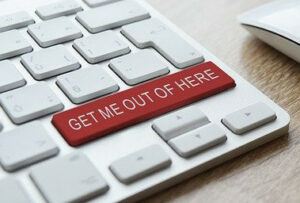 Seriously, this is just a waste of time.
Inboxdollar.co is the same system as the other scams I have already reviewed and mentioned (Swiftbuck, PaidLeaf, and so on).
I know that you are looking for ways on how to make money online. This is a big thing right now – I mean a lot of people tend to go online, and companies looking for partners online, so they can reach more people.
Also Companies like Walmart, or Nike looking for partners who can promote their products online for a commission.
A typical example is Amazon. It got so big because they accept almost everybody – meaning everyone can become an Amazon Affiliate Partner. And it is a good thing.
Also, you see many people teaching Internet marketing, they offer systems and loopholes. Unfortunately, not all of them offer a course that really works.
Many of the information they sell is only partial and you have to check other sources as well.
Then, you have another group of people who are just scammers. They promise you how to make money, they want your money, promising you that you get the "get-rich-quick-system" and then they disappear.
Sure they may have some material, but in most cases, it is garbage (either outdated or just partial information and you need to pay more to buy more garbage… )
That includes Inboxdollar, too.
This is not a typical scam though. You won't lose money by joining them, at least not right away. These scammy systems like inboxdollar work in a different way.
They collect personal data, like email addresses and they sell them to a 3rd party.
What happens next – your email inbox is full of spam and scammy offers from companies you never heard of.
Sometimes it is not easy to recognize the scam, but fortunately, the website inboxdollar.co is made in a way that it takes only a few seconds to figure that out.
How Does It Work? Let's Have a Look Inside the Platform
As we already touched at the beginning, it is very easy to sign up.
Again – I would like to remind you if you want to check the system by yourself, make sure to use a new-for-this-purpose-only email address.
Don't use your regular email or password.
According to their website, there are 3 easy steps to follow and you can start earning:

Sign Up and get the $25 bonus
Share your unique link and earn for every click you receive $2. For every referral, you earn $20
Cash-Out – using PayPal, Venmo, CashApp …
If you sign up, here is what the Inboxdollar.co dashboard (or platform) looks like.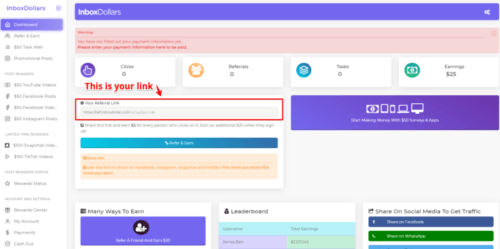 Exactly the same thing as already reviewed scams (Tap2Earn, CloutBucks, PaidLeaf, or Social Bounty).
You have a menu on the left-hand side, some notifications in the middle, your referral link, and at the bottom ways how you can share this scam on social media.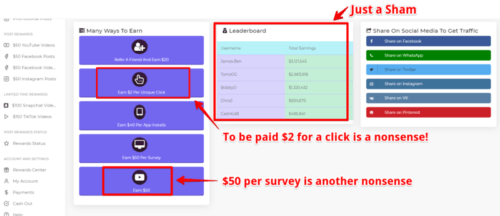 The Claims vs. Facts
We have covered quite a lot about this website. It is obvious it is a scam.
Let's go over the red flags, to have a clear understanding of what is wrong with inboxdollar.co and with that knowledge you will be able to recognize any deceptive system within a few seconds.
1) Age of the system
Do you remember the website where we can check the registration date of any domain?
It is Whois.com
Here is a short video of how you can check the age of any domain.
As you see we have checked also how old is the original system. It was registered in 2000.
2) Fake Payment Proofs
What is very interesting, the information about how much the already paid out.
It is $59 million – very impressive.
Especially when we consider the fact that it has been around for less than 3 months (as of writing this post-March 19th, 2020).
As of today, this website is on for about 75 days. Did they really pay more than $750,000 a day?
That is more than $32,000 every hour.
I find it hard to believe.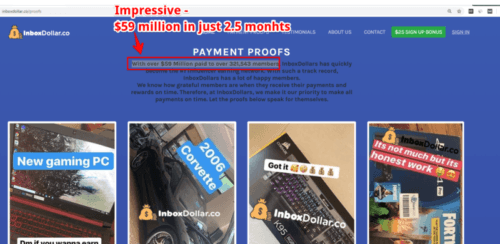 What is also interesting is the amount of money that the original and legit system did payout.
Can you guess how much it was in the last 20 years?
Yes, $59 million.
Regarding the money inboxdollar.co paid – here are some screenshots they use as proof.
I have found one that proves that it is not related to this new system.
Check the date, it says June 29t 2019. – We know that this system did not exist back then, right?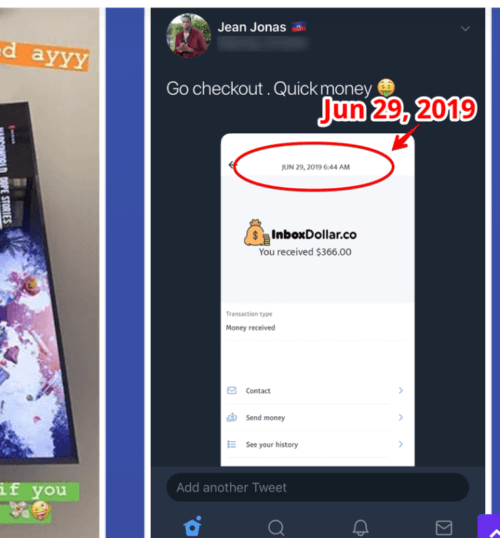 They use many screenshots like this on their website – not all of them have a visible date.
Such screenshots are useless, they don't prove anything.
3) Fake credit & No One Gets Paid
This system is new, but having done all the research I am confident that this system will not pay to anyone. It is exactly the same scam as others I have described.
It works like this:
You sign up. You go and perform tasks, share your link and refer some of your friends or followers on social media. You collect a couple of hundred bucks and then you want to cash out.
You get a message saying your payment is on its way – it may take several weeks.
After a while, you get another message saying that you have used fake referrals and fake clicks. Therefore you don't get paid and your account is closed/banned. You can't log in back anymore.
This is how they work.
These are comments from the other systems (previous clones)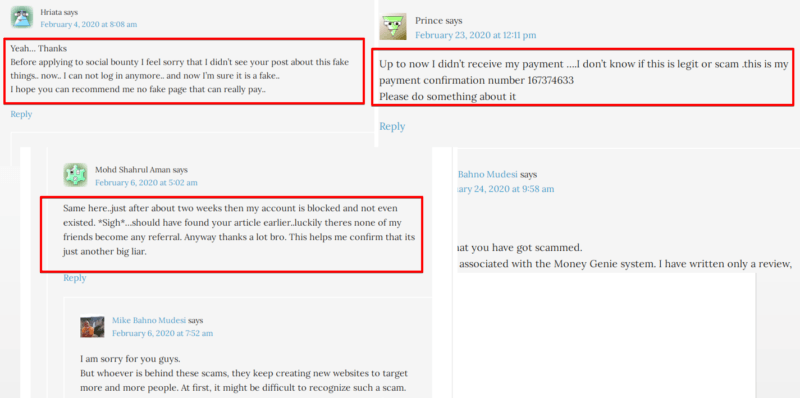 People tend to trust these "easy-money" systems and then they are disappointed and upset.
It is understandable.
4) Contact information – Not working
Usually, contact information contains some clickable links that direct you to your email, or you can fill out some form or something like this.
In the Inboxdollar.co "Contact" section, you have these options as per the screenshot below:
The thing is though, they don't work.
So I went ahead and wrote an email – but so far no feedback.
I would assume from the "#1 Social Media Network" some kind of automatic reply, saying something like, "thank you for your email, we are working on your query" – or something in that manner.
Still waiting for the feedback, but I bet the email address does not work and after a day or two I get a message like this:
This is a screenshot from SwifBuck, which is another clone of the same scam system.
And my email sent out to the contact@inboxdollar.co was not delivered either:
Regarding the physical address;
When you google it here is the location:
The exact street does not even exist in this county, but this is as close as we can get.
(It seems they have the main office in RV, or something – just kidding).
5) Fake testimonials
Many scams use fake testimonials.
They either hire people from a website called Fiverr, to shoot a short video or as it is in Inboxdollar.co case, they use stock photos available on websites like pixabay.com or unsplash.com, or similar.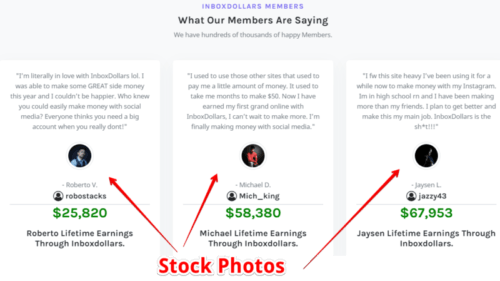 These testimonials are inevitably made up.
6) Social Media
This will be a very short section – there is no presence of inboxdollar.co on any social media.
Zero, None.
When you go to any of the social media, you only find the legit system, inboxdollars.com, but nothing related to the inboxdollar.co
What I like

Absolutely nothing. This entire system is made to just get your email address (and maybe some other data).
The creator of this system took an existing system and made a deceptive system.
(The only thing I actually like about the inboxdollar.co – it is easy to figure out that it is deceptive, meaning, so many obvious mistakes they make)
What I don't like

It is outrageous that they have copied the original system Inbox Dollars. They have used the name, a very similar domain name, and copied text. It should be reported to the FTC.
Fake testimonials and Fake income proofs
Contact information does not work
The system does not pay
What to Do Now?
You have come to this article to find out what is this inboxdollar all about.
Well, it does not work as they promise…
I feel like I owe you something more than just simply saying, this does not work.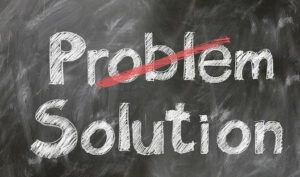 So the question is – what does work?
Are you looking for an easy way how to make a buck?
Check out the original system –Inbox Dollars.
But such websites, like Inbox Dollars, or surveyjunkie are good in case you want to have extra money for gas or maybe you want to take your spouse for a nice dinner.
It does not have the potential for making a full-time income.
Any better ways?
Yes, there are but.
It is important to realize that you have to offer something to people so they will exchange it for money.
Now, do you have something you can exchange for money, today? Or Tomorrow?
My guess is no – that is why you are reading this article.
But is it even possible to make money online (I mean 4 or 5 digits per month)?
Yes, people making money online. I know many of them who started out 2 or 3 years ago and today they generate $4,000 per month. Those who do it longer make even more.
So how do they do it?
There are many ways, but one particular I have on my mind.
One of the easiest ways is affiliate marketing.
Affiliate Marketing is a business model where you refer customers to the retailer, and if they buy, you get a commission from the retailer.
Your business is your website and the retailer can be for example eBay or Nike, or Amazon (there are thousands of companies offering affiliate programs).
There are many websites, with one owner, making a full-time income.
If this is something you want to find out more about, let me know – I can certainly help you with that.
I can help you to get from where you currently are to the stage where your website will generate thousands of dollars per month.
Let me be clear though:
There is no system that I can hand over to you and you instantly will start making money. I can only show you what to do, how to do when to do it, and what you shouldn't be doing.
The rest is up to you.
But I can promise you, you can have full support along the way toward your goal.
Are you ready?
How to bridge the gap?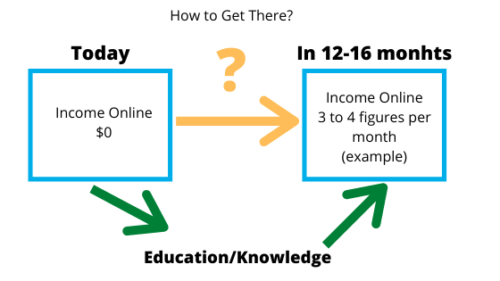 Knowledge – proper knowledge and guidelines.
I'll be honest – such knowledge is not for free.
The good news is that it does not have to cost thousands of dollars.
Would you be willing to invest let's say $495/year in education? The education that will help you to get to the point where you have a full-time income; in about 12 or 15 months?
Does it seem like a long time?
Well – it depends.
How much time have you spent chasing some information, advice, or training …  I mean where you were 3 years ago?
Where are you right now?
Imagine in 2 years you can have $800 to $1,000 a week – from an online business. With such income, you can easily outsource the work and you can start working 3 or 4 hours a day (if you want to).
Does it sound like a good deal?
No? Then I wish you good luck chasing other opportunities. If you find a good one, you are welcome to come back and we can discuss it.
If you are still with me, let me share with you this training course review – I have taken that as well and it helped me to get from a point where I did not know what SEO is to now, where I am a full-time online marketer (since the summer of 2019).
I know I did mention the investment of $495 a year (that is less than a cup of coffee a day).
But the good news is you can take a look at the training for free. You have 7 days of access to 1st 10 lessons.
This should be enough for you to determine whether it is the kind of education you expect or no.
After the 7 days, you still have access to that platform, but without access to the training. I mean you will not be charged for anything.
You only need your email address to test the platform out.
At the bottom of this post, I leave the link where you can check what the platform is all about.
If you have any questions regarding the inboxdollar.co let me know in the comment section below.
Also, feel free to ask about the ways how to start a business online – I will do my best to answer your questions within a day.
Thank you for reading.