Hello and welcome to the Tap2Earn review.
I believe you have already stumbled upon this website named Tap2Earn.co and you have seen the claim "Make $500 Today!"
Now you are wondering whether it is possible to earn that amount of money or if they just try to lure you into that system to get something from you.
Well, first of all, let me congratulate you for being responsible and doing the research first.
We will see that people who join this system soon realize that something is dodgy about this website and its system.
So, is Tap2Earn a scam?
Does it mean that you will lose money?
Let's dive into this system and check how it works, whether it is legit (testimonials, payment proofs, address), and how they are doing on Social Media.
They claim to be the #1 Influencer Network in the world… well, we will find out that this is not the only misleading statement.
Disclaimer
Please note, I am not a member or an affiliate for Tap2Earn.
This review is based on research and information available online in the public domain. Any recommendations and conclusions are only opinions and may not apply to all persons or situations.
Tap2Earn Overview
Product Name: Tap2Earn
Price to Join: $0
Creator: Not Known
Rating: 0/10
Do I recommend it? No!
Tap2Earn Summary
Tap 2 Earn is a website/system that should be the GetPaidTo (GPT) and promises you to make $500 a day (I use the should intentionally).
You can also perform simple tasks, or just use your special link throughout social media, and when someone clicks on that link you get paid.
The problem is that no one ever gets paid.
This is a harvest data scam and Tap 2 Earn is only one of many similar scams, which I also mention in the review below.
You should stay away from this website. They go after your email, password, and possibly other personal data as well.
All the payment proofs and testimonials on their site are just fake.
What is Tap2Earn
As I already mentioned, this system claims to be the #1 Influencer Network in the world. Apparently, you can make $10 to $15 for every friend you invite to this system.
Besides, once you are inside of their dashboard you can perform some easy tasks and make from $10 to $50 per each task.
That way you can make a couple of hundred a day.
Doesn't it sound a little bit "too good to be true"? I am sure it does.
Here is how it works (at least according to their home page)
You join Tap 2 Earn and you get a $25 bonus once you registered
Share your unique link and earn $10 for every person you invite (on social media, your website… anywhere)
Get your earnings with this system instantly using CashApp, PayPal, Bitcoin or Check
Let me tell you right away, that these claims are false. I mean after you sign up you see the amount $25 inside the dashboard (back office of this system), but it is impossible to cash that money out.
99.99% of people who want to get that money to their PayPal account or whatever method they choose, they never receive the real money.
With that being said, all the earnings you make, either by performing the task or inviting others to join Top2Earn are just illusions.
This system is a scam and they go after your data. We will cover that this entire website is full of errors, mistakes, fake information, and so on.
Tap 2 Earn Dashboard (System Back-office)
I also do not recommend signing up for the Tap 2 Ears. If you want to check out the dashboard, please create an email for this purpose only and make sure you use a brand new password (the password you don't use in any other platforms).
Once you sign up you see the pop-up window with your specific link.
This is the link you should share on social media to get paid.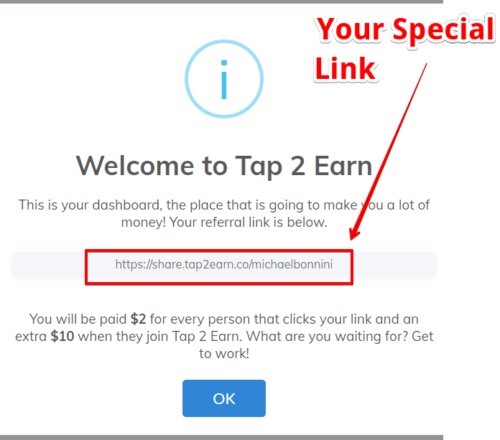 I have provided them with an email that I use only for such occasions (including the user name and password).
It says, that "you will be paid $2 for every person that clicks your link…"
Now, how is that possible?
The access to their system is free, so where is this money from?
And to get paid $2 just for the clicks?
This is completely BS.
The only way how someone gets paid for clicks is the paying ads on your website.
I mean, if I had some ads (for example Google Ads) on my websites and you click on them then I get paid. But in most cases, it is just a few pennies for a click.
And this is how the dashboard od the Tap 2 Earn looks like: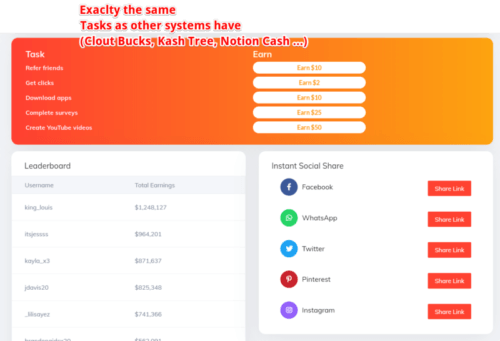 If you have not seen the other very similar websites, you can go ahead and make a comparison. You will notice that the website layout, the dashboard, the tasks, claims about being #1 Influencer network, all are very similar (in some cases almost identical).
Here is the list of those I have been able to spot already:
Rain Money, Paid Leaf, Clout Bucks (This one is already shut down), Kash Tree, Notion Cash, Influencer Cash, Referral Pay, Rain Money.
I am sure new websites will appear soon.
Who Is Behind
As we have seen in the section above, there are many websites like that.
Most likely all these systems are coming from one owner(s). It is a network of scams and some of the sites are already closed, but most of them are still active.
Generally speaking, today people want to know who is behind a specific product or course. That way they know who to contact to, in case something goes wrong. If you purchase a product from Amazon, you know where did you get it from.
The same is with online courses teaching how to make money online.
You don't want to buy a pig in a poke.
If you are suspicious about who is behind the product, you are not going to give them your money.
But the number of people on the internet still grows and I am sure some newbies tend to trust systems like PaidLeaf or Influencer Cash. These two do not reveal who is behind them; we have no idea who the creator/owner is.
That is always a red flag, and it is the same with Tap2Earn as well.
What Does the "About Us" Page Say?
Again, the Tap 2 Earn supposed to be a #1 Influencer network and they have made it happen within 10 years.
Apparently, they started in March 2015 in Amsterdam.
I suppose that such influencer should have also a website created in March 2015 (or at least in the Spring of 2015)
Let's take a look at the registration date: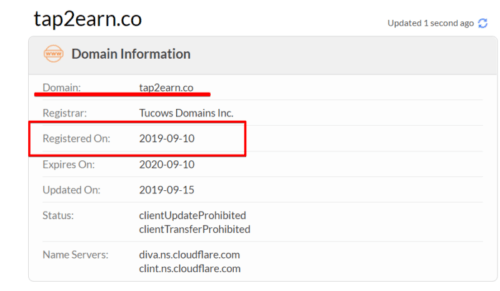 It is obvious that this website was created in September 2019. The statement about their age is a lie; again.
(You can check it by yourself, just go to this website: whois.com).
And I doubt that this company has any connection with Amsterdam. Later we will check the address and it is suspicious as well.
By now you realize that it is better to stay away from Tap 2 Earn, but let's go over the red flags.
Some of them make me laugh.
The Claims vs Facts
1) Fake Testimonials
Many courses or platforms use testimonials to encourage people to buy or to join the system.
The rule is simple:
When you see a fake testimonial, obviously there is something wrong with the platform and you should stay away from it.
Here is a bunch of video testimonials at the Tap 2 Earn page.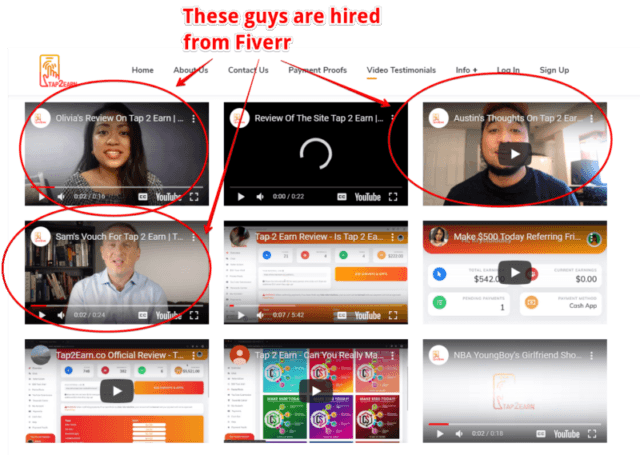 Right off the bat, I see at least one guy and I know; he is an actor from a website called Fiverr (Wiki: Fiverr is an online marketplace for freelance services).
He also did some work for other products, for example, Spring Profit, but we can see him also in a Tap 2 Earn "sister-project" called Paid Leaf.
And here is another actor from the Fiverr.
And one more.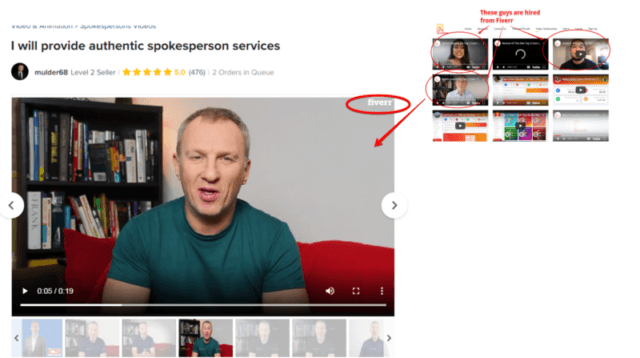 Don't get me wrong, these actors just doing their jobs. I am sure they don't even know who they create the video for (since there is no real contact with Tap2Earn representatives).
Actually would be interesting to find you who hired them.
At the Tap2Earn homepage, you might have seen the members' testimonials as well.
Here is something interesting I have found out.
When I go to google Alissa image, here is what I find:
Bunch of other websites which are other versions of Tap 2 Earn.
I clicked at the "Tap2cash.net" and this is a message from my internet security company:
The very same image is used over and over again and by know, I have not been able to count how many versions of this scam (phishing site) they have made.
Google shows 2 pages of results, but not all the sister's website uses this very image.
(seems like I still have a lot to do;) )
And here is the Tap 2 Earn German version with a domain name "euro4klik.com"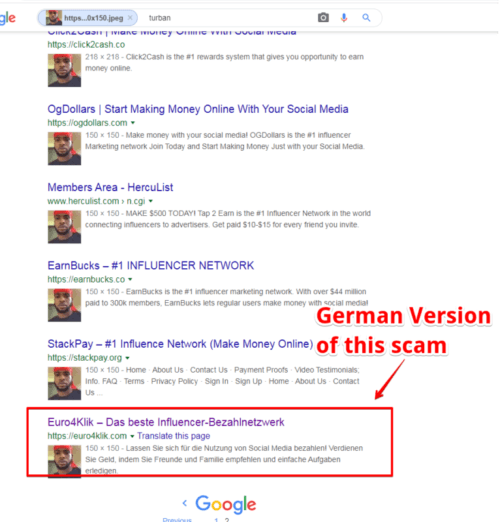 Whoever is behind these sites, he or she has started to target also non-English speaking visitors (at this german version the terms and conditions are still in English though).
2) Unknown Owner
We have covered this already.
It is not easy to find out who is behind all these scam sites.
Based on the section above, it seems that they want to expand by targeting other audiences as well.
3) Postal Address Fake – Email Address Fake
Tap 2 Earn is slightly different from the previous websites I have checked.
This time, they want you to think that their headquarter is in Europe. To be more specific, in Amsterdam – Netherlands.
It is not difficult to check the address on google: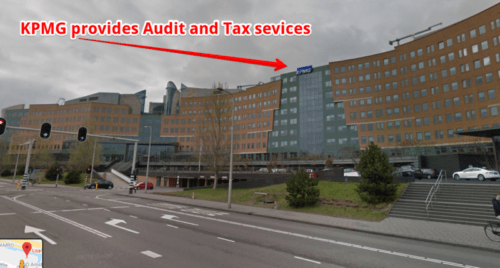 Laan van Langerhuize 1, Amstelveen, Netherlands is the address of the KPMG.
(KPMG is a "global network of professional firms, providing Audit, Tax and Advisory services…)
Nevertheless, I wanted to be sure and I did check the email address and their contact page.
The contact page does not work – the button is not clickable, and the message can't be sent out.
So I wrote them and email and here is the feedback:
No response, since the email address does not work.
What a shame for a "#1 Influencer Network".
4) Social Media
Let's go briefly over social media and check how active the Tap 2 Earn is.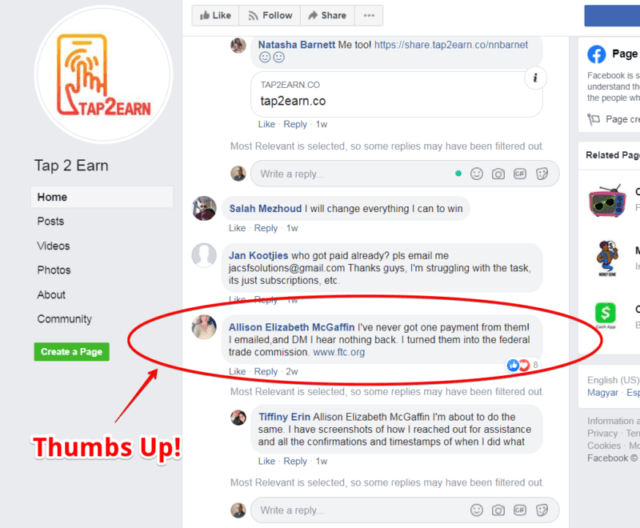 There are more than 10K followers on Facebook, which not bad.
But from the comment section, we see that not many of them are very happy with the system.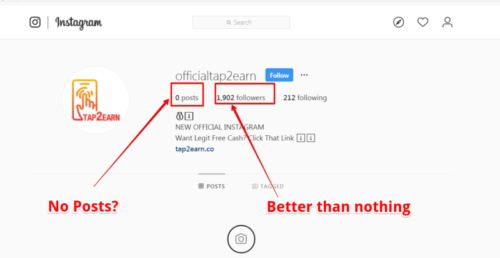 I was expecting way more followers on IG.
No wondering, since there are no posts from Tap 2 Earn.
Tap 2 Earn is not that active at Linked either.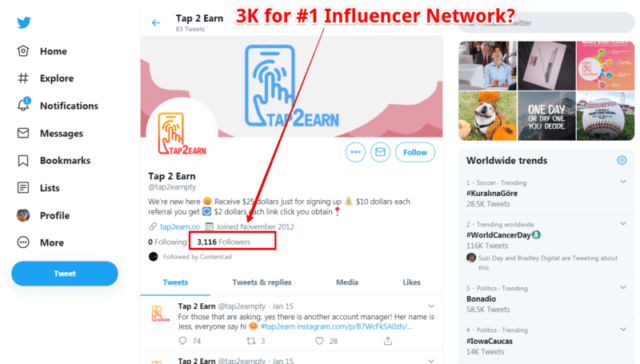 Again. 3,000 followers on Twitter?
This is a low number for any influencer, let alone #1 Influencer.
I don't mean to be sarcastic, but you get my point, right.
5) System's Age
We have seen the discrepancy between the statement at the Tap 2 Earn "About Page" and the real date of registration.
They want you to think that it has been already 5 years that they are in this business, but the truth is, they only started in September 2019.
6) Payment Proofs
This is also a common error they do on their website.
The fake screenshots of the payment proofs are taken before the website has been even registered.
These payment proofs, prove that they are fake.
7) Terms and Conditions
I know how annoying it can be to read the Term and Conditions.
But at least, pay attention to this section where it says that you are not allowed to use the Tap 2 Earn Sites unless you are 99 years old.

Maybe it all makes sense.
Everyone who uses this system is using it against the Terms and Conditions and therefore they don't pay to anyone.
The same point we have seen at the sister system Social Bounty (in that review there is a screenshot of the Terms and Conditions as well).
That leads us to the next section – Cash out
8) Nobody Gets Paid – Check the Real Testimonials
This system has not paid out a dime.
People sign up, perform the tasks, share their link (not knowing that they sharing a scam), their credit score goes up and once they request the cash-out, they are notified about the Payment Confirmation.
It looks like this: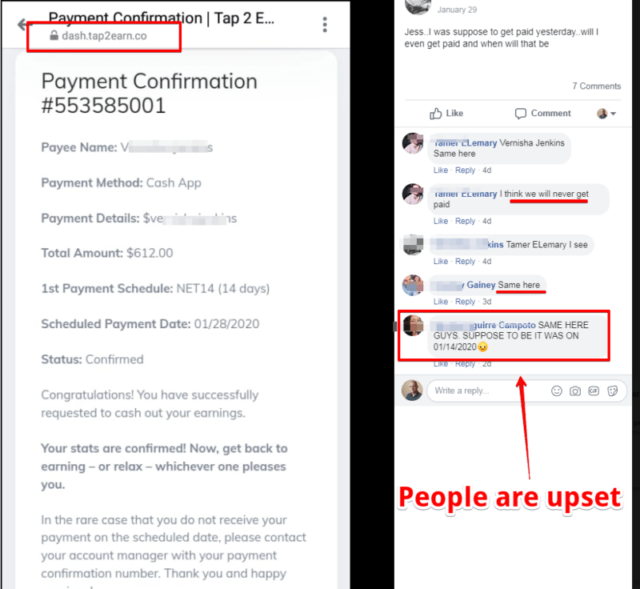 Their request is afterward denied.
The reason?
Apparently Tap to Earn system has found out that, they have been using fake clicks and referrals and therefore no payment is made, and on top of it the user's account will be banned.
What a shame.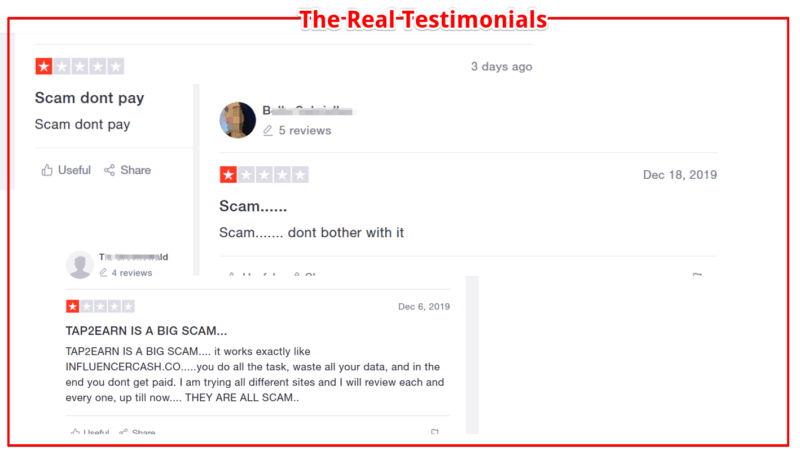 Also here you can find real testimonials.
A few words at the end
No doubt this is a scam. But they also want people to share a link and get more people into this scam.
It is important to realize that even a sharing scam can be considered illegal as well.
Therefore it is important to report such a scam.
If you happened to have your own experience with it, here is why you should report it
What I like

There is absolutely nothing I like about the Tap 2 Earn.
What I don't like
A website full of lies and errors
Fake testimonials and other photos downloaded from other websites
It is part of the network scam (Phishing)
They don't payout
How To Make Real Money Online? (Not a Get-Rich-Quick Scheme)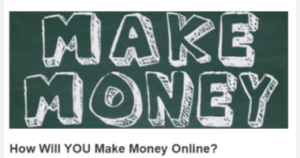 If you still with me, I can show you one of the legit ways how I started generating income online. It is called an affiliate marketing and you have probably already purchased something from the affiliate website, you just don't realize that.
Here's an example:
You want to find some information regarding one specific product (coffee machine, headphones, or standing desk).
The first thing you do is to google it, check the first page and you land on one of the websites from the search engine results.
Here you find a detailed, user-friendly product description, pros, and cons, specifications and you decide to pick up one item out of those products.
There is a link saying something like "check the price on Amazon" – it gets you to Amazon where you make the purchase.
Now, how about that website where you read all the information?
This website is an affiliate website. The owner of this site gets paid from Amazon a 4%-10% commission for every purchase a visitor makes.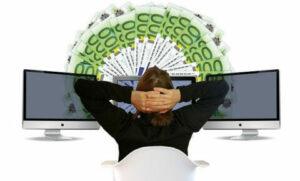 There are many websites, I mean affiliate websites which are partners with the Affiliate program, in this case, Amazon. But there are many other affiliate programs. For example, ClickBank offers thousands of digital products. These are courses, tutorials, e-books, etc.
Many of them pay commission from 10% – 75%.
You can learn how to create a website and how to partner up with Amazon, ClickBank, and/or with as many affiliate programs as you want to.
There is one educational platform where they teach this affiliate marketing.
Final Verdict
Regarding Tap 2 Earn, I think it is clear.
It does not make sense to sign up for this system. It is a waste of time and your data might be at risk.
Now, it is essential to recognize how this system works, since there will be more of them.
When you spot such a similar website, just pay attention and check the red flags as we have done above.
If you have any questions, let me know in the comment section below.