Hello and welcome to the CashForShare review
You may have heard about the CashForShare, maybe you have stumbled upon this system on Facebook where someone posted it saying that you can earn money from home.
Making money from home is becoming more and more popular. The number of people online grows every year and many of them want to also learn how to make money.
It seems that CashForShare offers an easy method.
But is this system legit?
In this review, we are going to find out whether CashForShare is a scam or not and I will also show you my method, how I make money online.
We are going to cover the following points:
Who is behind the CashForShare
How does CashForShare work
Who is it for
How you can make money with CashForShare
What are the other ways how to make money online
Disclaimer
Please note, I am not a member or an affiliate for CashForShare. This review is based on research and information available online in the public domain. Any recommendations and conclusions are only opinions and may not apply to all persons or situations.
Product Name: CashForShare
Price to Join: $0
Creator: N/A
Rating: 0/10
Do I recommend it? No!
CashForShare is supposed to be the #1 Earning Network, where you can make money by completing some tasks, taking surveys, and referring your friends.
It is said that for every friend who joins this system through your referral link, you can make $10!
You are also promised to get a bonus once you join this system.
But is it really so?
It is hard to believe that you can even get a $50 bonus just for signing up. This is a lot of money and the CashForShare website seems to have more and more traffic – meaning more people joins this website. Are all these people going to get $50?
Where is the money coming from?
How come that CashForShare pays much better than any other GPT site? (GPT stands for Get-Paid-To).
The fact is that CashForShare does not pay at all and we are going to learn that this is just a scam.
Who Is Behind?
Let's check who is behind the CashForSahare.
This is the first thing you want to take a look at. Then we will double-check the claim using a different source.
In the CashForShare About section, it says that they started back in 2015. Then in 2016, they partnered up with some companies like (Walmart and Subway) and in 2017 CashForShare expanded to a higher level.
Well, it does not take much to check the fact, when the website was registered.
It is very simple and this video shows how to do that (using the whois.com website):
In the above video, we have checked a different system, that does not exist anymore. And let me tell you right now that these people who were behind the inboxdollar (later renamed to rewarddollars) are behind the CashForShare as well.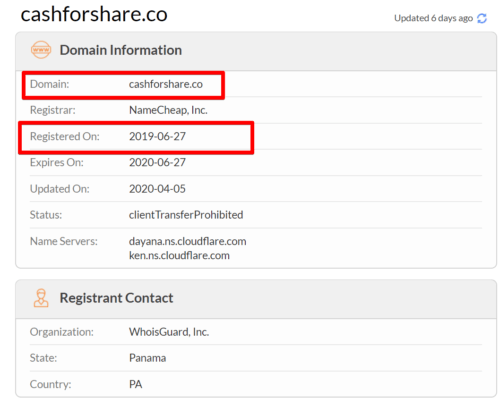 We see that CashForShare was registered only in June of 2019 so the story about how they began in 2015 is false.
This is already a big red flag and it tells us that CashForShare is not a trustworthy system/website.
I would not sign up for such a system – especially when there are other legit GPT sites as well (for example Idle-Empire or Inboxdollars)
When you are still not sure whether you deal with scammers or not – you can always try to contact them.
At the CashForShare website, they even have a contact form.
But from what we see – this does not look legit either.
I mean this is how the form looks like before:
and after filling it up: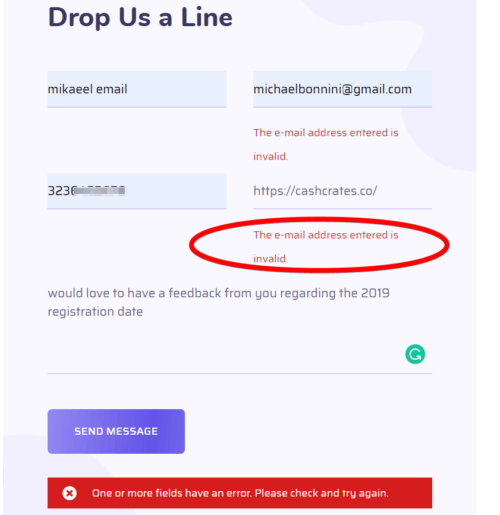 First of all, this form does not work. You always get this message at the bottom saying that "One or more fields have an error"
Then, it wants to fill the website and afterward, it says that the email address is invalid.
Well, now it is for sure that these people behind the CashForShare are scammers. You can't contact them so they can just move on and create another clone of the scam.
And you bet they do that on a regular basis.
Just out of curiously let's take a look at the CashForShare address:
"Address: 2806 Nickel Road, Los Angeles, CA 90071″
Invalid address and a contact form that does not work – typical signs of an outright scam.
Who is it For?
GPT websites like these are supposed to be for people searching for an extra small income on the side. We are talking here about $100 to $200 per month.
CashForShare wants you to believe they are one of the legit systems out there.
The truth is though that this is just another scam that goes after your data, your email, telephone number, credit card information, and other stuff as well.
Even if you won't provide them with a lot of data, they already have your email (if you sign up).
Most likely they collect thousands of emails and then sell them to 3rd parties.
So I strongly suggest you avoid CashForShare and other clones of this scam.
It is very easy.
And it makes sense since they want to get as many people as possible.
You sign up for this system (Tip: if you really want to get inside, use some fake email address)
You are asked to grab your link and share it all over social media. They say that for each click you earn $2. This is complete BS and if you think about that, it does not make any sense.
Why would anyone pay you $2 for a click?
You can withdraw your money once you reach a certain threshold, using PayPal, a mailed check, or any other method.
The truth is, that no one gets paid.
After signing in (even using a fake email address) you will be directed to the CashForShare Dashboard.
Let's Have a Look Inside the Members Area
The dashboard is not much different from the dashboard of the other scams.
You have a menu on the left, your link in the middle, and fake information about your earnings: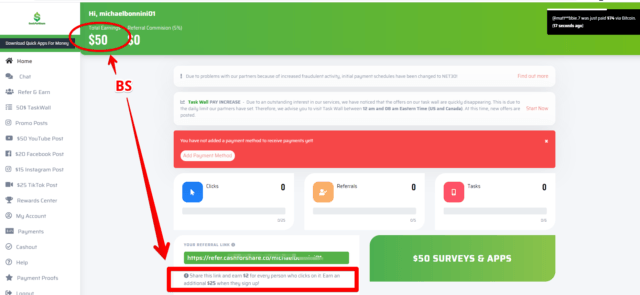 Then you see the task wall.
Apparently, you will make money by performing the tasks:
Here is the list of tasks:
Refer a friend – Earn $25
Get Clicks – Earn $2
Complete Surveys – Earn $30
Create YouTube Videos – Earn $50
Download Apps – Earn $50
These earnings are not possible. You can't get $50 just for a video you upload on YouTube.
All these earnings claims are ridiculous.
You see also the Leaderboard with some usernames and their earnings. The numbers are fake and they show it to make people believe that this works.
But it is just a fake social proof technique.
The Claims vs Facts or List of Red Flags
Let's sum it up and let's go over the major Red Flags.
This simple list can also help you to avoid other scams so you won't waste your time whenever you see an offer to make easy money.
1) Age of the system
This is pretty easy to check.
Go to the website whois.com and enter the domain name. Right away you see the date of registration.
We are aware that CashForShare lies about its beginning and that is something that can't be accepted.
2) Fake payment Proofs/Testimonials
It is a common thing that scams to use fake testimonials and fake payment proofs. In some cases, it is obvious that it is fake – because the date of the payment was before the actual domain registration date.
It seems that these scammers behind the CashForShare did a "better" job and they don't show you the dates.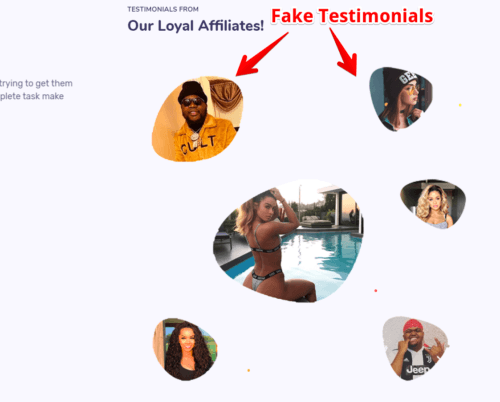 Regarding the testimonials – This is pretty funny how they do that.

Bunch of photos downloaded from the internet, to be more specific from some Pinterest accounts.
There is absolutely no value in these testimonials.
3) No One Gets Paid
If you go to any social media and check the CashForShare profile, you will see in the comments that people are complaining about not being paid and saying that this is fraud and so on.
They are right.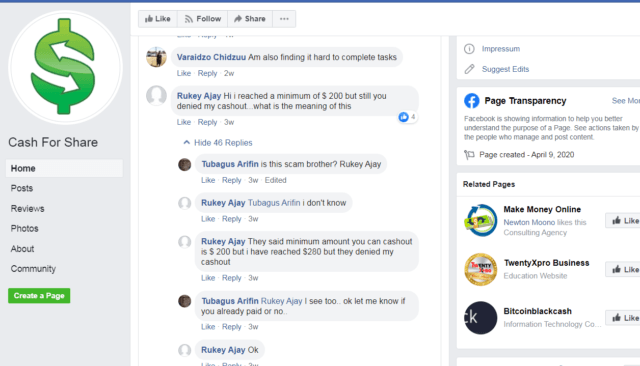 And here from Instagram: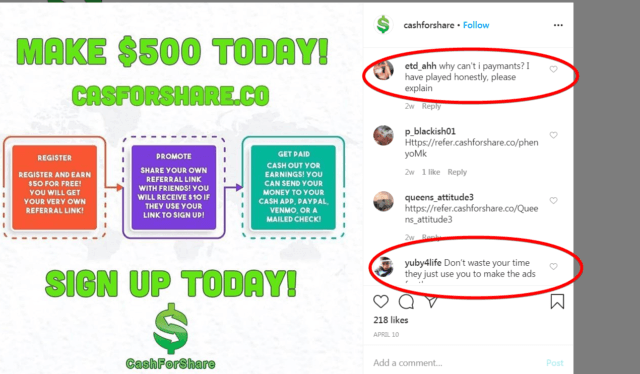 4) Contact information – Not working
We have already covered this – the contact form does not work.
I have contacted them via email, but so far no feedback. One would expect at least some kind of automatic email, but CashForShare does not have financial sources to invest a few bucks in an autoresponder.
Besides, the social media icons don't work either and that is really shameful.
What I like

Absolutely nothing
My Advice: Stay Away from CashForShare
What I don't like

Fake information regarding the foundation
CashForShare is a data harvesting scam
Email Address does not work
Payment proofs – fake screenshots
Testimonials are fake
Where to Go From Here?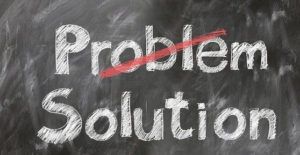 I hope this article has helped you learn how to spot a scam.
When it comes to earning money online there are basically 2 ways:
Do it the easy way – the earnings potential is very low
Do it how professionals make money – the earning potential is very high. But you have to think in the long term.
If you want some example of legit websites that concerns the 1st point here are 3 options for you:
www.inboxdollars.com
www.swagbucks.com
www.surveyjunkie.com
If you want to learn more about real business online I suggest you check this article. It is a review of one platform that has been around for more than 15 years.
There are many marketers within this platform, making 4 or 5 digits per month (you can check some success stories in that review as well).
Conclusion
CashForShare is an outright scam.
It is a waste of time but if you really want to check how it looks like, my recommendation, keep away from the CashforShare.
Most importantly, do not reveal your email address.
If you want to find out how to create a business online I will leave a link at the very bottom of this post. You can have a look and think about what is it you really want to achieve.
In case you just searching for ways how to make a few bucks, check one of the 3 websites above.
If you have questions or concerns, let me know in the comment section below. I will be more than happy to help you.
Thank you for reading.