You are wondering whether this website called SwiftBucks dot co is legit or not.
You may have already signed up for this system and you are waiting for the approval of your payment.
Well, either way in this SwiftBucks Review we are going to prove that this is just another scammy website that goes after your data.
What has caught your attention was probably the incentive on their home page saying "The Only Legit Influencer Network that Pays up to $10 per referral"
Sounds like easy money, right?
Well, if it sounds too good to be true, then it sure is.
Here is what we will be going through:
How does SwiftBucks work?
Who is behind the SwiftBucks?
What does the dashboard look like?
How many red flags are we going to find out?
Let's start with the SwiftBucks Review.
Disclaimer
Please note, that I am not a member or an affiliate for SwiftBucks.
This review is based on research and information available online in the public domain. Any recommendations and conclusions are only opinions and may not apply to all persons or situations.
SwiftBucks Overview
Product Name: SwiftBucks 
Price to Join: $0
Creator: N/A
Rating:0/10
Do I recommend it? No!
SwiftBucks Review – Quick Summary
SwiftBucks is a website promising you to earn easy money, just by referring your friends to sign up for SwiftBucks. You are supposed to get $10 for each person and make more money by performing some tasks inside of the SwiftBucks platform.
There is no fee to join the SwiftBucks so the question is, where is the money coming from?
The answer is, that there is simply no money. That means SwiftBucks is lying to its prospectors about making money. SwiftBucks is a data harvesting scam.
Do not sign up for SwiftBucks using your regular email!
Besides the email they might go after your password, telephone number, pay pal, or credit card information.
If you have read enough about the SwiftBucks and you want to take action and find out where I have learned how to generate a sustainable income online, please click on the link below.
What is SwiftBucks?
This is supposed to be a website where you should earn money simply by referring others to sign up for Swiftbuck. Meaning you can share a special link on social media and if a person signs up, you get $10.
Once you are inside the platform you can also perform simple tasks and allegedly get paid as well.
Let me tell you right now that this is nothing new. In fact, SwiftBucks is just a clone of other (well-known scammy websites). If you are not familiar with them, here is a short list of the previous versions of SwiftBucks.
You can have a look at the following systems (or reviews I did the other day) such as Money Genie, Social Bounty, Kash Tree, Paid Leaf, and Rain Money.
It is obvious that all these websites are similar, the incentives are almost exactly the same and they all are so-called "#1 Influencer Network"  or "#1 Social Media Network".
According to the website SwiftBucks .co, this system was founded in 2015. Apparently, they wanted to help the regular social media to take advantage of social media and show them how to earn extra money on the side.
The idea is nice, but unfortunately, the only one who is being taken advantage of is the user of SwiftBucks.
What do I mean by that?
First of all, Whenever you see a system promising you an easy buck, go check the website:
about page
testimonials
payment proofs
the age of the website
and so on.
I will walk you through the process of how to check the above points and beyond.
The thing is, when you spot something within that website that does not make sense, you should NOT sign up for that system, meaning do NOT provide them with your email address or other information concerning your person/company.
So How Does the SwiftBucks Work?
SwiftBucks is supposed to be a kind of Get Paid To site (GPT) where after signing up you follow instructions and at the end of a day you have credit that you can cash out.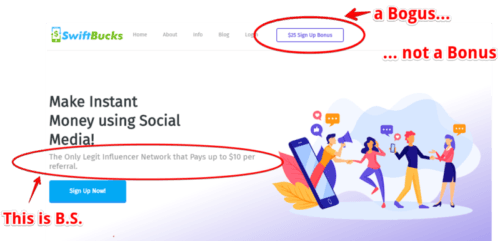 There are 3 steps to follow:
Sign up and enter the platform. You get a $25 sign-up bonus.
Invite your friends by sharing a special link. You get $10 for every person you invite that joins the SwiftBucks
Cash-out your earnings instantly. SwiftBucks pays through PayPal, CashApp, Bitcoin but also mailed checks and more
Here are the facts regarding these 3 points above
It is possible to sign up and enter the platform. My recommendation is, not to use your regular email address and password. The reason is, that SwiftBucks is a data harvesting scam and it collects information like email addresses, so it can be sold afterward.
In case you use some "fake" email for this purpose only, you don't have to worry about getting spam emails (with phishing links inside).
Regarding the $25 sign-up bonus – that is just bogus.
$10 for a referral is unrealistic. Especially when there is no entrance fee.
Such a commission makes sense in the case where you have to pay a specific amount for signing up. So the commission goes to the person who posts the affiliate link. That would be affiliate marketing.
But no money goes into the system, so it does not make sense that some money can go out.
And this is a spoiler alert.
SwiftBucks does NOT pay out.
Once we go through all the red flags you understand that SwiftBucks is not a legit system
Legit GPT sites pay no more than a couple of hundred per month (most likely you can earn $150-250 per month).
But certainly, they don't pay you $10 for a referral.
You can check legit GPT sites, just like Swagbucks or surveyjunkie.
Who is Behind?
Usually, when I want to find out who is the creator of the website, I go to check the About Us section/page within the website.
But there is no information that one relates to when it comes to the SwiftBucks.
It is always good to check the age of the domain. You can then double-check certain data on that website and easily determine whether there are lies or not.
Just go to the website www.whois.com, and on the upper right corner type the domain name: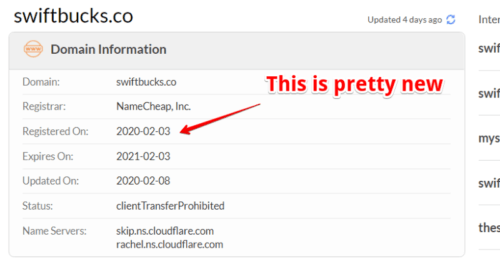 Regarding some contact information, there are barely some.
Yes, there is an email address and I have written an email, but so far no feedback. Not even an automatic reply.
Wouldn't we expect some kind of "thank you for your message" feedback from the "Only Legit Influencer"?
These days, even small companies, or one-person website owners do use such autoresponders. Some of them are even for free (up to a certain number of subscribers).
I think for a company that has earned more than $44 million is cheap not to use the autoresponders. Email marketing should be part of every company that is a "Legit Influencer Network".
We are aware of the age of this website, right?
They want us to believe that they have already earned more than $44 million!
As of today, SwiftBucks has been around for about 5 weeks only.
SwiftBucks has made more than $50,000 a day! -> That is really impressive, considering that the website does not have much traffic.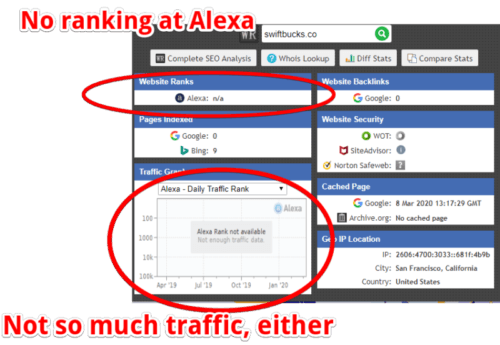 SwiftBucks Dashboard
This is how the SwiftBucks dashboard looks like. As I mentioned earlier, it is almost identical to other clones of this system.
If you take a look at the Tap2Earn, PaidLeaf or Kash-Tree, you see that these systems are just the same thing. And they all have one purpose only, to get your data.
Scroll down inside the dashboard and you see the fake "account manager", some tasks, and links to social media where you supposedly should share your referral link.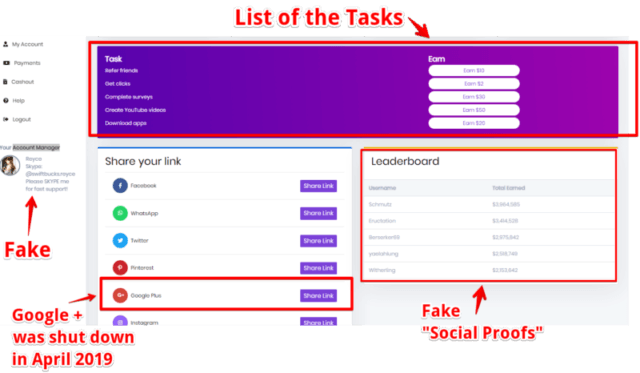 Whoever is behind the SwiftBucks should be aware of the fact that Google+ has been shut down since April 2019. Such an error is another proof that this whole system is just FAKE.
The Claims vs Facts
By now it should be clear that SwiftBucks is just a scam that does not provide any value. This system is full of lies and errors.
Let's summarize the red flags:
1) Fake Testimonials
The testimonials are fake. They use some randomly selected images and some text saying how great this system is.

Nothing that really proves that SwiftBucks work.
2) Social Media
First of all none of those links on the SwiftBucks work.
Click on any of them and you are still on the SwiftBucks home page.
Is it an error? Is it on purpose?
Whatever that is, it does not make us believe in the SwiftBucks, more.
let's check the social media manually:
Facebook
I could not find anything related to the SwiftBucks website on Facebook.
YouTube
There are just a few reviews of SwiftBucks. But not a single channel related to the system.
Twitter
Detto…
Instagram
Again, I would repeat myself…
But let's repeat what do they say?
"The Only Legit Influencer Network…"?
Shouldn't an influencer have at least a couple of millions of followers?
Or at least a working profile on 2 or three social media?
SwiftBucks does not have a proper social channel, let alone a network of followers.
A big red flag!
3) Email Address Does Not Work
I have tried to contact them using the following email address hello@swiftbucks.co, but no feedback.
It seems that the email address is fake as well: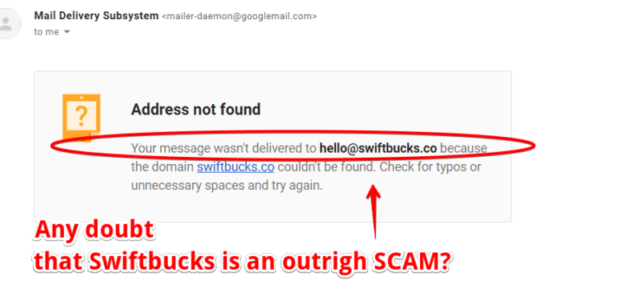 There is no address, no contact page – there is no way how we (as potential members) could contact the owners of this system.
That means, they can easily collect as many emails as possible and move to another scammy site. And we have seen many other clones of this system, so it is how they operate.
4) Foundation Date
Another big red flag.
the about us page says that the SwiftBucks was founded in 2015.
One would expect to have the website registered in the same year.
Here is the truth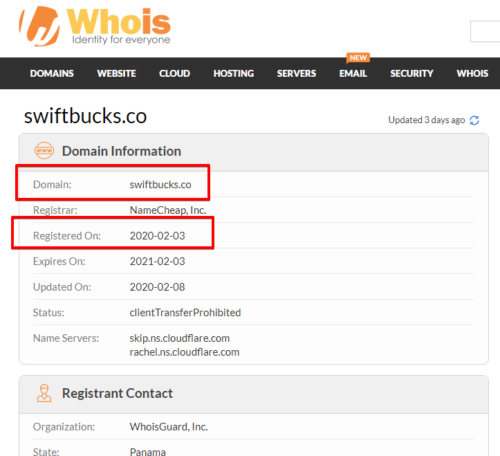 Many of the previous versions of SwiftBucks were registered in Panama as well.
It does not necessarily mean that the owners are from Panama, but for some reason, it is convenient for them to have a website registered in Panama.
5) They Don't Pay Out
This is a common thing along with all the scams of this type.
Let me share with you a screenshot of some guys who did fall for this scam: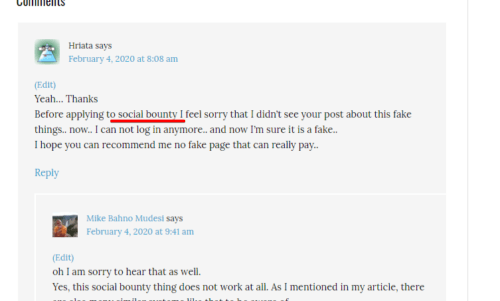 Another: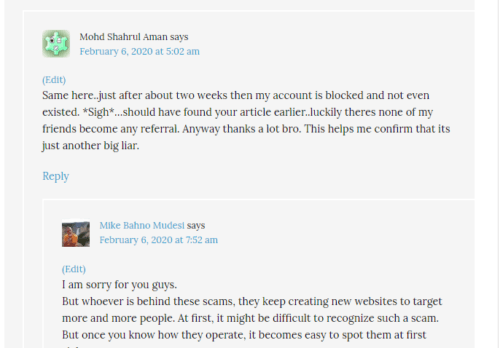 You can read them by clicking on the post regarding Social Bounty Review.
And here another one related to Money Genie:
Please let me remind you that I am not a member of the SwiftBucks and I am not affiliated with them in any way.
Therefore I don't have a chance to help you to get your credit cash out.
I do a review of these systems where I show that the SwiftBucks (as well as others… ) are not legit. They go after your data so you better stay away from these!
6) Fake Payment Proofs
The data simply doesn't match.
How someone could be paid by a system that did not exist at the first place?
This is proof that the entire SwiftBucks system/site is one BIG FAT LIE!
What do I like about SwiftBucks?

What I don't like about SwiftBucks?

This is a data-harvesting system that goes after your email, telephone number, PayPal information, etc.
A website full of fake information, errors
A Potential Phishing attempt
Fake payment proof
No contact information that works
Where Do We Go From Here?
By now you understand that SwiftBucks is just one scam!
There is no point in joining this system – it is a waste of time and you may lose your personal data as well. I mean what can happen is that your inbox will be full of spam and it will be difficult to get rid of them.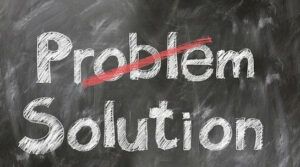 SwiftBucks is part of a scam system, and they sell the data such as email addresses. Other companies gladly pay for email addresses. Do you remember we have mentioned email marketing?
Email marketing is a legit marketing strategy and very powerful but it must be done ethically.
In a conclusion, I have 2 pieces of news for you.
One is bad and the other one is good.
The bad news is – there is not such a thing as easy money. Period.
Whoever or whatever system promises you otherwise, he is lying.
The good news is – It is possible to make money online.
How?
First of all, you have to think in the long run. Give it a year or two and with proper training, you can earn $3,000+ per month. If you keep putting the effort in, the earnings have exponential growth.
If you still seeking a quick buck, I am sorry, but I can't help you there.
And believe me, I did try how to earn quick money.
I spent more than a year searching for systems that will show me how to generate income. I also tried running the ads with affiliate links in it – but it does not work these days.
The Internet is much more sophisticated right now, and it is necessary to learn some tips and tricks to make money.
For example, you can learn how to drive free traffic to your website. Why would you want to learn that?
Because a lot of people have no clue how to get free traffic.
Why?  – They think it is something difficult.
But you can learn that and in about 3 months you will have your first visitors on your website. Then 3 months later you can even have the first sale. And then, if you are consistent the growth is just exponential.
It may look like the screenshot below (the traffic performance)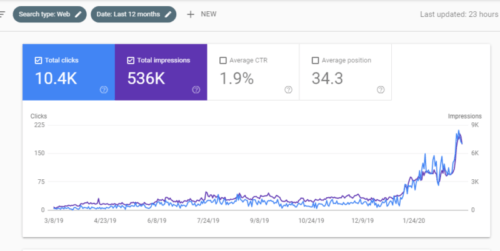 So If you are really serious about making money online I can show you the method, how to do it, and what to do it. I will show you a system that not many people know about. It is no secret, but they are just not willing to put the effort into it.
At the bottom of this post, you have a link where you find more information. Take your time to read it through and if you have questions let me know.
Let me help you to find the path towards financial independence.
Thank you for reading,
Mike