More and more people come to the internet with the intention to earn some money.
Whether they want to make a few bucks on the side or they are serious about building a legitimate business.
Either way, I think this is a way of what the near future will look like.
You as an individual can start earning some pocket money in a few days in case you decide to join one of the rewards platforms, such as TimeBucks.
There are also a lot of scams out there and therefore one must be careful and do a bit of research before signing up for any platform.
In this particular post, we are going to check whether the TimeBucsk is a legit system or a scam.
By the time you are done reading, you will be able to answer the question, Is TimeBucks a scam?
I was mentioning that these days it is easy to start an online business as well. With that being said, if you want to learn more about that path, I will give you some advice as well.
But let's start with the TimeBucks Review.
Disclaimer
Please note, I am not a member or an affiliate for TimeBucks. This review is based on research and information available online in the public domain.
Any recommendations and conclusions are only opinions and may not apply to all persons or situations.
TimeBucks Overview
Product Name: TimeBucks
Price to Join: $0 (Free to Join)
Owner: Australian Clearing Pty Ltd
Rating: 7/10
Do I recommend it? Yes, but only as a secondary source of income
TimeBucks Summary
TimeBucks is an online reward system where you can earn money by performing some simple tasks, or watching videos, browsing certain sites, or referring others to join this system.
All tasks and surveys are pretty simple. The earning potential is small though.
You can make $100 to $200 per month, but it also depends on several aspects as for example your geographical location (or country).
TimeBucks is a legit GPT site and it can help you to make extra pocket money.
This is not recommended as a primary source of income.
In case you are looking for a better alternative on how to make decent money online check the link below.
TimeBucks Review
TimeBucks is one of many websites where you can get paid to do small tasks or surveys online. That is why it is called the "Get-Paid-To" site.
The question that everyone asks is, how much can I make with these sites?
How much can you get paid with TimbeBucks to be specific?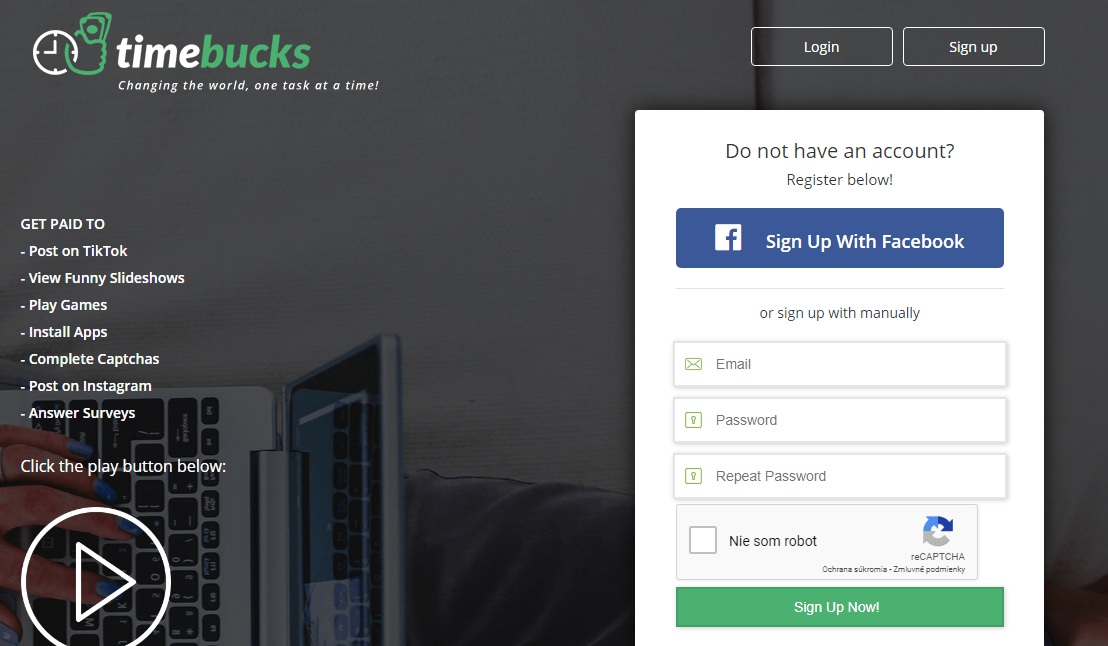 Right off the bat, I can tell you that it isn't a lot.
In case you are looking for a platform that is easy to join and does not require special knowledge, and at the same time you are OK to earn a few dollars, then TImeBucks is a perfect platform to join.
Here are some key points of TimeBucks:
You can earn by watching videos, downloading the app, or just staying at a site for a certain amount of time
You can do surveys for different companies or providers while being logged in to the TimeBuck site
They pay by cash (no coupons, but US Dollars)
What I find also cool is that this platform keeps developing and thy change the tasks.
Another thing you should keep in mind is that the number of surveys depends on your location.
It is very easy to log in. As is also shown in the screenshot above, you can either sign up with your Facebook or just enter your email and password.
One Cool Thing about TimeBucks
It is worth mentioning that you can join and do surveys using TimeBuckc regardless of your location.
The problem with many other GPT sites like Swiftbucks or InboxDollars is that these are available for users located in the US only.
Who Is Behind the TimeBucks
This is a very important question when it comes to any money-making platform online.
You should always check the "About" section within any website, double-check the age of the system, for example using the whois website.
You want to avoid joining scams, so you don't waste your time and jeopardize your personal data.
In case there is not enough data, you can always try to contact them by email. If you get a replay saying that your email address was not found, forget about the platform and move on.
Fortunately, TimeBucks is clear about ownership.
It is owned by a company called Australian Clearing Pty Ltd.
This is a registered company and if you do a bit of research you learn that it is legit.
Now that we are almost sure that this is a legit platform, we can move on to the most interesting section.
How Much Can You Earn
First thing first.
It is not easy to determine how much exactly you can earn per hour with TimeBucks.
There are several factors that you need to keep in mind before asking these questions.
The learning potential depends on your location, your device, and other factors, f.e how long have you been using this platform.
However, if you want a rough estimation, you can count on $8 to $15 a day. Of course, it is not possible to earn $10 a day if you are willing to spend only a few minutes a day on site.
So what are the ways you can earn with TimeBucks?
It is recommended to start with easier tasks that pay less.
The reason is that you better do 8 offers that pay $1.90 each and it takes you 10 minutes each than doing 1 offer that pays $7 and takes you more than an hour to finish it.
Once you are inside the platform, the best way how to start is by clicking on the "Earnings"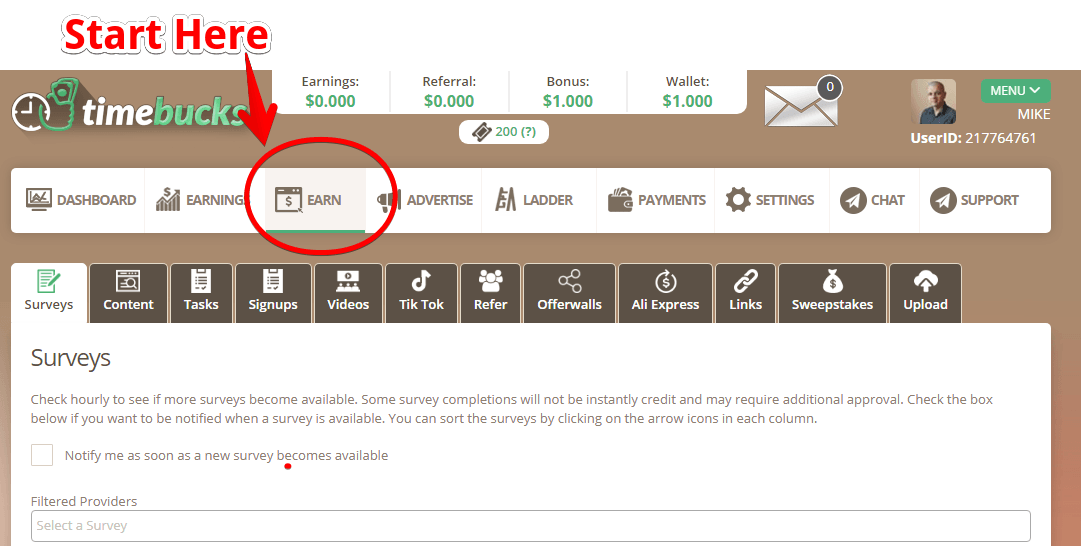 Now here are some ways how you can earn with TimeBucks:
Watch slides or stay on a website for a certain period of time. This may sound boring, but it depends on the content.
Watching videos.
For some videos like hideout.tv you need to sign up extra  (While being already signed up for TimeBucsk, you need to sign up once again for HideOut.tv)
Or choose to watch other videos, without the additional registration. You may be required to watch the video for at least 60 sec of watching to get the credit.
Offer wall. Here you should download some Apps, or sign up for another website…
Social media  – Many companies pay for their followers. So you will be asked to follow some people on Instagram to get the credit
Refer others to Join the TimeBucks
Roll. Now, this is a cool way how you can get little extra money.
You can actually win a certain amount. Every 6 hours you can win $10. There are some requirements: you have to refer at least 1 person in the last 7 days who has earned at least $0.05
How to win?
Just click the "roll" button and an automatic number will be generated.
Here is the table showing how much you can earn if you roll a number within a certain range:
Below is a screenshot of the current winners:
What is even cooler, if your referral does this and he or she wins you get a 50%.
So it seems pretty simple and it really is.
That is why the earning potential is not so big.
How To Get Paid
TimeBucks offers many pays on how you can get paid.
You can get paid by
Payeer,
Bitcoin
Skrill,
Neteller,
AirTM,
TangoCard
Bank Transfer
PayPal is also an option but you will have to choose to be paid with AirTM. And after that do the withdrawal with PayPal on the AirTM platform.
There is a certain threshold when you want to cash out.
The minimum is $10 and they payout each week.
Once you set the payment method and you are gonna meet the threshold, the payment is automatically sent to your account every Thursday at midnight, New York Time.
Is TimeBucks a Scam?
No, it is not.
However, the earning potential is small.
It is because the effort you put in is very small.
I mean it is not like you to create your own content and people go to your website (or YouTube channel) and you monetize this website by having affiliate links on it.
Or having ads on your website/YouTube.
By using the TimeBucks platform,  you only perform simple tasks, that anyone can do that without prior experience or certain knowledge.
That is why you won't make a lot.
If you looking for a decent income online you would have to put a bit more effort, like creating your YouTube channel.
Once you have at least 1,000 subscribers and 4,000 watch hours you can monetize the channel by adding ads.
Or, you might be interested in affiliate marketing and how to make money with it.
Then I suggest you check this review.
It is about an educational platform that teaches how to set up the website, how to drive free traffic, and eventually how to monetize the traffic.
This platform is perfect for newies and for intermediate affiliate marketers as well.
What to Avoid?
If you want to earn some money using the TimeBucks there are a few things you don't want to do, such as:
Using bots or fake traffic
Sending traffic from traffic exchange websites
Using automated software
Basically, you want to obey the rules, and that way you can be sure to improve your financial situation a little bit.
What I like

Available in all countries (the tasks are different for each country though)
Easy way how to earn some bucks on the side
Legit platform
What I don't like

It takes a lot of time to earn
Earning potential is small ($100 to $200 per month)
Do You Want to Earn More?
With TimeBucks, you will be earning maybe a few cents, at the end of the month you can fill up your tank.
But why there are so many people visiting this site?
Is there some kind of workaround? Or is there another way how to make decent money online?
In my opinion, you are better off with a website that drives traffic and makes money from ads.
Yes, it requires effort to come up with content, but with proper training, you can learn how to do that, and within 6 to 8 months you can have enough content that your website receives hundreds of visitors per day.
That gives you leverage that you can earn money by posting affiliate links and making a commission and on top of that earn from the ads.
Just to give you an idea, having about 300 to 400 visitors per day, you can earn about $10 per day and this is a passive income.
Final Verdict
TimeBucks is a legit GPT site that will help you to earn some extra money.
You won't get rich through and to be perfectly honest you can make only a few bucks per month.
If this is what you have been looking for, then congratulations. You have really found the reward site that is not a scam nor misleading.
Go to the TimeBucks website, sign up, and start earning.
If you want to find out more about how to build a sustainable business online then please check the link at the very bottom of this article.
In case you have questions regarding the TimeBucks or other systems regarding making money online please use the comment section below.
I will be more than happy to give you feedback or help.
Thanks for reading
Mike
How to Get Started with Affiliate Marketing Business?
I have been a member of Wealthy Affiliate since late 2017 without prior marketing experience.
Beginning of 2018 I have learned how to build a website that drives traffic and makes sales.
Since the summer of 2019, I am a full-time internet marketer and I work from anywhere I want, whenever I want.
Training within Wealthy Affiliate teaches how to generate a consistent income in the long run.