Are you familiar with a website called ShareCash.co?
I have seen this system within one Facebook group. Somebody posted it as an offer for the rest of the members, saying that this is an easy way how to make money online.
Honestly, I was suspicious from the very beginning so I decided to take a deeper look at the ShareCash.
And it turned out as a great source for my blog.
I am glad you do your due diligence, meaning you are researching a system before signing up.
Or have you already signed up for ShareCash, and now you are wondering what to do?
No worries, at this ShareCash Review we are going to cover what is this system about, how it works, and we will go over many red flags, to prove that this is one fake system.
In case you have already signed up with your regular email, I suggest changing the password to your email address immediately.
Disclaimer
Please note, I am not a member or an affiliate of ShareCash. This review is based on research and information available online in the public domain. Any recommendation and conclusions are only opinions and may not apply to all persons or situations.
Product Name: ShareCash
Price to Join: $0
Creator: N/A
Rating: 0/10
Do I recommend it? No!
ShareCash is a system that promises you to make money with social media.
It is said that you can earn by referring your friends to join the ShareCash and also by completing simple tasks and surveys.
The problem is that ShareCash is a scam and it does not pay.
This is a data harvesting scam, meaning it collects your email address, password, and other information (f.e. telephone number, credit card information, and so on).
It is not easy to find out who is behind this website, they keep changing the domains.
They use fake data, including contact information, payment proofs, testimonials.
Keep Away from ShareCash!
If you are looking for ways on how to generate revenue online, you will find my recommendation below. That should help you to start with a real business online.

ShareCash is supposed to be the # Influencer network. They claim that you can make easy money just by referring your friends to this system. You can get $10 for every friend you refer to.
Once you become a member, you get a $25 sign-up bonus.
Also as a ShareCash member, you can perform some tasks that are available within their dashboard and you will supposedly get paid.
These claims are "backed up" by some testimonials and fake payment proofs.
We will find out that all these statements are just lies and they try to get as many email addresses (and other personal data) as possible.
As you see right at the home page there is at least 3 fake pieces of information.
Who Is Behind
You never know with these scammy websites…
It is difficult to find out who the creator is. There are so many clones of this system, and more than 90% of them are registered in Panama. It does not mean that the creators are from Panama though.
The easiest way to check who is behind the ShareCash is to check the About page: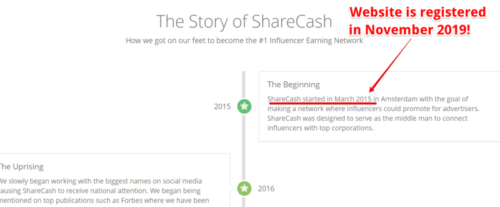 But as we can see, there is this false information regarding the creation date.
How can they be around since 2015?
The domain ShareCash.co has registered only a few months ago:
We will see later that the payment proofs they use on their website are from February 2019…
There is no way that this system could have paid somebody before they were even registered.
It does not make any sense.
Who is it For?
It is believed that this is for every person who wants to earn easy money.
Please, remember one thing – there is no easy money to be made and that applies to the online world as well.
Yes, there are some legit websites where you can earn a couple of bucks.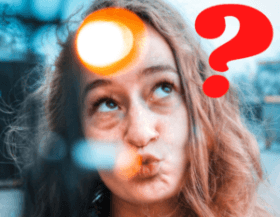 For example Inboxdollars.com. You can check the article, whether
Inbox Dollars is legit
, so you gain an overview of how such a GPT or also called
Paid to Click
system should look like.
The thing is though, that it is available in the US only and there is not a big potential of earning.
Maybe as extra pocket money for gas or something, up to $200 per month. But at least it is a legit system.
If you are looking for ways how to make money online, I want to be honest with you. It takes time and effort, but determined people, make 4 figures within 2 years.
Of course, it depends on the niche you choose, but generally speaking with proper education, it is doable to have a full-time income online within 2 years (with some experience, even within a year.)
How Does It Work?
For ShareCash creators to get as many people as possible they made it super easy to get started.
Once you reach the website ShareCash.co you can watch an introduction video.
The same is shown to you once you access the dashboard (or the members' area, we will talk about that later).
First of all, to access the members' area of this system is not only free but you are told to get a $25 bonus.
Here are the 3 easy steps:
Sign up and join the community
Invite your friends to ShareCash and earn $10 for each who joins
Cash-out your earnings using CashApp, PayPal, Venmo, email cheeks or Bitcoin

Now regarding the $10 commission for each person who joins the ShareCash.
Where is this money come from?
It looks like a commission for you, but usually, commissions are being paid only if there is a money transaction involved.
Meaning a customer purchase a product via your link or website. He pays for the product or service to the merchant and you get paid 5% or 50%, depends on the product/service.
This is how affiliate marketing works, but if there is no money, you can't get paid.
Check how you can make money with affiliate marketing, as one of the easiest ways how to start a business online.
Please note: I say one of the easiest ways – but it does not mean that it is easy. It requires effort and time and it is recommended to invest in education as well.
Let's Have a Look Inside the Members Area
WARNING
If you want to check the members' area by yourself, I highly recommend using a new email, that you have for this purpose only.
The reason is, ShareCash is a data harvesting system and they collect email addresses (in worse cases other data as well). Then they can sell email addresses to a 3rd party for spamming and scamming.
This is how the dashboard (or the members' area looks like).

You can also earn money (or the credit with the system) by installing some Apps, most likely on your mobile phone.
I don't recommend that either.
In the tasks Board, you can do some surveys to other tasks and you are promised to earn as follows:
Refer Friends – Make $10
Get Clicks – Make $2
Download apps – Make $20
Complete surveys – Make $30
Create YouTube videos Make $50
I will break down some of the "earning" potentials for you:
I have checked some of the surveys and as I followed the steps, I got to a certain website where my antivirus warned me not to continue on that website – Potential Harmful Content.
YouTube videos – $50 for like a 1-minute video.
This is completely BS.
Where would the money come from?
One of the easiest ways how to monetize your YouTube channel is through advertising. Meaning you have a bunch of videos on your channel and after a certain time, you can ask YouTube to monetize your channel.
In other words, you can have the ads (those we all hate when we want to watch something;) ) on your videos, which will generate an income for you.
It ranges from $4 to $8 per 1,000 views, just to give you a perspective.
BTW
Have you noticed that ShareCash is just a clone of other very similar websites/systems, like Social Bounty, Tap 2 Earn, Money Genie, or RewardDollars?
I am sure all of these have one creator (whether it is a person or a company).
The Claims vs Facts or List of Red Flags
We have gone through the website and the members' area and it is obvious that ShareCash is one big fake system.
To sum it up check the list of red flags below:
1) Age of the system
I think this is clear and we have already proven that the "about us" section is made up.
The real ShareCash.co date is November 25th, 2019.
2) Fake payment Proofs
Based on the information above, the payment proof screenshots can't be real.
This one is from February 2019…
It does not need any further comment.
3) No One Gets Paid
Here is how it works.
You sign up, you perform the tasks, the figure in the members' area increases and once you reach a certain threshold you are ready to cash out.
The problem is that your request will be put on hold.
After several weeks, you will be told that it is denied since you were using fake clicks and fake referrals.
Therefore you won't get paid and your account is closed.
Well, case closed.
This is how other clones of ShareCash works as well.
Above you see screenshots from the comment sections of Money Genie, Social Bounty,
and Inboxdollar.co, which does not exist anymore (it was a fake version of legit website Inboxdollars.com)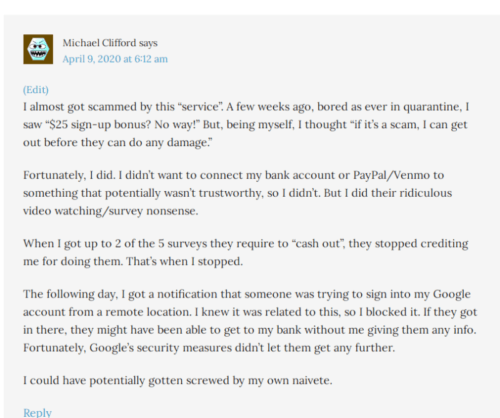 4) Contact information – Not working
You won't find a form or contact page where you can write a message in case you have questions or concerns.
There is this email address, which does not work.
I have written an email but no feedback, other than the address does not exist.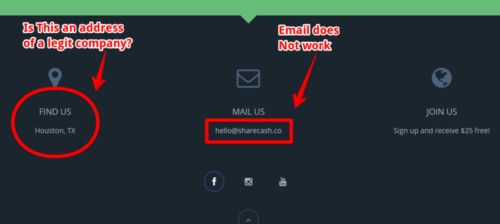 Now regarding the address.
First, it says that ShareCash started in March 2015 in Amsterdam.
And here in the "Find Us" section, we see Houston, TX.
It does not say that ShareCash has moved to Houston, US.
Regardless of the address, no one has earned a dime with ShareCash yet.
5) Fake testimonials
The video testimonials – these are a bunch of guys who made the videos before the domain was registered.
Probably just some who was promised to say something nice about the ShareCash.
All of them are uploaded in mid of December 2019, so it is hard to believe that they used the ShareCash.co
And if you check the comment section under the videos, you will see many comments saying that it is scam fraud and so on.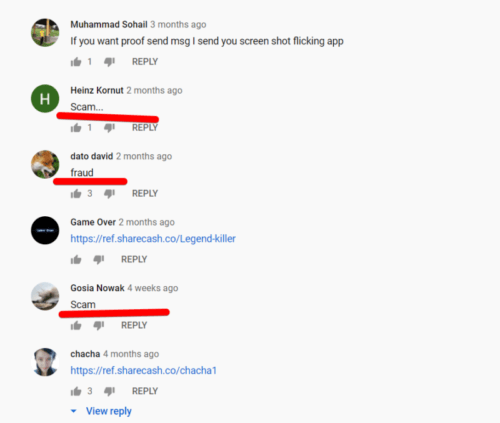 6) Fake Social Proof
It is very common for deceptive systems like ShareCash to use fake social proof methods.
This is actually a legit marketing method, but only if used honestly.
We know by now that no one gets paid by this system and yet we see the constant pop-ups windows saying that this guy or that guy was just paid a couple of thousands.
Those are just automatically generated notifications, and can't be further from the truth.
Be aware of the scams and do your own research.
Here is a blog post about how to catch an online scam, so you won't fall for such fake sites.
What I like

With everything we have gone through – what is it that you like the most?
Because I can't find anything. This is an outright scam.
What I don't like

Data harvesting system.
Fake info regarding the  foundation date
Fake testimonials and fake payment proofs
The company address is wrong
Contact information does not work (including the email address)
Just a Clone of very similar websites with the same intention
Where to Go From Here?
I remember I used to search the internet for more than a year to find some legit system that would teach me how to make money, or at least to learn what does it take to make real money online.
Long story short, I have found one platform, that has been available since 2005. The creators (and owners) are still engaging with new members and they keep updating the platform, whether it is the technical point of view or the training.
If you want to find out more about the platform, I recommend you to read this review.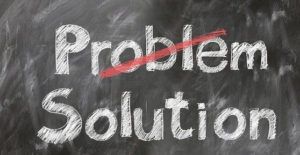 You will find there the basic information, including pricing, membership, training, success stories, and more.
In case you want to give it a try you can do so – you only need your email address. I will leave the link at the bottom of this post so you can get inside right away (if you want to).
You have to realize that making money online takes a lot of effort and also a bit of time.
If you need money instantly, it is better to search for a job.
Or you can also visit the following legitimate website where you can earn maybe $50 or even $200 per month:
www.inboxdollars.com
www.swagbucks.com
www.surveyjunkie.com
Some of them are available in the US only and as I said, these are good if you want only some pocket money.
Again, If you want to learn how to generate revenue online and eventually get passive income online, you should start thinking in the long term.
Even people making millions on YouTube start earning after like a year of consistent effort.
Conclusion
ShareCash is a new website that claims to be here for more than 5 years. This sole information is enough for me to not believe one single word on their website.
There are many clones of the ShareCash and we have mentioned a few.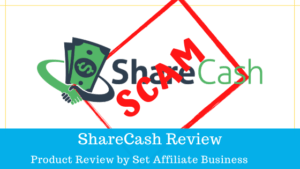 Some old versions are already shut down, but new ones are created; my guess is that there are 2 or 3 new versions of this system created each month.
Be careful and when you spot such a website, go check the website as we have gone through the ShareCash.
Stay away from the scams.
In case you have questions let me know in the comment section below. Also if you experienced a similar system let us know as well.
If you want to learn more about a legit way how to make money online you can check the link at the bottom of this post.
Have a good one
Mike
Would You Like to Start Your Own Affiliate Business?
I have been a member of Wealthy Affiliate since late 2017 without prior marketing experience.
Beginning of 2018 I have learned how to build a website that drives traffic and makes sales.
Since the summer of 2019, I am a full-time internet marketer and I work from anywhere I want, whenever I want.
Training within Wealthy Affiliate teaches what works – There is an evergreen procedure and you can learn how to start making money online as well.