You have heard about this site called Muncheye and you want to find out more about it.
Or maybe, you are curious whether is it possible to make money with Muncheye?
These are legit questions, and in the following Muncheye review, you are going to find that out.
Essentially, Muncheye is a website with a bunch of online courses and products that have been launched and are about to be launched.
But how can this site help us to grow our business, and eventually make money?
Let's get into that.
Jump to:
Disclaimer
This review is based on research and information available online in the public domain.
Any recommendations and conclusions are only opinions and may not apply to all persons or situations.
Quick Overview
Name: Muncheye
Website: www.muncheye.com
Price to Join: $0
Recommended: Yes
Muncheye Review – Quick Summary
Muncheye is a website (we can call it also a calendar) where vendors post their product launches, the time when they will be launched, and some details about the product (or service).
At the same time, affiliate marketers come to Muncheye and see what is new in this calendar.
Basically, it connects vendors and affiliates.
Creators of products go here to launch their products/services and affiliates gain information about these products and eventually promote them.
It is great for the vendors since their product reaches the end customer much faster.
At the same time, it is great for the customers, since they can learn about these products by reading the reviews affiliates create.
In case you want to learn how to create such a review that will be visible to others but you are not sure what to do exactly, please check the link below.
It shows a method that teaches how to become an affiliate marketer and how to have multiple streams of income.
I have learned how to make 4 figures per month on the Internet.
Find out more about the platform and if you decide to join, you have access to the 1st 10 lessons of affiliate marketing training, for free.
What Is Muncheye?
Muncheye is an internet marketing product launch calendar.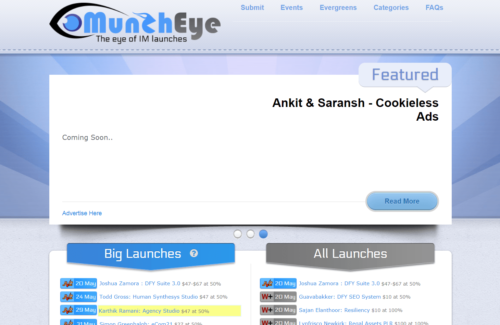 The purpose of Muncheye is to connect the creators and promoters.
In other words, it is a sort of marketplace with people who launch new products (meaning vendors) and affiliates who promotes them.
(It is a bit different than ClickBank though).
Affiliates check these products, learn more about them, and can promote them.
You are aware that there are millions of digital products, services, courses online, and software and they keep popping up every day.
The creator of these products want to reach their customers as soon as possible and that is why they use sites like Muncheye.
In this article, we will be focusing mostly on the affiliate, meaning how you as an affiliate can be profitable from Muncheye.
One of the best things for affiliates is that they see the calendar of scheduled products that is going to happen in the close future.
That gives them an advantage over the affiliates who are not aware of Muncheye.
So I assume that you are one of those that are going to have the advantage 🙂
It is free to join and as you probably already notice, it is easy to navigate throughout the site.
So let's take a look at who runs this company.
Founder of Muncheye
Muncheye comes from the surname of the founder, which is Chris Munch.
Chris is an internet marketer who besides Muncheye also founded several SaaS companies (Saas stands for Software as a Service – Source Wiki).
One of his courses is called 100K Shout Out, and some time ago I did a review of it.
It was a very decent course that helps with the creation and promotion of specific content.
Chirs is also known as a mentor and successful entrepreneur who made millions of dollars.
Who Is Muncheye For?
We know that Mncheye is a good site where vendors can add their products.
But as mentioned at the beginning we focus mainly on affiliate marketers.
So if you are just about to start an affiliate marketing business, or you have already some experience, Muncheye is a good place for you as well.
The most important thing is to know how to drive traffic to your website.
And there are many ways how to do that, for example:
Email Marketing – assuming you have already your list
Youtube – if you have a channel
Social media – if you have followers
Website – organic traffic, paid traffic, or referral traffic
Regardless of the traffic source, the website is a Must.
It is the first thing every internet marketer wants to have.
Based on that you can develop other sources of traffic.
If you are new and you are not sure how to get free traffic, there are many courses teaching how to get traffic.
I have learned that as a member of one particular platform.
Please note that it takes a few months until a new website gets attention. That is the nature of every new website.
Some rank faster (within a few weeks), for other websites it takes more than 6 months.
Remember, that the time and effort you invest in the beginning will be paid off later on.
It is a long-term game.
How Does Muncheye Work?
On their website, you see that there are 2 columns with the Big Launches and All Launches.
These are those that will be launched in the close future.
Just scroll down and you see the launches that already happened.

Nothing wrong with them and you can leverage these as well.
All these products are from Warriorplus or JVZoo. Both are like Clickbank, meaning these sites acts as middlemen between affiliates and vendors.
Click on a specific product and check what is it all about.
If it is within your niche, gain information about that and create content.
Some Tips When Choosing a Specific Product
When you are about to choose the product you want to promote, first of all, check the product in more detail.
Ask yourself questions like:
Is it valuable?
Who is interested in such a product/service
What is the quality of the product/service
What kind of advantage can the potential customer get?
The thing is that many of these products (in my experience) are of lower quality and sometimes even scammy.
One of the measurements is how to recognize the lower quality product by its vendor – when he or she promotes a new product every single month.
I mean think about that.
How much effort did the guy put into it?
Even a short course or training takes some time (4+ months) until is ready for release.
Muncheye as an Opportunity
You, as an aspiring affiliate marketer (and entrepreneur), have a great advantage with Muncheye.
The thing is that you can check a specific product (within your niche) weeks before it is launched.
So you have a chance to come up with content that no one has yet.
That gives you the opportunity to rank in first place on Google. and that means traffic.
It is up to you, whether you promote the product or just show a different and better opportunity to your visitors.
That's why it is recommended to Do research on the product!
Think about that – what is the point of promoting low-quality products?
Most likely the customer will ask for a refund and you end up with no commission.
The other problem is that in the product description, there isn't a lot of information. So you don't have enough data to provide your reader with relevant details.
Choose wisely, if possible check the vendor's page and get more information from there.
Let me digress a bit;
You as an affiliate marketer don't have to rely on Muncheyen only.
There are a ton of sites where you can find products and join different affiliate programs.
If you are not sure where to begin no worries.
I totally understand that. I was there as well.
I am glad in 2017 I joined one particular educational platform, where I was able to learn how to create this website (and beyond).
Let's Sum It Up
1) Pick a category and product
2) Create content – you can either promote the product or if low quality, make your audience aware of the Cons
3) Share it on your Social Media, to gain more attention
4) You earn a commission either by promoting the product or recommending a better option.
In case you have not made any sales, you at least delivered good quality content, so your audience will trust you more.
How Much Does Muncheye Cost?
Muncheye is free to Join and that applies to both affiliates and vendors.
Can You Make Money with Muncheye?
I am sure you understand by now, that you won't be making money with Muncheye, at least not directly.
You have access to the new launches and as mentioned, it is an opportunity for you to create content about the new product.
Google loves fresh content and that's why the chances that your review ranks well on Google are high.
(Check also How to improve search engine ranking).
In case you are still a newbie, or you are searching for solid training on affiliate marketing, check the link at the bottom of this post.
There is more information about what to do and how to start.
What Do I Like About Muncheye?

Free to join
Ability to see what product will launch in the next few weeks/months – therefore great opportunity to write an article that can easily rank well in Search Engines
A lot of products to choose from
What I Don't Like About Muncheye?
A lot of low-quality products (with a lot of upsells), but you can still leverage these as well
Constantly chasing new launches – your audience might be confused about that products.
Therefore be clear about your message:
– Promote good products
– Inform about low-quality products
Either way, you get traffic
Conclusion
When it comes to making money online, it is essential to think in the long term and don't try to promote each product, just because of the high commission.
Therefore chasing new products is not always the best option.
Now imagine 2 options:
One guy promotes a new product every week
The second guy builds up a website about coffee machines (associated with Amazon) and recommends the best coffee machines for home
Which one do you prefer?
The first guy – his audience is confused. Which one should I buy then?
If people are confused they tend to leave – they don't trust you and therefore you create content without any sense.
The latter guy has a huge earning potential.
He has learned how to build his audience, how to drive free traffic, and offer good-quality content.
His or Her readers will easily become customers and that means revenue.
In other words, he has learned SEO skills.
And no worries, SEO is not rocket science.
When I first spotted the term SEO I really thought that it is something like space engineering. Then, going through the particular training I found out some principles and keys, on how to do that.
Affiliate marketing is a great business model if it is done correctly. A platform where I have learned a lot about affiliate marketing is called Wealthy Affiliate.
The good news is that anyone can try the training as they have the first 5 lessons for free, as a test drive.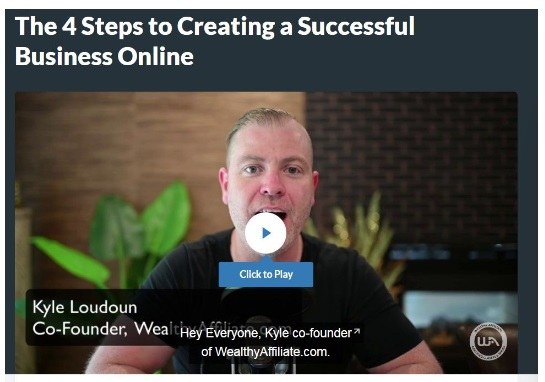 Above is a link where you can watch a video where Kyle, Co-Founder of the Wealthy Affiliate talks about the steps of how you can create a business online.
Concerning Muncheye, if you have questions, please let me know in the comment section below.
I will be happy to help you.
Thank you for reading
Mike.