Hello and welcome to my website.
Have you heard of the WarriorPlus website?
What is it? Is it a place where scammers sell their products?
Is there a way how to make money with this site?
In the following WarriorPlus review, we are going to briefly explain what exactly it is, what kind of products are listed here, and if there is a way to make money.
I will do my best to leave this review brief and concise.
Disclaimer
This review is based on research and information available online in the public domain.
Any recommendations and conclusions are only opinions and may not apply to all persons or situations.
Quick Overview
Name: WarriorPlus
Website: www.warriorplus.com
Price to Join: $0
Recommended: It depends
WarriorPlus Review – Summary
WarriorPlus is a platform where people can sell and purchase digital products (online courses, software, apps, and so on) related to internet marketing or e-Business niche.
This platform has tools that allow vendors (the product creators) automatically deliver their products to the customers.
It is also a good platform for affiliates (marketers that make revenue by selling other people's products).
They can join the WarriorPlus and promote any product they want.
The commission ranges from 4% to 50%, in some cases even more.
Unfortunately, WarriorPlus doesn't really care, what kind of products are listed on their platform.
The problem is that there are many scammers and only a tiny portion of these digital products are legitimate.
That makes it difficult for affiliates to generate consistent revenue.
There are other, different platforms (or affiliate programs) that are worth joining.
For those who want to learn how to create consistent revenue online, below is a link with more details.
What Is WarriorPlus?
WarrtiorPlus is a platform where people can purchase and sell digital products, mainly in the online business niche.
These products are apps, online courses, and software or they could be accessed by membership sites.
Imagine, a person comes up with a new idea about how to make money online.
He or she develops a product or a course where it shows step-by-step how to send offers, how to reach potential customers, and so on.
The problem is that this person (vendor) has no idea how to sell this product.
So this is where WarriorPlus comes.
Our vendor signs up with WarriorPlus and can start with the launch and eventually sell.
Also, WarriorPlus is a platform where affiliate marketers come, check new launches and promote them.
If someone buys the product through the affiliate link, the affiliate gets a commission.
Founder of WarriorPlus
The founder of the WarriorPlus is Mike Lantz, from Nevada USA.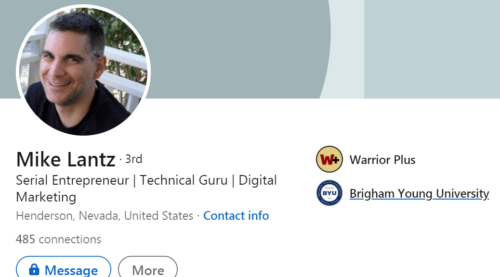 He started working in 2000.
He changed 2 jobs until he founded the WarriorPlus back in 2006.
Mike holds a bachelor's degree from Brigham Young University.
There is no information about him being a scammer or anything like that.
He is a legit entrepreneur and digital marketer.
Who Is the WarriorPlus For?
WarriorPlus is good for vendors that can add their products, so they reach potential customers much easier.
But the focus of this article majority of people, meaning affiliates and potential customers.
As for the former group, we are going to dig a bit more deeply.
As for the latter (potential customers), I am afraid you won't find a lot of valuable products.
Most of them seem pretty cheap at the first sight, but they use an aggressive method how to sell you more upgrades.
And that could mean a couple of hundred.
Let's check the affiliates:
First of all, you as an aspiring affiliate marketer need a website.
It is your headquarters, your business.
Without a website, it is like having a brick-and-mortar business without actual physical structure (whether a house, store in a shopping mall, or a tent).
Then it is important to learn how to drive traffic to your website.
And there are many ways how to do that, for example:
Organic traffic – takes a bit longer but it is the best method
Email Marketing – assuming you have already your list
Youtube – if you have a channel
Social media – if you have followers
Paid traffic – not recommended for newbies
Referral traffic – check the link for more details
As mentioned above the first method (driving organic traffic to the website) is probably the most challenging one, but at the end of the day, it brings the most profit.
Besides, based on the results (from Google Analytics) you can start with the paid traffic as well.
I remember when I first took the online training about how to build a website, I had no idea how to drive free traffic.
At first, I thought there was magic or coding… but as I went through the training (that this platform offers) I have learned that it is actually not that difficult.
Of course, there are some techniques that need to be learned, but it is doable for everyone.
Now that we know, theoretically, how to drive traffic, let's get back to the WarriorPlus review.
WarriorPlus as an Opportunity(?)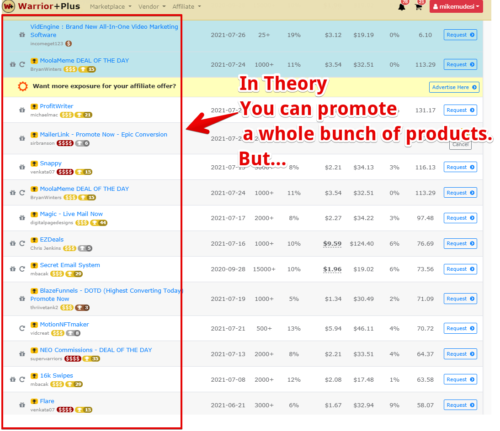 By now you know that majority of products listed on the WarriorPlus are low quality.
So does it make sense to deal with WarriorPlus at all?
It depends.
I mean, I don't know what are your intentions.
Do you want to help people and make them aware of potential scams?
Then, you can review such products, create articles about specific products and eventually show them an alternative.
You guess it right – that is what I do, in my Warrior plus product reviews.
Shameless Plug:
In case you want to learn how to create a website and how to rank well on Google, go check the line at the very bottom.
You have a chance to check one particular educational platform, where you can take 1st 10 lessons for free.
What Is the Price?
For affiliates or people who want to review the products, there is no fee whatsoever.
You can create your profile for free and takes only a few minutes.
Can You Make Money with WarriorPlus?
If you are an affiliate, you might have a hard time generating a consistent income.
Mostly because of the low-quality products that actually do not have a lot of value.
People (the customers) most likely will get mad, because of the price structure.
Many products use one-click upsells, and it takes some effort not to click on them.
Here is an example;
I did a review the other day where I also explain how the upselling tactic works.
What Do I Like About WarriorPlus?

Free to join
A lot of new launches that you can leverage
What I Don't Like About WarriorPlus
The majority of products are scammy (they don't deliver value to their customers)
WarriorPlus doesn't handle the refund (Unlike ClickBank)
Vendors tend to rehash the products and sell them over and over again under the new name
WarriorPlus – Conclusion
WarriorPlus is a legitimate digital platform.
Unfortunately, they are not picky enough to filter out good quality products from the misleading ones.
It is safe to say, that the number of scams listed on WarriorPlus is quite large.
So if you want to make money as an affiliate marketer, and you want to promote WarriorPlus products, I personally don't recommend it.
The potential customers won't be happy with the purchase.
On the other hand, this is a good source of traffic.
If you know how to get free traffic and you are looking for products to create reviews on, WarriorPlus is a good place to check.
New launches are on a daily basis, so it'll keep you busy.
On the flip side, most of the products don't last long, so the traffic to your review might be seasonal only.
There are many other affiliate programs, you can join.
In case you want to learn more check the link below.
You can also ask questions in the comment section below, or just leave a comment if you feel like it.
I will be happy to help you.
Thank you for reading
Mike