Have you ever wondered if you can make money on the WarriorPlus website?
Are you skeptical about the platform and concerned about the prevalence of scams?
In this WarriorPlus review, I will delve into what the website is all about, the types of products available, and whether this affiliate network presents a viable opportunity for earning money.
This review aims to provide a brief and concise overview, primarily catering to internet marketers, especially in the affiliate marketing field.
Jump to:
Disclaimer
This review is based on research and information available online in the public domain.
Any recommendations and conclusions are only opinions and may not apply to all persons or situations.
Quick Overview
Name: WarriorPlus
Website: www.warriorplus.com
Price to Join: $0
Recommended: It depends
WarriorPlus Review – Summary
WarriorPlus is a platform where people can sell and purchase digital products (online courses, software, apps,) related to making money online niche.
This platform has tools that allow vendors (the product creators) automatically deliver their products to the customers.
It is also a platform for affiliate marketers that make revenue by selling other people's products.
They can join WarriorPlus and promote any product they want.
The commission ranges from 4% to 50%, sometimes even more.
Unfortunately, WarriorPlus doesn't care what kind of products are listed on their platform.
The problem is that many vendors are borderline scammers. Only a tiny portion of these digital products are legitimate.
That makes it difficult for affiliates to generate consistent revenue due to the low quality of digital products.
Be careful when choosing a product and make sure it delivers value.
Also if you would like to learn how to get organic traffic to your website, or you want to create a website, below is a link where you can find out more.
Once you know how to get free traffic, you can promote anything you want.
What Is WarriorPlus?
WarriorPlus is an online platform that allows vendors to sell digital products and services, and affiliates to promote these products to earn a commission.
It is popular among affiliate marketers because it offers a wide range of products to promote, an easy-to-use interface, and high earning potential.
Affiliate marketers can benefit from WarriorPlus by finding products that align with their audience and niche, promoting them effectively, and earning a commission on each sale.
The platform also provides access to a large community of affiliates and buyers, allowing for networking and collaboration opportunities.
Who is the Founder of WarriorPlus?
The founder of WarriorPlus is Mike Lantz, from Nevada USA.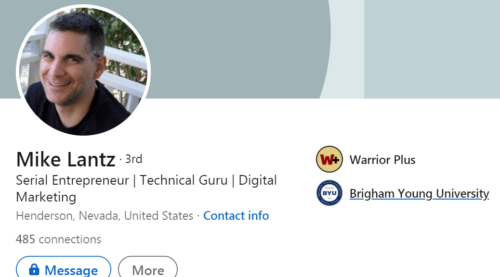 He started working in 2000.
He changed 2 jobs until he founded the WarriorPlus back in 2006.
Mike holds a bachelor's degree from Brigham Young University.
There is no information about him being a scammer or anything like that.
He is a legit entrepreneur and digital marketer.
Who Is the WarriorPlus For?
WarriorPlus is good for vendors that can add their products, so they reach potential customers much easier.
But the focus of this article is the majority of people, meaning affiliates and potential customers.
As for the former group, we are going to dig a bit more deeply.
As for the latter (potential customers), I am afraid you won't find a lot of valuable products.
Most of them seem pretty cheap at first sight, but they use an aggressive method how to sell you more upgrades.
And that could mean a couple of hundred.
Let's check the affiliates:
First of all, you as an aspiring affiliate marketer need a website.
It is your headquarters, your business.
Without a website, it is like having a brick-and-mortar business without actual physical structure (whether a house, store in a shopping mall or a tent).
Then it is important to learn how to drive traffic to your website.
And there are many ways how to do that, for example:
Organic traffic – takes a bit longer but it is the best method
Email Marketing – assuming you already have your list
Youtube – if you have a channel
Social media – if you have followers
Paid traffic – not recommended for newbies
Referral traffic – check the link for more details
As mentioned above the first method (driving organic traffic to the website) is probably the most challenging one, but at the end of the day, it brings the most profit.
Besides, based on the results (from Google Analytics) you can start with the paid traffic as well.
I remember when I first took the online training about how to build a website, I had no idea how to drive free traffic.
At first, I thought there was magic or coding… but as I went through the training (that the Wealthy Affiliate offers) I have learned that it is actually not that difficult.
Of course, there are some techniques that need to be learned, but it is doable for everyone.
Now that we know, theoretically, how to drive traffic, let's get back to the WarriorPlus review.
What Types of Products are Listed on WarriorPlus?
WarriorPlus is a platform that features an extensive range of products for sale. It offers a diverse selection, including apps, online courses, software, and access to membership sites.
Let me give you a short overview of the products and categories available on the WarriorPlus website.
Marketing Education
Within this category there is a wide range of resources, such as courses, guides, and eBooks, to enhance your knowledge and skills in digital marketing.
Affiliate Marketing
Here you should be able to explore strategies, tools, and resources to thrive in the field of affiliate marketing, where you can earn commissions by promoting other people's products.
Email Marketing
One should be able to discover resources and software solutions to optimize your email marketing campaign and effectively engage with your audience.
Traffic
In this category are you supposed to explore techniques and tools to drive more traffic to your website or offers, expanding your online visibility and potential customer reach.
Platforms
A variety of online platforms and marketplaces can assist you in different aspects of your online endeavors.
Make sure to do thorough research and choose reliable sources for quality education and tools. It's important for your success.
WarriorPlus offers a wide range of products and categories, but it's important to approach them with caution.
Having reviewed numerous products, particularly in the niche of Affiliate Marketing and Marketing Education, I must admit that a majority of them are mediocre at best and some even fall into the scam category.
Unfortunately, I cannot wholeheartedly recommend any of the options available on the WarriorPlus site for those looking to learn new skills in affiliate marketing.
WarriorPlus Alternative
Unlike WarriorPlus, ClickBank prioritizes vendor accountability and customer satisfaction by actively monitoring and removing vendors with high refund rates.
This proactive approach ensures a safer and more reliable platform, free from scams and subpar products.
With ClickBank, you can trust that your online purchasing and affiliate marketing experience will be of higher quality.
Can You Make Money with WarriorPlus?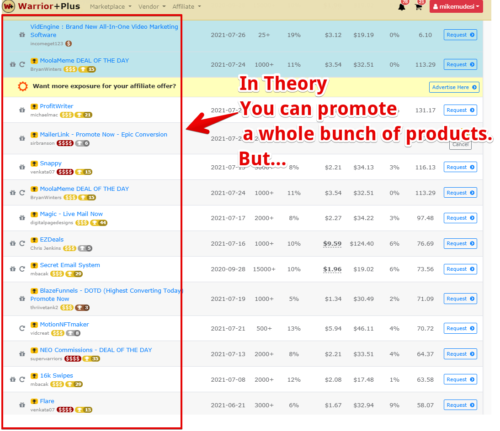 By now you know that the majority of products listed on the WarriorPlus are low quality.
So does it make sense to deal with WarriorPlus at all?
It depends.
I mean, I don't know what are your intentions.
Do you want to help people and make them aware of potential scams?
Then, you can review such products, create articles about specific products and eventually show them an alternative.
You guess it right – that is what I do, in my WarriorPlus product reviews.
What Is the Price of WarriorPlus?
For affiliates or people who want to review the products, there is no fee whatsoever.
You can create your profile for free and takes only a few minutes.
Promote WarriorPlus Products?
If you are an affiliate, you might have a hard time generating consistent income.
Mostly because of the low-quality products that actually do not have a lot of value.
People (the customers) most likely will get mad, because of the price structure.
Many products use one-click upsells, and it takes some effort not to click on them.
Here is an example;
I did a Forget about broke review the other day where I also explain how the upselling tactic works.
What payment methods are available on WarriorPlus?
WarriorPlus offers payment options through PayPal and Stripe, allowing vendors and affiliates to receive their earnings easily.
Once you provide the required information, you can typically receive instant payments.
Warrior Plus Reviews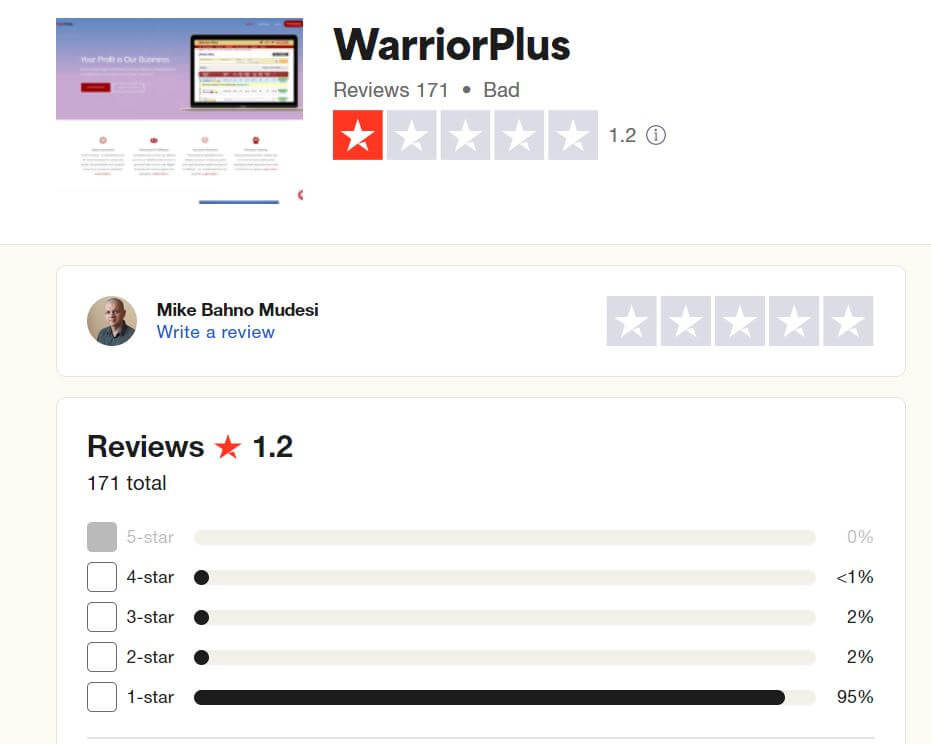 I have gone through several platforms and checked what other people think about WarriorPlus.
In many cases they are more critical than me, and here is a summary of other folks:
Several customers express their dissatisfaction with WarriorPlus and their negative experiences with purchased products.
Issues include problems with activation, useless support, and difficulties in obtaining refunds.
Customers report receiving unfinished or falsely advertised products.
Lack of accountability for sellers and inadequate customer support are common complaints.
Some customers resort to reporting the situation as fraud to their banks.
The presence of spam emails and scams using popular product names is also mentioned.
WarriorPlus is criticized for not taking responsibility for the products sold on its platform.
Customers warn others to stay away from the site and express the need for better regulation and accountability.
Unfinished and Misleading:
WarriorPlus Faces Criticism for Product Quality and Seller Responsiveness
The feedback regarding WarriorPlus is predominantly negative, with customers expressing frustration over poor customer support, scams, and subpar products.
It is clear that there are significant concerns regarding the platform's credibility and lack of accountability. Potential buyers are advised to exercise caution and consider alternative platforms for their purchases.
What Do I Like About WarriorPlus?

Free to join
A lot of new launches that you can leverage
What I Don't Like About WarriorPlus
The majority of products are scammy (they don't deliver value to their customers)
WarriorPlus doesn't handle the refund (Unlike ClickBank)
Vendors tend to rehash the products and sell them over and over again under the new name
Certain affiliate programs mandate approval based on prior affiliate sales
Conclusion
WarriorPlus is a legitimate digital platform.
Unfortunately, they are not picky enough to filter out good quality products from misleading ones.
It is safe to say, that the number of scams listed on WarriorPlus is quite large.
So if you want to make money as an affiliate marketer, and you want to promote WarriorPlus products, I personally don't recommend it.
The potential customers won't be happy with the purchase.
On the other hand, this is a good source of traffic.
If you know how to get free traffic and you are looking for products to create reviews on, WarriorPlus is a good place to check.
New launches are on a daily basis, so it'll keep you busy.
On the flip side, most of the products don't last long, so the traffic to your review might be seasonal only.
There are many other affiliate programs, you can join.
In case you want to learn more check the link below.
You can also ask questions in the comment section below, or just leave a comment if you feel like it.
I will be happy to help you.
Thank you for reading,
Mike.
FAQs
Is WarriorPlus a legit site?
Yes, WarriorPlus is a legitimate site in the affiliate marketing industry. It offers a secure platform for vendors to sell digital products and for affiliates to promote them.
However, users should still exercise caution when choosing which products to promote or purchase.
How does WarriorPlus work?
WarriorPlus is a platform where vendors sell digital products, and affiliates promote these products to earn a commission.
Affiliates choose products to promote, share them through marketing channels, and earn a commission on each sale made through their unique affiliate link.
WarriorPlus provides tracking and reporting tools to help affiliates keep track of their earnings.
Who is the owner of WarriorPlus?
The owner of WarriorPlus is Mike Lantz.
He is a digital marketer with a passion for creating online marketplaces where individuals can share their knowledge and expertise while earning a living.
Mike also claims to be a geek who loves all things related to digital marketing.
How to make money with WarriorPlus?
To make money with WarriorPlus, you need to choose an interest or product category, build a website or platform for promoting the products, attract visitors to your site, and earn revenue through sales.
Personal Note:
It's important to be careful when considering products on WarriorPlus.
Many in the Affiliate Marketing and Marketing Education niche are not reliable or trustworthy.
I can't recommend any of them for learning affiliate marketing.
One of my favorite platforms where one can learn how to build a website and drive free targeted traffic is called Wealthy Affiliate.
Is WarriorPlus free?
Yes, joining WarriorPlus is completely free for both vendors and affiliates!
However, keep in mind that there are fees for each sale made on the platform. Plus, there are some optional paid features and services available that can help you take your experience on the platform to the next level.