Are you interested in starting a new business and internet marketing seems like the best way?
Well, I agree and there are many ways how to generate consistent income online.
One alternative might be affiliate marketing.
But is this really the easiest way how to start making money online?
Is Affiliate Marketing Still Profitable?
We are going to break down this question but at the beginning let me share with you a simple definition of affiliate marketing.
Everyone who just starts out wants to know, how long it take to make money.
This is a legitimate question and we are going to answer that as well.
And even though, I am now a full-time affiliate marketer I want you to be aware also of the drawbacks of this business model, so you will have a better understanding of whether this is something you want to do or not.
The thing is that affiliate marketing is not for everyone, but it is the same in any walk of life or any other business.
Some people prefer offline business, others have e-commerce businesses, and believe it or not some people like the MLM business model.
What I like about affiliate marketing, is that there is no need to own any product.
A simple website with visitors does the job. The important thing is to provide the visitors with value, objective advice, and recommendation.
Let's start briefly with the definition of Affiliate Marketing and then we check the basic aspects.
What is Affiliate Marketing?
Affiliate marketing is a business model where you as an affiliate marketer connect people with products and services.
When people decide to purchase these products/services after consuming your content, you make commissions.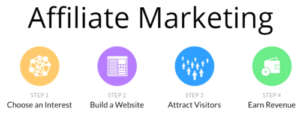 Depending on the affiliate program you are connected with and the number of visitors the earning potential ranges from a few bucks to 6 or even 7 digits per year.
In order to get from 0 to let's say 4 digits a month, it is necessary to learn some skills and be consistent in content creation.
These days there are a lot of tips and courses online teaching how to start with Affiliate Marketing.
Compared to other business models it is one of the easiest ways how to start making online, with only a tiny budget.
Even when I say, it is "one of the easiest ways", it does not mean that it is easy.
So let's go through the most important aspects of affiliate marketing, so you know whether it is worth your time or not.
Niche – Your Audience
You may have heard about niche already.
This is the first step when it comes to affiliate marketing.
Choose your niche.
It is basically your audience of people who are interested in your content.
Of course wider niche you have (let's say furniture) more audience you have.
But it does not work that way, especially when you just starting with a new website.
Therefore, be very specific with your niche, in other words, the content you want to build your site around.
For example, Home and Kitchen is a pretty wide niche that is hard to compete with other – well-established websites.
Narrow it done and focus on, a standing desk for a laptop, or the best coffee machines for home.
Ideally, your niche is something you are passionate about.
What activity do you like the most? The one when you don't get tired of, and can't wait till the next morning to go on with it.
How to choose a niche when we can't think of any such activity?
No worries just go to Amazon and check how many categories there are.
Here is just a shortlist of the most popular ones:
Home & Kitchen
Sports & Outdoors
Toys & Games
Beauty & Personal Care
Health, Household & Baby Care
Kitchen & Dining
Office Products
Garden & Outdoor
Tools & Home Improvement
Pet Supplies
Choose what interests you the most and make sure to go deeper within the category you have chosen.
Before I started with this website I was not sure what path to choose, or what niche to choose.
I wanted to create a website about furniture for bedrooms, then hiking and the best cloth for outdoor activities.
It took me a while and eventually I ended u with the Money Making online niche.
Mostly because I was sick and tired of all scams that are out there and it was very difficult to find a platform that delivers on its promise.
So this is an essential step and if you are not sure about your passion, spend some time choosing the niche that suits you the best.
Then you can start with the website and content creation.
Create Content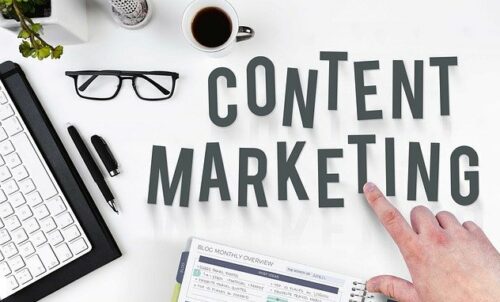 Affiliate marketing is about content creation.
If you don't want to create content, then you have a problem.
The content can be a blog on your website or you can also create a Youtube channel and make videos.
It doesn't matter what path you choose, it is essential to keep on working on your content.
You also want to be consistent.
Now here is an interesting fact.
More than 80% of people who begin with affiliate marketing stop creating content within the first 6-7 months.
Why?
Because they don't see consistent income yet.
They just quit.
See this as an opportunity. 80% of your competition is gone within 7 months.
You have now a better position in your niche and this is probably about the time when you start seeing your first sales.
Most likely within the next 6 months, your traffic will grow exponentially.
So Affiliate marketing is a long-term game.
Are you willing to sacrifice your first year? Are you willing to work for free in the 1st phase of your journey?
These are important questions and if you don't have any income, it is better to find a job to pay the bills.
Even part-time is an option, so you can spend more time building your content.
In the next paragraph, we are going to briefly check how to get attention.
How Do You Attract Visitors?
How to find your audience?
One of the best parts of affiliate marketing is that audience will find you. You won't be bothering others to read your content.
Once certain skills are applied, your content will be found naturally.
People searching for specific content on google will find your website. And the more content you have the more visitors come to your website.
That means higher income potential.
There are many ways how to get traffic to your site, and we won't go through them right now.
Just briefly:
Does it seem like a lot of work?
Well, it depends on your background on the kind of work you have been doing.
For a person with an easy job and a great salary (there aren't many such positions), this whole process of setting up an online business probably seems difficult.
It is all about the attitude, and I know people who were electricians, stay-home mums, college dropouts, drivers, or people who just retired – all these people started affiliate marketing businesses, and they do very well.
Monetize Your Website
This is probably the most exciting step when creating a website.
As mentioned at the beginning you want to connect your audience with companies selling products and services.
So you partner up with these companies, so they can track where the sales come from.
The best part is that you don't have to join these companies one by one.
Many of these companies are part of affiliate programs and you can join these sites (or affiliate programs) as well.
More about the Affiliate Programs, here, but here are a few examples:
CJ
ClickBank
Warriorplus
Amazon
ShareASale
and so on
Always check what is the commission and it is recommended to keep an eye on it.
Also, be aware that the commission varies based on the product.
For the whole amazon commission structure, you can see below.
This screenshot is taken on Tuesday, May 25th, 2021.
When it comes to Amazon's commission Structure, may lean towards the products with 4% and above.
As a rule of thumb, you want to deal with products that cost $40-$60 minimum. Depending on the niche, of course, you can do reviews on more expensive items – even several hundred dollars.
Pros and Cons of Affiliate Marketing Business
I would like you to know that there are also negative sites of affiliate marketing. Well, nothing is perfect and when it comes to building a business we want to realize both Pros and Cons.
Pros

You are your own boss
You can work anytime you want and from any place in the world ( with an internet connection)
No need to deal with the product, customer service, suppliers
No need to pack or ship items
Very good source of passive income
Cons
It takes time to get some attraction (from 2 to 8 months)
Affiliate commission might change over time (keep an eye on sites/companies you are affiliated with)
You have to keep an eye on current trends (for me being a member of one particular educational platform this is actually easy)
Sometimes products might be removed from the merchant site
There are several aspects that you want to consider.
Having listed both pros and cons you should be able to determine whether affiliate marketing is worth your time or not.
There are many people enjoying it, it means freedom for people who want to travel and work.
To me this is the biggest advantage, that I can work from any place in the world and anytime I want.
I don't have to deal with employees, customers, or suppliers.
There are drawbacks to that, but again, these are obstacles that I am willing to overcome.
Let me share with you one inspirational example regarding the potential of affiliate marketing.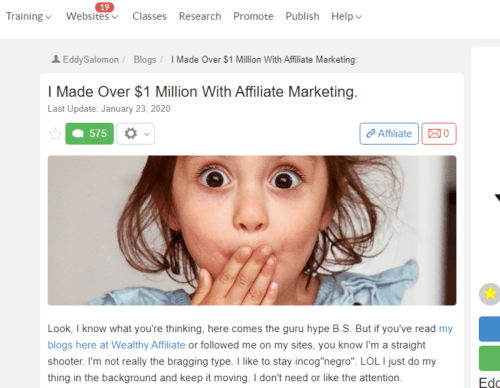 And there are many success stories that I can share with you.
If you want to read the entire story, let me know in the comment section below. I will provide you with the link.
Is Affiliate Marketing Worth It?
Now that we know what it takes to create a successful affiliate marketing website, you can decide whether it is worth your time and effort or not.
Check the pros and cons and make your own decision.
Think how your life can be different 2 or 5 years from now.
Even small progress is progress…
I might be biased toward the affiliate marketing business model, but I truly believe that this is one of the simplest ways how to make money online.
Imagine having a website (or Youtube channel) and with a certain amount of traffic, you can monetize your website/channel in many different ways.
I was able to generate 4 digits per month, but that's just the beginning. There are people (also members of one specific platform) making a lot more.
Once you know how to get traffic affiliate marketing is only one source of income. With that being said, in 2 or 3 years it is possible to make $10K per month.
Is it worth the effort?
You tell me.
Where were you 2 or 3 years ago? What progress did you make?
How about a better question:
Where do you see yourself in 2 or 3 years?
A person that is pretty much making the same as today?
Or someone that takes an action and is on the way to becoming financially independent?
Some Thoughts at the End
If you happened to scroll down to this point without reading the content above, I understand that you are in hurry.
It is perfectly normal.
But here are a few questions you should ask yourself to determine whether affiliate marketing is worth it for you
Are you willing to become your own boss?
Are you willing to work, especially at the beginning almost every day?
Do you have a few hours per day?
Are you sick and tired of your 9-5?
Can you think in the long term (meaning putting off now and being paid later)?
Do you have goals you want to achieve?
Do you like the idea of having a passive income?
If you are curious enough about the online business and you have answered "yes" to most of the questions above, you are welcome to check my number 1 recommendation.
Just use your email (or any other email you want to use) and take advantage of this opportunity. There are 10 lessons you can take, and see whether it is something you want to do.
What do you like about affiliate marketing?
Have you tried some courses already?
Please do let me know in the comment section below.
I am sure a lot of other readers will find your stories useful.
Thanks of reading
Cheers
Mike