Do you want to find out the best way how to monetize your website?
You are probably thinking about Affiliate marketing, right?
Awesome, this post talks about what is the best affiliate marketing program for beginners and you will find a list of the 7 best affiliate programs you can join.
You will find out about a couple of different strategies you can use to find the affiliate marketing program that is relevant to your niche.
First of all, let's distinguish between Affiliate Program and Affiliate Network
Affiliate Program
This is (as suggested) a program that is offered by a company selling a specific product(s).
Let's say this company sells coffee machines online and they want to make their business bigger.
So they open the affiliate program to other internet marketers and bloggers.
These independent bloggers can sign up for this program. They know how to write a review of a specific coffee machine and they know how to rank well on google.
Now people searching for specific information about the coffer machines, go to visit these blogs, and via the affiliate links, they get to the company's website. If they buy, the blogger gets a commission.
So, the Affiliate Program is offered by one company selling one type of product or brand.
For example, Nike offers an affiliate program.
How to find such an affiliate program?
It is pretty easy and we will go over it in a bit.
Affiliate Network
This is a website with a bunch of Affiliate programs under one roof.
Being a part of the Affiliate Network is more convenient for the blogger (affiliate marketer). Usually, it is enough to register only once and you can start promoting any product within the Affiliate Network.
You can also promote a number of different products from different companies.
(BTW, these companies also have to sign up for the Affiliate Network).
For example, a ClickBank is an example of an affiliate network.
, of course, the most popular one – is Amazon.
You as a blogger (internet marketer) can join both, the individual programs and networks as well.
Affiliate Program for Everything
Before we go into specific programs/networks I would like to point out that there is an affiliate program for every product.
It does not matter what product you are going to promote, you can sign up for this particular program once and you are free to promote any product within your niche.
You are not sure about what the Niche means? You may be interested in this article:
How to Choose a niche for Affiliate Marketing, where you will learn what the Niche is, how to choose one, and a few tips on evergreen niches.
You guess it right – it is the Amazon Affiliate program.
But the reason I want to mention Amazon before everything else is that Amazon is not everything.
Sure they have probably the largest selection of products, but it is important to realize that there are a lot of successful affiliate marketers that don't touch Amazon and they do pretty well.
There are several reasons, and we will mention the disadvantages of Amazon later on.
Here are just the main reason why some people do not promote Amazon products:
They find massive opportunities within other Affiliate Programs as well
Many people can't join the amazon affiliate program, because it is not available in their countries.
With that being said, let's take a look at how to find an individual affiliate program.
How to Find a Specific Affiliate Program
There are plenty of affiliate programs that you can find very easily.
One thing I would like to emphasize is your website.
Make sure you have already some content (like product reviews, recommendations, and guidelines) on your website before joining the affiliate program.
During the signup process, the company can look at your site, and if there is nothing or just very thin content you probably will not be accepted.
They also want to see that your website is relevant to the kind of products you are about to promote.
Let's say your site is about hiking and outdoor stuff.
Go to google and type "outdoor clothing + affiliate program"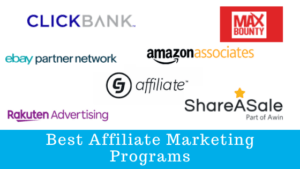 There are plenty of options and you can join either a general affiliate network like CJ Affiliate or a specific affiliate program – for example, Columbia Affiliate Program. (You can join as many as you want).
Go check the programs, and find out which one you prefer the most. In some, you will see what kind of deal they have for you, in some instances you need to contact them directly.
For example, Columbia offers
up to 10% commission
21-day cookie
the largest selection of Columbia products
You can start your application, in case of questions you have to contact the affiliate manager.
That is just one example.
You see there are lots of options. And Google has a suggestion as well.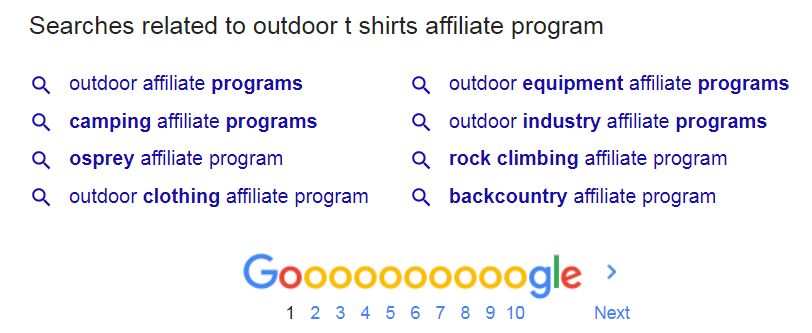 As you see there are lots of other options you can try – I mean keyword-wise.
Don't rush it, go through each site, and check what offers you like the most. Apply for more of them as not every program has to accept you.
You can also search for a type of product + affiliate program or also a particular company you want to join as we see in the example with Columbia.
If your niche is furniture for bedrooms – particularly mattresses, you type -mattress affiliate program- and google makes suggestions for you.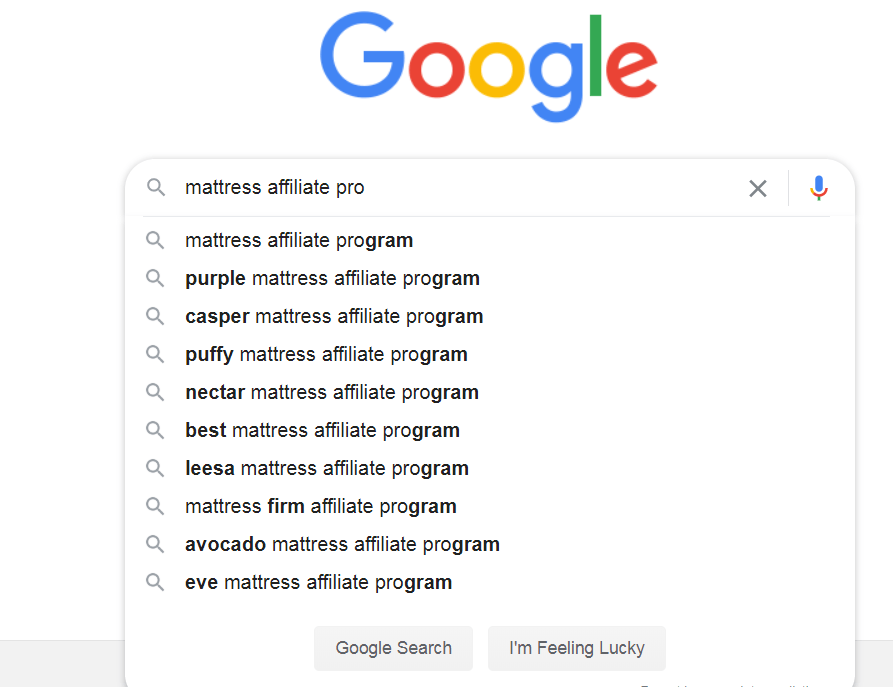 It is probably easier to sign up for an affiliate network and promote products using these networks.
But I would like you to know that you can join also these independent affiliate programs (those that are not part of the ClickBank or CJ Affiliate, for example, already mentioned Columbia).
In many cases, these can be very lucrative as well.
As mentioned, you can register for all of them. They are free to register – and it makes sense. You are helping them to make more sales, so it is a win-win situation.
And the best part is the end customer does not pay anything extra.
The List of Affiliate Networks
What is an Affiliate Network?
Oh, I know you probably hate when someone is asking the same questions twice, right 🙂
This is not an exam, of course.
But in case you skip the previous part of the post, let me just briefly mention that Affiliate Network is a collection of all affiliate programs under one roof, so to speak, so within one signup you can promote products that the particular affiliate network.
One of the best examples of digital products is ClickBank, but let's start with the CJ Affiliate.
CJ Affiliate has been around since 1998. So it is more than 20 years and within the online world, it is a pretty established Affiliate Network.
Therefore you will find here thousands of thousands of brands.
It is not only about quantity, they do have many big brands you can start to promote. It is much easier to promote products from these big brands they are known amongst the people.
Just to mention a few of them :
GoPro
Lowe's
Overstock
Office Depot
Of course, it is free to join and if you are curious about the commission – that depends on the merchant.
Advertisers also want to know what is the cookie duration. Again it depends on the merchant, but it ranges from 1 to 120 days.
Pros
It is one of the largest Affiliate Networks (with a currently estimated revenue of something over $190M per year)
Great support
Cons
Not for newbies as most likely, they will not be accepted. Make sure to have some traffic to your site before joining the CJ
ClickBank was the very first affiliate network that came to my attention.
I think it was in 2013.
Nevertheless, it was founded much earlier and the year was 1998.
ClickBank currently has more than 5M monthly visits. The estimated revenue for 2019 was a little over $200M.
If you want to promote digital products, ClickBank is the one you want to join. They have over 10 thousand affiliate programs and the best part is you can promote them all with just one sign-up.
Basically, you can promote 20 different products and get paid by one payment.
Not a long ago they also opened affiliate programs with physical products, so the number of affiliates will grow.
Pros
Easy signup process
Big commission from digital products (up to 70%)
Cons
A lot of misleading products in the MMO (make money online niche) therefore many people still wondering whether ClickBank is legit.
Comparing the other affiliate networks, MaxBounty is a new one, but they already work with big names like T-Mobile or McAfee.
It was founded in 2004 in Canada.
This particular affiliate network does the CPA offers (Cost-per-Acquisition or Action). So you earn when the visitor (who clicked on your affiliate link), completes a form or installs the software.
One of their coolest incentives is that they offer you $1,000 if you make more than $1,000 in commission within 3 months after you joined.
Pros
Pay weekly offering digital payouts
Rewards for top earners
Cons
Sign up process is complicated

ShareASale was founded in 2000, so as of this writing it has been around for 2 decades. The headquarters is in Chicago, Illinois.
This is is one of the biggest networks and if you join them you can promote big brands like Rebook, Viator, Grammarly, and many others. You see that they have a lot of different niches so the chances that you find your favorite product are pretty high.
Take your time and go through the programs that are available at the ShareAsale, some of them pay up to $300 commission per sale.
Pros
Easy to find a specific program
Variety of niches you can choose from
Cons
Payments in Checks (they don't use PayPal)

Rakuten Advertising is one of the largest affiliate networks. Formerly known as LinkShare, it was founded back in 1996 in New York.
You can partner up with this network and choose from a huge variety of merchants, including the following big brands
Sixt,
Ecco,
Virgin Holidays,
Sephora
It is interesting that even Walmart was associated with Rakuten but on March 24th, 2020, "…WMCA (Walmart Canada) has requested to pause their affiliate program…" as per info from marketingdive.
Pros
You can promote really big brands
Great support
Cons
If you want to promote more products from different companies you need to apply for each brand individually.
This is an eBay affiliate network with more than 183M buyers in 190 markets.
According to the website partnernetwork.ebay.com, there are 1.4 Billion listings and you can earn a commission for promoting any of these listings.
It is also important to realize that majority of the products are tangible (physical). The commission that you earn is calculated from eBay's own commission and it ranges from 50% to 70%.
What I find really cool is that this commission is doubled for the first 3 months. After that, you gain experience and you can earn even more, despite the fact the commission is lower, actually back to normal.
Pros
Super easy to promote (just grab the link and share it)
A huge variety of products (as mentioned, there are more than a billion of them)
Cons
Only 24-hour cookie duration
This is probably the most known affiliate network there is.
One of the reasons why Amazon has gotten so big is its Amazon affiliate program.
It is not difficult to sign up and almost everyone is accepted. You don't even need a website, but it is recommended to have one (with some content on it).
Once you become an Amazon affiliate partner you can earn a commission of up to 10%. Depends on the category.
What is also cool, is that you can earn a commission from any sale, not just from the product you promote.
A drawback is, that this sale must be done within 24 hours. That is the same disadvantage as eBay has, the short cookie duration.
Pros
Tons of products you can promote
Universal cookie (after a person clicks on your affiliate link and makes more purchases from a different category, you make commissions from these products as well)
Digital payments to your bank account, internationally
Cons
The cookie lasts only 24 hours
If no sales within 180 days, you need to go through the sign-up process again
You must sign up for each Amazon (Canadian, UK, German …) individually
Some Tips at the End
If you just starting out, make sure to focus on one niche only – Having said that, sign up for affiliate programs that are relevant to your niche.
You don't want to have an affiliate link on each of your sites – Your website would be a sort of a bridge page, for google (and you won't rank well)
Have one post/article with an affiliate link (let's say the review of the product) and make other posts link to this particular post with affiliate links
In the review – have a few links – to words that are relevant (the actual product) and use the affiliate link in the image as well
Make sure that the links thorough your review feel natural. At the end of the post, have a visible call to action (CTA) saying " click here to buy …"
Conclusion
We have gone through the list of the best affiliate networks you can currently find. We also know how to find an individual affiliate program so now take a deep breath and go to check the programs/networks, sign up for them, and let's make some money 🙂
Go through these networks as listed above, and find out which one you like the most. There is no right or wrong answer – just make sure to partner up only with relevant programs.
If you have questions regarding the affiliate program or network, let me know in the comment section below. I know there is a lot to talk about, so feel free to share your opinions and thoughts as well.
Thank you for reading
Mike