Welcome to the NextCash review.
In this post, I will walk you through this system that promises you to make $300 per day. This is an audacious statement and it looks suspicious from the beginning.
I am sure you are wondering whether NextCash is a legit platform or just another scam.
Right off the bat, I can tell you that this system is not what it pretends to be.
We are going to check:
Who is behind the NextCash
How does it work
How we can reach them
How you can make money (or maybe you can't)
We are going to check whether their payment proofs are legit or false and also other statements.
In my experience, NextCash is just another clone of other scams (we will mention them in this review as well and you will probably remember some of them) so, my advice would be to stay away from it.
Let's find out why.
Disclaimer
Please note, that I am not a member or an affiliate of NextCash.
This review is based on research and information available online in the public domain. Any recommendations and conclusions are only opinions and may not apply to all persons or situations.
NextCash Overview
Product Name: NextCash
Price to Join: $0
Creator: N/A
Rating: 0/10
Do I recommend it? No! Besides, This Scam is not Available Anymore!
NextCash Review – Quick Summary
NextCash is a system claiming you can make $300 daily. It is supposed to be the #1 Influencer Network that was founded in 2008.
The truth is that this platform was registered only in February 2020.
The bottom line is that this is just another clone of other Scams that does not pay.
NextCash only collects data and eventually sells it to a 3rd party (your email, telephone number, and so on).
My advice is – Stay Away from NextCash!
The website has been down. It proves that this system did not work.
In order to make a sustainable income online, it is necessary to choose a proper business model. One of the examples of models is affiliate marketing.
If you want to learn more, check the link below.
Please this is not a get-rich-quick scheme and it is necessary to put a lot of effort into it. If you are a person that is not ready to work hard, I am afraid this method is not for you.
What is the NextCash
NextCash is a platform where you can earn $300 per day. At least it is what they say on their homepage.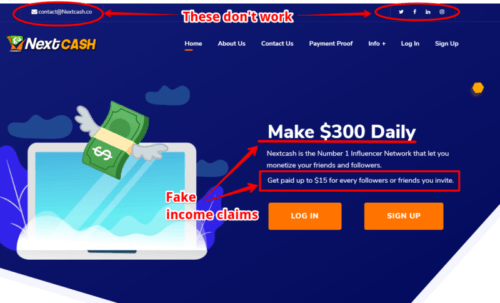 They claim that you can get paid up to $15 for every user you invite to join the NextCash.
That is a lot of money, especially when we know that to join the NextCash is absolutely free. So the questions should be – where is the money coming from?
How come they are able to pay you $15 for a referral you invite to NextCash?
And that is not all.
You are promised to earn $2 for every person who clicks on your referral link (you can find your referral link inside the NextCash Dashboard).
Besides that, you supposedly can earn from $20 to $50 for a single task from completing surveys to downloading the apps.
None of that is true. These are only incentives to get you to sign up for NextCash.
Who Is Behind?
The easiest way how to find out who is behind the NextCash is to check the About Page.
From what we see, it is inevitable that these claims are a bunch of lies.
How do I know that?
We know how to check the real age of the domain, right?
This short video shows you how you can check a domain registration date (any domain)
When we go to the website whois and enter the "NextCash.co", we see this domain was registered on the 21st of February, 2020.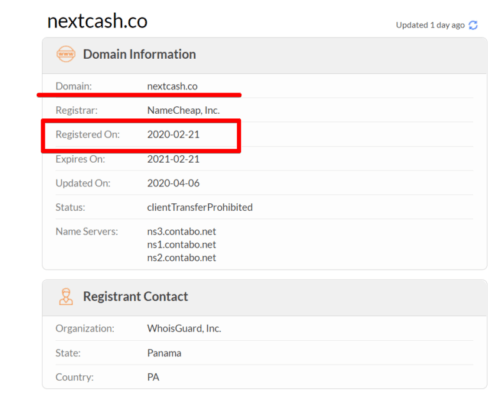 So there is no way that NextCash.co has been around since 2008.
This is a big red flag, and it only proves that this entire system is not trustworthy.
The domain is registered in Panama, but it does not mean that the creators are from Panama.
What is for sure, these people are behind scams like Money Genie, PaidLeaf, Tap2Earn, or OGtask.
None of these systems are legit and you should be aware of them.
How to Contact NextCash?
If we want to raise a question or have a concern, there should be a contact form or email address where we can reach the representative, right?
Unfortunately, the email address does not work and even the company address seem suspicious: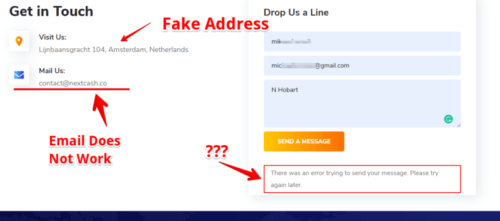 This is another big red flag.
There is nobody who we can contact.
That means these guys can easily move to another "project" without being punished.
Because Scams like NextCash should be reported to FTC.
Who is NextCash For?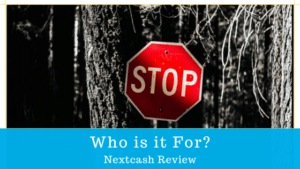 Making money online is not as easy as some systems claim. There are many programs and platforms that teach how to generate revenue online.
Then, you have the so-called Get-Paid-To website where you can earn a few bucks, complete surveys, or some simple tasks.
If you want to know how such a website looks like you can check my review of Inbox Dollars.
You can make maybe a hundred per month, but there are disadvantages to such systems:
Available in the US only
Need to perform a lot of tasks to make $100 (sometimes it can take a couple of weeks)
Can't build a business, in other words, it is not scalable
A person who wants to have a consistent income online must realize that he or she needs to have a website and ideally create a lot of content.
With that being said, all the claims you see on the NextCash are false. They only want to get as many members as possible.
Reason?
They collect email addresses (and probably other personal data as well) and eventually they sell them to a 3rd party.
So I don't recommend NextCash to anyone.
If you want to learn how to make money online, here is a review of one platform where I have learned how to build a website and how to monetize the traffic.
How Does NextCash Work?
It is very easy to sign up for NextCash.
I mean who does not want $25 just for signing up for a system?
Money for nothing! Isn't that awesome?
If it sounds too good to be true, it probably is.
It can't be any easier since as I mentioned already they want to get as much data as possible.
Register (did you know you can use an email address that does not exist?)
Get your link and share it on social media (I see many people share this scam on Facebook not knowing that they won't get paid)
Cashout. Here is the truth: No one gets paid.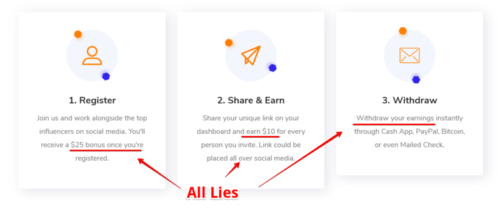 When we look at the other clones of NextCash, like (ShareCash or OGTask) we see that they are almost identical.
Same incentives, same web structure, same layouts.
And here is proof that these two systems do not pay.
This screenshot is taken from a PaidLeaf comment section.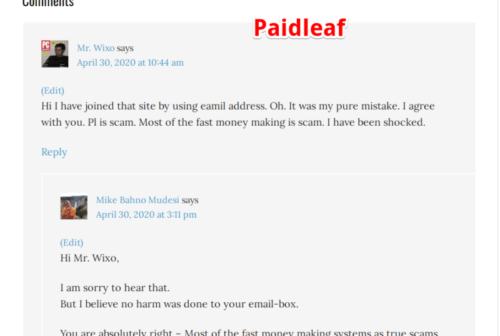 And here another comment regarding the RewardDollars.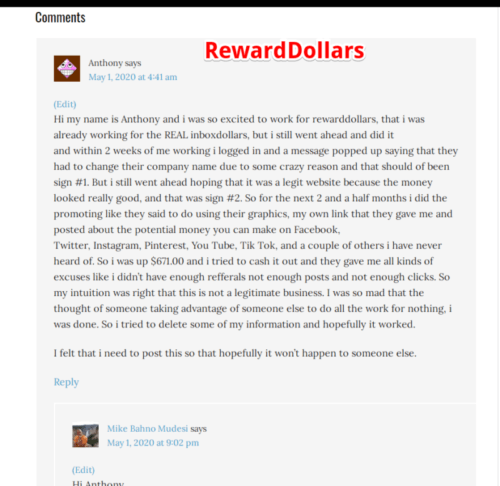 People sign up and at the end, they don't get paid, their accounts are locked and they end up being very annoyed.
What Does Work?
Most people are not prepared to accept the fact that it takes at least 6-8 months until they see a consistent income.
They are not patient, so they keep searching for other shiny objects, or get-rich-quick schemes.
A year or two passed by and they are at the same place like before.
I know what I am talking about since this was exactly my case as well.
That is why I recommend them to check the legit way how to make money online.
It is important to think in the long run.
Let's Have a Look Inside the Member's Area
We know by now that it is very easy to sign up and get inside the member's area.
After signing up you are at the "back office" of NextCash and you can even see your credit balance.
It says $25, but let me tell you right now, this is phony earnings.
At the left-hand side, you see a menu, which seems self-explanatory.
In the middle, there are some notifications (about how you should fill up your payment form) you see also your unique link and the Taskbar.
Right underneath the referral link, you have this statement saying:
"Share this link and earn $2 for every person who clicks on it. Earn an additional $10 when they sign up!"
Do you actually believe that you can get paid if someone clicks on this link?
$2 just for a click?
If so, please scroll down to the comment section and leave me a note saying "Yes I believe I will get paid for the clicks".
I will do my best to explain, that it does not work like that, and this statement from NextCash Dashboard is a B.S.
And there following ways you supposedly should make money:
Refer Friends – Earn $10
Get Clicks – Earn $2
Completer surveys – Earn $30
Create YouTube videos – Earn $50
Download apps – Earn $20
The truth is though, that the figure in the "earnings area" will grow, but just virtually.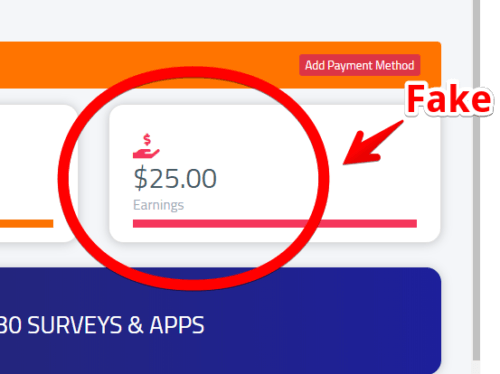 When you want to cash out, you will be told that your request is pending, and soon after it will be rejected.
The reason? You have used fake clicks and users, so they lock your account.
You won't see a dime from NextCash, even though you have done everything according to the rules.
Let's take a look at the Account Manager: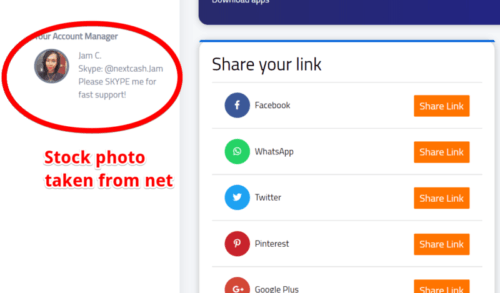 There should be a clickable link next to the photo I believe.
But it is not – it is fake including the photo:
That is most likely another stock photo; I have found it on Amazon, promoting some hair stuff.
There are many similar systems like NextCash (we have mentioned them already) and none of them pay.
NextCash is just the same, and I am sure there are the same people behind this platform.
The Claims vs Facts or List of Red Flags
1) Age of the system
We see that the domain NextCash.co is registered in February 2020, so the claims that they have started in 2008 is a lie.
They pretend to be around for that long just to look legit.
2) Fake Payment Proofs
It is very easy to find out that these screenshots are fake: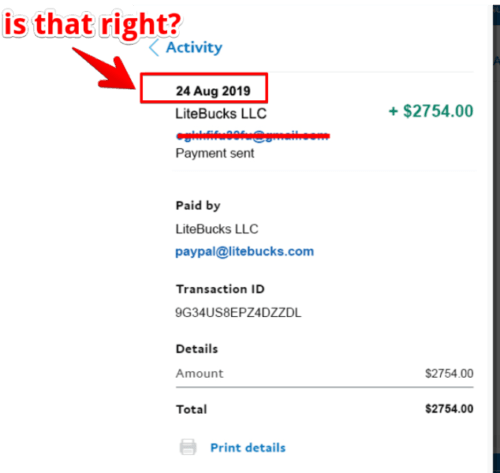 Besides, it says "paypal@litebucks.com" instead of NextCash.
It does prove that they just clone the system called LiteBucks, which is BTW another scam and this website is already taken down.
Do we need to comment on these screenshots?
I think it is clear.
It is not possible that the members got paid in August 2019.
3) No One Gets Paid
NextCash is just another clone of systems like PaidLeaf or Money Genie.
Same incentives, same (empty) promises, same dashboard, same registration country.
Here are some proofs that people did not get paid: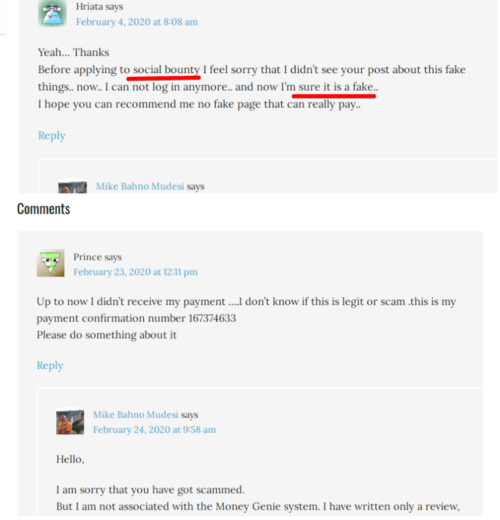 4) Contact information – Not working
NextCash email address does not work, nor the contact form.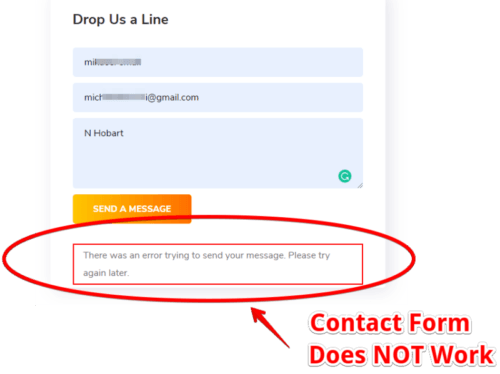 I also have found another email address, so I wrote a second email.
The feedback came in about the same minute: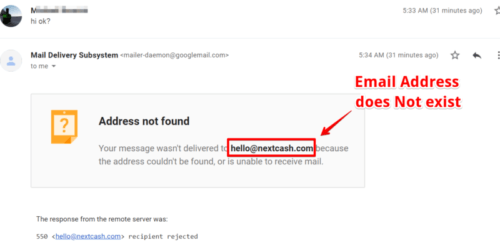 5) Fake Testimonials
NextCash uses for testimonials, stock photos that are available online, or photos that are downloadable from Pinterest.
These testimonials are again fake and have no value.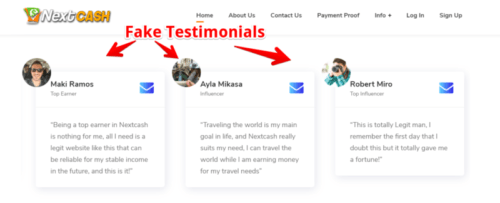 If you google the images here is what you will find:
And this is supposed to be Ayla Mikasa: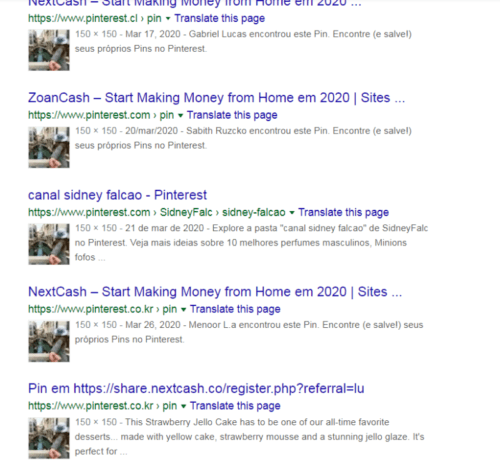 6) No Social Media Presence
It is said this is a #1 Influencer network.
My understanding is that NextCash should be on all major social networks, including FB, IG Twitter.
When we want to connect to these platforms from the NextCash website, we can but only to a default page. It does not direct us to the NextCash profile.
What I like

Absolutely nothing
My Advice: Stay Away from NextCash
What I don't like
Pretends to be from 2008
A scam that goes after personal data
They use an address that is fake
Payment proofs – fake screenshots
Testimonials are made up
Email does not work
Where to Go From Here?
It is a shame, I know.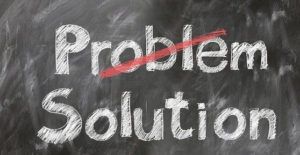 If you want to know how to make easy money, I am gonna share with you a few systems that are legit.
The drawback is, that you won't make a lot.
You can earn maybe $30 to $100 bucks per month.
Here is a list of some legit Get-Paid-To websites.
www.inboxdollars.com
www.swagbucks.com
www.surveyjunkie.com
In case you want to find out how to build a sustainable business online, you want to check this review.
And let me be perfectly honest with you.
Most people are not willing to put effort and time into building a business/website. That is why only a few succeed.
I guess this is normal in any walks of life.
Sometimes it is a lack of motivation, in most cases it is complacency. Some need to hit the rock bottom to wake up and do something about that.
"If You Want Different Results, You Have to Try Different Approaches"
What do you think about the saying above?
Would you agree? Please let me know in the comment section below.
I know that the path towards success can be difficult, but if you have proper training and a helpful community, it goes much easier.
And I am talking from experience.
Conclusion
NextCash is an outright scam.
You won't lose money (at least not at the beginning) but your email address can be sold to a 3rd party.
Your email address can be then exposed to spams and scammy emails.
My advice is to stay away from the NextCash.
It belongs to the same "scam family" created by the same people.
Unfortunately, there are still new scams that need to be exposed and I will keep an eye on them.
Let me know if you have stumbled upon a similar website like NextCash, or if you have experience with a scam like this.
I will be happy to give you feedback.
At the end of this post, I will leave a link, so you can have a look and learn what does it take to make real money online.
If you have any questions let me know.