I am not sure how did you find out about this system called OGTask, but I saw it on one particular Facebook group.
Maybe you have seen it as well – most likely someone was "promoting" it, and you are wondering whether is this a scam or can you really make some money with the OGTask.
Let me tell you right off the bat, that OGTask is a fraudulent system and it only pretends to itself as a #1 Network Influencer.
In the following OGTask review, we are going to check all the red flags, regarding the OGTask, so by the time you are done reading it, you will know for sure that OGTask is just an outright scam.
Disclaimer
Please note, that I am not a member or an affiliate of OGTask.
This review is based on research and information available online in the public domain. Any recommendations and conclusions are only opinions and may not apply to all persons or situations.
OGTask Overview
Product Name: OGTask
Price to Join: $0
Creator: N/A
Rating: 0/10
Do I recommend it? No!
OGTask Review
OGTask is a system claiming that you can make $100 today. Apparently, it is very easy and you only have to sign up and refer to the special link you will be given.
For each referral, you get $10, and it even says, that you will get 2 bucks for each click on that specific link (we will see that later, in the OGTask dashboard).
The problem with the OGTask is that it is full of lies.
And we are going to check the statements, one by one, and prove them wrong.
Who Is Behind
Unfortunately, it is not easy to find out who is really behind this system.
But it is inevitable that this is not the only website of its kind.
Let's take a look at other clones like ShareCash (almost identical), RewardDollars, NiceCash, or EZ Bucks. There are at least a dozen of them.
The same website structure, same fake claims, same fake incentives.
And also most of them are registered in 2019 or 2020 in Panama.
Here is the proof that OGTask was registered only recently.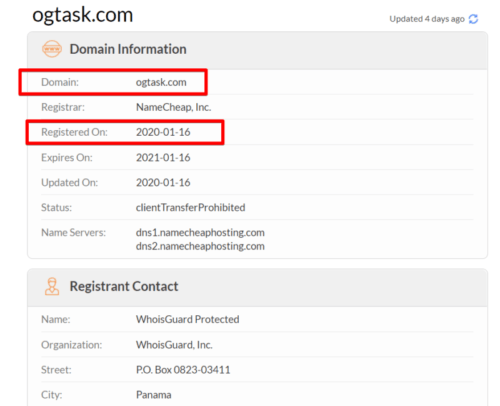 Why it is important to know the registration date?
For instance, let's just check the "About Us" page to find out more information.
We are supposed to believe that OGTask was founded in March 2015.
And then, there is some sort of company evolution, but it is all bogus.
If you want to find out how to check the domain registration date of any website, you can check this short video:
So whenever you see a website promising you easy money you better check some information within the website, like date or years, and double-check it at whois.com.
Who is it For?
I recommend this system to nobody.
People are searching for systems and courses that they can make money with, but unfortunately, lots of them are misleading or outright scams, just like the OGTask.
If you are a beginner and don't have any experience with internet marketing, I think you will try a few things until you find out that there is no such a thing as get-rich-quick.
Or maybe you do realize that even business online takes some time.
With proper education, one can have a full-time income within 15 months (more or less).
There are a lot of courses, and I have tried many of them. Sometimes it is not easy to recognize a scam from a legit course. With some research, I am sure you will be able to distinguish between scams and legit platforms.
In my opinion, this educational platform is still the best, and in this review, I do mention both PROs and CONs.
How Does It Work?
As I mentioned in the beginning, it is very easy to sign up for OGTask. There is no fee to join. In fact, you are promised to be paid a signup bonus (which you will in the dashboard, but it is just a virtual figure).
Sign up for OGTask – Apparently, this is a community of people making money with social media
Invite your, friends, to join and you get paid $1- for every friend (it is interesting that at the home page, at the beginning it says $10 – $15, and here only $10).
Cash out your earnings instantly, using PayPal CashApp or mailed checks.
Regarding the 2nd point – How can you earn $10 just by referring a person who joins a system that is for free?
If there is a paid membership (let's say $20 to access the system) it would make sense that you get a commission. But we know that the OGTask is completely free to join, so where is the $10 coming from?
The answer is simple – there is no money.
Let's Have a Look Inside the Members Area
After signing up, you see the dashboard, which looks pretty similar to ShareCash.
You have some menu on the left-hand side, some notifications in the middle and then there is the area with tasks.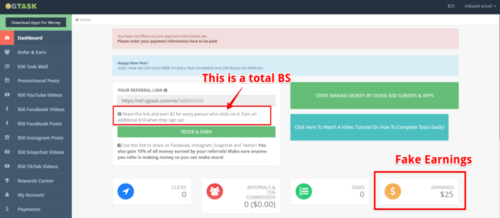 Under the "Taskboard" you see the Leaderboard with list of "members" who allegedly made millions.
Pretty "amazing".
The OGTask is on only a few months and people making millions… this is one of the biggest B.S. I have seen.
Let's go over the red flags, to have a nice overview of the OGTask
The Claims vs Facts or List of Red Flags
1) Age of the system
We have seen that they lie about the foundation date.
The reason is to make us think about how experienced they already are.
We know that the creators are probably experiences scammers.
2) Fake payment Proofs
This is related to the domain age.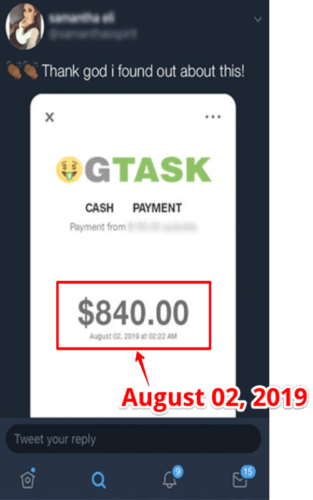 How come someone was paid in August 2019, whereas the OGTask domain is only a few months old (registered January 16th, 2020).
and some more: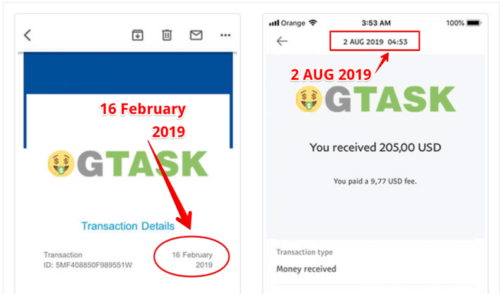 This is a big red flag.
3) No One Gets Paid
Let me briefly inform you about how the OGTask really works:
A person joins the system.
He or she sees the credit of $25. So by performing some tasks, referring to others, and downloading apps, this virtual credit raises. Once there is a, for example, $200, this person wants to cash out.
After a while, this member is told that there are some issues with the payment so it is set on hold, or needs to be double-checked.
Soon after, our member is informed that due to the fake referrals and fake clicks the payment is denied and the account is closed.
That's it.
Not only that this person won't get paid, but she or he also risks that personal information, like email, can be sold to a 3rd party. People who joined the clones of the OGTask say that they were asked to reveal their credit card information and telephone numbers and so on.
OGTask is not different so I strongly suggest: Stay Away From OGTask!
4) Contact information – Not working
As you see below, the contact information is a joke.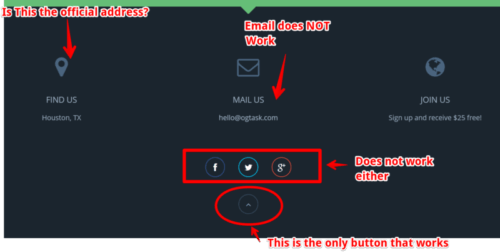 I wrote them an email and here is the feedback:
What else needs to be said about this section?
5) Fake testimonials
Testimonials are good for new members who hesitate to join a new system.
But these below, are made up and useless. I mean such testimonials have no value whatsoever.
Have you had a chance to check the other system, called ShareCash?
It is exactly the same, only a few months older.
7) No Terms and Conditions Page
I could not find this page.
It is mandatory for such a website to have terms and conditions.
this fact alone should warn you that the OGTask is not trustworthy.
What I like

Absolutely nothing
My Advice: Stay Away from OGTask
What I don't like

A scam that goes after your personal data
Fake information (foundation date)
Fake Address
Fake Payment proofs
Testimonials are made up
Contact information does not work
Clone of ShareCash
Where to Go From Here?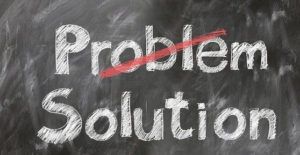 It is a shame, I know.
If you were looking for an easy way how to make easy money, I will share with you a couple of systems that are legit and work.
The disadvantage is, that you won't get rich. You can earn maybe $30 to $100 bucks per month.
Here is a list of some legit Get-Paid-To websites.
www.inboxdollars.com
www.swagbucks.com
www.surveyjunkie.com
Some of them are available in the US only and as I said, these are good if you want only some pocket money.
If you want to know how to make real money online, I can show you one system that has taught me how to generate revenue online.
It was not easy, as I was looking for a quick way to make money online.
My first idea was to run the google ad with an affiliate link in it. So I would get paid without owning a website.
Well, this could have worked maybe in the early 2000s.
I have learned, that it is not that easy these days, but fortunately, it is nothing that can't be learned.
Sure you would have to learn new things, and it will take time but, within 14 to 16 months you can have a solid online income.
If you want to find out more, I recommend you to check a specific platform where I have learned how to create a website, how to get organic traffic, and how to monetize it.
Again, If you want to learn how to generate revenue online and eventually get passive income online, you should start thinking in the long term.
Even people making millions on YouTube start earning after like a year of consistent effort.
Is OGTask a Scam? – Conclusion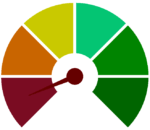 OGTask is an outright scam.
No one gets paid and you risk your personal information, it could be your email or in the worse cases, your credit card information, telephone number, etc.
If you want to learn what it takes to build an online business, I am going to leave a link at the bottom of this post. You can join one platform for free.
To be more specific, you can get started for free for 7 days.
You have a chance to finish 10 lessons, at no charge. Only use your email and get the advantage of this platform.
After the week, you will be asked to upgrade to Premium. You don't have to; meaning there is no charge since you only use your email.
If you have any questions regarding the OGTask scam or other concerns, use the comment section below.
I will be happy to give you feedback.
Stay away from scams
Cheers
Mike