Is it really possible to make $30 per hour using this system called Write App Reviews?
Well, it would be very difficult.
What does it mean?
Is Write App Reviews Legit?
Or is this another misleading scam that is inside the ClickBank marketplace?
And how to really make money online?
In the following review you are going to find out everything you need to know, and on top of it can show you what it takes to make money online.
Note:
You can think of this review as a helpful guide that you can use when assessing different platforms that promise to help you make money online.
If you come across a platform or website that you want to learn more about, you have a couple of options:
– You can use the search button on my website to see if I've already reviewed it, or
– You can leave a comment, and I'll do my best to provide feedback within 24 hours.
Jump to:
Be my guest and please provide feedback at the end of this post, in case you have questions.
Let's dive into the Write App Reviews.
Disclaimer
Please note, that I am not a member or an affiliate of Write App Reviews.
This review is based on research and information available online in the public domain.
Any recommendations and conclusions are only opinions and may not apply to all persons or situations.
Write App Reviews – Summary
Write App Reviews is a digital product available on ClickBank. The creators of this product claim that it can help you earn money online by testing new apps and writing reviews.
However, it is important to note that this system does not work as advertised.
Upon purchasing Write App Reviews, you will be provided instructions on how to write reviews within the WordPress site and publish them.
However, here is the reality of how it actually operates:
You are not paid for writing the reviews themselves, but rather for generating clicks on banners or affiliate offers on a subdomain that all users of Write App Reviews share.
Since the reviews are not visible on search engines, there is no organic traffic and thus no revenue.
Many people are left disappointed, as they believed this was a legitimate job opportunity, which unfortunately it is not.
In addition to writing reviews, you are required to include banners and affiliate links on "your" website.
You earn a commission when visitors find your website and click on these links.
However, the product does not provide proper guidance on structuring the content or optimizing it for search engines.
As a result, your content is unlikely to rank on the first page, or even the second or third pages, of search engine results. Achieving a high ranking on search engines requires skill, time, and effort.
Write App Reviews lacks training in Search Engine Optimization (SEO) and fails to provide guidance on alternative sources of traffic.
Please be cautious and consider these limitations before investing in this product.
Do you really want to learn how to make consistent income online?
What Is Write App Reviews?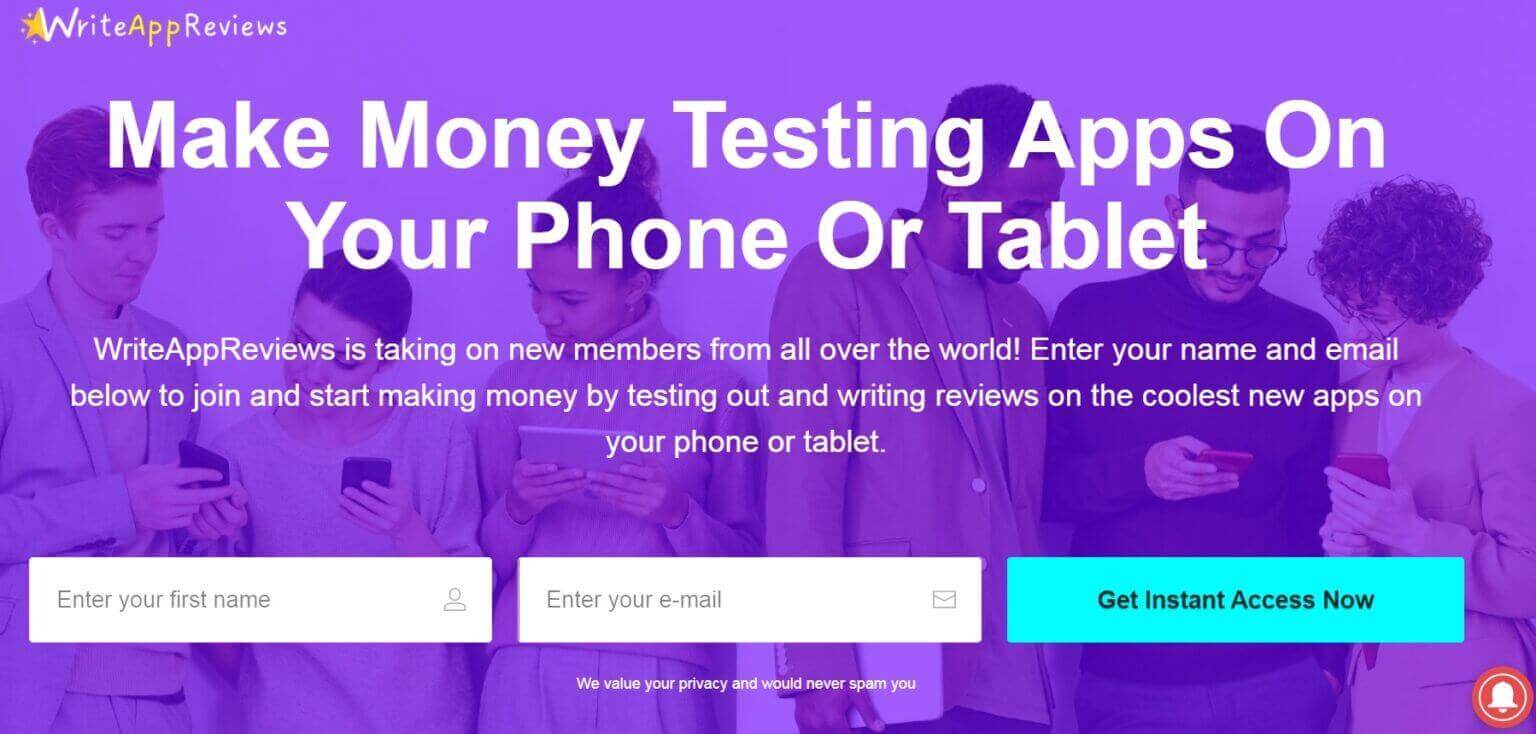 Write App Reviews is a platform that claims you can earn $25 to $35 per hour by writing reviews for new apps.
(Interestingly, another platform called Social Sale Rep shares similar characteristics and is likely to be from the same founder.)
The process starts with testing a new app and then writing the review directly on their platform. It appears to be a work-from-home opportunity, which may seem enticing.
Additionally, they create an impression that there is a shortage of reviewers, particularly in your area.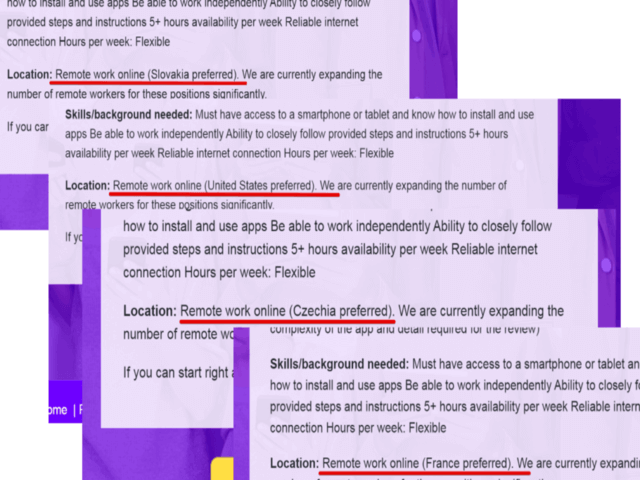 No matter where you are located, you will receive the same message indicating that your location is preferred.
(I occasionally use VPN to access websites from different locations. This is because not all US websites are accessible from the EU.) Additionally, it's useful to verify information on certain websites.
The advertised price is $27, granting you access to the members' area where you can start writing reviews.
You might expect to be paid for each review you write. However, it doesn't work that way.
Feeling disappointed? Well, brace yourself, because it only gets worse.
Please bear with me for a moment as we explore some information about their website.
Write App Reviews website information
The website was registered in 2020.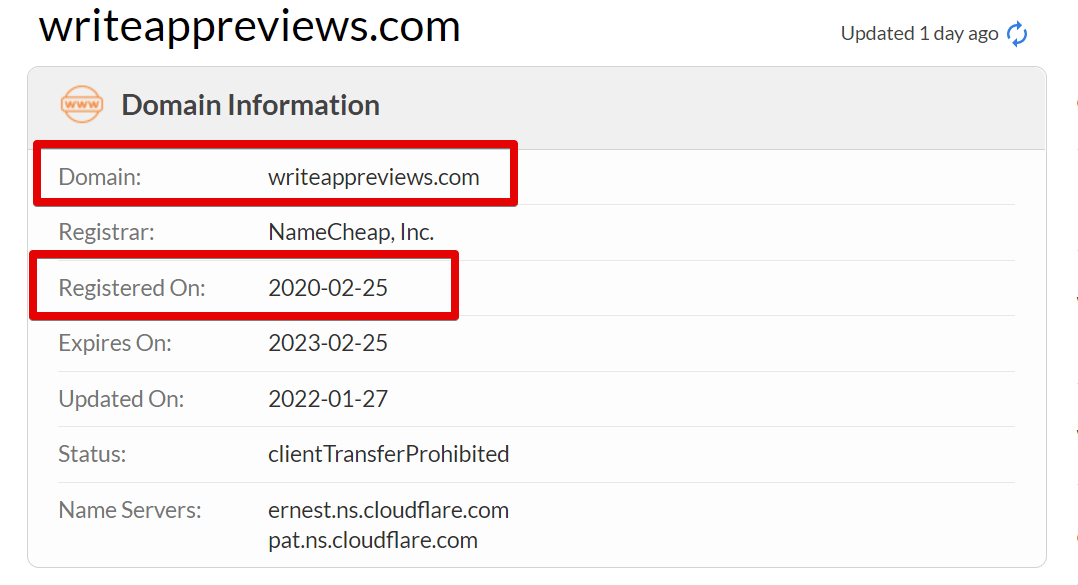 Fair enough, still quite a new one.
I was also curious about the traffic this website receives. According to Ahrefs.com, the website consistently attracts a bit of organic traffic and also paid one: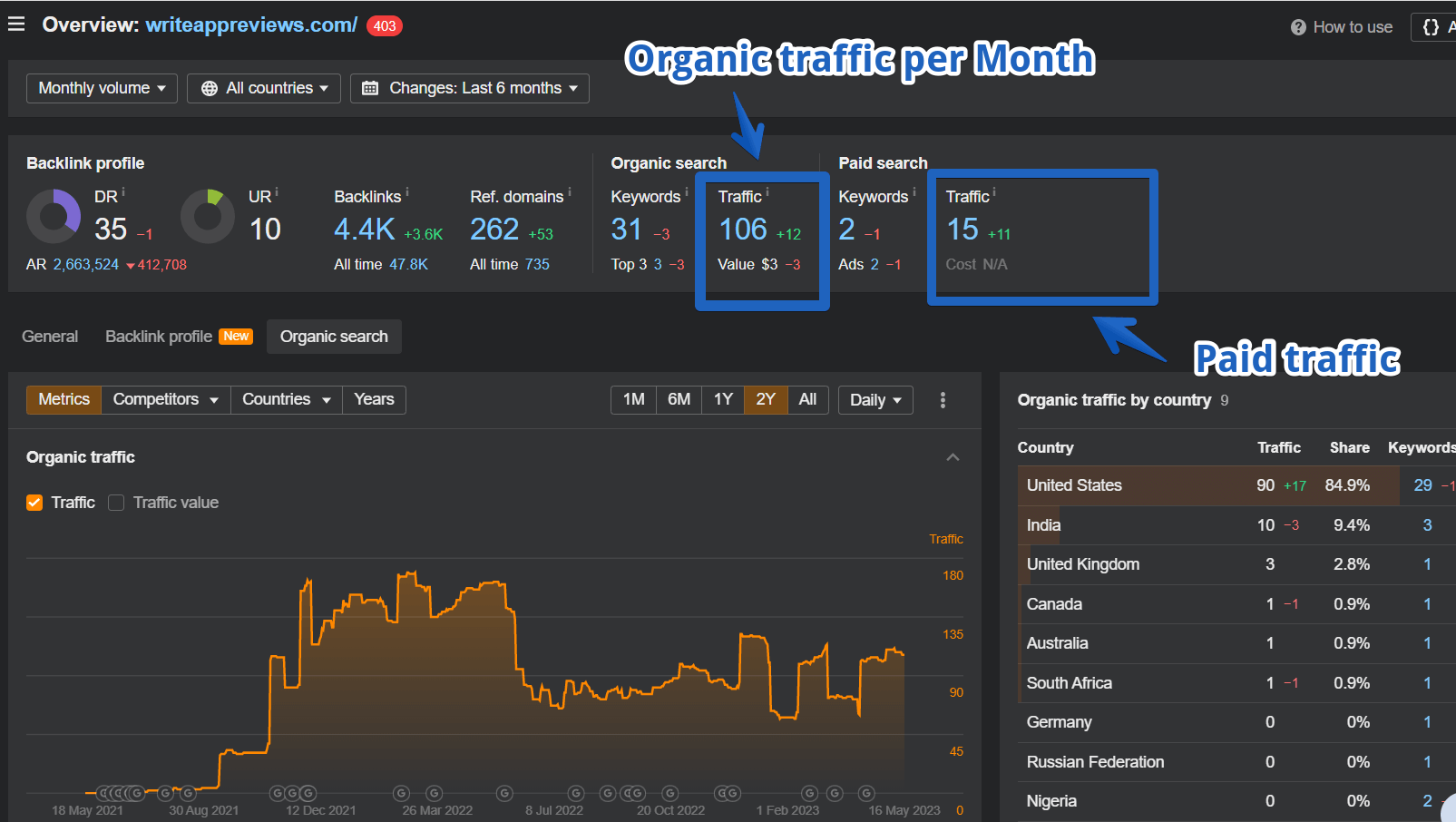 Most visitors coming to their website are from the USA.
Then it is:
Who Is Behind Write App Reviews?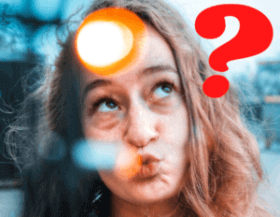 When dealing with platforms like Write App Reviews, or any other websites that claim to teach you how to make money, it is important to first try and identify the individuals or entities behind the website/platform.
Every legitimate platform usually provides an 'About Me' page/section or 'Who We Are' information.
If there is no clear information about the people running the platform, be careful. Something seems amiss, and it's wise to think twice before providing your credit card details.
Despite my extensive research on their website and other sources, I couldn't find any information about the founder of Write App Reviews.
This is a red flag that warrants further investigation.
Write App Reviews Is a ClickBank Product
We know that Write App Reviews is a ClickBank product, and ClickBank has quite a good reputation.
Quite OK.
(not entirely OK.)
The thing is that even here in the ClickBank marketplace, you find a lot of misleading products (including the make money online section).
But that doesn't mean that ClickBank is not legit.
ClickBank is a legitimate affiliate network.
And what I really appreciate about ClickBank is their money-back guarantee policy.
It really works and if you are not satisfied with the product, you just go to ClickBank support and ask for a refund.
In my experience, I always got my money back within 3 days.
Who Is Write App Reviews For?
Most successful internet marketers started somehow. And I believe all of them wanted to find out the quickest and easiest way how to make money on the Internet.
Those who kept searching found out that there is actually not an easy way how to really make a lot of money.
Write Ap Reviews, is software for those that actually want to make a few bucks here or there.
But is it?
It doesn't have any advanced training that you can leverage and apply to the real world, though.
So is this really for you?
Even if Write App Reviews do work, you still trade your time for money, since you are supposedly paid by the hour.
If you are Ok to trade your time for money, I believe you better go to check platforms like
Someone can hire you and you don't have to pay for any platform like Write App Reviews.
In case you want to learn more and you are willing to invest in yourself (time), Write App Reviews is not for you, either.
How Do the Write App Reviews Work?
First, you enter your name and email.
Then fill out some info about how much you can work and what platform you will be using.
Well, first this looks like a legitimate process, but the more time I spend on this platform, the more I realize that it is just a dummy.
I mean it doesn't matter what information you put in there, you always will be approved.
"Amazing", right?
It seems like you are lucky and you can get access to the app for just $27.
Or even less if you claim their discount.
Then you can download the app, test it and write an article about it.
This doesn't have to be on your website. They provide you with the platform that you use to write the review.
It can be a good thing but at the same time, I see much more benefits to having your own website.
See, the easy way is not always the right way.
Let's dig a bit deeper to find out how to make money with this thing.
How Can You Make Money With Write App Reviews?
By now you probably understand that it is very difficult to make a consistent income with the Write App Reviews.
But let me share with you (in theory) how you could make money with this system.
(The thing is that idea of making money presented on their sales page is not bad and it actually works).
There are 3 steps:
Step 1 – Sign up with Affiliate networks: ClickBank, and JVZoo (also called affiliate marketplaces)
Step 2 – Pick an app from their database, test it out, and write a review about it
Step 3 – "Log in each morning and check how much you have made" – well this is an easy one right? 🙂
The first and the last step are pretty clear so there is no point to elaborate on these two.
But let's take a closer look at Step 2.
Your task is to download the app, test it out using your tablet, or phone and then start creating the review.
Review Where?
You have access to a WordPress site, within the Write App Reviews dashboard.
BTW, WordPress is a free and open-source content management system.
This very website is created with WordPress as well (and a platform where I have learned how to create this website is called Wealthy Affiliate).
Inside the Write App Reviews members area, one would expect some tutorials showing how to navigate through this content management system.
But the instructions are very limited and you are shown only how to:
add image
add the content (text)
publish it
But no training on how to structure a text, and how to optimize it.
OK, But How To Make Money?
I get it, you want to know where is the money 🙂
In theory, with the website, you have a chance to make money through ads.
But here's the thing:
you need lots of people to visit your website to make good money from those ads.
So, the trick is to find ways to attract lots of visitors to your website without spending a ton of money.
And the problem with Write App Reviews, you get a website that's already set up for you, but it doesn't receive a significant amount of free traffic, if any.
But according to the Write App Reviews, there are 3 methods how to monetize the content.
1) Ad Banners
The site is preloaded with advertising banners.
These banners are related to ClickBank products and JVZoo products.
So if a person clicks on the banner, likes the product, and purchases it, you get a commission.
2) Email Opt-In List
Besides banners, there is an opt-in form, so if someone enters their name and email address, you can then write them an email and send them a link with the offer.
The problem is that people just don't share their email addresses, here and there, for nothing.
Email marketing is basically an internet marketing technique that requires some studying to make it right.
Again there is no training within the Write App Reviews, whatsoever.
3) App Download Buttons
Again, such buttons are part of your website.
So if someone clicks on the download buttons they are redirected to other pages with more offers from ClickBank and JVZoo.
If someone purchases it, you get a commission.
Sounds easy, right?
But here are certainly major issues.
If someone clicks and purchases it you get a commission
This is the main issue.
There is no one who can actually come to the review and read it.
How does he or she find it?
Usually, when people search for information they go to Google and ask questions, or put some phrase in the search engine bar.
Then you see a bunch of results.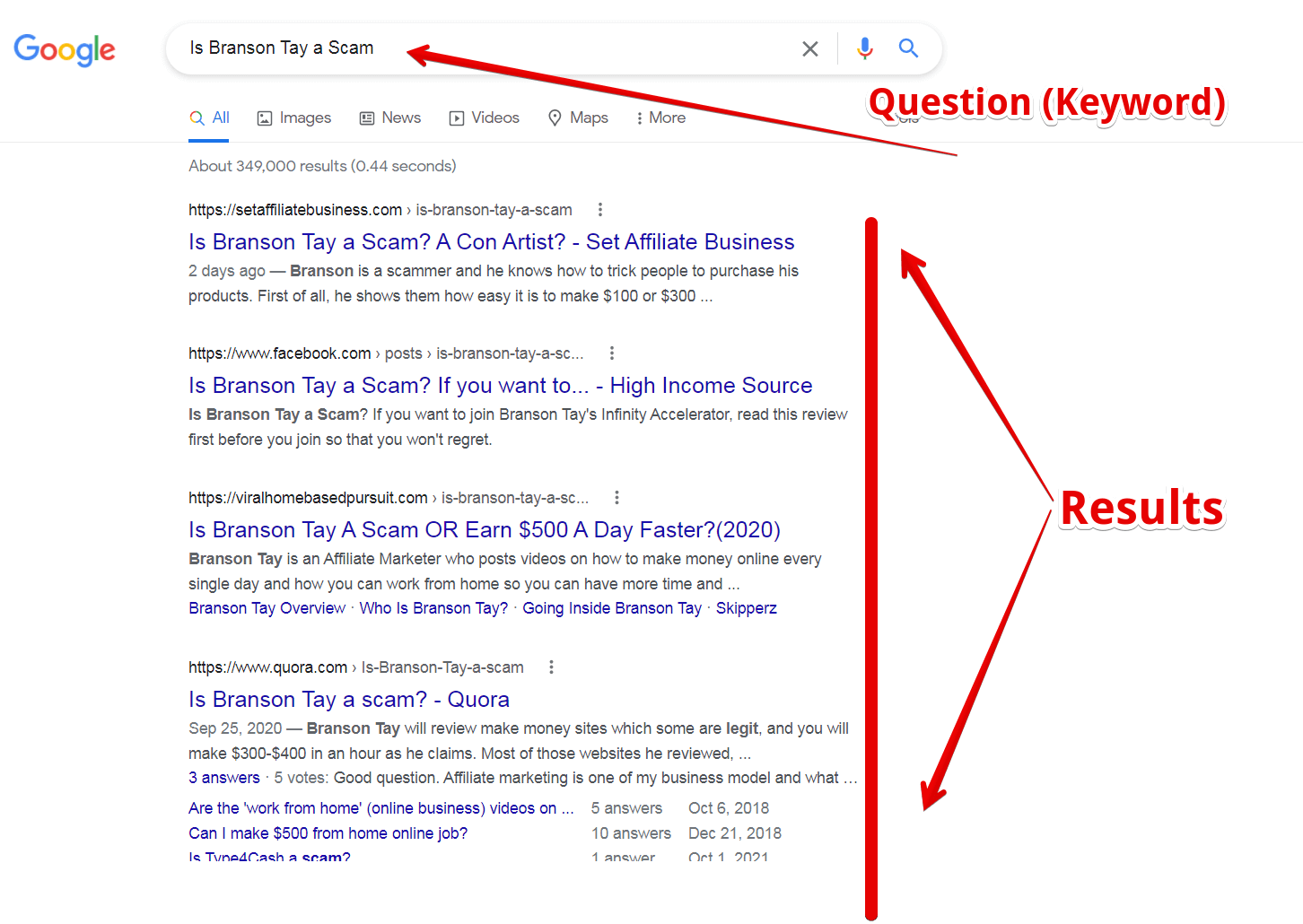 All these results are on different domains/websites and they are pretty well optimized. It took some skills for these people to get to the 1st page of Google.
With the reviews written within the Write App Reviews, you won't get even to the 10th page of Google.
Here is why:
The content is not well optimized
It is on subdomains that every customer of this system use
The content is not unique and therefore can't rank well
How Much Does Write App Reviews Cost?
As mentioned the price is $27.
But it is easy to get a discount.
Just hover over to the button that closes the page, and you see the pop-up saying, get this product for $17.
So that is not a bad price, right?
Depending on your location, you might or might not add a Tax to it, so the total price might be a bit higher than advertised.
But that's not all.
There is a bunch of upsells as well.
I am not going too much into detail but, at the end of the day, the final price might be several times higher than the front-end price.
Just take a look at their sales funnel:
Let's count together
1st Upsell – $97
2nd Upsell – $57
3rd Upsell – $37
So this is just $191 for upsells.
And from the structure above you see, that even if you skip it, they won't let you alone, so to speak.
You are shown a "discount", which should make you feel better…
But the truth is that even if you pay for all of this, you won't be able to make more.
it is a waste of money (and time).
Write App Reviews Red Flags
1) Fake Testimonials
Well after years of doing research, I already can spot fake testimonials.
The thing is that many platforms in order to look legitimate, hire actors and pay them money to say something nice about this or that product.
Unfortunately, it is the case with Write App Reviews as well.
For example this lady here, actually both of them: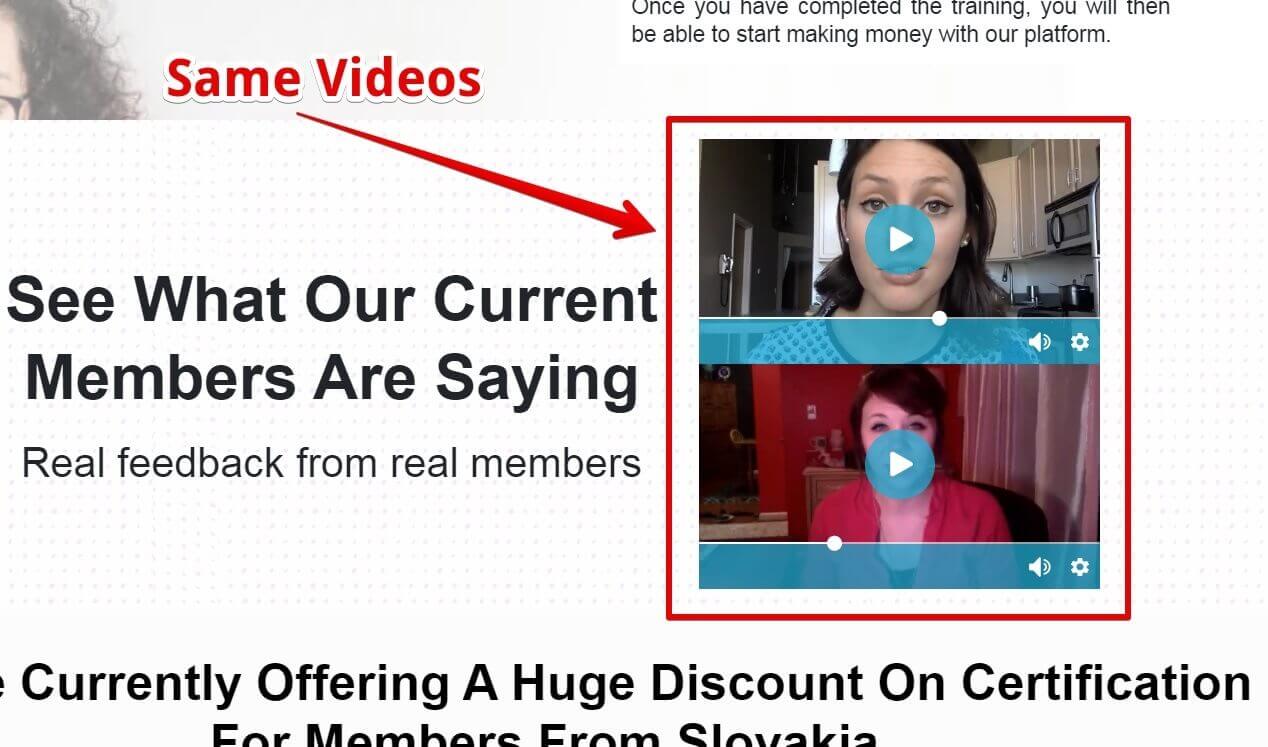 She is the same person that did the testimonial in the predecessor of Write App Reviews.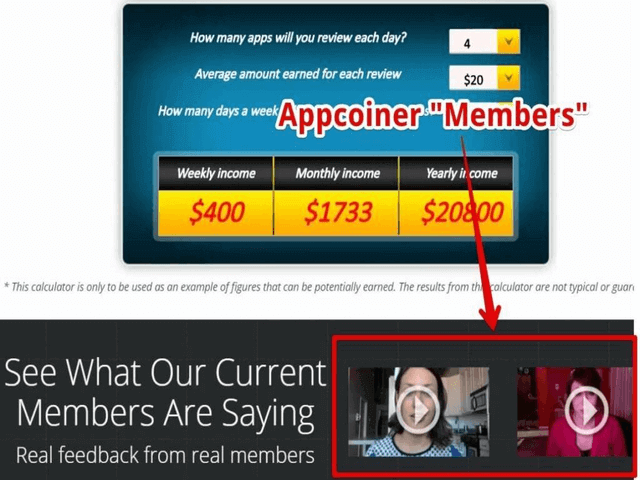 It was called Appcoiner.
And Appcoiner's website doesn't exist anymore.
Just listen to her, what she has to say about the Write App Reviews:
She talks about Appcoiner, doesn't she?
And yes, this video is from Youtube, but that screenshot (the 2nd above) is from the Write App Reviews sales page.
And it is the same video as you can watch here.
Don't get me wrong;
Being an actor on Fiverr is a legitimate job. I understand that.
My point is:
Write App Reviews has been created in 2020, and we know that.
Does it mean that they have not been able to ask 2 of their students to provide a genuine testimonial?
To me, this is another red flag and really I would think twice, before using my credit card.
2) Rebooted AppCoiner
The 2nd red flag is related to the first one, but it doesn't have to be the case with other products.
These testimonials are talking about Appcoiner, which is a totally different product.
I did the AppCoiner review back in 2019, so it is not that they use fake testimonials they even uploaded wrong and old videos.
No wonder this product seemed similar to me.
Write App Reviews is just a new version of the AppCoiner, that has been shut down.
But they kept the testimonials, right?
This is actually a bad sign.
I mean why would you change the name of the product in case it provides value?
Well, I can think of at least 1 reason:
ClickBank removes products that have a high refund rate.
You know that there is a money-back guarantee if customers are not happy. If there are a lot of unhappy customers, ClickBank doesn't want to have such products in its marketplace.

Therefore whoever is behind the Write App Reviews, changed the name, and the website, but basically, sells the same stuff.
And that's not all;
Write App Reviews is a product developed by the same individuals responsible for the Payid Social Media Jobs, Paid Online Writing Jobs, and Social Sale Rep.
3) Misleading Sales Page
I believe I have covered this.
But just wanted to point out that on their homepage, they sell you the idea of how easy it is to make $25 to $35 per hour.
The truth is though, that it is almost impossible to make $1 with this system.
Write App Reviews reviews
When conducting research, I always rely on various sources, and one of the most trustworthy platforms is Trustpilot.
Now, let's examine the Trustpilot reviews for Writeappreviews.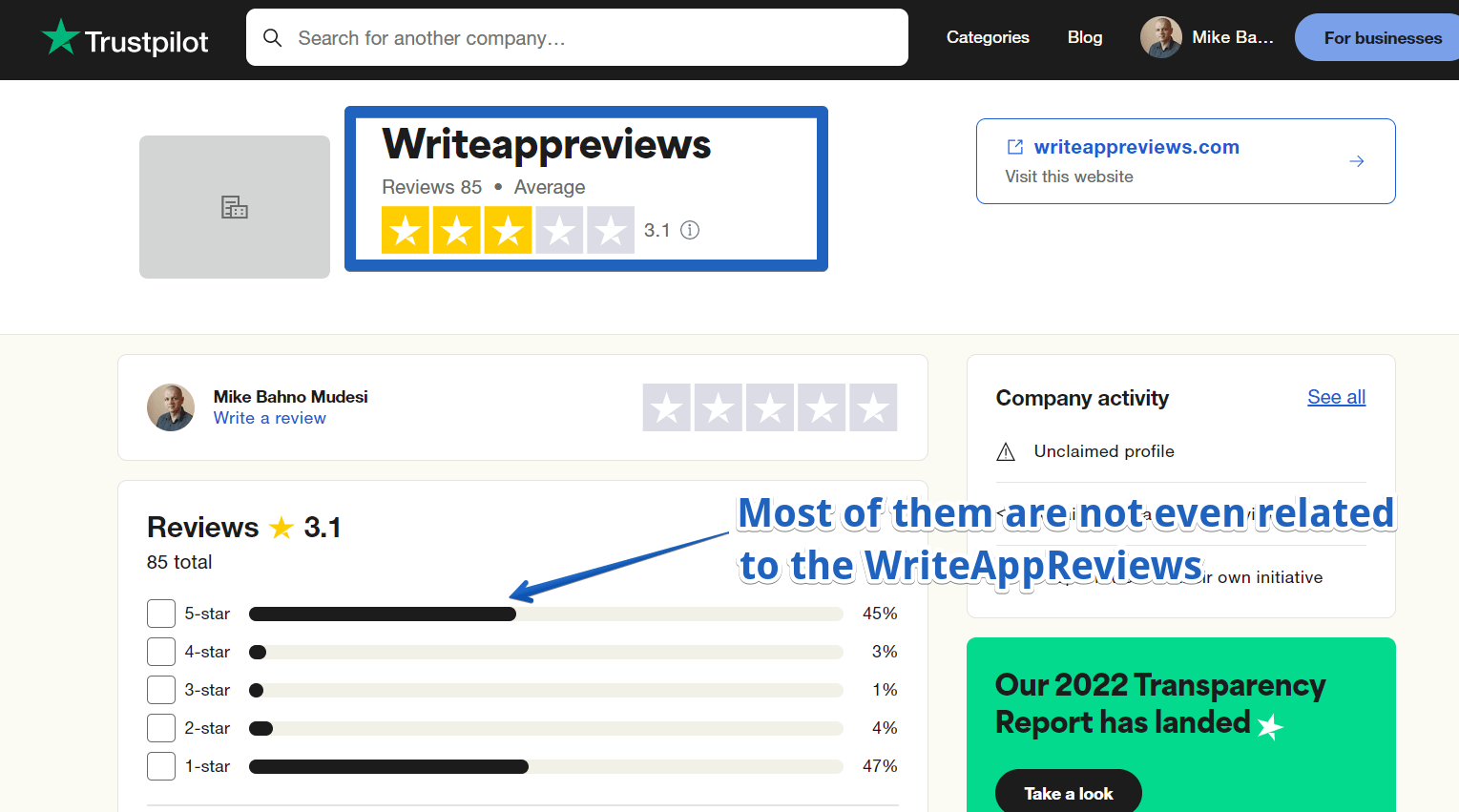 Surprisingly, the 5-star review is unrelated to the app itself.
This is an authentic and honest review specifically about Write App Reviews: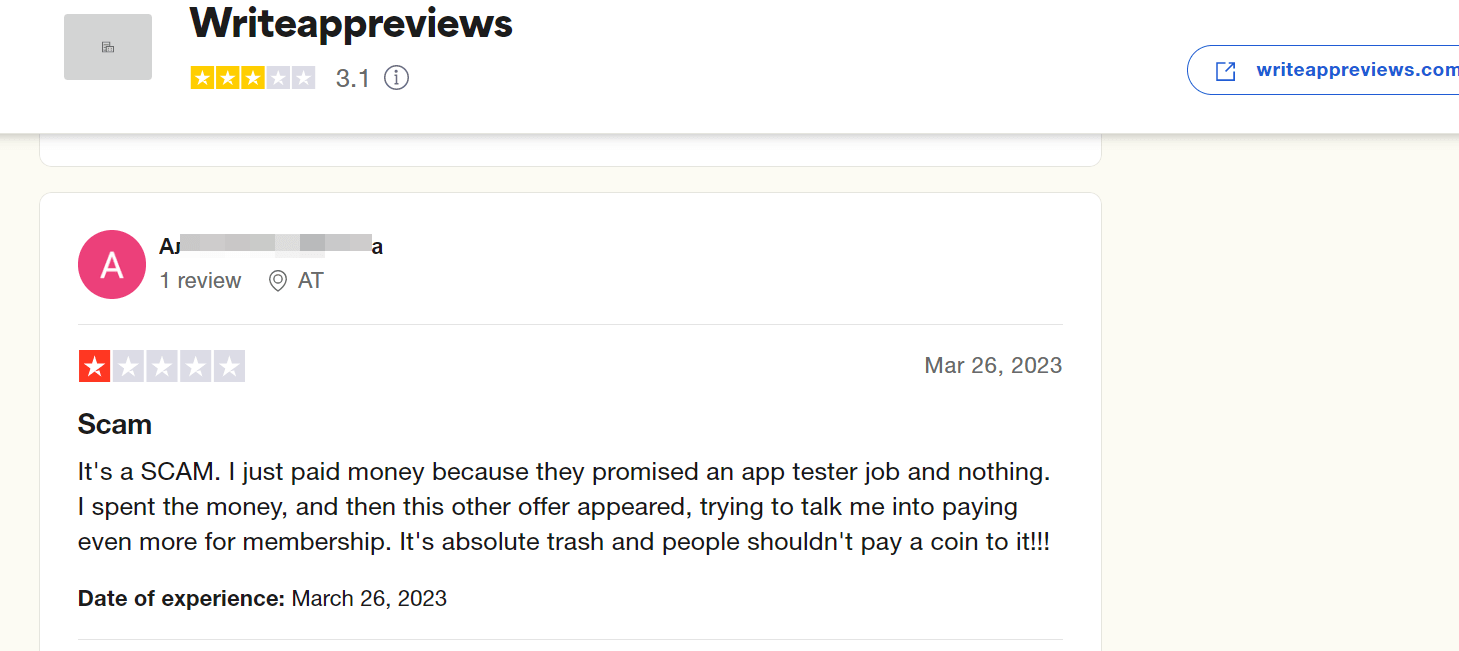 Based on these ratings, it's evident that people didn't receive what they were promised, leading to only a few positive reviews.
They were essentially deceived into making a purchase, resulting in disappointment and frustration, which prompted them to write negative reviews and label it as a scam.
I empathize with their experience because nobody adequately explained the actual workings or the true requirements of earning money online.
Write App Reviews Pros

1) Money-Back Guarantee
It is a ClickBank product, and that means, there are no issues when it comes to the refund.
In the last 3 or 4 years, I only have a good experience with ClickBank and they always gave the money back to my account within a few days (the longest one took 3 days).
2) In principle, this works
This business model is right and it works,
But they don't teach you anything about how to get traffic, meaning how to get people to your website.
And that's not it. You need to learn how to get potential customers to your website.
People that actually are interested in the content your write.
And that brings me to the Cons…
Write App Reviews Cons
1) Unrealistic Income Claims
Write App Reviews does Not pay $30 per hour.
You have to actually create your own content, add banners and affiliate links, and then there is a chance to make some money.
Assuming that you know how to get at least 500 visitors a day to your website.
2) Rehashed product
Appcioner was the original product that used to promise the same.
Make about $30 an hour for testing apps and writing reviews. The site doesn't exist anymore.
It has been all rehashed and not it is called Write App Reviews
3) Fake Testimonials
Not only that these testimonials are from actors.
These are taken from the older version of the same product.
Copied and Pasted.
The creators did not even bother to pay new actors to say fresh "testimony".
4) Hosting on their site
I already mentioned this. All the content you write is hosted on their site.
So the content you create will have the following URL
www.yourname.freshappreiews.com/app…
The next customer will have:
www.Hisname.freshappreiews.com/app…
www.Hername.freshappreiews.com/app…
Do you see where I am going with this? It is all hosted on one domain.
This won't rank well in Google and other Search Engines (Bing,/Yahoo DuckDuckGo)
The content that ranks well on Google must be unique and hosted on a unique domain.
Now did you see how many people visit their website (from the screenshots of traffic)
Thousands a day.
Probably only a small portion of these people purchase the product, but that is still a lot.. since the majority of them will have pretty much the same content.
And that is not unique, that will not rank. As a result – No visitors and thus no revenue.
Is There a Better Alternative?
Sure there is.
As already mentioned the method I use is not that far different from the Write App Reviews.
The main difference is that the platform where I have learned how to get people to my website and click on a "banner" or affiliate link, has step-by-step training.
It is a thorough course that has been established back in 2005. The platform has more than a million members and there are plenty of successful affiliate markers, making 4, 5 even 6 figures.
Besides the online training, there are:
weekly live classes,
the support,
the tools,
the websites/hosting,
the mentoring,
access to all updates…
The best part is that it is possible to get started for free.
For more information check out the following video, where the co-founder of WA talks about 4 Steps to creating a successful business online:
(After clicking the image, you will be taken to the educational platform where you can watch the video.)
Wealthy Affiliate is a complete platform that helps you build your affiliate marketing business from the beginning.
It provides a free account, including a website, and extensive training on SEO (free traffic techniques), allowing you to start your affiliate marketing journey today.
Is Write App Reviews Legit?
This is actually a tricky question.
Write App Reviews, is not a scam, but it doesn't work as they claim on their sales page.
It is very misleading.
Let's break it down.
The concept they introduce actually works. But they make strong claims about how easy it is to make money with Write App Reviews.
A person that doesn't have experience with internet marketing truly might believe that it only takes a few steps;
sign up
download the app
write reviews
get paid
And they even provide you with some kind of page builder.
But this is just a theory.
It is important to realize that you have to learn how to write an article that Google actually ranks high in the SERP (Search Engine Results Page).
That means you have to have
your own domain
basic SEO Skills (Search Engine Optimization)
a lot of valuable content on your website
And don't get me wrong.
It is actually doable and with proper training, I believe any person can achieve it.
But it takes time and effort.
No app can do it for you, despite the claims on WriteAppREviews homage.
People trust such sites, (it is a Clickbank product) they pay the money and they see that it does not work as they were promised.
As result?
They claim it is a scam.
Well, it is not an outright scam, but one must be careful.
How about you?
Are you interested in how to make money online?
Do you still think it is possible to do it using the Write App Reviews?
Let me know in the comment section below.
Also if you have questions, feel free to do so.
Thank You For Reading,
Mike.
Write App Reviews FAQs
Is Write App Reviews legit?
The Write App Reviews seem to be legitimate, but;
be cautious of unrealistic income claims and misleading testimonials.
Many users have been disappointed by unmet promises, so it's always a good idea to approach with some skepticism. While it's not a complete scam, it's best to proceed with care.
Can you make money with Write App Reviews?
Write App Reviews says you can earn by driving traffic to your reviews on their site, but they're not transparent about how you can actually make money.
The payment methods they offer are also unclear. So, it's important to keep your expectations realistic and be aware of these factors if you're considering earning with them.
How much does Write App Reviews pay?
While they promise $30 per hour, these income claims are unrealistic.
In reality, the chances of actually earning that amount are slim to zero.
Can I get paid to review apps?
Yes, absolutely;
Discover the top 7 sites where you can write reviews and get paid!
These platforms have a huge impact on search results, customers, and local businesses. Check out these well-known options:
ReviewStream
Harris Poll Online
G2
Crowdtap
GetReviewed
Listverse
Ciao
I'm Mike, an internet marketing enthusiast since 2015.
From buying my first website and using paid ads for traffic to mastering organic traffic through SEO and diving into affiliate marketing, I've come a long way.
In 2018, I took advantage of an educational platform where I learned how to effectively monetize websites. While working as an SEO junior analyst, I honed my expertise, enhancing my knowledge and skills.
Now, I apply these insights to offer valuable guidance to help you navigate the world of affiliate marketing and SEO, empowering you to make money online.
Related Resources:
Why Is Affiliate Marketing So Hard?
How Much Can A Beginner Make In Affiliate Marketing?
Wealthy Affiliate Review [2022] – An Educational Platform That Works!