Frank Kern is a veteran of internet marketing. Since 1999 he has tried many businesses online.
Frank even created a pyramid scheme at one point, but he did not know that it was actually an illegal pyramid scheme (more about that later in the article).
I am sure you have more questions about Frank, and in this article, we are going to look at 8 things you should know about Irwin Frank Kern IV.
Yes, that's his full name.
So, who is Frank Kern?
You are going to learn about his new training that teaches business owners how to scale up their businesses.
And also some interesting stuff.
Let's get right into that.
Jump to:
1) Who Exactly Is Frank Kern?
2) How Old Is Frank Kern?
3) Where Does Frank Kern Live?
4) Is Frank a Scammer?
5) What Does Frank Do?
6) Frank's High Ticket Course(s)
7) How Much Is Frank Kern Worth?
8) Does Frank Kern Have a Family?

1) Who Exactly Is Frank Kern?

The very simple answer is, that Frank is a salesman.
A little bit more complex answer would be, that Frank Kern is a well-known internet marketer.
He started as a door-to-door credit card machine salesman. This direct selling can be annoying because of the high rate of rejection.
Frank got tired of it and it was 1999 when he went to the internet to find out whether he can sell this stuff, without actually talking to somebody.
Then he stumbled upon a person who showed Frank how to send emails to people and make some money.
That's right – it is called email marketing.
But before that, Frank (as he claims) was also a spammer and created a pyramid scheme.
More on that in a bit.
Fast forward to today, he has more than 2 decades of experience in internet marketing.
I am sure we all can agree that such a digital marketing veteran has some advice;
And we can learn something from him.
What is probably the best advice?
Check the short video (it is not the newest one, but he gets right to the point).
Can you relate to that?
Because certainly, I can.
I remember in 2018, I had a website, and also I paid for membership in one educational platform.
So everything I needed to start running an online business I had at my disposal, right?
Wrong!
I remember driving around thinking about how to get myself to start creating content. I even said to myself, OK I am gonna park the car, sit in front of the laptop and start writing.
The first part went well (parking the car), but as soon as I sat in front of the laptop – something happened.
Magic.
I couldn't get myself to write, and I ended up watching Youtube and/or other stuff…
"So stop f…..n around and get to work"
And I realized that Frank is absolutely right about that.
That's the only way how to succeed.
What is success according to Frank?
Whatever figure you have in your mind and you achieve it might be called a success.
But realistically, whatever you make consistently so you don't have to go to 9-5 anymore, is a success.
That makes sense, right?
2) How Old Is Frank Kern?
Well, it depends on what year is it right now as you are reading this article 🙂
As of this writing (April 2022), Frank is 48 years old;
And to be specific, Frank was born on Thursday, August 30, 1973, as Irwin Frank Kern IV.
His father was Irwin Frank Kern III. (third) and he was a veteran of the United States Marine Corps.
Frank the IV, originally comes from Georgia, probably a small city named Milledgeville (if I am not mistaken).
3) Where Does Frank Kern Live?
Frank used to live in San Diego, CA, but according to his website, he and his family now live in Miami, Florida.
I suppose the ocean is much warmer in FL than on the west coast USA…
…actually, that is most likely not the biggest reason why he and his family has moved to Florida.
The main reason is probably the fact that California has among the highest taxes in the nation.
I am sure you have noticed that in 2020 and 2021 a lot of businesses moved from California to Texas and Florida.
4) Is Frank a Scammer?
No, Frank is not a scammer.
He delivers value for entrepreneurs that want to scale up their businesses.
Frank knows what to ask for his expertise, so his course belongs to the high-ticket category.
But…
Was Frank a Scammer?
Here is a short story about his past activities that might have evoked the notion of Frank being a scammer, 2 decades ago.
Franks recalls he used to be a spammer sending "get-rich-quick" ads, for about 2 years.
But that was not the worst one.
How about the Pyramid Scheme?
Frank did create something big, something that could have made him a millionaire.
And at the same time, he probably thought that he could make other people rich as well.
The result?
He was sued by the Federal Trade Commission (FTC Instant Internet Empires):
Frank was told by the FTC that he created a pyramid scheme.
Franks response:
"What exactly is a pyramid scheme?"
The answer from the FTC representative was something like the following manner:
"It clearly looks like this program of yours".
Long story short, FTC took all his money (that was generated by this scheme), he apologized and the rest was closed.
Besides the embarrassing moment, Frank took it as a learning lesson and decided not to go that path again.
That was Frank's bigger failure that taught him a lot.
5) What Does Frank Do?
He sells online courses teaching business owners how to scale up their businesses with Google Ads, Facebook Ads, and YouTube Ads.
He has been doing this for … probably forever (I mean from the time Facebook introduced the Ads).
His website is frankkern.com where you can check the updated information concerning his business activities.
His website was registered back in 2006.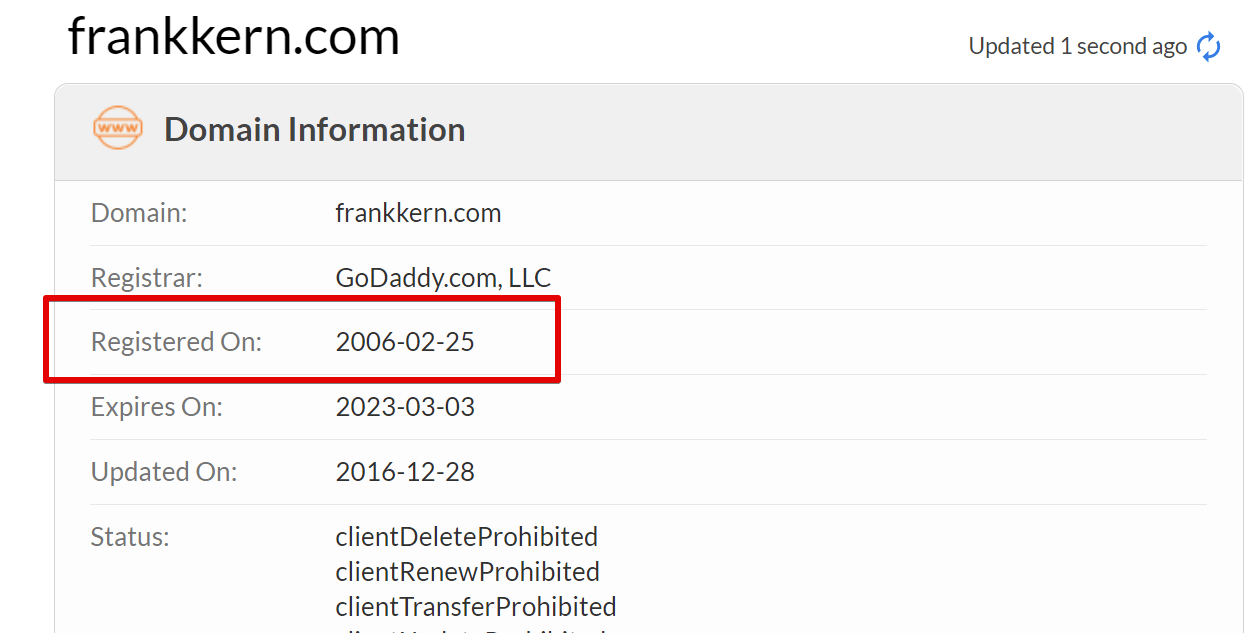 How about traffic?
It gets consistently thousands of visits each day.
According to similarweb.com more than 200K per month.
Most of his visitors come from the USA, then Brazil, UK India, Canada, and other countries as well.
So What Does He Do?
The main goal of Frank's courses is to teach how to literally invest in ads.
Any business owner can learn from Frank how to properly set up the ads, and how to make a profit by running the ads.
This strategy is not recommended for a brand new fella who wants to learn how to make money online.
Unless he or she has a budget for it.
6) Frank's High Ticket Course(s)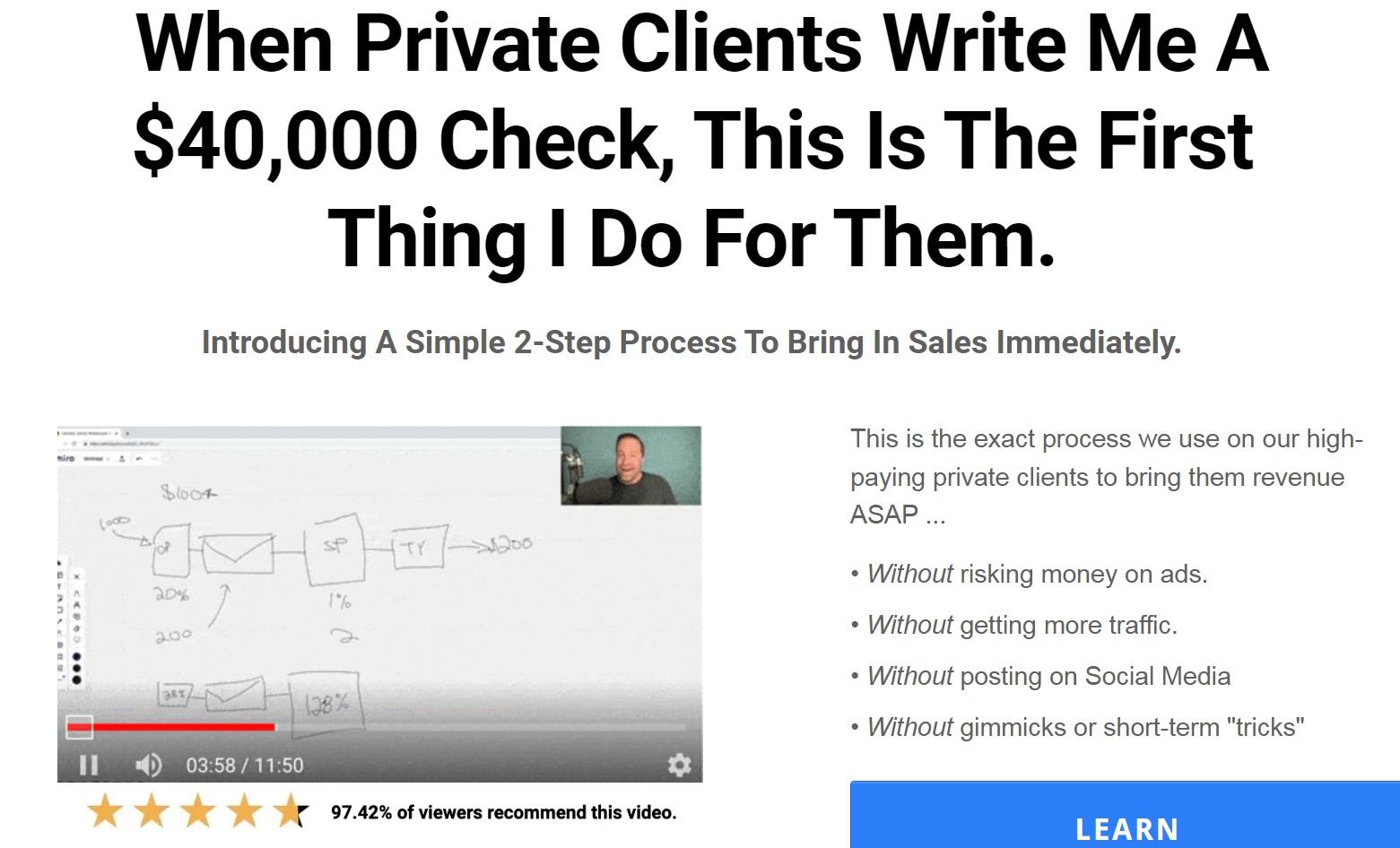 I have watched one of his webinars recently.
What I find really cool, Frank is transparent right from the beginning.
Unlike many "gurus" selling products online, Frank is gonna tell you in a few first minutes that
He has something to sell
It is a high ticket ($2,000+)
And it is not for everyone
The webinar is more than an hour long, and I learned quite new stuff. Even though I am not his typical customer.
To mention a few points:
No matter what you are going to do, you will always struggle. That's the nature of any business. (One must be prepared to overcome the inevitable obstacle).
Keep the money coming (from the customers)
The secret is doing the fundamentals very well
So it is important to realize that it is not going to be a smooth ride but at the same time keep the process simple.
And that is Frank's approach:
Get a list
Sell them something – That is actually pretty difficult, right?
Sell them something else – That is not easier than the 2nd point above.
In the webinar, Frank talks about mistakes that a lot of businesses do.
For example, a company spends $50,000 on Facebook ads and makes $16,000.
That's not very lucrative, isn't it?
Then such business asks Frank, "please fix the ads".
Well, it is not always about the ads.
In other words, you don't want to "pour fuel into a broken engine", as Frank says.
Fuel is the money for ads
The engine is your business (website, squeeze page, email campaign…)
Actually, you can watch the webinar for yourself and form your own opinion:
Who is it For?
Again his courses are not for beginners or a person who wants to start a blog, drive free traffic and eventually monetize it.
Franks teaches how to scale existing businesses.
How to reach more people, and thus increase the revenue.
It is also important to mention that you as a business owner don't need hundreds of bucks daily for the ads.
You start with small figures, like $5 a day, and based on the results you start to scale it cautiously.
What is Inside the Course
It is a 12-week training by Frank and it is done by demonstration.
You are going to go through 3 main steps:
1) Step – Learn how to maximize revenue. It contains a lecture on how to get money now.
As I was mentioning that Frank keeps the entire process simple, and you will learn that there are only 6 sales processes.
2) Step– Automated and Evergreen – make sure that it happens all the time.
(more on that inside the webinar).
3) Step – Ads and Scale.
Frank teaches how to create relevant ad campaigns for 3 different platforms:
On top of it, every student has a One on One access to Frank's team.
As well as a Support that is active from 8 am -4 pm Pacific Time.
How Much Does It Cost?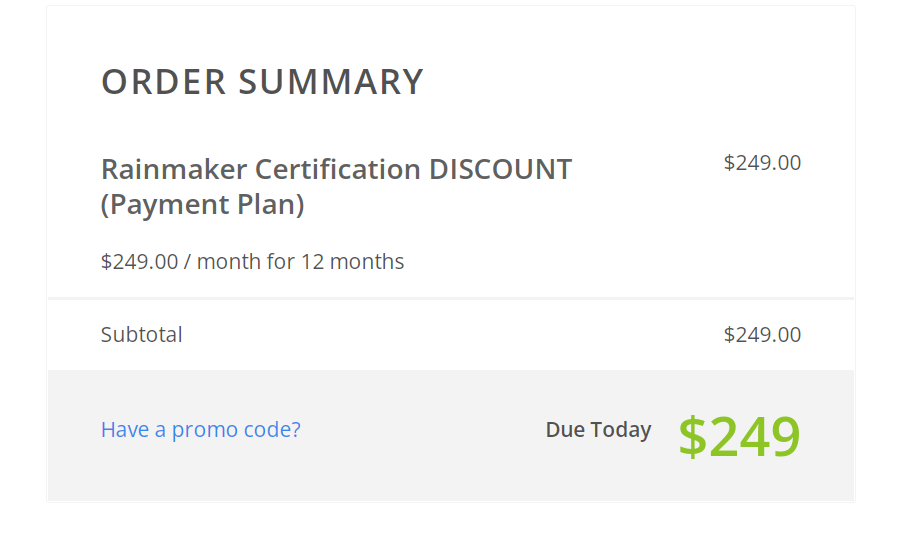 The price is slightly more than $2,500.
You can have a payment plan and pay $249 per month for 12 months.
Of course, there is also the first 30 days – money-back guarantee.
Now the best way to look at the price is as if it is an investment.
You can actually double the money down the road.
7) How Much Is Frank Kern Worth?
It is estimated that Frank's Net worth is about $35 million as of 2022.
You know these numbers are not always very accurate, but it is at least $30 million.(Could it be more, well yeah).
Not bad, right?
Or would you expect that someone who is in the industry for more than 2 decades would be a billionaire?
It is not everyone's goal, right?
Most of his income has been generated from:
One on One consultation (Business owners pay frank tens of thousands per year)
Selling online courses
Live Seminars
From what I have seen in the last 5+ years (on and off), Frank's biggest passion is to show other businesses how to use the ads the right way.
That means that at the end of the day it is a win-win situation for everyone:
For the business owner
For customer
And for Frank
(That would be probably a win-win-win situation).
8) Does Frank Kern Have a Family?
Yes, Frank has a beautiful family.
What I really like about Frank, is that he doesn't share his personal life in public.
He is a good husband, loves what he does, and avoids controversies.
That's why you don't find a lot of information about him and his family, and I want to keep it that way.
How many kids does Frank Kern have?
Frank has a beautiful wife, 4 kids, and a dog.
And OK;
Just a short info about Frank's wife;
Her name is Natalia Muntean, born in Ukraine, she is a Ms. Bikini Universe in 2009.
She also has been a fitness model.
According to her Facebook Fan Page profile, she works with female entrepreneurs.
Frank Kern – Conclusion
These are 8 interesting facts about Frank Kern.
I hope you find it interesting, if not let me know in the comment section below 🙂
How about Frank's curses?
Do you find them valuable?
If you follow him on Facebook, you might have noticed that from time to time he even sells his older course for a few bucks.
So that might be a beginning for someone that still hesitates to pay thousands for the current training.
Have you tied any of his courses?
Do you want to?
The question you should ask yourself is this:
Do I have already a business that runs for a while and want to find ways how to leverage it?
Then probably Frank can help you out.
In case you are just about to start an internet business, and you don't have a website and you don't even know what niche to choose, I would say Frank is probably not going to be the best coach.
Even as a beginner, you can become an intermediate internet marketer making 4 figures a month within a year.
One of the simple business models is most likely affiliate marketing.
Should you have questions about affiliate marketing, here you might find answers:
20+ Questions About Affiliate Marketing Answered
The thing is You need to learn some basic SEO stuff and put an effort into it.
It is not that difficult and even though there is a lot of information out there for free, it would be best to have access to step-by-step training showing exactly what is needed to do. (I can recommend a platform called Wealthy Affiliate).
In case you have questions about Frank or even if you are about to start blogging and want to find out more, please let me know in the comment section below.
I will be more than happy to help you out
Thank You For Reading,
Mike.