You are probably researching online jobs, specifically writing jobs, and you are wondering what Paid Online Writing Jobs is all about.
Why there is a fee, and what can I get if I pay for this product?
These are valid questions and I am glad you do the research since there are many scams out there and also products that don't deliver on their promises.
Is Paid Online Writing Jobs a scam as well?
Or is this a legitimate website that will help you with your financial situation?
Let's get right into that.
Disclaimer
Please note, that I am not a member or an affiliate of "Paid Online Writing Jobs". This review is based on research and information available online in the public domain.
Any recommendations and conclusions are only opinions and may not apply to all persons or situations.
Paid Online Writing Jobs Review – Quick Summary
Name: Paid Online Writing Jobs
Website: www.paidonlinewritingjobs.com
Price to Join: $27
Recommended: No
Paid Online Writing Jobs presents itself as a platform offering lucrative writing opportunities, with the potential to earn up to $100 for 1 to 2 hours of work.
For a fee of $27, you gain access to a range of new, high-paying writing jobs. As per their claims, they continuously update the job listings daily.
However, the issue arises when these promised well-paying jobs fail to materialize.
In reality, Paid Online Writing Jobs functions as a mere funnel, redirecting users to different sites that are actually accessible for free.
In simpler terms, individuals interested in online writing positions need not involve themselves with this platform.
Various other platforms provide the means to browse and select jobs without any cost involved.
For those who find enjoyment in writing, another avenue to consider could be creating a personal blog and transitioning into a full-time internet marketer. While this requires acquiring additional skills, it's an attainable process through learning.
For further details, refer to the link below:
What Is The Paid Online Writing Jobs?
Paid Online Writing Jobs is supposed to be a platform where you can find online jobs and get paid for writing articles.
It sounds like a great way to earn some extra bucks.
Actually according to the claims on their website, one can make up to $100 per article!
Based on my experience with many other digital products, this is a bit of an overstatement and it seems too good to be true.
What I find disturbing, there are non-clickable links right on the home page.
For such a site, that has been around for a couple of years this is not normal.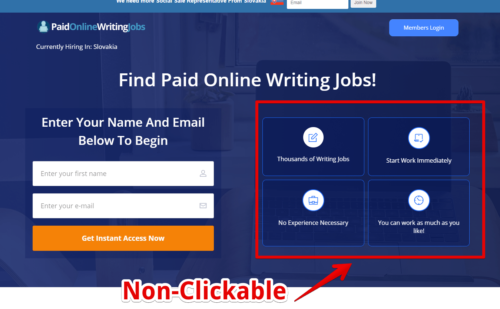 This error alone wouldn't be such a problem, but along with the earning claims, I am becoming already skeptical.
Who is the Founder of Paid Online Writing Jobs?
When it comes to a website promising you to make money, it is always recommended to check who runs it and who the founder is.
If there is no information about who is behind the curtains, be aware that you might be dealing with scammers.
It is a common thing since scammers usually do not leave any tracks. They move faster than the sites that go after them.
Unfortunately, it works that way.
Regarding the Paid Online Writing Jobs website – there is no information about who runs this page.
Another red flag.
I mean, it wouldn't be so strange if the access would have been free.
But we know that in order to get to their list of these jobs one must pay $27.
So that's why I think it would be nice of them to reveal who runs this website, or who the founder is.
Unfortunately, that is not the case.
Who Is the Paid Online Writing Jobs For?
In theory, this platform is good for anyone who would like to make some bucks by writing articles and stories.
Also a good opportunity for freelancers or even for people with regular 9-5 jobs.
But in reality, it is quite the opposite.
They try to make an impression, that this is not for everyone and that there are requirements.
You must meet all the criteria in order to be able to sign up.
And here they go:

Well, I believe 95% of people can meet these criteria.
So, what are these criteria for?
The only reason why they include them is to look seriously.
But the reality is that this site doesn't have what it claims …
So, therefore, I don't recommend wasting time on Paid Online Writing Jobs, and let's check why.
How Does the Paid Online Writing Jobs Work?
You sign up, and you pay.
Supposedly you should get a list of lucrative jobs that pay hundreds of dollars.
There is also a sort of training available, but it is just a PDF file including some links to other websites.
You probably guessed right – these sites can be found easily just by using Google search (or any other search engine).
By the end of this article, I am going to also mention a few such sites where it is easy to find an online writing job(s).
But the guys within the Paid Online Writing Jobs want you to think that you need to pay for their service.
There is no service though…
It is a funnel.
About 2 days after I gave them my email I received an "offer" saying that I can get paid $35 per hour.
There was a link to a different site, called Paid Social Media Jobs.
This seemed familiar to me…
The reason is, that I did a review of this platform some time ago.
After going through an easy questionnaire, I got redirected to almost the same site as the "Paid Online Writing Jobs".
And again I was supposed to pay $27 buck to get that job.
To me, this is very scammy.
First of all, there is no job offer.
All it does is redirects you to another platform (that is owned by the same guy) and yet you have to pay additional money.
How bout the so-called VIP Job Database?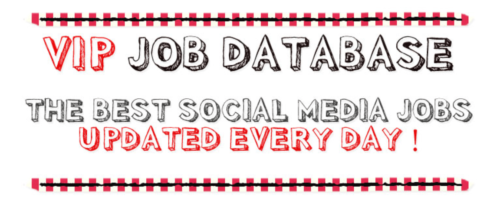 Is there any value?
No, not at all.
Members are given access to this database where they can post jobs a supposedly get hired, but no one from the outside reads this.
So again, it is a waste of money.
How Much Does Paid Online Writing Jobs Cost?
So how much does it cost?
Whatever the price might be, it is definitely a rip-off.
We know that the front-end price is $27, which is not a lot, but considering the "service" one might get, it is just like throwing money out the window.
But is this the final price?
Of course not and once you pay for access, you are asked to get more "service" and therefore you need to pay more.
There are several upsells, that are just annoying, and at the end of the day they are of no value to you
Just let's take a look at their affiliate section.
According to them if you promote this product and someone will buy it, you can earn more than$100.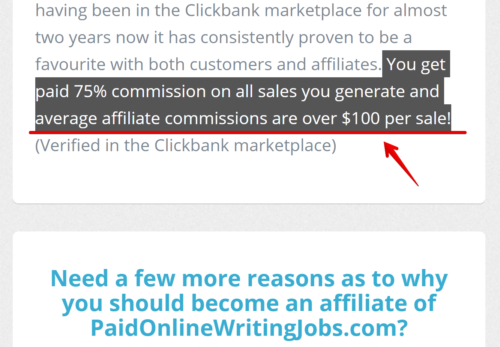 So the $27 is definitely NOT the final price.
I am sure there are people who promote Paid Online Writing Jobs in order to collect such a commission…
But what is the point?
The customer will find out that this service is useless and most likely will ask for a refund.
This is a Clickbank product, with a 60-day money-back guarantee, so there is plenty of time for the customer to figure out what is Paid Online Writing Jobs all about.
Even for affiliates – what's the point of promoting the product, when the majority of customers will ask for their money back? 
That is no commission for the affiliates either. 
Any Legit Sites?
As already mentioned, if you are looking for online jobs, you definitely don't need to go through this platform called Paid Online Writing Jobs.
Just go check the following sites and you can apply for a job, or you can offer your service.
Both sites have more than 10 million visits per month (I believe Fiver has even more than 30M monthly visits).
And there are other places where to find an online job, for example, google the following terms:
pro blogger
freelance writing jobs
You can also check the following article about How to Find Online Jobs.
I used to think about jobs like that but then I realized that that is just exchanging my time for a limited amount of money.
In other words, this is not scalable.
If someone has writing skills, why doesn't he or she create his/her own website?
And make no mistake about that; these days it is extremely easy to create a website.
The more challenging part is content creation and making the website rank well on Google and other search engines.
With proper skills, this can be learned.
And I agree that a new website needs some time and enough content to rank well.
Fair enough.
This is a long-term game.
And here are two types of people
Person – in about a year or two still create content for another website, earning $15 to $30 an hour
Person – also starts writing for others, but at the same time decides to create content on his own website
In about a year or two, he has a consistent income from his own website, and he can even hire others to write for him.
Imagine having a website with thousands of daily visitors – This is a great way of passive income.
We are talking about 4 figures per month minimum.
I get it, one has to pay the bills.
It is possible to have a part-time job (even to be found on Fiverr) and the rest of the day spend time on its own website.
It is about what you prefer.
Again don't be afraid of new things.
The stuff regarding SEO and how to properly structure the website and so on – can be easily learned.
There are many legitimate courses online, but the one I prefer is probably the best bang for the buck.
What I like about Paid Online Writing Jobs

60 Days Money Back Guarantee (since it is a ClickBank product)
What I don't like about Paid Online Writing Jobs
It is just a $27 funnel that redirects to websites that are available for free and easy to find
Unrealistic income claims
Upsells with no value
Is Paid Online Writing Jobs a Scam?
I would call the website Paid Online Writing Jobs a scam if there wouldn't be a money-back guarantee.
Fortunately, this is a ClickBank product and they all have the same money-back guarantee policy:
"ClickBank will allow for the return or replacement of any product within 60 days from the date of purchase."
Let me know what you think about this site.
Because I am sure a lot of people would call this an outright scam.
And I understand that.
Let's go through this "offer" briefly;
You see a website offering you online writing jobs where you can make $30 per hour
In order to get the job you pay $27 (let's not mention the upsells)
You are redirected to websites that are available for free and there you can find the online writing job
Now isn't this scammy?
Well, it is definitely not worth it.
We have listed some alternatives where you can check the writing online jobs and also any other jobs related to internet marketing.
When it comes to making money online this is an excellent temporary solution.
But there is only a limited amount of hours per day. And such a writer only exchanges his/her time for money.
Obviously, this has limits and can't be scalable.
It is a great way how to start, but at the same time, one should be thinking about a real business online where the work can be outsourced and one can have as many websites as possible.
Sure this is a long-term game, but in terms of earning potential, the sky is the limit.
Don't get me wrong – I understand that there are people that are OK with the income from online writing jobs.
My point is, do not waste your time and money with Paid Online Writing Jobs.
Do a bit of research and you will find the perfect job for you (don't forget to check the sites mentioned above).
If you have questions or concerns, please use the comment section below, I will be happy to give feedback.
Thank you for reading
Mike
What I Know About Making Money Online?
Do you really want to learn how to make money online?
First of all please realize that there is no such thing as a push-button system that generates money on autopilot.
It requires time and effort regardless of the business model.
And what is most likely the simplest business model that can generate consistent income?
It is called Affiliate Marketing.
You sell other's people products;
You don't deal with suppliers or customers.
Just learn how to create a simple website and get traffic.
It may sound like it is easy… it is actually not…
But here is a link to one of the best and most affordable affiliates' marketing training.