You have probably already done a bit of research about this system. If not, that is OK as well. By the end of this review, you will find out whether it is worth buying the AppCoiner or not.
We are going to check who is the owner, how it works, how much money can you make (if any), and what the Pros and Cons are.
I remember AppCoiner used to be available on the website ClickBank (it is an affiliate marketing program with lots of products) but it is not available there anymore.
Does it mean that Appcoiner is a scam?
Jump to:
I did some research and got in touch with ClickBank representatives. They replied to me that they have removed many products due to the high rate of refunds.
It seems to be the case with AppCoiner as well.
We are going to find out.
Disclaimer
Please note, that I am not a member or an affiliate of Appcoiner.
This review is based on research and information available online in the public domain. Any recommendations and conclusions are only opinions and may not apply to all persons or situations.
AppCoiner Overview
Product Name: AppCoiner
Price to Join: $27
Creator: N/A
Rating: 3/10
Do I recommend it? Not Really
AppCoiner Review – Quick Summary
You can get paid to test and review the new apps on your phone or tablet. It is said that when you test and review a new App, you write about it on a website you are given, then the AppCoiner will monetize that traffic and you get paid.
The problem is that it is not as easy as it might sound. You need to have a lot of traffic to get paid. First, someone must land on your review site (which is a subdomain), then someone must click on the affiliate link (which is part of your post) and make a purchase.
And only after that, you will get paid. And in my opinion, the commission is shared between you and AppCoin.
Another issue I see is that you lose control over the entire process right after you finish the review. What happens next is only up to the AppCoiner, which I don't like.
If you like writing reviews you have a big chance to become your own boss – check the link below:
What is AppCoiner?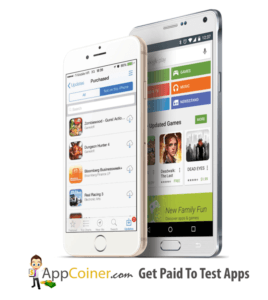 It is a tool where you get paid to test apps.
It seems clear.
It really looks like a great opportunity to make money online. You get paid for testing and writing about new apps.
You need a smartphone or tablet to review the app and after that, it is easy (at least what the sales pitch says):
Choose an app from the AppCoiner database
Test the App out
Login to your AppCoiner account
Write your opinion about the App on your website hosted by AppCoiner
Get Paid (AppCoiner monetizes the traffic and then you get paid)
AppCoiner monetizes the traffic coming to the website by affiliate marketing and probably from ads as well.
Basically, you would work as a freelancer who writes a review for a company.
And these reviews must be honest. In case there is something wrong, the creators of the app will try to make it better.
If it is OK, users will like it, and there will be more downloads.
Sounds pretty good to me.
But does it really work that way?
Who Is Behind the AppCoiner?
First of all, it is always good to check who the creator is. I do that with every product or system.
I was not able to find out who the creator of the AppCoiner is, though.
Let's take a look at least at some data. How long is the website available, and also how much traffic does it get?
According to whois.com, the website appcoiner.com was created back in July 2013.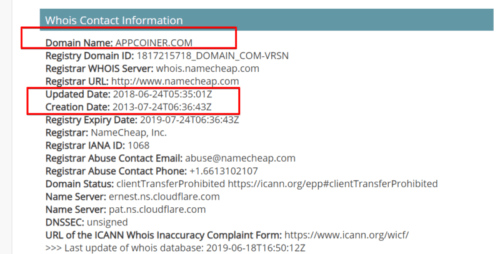 So it has been around for a while, that is a good sign.
It has also had consistent traffic for the last half a year – more than 100,000 total visits per month.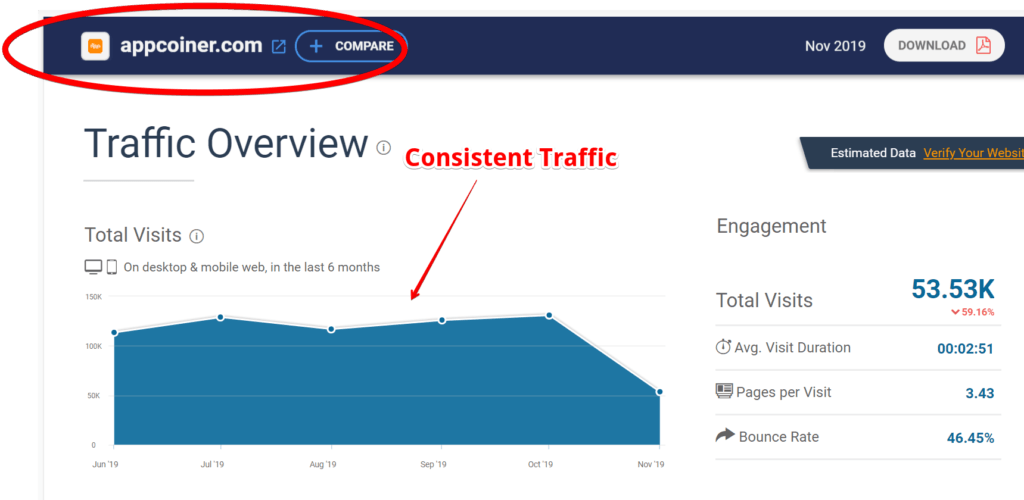 Most of the users are coming from the USA (more than 25%), then Colombia, India, and Hungary.
As of 2022. there is no significant traffic to the website, so it is safe to assume that the service they provide was not that good.
But unfortunately, we couldn't figure out what company is behind the website or who the owner is. The only information I was able to get is that the company is based in New York, but obviously, they are global platforms.
What is interesting is that in the Support section of Appocine, the text goes "Paid Social Media Jobs" – and that is another product: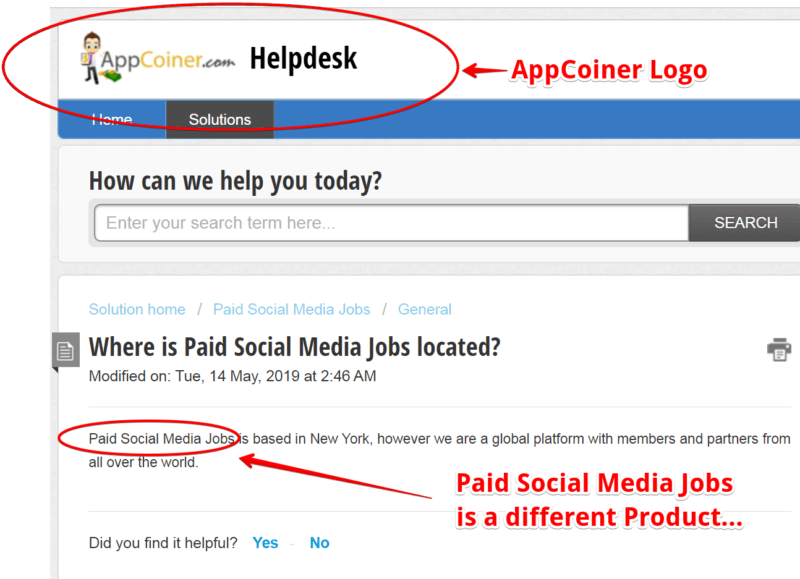 We can assume that they both have the same creators.
The Claims vs Facts
It is said that you don't need to have experience with affiliate marketing. Guys behind the AppCoiner do the "heavy lifting for you"
That is comfortable, but does it mean that I still get paid?
I don't have much control over the process, do I? Can I trust such a system where I don't even know who the owner is?
1. The Owner is not known
When there is a product promising you to make money online and you have to pay for the access, one would expect to know who is the guy on the other side. I guess in this case we can overlook that.
The reason is that this is a JVZoo product and there is a 45-day money-back guarantee.
2. The Price is $27 + Upsells
This is probably just me, but I like to know the price upfront. I hate being dragged into something that looks cheap, and once you are in, you are told to pay 300% more if you want to take full advantage of the system.
Many products do that, and it is a marketing technique. I understand that.
But when a membership costs, for example, $495 a year I expect to pay $495 a year and not a dime more.
They could say, the Appcoiner price starts at $27. That would be something different.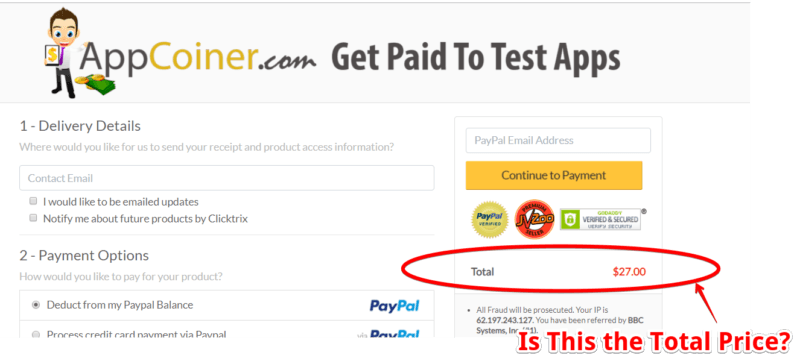 Here is the upsell structure:
Upsells 1 – $9.95 (20 ways to make $100 per day online)
Upsell 2 – $97 (AppCoiner Express Pass VIP Membership
Upsell 3 – $27 (Done for you 50 apps review articles)
Upsell 4 -$47 (Launch a digital product business program
If I am not mistaken the full package costs $207.95.
3) The system introduced in the sales video vs. the real product
In the sales video, you are promised that the AppCoiner program monetizes all of your app reviews for you automatically using banner ads and affiliate links.
They forgot to mention that most likely not all your reviews will be monetized since there is no guarantee that visitors of the website will click on the affiliate link or the banner.
Here is a simplified version of how it works in a real online world:
Someone has to find the review – apparently by searching on google.
If they find your review (out of many other similar reviews) they click on your subdomain and read it (yourname.popluarreview.com)
They must click on your affiliate link
They must purchase something
Only at the end of that funnel, do you get paid.
Well, this is regular affiliate marketing.
It is not that you are being paid for writing a review. If you enjoy writing a review for other people I suggest you visit the website Fiverr. You can find their many opportunities in different niches/categories.
Just choose the niche you like, and people will contact you.
For example last year I was working on a different website and I hired a person who wrote for me product reviews. She got paid for writing reviews. That is what I originally thought the AppCoiner is all about.
But there is nobody who will pay for your writing reviews within the AppCoiner.
I am not saying that you can't make money with this system, but it may be difficult. And the main thing is that you don't have control over the whole process within the AppCoiner.
I think anyone willing to write a review should have a chance to start earning money online as a business owner.
How would you like the idea of having your website, and your niche, you decide what to write, how to write, and when to write. What affiliate program to join – you will be your own boss.
Once you get a full-time income you may outsource the writing part and help other people as well.
4) You don't need to be an expert
They say you don't need to be an affiliate marketer – they do the heavy lifting for you.
I personally like my blog under control.
In my opinion, it is very helpful to know how the blog post should be structured in order to comply with SEO.
Regarding the way how the AppCoiner works, I have not seen any subdomain ranking in the search engines…
Does it mean that their posts are not per basic SEO rules?
Well maybe. But first of all, if you have thousands of people working on app reviews, what are the chances that your post will rank on the 1st page of Google?
Regarding the basic SEO rules, it is not that these are the only rules and I am not saying these 9 steps will always get you to the 1st page of search engines.
But it is a good idea to follow them to the chances of ranking well are higher.
5) Outdated System
It seems that they have done some progress since the last time I had a chance to do a general review of the AppCoiner. (They got rid of the fake testimonials and the "calculator")
But still, I think they did not update the system completely.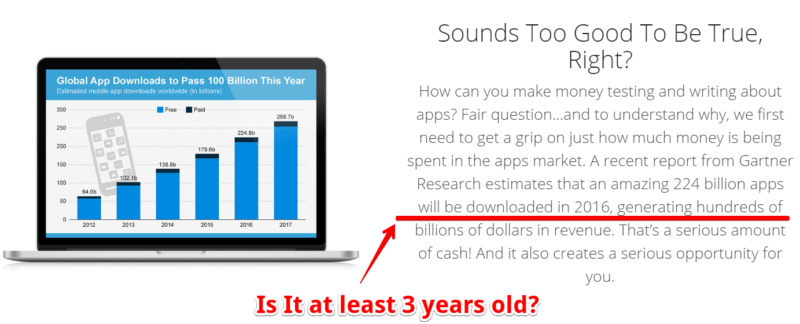 Technology is evolving very fast, especially the Apps for cell phones and tablets. Don't you think that if you have to pay for such a product you want to be part of a system that is up to date?
What do I like about AppCoiner?

This is a legit way how to theoretically make money online.
Money-back guarantee (45 days)
What I don't like about AppCoiner?
You won't get paid quickly as you are promised.
To get paid there is a whole process until the website gets monetized and thus you. Visitors must find your subdomain (yourname.popluarreview.com), They must click on the banner or the affiliate link, and only after that if they purchase something, you get paid.
The worst part is that you have no idea what kind of traffic is getting toward your subdomain (is it relevant traffic?)
There is no training guide
You have to figure out how to write the article and publish a post. It is nothing difficult but one would expect some kind of guidance within the AppCoiner.
Little bit outdated
How About An Alternative?
The AppcCoiner is not a scam.
But I have my doubts when it comes to earning money using AppCoiner.
From the point when you post the App review to the actualy monetization is a long way. Especially when your job is done after publishing the review.
The beauty of affiliate marketing starts right after that.
It is not a science that some AppCoiner systems can have successfully done for you. It is an art and every successful affiliate marketer has to find his or her own way.
Also, it is difficult for the beginner to start from scratch. It is recommended to follow a course or training on affiliate marketing, that is called Wealthy Affiliate.
The one I have in my mind has the option to get started for FREE.
There is no credit card required – just an email. Everyone has access to follow the 7 days of training and after the week he or she can decide.
After the week, there is this option to upgrade to Premium. The cost is about $375 per year, including the hosting fee for a custom domain.
I have prepared also an overview of both systems for you.
In my opinion, once you know how to write a review I am sure you will like the platform (the Wealthy Affiliate) I have just described above.
You can start your own business online so you don't have to depend on anybody else.
Learn how to build a website, create content, and learn how to rank well in Google and other search engines as well.
You will learn more than one way how to monetize the website.
I think you should give it a shot – there is nothing to lose since the Starter Membership is for free and you have an entire week to test out the platform.
Is AppCoiner Legit?
AppCoiner is not a bad product. It is definitely not a scam.
The question is how much money you can make by posting the reviews via AppCoiner?
The thing is that you need to get traffic to your blog post. As have seen your posts/reviews are published on a website with a subdomain yourname.popluarreview.com.
That is not a bad thing either, but imagine a bunch of other people (AppCoiner members) already posted the review about the same app.
It looked like a legit way how to make some money on the side. But at the end of the day, this system is made in a way to earn money for themselves and for their affiliates.
Anyone who decides to promote AppCoiner gets a commission. Based on the Upsell structure it might be around $100 (if the person buys the whole "package).
There is not much value in those upsells either.
You would be much better off if you have your own website, and sign-up for an affiliate program so you get your unique link. Learn how to drive the traffic (organic and paid if you want) and get the commission.
This way you don't have to share the profit with anyone and you decide what product to promote, what banner to use, and so on.
What do you think about this business model?
Is it something that you find interesting?
Let me know please in the comment section below. I am curious about your opinion and I am sure other visitors would like to share theirs as well.
Thank You For Reading,
Mike.