Social Sale Rep has been around for a while, and as of the summer of 2023, it seems to be gaining popularity. It's no surprise that people are still interested in making money online and seeking side hustles for additional income.
However, many online systems are not worth the investment and are only out to take your money.
I have taken the initiative to thoroughly review Social Sale Rep, providing you with an in-depth analysis. This review will help you determine the legitimacy of Social Sale Rep.
We will explore what Social Sale Rep offers, briefly examine their website information (traffic), and most importantly, identify any potential red flags.
Note:
You can think of this review as a helpful guide that you can use when assessing different platforms that promise to help you make money online.
If you come across a platform or website that you want to learn more about, you have a couple of options:
– You can use the search button on my website to see if I've already reviewed it, or
– You can leave a comment, and I'll do my best to provide feedback within 24 hours.
Jump to:
Disclaimer
Please note, that I am not a member or an affiliate of Social Sale Rep.
This review is based on research and information available online in the public domain.
Any recommendations and conclusions are only opinions and may not apply to all persons or situations.
Social Sale Rep Review – Quick Summary
Social Sale Rep is an online platform that claims to make finding online jobs a breeze, with the promise of earning $30 per hour.
They ask for a payment of $1 initially, followed by $47, and assure you that they will connect you with suitable job opportunities. it turns out that their claims on the website don't quite match up to reality.
The courses they offer are only in text format, which may not be ideal for everyone. On top of that, they try to sell you additional products.
Unfortunately, the majority of user reviews for Social Sale Rep are negative.
It's important to keep in mind that Social Sale Rep cannot guarantee employment
What is Social Sale Rep?
Social Sale Rep is a platform that claims to help you find online jobs quickly. They promote the idea of earning around $25 per hour by replying to Facebook comments.
They also offer various other online jobs, matching you based on a survey you take. According to their sales page and video, the most popular job is being a live chat support agent, supposedly paying $30 per hour.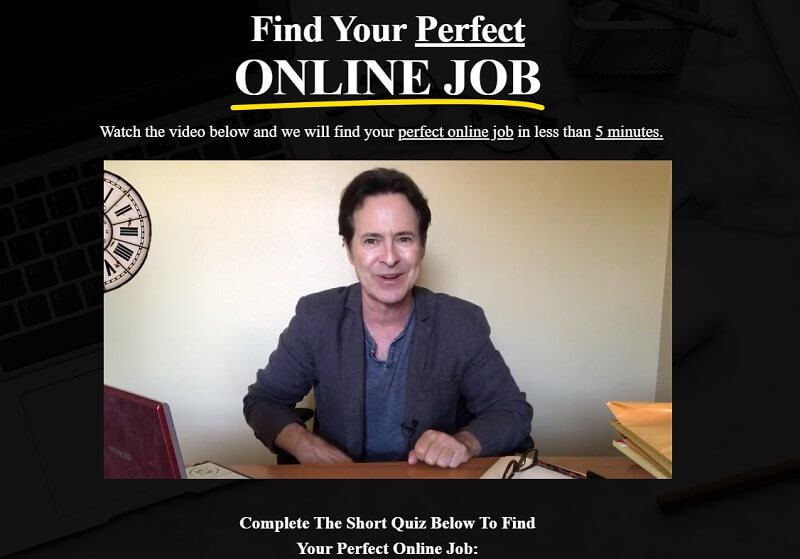 these statements are exaggerated. Even if you manage to secure a live chat support job, earning $30 per hour is unlikely. I have previous experience as an SEO junior analyst in a SaaS company that utilizes chat support software, and I know that such agents don't earn that much.
Let's delve into what this platform actually offers and understand that the chances of finding a well-paying job through Social Sale Rep are slim.
What Is a Social Sales Representative?
While the name Social Sale Rep may suggest a focus on social media advertising and promotion, the platform deviates from this concept.
In reality, social sales representatives primarily utilize social media platforms and online channels to advertise and promote their company's products or services.
They are involved in:
content creation,
relationship development,
and managing ad campaigns.
But the Social Sale Rep takes a different approach by emphasizing the role of a live chat agent rather than a traditional social sales representative.
If you're interested in securing a job managing social media accounts for companies, I recommend checking sites like:
The best part is that you don't have to pay to apply for these types of jobs.
Social Sale Rep in ClickBank Marketplace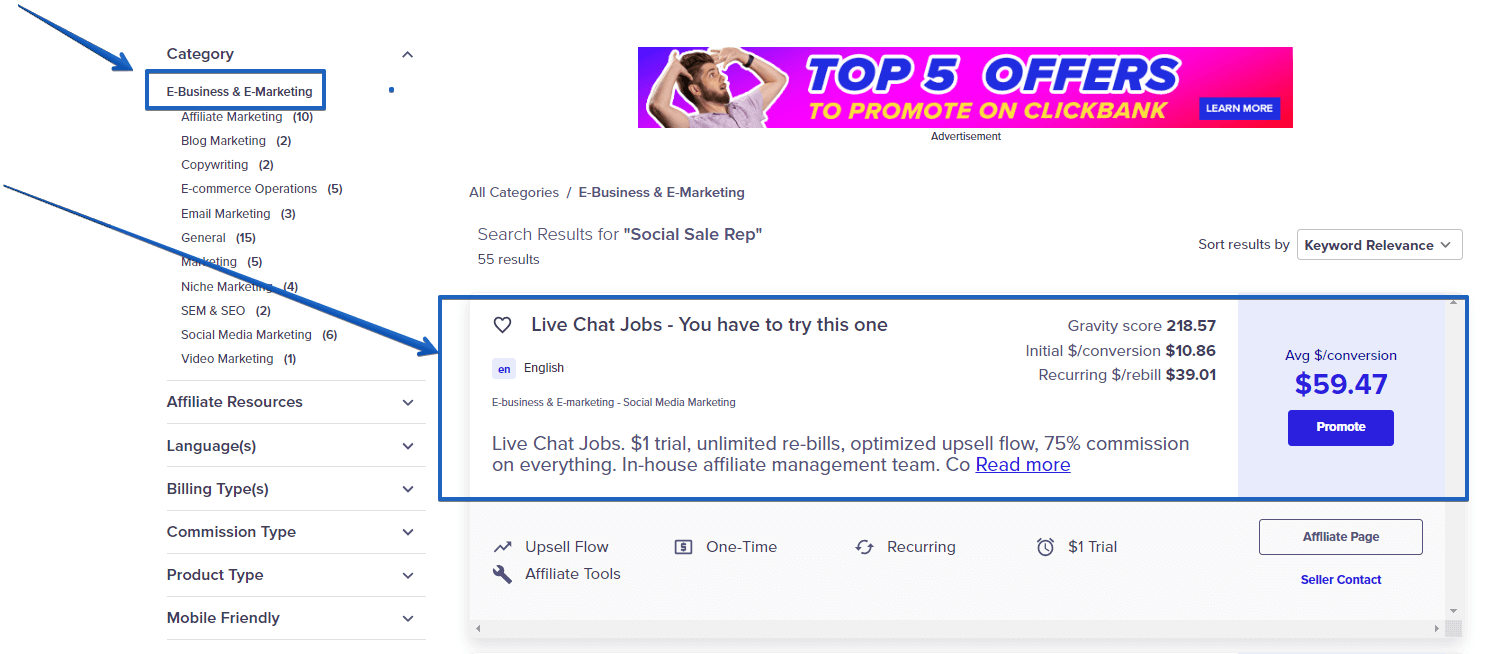 Social Sale Rep is listed as a product on ClickBank, commonly found in the ClickBank marketplace under the E-business & E-marketing section.
When purchasing the product, is done through ClickBank, a trusted third-party platform. This arrangement offers convenience and security.
Based on my personal experience, I have never faced any difficulties with obtaining support or receiving a refund through ClickBank's reliable money-back guarantee.
Who is behind the Social Sale Rep?
The owners or founders of this platform choose to remain anonymous, which is not uncommon in similar online systems. However, in my experience,, every reputable product or platform provides information about their creators.
Unfortunately, this is not the case with Social Sale Rep. The only known information is that it is a ClickBank product.
Curiously, when I attempted to contact them through the provided contact form, I encountered an error, which is rather unusual.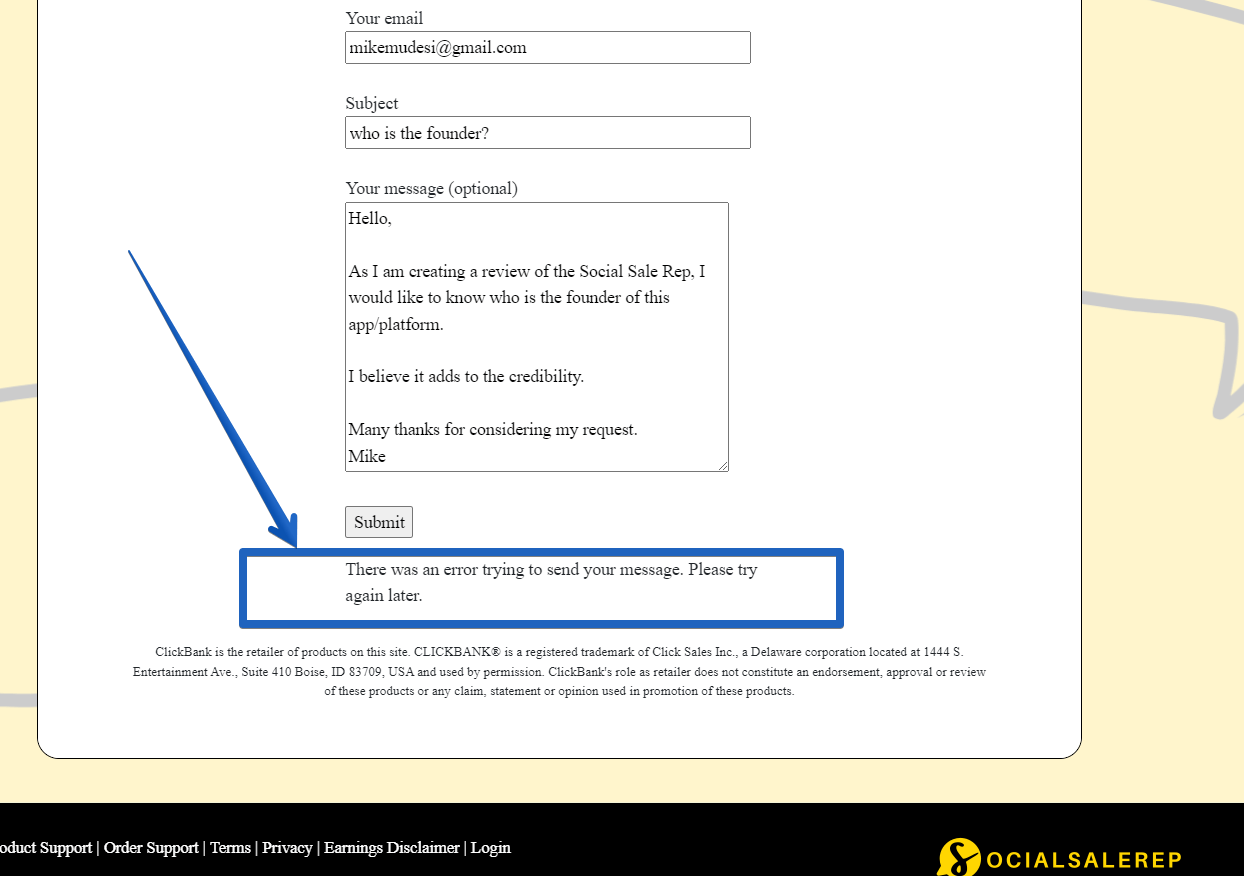 If there is a lack of transparent information regarding the individuals or entities behind the product, it is recommended to conduct some simple research on their website.
Analyzing the Social Sale Rep Website
Analyzing the website traffic of a specific platform is like visiting a new city and deciding on a restaurant. You'd prefer a busy restaurant with satisfied customers, rather than an empty and abandoned one.
Similarly, checking website traffic helps gauge the product's quality.
Additionally, I often consider the age of the website (domain registration date) to make more informed decisions.
When analyzing the organic traffic received by the Social Sale Rep platform, it is evident that the current level of organic traffic is not significant.
However, there has been a recent growth in organic traffic, which can be viewed as a positive indicator.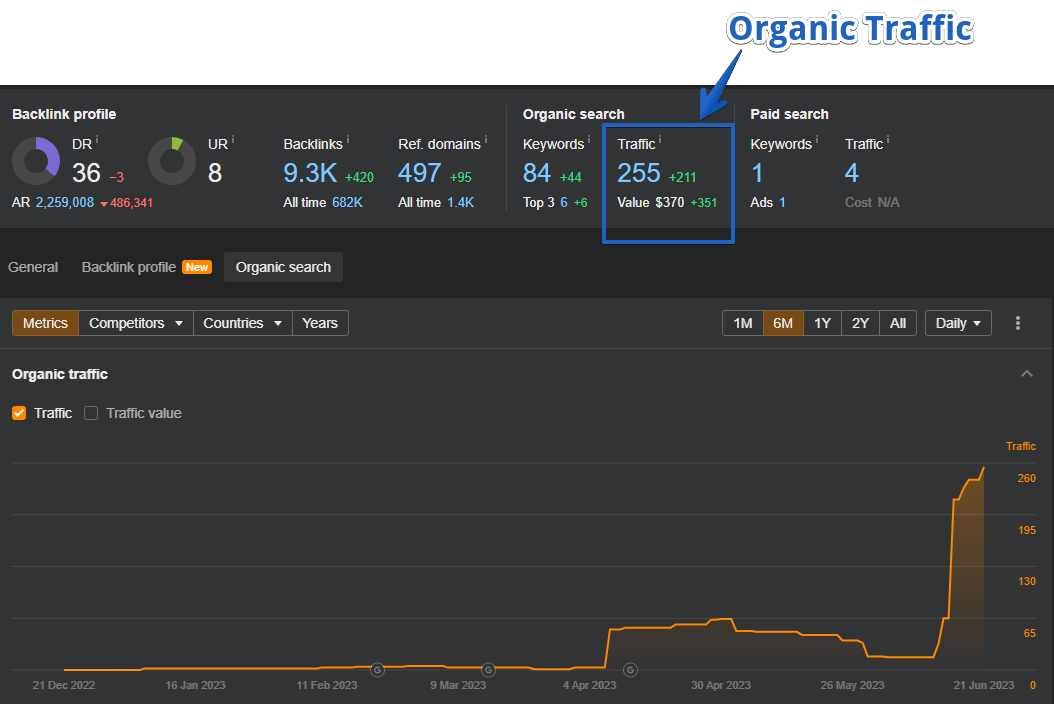 Although the monthly visitor count is relatively low, around 255 visitors, it's important to note that the platform invests in advertising.
This suggests that the individuals behind the platform are generating revenue.
Out of curiosity, I also looked into the geographical source of the traffic.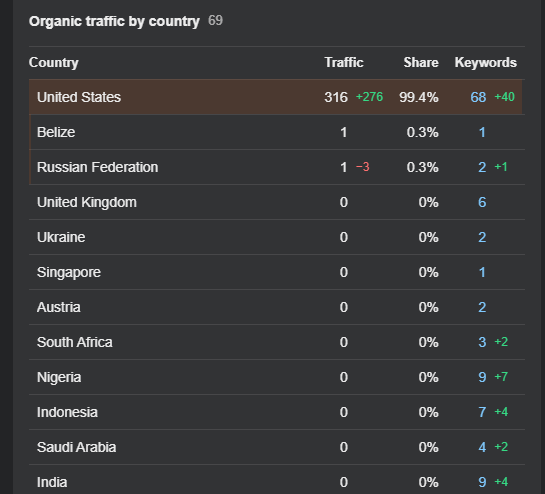 The majority of visitors originate from the United States, followed by Belize and the Russian Federation, while the remaining countries contribute insignificantly.
These data points serve as clues, providing insights into the product's quality.
It's worth noting that they are just indicators and play a role in forming an initial impression.
As of now, there is no clear evidence to suggest that Social Sale Rep is a scam.
The website was registered back in 2017, and upon reviewing the information on their actual website, there are no apparent concerns.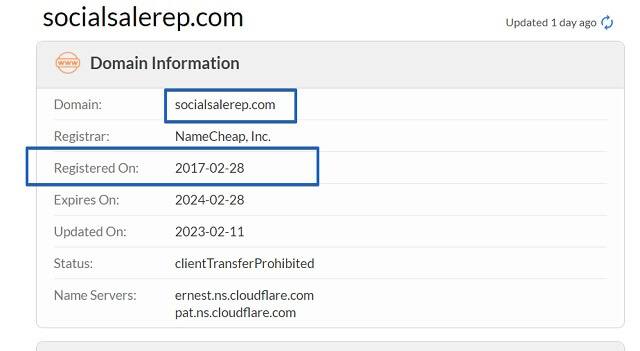 Unlike some platforms where there can be a mismatch between the claims on the website and the actual registration date, no such issues have been found on socialsalerep.com.
So, that's a positive sign. Let's continue our investigation.
There is only one page on the website, and if you try to visit www.socialsalerep.com, you will be redirected to their funnel page:
Does this cause confusion?
No, it is actually intentional. It is part of their marketing strategy. In other words, they want all visitors to land on their opt-in or subscribe page.
According to Ahrefs, the most visited pages on the Social Sale Rep website are as follows:
Login area: Given the limited content on the website, it is not surprising that the login area receives the highest traffic.
Refund policy: This page's popularity is understandable since people want assurance that they can get their money back or have a free trial before investing.
We will get to the pricing in a bit but I want to let you know that there is no free trial.
The good news is though that Social Sale Rep does have a money-back guarantee (since it is a ClickBank product)
Speaking from my experience with a different education platform (called Wealthy Affiliate), I particularly appreciated the availability of a free trial.
In fact, I was able to take 5 lessons for free and only pay if I liked the platform and its teaching style.
However, let's get back on track.
How Does Social Sale Rep Work?
As mentioned earlier, when you visit their homepage, you will be redirected to their funnel page, where you are required to complete a short survey.
Based on your responses, the platform provides a recommendation for the job that best suits you.
Interestingly, I intentionally took the survey four times using different approaches, but the outcome was consistently the same. I even tried taking the survey from a different location, but the result remained unchanged.
The job I got was always "Live Chat Assistant". I am curious what was yours:)
Sale Rep survey

4 different survey answers, the same result; I got a job as – Live Chat Assistant
Is it a red flag?
Well, it might be, but in the best-case scenario, it shows that the survey doesn't make sense and its purpose is to demonstrate how they care about selecting the best job for you.
In my opinion, it's a bit misleading. Even if someone doesn't perceive it as misleading, trust me, if you have years of experience with such platforms, you'll immediately start feeling suspicious.
Create your Social Sale Rep account
Then you are asked to create your account by providing your name and email.
Next, you are redirected to the next page, which features some testimonials.
Well, these testimonials are fake. And it doesn't matter where you are located.
If you are located in the United States, you'll see testimonials from Richard Sullivan and Lani Thomas, both supposedly from the United States: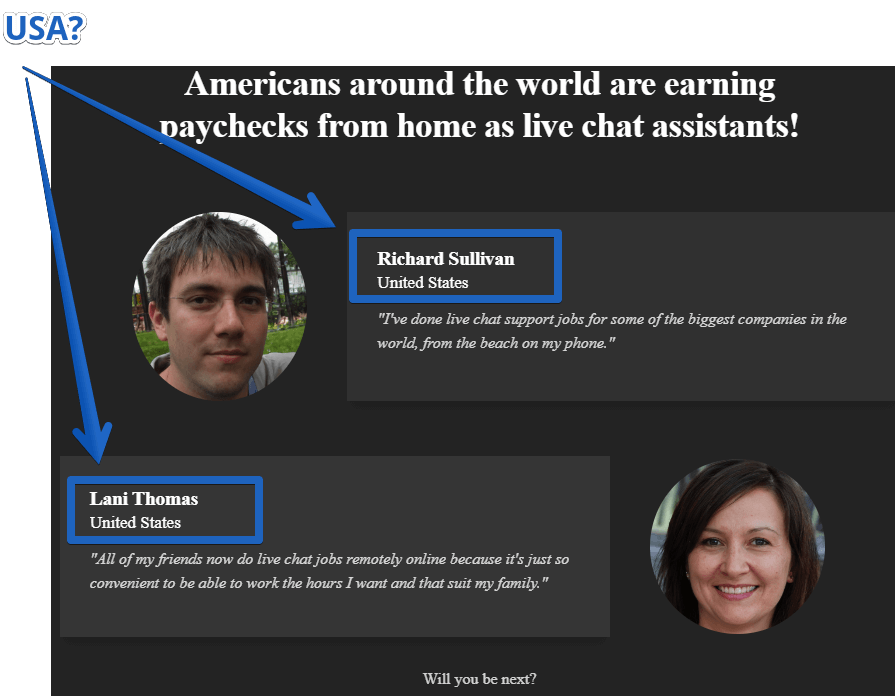 Or, if you are located in Slovakia, both individuals are from Slovakia.
Or Switzerland?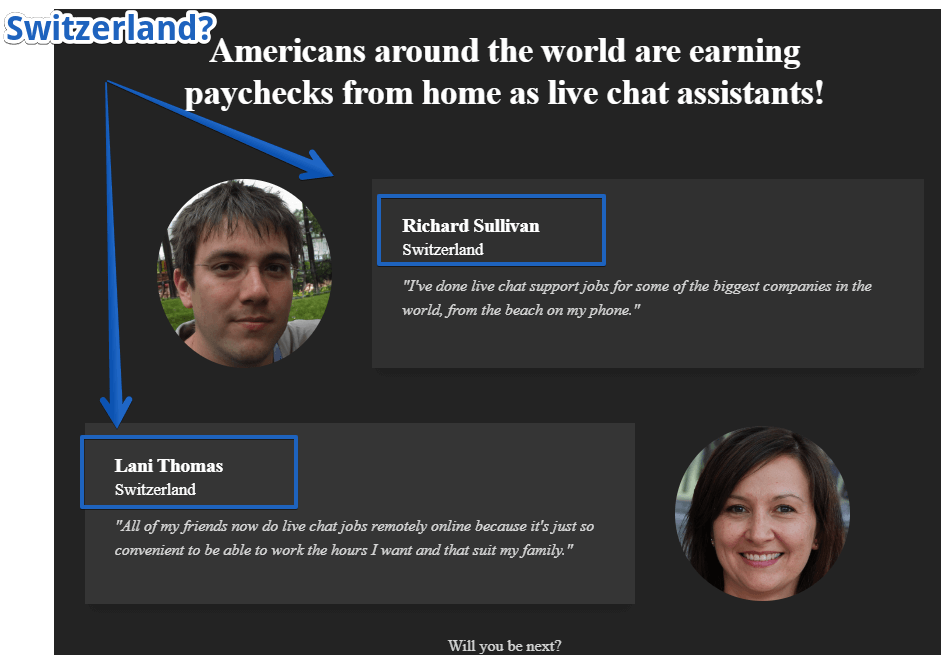 Please note that while conducting my research, I use a VPN to double-check the information. As evident in this case, it assists me in uncovering their fake testimonials, which is a clear red flag.
Isn't that interesting?
It appears that they lack sufficient authentic testimonials. Could it be because their system doesn't actually work?
I haven't even reached the job part yet, and I've already encountered three significant red flags. For me, that would be enough reason to abandon the platform and consider it misleading or even scammy.
What happens after signing up with your email address?
Now, if you have some experience with online marketing, you know that after providing your email, you usually receive a newsletter or free information that enhances your skills related to the platform.
It could be tips for writing comments or strategies for excelling as a new live chat assistant.
However, in the case of Social Sale Rep email marketing, it seems to take a different approach.
They invite you to join "the new world of":
Freelancing
Earning Money
Sharing your creativity with others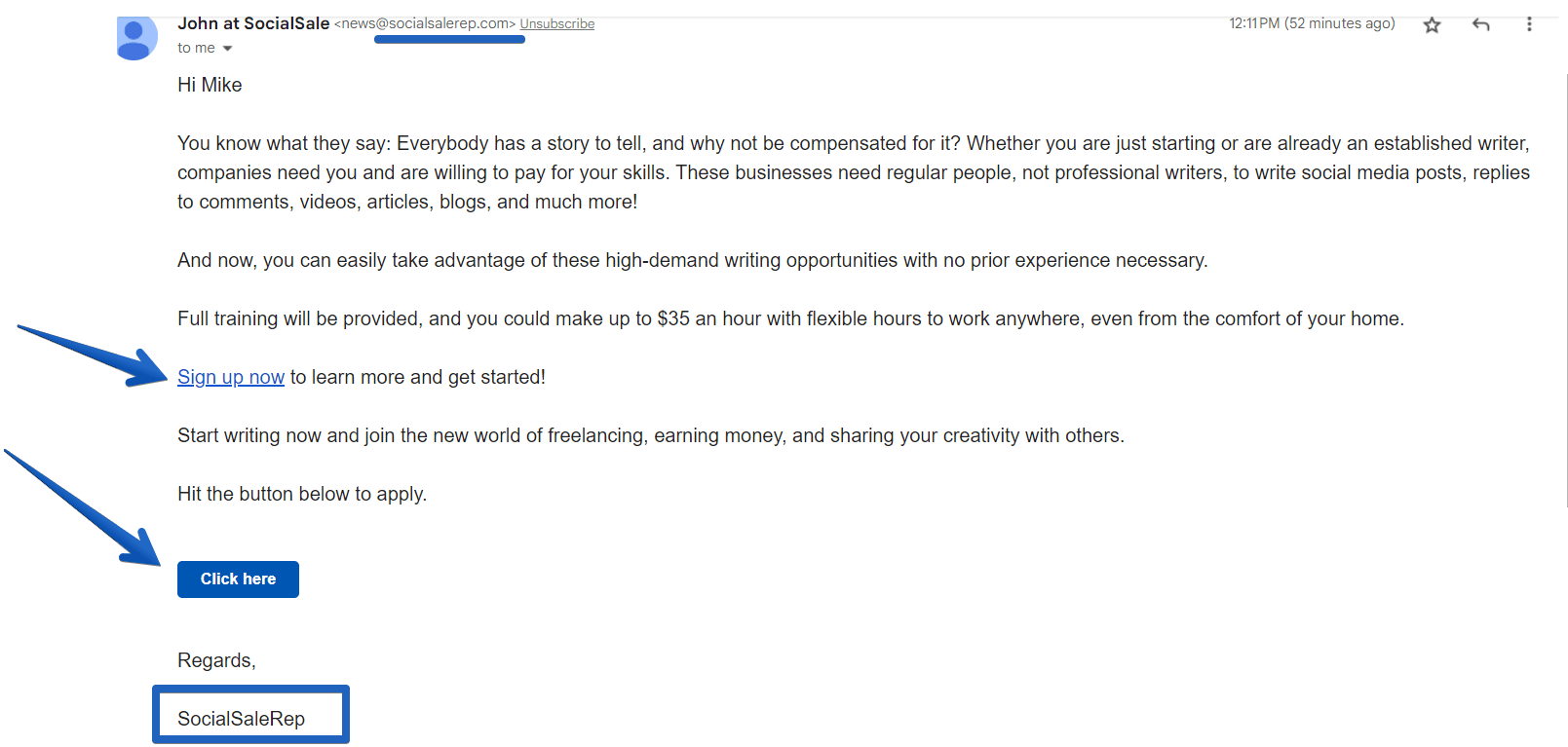 But that couldn't be further from the truth.
Instead, after clicking on the link, you are redirected to a different platform called Paid Online Writing Jobs.

That is essentially the same as Social Sale Rep, so there is no community to join, and it is simply another means for the founders of these platforms to make money.
If you want to explore a specific educational platform that offers comprehensive step-by-step training, click on the link below:
You have the opportunity to compare both platforms for yourself. Simply click the link below, sign up with your email, and access the first five lessons included in the free membership.
Social Sale Rep Cost
As you go through the process of signing up you are told that you need to go through the certification program. The training cost a small fee and you get access to the tools on their platform.
The price is $99;
Apparently in your region, they need more workers, and therefore you get certified for $1 only.
After three days, when you're certified and start your first paid live chat job, your membership will be billed at $47 per month.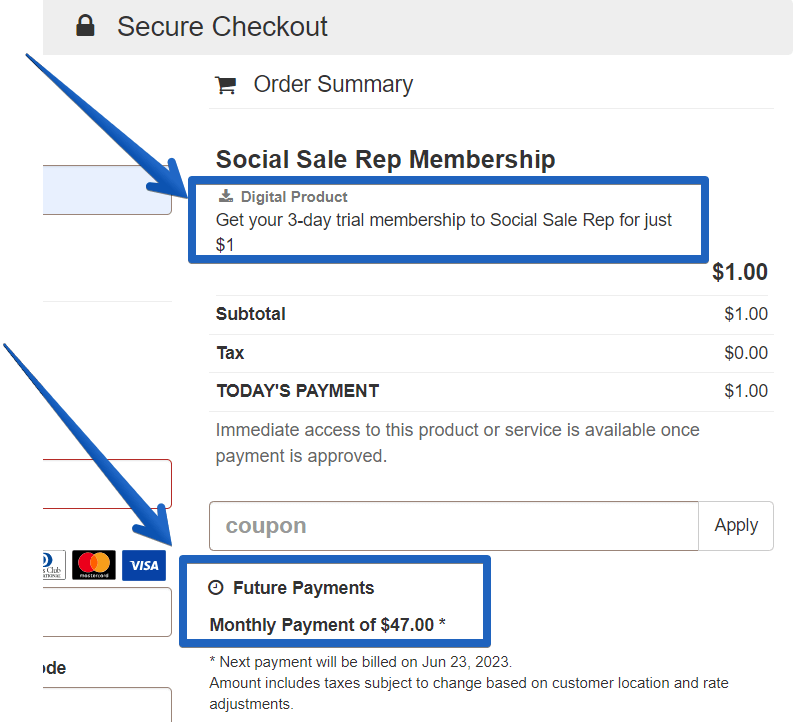 … You even get a 60-day money-back guarantee.
Social Sale Rep Upsells
Unfortunately, there are more upsells, so $47 per month is not the final price. To be perfectly fair, the upsells are optional and in fact, they don't cost that much (compare to different programs)
But still, it is an unexpected expense and I personally don't like such "surprises".
On the other hand, it is a way how an affiliate marketer who promotes this product can make even more than just a commission from the front-end price.
Please note that I do not promote this product, but let me show you the entire price structure
Upgrades
There are 3 upgrades that you can optionally take advantage of and they cost:
$57 – Upgrade Writing Jobs and App reviews
$37 – Upgrade Writing Jobs
$37 – Upgrade App Reviews
Or it is possible to get Upgrade Express Pass VIP which costs $97. This package includes all 3 upgrades above.
If you decline, you still get the option to get the Upgrade Express Pass VIP for $67. It is valid for 12 months.
Social Sale Rep Training
Social Sale Rep's training is structured in a clear and organized way.
When you log in, you'll find the "Intro Course" in the top menu, which serves as your starting point.
The training is divided into three modules:
Module 1: Win Your First Live Chat Job
In this module, you'll receive a warm welcome and an orientation to bring you up to speed.
The lessons include an introduction to winning your first live chat agent job, an overview of different chat jobs and systems, and information about beginner chat jobs like customer service assistant and pre-chat sales.
There's also a knowledge quiz to test your understanding and suggested action steps to take.
Module 2: Give Yourself a Promotion
Module two focuses on intermediate-level chat jobs.
It begins with a brief description of the previous module and then delves into topics such as intermediate chat jobs, becoming a subject matter expert, and acting as a deputy team leader.
Similar to Module 1, there is a knowledge quiz and suggested action steps to follow.
Module 3: Pull Down the Big Bucks
This module covers advanced-level chat jobs and being a team leader.
While it may not be relevant to everyone starting out, it provides valuable information for those seeking higher-level positions.
Lessons include managing, hiring, and onboarding new agents, dealing with problem customers, and tips for advancement.
Again, there is a knowledge quiz and a few action steps to complete
The training modules in the Social Sale Rep dashboard are quite short and presented in plain text. It makes me wonder if Social Sale Rep is really worth it.
After all, you can find similar information for free on blogs or YouTube videos.
It's important to consider whether the training offered by Social Sale Rep provides enough value and unique insights compared to the readily available resources online.
Social Sale Rep Reviews
When conducting research, it's recommended to visit User Generated Content websites such as Trustpilot, Reddit, or others. These platforms can provide a more objective view and opinions about the product.
Upon examining Trustpilot, it becomes apparent that people are generally dissatisfied with Social Sale Rep.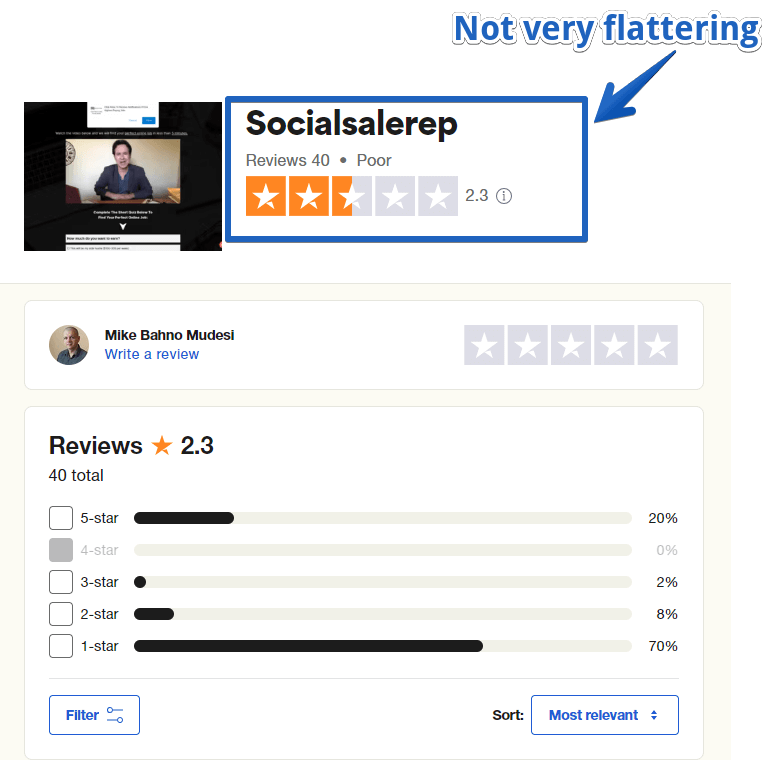 I have gone through most of the reviewers and here is a short summary:
The Social Sale Rep program is recommended as a helpful resource for individuals searching for online job opportunities.
Users with no prior experience in online work found the program valuable in developing necessary skills and knowledge.
The platform is user-friendly and easy to navigate, making it convenient to find desired job opportunities.
Despite the cost, many users felt the investment in Social Sale Rep was worth it due to the numerous job opportunities it provided.
Positive experiences include making money from home and receiving support from the program's staff.
This is just a screenshot of the recent one as of this update: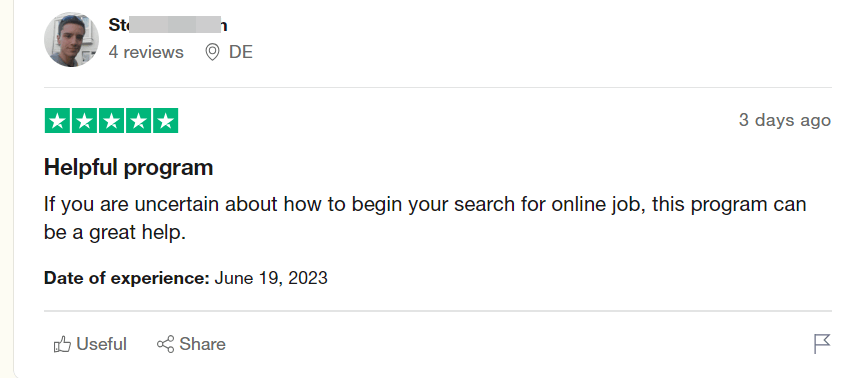 The majority of reviews left negative ratings, and you can read their opinions in the summarized version:
Dissatisfied with customer service and racial remarks during a phone call experience.
Felt scammed and lost money, suspect it's a total scam.
Questions the legitimacy of the company and highlights the lack of response to Trustpilot reviews.
Regrets signing up, found free job opportunities elsewhere, and advises avoiding.
Suspects a scam after discovering a job posting with a higher pay rate than what was advertised.
Believes the platform targets older individuals with little tech experience and criticizes its approach.
Wants a refund and feels the company didn't deliver on its promises.
Warns against continuing due to multiple redirected emails and questionable practices.
Expresses frustration over the lack of relevant job opportunities after completing the training.
Unhappy with the lack of response to emails and demands a refund due to undisclosed job application requirements.
And just for your information, one screenshot from the negative rating: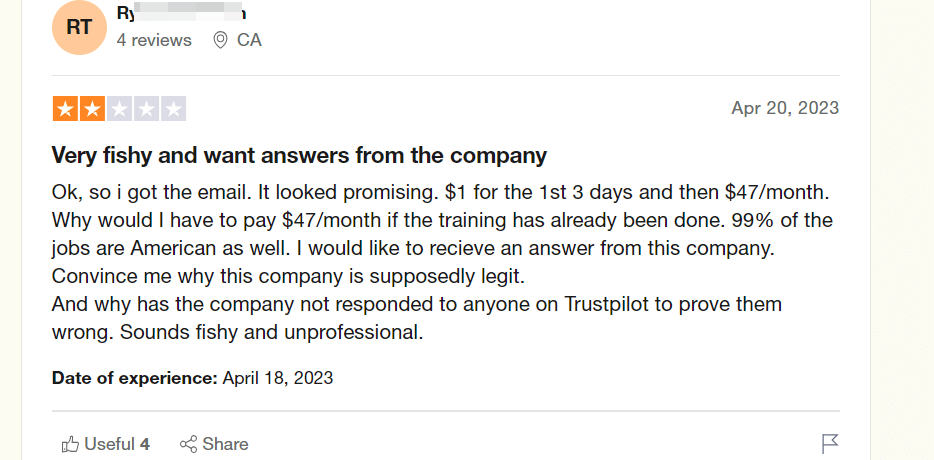 As you can see, some users consider Social Sale Rep a scam, and I understand why.
However, based on my experience, there are even bigger scams out there.
I would describe Social Sale Rep as a misleading platform that doesn't live up to its promised value.
Social Sale Rep Red flags
Misleading Advertising
The promised high payments for jobs that involve live chat or social media responses may give the impression that such positions are readily available through Social Sales Rep.
However, in reality, users are required to search for these jobs independently on platforms like Indeed and LinkedIn.
It's important to note that Social Sales Rep does not directly hire individuals for these positions, despite the misleading impression they may create.
Misleading Surverys
The problem is, no matter how you fill out or finish the survey, the result is always the same. It's like they don't even consider your answers.
It's something you should seriously consider before getting involved with the platform.
To me, it's a real deal-breaker.
Misleading Email Marketing Tactics
Sharing your email address with Social Sale Rep should ideally result in receiving helpful resources and information to improve your social sales skills.
Instead, they redirect you to another platform where you're asked to pay more fees, without offering any significant value or improvement. This tactic is deceptive and frustrating, as it fails to deliver on its promises while adding unnecessary costs.
Lack of Transparency Regarding the Social Sale Rep Founder
Legitimate platforms are typically transparent about who created them, as it helps build trust and credibility.
hen there is no clear information about the owner, it raises concerns that they might be hiding something.
Not knowing who is behind the platform makes it difficult to determine their intentions, qualifications, and trustworthiness.
Are There Social Sale Rep Alternatives?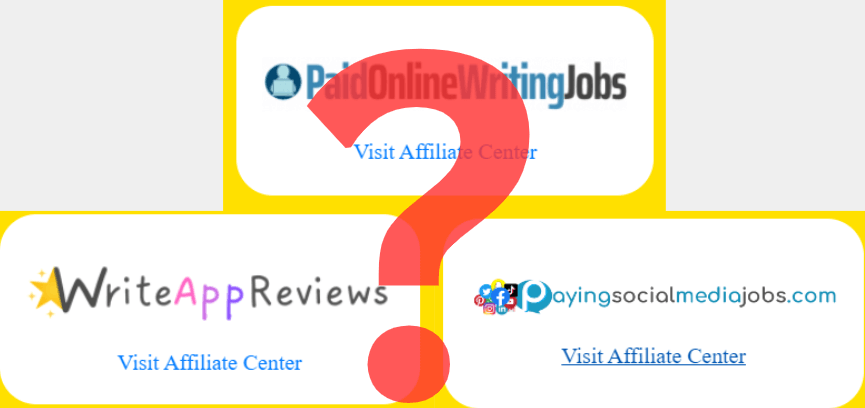 Well, there are indeed two other platforms that are quite similar. One of them has already been mentioned:
To be honest, these platforms are quite similar, but you may find different results compared to Social Sale Rep.
If you are a beginner or have already tried some online course platforms, you know that earning $1 online is more challenging than it is portrayed on these platforms.
It took me several months, almost a year, to make my first $1 online. My goal was to learn how to generate traffic and monetize it. Once you master the skills, there are two immediate ways to monetize the traffic:
displaying ads and
affiliate marketing (where you earn a commission when someone buys a product or service using your affiliate link)
The key is to have a solid understanding of SEO traffic and be patient, persistent, and follow certain rules that can be learned.
If you're interested in earning a full-time income, I recommend checking out the training program I completed a few years ago.
The platform is still active, the training is regularly updated, and it has millions of members.
Conclusion
Hopefully, this review has provided enough insight to demonstrate that finding a legitimate job that pays $30 an hour is not as easy as it may seem. Platforms like Social Sale Rep are unlikely to be of much help, as they primarily focus on misleading their potential customers.
Their main objective is to make money, and they show little concern for delivering genuine value. I understand the challenges of finding a platform that offers comprehensive training.
To truly succeed in making money online or learning how to do so, it requires more than just a few hours of training. That's why I can recommend a different platform with much more comprehensive training.
You have the opportunity to try the first five lessons for free and compare your experience with what I personally recommend.
I'm not claiming it to be perfect or suitable for everyone, but why not give it a chance? Especially when the starter membership comes at no cost.
In case you have any questions about Social Sale Rep or any other inquiries related to making money online, feel free to use the comment section below.
You can ask questions, share your opinions, and more.
Thank you for reading,
Mike.