Have you come across the website RainMoney and you would like to double-check whether this is a scam or legit system.
I am going to explain what the Rain Money is, what red flags this system has, and why you should stay away from it.
We will go through the Pros and Cons and if you are looking for legit systems that can help you to make money online, I think I can help you there as well.
When I first landed on the webpage "rainmoney.co" it seemed very similar to other systems.
The $25 Credit for signing up
Claims like making $100 per Day
The website structure
All pretty much the same as we can see with the system called PaidLeaf or the CloudBucks.
Is Rain Money a Scam as well?
Yes, it was.
The site is down already.
Let's dive into the RainMoney review.
Disclaimer
Please note, that I am not a member or an affiliate of Rain Money. This review is based on research and information available online in the public domain. Any recommendations and conclusions are only opinions and may not apply to all persons or situations.
Product Name: RainMoney
Price to Join: $0
Creator: N/A
Rating: 0/10
Do I recommend it? No!
What is Rain Money
Rain Money is a free-to-join platform that promises you to make money by sharing the special link on Facebook, Twitter, Instagram, and other social platforms as well. Apparently, it is possible to make additional by doing some small tasks or surveys.
According to the website RainMoney.co this product/website was founded in 2013. Their goal is to help people by taking advantage of social media.
Everyone who signs up gets a $25 bonus. That seems like a great deal!
On top of it, you can even make $150 a day!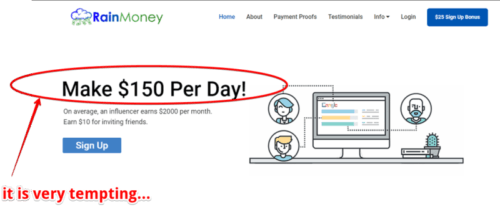 Does it sound too good to be true, doesn't it?
You are right, and we are going to find out what is a lie and what actually works.
As soon as you get into the back-office you see similarities with the other two systems – Paidleaf and CloutBucks.
All websites have the same layout, pretty much the same income claims and they are all created in 2019.
This is a screenshot to show you when exactly was the website RainMoney.co created.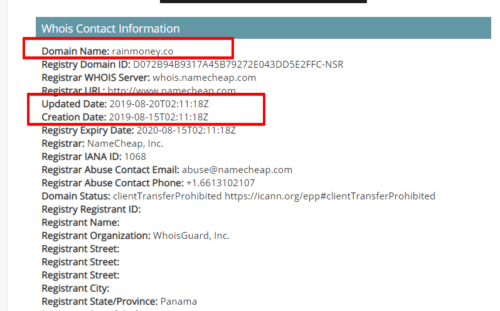 Now let's have a look at the amount of traffic this website gets.
It took off really quickly and the peak was in October when total monthly visits were 1.5 Million. In November it decreases to almost half, but still a significant amount of traffic, no doubt about that.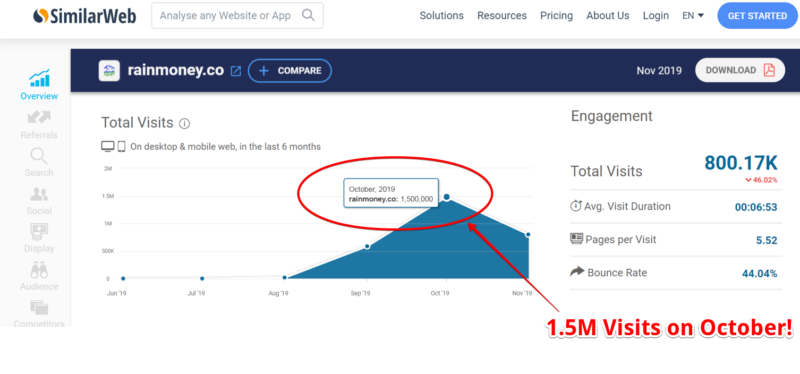 These data are facts and we will be referring to them later in our review.
Who Is Behind
It does not say who is the creator of this product. In the contact information, there is only an email.
Every legitimate website or platform has information about who is the founder or CEO, who is behind the system. It is not the case with RainMoney. This raises suspicion already.
Again, it is the same red flag as with those other 2 systems I have mentioned before (PaidLeaf and ClouBucks).
The Claims vs Facts
1. Platform Age
The information on their website in the "About Us" section does not correspond with the real date of website creation.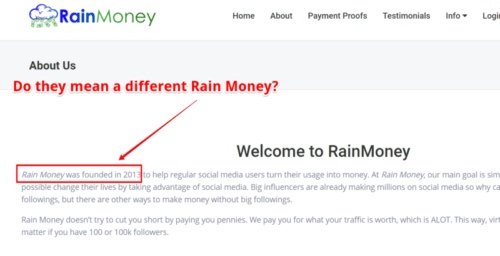 It says that it was founded in 2013, which is 6 years ago. Did they have a different website? Or they have created the website 6 years after this product was founded.
Either way, it does not make much sense.
2. Is it really #1 Influencer Network?
I am personally confused about this statement.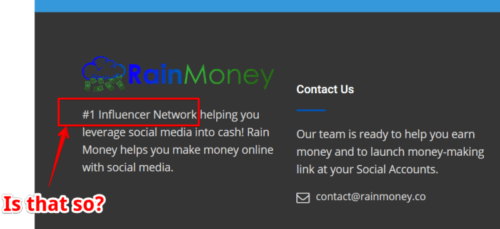 They either have no idea what #1 influencer means, or they did not specify what "Network" they meant.
Just by looking at their Instagram profile (screenshot from December 10th, 2019), it is obvious that influencer has to have more than 1,381 followers.
Just our of curiosity I went ahead and check one of the most influenced figures on Instagram.
– garyvee has 7.3 M
– grantcardone has 2.6 M
My friend she does not really care about social media or being an influencer has almost 2,000 followers. That is actually more than "proclaimed" RainMoney with less than 1,400 followers.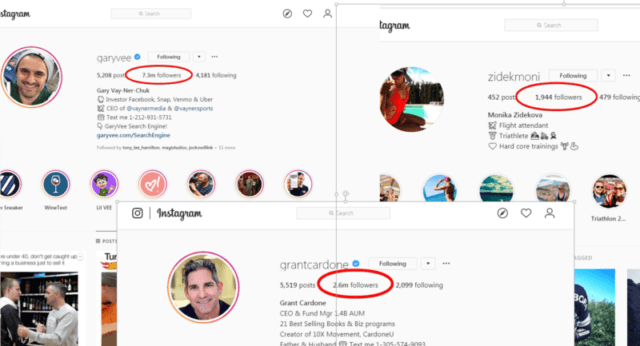 I couldn't find any profile at Twitter. Just a bunch of people promoting it – not realizing the promote a scam.
How about Facebook?
Yes, they have a Facebook page, but guess how many likes/follows they have?
60; That reads "Sixty".
YouTube seems to be "dead". There was probably 1 video and it is not available anymore.
So how about these facts for a "#1 Influencer Network?"
3. Income Claims
There are many ways how one can earn money with the RainMoney, right?
Wrong!
Let me tell you right now, that there is no one single person how got paid by this system.
People easily get hooked up to this system because of "easy money". No wonder – since they promise you to earn more than $100 in less than an hour.
Let's count together:
$25 earnings just for signing up
$10 for referring a friend
$2 for everyone who clicks on the referral link you post
$30 for complete surveys
$50 for uploading the YouTube videos
$20 for downloading the apps
That is $137. So every person who signs up can earn more than $130!
This is a lot of money to be paid out.
According to the number of visitors to their site, I assume that most of the signed-up, right?
We have seen, that only in November 2019, they had 800,000 visitors. Now let's assume that only 25% of them really signed up.
200,000 x $137 = $27,400,000
This is a lot of money for any company to payout.
Where is this money coming from?
It is said that money is generated from ad-spend revenue and sponsorship products.
I have not seen a single ad on their website, nor in the back office site.
Again, the same thing as the CloutBucks or CloutPaid (which actually got shutdown already)
There are many red flags to go through.
Just to mention one slight mismatch regarding the payout.
In their FAQ section, it says that there is no minimum threshold. So I went to the section where to cash out and look what I find: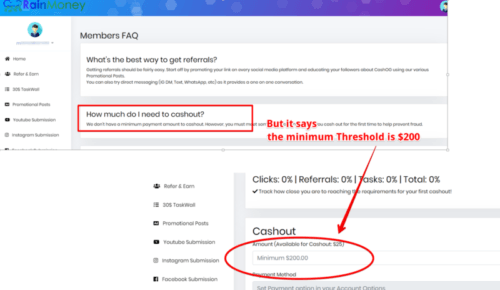 4. Contact
The contact information is missing. So not only the creators are hiding, they don't even reveal the address.
It supposed to be somewhere in London, but when I checked the google maps, there is no evidence of the company named RainMoney. One would assume that a company that is able to pay out more than $30,000,000 dollars should have at least a logo somewhere on a building.
What I like

As much as I wanted to find some positive aspects of this system, I just could not figure it out.
(Thanks to the similarity with other scams like this, this one is pretty easy recognizable)
What I don't like

First of all the information about the age of this platform is wrong on their website. It is not 2016 as they want you to believe. (RainMoneywas created in August 2019)
There is absolutely no information about the creators/owners of this platform.
This is a pure scam. They don't take your money but they are going after email addresses and such data. Do NOT sign up for RainMoney. In case you already did, and you entered your usual password, make sure to change it wherever you have this password.
How About An Alternative?
There is no way one can earn money with this system
You are not going to lose money, but if they have your email and password, the chances are high that they start phishing and stealing data.
It is tempting to sign up, I mean who does not want to earn more than $100 a day, right?
But if it seems too good to be true, it most likely is.
This is an example that easy money doesn't work.
I hope you are not in the mindset of getting money fast.
If so, I hate to do that, but I am going to reveal to you the truth. Make Money Online takes time.
It is a business like any other business. You need to provide some value, something that people actually need or want.
You can either help them or sell them something.
Even if you have a great idea, you need to let them know about that.
And here we are getting into the interesting part:
How do these customers find you? You need to have some kind of property or headquarters with information about your idea.
In the online world, the headquarter is your website.
I would like to assure you that at this time and age, building a website takes less than a minute. With a proper platform, you need only a few clicks and your website is up.
Of course, it is then up to you to choose a theme and create content.
But again – If you follow the proper training you can have a great website within weeks.
You can actually go through the training for Free.
Don't worry 🙂 It does not mean that is is another scam.
It is only an invitation for you to test out the training platform. You have 7 days of free access where you can go through the following training:
This is Level 1. You have access to the entire level.
After the week, you can still keep your account, but most of the platform will be locked. You have an option to upgrade to Premium.
With this premium membership, you get full access to the training course. That means you can complete all 5 Levels and there is another intensive training as well.
(Not mentioning 400 live video tutorials, live chat, 24/7 support, and so on…)
You will join the community which is by-the-way the most helpful in the world (just my opinion) and can slowly start with your own online business.
How about the results?
People (Members) who follow the training ask questions and take full advantage of this training course most likely have a full-time income within 12-16 months.
Check some of the stories at the bottom of this post.
At the end, I would like to show you an overview or comparison of both (WA and RainMoney) systems.
It does not happen very often that I rank some system with 0 (zero). But RainMoney does not deserve anything better than a zero.
Final Verdict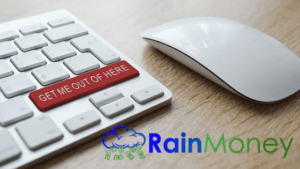 I have probably not covered all the red flags related to the RainMoney. But my guess is, that has been enough to show that this is a scam.
Yes, You won't lose money by joining their system (at least not for now).
With the data, they collect they might get into the members' email and steal some data.
But that is the worst-case scenario.
What might happen, they can start phishing or they can also sell email addresses to a 3rd party.
– easy money gets attention and according to the traffic this website gets, they might have collected thousands of email addresses.
RainMoneyis a scam. Run away from it as far as you can.
Protect your data – don't trust claims promising you free money.
What I would like to ask you (again) do not signup and also do not promote this website. You just spread out the scam and it does now help anyone.
In case you have any questions regarding this RainMoney system or to the alternative I have mentioned earlier, let me know in the comment section below.