You might be familiar with John Crestani and his Super Affiliate System course.
Do you have already experience with John's previous products?
Or you just follow him on social media and can't decide whether or not to purchase his product.
Since its first launch in 2016, this is already the 4th version.
In the following Super Affiliate System Pro review, we are going to learn what's new, what is inside, and whether this will help you to make money online.
Let's get right into that.
Disclaimer:
Please note, that the following post might contain affiliate links.
That means if you click on them and purchase the product, I will receive an affiliate commission at no extra cost to you.
This review is based on research and information available online in the public domain. Any recommendations and conclusions are only opinions and may not apply to all persons or situations.
Super Affiliate System Pro – Quick Overview
Name: Super Affiliate System Pro
Website: www.superaffiliatesystem.com
Price to Join: $997
Recommended:
Yes, if you want to see quick results.
And No, if you don't have a budget;
(Super Affiliate System PRO is good training for people with a budget of at least $2,000. It is necessary to pay for the ads in order to get traffic).
But you can watch the Free Webinar for your own opinion:
What Is Super Affiliate System Pro?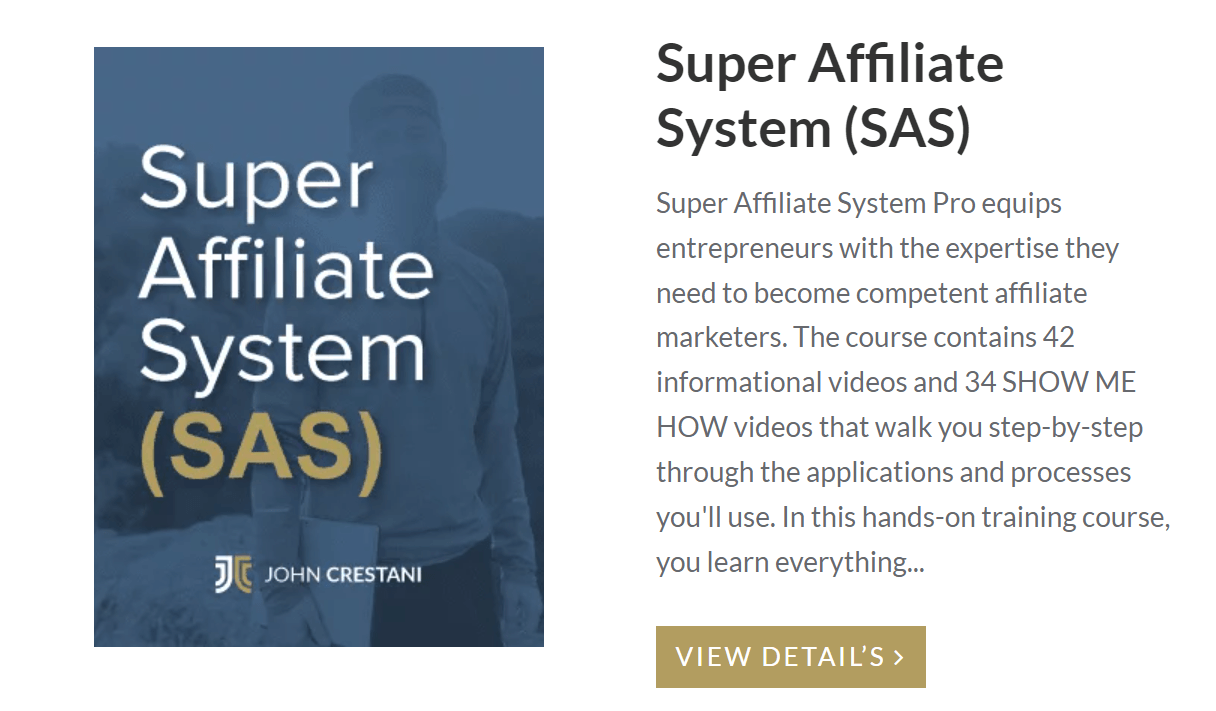 Super Affiliate System is a well-established course on affiliate marketing.
It goes back to 2016, and since the launch, there have been 4 versions. This is the 4th one, called Pro, which was released in June 2020.
Later in this article, I also share John's video where he is going to walk you through the training. Additionally, I am going to have some notes regarding the training where I might raise some issues or concerns.
My goal is to give you objective information about what is really going on and if there is another way how to make money online (maybe a cheaper way?)
Who Is John Crestani?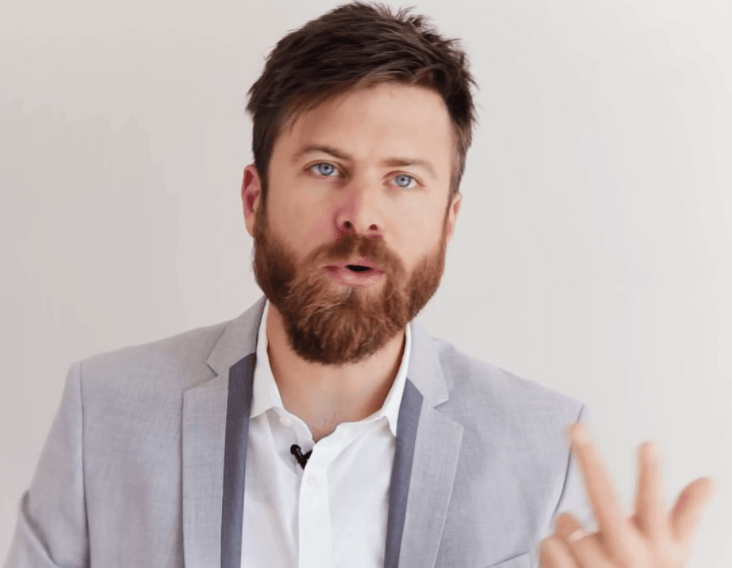 John Crestani is an internet marketer and affiliate marketer and he has a quite successful YouTube channel as well.
You have most likely heard about him already; he is quite famous and charismatic.
I remember back in 2016, I was watching a youtube video where John was creating Google ads. At that time I thought that this was the best way how to drive traffic to the website so I really enjoyed his video.
A bit later I bought his course; it was the first version of the Super Affiliate System.
I did not like it, especially because of the price structure. It was $47 and then a lot of upsells.
I decided not to continue with the course and the subscription was canceled.
Then he created the Super Affiliate System version 2.0 and 3.0 and in 2020 he came up with the Pro, which is the 4th version.
As the course has been evolving, so has John and his approach. He is a great teacher and really focuses on value.
With that being said, he is a guy that teaches the same course for more than 5 years. He doesn't jump around like Jamie Lewis or any other fake guru.
You can learn more about his background, but my point is that John is a legit person teaching how to make money with affiliate marketing and paid ads. He has been doing this for quite some time.
That means, he is an experienced marketer and there is a lot one can learn from his courses.
He keeps improving the course so that more and more students follow through.
Who Is Super Affiliate System Pro For?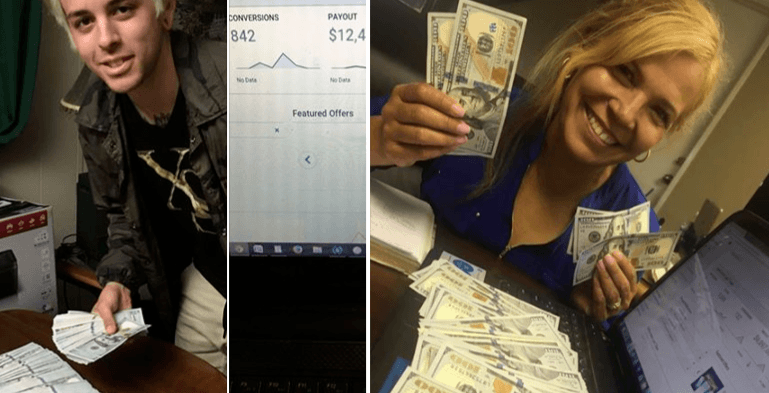 Maybe you have seen these images. It is from Jonh's website and these are supposed to be his students.
Although I am not a fan of such a flashy style, it probably works for John.
To up it simply, Super Affiliate System Pro is intended for beginners, with budget and creativity.
According to John, you don't need any previous experience with marketing. And you don't even need any technical skills and still can learn how to make money.
Although I think it is always better to have some experience. Or at least to be familiar with other digital courses so one can compare and make a better decision.
But it is safe to say, that his course is built for newbies who want to see quick results.
And that means that you need a budget for it.
Besides the price of the course, you will need at least a couple of thousand for the traffic. Because that is what you will be taught – how to get immediate traffic using paid advertising.
What Is Inside the Super Affiliate System Pro?
Let me walk you through the Super Affiliate System Pro training.
In this section, you are going to learn what John teaches, and I am going to share my thoughts on that as well.
So the entire course is about Affiliate Marketing and paid ads.
In other words, you are going to learn how to make money by offering other's people products.
How to reach potential customers?
That'll be with paid advertising, whether on social media, or search engines.
So right off the bat, if you want to know how to get free traffic, this course is most likely not for you.
The entire course has 4 main pillars:
Course
Website Hosting – where you get your own website
Landing Page Tool – sales funnel builder helping to automate the sales process
Ad posting Tool
The main course is divided into different modules and you can learn about:
How to get started
Sales funnel and website
Solo Ads – (BTW, here are some thoughts about the Solo Ads)
Social Media Ads
Analytics and Split Testing
Scaling Your Business
and more
Inside these modules, you find a lot of video lessons, worksheets, certification programs, and resources.
The main course used to last 6 weeks, but now you can do it at your own pace, which is another great improvement. And it makes it more convenient for more students.
The entire course is explained in a step-by-step format and it has both theoretical and practical parts.
In the end, there is a Final Exam, where you can find out how much did you learn.
Let's take a look at some tools inside the training platform.
Community
You can interact with other members, which is a great thing. Every person might have a slightly different opinion about how the thing works and by sharing such information you are getting everything from a better perspective.
You can ask questions, answer them, and basically engage in conversation. Inside the Forum there are 1000 posts that are additional resources to the course itself.
Certificate
At the end of the course, you get a certificate, if you want.
Now, it might be true that it can help you to find a job, but to me, once I know how to make money with affiliate marketing, I don't need to go out there and apply for a job.
I can do it on my own, in my own time and time schedule.
But I guess that's just me.
On the other hand, I understand that being your own boss is not for everyone.
Bonus
As a bonus, you get weekly training or live webinars (if you will) hosted by his colleague living in the EU.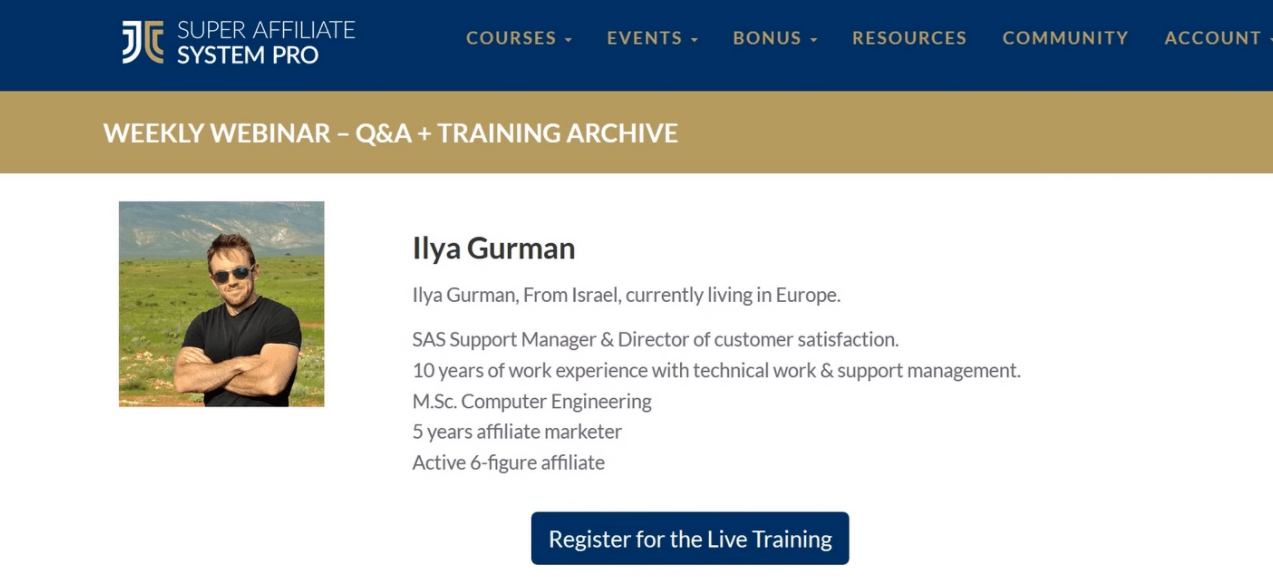 John understands that he can't manage the entire platform and it is good that he has partners that can give you a different point of view and an additional source of information.
Inner Circle
You get access to live training where you can learn directly from John.
He literally takes over your computer and re-writes the ad and shows exactly what to do, how to do ad explains why.
This is on top of the $997 and it costs an additional $250 a month.
There are two live webinars per month, so I find it a bit expensive.
Affiliate Networks
If you want to succeed with Affiliate marketing you have to apply for different affiliate networks. Now, not all networks accept everyone.
For example, if your website doesn't have enough traffic; you are a newbie that has not made a penny. These can be the reason why you are not accepted.
But as a student of Super Affiliate System PRO, you get access to the following networks:
DigitStore
Goldco
Ads4Dough
Legal Resources
While creating Facebook ads, or Google ads, quite often it could happen that the ads are not approved. Sometimes the Facebook account can be even banned.
John, inside his program, offers legal resources (pre-prepared document) where you can get around this policy violation.
What Else Do You Get?
Free website and hosting for 1 year.
In the previous Super Affiliate System version students used to get Bluehost company hosting. It came with an extra charge (about $10 per month).
In the Pro version, this is included at no extra charge.
Inside the website builder, you can directly add your affiliate link and there will be ready in the pre-sell pages that can be built inside this tool.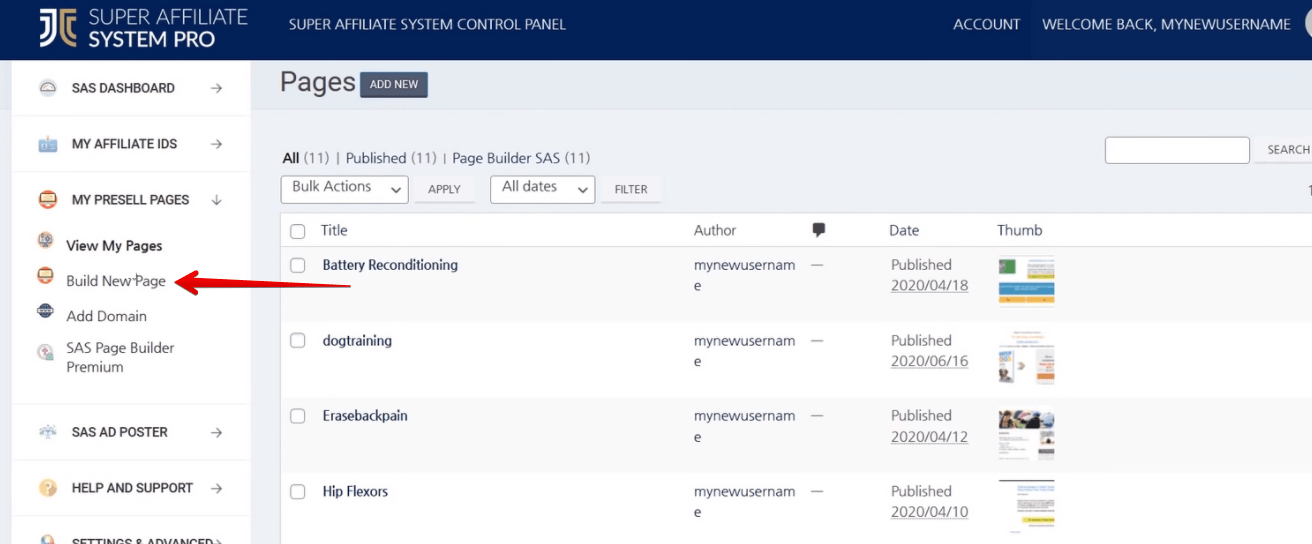 On these pages, you can edit and add text as you wish.
It is pretty much like a WordPress site, but it is in a more user-friendly way.
But I do think that WordPress with Generate Press theme has much more variations and it is easy to learn as well.
I am a bit skeptical about these page builders and that includes Elementor. It is a heavy tool that just slows down the page load speed.
Ad Posting Tool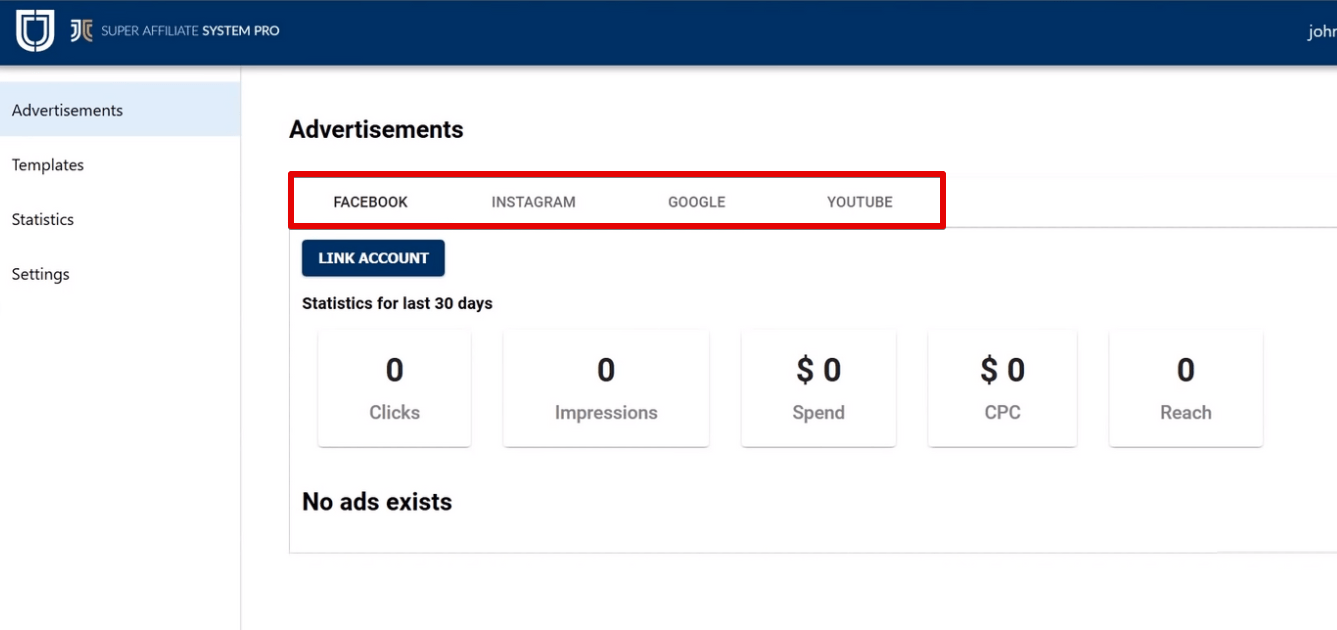 This tool makes it easy to post ads on FaceBook, YouTube, and/or Instagram.
To Sum It Up
Here is a half an hour video where John walks you through the entire course.
What do you think about the course? If you have questions please let me know in the comment section below.
Before we wrap up, let's check how much you need in order to take full advantage of the course.
How Much Does Super Affiliate System Pro Cost?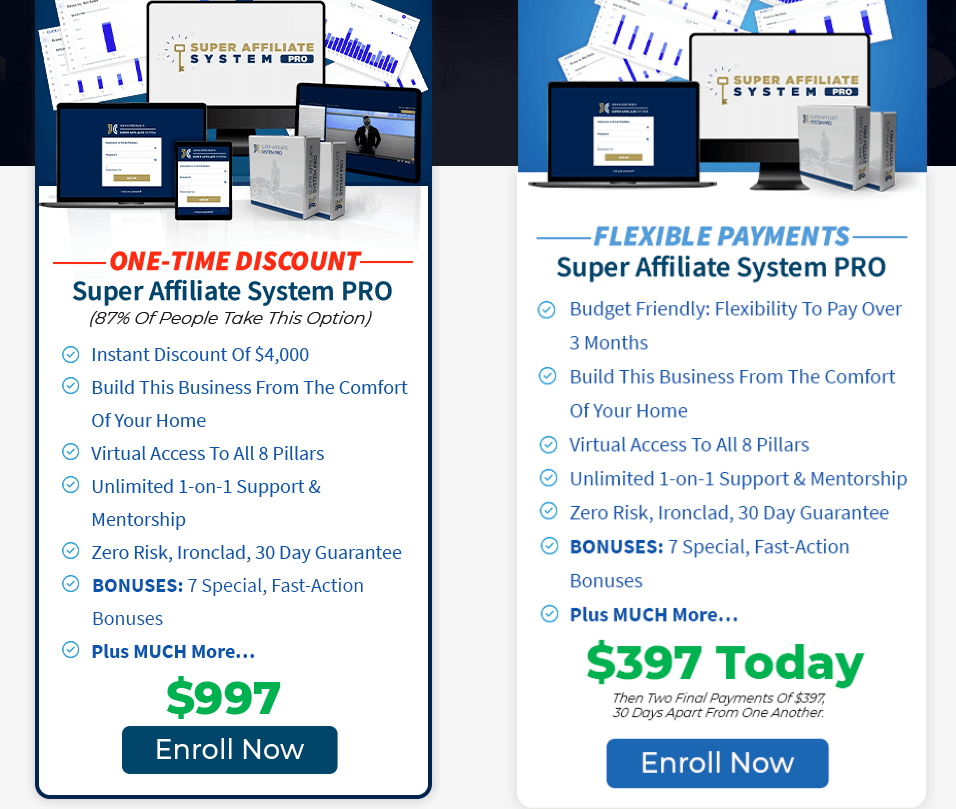 You know by now that the course costs almost $1,000. Is it a lot? Is it reasonable?
Well, the good thing is that there are no upsells and you also get a lot of tools included.
But not so good news is that it is necessary to have (at least) an additional $1,000 for ads.
So if you have such a budget, by all means, you can go ahead and learn from John.
The payment can be split into 3 parts, so you don't have to pay the total price at once.
And as mentioned above, there are a few tools that cost additional fees.
For example, access to two live webinars per month, directly with John would cost you an additional $250.
Terms of sale:
This is a ClickBank product and that means that you have a really 60-day money-back guarantee.
Unlike products featured on WarriorPlus, there are no issues when asking for refunds within ClickBank products.
Pros and Cons of Super Affiliate System Pro
There is no such thing as a perfect training platform.
Even though the educational platform that I am a member of has some drawbacks, in my opinion, it is still the best platform for teaching affiliate marketing.
But I digress.
How about Super Affiliate System Pro?
Let's go over some Pros and Cons, so you can have an objective overview.
What I Like About Super Affiliate System Pro

1) Quick results
In theory, you can see results within a day or two. I understand that people are excited about starting a new business online and want to see results quickly.
With the method John teaches, you can really see some results in a very short period of time.
2) VIP Pass
You get easy access to affiliate networks.
Sometimes it is not easy to be accepted by particular affiliate networks, but with the VIP pass, this is no issue anymore.
3) Page Builder inside the SAS
In the previous versions of SAS, students were recommended to use ClickFunnels. But now, you don't have to pay an additional fee to build the webpage.
You can create the sales pages right within the SAS Pro platform.
4) Support
Having support is essential. No matter how good the training is, there are always some questions and as a student, you can reach out to support and ask specific questions.
What I Don't Like About Super Affiliate System Pro
1) Exaggerated Claims
This is probably the main reason why so many people think that John Crestani is a scammer.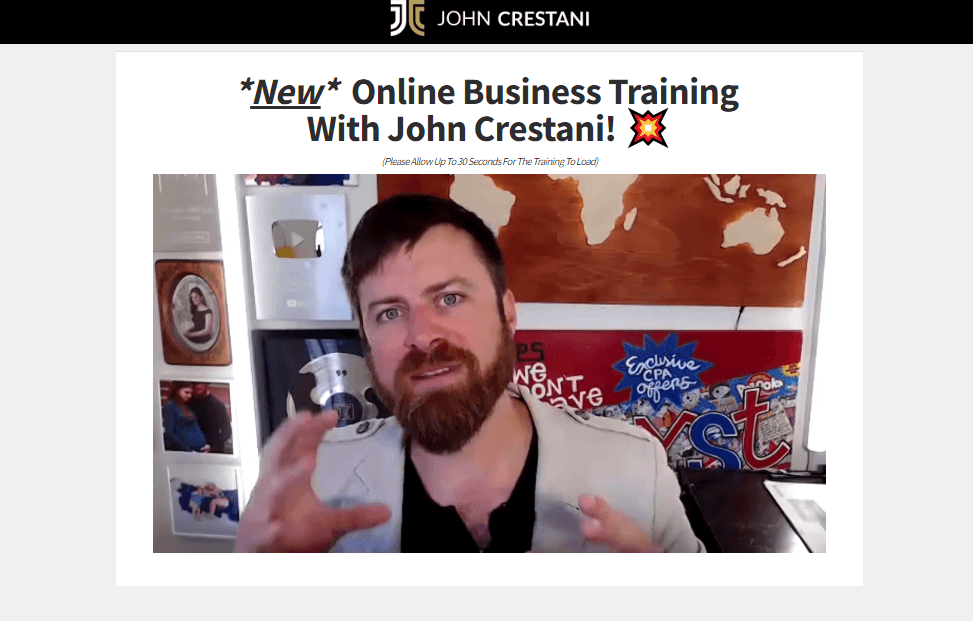 In his free training, he shows a lot of results that are not typical. Claims about how people make thousands of dollars in a single week.
I mean, it is possible to make such an amount, but one has to have already experience, otherwise, it is just a coincidence.
And if you don't know what you are doing, if you still don't have that "right feeling" about your actions, the entire process of paying for the ads resembles gambling.
I personally prefer the more subtle method of showing what is the course about;
and potentially highlight the risk as well.
And that brings us to the 2nd Con.
2) Paying for Ads
To me, paying for the ads and hoping for results can be addictive.
I know it from my personal experience.
You put money and you wait and hope.
If you really want to have results, you must do a lot of testing. Every day check results, tweak it a bit, re-launch the camping, rinse and repeat.
Another drawback regarding paid ads – not all ads are accepted.
Although John suggests running ads on several platforms and social media and he also teaches how to overcome these obstacles – that is a good thing.
But it doesn't have to work all the time.
3) Lack of SEO training
He doesn't go deep enough into SEO (which is basically driving free traffic to your website).
I do think that every marker who wants to drive traffic to his or her website should know also how to drive free traffic (also called organic traffic).
Conclusion
John has done a really good job with the last version of the Super Affiliate System. He keeps upgrading the training, and more and more students find it very attractive.
For some, the drawback can be the price, but the good thing is that you can get quick results.
But in my opinion, it is would make sense to learn how to drive free traffic and this is what is missing.
The other difference between the strategy John teaches and the strategy I have learned is the initial budget.
Whereas you need to have a couple of thousands of dollars with Super Affiliate System Plus to see results, with the approach I use you don't need almost any budget (other than some payment for the course and hosting) which is a fraction compared to SAS.
But there are always pros and cons to any system and we have covered that as well.
I have learned how to drive organic (free) traffic and leverage that traffic (meaning monetize).
the drawback is that it needs time and patience.
Both methods need effort, so the question is which approach you prefer.
I would love to hear your opinion so please let me know in the comment section below.
Thank You For Reading,
Have a great rest of a day
Mike