Are you interested in Affiliate marketing and you have heard that Amazon is probably the easiest Affiliate Program to join?
Is it true?
Well, yeah it is.
Whether you just want to become an amazon affiliate, or you want to re-join again, here you are going to see a step-by-step guideline on how to become an amazon associate (or affiliate, it is the same thing).
We all know that Amazon is the largest e-commerce marketplace on the planet.
One of the reasons why Amazon is the largest one is that they have an affiliate program, where pretty much everyone can join and become an amazon affiliate.
You are basically becoming a partner with amazon and whatever you sell, you get the commission as an affiliate marketer.
20+ Questions about Affiliate Marketing Answered
Why is it a good idea to become a partner with Amazon?
Do you know anybody who buys at Amazon? Or maybe you already bought something as well.
Did you know that more than 75% of Americans buy something on amazon at least once per month?
You don't have to be a US citizen to become an Amazon Associate.
The beauty of the internet is, then you don't have to live on US soil either – I am sure you all know that 🙂
So let's break down how to become an amazon affiliate.
How to Become The Amazon Associate (Or Affiliate)?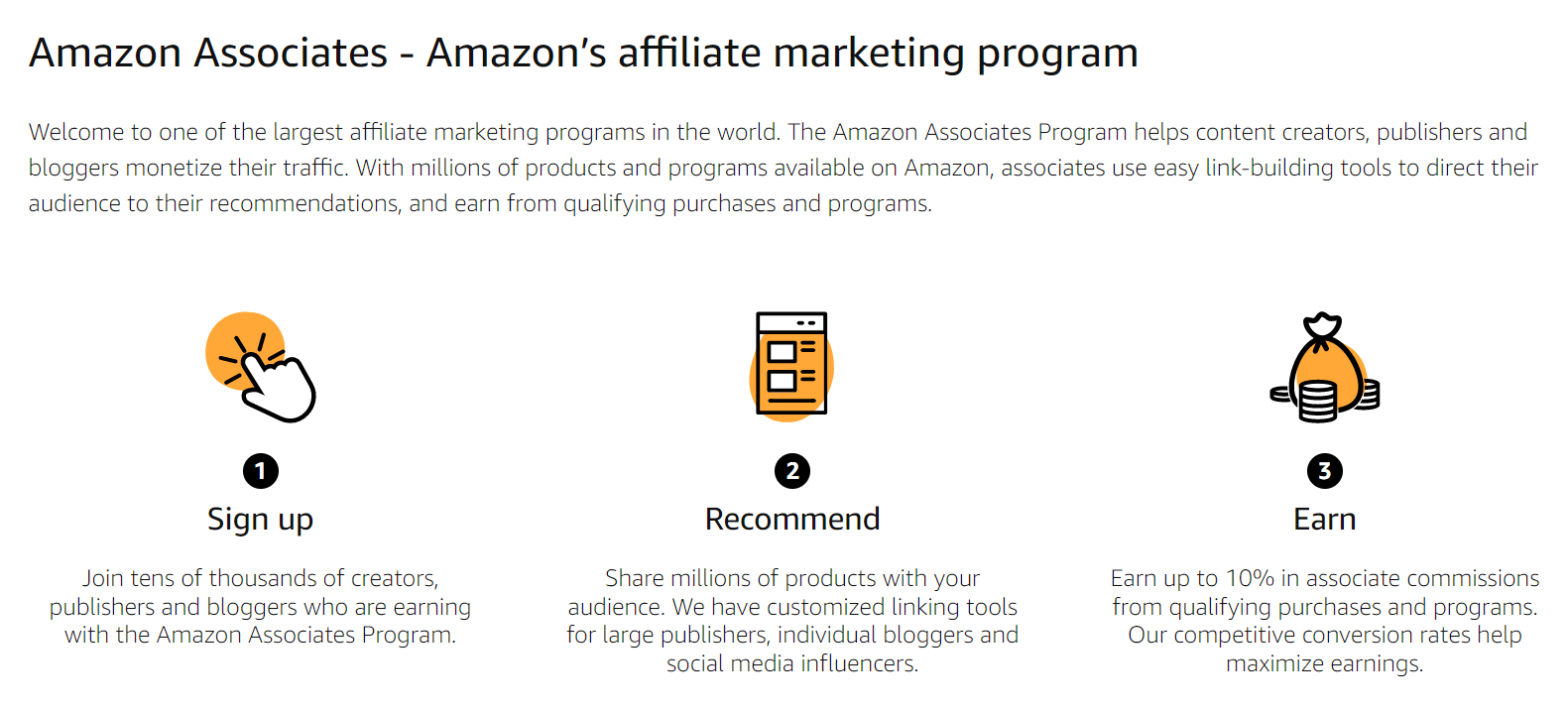 Becoming a partner with Amazon is a very easy process.
The best thing is that Amazon allows almost everybody to sign up with their affiliate program. They call it Amazon Associates and it is free to sign up.
Let's get started;
1) Affiliate Program Amazon
First, you can either google "amazon associate" or simply go to the website as per the screenshot below: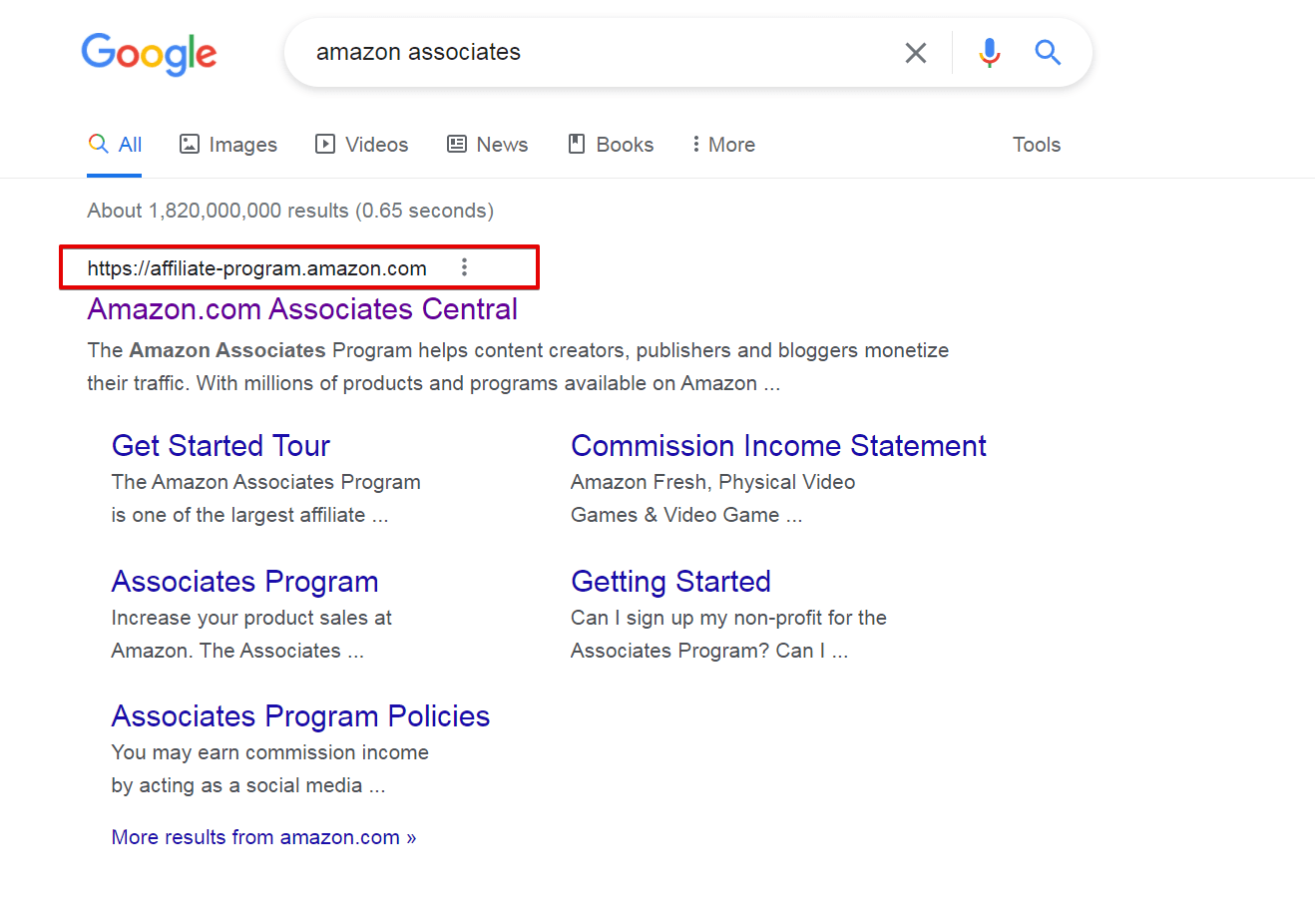 Click on the link and here is where you are going to get it:
2) Sign Up
This is a site where you are about to create your account.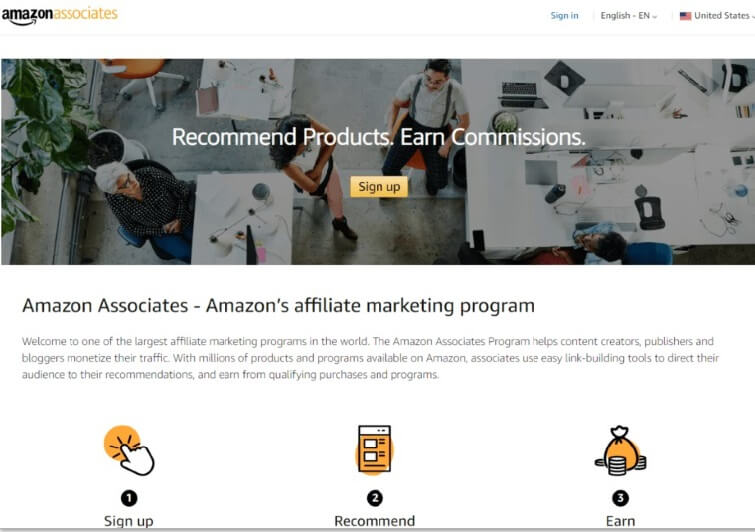 If you have not created your account before, just click as pointed below and follow the instructions: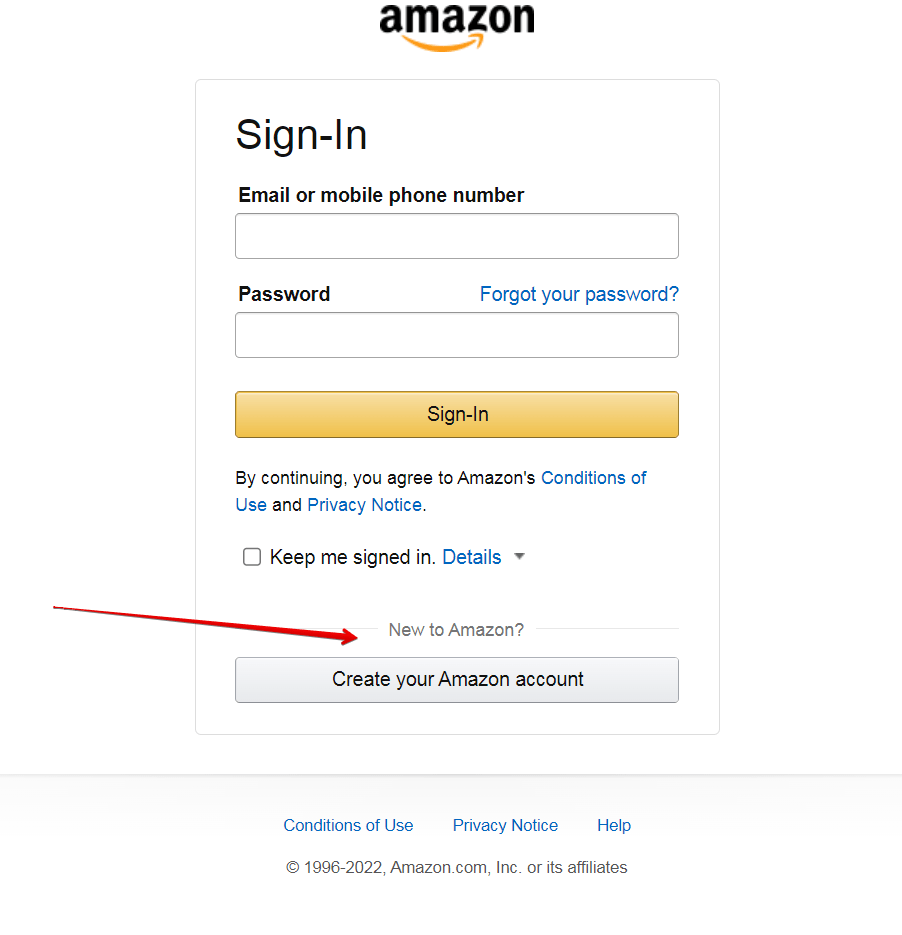 Fill out your name, and email and enter your password.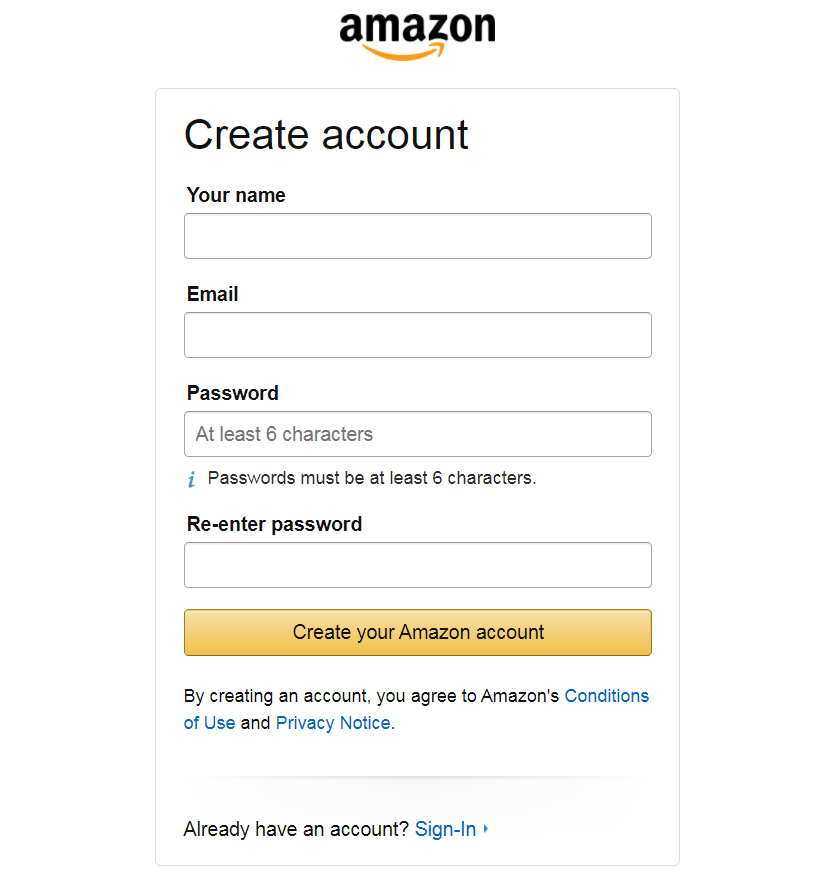 You are going to be notified by email.
So check your inbox to see the "One Time Password".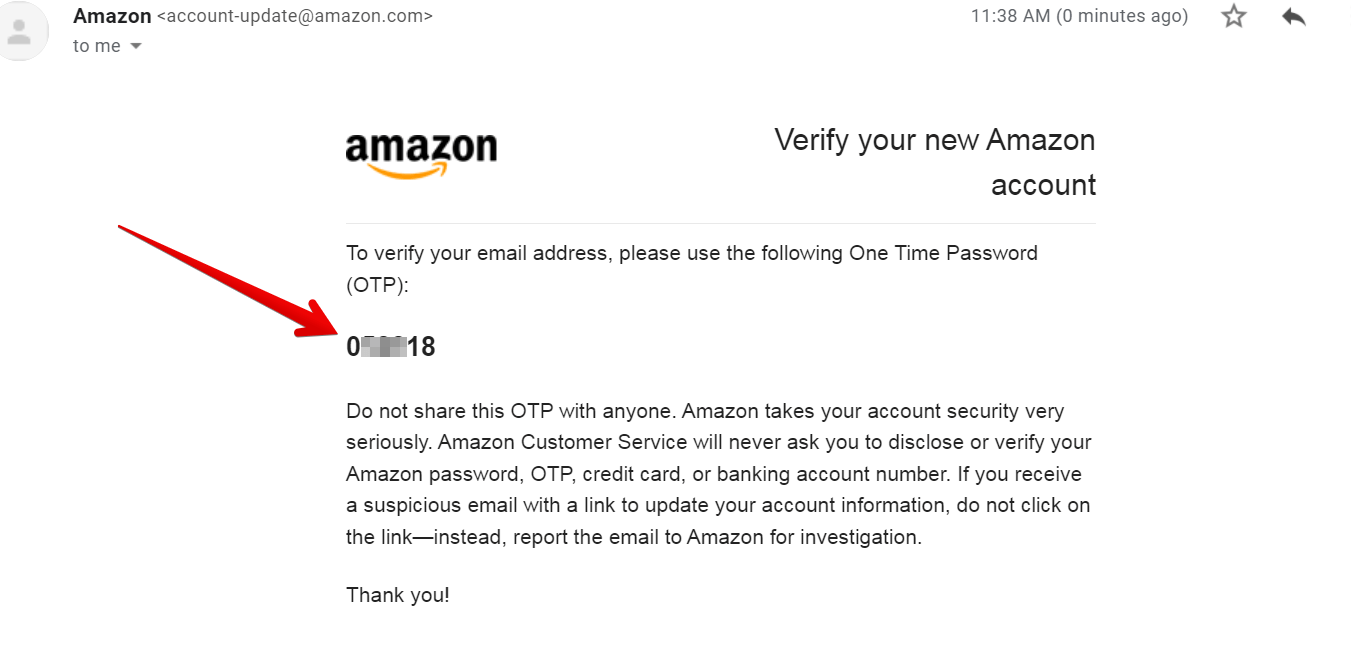 Simply copy the password paste it and click on Create account.
3) Amazon Associates Account
This is where you get.
Now you are actually creating your Amazon Associates account.
Proceed as instructed and fill out the form:
At the bottom, you have to enter your phone number as well.
It is now available worldwide and the service should be working.
(The thing is that a few years ago it was difficult to verify the account with a telephone number other than a US number).
Now it is time to enter other information regarding your future business online.
Ideally, you want to enter your website.
And even if your website is brand new with no content on it, don't worry.
If you don't have a website it is ok, too.
You can add your YouTube channel or some social media account.
But it is strongly recommended to have a website. These days it is a matter of a few seconds to create a website.
Although there are certain things you should know before creating such a website.
After you are done, just click on next…
Then there is the following question whether or not your site above is directed primarily at children under 13.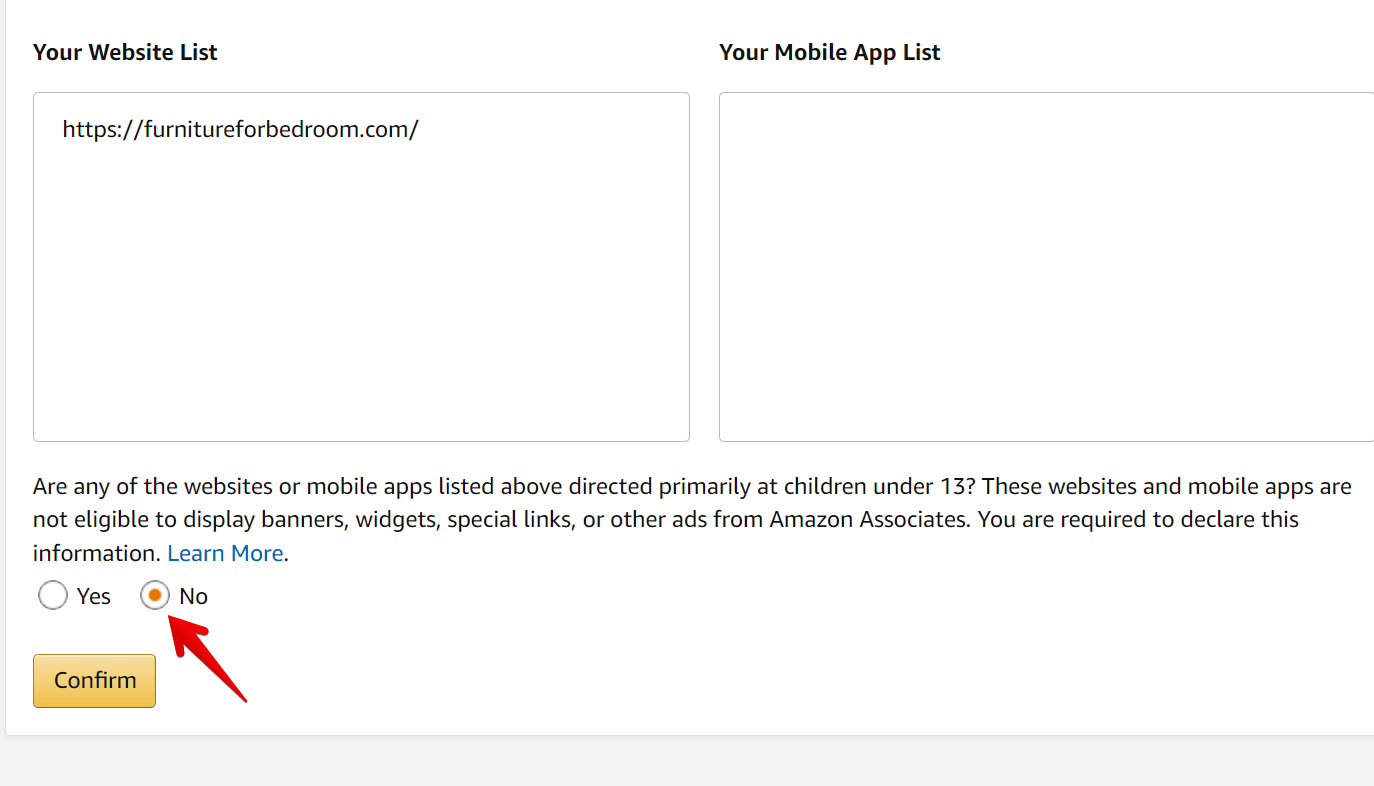 I assume it is not, and let's proceed to the next step
The next step concerns your preferred Amazon Associate ID,
Choose your own ID.
In this section, they need some basic information about your website, or rather a niche – what is your website about.
Don't overthink it, just pick something similar you have a genuine interest in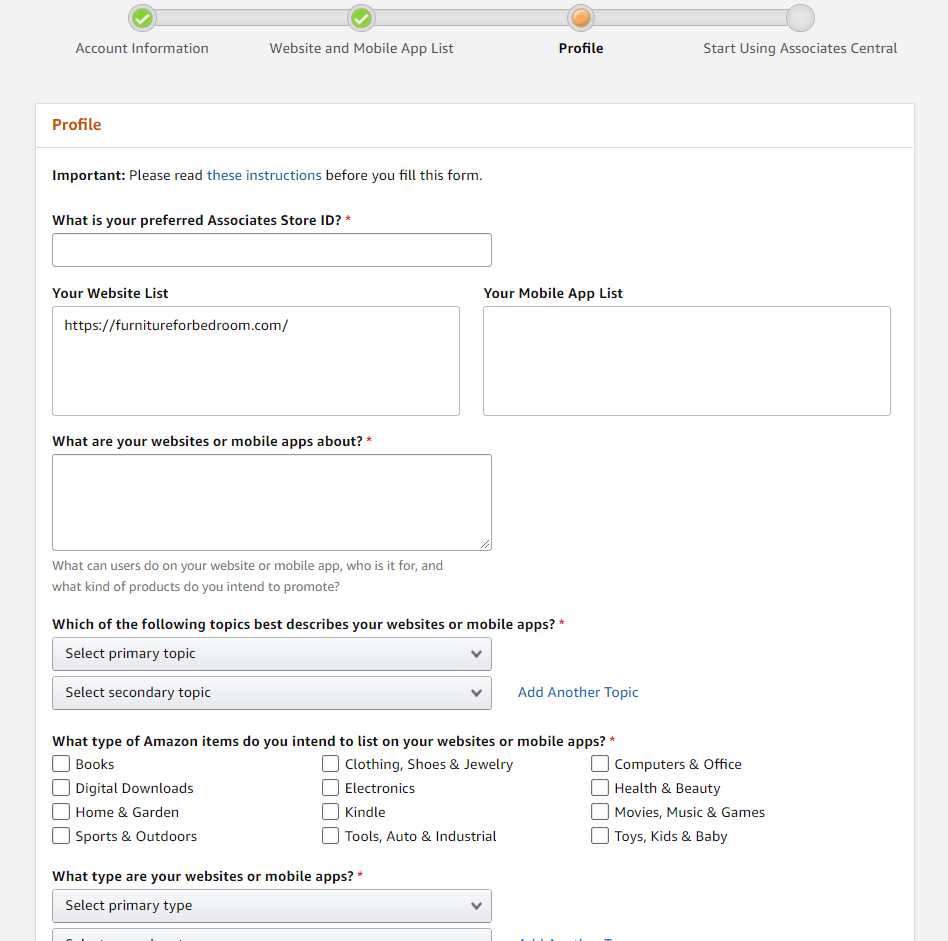 In my case, let's say the furniture for the bedroom I have selected…
…and niche site: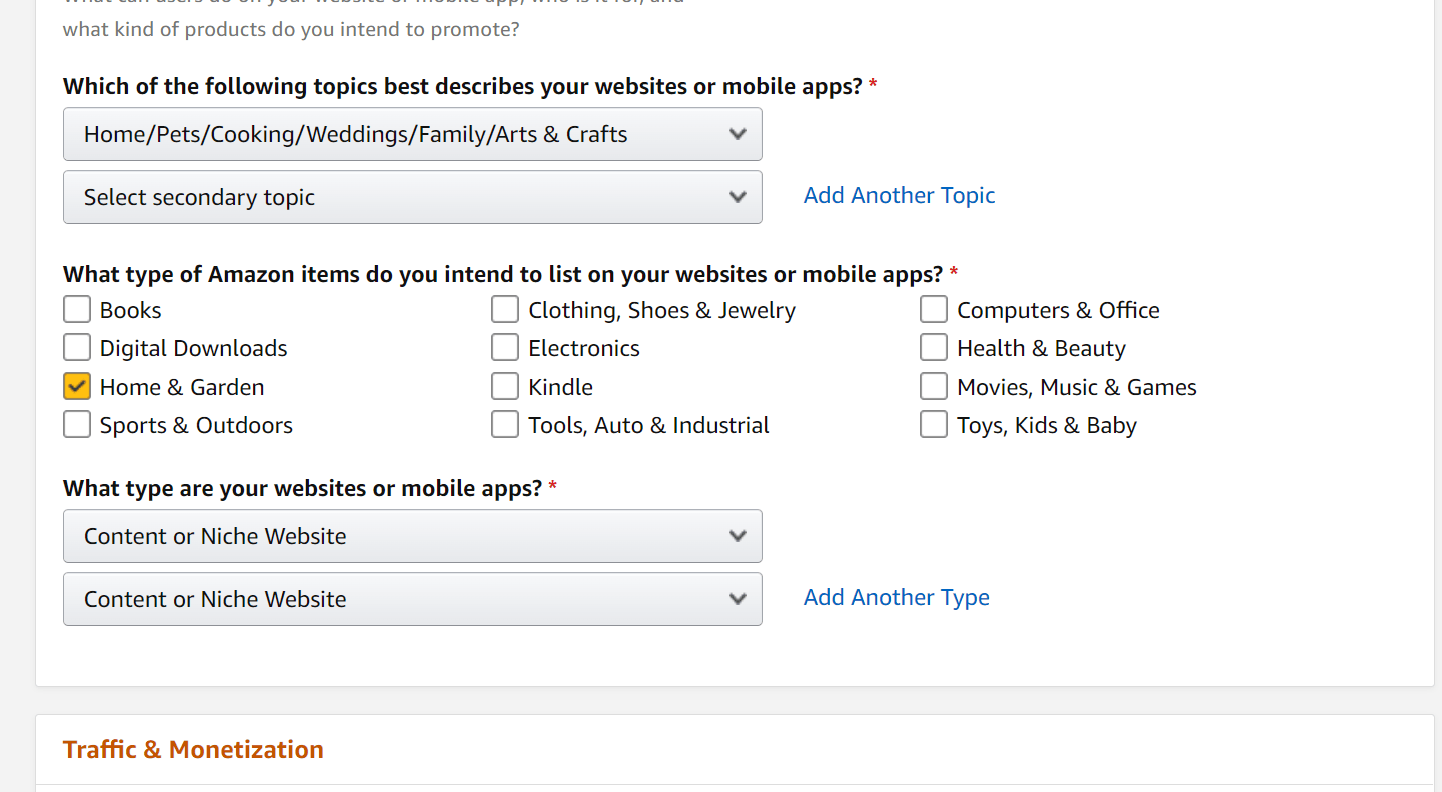 Now how do you drive your traffic?
We can select social and SEO (that's the free or organic traffic).
(In 2017 I have joined one particular educational platform where I learned how to build a website, how to get free traffic, how to monetize the traffic, and many other tips and tricks related to SEO, and online business).
Continue to answer the questions but remember, it is not a big deal if it doesn't exactly match your niche.
Here is something I did:
Note:
For the question "How do you usually build links" – I have chosen Content Management System.
That's WordPress for example and this very site is created in WordPress.
Once done, just check the Captcha and click on Finish.
4) Congratulations
Congratulations, you have just become an Amazon affiliate.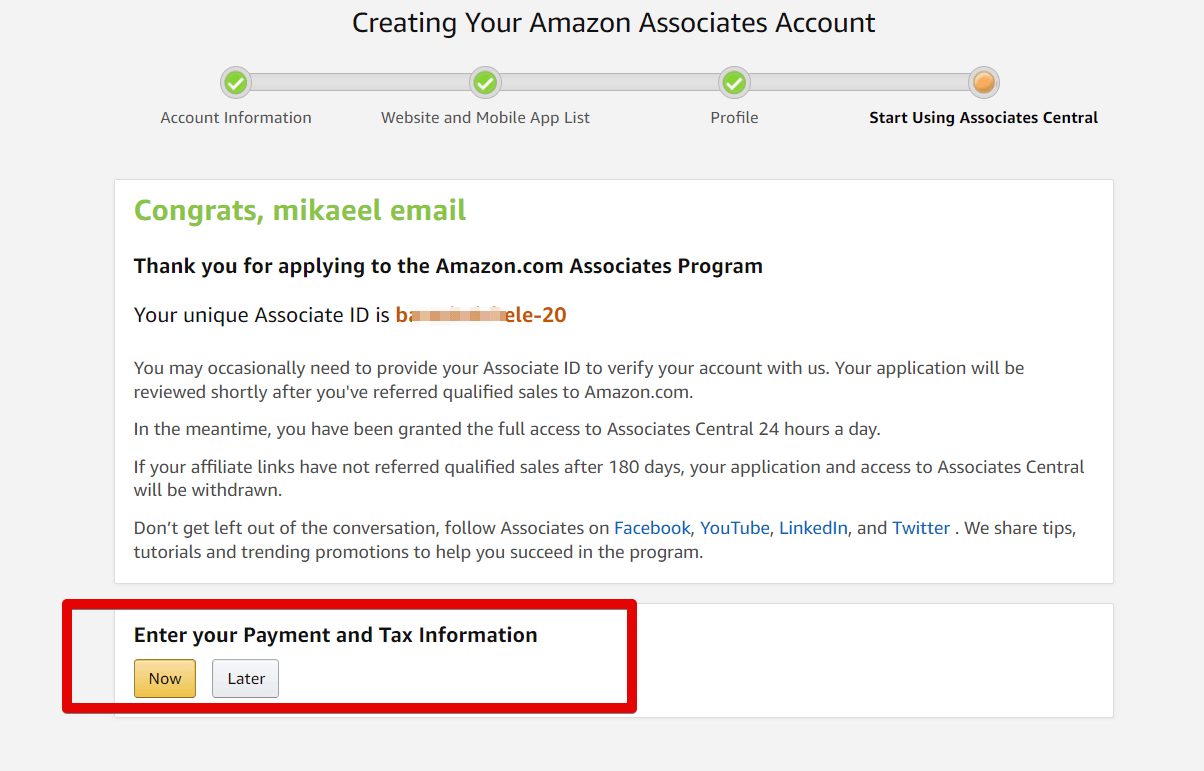 Regarding the taxes information – It depends on your location.
You can still fill it out later.
First, concentrate on building traffic and making some sales.
As you have seen, you need 180 days to make 3 sales, otherwise, your account will be closed.
But even if that might be the case, don't worry – you can always re-sign up.
NOTE:
I am not a tax advisor and I don't know where you coming from.
But from my own experience, filling out the tax form is not so difficult and anyone can do it. If you are not sure about some answers you can select the one that you think is the most relevant one.
Click on Later and you see the guidance :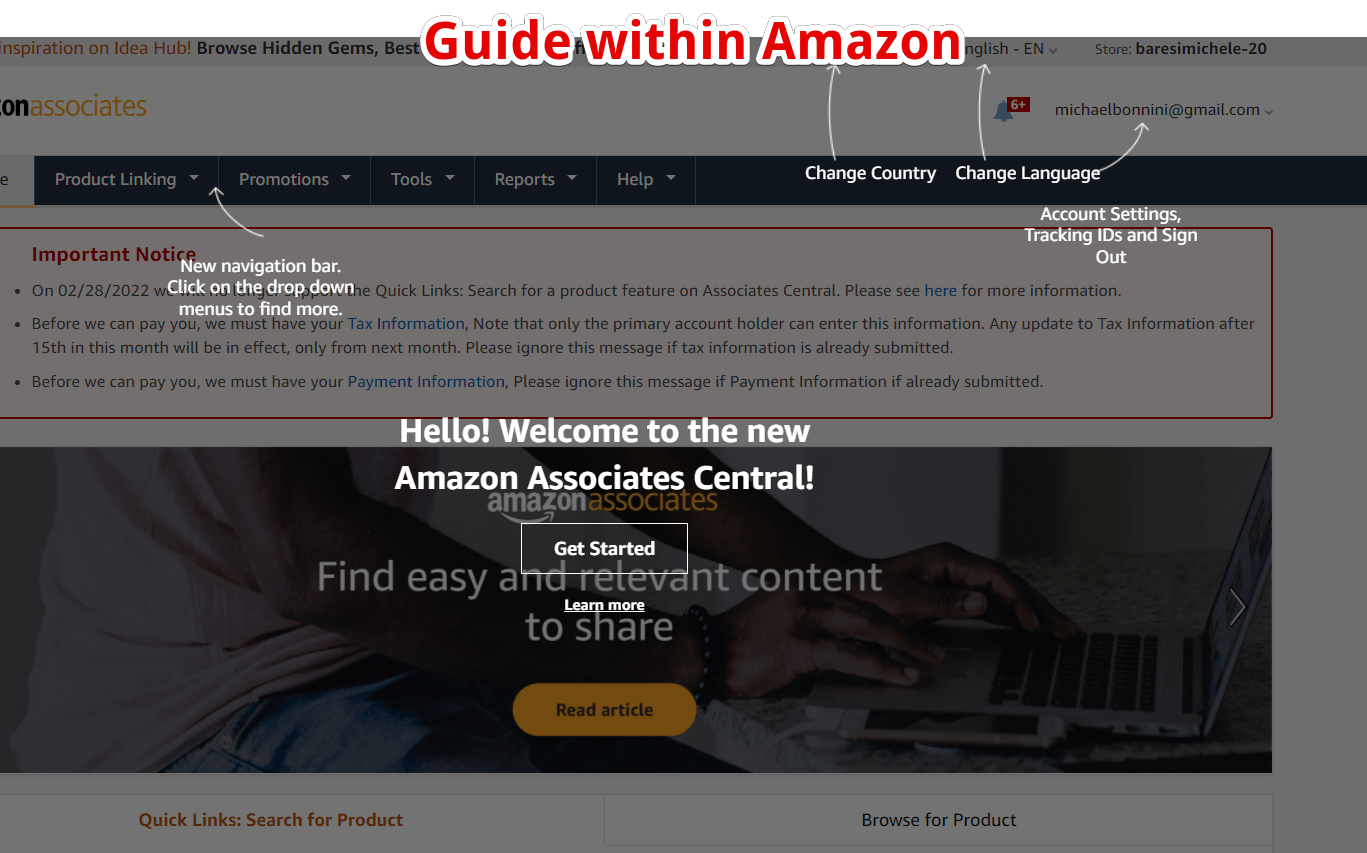 What To Do Now?
Now you can sell anything you want from the entire amazon site.
Of course, that's theory.
In the real world, you want to sell stuff within your niche that is relevant to your audience.
In my case, it can be mattresses.
So let's just head over to the Amazon site.
At the top of the page, you see something "new" something that only amazon associates can see.
You can search for a specific product and click on it.
At the top bar, you see the Amazon Associate Stripe and right next to it there is "Get Link".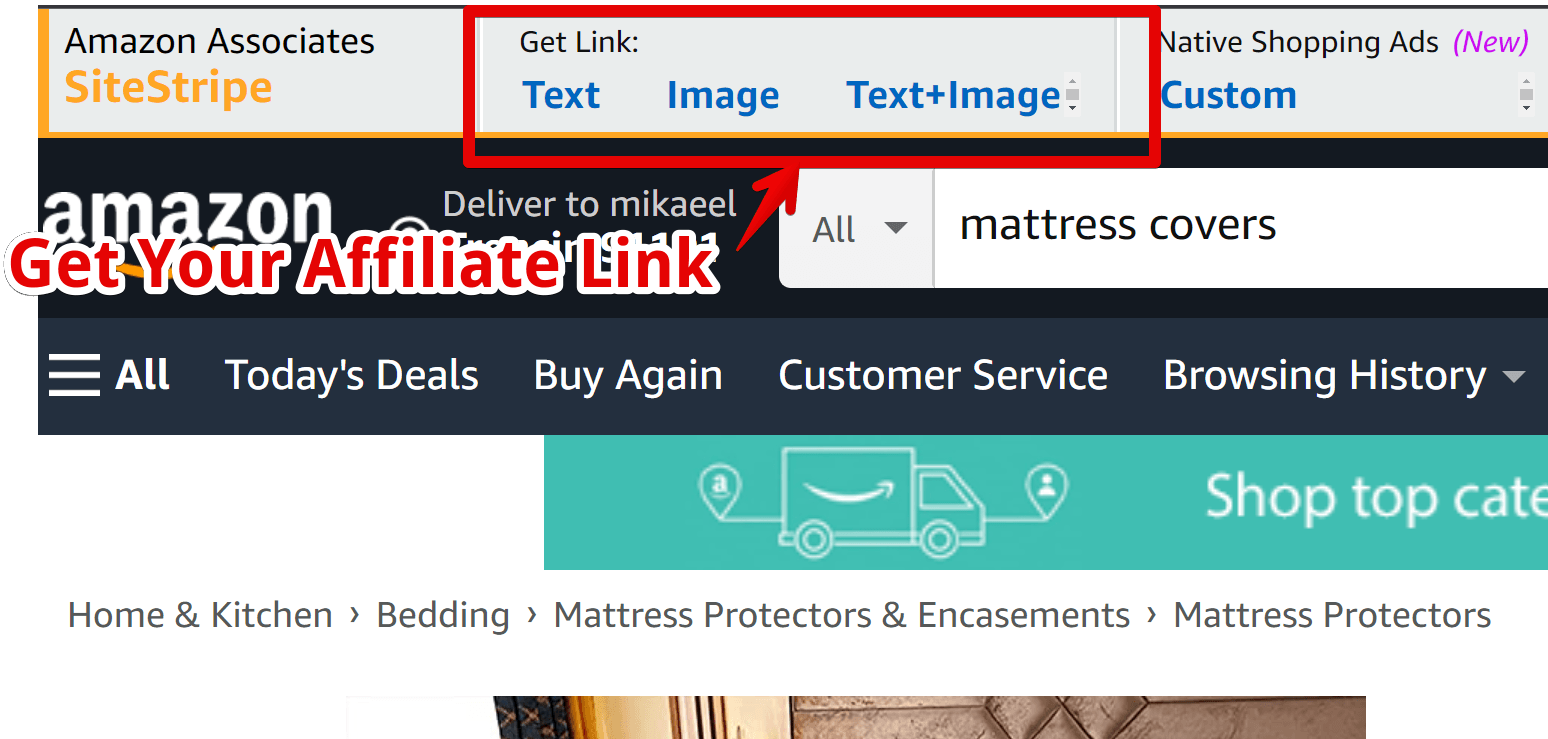 You can either choose text, image, or both.
Add the link to your text, content, Youtube video description, or on social media if you have a lot of followers) and when someone clicks on it and purchases it, you get a commission.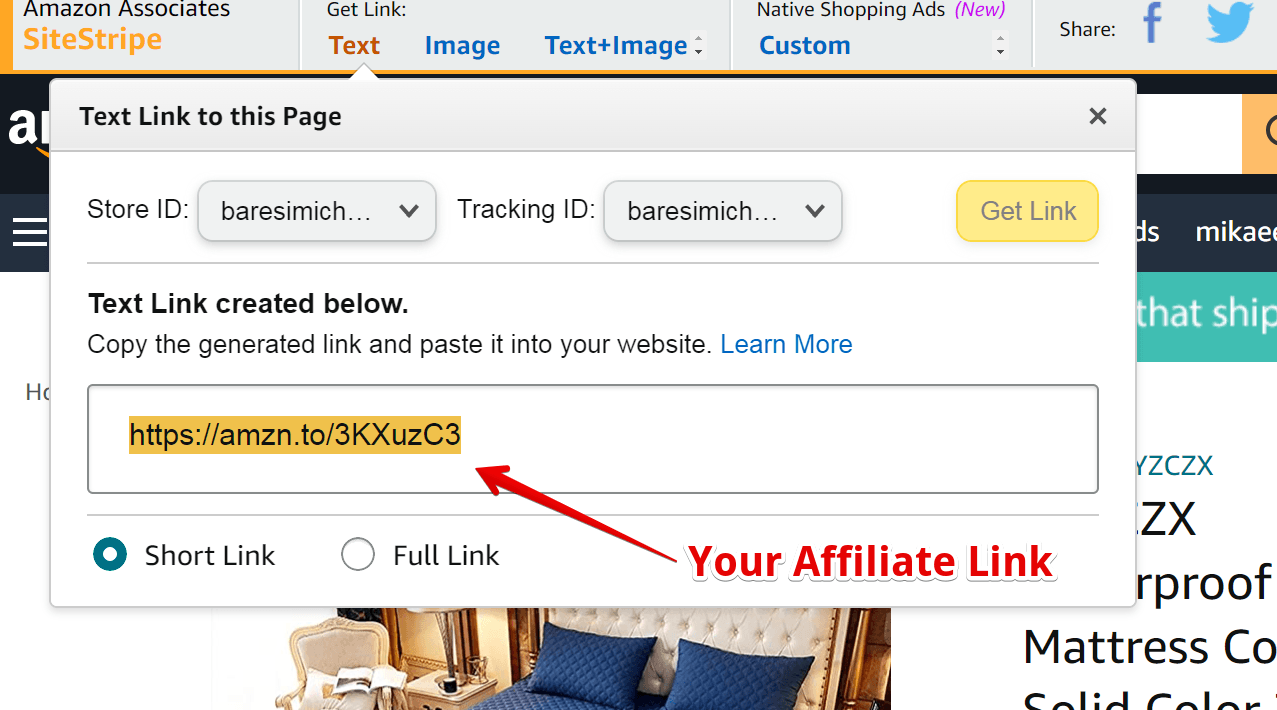 How do you get paid?
In the section where you go through the TAX information, you have an option of how would you like to receive the payments.
There are 3 options:
Direct Deposit
Get Certificate
Check
The best option is in my opinion direct deposit. You need to provide Amazon with your IBAN and BIC (Bank Identifier Code).
What Else Is Good?

One of the advantages is that a person (visitor of your website = potential buyer) who clicked on that link and didn't purchase the product that you "offer" can still be your potential customer, so to speak.
In case he or she buys something else you still get a commission. The purchase must be done within 24 hours after he clicked on your affiliate link.
That lasts for 24 hours.
And we are already getting to the section where I want to mention some issues or drawbacks that are associated with Amazon Associate Program.
What Is Not So Good?
1) Cookies
As mentioned above, it lasts only for 24 hours.
So if the person gets back to amazon 25 hours later, the cookie is already expired and you won't get any commission.
There are other affiliate programs as well and many of them offer cookies that last longer than just a day.
(Depending on the program it can be weeks, months, or even unlimited).
2) Three qualified sales within 6 months
I have already touched on this.
Let's say you have your account set up already.
Please keep in mind that in case you will not make at least 3 qualified sales within the next 6 months, your account will be automatically closed.
Amazon will notify you in advance, though. (The first notification you get is 90 days after signing up – so halfway through).
Again, nothing to worry about.
You can still create a new account.
This time make sure you will make some sales :). Not because of Amazon rules, but because you want to make some extra money, right?
3) States not Eligible to join the Amazon Affiliate Program
Within the US there are some states which are excluded from joining the Amazon Affiliate program. As far as I was able to find out, it is due to the tax law in these specific states.
Here is the list:
Arkansas
Colorado
Missouri
Maine
Rhode Island
and Vermont
There is a workaround though.
You can use a middleman or someone you know that can create the account from a different state.
You can also ask your relatives living in other states to create an account for you.
Amazon Commission
I have already mentioned that the Commissions are not so great.
In fact, most of the commissions are about 4% only.
So make sure to choose a category where the commission is higher. On top of that, you also want to be in a niche where the usual products cost a couple of hundred bucks.
This is a screenshot from Amazon associate site. (If you are not an amazon associate you can't see the table on the Amazon page. )
Conclusion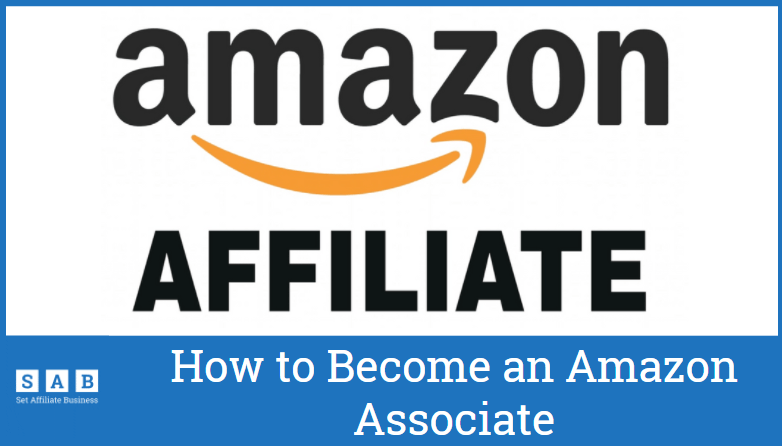 Amazon is a great place, where one can search for any kind of item.
There are tons and tons of products you can choose from. Imagine how many people go to Amazon daily with one intention -> To Make a Purchase. There are an estimated 2,2 Billion visitors per month.
Do you see the potential of becoming an Amazon Affiliate?
Of course, in order to become a successful affiliate marketer, you have to work hard. It does not happen in a few days. But once you are willing to put in an effort, you can easily start to see the result within 4-8 months.
Nothing is perfect though. Right?
What can be considered as a downside is the 24 hrs cookie (meaning, whatever visitor purchases within 24 hours after clicking on your affiliate link – you get a commission).
On the other hand, they are the best with upsells.
So once a visitor is directed from your site to Amazon and he purchases something else than he originally planned, it is a good chance that he will buy other stuff too and thus you get a commission from that other stuff as well.
There are many people earning a full-time income from amazon commissions.
With a still increasing number of people on the internet and stuff being sold (not only on Amazon) you still have a great chance to earn some money as a secondary income, or the heck with it – to earn $4,000 – 5,000 a month!
Do you have already experience with Amazon? Would you like to become Amazon Affiliate? Please leave me a comment so we can discuss it a bit.
Thank you for reading
Mike