Let's assume you already understand the basics of building up a website and content creation. You know how to get traffic to your site, which is ideally by proper keyword selection. You constantly add content to your site, relevant to your niche, and as a result of that, your traffic grows.
Now a question arises: how to make money with this website?
The most effective way is affiliate marketing.
How to start with Affiliate Marketing – what is the best way?
Here we are going to elaborate on affiliate marketing, and how to find an affiliate program at the end, you should be able to explain to your buddy (he might be interested as well), what is affiliate marketing and how to start. 😉
Also, it would be helpful to mention some aspects you should be avoided while creating your content.
What is Affiliate Marketing – Definition
Affiliate Marketing – first when I heard that term I had no idea what that meant. After a bit of research, I have learned that it is basically a sharing revenue model type of business.
In other words, you create content about products you like (or services), promote it to other people, and if they buy you get part of the profit for every sale you make.
Merchant <-> Affiliate <->  Customer
In the entire process of affiliate marketing, there are 3 parties involved.
The Merchant –  product creator. The product can be anything, physical thing, digital, it can be service or experience.
The Affiliate – this is us. We are (or will be) affiliates promoting that product or service. It can be even more products and he does not have to be connected with one Merchant only.
The Customer – finally the consumer of the products made by the merchant.
You see that the affiliate is like an interface between the merchant and the consumer. He basically helps the merchant to sell and helps the customer to choose the best solution.
The affiliate does the product research and based on that he gives valuable information to a customer and lets the customer choose the specific product.
As you realize there are literally millions of products to sell or to offer to customers. You can go to any merchant site, and sign up for their affiliate programs.
Affiliate Program and How to Search For It
How to find out about the affiliate program?
You simply go to google and by typing your niche with the "affiliate program"  next you will find lots of results. You sign up for those programs you like. You then will get a special link called an affiliate link which you will use throughout your website.
Here is a short video on how to search for an affiliate program. As you can see there are literally hundreds of results. You can do this for any niche as well.
At the bottom of the search results, there are these google suggestions which is great for brainstorming.
Another great Affiliate program offers Amazon. We can use the same niche  " dieting"  and we see that there are over 20,000 results in niche concerning the dieting.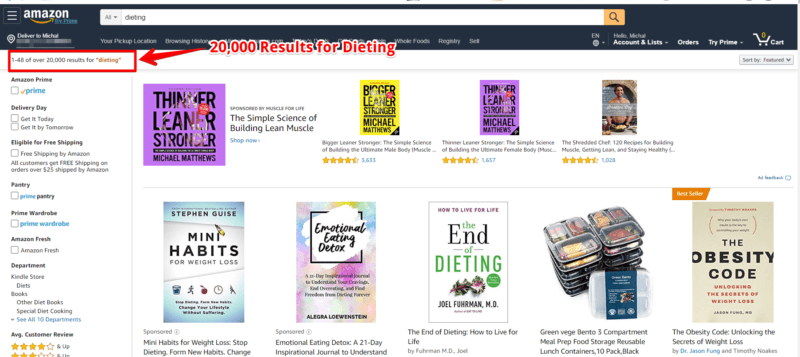 What I suggest, is to narrow that niche down, to " Gluten-Free" for example.
You can even decide to check the Prime products and create reviews on these products only.
You can join the Amazon affiliate program for free. Once you have your own account you can promote any product you wish. Just to let you know that Amazon offers a commission from 4 to 10%, which not a lot. Therefore when considering the niche, please make sure you will promote products with a price tag over $100. Do not go to the other extreme ($1,000 and more) as the number of sales is not that big.
TIP: While creating your account with Amazon, you will be asked to insert your telephone number. I know that the platform does not work quite well with international numbers. There is a workaround, you can check if you are interested.
Once you have your account up, go to any product within the Amazon site and you can get your affiliate link for every single product.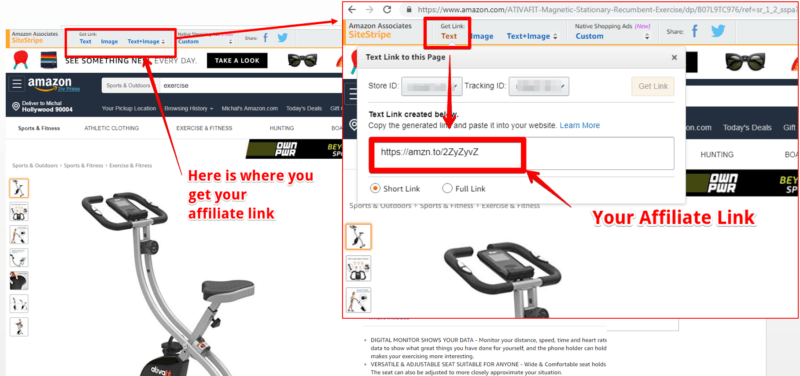 As you have your content on your website, you deliver interesting info to your visitor. You describe a specific product, where you add this affiliate link. They are sent off to Amazon and once they do the purchase you get the commission, from whatever product they buy.
Amazon has 24 hours cookies, so if they come back to Amazon within 24 hours from that 1st click, you get the commission from other products as well.
What Are Affiliate Networks?
The affiliate program allows you to make the connection with many merchants at once, without going through the troubles of signing up with each merchant individually.
For the affiliate, it would be a tremendous task to search for the different merchants, do the research, collect the data and come up with comprehensive content.
Therefore there are Affiliate Networks that collect many merchants so they can be found in one place, such as ClickBank or Amazon.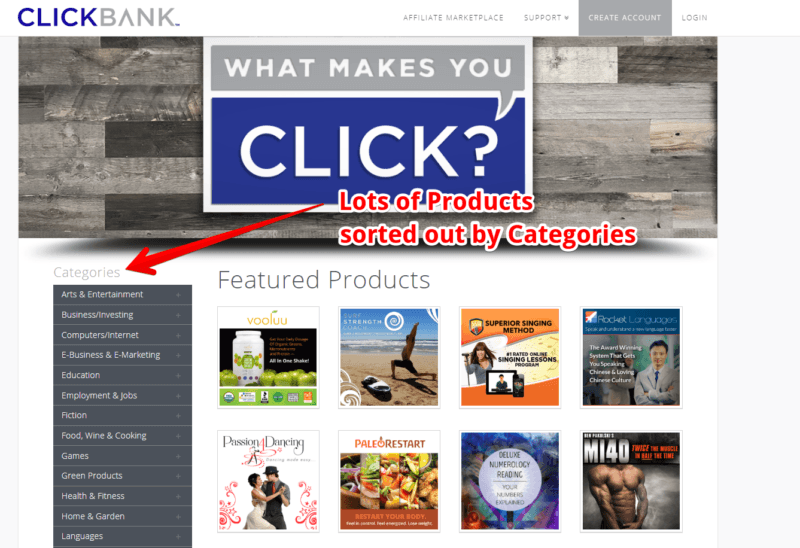 Affiliate Network makes the search for a specific product or niche much easier. On top of that but it handles the payment and the commission for the affiliate. Also, you, as a potential affiliate sign up with one (or more) affiliate networks once, and you can start promoting every single product within that network.
For some Affiliate networks, it is pretty easy to sign up, such as Amazon, for others it may be even more complicated and they require also data about your website (for example monthly visitors to your site).
There are many other affiliate networks. I will mention a few of them, which are very popular.
Commission Junction
ShareASale
JVZoo
Rakuten Marketing
ClickFunnels
What to Avoid?
There are many affiliate programs you can join. Regardless of your niche, you can partner up with Amazon. It is easy and the Amazon affiliate program accepts almost everybody (like %99.85  of applicants). Just make sure you read this post to gain some insight info.
You can join as many affiliate programs as you want, but please take it easy, especially at the beginning. It is recommended to join 2 or 3 max.
Make sure that your content is relevant to the products you promote.
Another common mistake newbies tend to do is, they use lots of affiliate links within one article. This can seriously harm the rankings since Google wants to make sure that every site delivers value to the visitor.
As a common rule, have no more than 1 affiliate link per 500 words. Keep your site clean and easy to read.
The Best Place to Learn Affiliate Marketing
Today you find tons of courses and training about affiliate marketing. One can easily get overwhelmed. I have spent about 3 years searching for a legit course that would be free.
I mean there are lots of YouTube videos with some advice and tips and tricks. But I wanted to find a tutorial where it is explained what to do at the beginning, what direction to go, do I have to create a website, how to get traffic, do I need to run ads on google and/or Facebook, and so on.
I had many questions and it was hard to find the proper answers. And yet I did not have $1,997 to spend on a course.
Have you been in such a position? Or do you still struggle?
Let me know in the comment section below how did you find your "way out".
I personally found a platform, with comprehensive training and video tutorials. It was meant for total newbies as well so the first few lessons I have finished quickly. Then after I learn new stuff I started to implement it right away.
This platform teaches what really works regarding SEO and besides the tons of material, there is also a great community of more than 300,000 thousand people. (Actually, there are about 1M members, but you know how it is – the majority of people do not follow the training. That is normal in every walk of life).
Conclusion
More and more people buy things (or digital products as well) on the internet and there are billions of dollars being spent online every single day. A big portion of that goes to affiliates so Affiliate Marketing is a great way how to start making money online.
The beauty of the internet is that it is open 24/7/365 all over the world. Once your website gets the traffic you can wake up in the morning finding out you just made a couple of hundred. Again. That we call a passive income (of course is not that passive since you work hard to get the content up, right?)
Another advantage of affiliate marketing is that you don't have to deal with any customer support or suppliers.
You know how to make money with affiliate marketing, so the next level might be you are having your own product. you learned a lot and now you will share your knowledge with other guys. You can create your own course and through an affiliate program, you can sell more by offering a monetary benefit.
I hope I have covered the basics of affiliate marketing. In case you would like to elaborate on some specific items, please let me know in the comment section below. I'd be more than happy to provide you with more information.