If you starting out with a blog or a website, I am sure you have already stumbled upon this term called low-hanging keyword.
We are going to find out how to drive traffic with low-hanging keywords, in the next few minutes.
First, we start with the definition of the term low-hanging keyword and we are going to compare them with high-traffic keywords.
Of course, in principle, you know what is the difference between these two, but we are going to dig a bit deeper.
Towards the end of this post, you are going to have a better understanding of how to get traffic, even with a new blog (or website).
Tip:
This article contains a few tips as well 🙂
Definition of Low Hanging Keywords
So what is a low-hanging keyword (sometimes also called "low-hanging fruit keyword")?
Imagine a small tree with fruits that is close to the ground. There are many trees like that but there is not much competition.
The thing is that most people, quite naturally, want to harvest larger trees, and we know that the best apples are at the top of the tree.
Everyone wants the best fruit – and that means high competition.
Besides, it is quite difficult to grab them – it is necessary to have some experience (in climbing the trees) or to have proper tools (for example a ladder that can reach the top).
Now in the online world, the low-hanging fruit keywords are the kind of keywords that are easy to reach.
The reason is that not many people/websites use them.
On top of it more and more people connect to the internet and ask questions. So quite naturally, there is always room for new keywords.
To put it simply, low-hanging fruit keywords are super low competition keywords.
Using these low-competition keywords should guarantee you a good ranking in the search engines (Google, Bing/Yahoo, and others). Especially when it comes to new websites.
As a result, you are getting more and more traffic, and engagement, and thus your website authority starts to increase.
Then you can start focusing on more competitive keywords.
How to find low-hanging fruit keywords?
This can be also quantified and we are going to use some numbers in the next section.
So far, just remember that a keyword with less than 100 QSR is a low-competition keyword.
At the very beginning focus on 30 or even lower QSR.
QSR stands for Quoted Search Results and it shows the number of competing websites ranked in Search Engines, using the exact same keyword.
Let's say you have a specific keyword on your mind and you want to create an article.
Type that keyword in Google and see how many sites use the exact keyword.
Use the Quotation mark before and after the keyword to see the exact number of competing websites: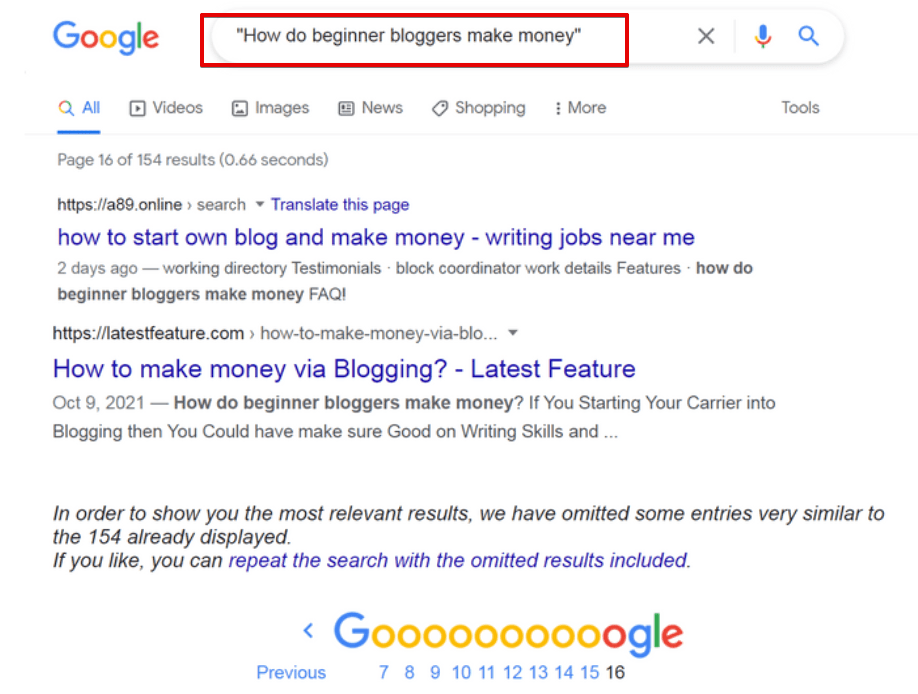 You see according to Google there are 154 results.
In other words, QSR for that keyword is 154.
We want to find a better keyword, so let's type a different one…
…and again and again.
OK. Hold on.
I am sure you realize that this might take ages until you find the right keyword, that has less than 100 competing websites (or ideally less than 30).
But competition is not the only parameter we want to look at.
Also, it would be nice to know how much traffic you can get once the right keyword is picked up, right?
That's why for this purpose we use a Keyword Research Tool.
There are many of them, some of them are paid some are free.
I personally use Jaaxy, and we will explain how to use it in a minute.
I hope I didn't lose you;
Let's Sum It Up
Here are the main characteristics of low-hanging keywords:
It has lower traffic volume (It might sound like a drawback, but this doesn't bother us at the beginning)
Competition is much lower (this is actually beneficial for us as beginners)
And therefore it is easier to rank (that's what we looking for)
The bottom line is that by using Low Hanging Keyword, you have a pretty good chance to rank on the 1st page of Google (and other search engines as well), within a few weeks, even days if your sites have been indexed by Google.
Difference Between Low Hanging Keywords and High Traffic Keywords
I think this is already obvious and we don't have to elaborate on this too much.
High-traffic keywords are for experienced bloggers.
Just type "affiliate marketing" and you see the results;
Only high authority sites, including Neil Patel, ahrefs.com, and others.
It'll be very difficult for a new blog to compete with these guys.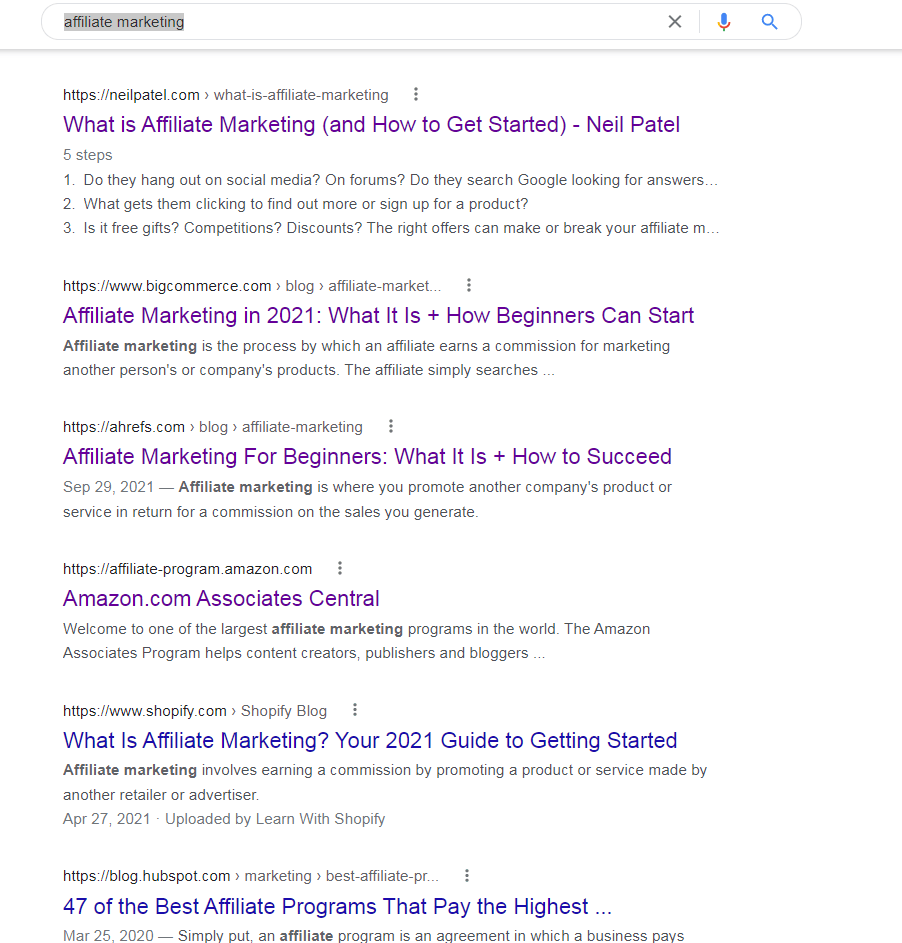 That's why we want to focus on low-hanging fruit keywords only.
How to Drive Traffic with Low Hanging Keywords
First of all, the good news is that writing an article for a low-hanging keyword is no different than writing normal blog content.
We also know that it doesn't make sense to try to rank for keywords with high competition.
So, the best approach is:
Low Competition – less than 100 competing websites
High Search Volume – more than 100 people search for that term (per month)
Keywords must make human sense
To determine whether or not our keyword has those requirements we need to use the Keyword Research Tool, as already mentioned.
Here is a list of free keyword research tools you can check:
Keyword Surfer – (This is a free chrome extension)
Keyword Sheeter
Keyworddit
Before we go to one specific keyword tool, let's check one tip that will help you with keyword ideas.
Tip – Alphabet Soup Technique
This is nothing new to you.
And even though you might not have heard this particular term, I am sure you have already noticed what Google does, once you start typing the phrase.
Let's use google suggestions to get more ideas, meaning right after the core of our keyword we start typing: a, b, c,…
See, what we are getting there?
Using the Alphabet soup technique you will for sure come up with tons of keywords.
Make a list of those that you like and then, go to the keyword search tool to find out which ones have the best "parameters", so to speak.
As you know I use Jaaxy and therefore I am going to use some screenshots below.
Jaaxy – Keyword Research Tool
On the screenshot below we see the keyword or phrase and I highlighted the most important data:
Avg stands for The average number of searches that the keyword receives per month
QSR (we already mentioned that) is the Quoted Search Results. The number of competing sites.
By now we know that our main focus when it comes to low-hanging keywords is low competition and high traffic.
Let's break it down a bit;
Here is a screenshot where we see that our chosen keyword is quite competitive.
Inside Jaaxy, we can arrange the competition from the lowest, so we can see which keyword has the lowest competition.
Please keep in mind that no such tool is perfect and therefore make sure to select a keyword that makes sense.
From my perspective, this doesn't seem to be the right keyword. So let's do a bit more research.
By research, I mean nothing difficult.
Just let's take a look at the Google suggestions: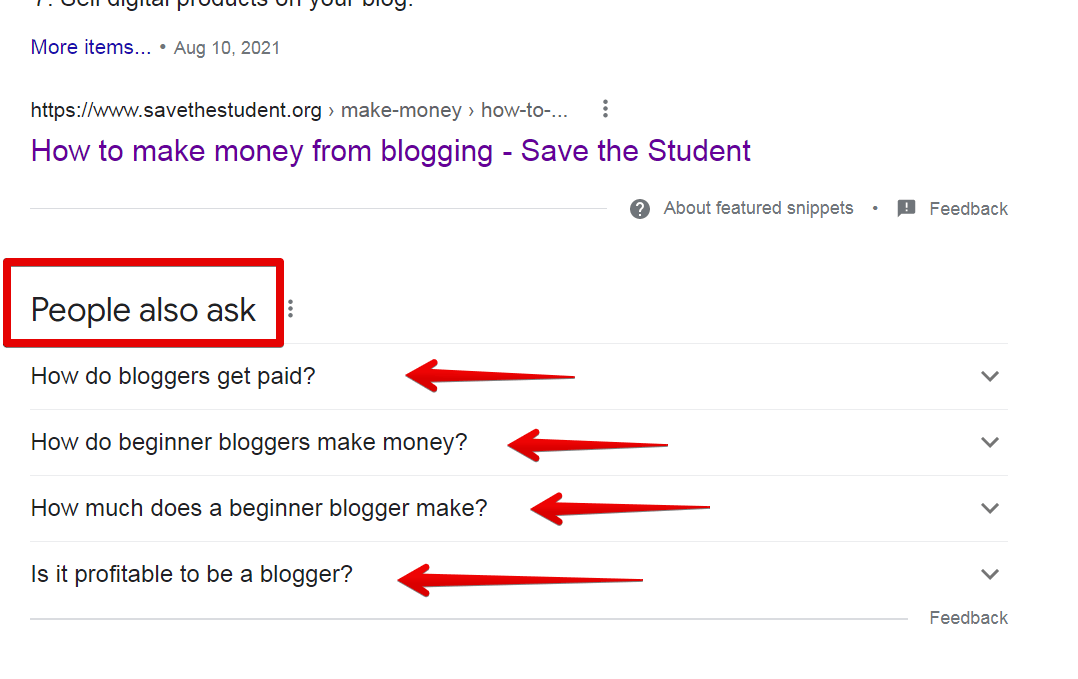 This is what people are asking.
After a bit of more digging, we have found a specific keyword:
"how to become a blogger and get paid"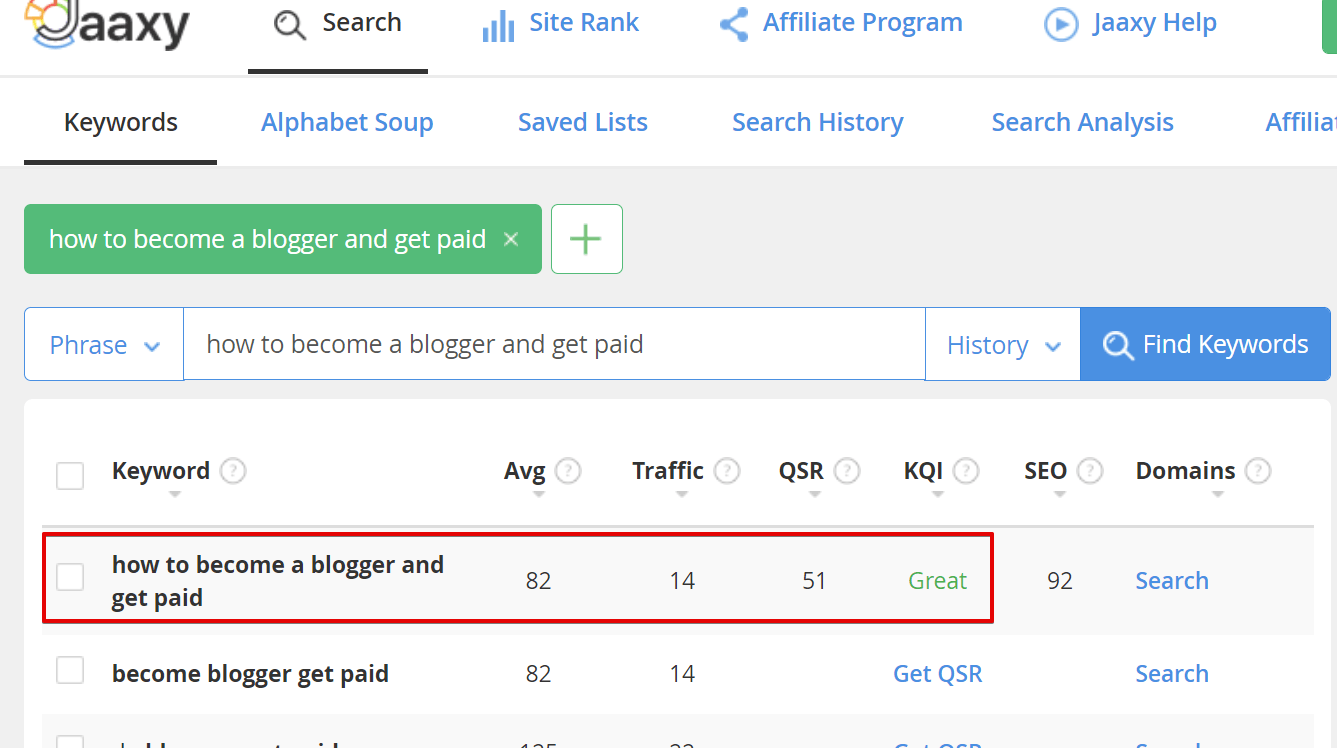 And this is an example of a keyword that belongs to the low-hanging fruit category.
We see that there are 51 websites that use the exact same keyword.
Remember the rule we have mentioned above?
We focus on KW that has less than 100 QSR (less than 100 websites with the same keyword).
The average traffic is not so ideal but it is close to 100.
And here is another Tip:
Aim to write content that has at least 1,000 words.
That way, you will have a better chance to rank. Ideally, you can write even more but sometimes it is not so easy.
No worries, it'll come with practice. You will be a different blogger writing your 30th post than you were 20 posts ago.
So the more articles you write the easier will be and suddenly you realize that you can't write an article with less than 2,000 words.
Now with the right keyword, we can start writing the article.
In order to rank well it is necessary to follow certain SEO rules, but no worries.
Let's just stick with the basic ones:
SEO is Not That Difficult
Just remember the basic SEO principles (some basic rules you want to follow):
Have the keyword in your Meta Title
Have the keyword in Meta Description
Have it once naturally within your content (preferably in the 1st paragraph)
Make sure the keywords make human sense
Preferably have the keyword in the URL as well

Please note that sometimes, Google doesn't show the exact words that you write in Meta Title/Description.
It is OK. Sometimes Google just uses different text from your article.
Conclusion
You have learned how to use low-competition keywords.
The main purpose of this approach is to get the traffic as soon as possible.
This is applicable to every new blog.
It doesn't make sense to go after high-traffic keywords. Google doesn't recognize your site, and therefore you will be probably somewhere in the 80th position.
But you want to get traffic so therefore use the low-hanging keywords.
We have shown how to find them, and how to determine whether it is still a competitive keyword or not.
And even if you get only 50 visitors per day, you can already determine whether they stay on your site or not.
For that purpose, you need Google Analytics, but I believe you are familiar with this tool already.
For example, you can check your bounce rate, and see how your visitors behave.
Based on that you can adapt your work.
Hope you find this article helpful.
If you have questions or you have something in your mind, please let us know in the comment section below.
I will be happy to give you feedback, hopefully within 24 hours 🙂
Thank you for reading
Mike