You have done some research on how to make money online and came to the conclusion that affiliate marketing might be the best method.
That might be right.
The truth is that affiliate marketing is probably one of the simplest business models there is.
How to start affiliate marketing from scratch?
Affiliate Marketing is a vast topic and it is not easy to cover everything in one article
But I have decided to put together the most essential information.
Jump to:
Let's break it down;
Why Trust My Advice?
I'm a human being who makes mistakes, just like anyone else. However, I've been involved in affiliate marketing for over 4 years, initially part-time and then full-time, gaining valuable insights along the way.
I've made numerous mistakes and learned from them, including dealing with website traffic drops and finding effective solutions.
Now, I'm here to share my knowledge in 5 simple steps to help beginners understand affiliate marketing.
The information I provide is not solely based on my own experiences. In late 2017, I was fortunate to discover an educational platform that taught me about affiliate marketing.
Since then, I've acquired the know-how to consistently generate a monthly income in the four-figure range, and I've witnessed numerous individuals achieve even greater levels of success by implementing these exact 5 steps.
What is Affiliate Marketing?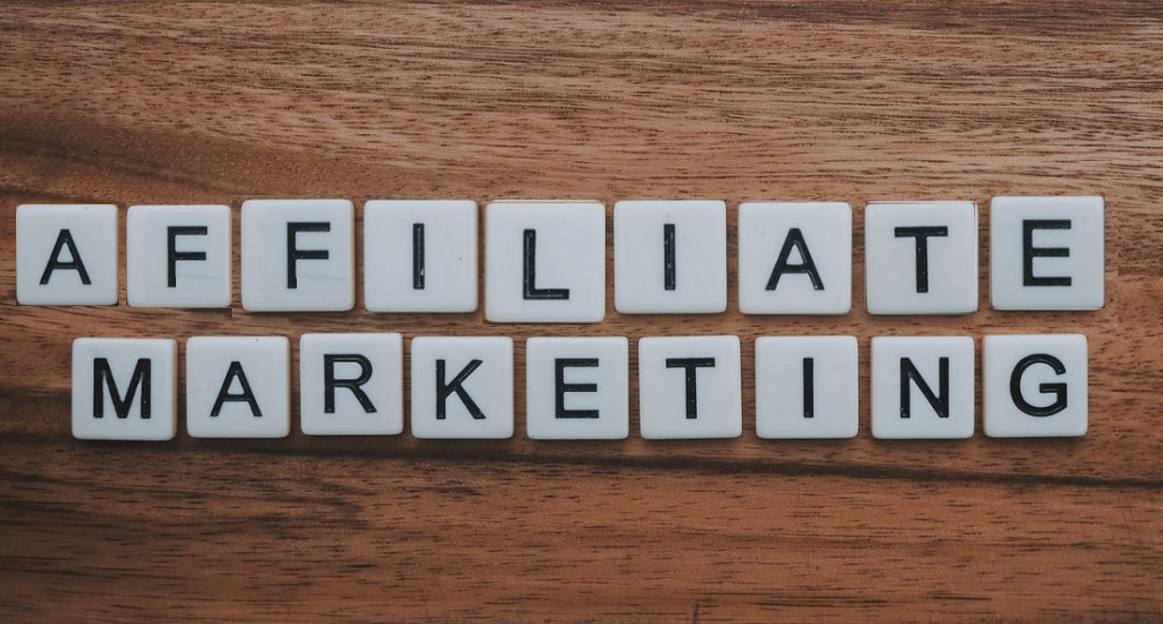 I bet that this is not the first time you are reading about what affiliate marketing is,
right?
Let me put it in a simple way:
Affiliate Marketing is a business model where you as an affiliate marketer connect potential customers (visitors to your website) and companies or vendors selling stuff (it could be an online or offline product or, a service).
You as an affiliate marketer get a commission whenever the potential customer makes a purchase.
How does it work?
Let's get into the actual procedure, that's why you are here, I guess :).
1) Choose a Niche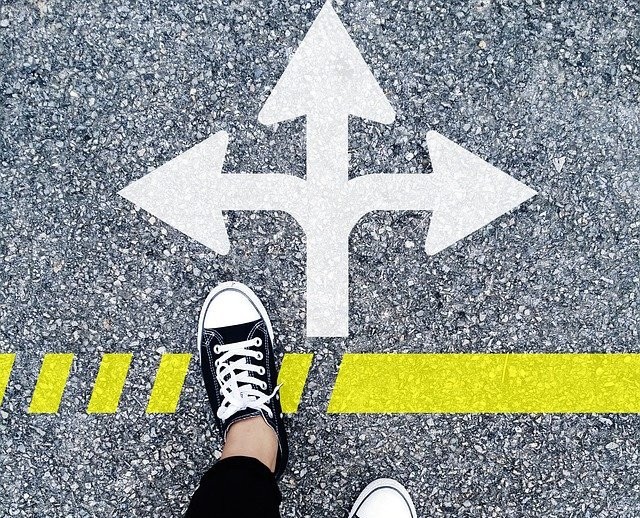 First of all, you want to choose your field of interest. That's called a niche.
In my experience, this step is often overlooked and many digital courses online mention the niche topic, very briefly.
I believe you don't want to do that.
In fact, it is recommended to read a dedicated post about how to find a niche for affiliate marketing.
Well, in case you know what's your passion, I believe you can skip this step.
Because being passionate about something is a great advantage and with proper education, you can start earning full-time income within months.
2) Build a Website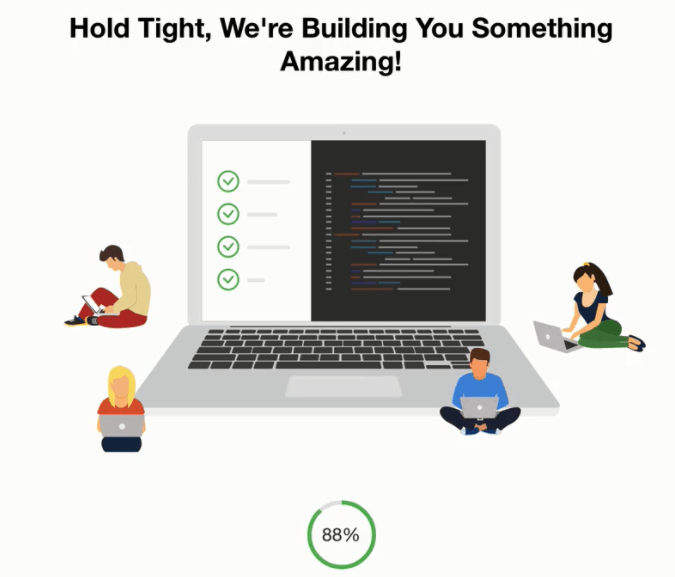 Many people still think that this is a difficult part. That one has to do some coding or programming and so on.
Well, sure there are people that can build a website from scratch.
But there are also website builders available and it takes only a few clicks and you can have your website done in minutes.
Don't get me wrong.
Such a site is just like an empty canvas.
This is what it looks like:
And here is the link, so you know it is a real website.
But my point is that there is no knowledge required when it comes to building such a website.
Have you ever used Word or any other word-processing software?
Or have you ever written an email with an attachment to it?
I am sure you did.
Well, congratulations that's all you need.
The website builder where this website was built is part of one educational platform and you can actually build your sandbox website for free.
(Sandbox website is a testing environment, and as you might have noticed, the domain goes):
The actual website with your own domain costs a couple of bucks per year, depending on the hosting provider.
It is always recommended to have your own domain as it is much easier to rank on the first page of the search engines (Google, Bing/Yahoo, DuckDuckGoand others).
3) Get Traffic
How to get traffic?
How about paying for that?
That is also a way but not recommended. Certainly not for beginners.
Been there, done that.
(Don't do the PPC – Pay-Per-click, unless you already generate consistent income)
Again I am talking from my own experience
And here is another way to look at that.
Don't chase people by displaying your ads on Facebook, different social media, or even Google, or Bing.
Have them chase you.
This means you start creating content.
Content that is interesting and concerns your niche or topic.
People will naturally find your content since they looking for some information on Google, using keywords.
They type these keywords, just like you did before you get to this website.
So you as a website owner, know how to write content that ranks well on search engines (1st page of Google and/or Bing).
That's called SEO.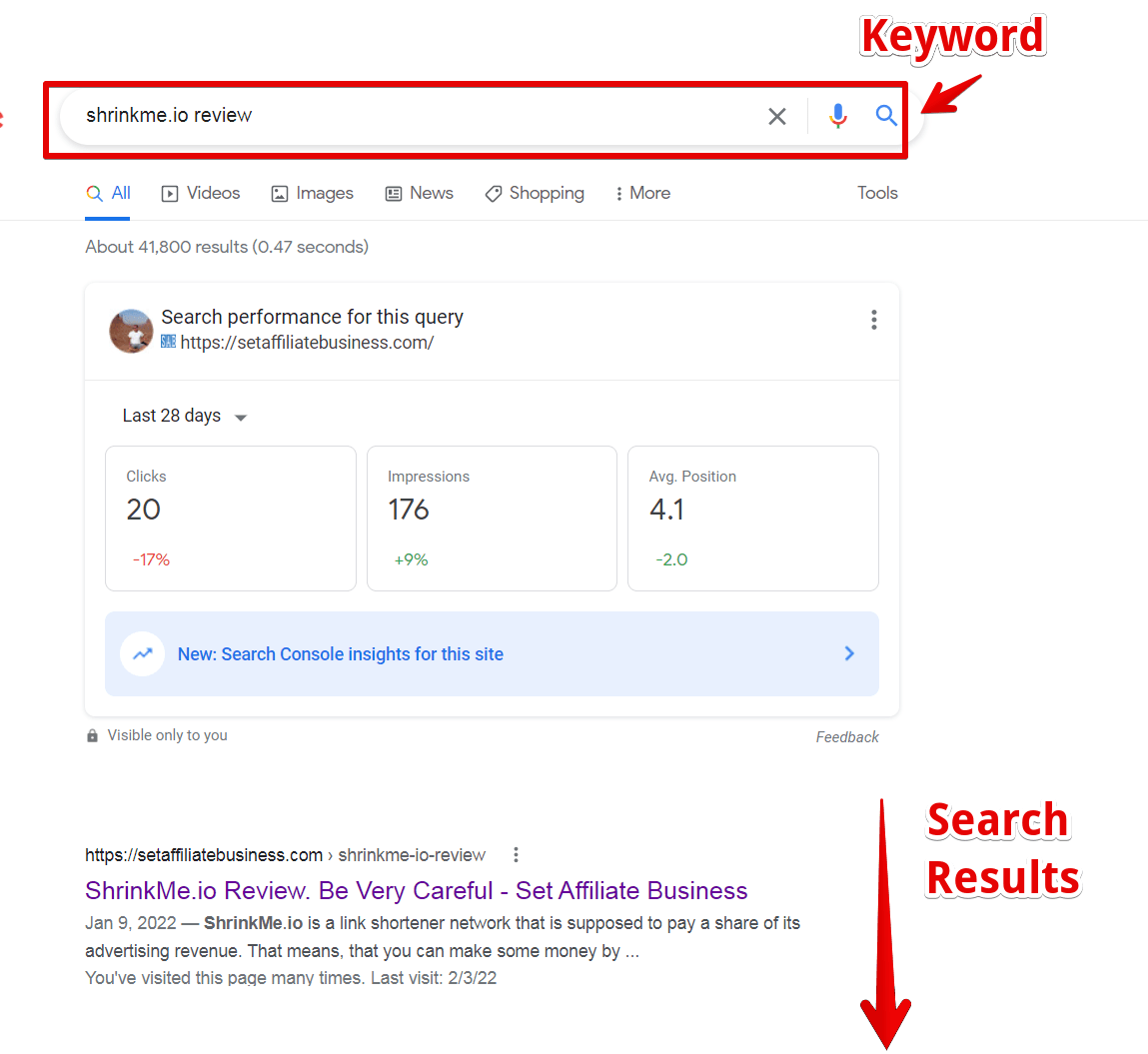 I was so afraid of this term…
…SEO
I used to think it was a kind of magic mixed with science 1 level right belove rocket science.
Well, it is not.
There are certain rules you want to obey and with consistency and proper keyword research, your content cant start ranking within weeks… sometimes months.
Months?
Yes, months;
NOTE
I am not a guy selling you a get-rich-quick system promising to make $1,000 a day with a few clicks.
There are many digital products like that and they have one thing in common:
They don't work.
So the truth is. to make a consistent income online takes time and effort.
In case you are looking for some shortcut or push-button system generating money on autopilot – well you won't find it here.
Disappointed?
Well, you are free to leave this post.
Otehwersie you are welcome to stay and learn a little bit about affiliate marketing.
who knows, maybe in a year you will be making $2,000 a month.
4) Join Affiliate Program(s)
Affiliate marketer doesn't sell their own product.
Instead, he chooses some products within the niche, writes content about them, and links the visitor to the actual merchant page.
Now as an aspiring internet marketer, you know that you can sell as many products as possible as soon as it is relevant to your chosen niche.
(sorry to keep mentioning this over and over again, but the relevancy is essential).
You can even connect with as many companies as you want. But this might be time-consuming.
Vendors know that and therefore it is convenient for them to apply for an affiliate program.
An affiliate program is a network of vendors and affiliates.
You as an affiliate join one or more affiliate programs. A good example is the Amazon associate program.
Once you become an Amazon associate, you don't have to apply for cooperation with every company selling products on Amazon.
You simply go to the product and get a link for that product.
Recently I did an update on how to become an Amazon associate since they have changed their commission structure.
In that article, there is a step-by-step process of how to become an Amazon affiliate.
Now once you are part of (at least two) affiliate programs, you grab your link and use it in your own content.
Many affiliate programs have their own tracking so you can see how many people clicked on your link, how much did you make, and so on.
5) Make a Profit – Here Is A Little Secret
One thing is to join the affiliate program(s) and have links within your content, but the question is how to actually make sure that people will make a purchase using your website.
There are two main aspects, and we have already touched on the 1st one:
Get people to your website (traffic)
Make them purchase the product/service (conversion)
Do you already get enough traffic?
Maybe not yet.
Do you have affiliate links on all your posts?
Well, that might be the problem why you are not getting any traction.
A Little Secret
Take smaller steps.
Get at least 10 posts out there without any affiliate links.
The more, the better.
Once you see that some of your posts rank well on Google, put the affiliate link in it.
Because if your post is on the 45th page of Google, it doesn't really make any sense.
There are no visitors anyways.
You know the saying:

Do everything you can to get to the first page of Google.
Besides proper keyword research, make sure to come up with informational content without any commercial intention.
Meaning you inform your visitors about specific topics.
What do I mean by that?
Here is an example:
If my niche were to be Coffe Machines, I would make sure to come up with the following articles:
What is the best way to clean the inside of a coffee maker
How many times should I run vinegar through my coffee to make
How do I clean my coffee maker without vinegar
And so on.
Now, how to come up with such content?
As mentioned already, do keyword research.
The purpose of proper keyword research is to find a phrase (keyword) that:
Have a high search volume (people do ask these questions)
Have a low competition (not many websites have articles using these phrases)
With this approach, the chances that your articles will get to the first page of search engines are pretty high, even with a new website.
And here is how to find out what people search for;
Go to Google and put some keywords in the search bar.
Make sure to check the section " People Also Ask" on the Google search page: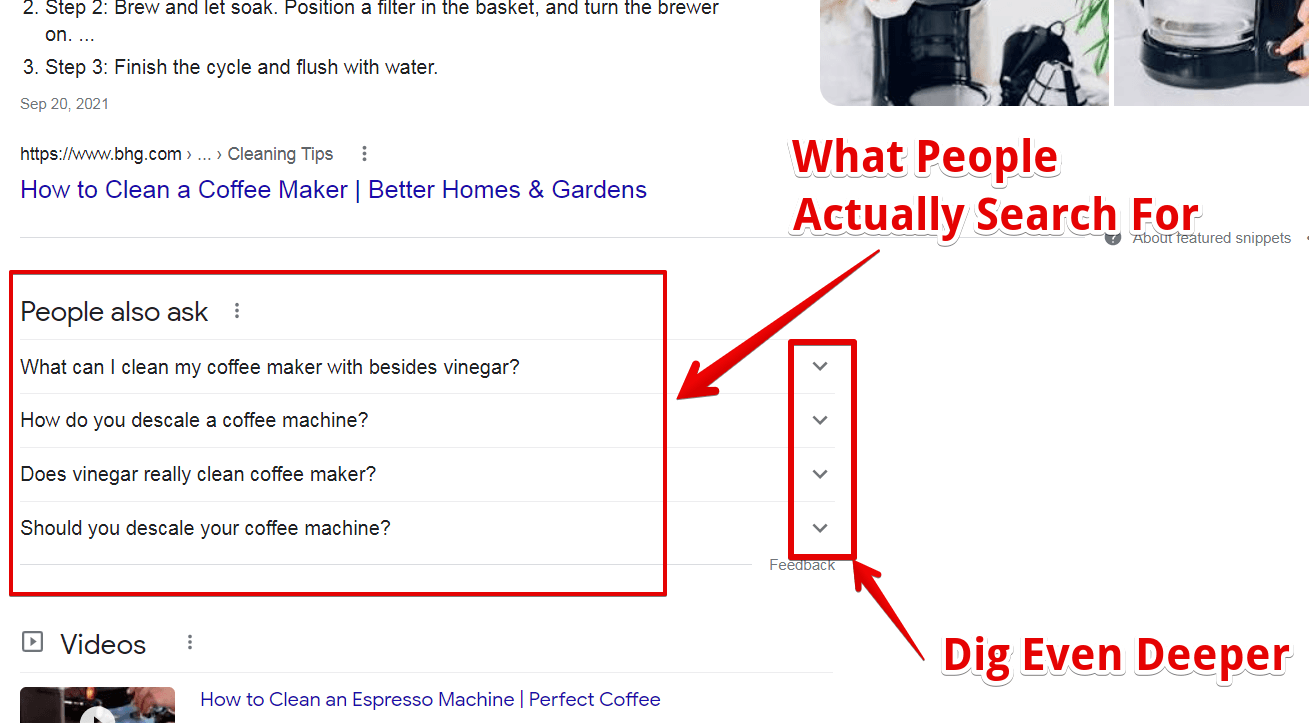 This is a long-term but evergreen strategy and people will love your content.
They feel good on your website and they come back. They even share it with others since it doesn't sell (directly) anything.
The number of visitors from a certain point will explode. In other words, the traffic rises exponentially, and thus your revenue.
And that is the little secret I wanted to share with you:
Make sure to come up with informational articles (non-commercial content) meaning at least 60-70% of your content.
Articles with commercial intent should be less than 30 – 40% of your content.
Do internal linking between articles with non-commercial content and commercial content.
Inside the educational platform where I have been a member since late 2017, there is a lot of training regarding this topic. That's on top of the regular course.
Before We Wrap Up
Affiliate marketing is one of the simplest business models there is. Now it doesn't mean it is easy. There are many things down the road you should be aware of.
It is also for people who want to learn more. When I first started I wanted to do it all on my own but soon found out that it was not gonna work.
So I joined a platform with step-by-step training and also a community of like-minded people where a lot of folks share their ideas, thoughts, and knowledge.
One of the biggest advantages I find is the hosting they provide.
The thing is you want to have hosting that offers a fast-loading site.
Because when it comes to this service you really get what you pay for.
So paying $2 per month might not be the best service.
It requires some investments.
Therefore it is not a bad idea to have it all under one roof so to speak:
Website Builder
Fast Hosting server
Security (service that is able to prevent hacking or spam before it happens)
Access to Site support
Training (including weekly webinars)
and so on
Conclusion
We have explained how to start affiliate marketing in 5 steps.
Are you still interested in this business model?
I guess so.
I don't know your level of expertise, You might be a person who just starting out.
Or you might be like me back in 2017 when I had a clue about WordPress and how to create a post but had no idea how to drive free traffic.
We have shown the 5 essential steps of how to start with affiliate marketing.
And this is not just for this year.
It is an evergreen method and if you apply this method, I am pretty sure you will have consistent income online within 10 to 14 months.
If you have questions about affiliate marketing, please let me know in the comment section below.
Having comments on the website and engaging with the audience is one of the ranking factors, so you are going to help this article to rank better.
I hope you find the information valuable and feel free to share it.
Thanks for reading,
Mike.