Back in 2015, I started doing some research on how to make money online, and how to generate consistent income online that would eventually give me passive income.
After a few years of intensive investigation, I came to a conclusion that Affiliate Marketing would be the best choice for me.
If you are where I was a few years ago then this article is exactly for you.
Even though I have chosen this business model, I did not know where to start first.
Again, I went ahead, purchased a course in affiliate marketing, and learned that the very first step is to choose a niche or an interest.
Assuming that you know what niche is, we are going to learn how to find niches using Google Trends.
First, we are going to ask ourselves, whether we want to build a website with intention of selling it later or if we want to keep the site.
Then we need to know what is our interests, the difference between narrow and broad niches.
With help of Google Trends, we can determine what is seasonal niche and what is all-season niche.
Let's break it down.
Before We Start
You have noticed above the very first questions you should ask yourself;
Do you want to build the website as your long-term business?
Or Do you want to build the website and sell it later ( meaning build up content, get some traction, and sales, and then sell it?)
These are two different approaches and when it comes to building a niche website, you should consider this as well.
The website is connected (directly or indirectly) with other platforms and tools.
For example:
Google Analytics,
Social Media (Facebook, Pinterest), or
Bing Webmaster Tool.
To use these platforms, you always have to sign up with an email.
Now, in case your intention is to sell the website in the future, don't use your personal email address.
The entire procedure of selling will be much easier. You can basically pick it all up (website with all the platforms) and sell it without any issues.
Let's move on.
What Are Your Interests?
Quite often this is a problem and people don't know what is their interest.
The best approach is, again ask questions:
…I am not sure…?
It is time for a little brainstorming.
Take a paper or use the electronic version, Microsoft Word, Google Docs, or any word processor you prefer.
Start writing what are your interests and make sure to have at least 5 different interests.
Feeling stuck?
Here is a tip:
Go to Amazon and explore the platform.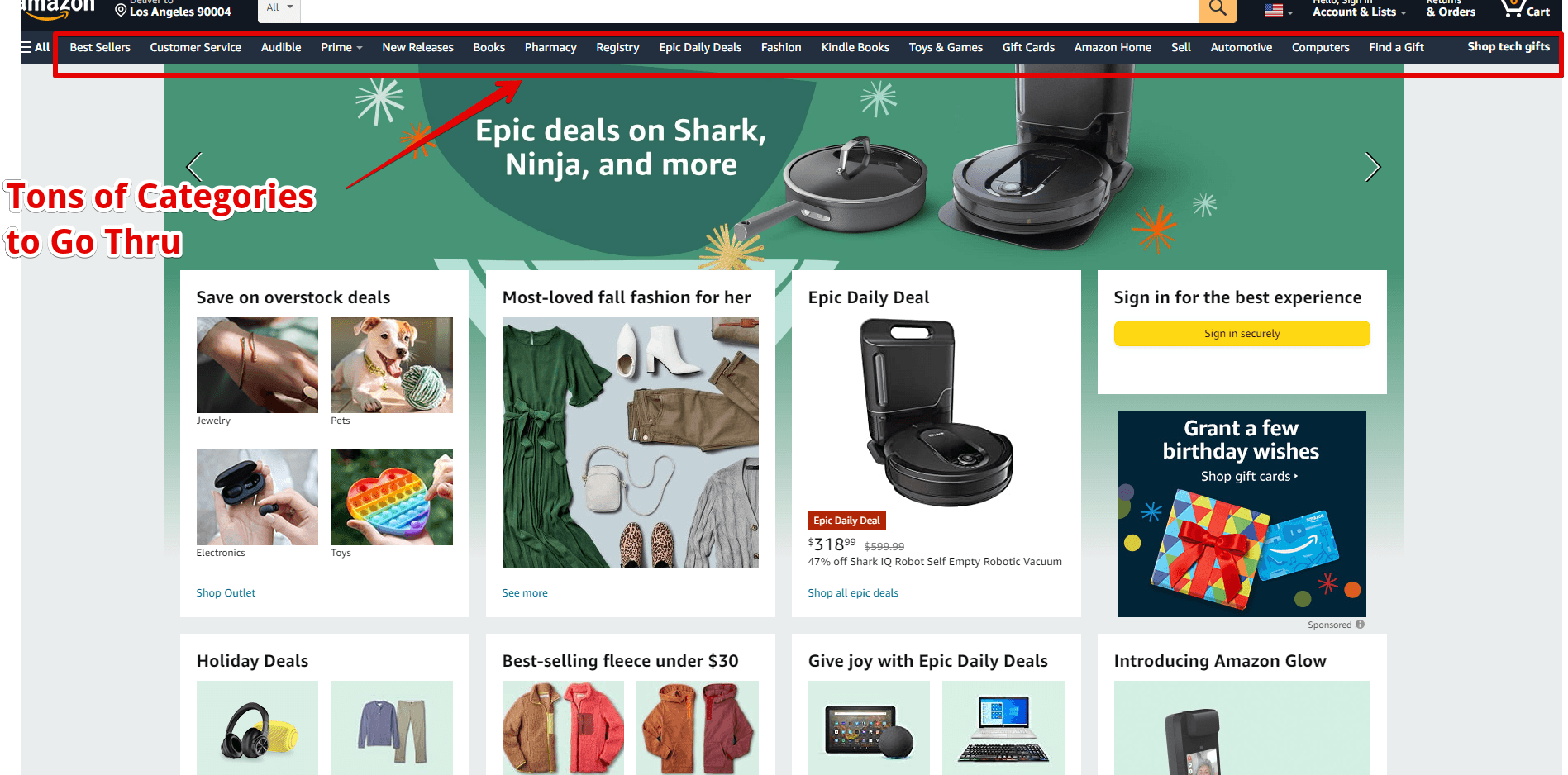 Based on your region, the Amazon homepage looks different to you.
But the point is to spend some time and browse through the categories and pick (write down) the ones you have a genuine interest in.
Narrow Niches and Broad Niches
Before we get to Google Trends, let's make one thing clear.
At the beginning of a new website, it is difficult to rank on the 1st page of the search engine.
It makes sense since Google (or Bing/Yahoo) doesn't know your website.
Micro Niche
It is up to you to "convince" the search engines that your content is worth reading.
And how to do it?
The idea is to choose a niche or interest that is not so common.
In other words, it is a very specific niche.
That is called micro-niche, and the reason is low competition.
An example of a micro-niche can be, "coffee filter Delonghi", or "coffee paper filters".
Note:
This is not a very good example since the price is only a few bucks and you as an affiliate get maybe 4% from the sale.
But we will touch on the price range that is interesting in a bit.
Broad niche
Imagine a tree, where:
leaves are microniches, (paper coffee filters)
small branches are small niches (coffee machines)
larger branches are broad niches (kitchen appliances)
and the tree trunk is the main niche (Home, or Home and Gardening)
Think about the narrow vs. broad niche also in terms of time.
That means a new and fresh website contains articles about very specific products.
As the website matures, and it has more and more articles, the content is wider and wider.
In a few years, an owner of such a website has a team of people working on specific content.
Such a website can easily make 5 figures per month, and even more.
Seasonal or All-Season Niches
There are niches that are viable only during a certain season.
To determine whether or not the niche is seasonal, we go to Google Trends and check how trendy it is.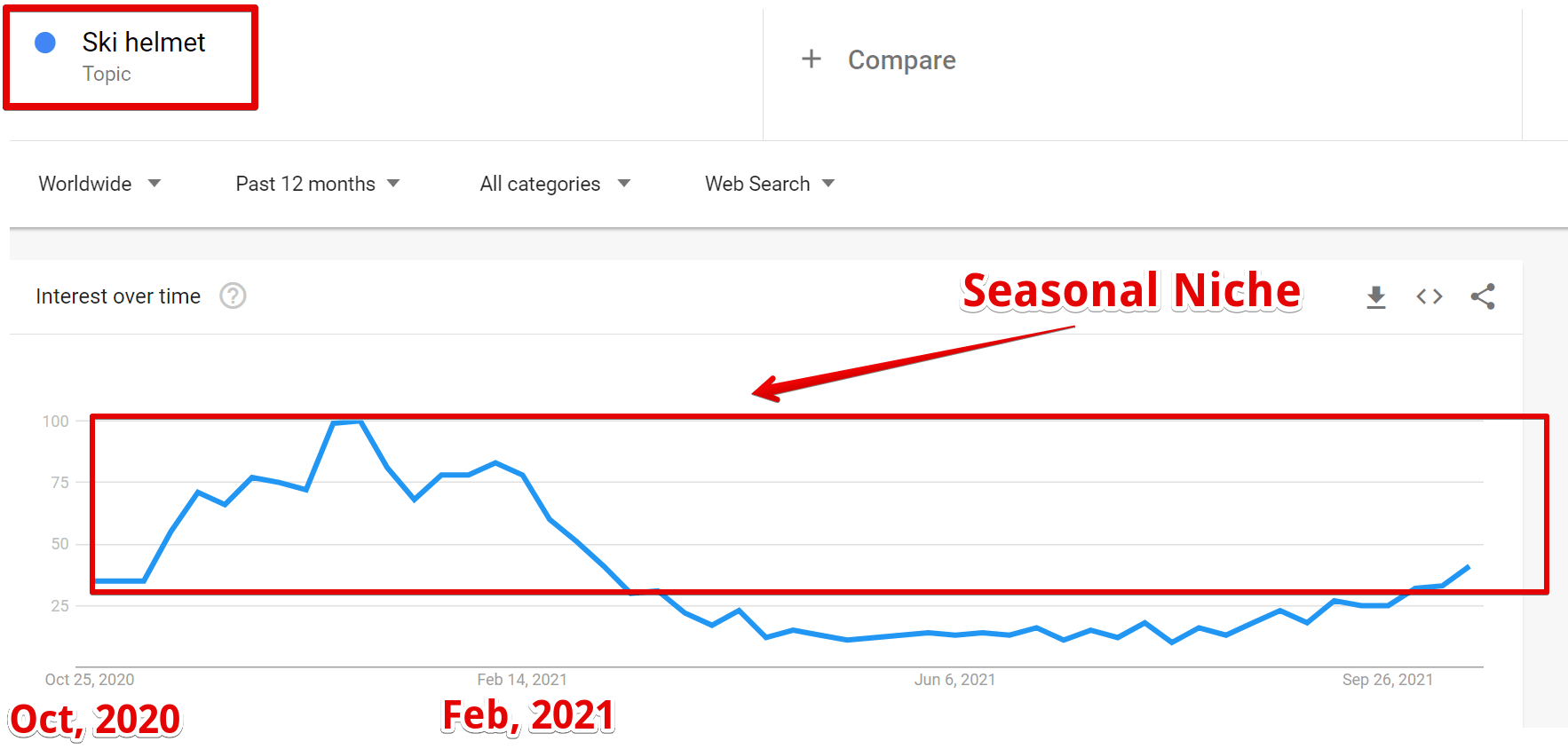 Check it worldwide and also, make sure to choose a specific region, to get more ideas.
Obviously, people in Spain, won't be looking for skateboard equipment in May.
From the screenshot above, it is clear that people do search Ski Helmet from October to February.
That is the winter season in the Northern Hemisphere, where the majority of the population lives.
Such seasonal niches are great during the season, but usually, websites with such niches don't perform well for the rest of the year.
Therefore, if you're just starting out, I would suggest picking an all-season niche.
Evergreen Niches or All-Seasonal Niches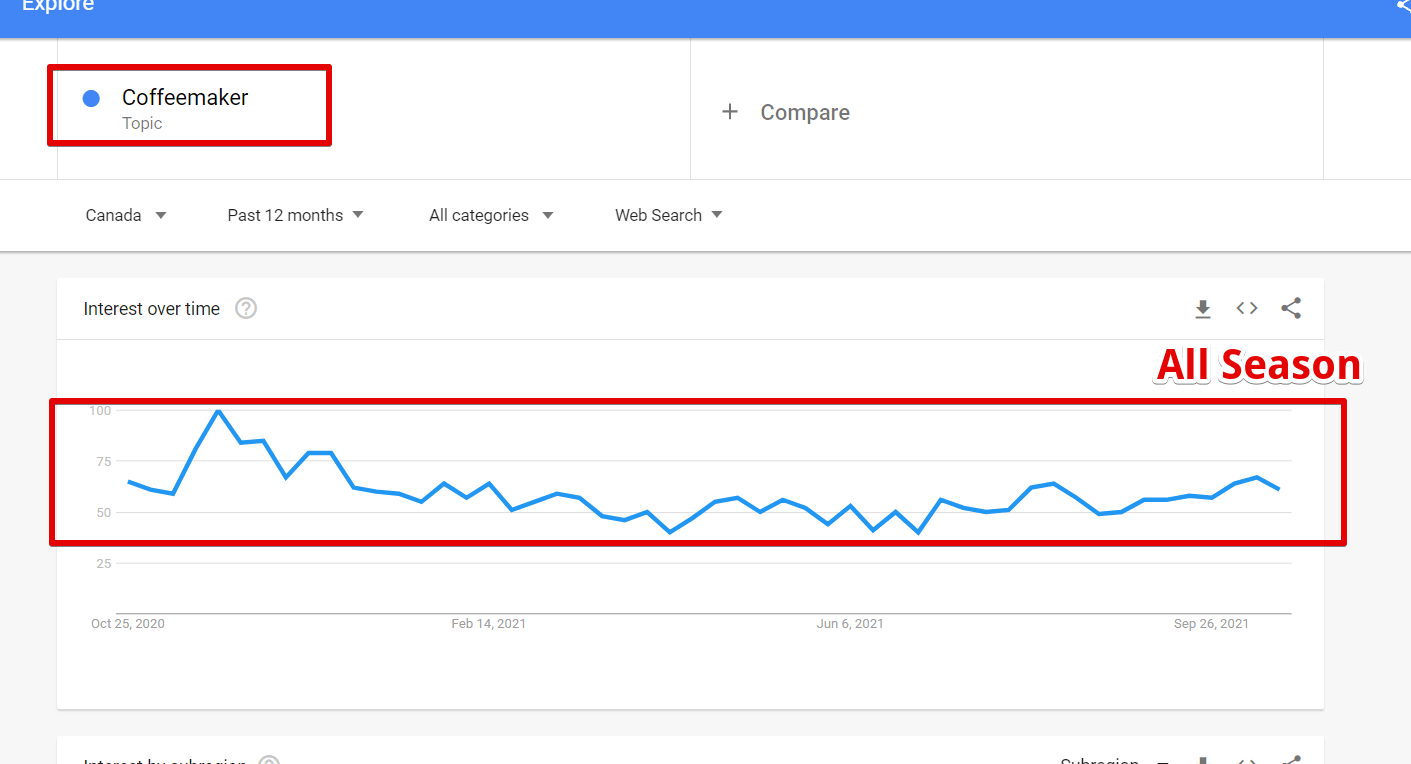 That could be, for example, making money online niche.
Although this niche is saturated and it takes quite a long to have consistent revenue.
Here are some of the best all seasonal niches one can choose:
Dating and Relationships
Pets
Self-Improvement
But let's tea a look at how to determine what niche to choose.
Since Google is the largest search engine and we want to rank on Google, it makes sense to check Google Trends, right? 🙂
Google Trends
We have touched on the Google trends in the previous section where we wanted to determine whether or not the niche is seasonal.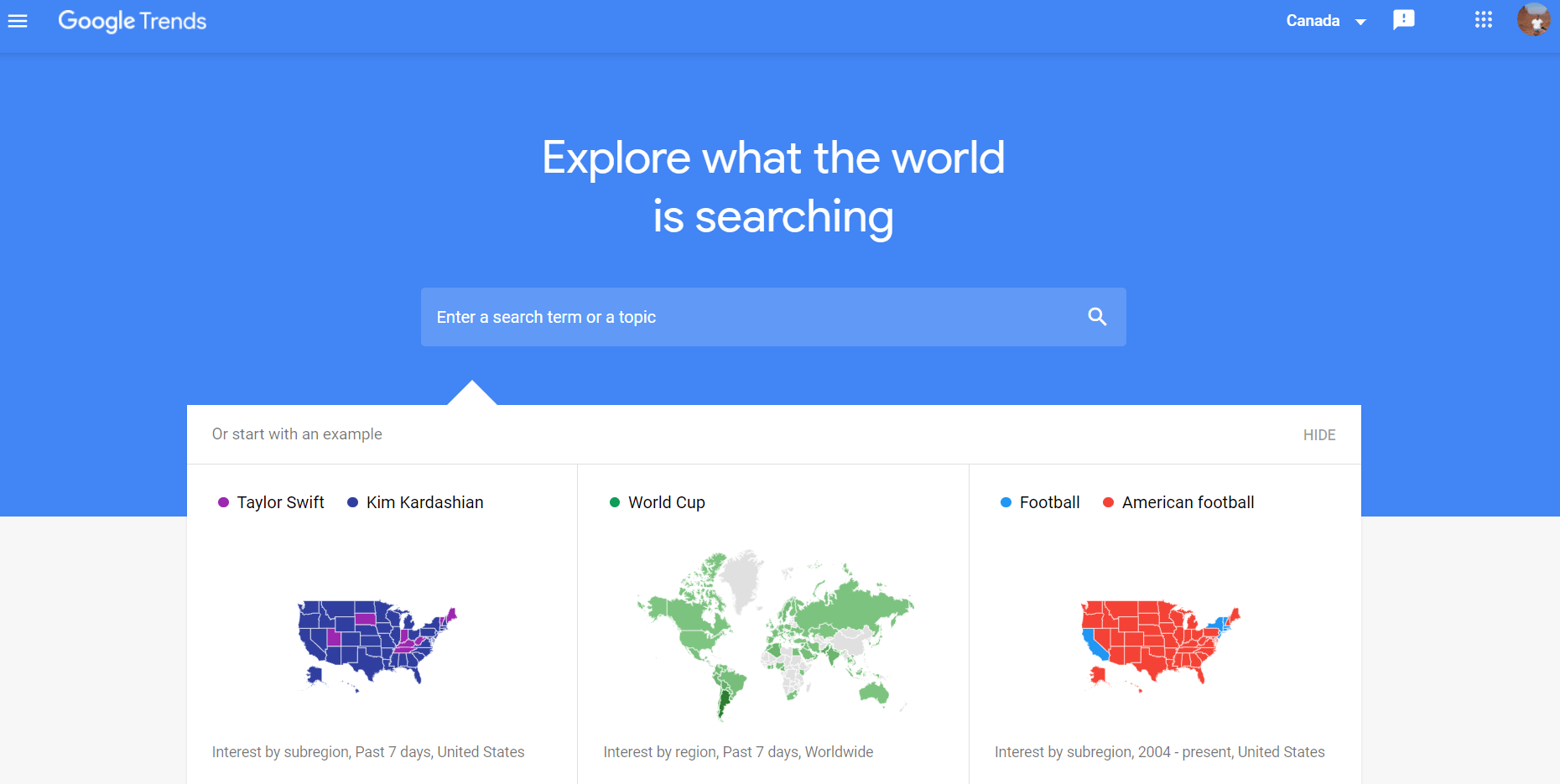 By now, we know that we want to pick a niche that is
It is time to ask Google what would be the best niche.
On top of it, Google Trend will give us suggestions.
Just go to Google Trends, and type a niche.
Let's compare "home coffee machines" and "coffee filters".
We haven't set any specific region, and therefore the results are based on the worldwide searches:
Let's pick a specific state, for example, Australia, and we see the trend is a bit different: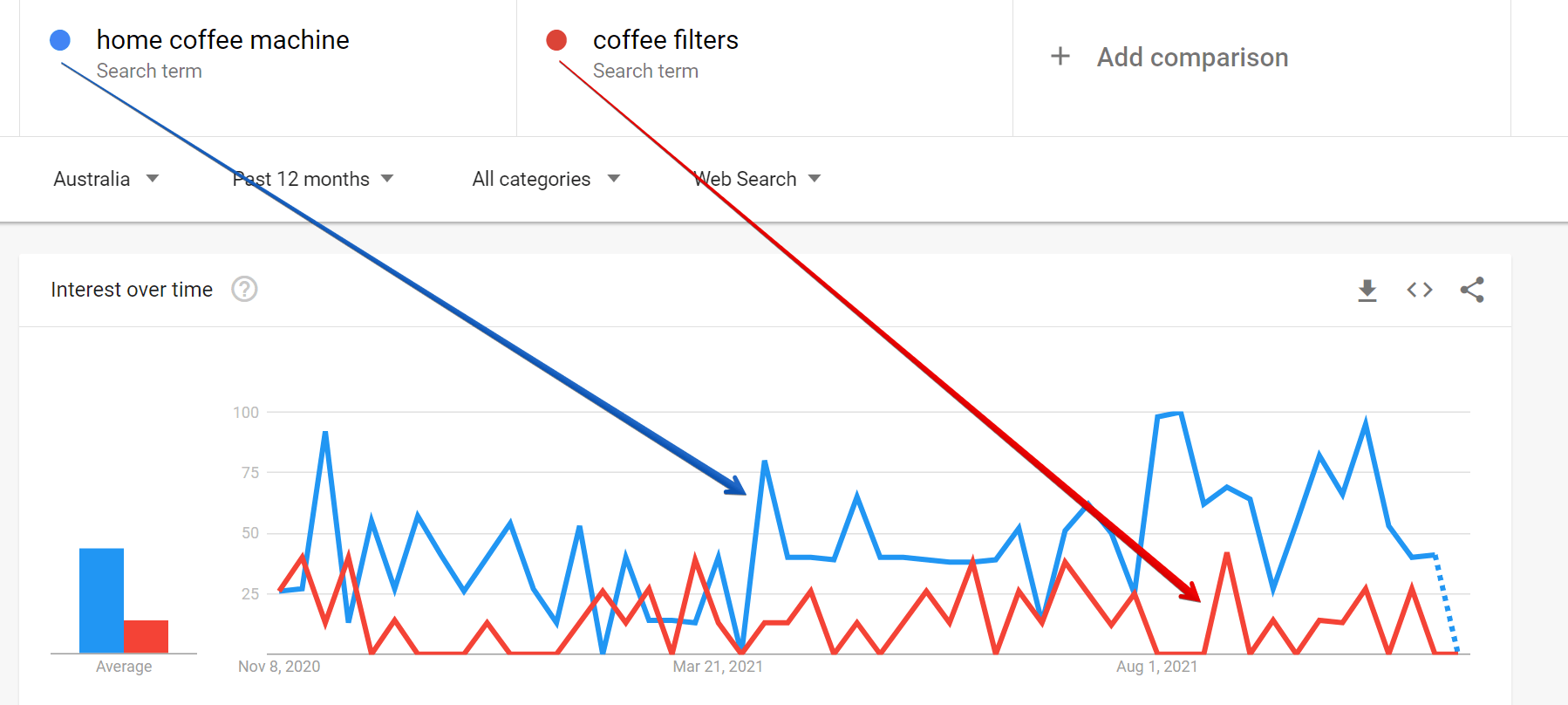 Scroll down and, check the comparison by region and specific states:
How to Find Niches Using Google Trends
Further down, check also Related Queries.
Google here suggests to you what people search for.
You can even check the most popular search queries.
– Just Select Top
Or the queries with the increase in search frequency since the last time period.
– Select Rising
Also for each query, you have 3 options
Explore
Add to Comparison
Search on Google

If you need, do more thorough research and check Google for each specific query.
You will see what people write about these topics.
Tips:
Avoid low-quality products (therefore check the ratings on Amazon and/or other websites)
Beware of products that need human touch before buying (for example musical instruments or cosmetics)
Is There a Buyers Market in the Online World?
At this point, we won't do keyword research yet, but we can take a look at Google, whether people are interested in our niche.
In other words, let's check whether there is buyer potential in the online world.
If you see Ads in the search results, you can be sure that people do buy these "things".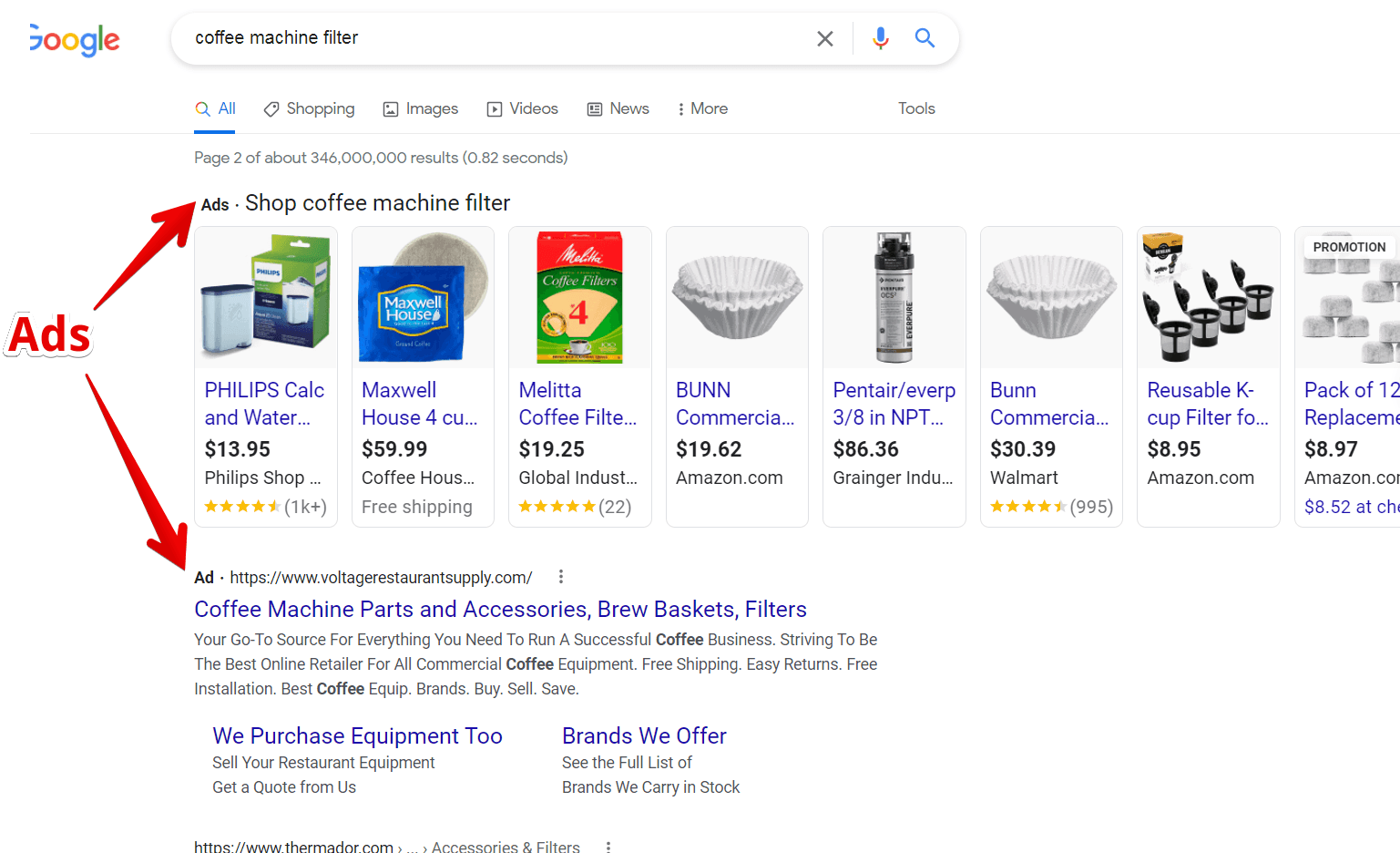 Otherwise, why would companies pay Google for displaying the ads?
Depending on your schedule and time resources, you can double-check the same keyword a week later and check the Ads.
If there are still the same Ads, bingo.
You have chosen your niche and you know that there is a viable market for it.
Let's Wrap It Up
Hopefully, this process does not confuse you.
The bottom line is:
Chose a narrow niche – Make a list with 5 of them (at least)

Use Amazon as an inspiration

Focus on products that price range is from $50 to a couple of hundreds of bucks (or even thousands)

Again use Amazon and check the ratings

Run these products through the Google Trend and check what is the most trendy

Check other suggestions offered by Google Trends

Check the Business potential
I believe you find this article helpful.
Now you should have a better understanding of how to choose a niche and with Google trends, you can make more accurate decisions.
Don't underestimate the proper niche selection.
It is essential.
I remember I was jumping from one niche to another for almost a year. It took me nowhere.
Don't make the same mistake and spend even an entire week (or more) with a proper niche selection.
If you have questions, please let me know in the comment section below.
I will do my best to give you feedback within 24 hours.
Thanks a lot for reading, and if you like it please share it with your friends.
Mike