Someone said that proper information is the most valuable commodity.
Especially when you are a content creator or even a business owner that wants to know new trends.
Exploding topics is a tool that gathers a ton of information and spits out what most likely is going to be hot in a specific category.
When I first found out about this tool, I wanted to know more, so I did spend significant time coming up with the following Exploding Topic Review.
I am sure you want to also find out if this can help you with your business, so let's dive in.
Exploding Topics Review – Summary
Exploding Topics is a free tool showing trending topics that are about to be viral (pretty likely).
It is a perfect tool for content writers who are searching for new ideas and for ideas that they have not heard of yet.
That being said, it works also like brainstorming.
After signing up for a newsletter you will get a list of rapidly trading topics for a specific week, each Tuesday.
What Are Exploding Topics?
The questions probably should go:
What Is Exploding Topics, since it is a tool.
A free and easy-to-use tool, that shows you trends you have never heard of.
How is that even possible?
First of all, a little bit of history;
(I know history might not be your favorite subject.
And neither was mine, but this will be interesting and useful and it will help to understand what the Exploding Topics is about).
You are probably familiar with Brian Dean and his website Backlinko.
(It is my favorite source of information when it comes to SEO).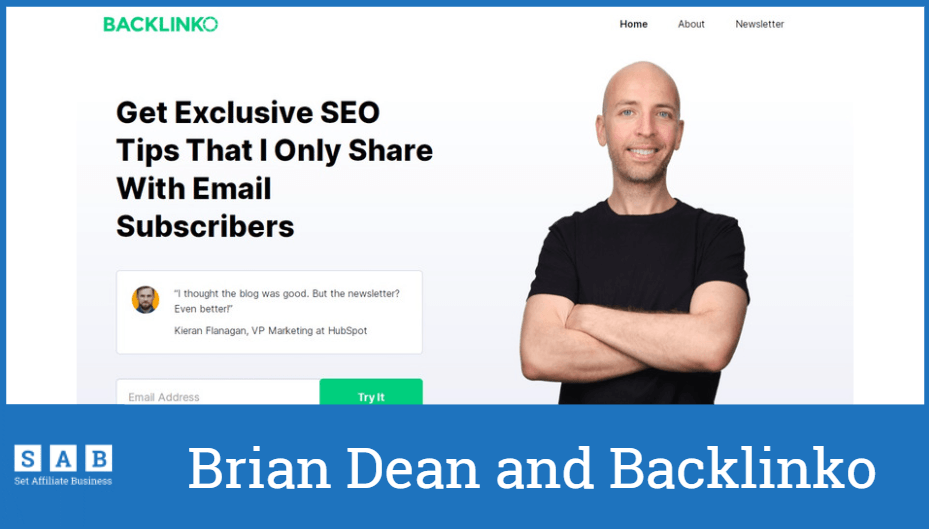 As Brian was working on Backlinko he started to realize that there is something missing in the entire internet world, something that would show people new trends.
Sure there is a Google Trends, but it shows what was trending.
The idea was – what will be trending?
In 2018 (beginning of 2019) Brian with his team started to work on such a tool/software.
But it did not lead anywhere – it was a dead end.
"Every failure is a blessing in disguise" (Napoleon Hill);
So he stumbled upon a website called trennd.co.
The purpose of this tool was to show trends that were about to become hot in various sectors, industries, or niches if you want.
This website or tool was built by a person called Josh Howarth and to Brian, it looked almost perfect.
Therefore Brian reached out to the creator (founder) of trennd.co asking him to sell it.
They made a deal and the very first thing they agreed on was to change the domain name.
This is something you should have in mind when thinking about setting up a new domain.
Tip:
When choosing a new domain, make sure to go with (dot)COM extensions (for example xyz.com).
Dot COM is still a king so to speak and easy to remember.
Check the domain name availability. If it is taken you can have a 2 words domain as well, with a dash in between, or whatever suggestion looks good to you.
Or, if you insist on a specific domain name, there are the following alternatives:
Just make sure that the entire domain is easy to say (and remember).
Back to the Exploding Topics:
Eventually, Brian and Josh came up with the name explodingtopics.com.
The design of the original site was quite OK, it just needed a little "facelift".
As you see, it did not change much: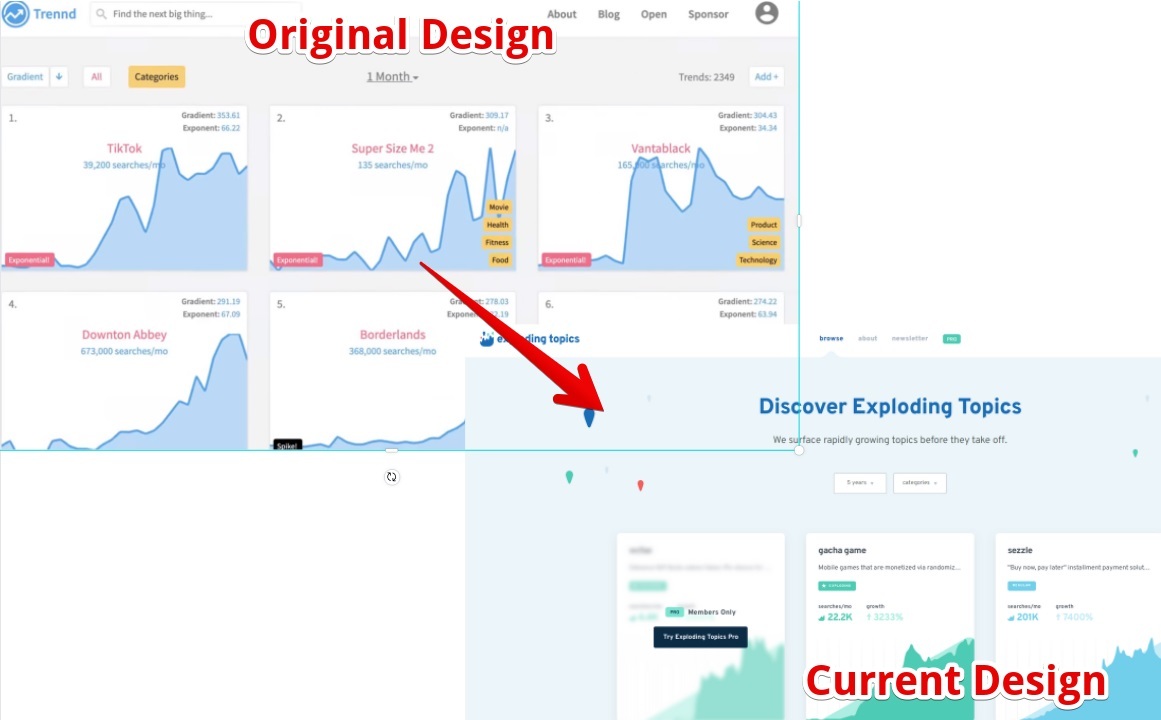 This new domain (explodingtopics.com) was registered in October 2019 and it was launched on December 3rd, 2019.
And the design was updated in Autumn 2022:
Brian and Josh made sure to let the audience know about the new tool. That included:
Email to existing Backlinko subscribers
Tweet
Contact a few digital media
The website got more than 20,000 visitors on the first day.
(It dropped after a few days, but nothing dramatic happened in terms of traffic).
Where Can I Find Exploding Topics?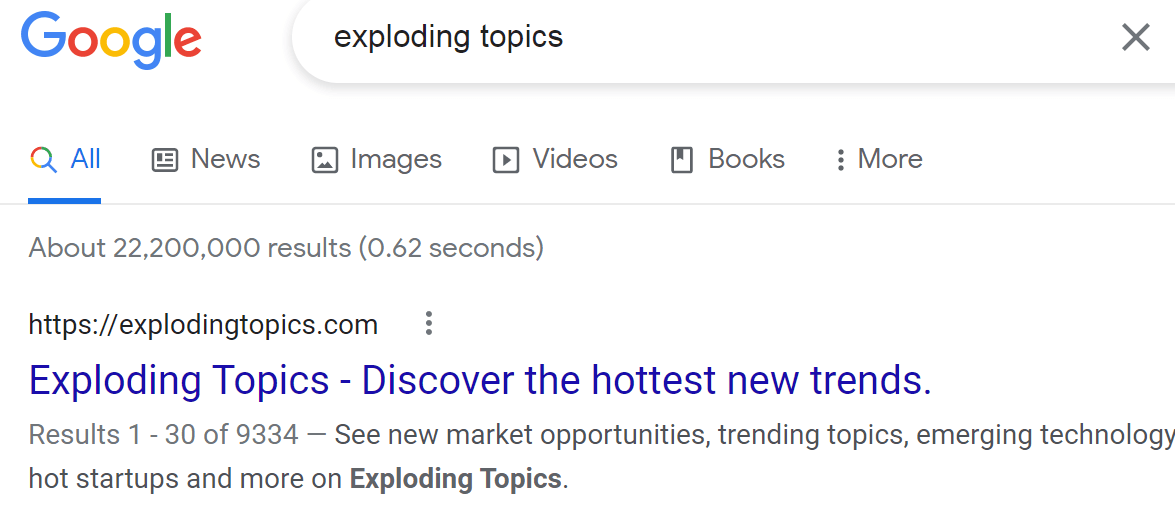 The best place to find exploding topics is of course www.explodingtopics.com
And in case you have never heard of the tool ExplosingTopics, and you are looking for exploding topics you, generally, go to exploding topics as well 🙂
Who Is Exploding Topics For?
Exploding topics is a great tool for bloggers searching for new topics, and needs some brainstorming.
If you are a content creator looking for topics that are about to trend and the competition is not aware of it yet, this is the tool that provides you with the right information.
You are maybe familiar with the search for low-competition keywords or low-hanging keywords.
The point of doing such research is to find keywords with a decent search volume and low competition.
That means that not a lot of websites use the same keywords.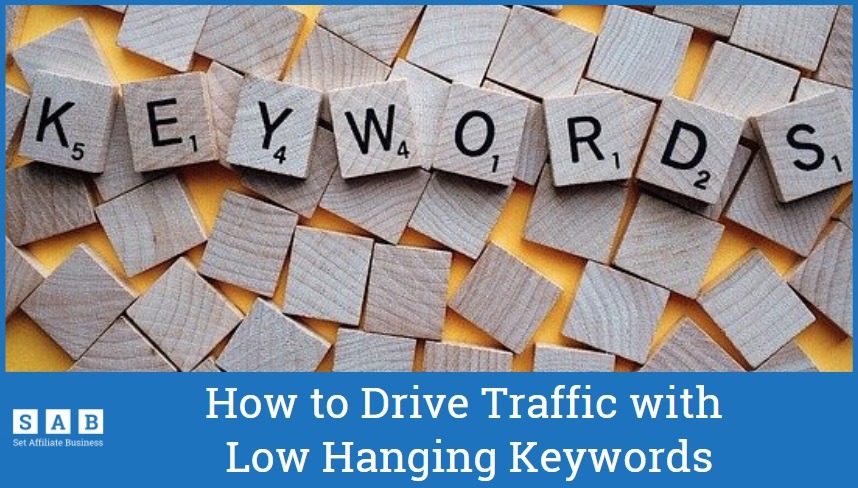 And Exploding Topics have exactly such information. Not the specific keywords but rather ideas. And then you can pick a seemingly broad keyword within your niche and write content about it.
You might rank very well pretty soon, and if your piece is done correctly, it will be harder for others to outrank you in the future.
In other words,e you will have your content done and ready before it peaks the popularity – and that means it can go viral.
Of course, it is very handy for YouTubers as well.
In other words, this tool is super-useful for any content creator that wants to find hot topics "before they take off".
How Do You Use Exploding Topics?
It is very easy to use.
Just go to the website explodingtopics.com, and select your favorite category and time period (from 1 month to 15 years).
It is quick and easy and below you find a bit more in-depth information on how to search for specific items and what to do with them.
It takes a few minutes and you will have a lot of topics in front of you that you can write about.
Can't you find your favorite category?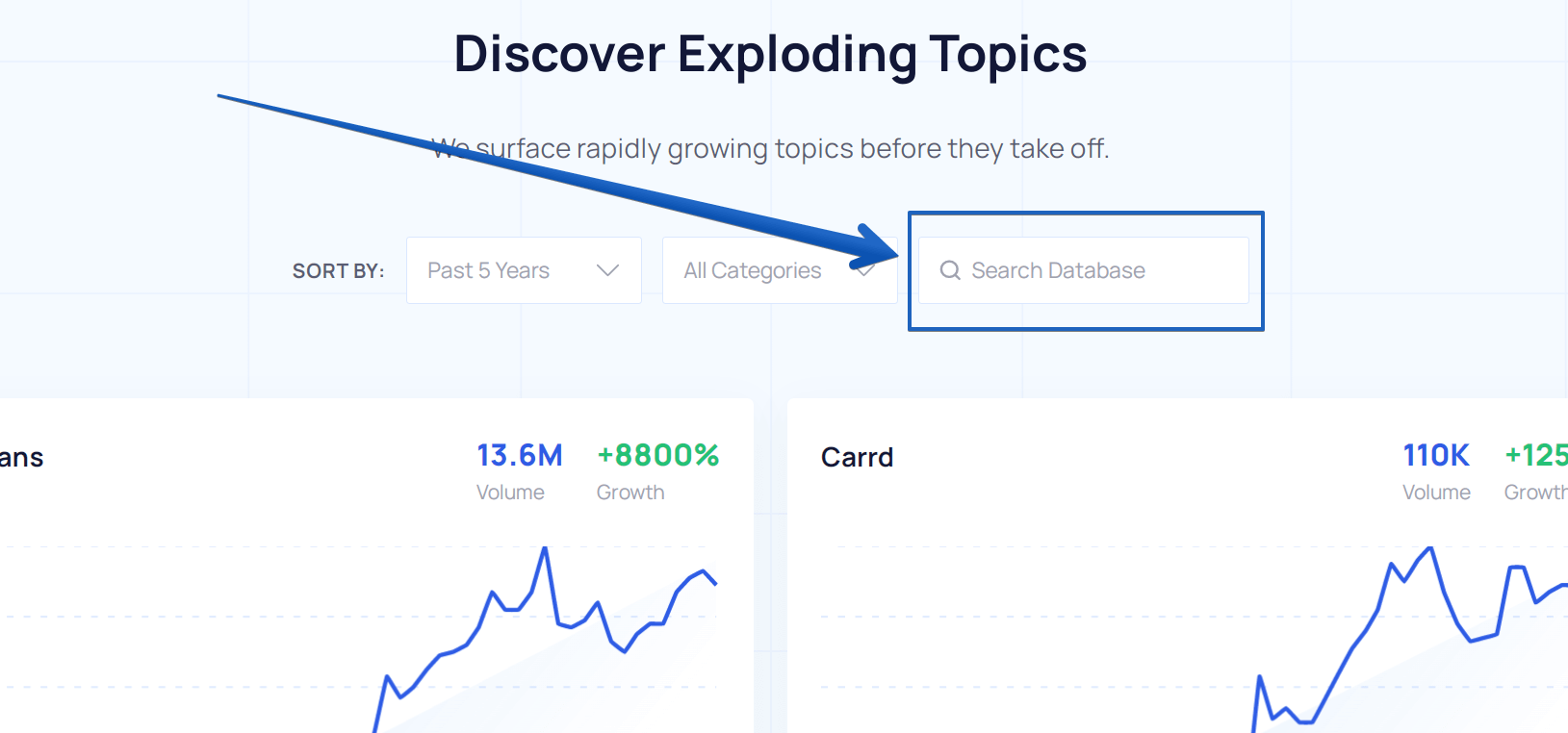 Go to the Search button.
Start typing what you are looking for and below you see suggestions:
Select your time period (15 years to 1 month) to see how the specific category was trending over that time.
It would make sense to select 6 months or maybe 1 year to have a better idea about the close future.
Tip:
To save some time, just go with your mouse over the suggestions one by one, and by pressing the right button on your mouse, select "open link in new tab".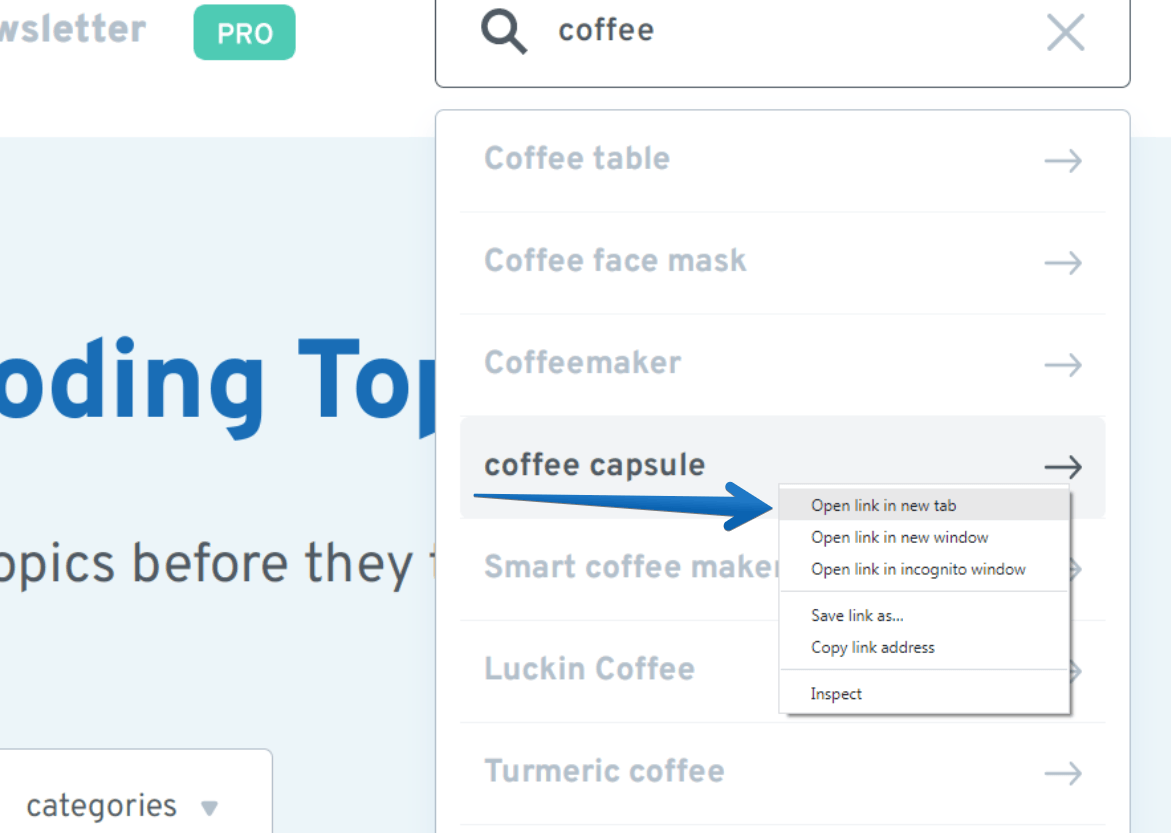 You will have 8 new tabs opened and quickly can decide which topic is the most interesting/trending for you.
Let's try one example here – CoffeMaker:
We see that it was trending quite OK in the last 5 years: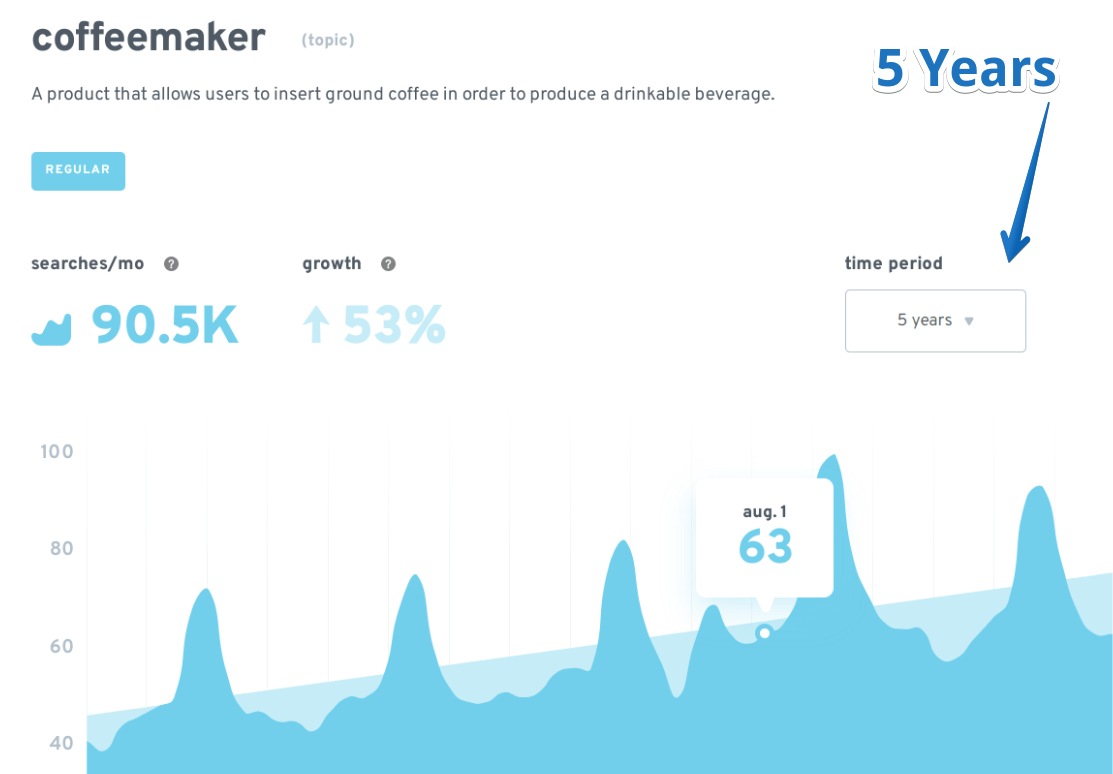 However, if we switch to 3 Months, we see a decline.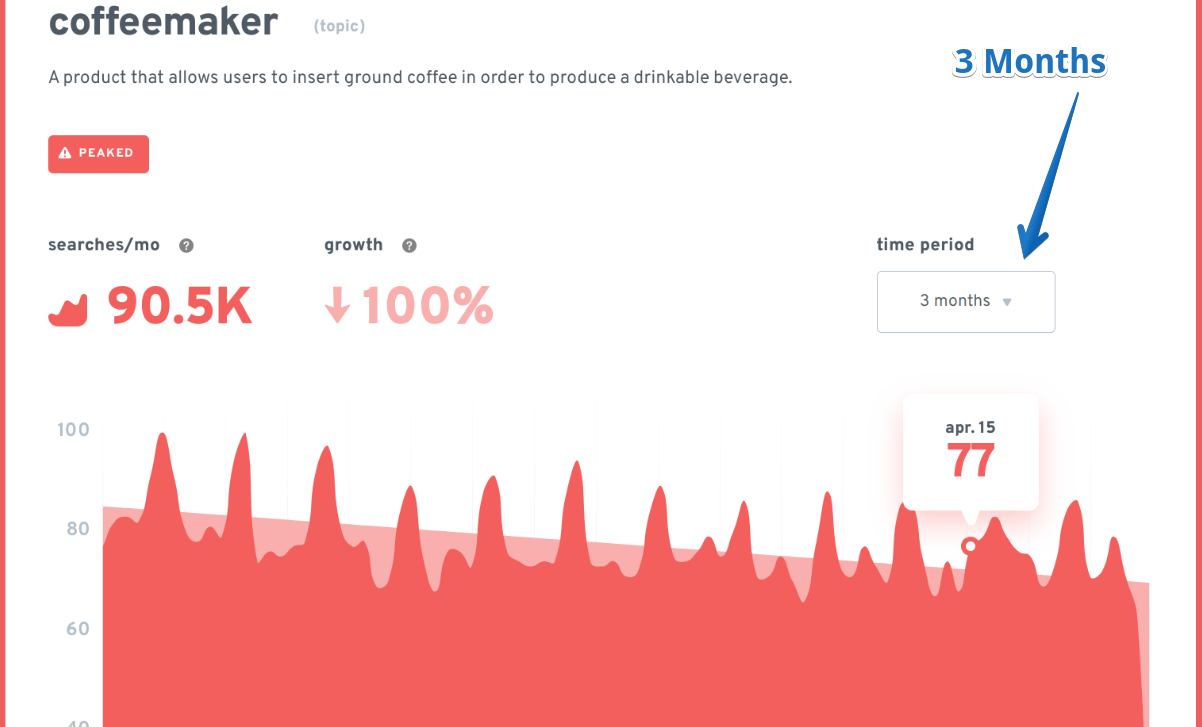 So that is probably not a good topic (or even micro-niche).
Don't worry; scroll down to see the "related topics".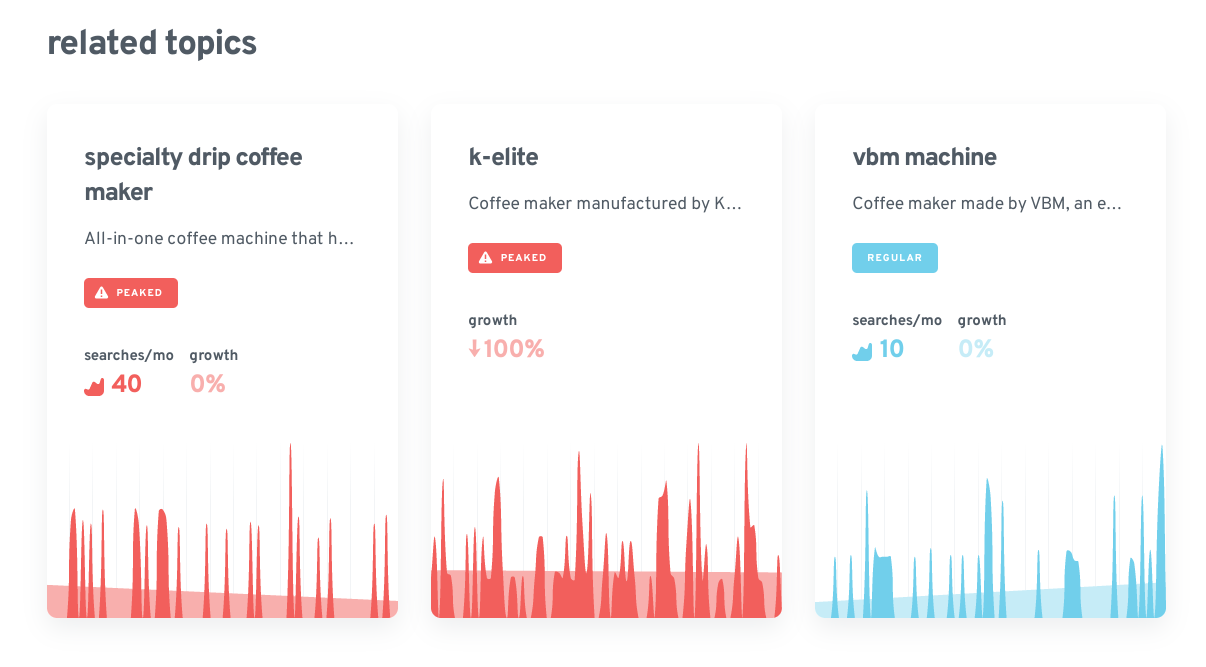 VBM machine is trending.
Even though I am interested in coffee machines and coffee, I had no idea what VBM Machine is.
That is the cool thing about Exploding Topics.
It shows me ideas about something I have never heard of. And on top of it these ideas are trending.
If I were writing about coffee machines (or my niche was coffee), I would definitely concentrate on the VBM machines.
It has been trending quite well in the last 3 months;
And to double-check it, it looks good over the last 6 months.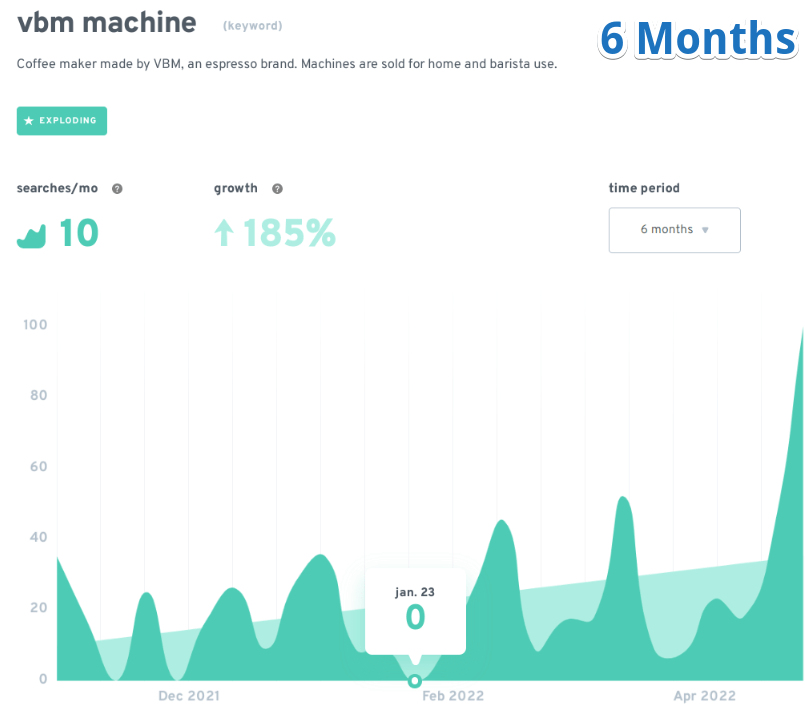 Let's dig a little bit deeper.
The number of searches on Google is not so large, though.
Only 10 in this case.
(It shows the data in the United States).
That means that it might be still a good topic for a new blogger, or someone who just starting out with his business online.
On the other hand, it is probably not so interesting for a person that has been in the business for a couple of years and has some experience.
However the growth is rather interesting, and in the last year, the percentage increase in global search is 334%.
The screenshot above shows the percentage increase in the last 6 months, which is 185%.
Better Trends (More Monthly Google Searches)?
Sure: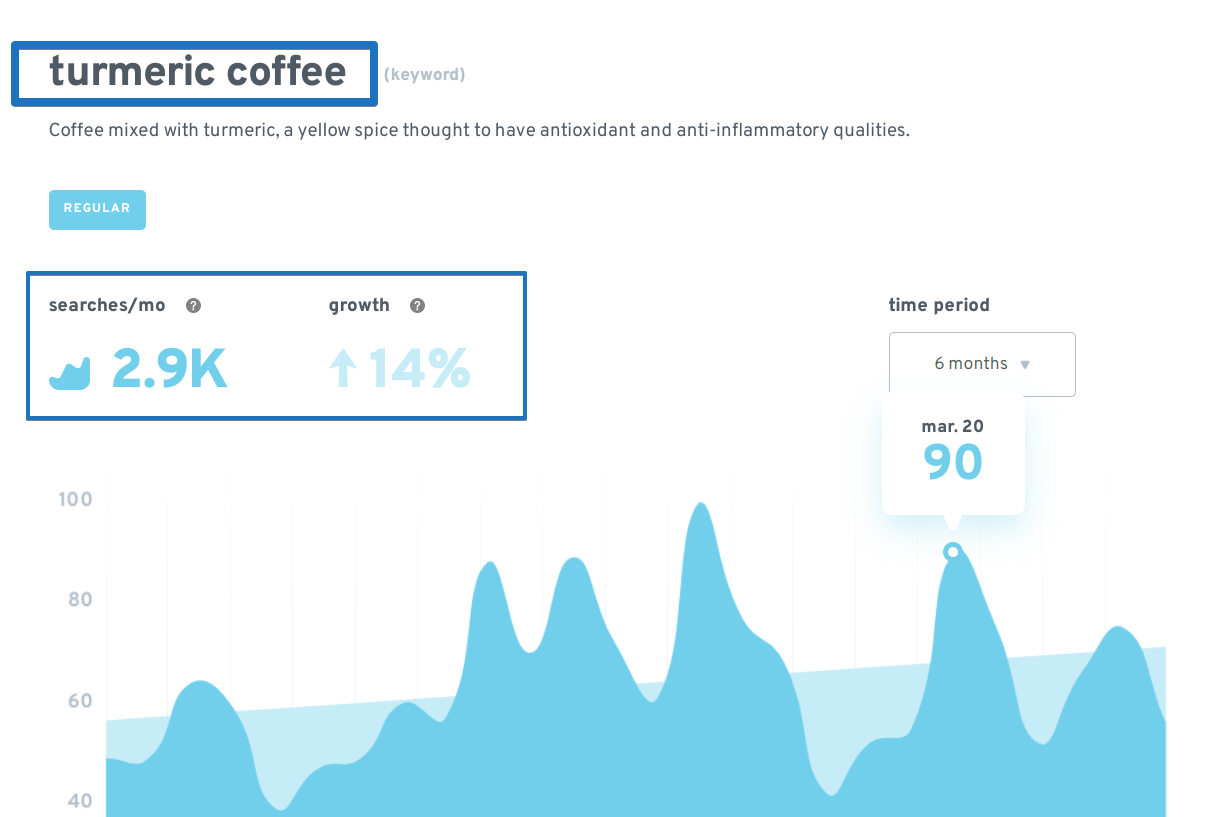 So by digging a little bit more, we came to the conclusion that the term (Keyword) turmeric coffee has 2.9 thousand google searches per month).
Where Does The Exploding Topics Get Their Data?
The tool scans multiple sources for new information and picks up on those that have currently a strong tendency to go viral.
In other words, the data, you see on explodingtopics.com, are data based on info that people search for in:
Google (Google Trends)
Different user-generated platforms (f.e. Reddit)
Amazon (and other e-commerce websites)
And also new websites
Currently, I test a few specific keywords that this tool showed me, and I had no idea such stuff even existed.
So, I will be updating this post on a regular basis, to show you how it really works.
Exploding Topics – My Experience
I receive a newsletter from Exploding Topics, every Tuesday.
At the beginning of May, I found one particular topic that caught my attention: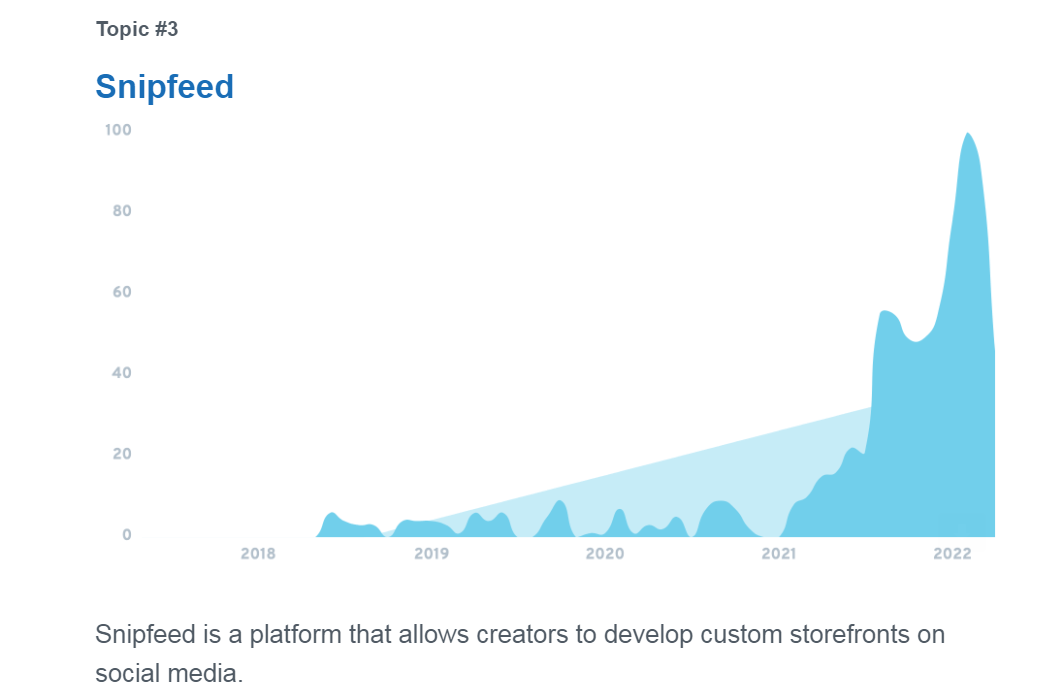 It was Snipfeed and at that time I had no idea what it was.
So a few days later I created a review about this tool.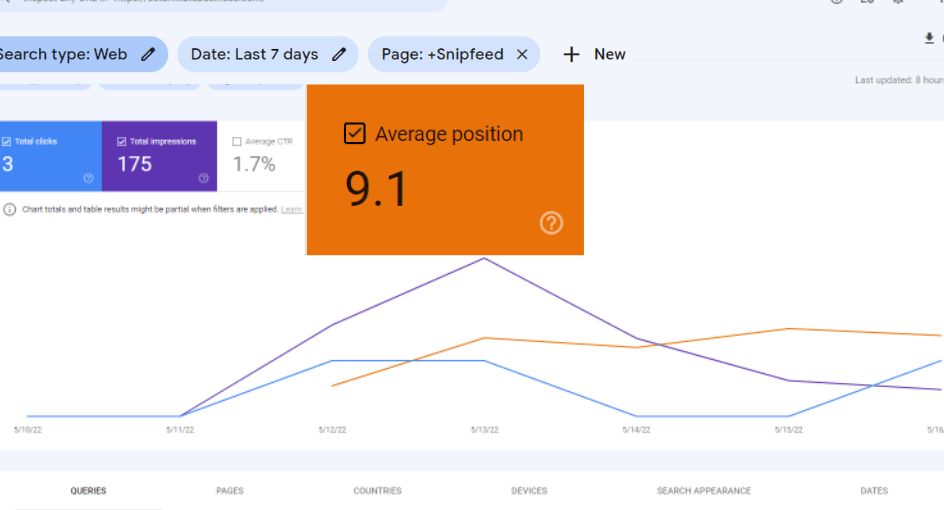 A few days later this post was on the 1st page of Google.
And it is still a fresh post, and I expect to rank it even better down the road.
Exploding Topics vs Google Trends
Google Trends, shows what was trending in the past, based on search results.

These data are based on what people were typing into the Google search bar.
You can choose a specific region, and see what questions they had in India, for example.
I am sure you are familiar with Google Trends.
Exploding Topics "predict" the future (in a certain sense).
They show what most likely will be trending, and not what was trending.
Which One do You Prefer?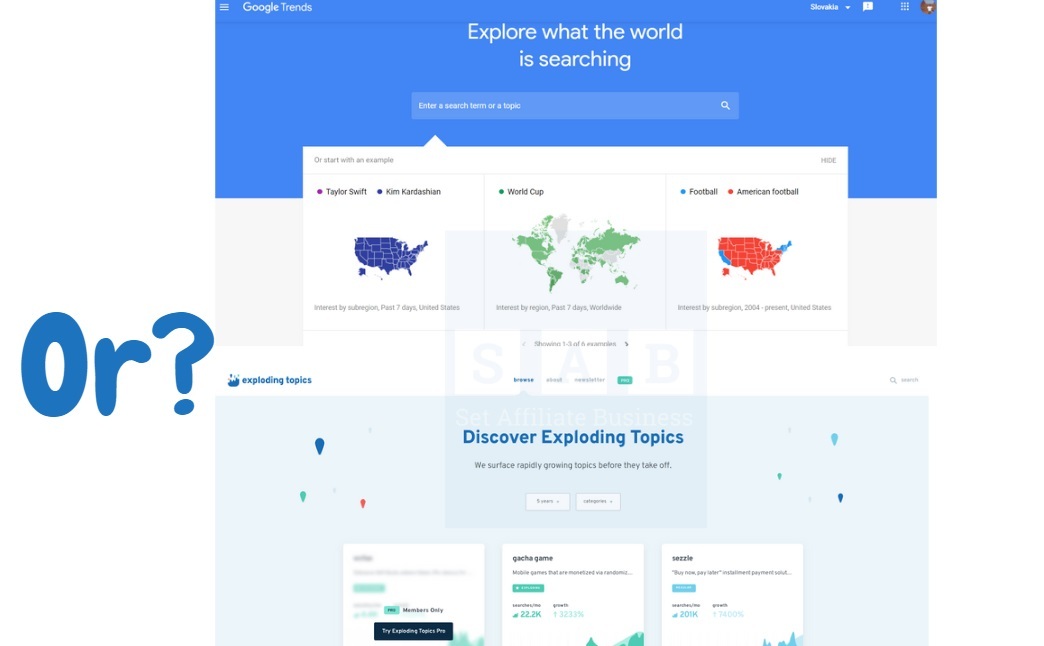 Well, you will probably need some time with Exploding Topics to answer this question.
In my opinion, you will be using, both because both tools have great data, and depending on your current project, you will be checking either Google Trends or Exploding Topics.
Exploding Topics – Conclusion
Whether you are an investor, content creator, or affiliate marketer, Exploding Topics tool is a great source of information.
Also, it gives you ideas that might never be heard of.
By now, you should know what is it, how to use it, and what is the purpose of Explosing Topics.
Is there something in your mind that is not covered above?
Let me know in the comment section below.
Interested in becoming an Affiliate Marketer?
I will be adding more information about Explosing Topics as well as users' experiences with other people, including mine.
I don't know about you, but I have bookmarked the tool.
So whenever I need to come up with new ideas I know that it won't take more than a few minutes.
Thank You For Reading,
Mike