In today's fast-paced world, staying on top of trends is essential for business owners, and even more so for investors.
Exploding Topics is a tool that does just that.
It analyzes data from various sources to predict which topics will trend next.
In this review, we'll explore how Exploding Topics can help you stay updated with emerging trends.
Whether you're an investor, an e-commerce business owner, or focused on marketing and business strategies, this tool could be your secret weapon.
Jump to:
Exploding Topics Review – Summary
Exploding Topics is a trend research tool that reveals the hottest opportunities and emerging patterns in various markets and industries.
It can help you discover emerging niches, products, technologies, and startups that have high potential and low competition.
It is a perfect tool for investors and entrepreneurs who are interested in finding new ideas, insights, and new trends for their businesses and investments.
It can also help them stay ahead of the curve and avoid missing out on the next big thing.
By signing up for the newsletter, you will get a list of rapidly growing topics for each week.
What Is Exploding Topics?
Exploding Topics is a powerful trend analysis tool designed to keep you ahead of the curve in a rapidly changing business landscape.
It gathers and analyzes data from various sources to predict emerging trends and topics that are likely to gain popularity in specific categories.
Essentially, it's your crystal ball for spotting what's on the horizon, making it an invaluable resource for business owners, investors, content marketers, and the simply curious.
The Birth of Exploding Topics
You might already be familiar with Brian Dean and his renowned website, Backlinko, a go-to source for SEO enthusiasts (it's a personal favorite of mine too).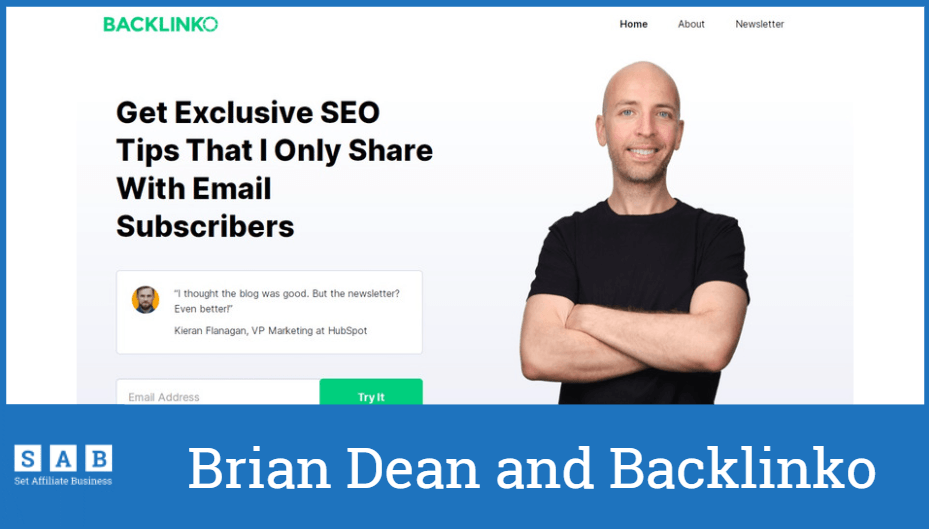 As Brian immersed himself in the world of SEO and content, he began to notice a gap in the vast internet landscape.
While tools like Google Trends were great at showing what was trending, there was something missing—insight into what would be trending.
In the early days of 2018, Brian and his team embarked on a mission to fill this void, developing a tool or software that could forecast emerging trends.
However, their initial efforts hit a dead end.
But as the saying goes,
"Every failure is a blessing in disguise" (Napoleon Hill).
One day, Brian stumbled upon a website called trennd.co.
This site had a unique purpose—to showcase trends that were on the brink of becoming hot in various sectors, industries, or niches.
Trennd.co was the brainchild of a visionary named Josh Howarth, and to Brian, it seemed almost perfect.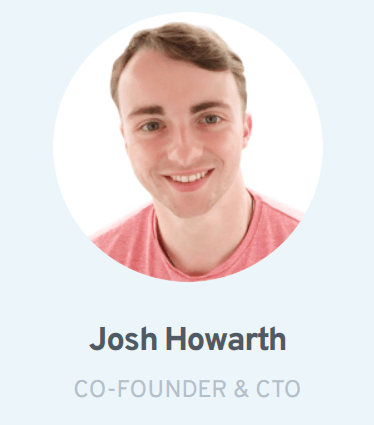 So, Brian decided to reach out to Josh with a proposition—to acquire the website.
They struck a deal, and the first order of business was to rebrand the platform.
This decision carries a valuable lesson for anyone considering a new domain: choosing the right name is key.
After some brainstorming, Brian and Josh settled on the name explodingtopics.com, a domain that captured the essence of what they aimed to deliver.
The original site's design was decent, but it needed a little "facelift."
This update was more about refining than reinventing, maintaining a sense of familiarity for users.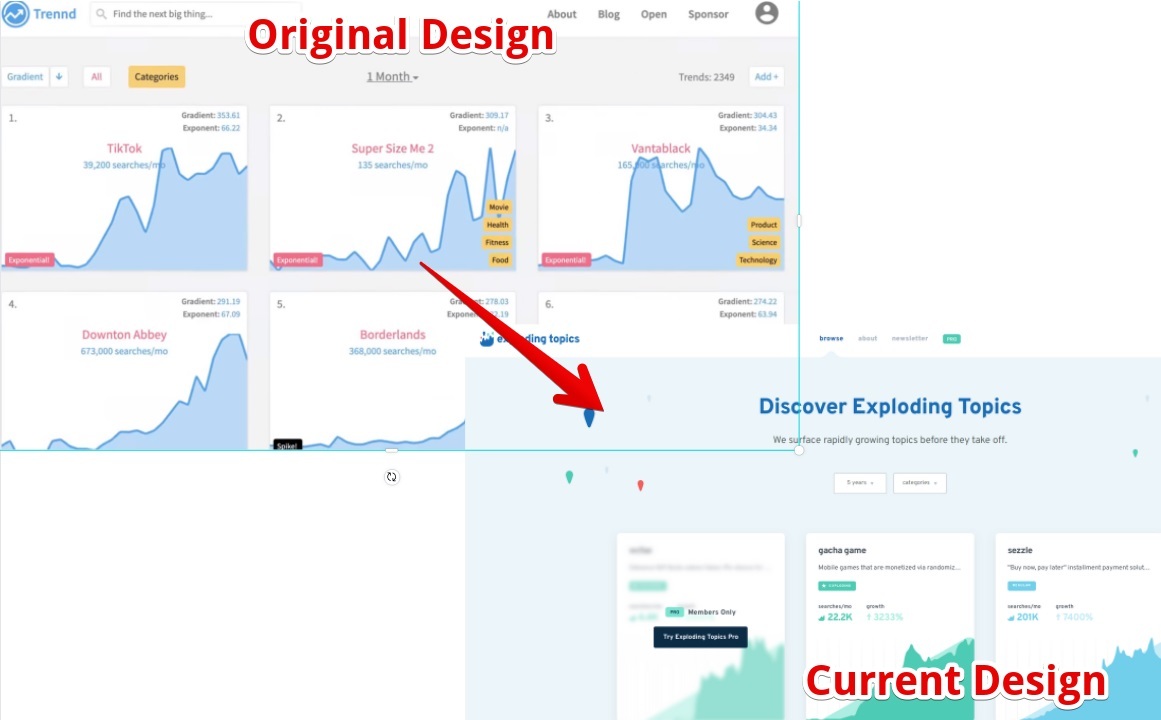 The new domain, explodingtopics.com, was officially registered in October 2019 and made its debut on December 3rd, 2019.
In the years that followed, the platform continued to evolve, with a design refresh in the autumn of 2022.
Brian and Josh were keen to introduce their audience to this innovative tool, employing a multi-pronged approach:
Emails to existing Backlinko subscribers
Tweets
Contacts with digital media
Their efforts paid off handsomely, as the website garnered more than 20,000 visitors on its very first day.
While the initial surge gradually subsided, the platform maintained a steady flow of traffic.
How to Use Exploding Topics?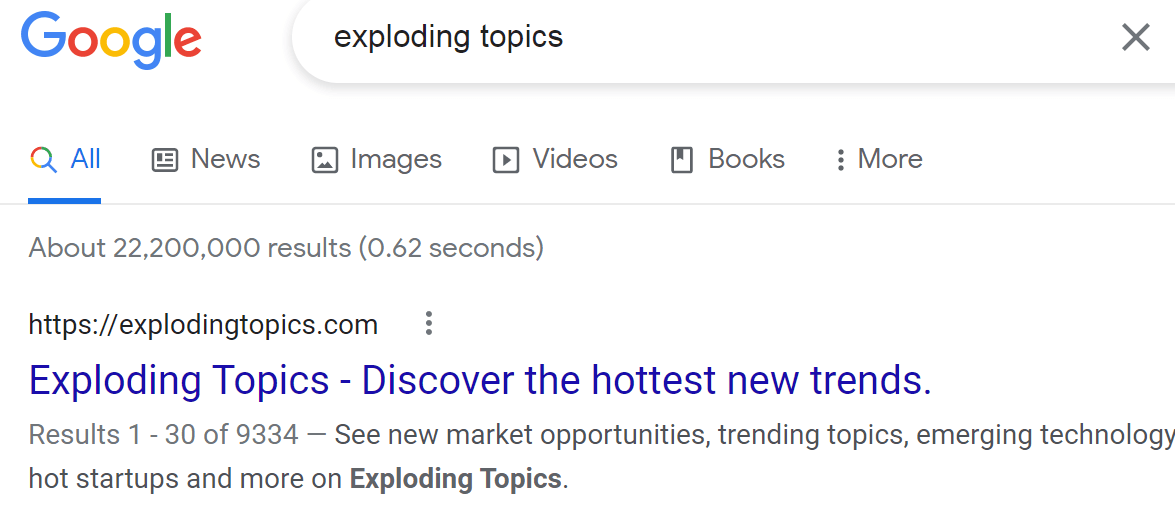 The best way to harness the power of Exploding Topics is to head straight to their website at www.explodingtopics.com.
And in case you're wondering, Exploding Topics is the go-to tool for finding, well, exploding topics.
So, if you're on the hunt for some trending and buzzworthy subjects, you know where to go – Exploding Topics!
It's like a one-stop shop for all your exploding topic needs.
Who Can Benefit from Exploding Topics?
E-commerce Business Owners
Exploding Topics provides a rich database of trending products and topics, helping direct-to-consumer entrepreneurs and businesses identify new products or categories to invest in.
Investors
Investors and venture capitalists can leverage Exploding Topics to pinpoint high-potential startups in emerging trends. These individuals provide capital for early-stage companies, seeking growth potential and solid business models.
xploding Topics, by highlighting growing markets and niches, aids investors in strategic decision-making, ensuring their investments align with promising trends.
Content Creators
Whether you're a blogger, vlogger, or social media influencer, Exploding Topics is your go-to resource for a constant stream of inspiration.
It can help you generate new content ideas, ensuring your posts resonate with your target audience.
What's more, it allows you to stay updated with the latest trends in your niche, giving you an edge in creating content that truly engages and captivates your followers.
The Curious
Individuals who enjoy staying informed about the latest trends and topics, even without a specific use case, can find the information provided by Exploding Topics fascinating.
In essence, anyone interested in keeping up with emerging trends and utilizing this data for strategic purposes can benefit from Exploding Topics.
How Does Exploding Topics Work?
It is very easy.
Just go to the website explodingtopics.com, and select your favorite category and time period (from 3 months to 15 years).
It is quick and easy and below you find a bit more in-depth information on how to search for specific items and what to do with them.
Can't you find your favorite category?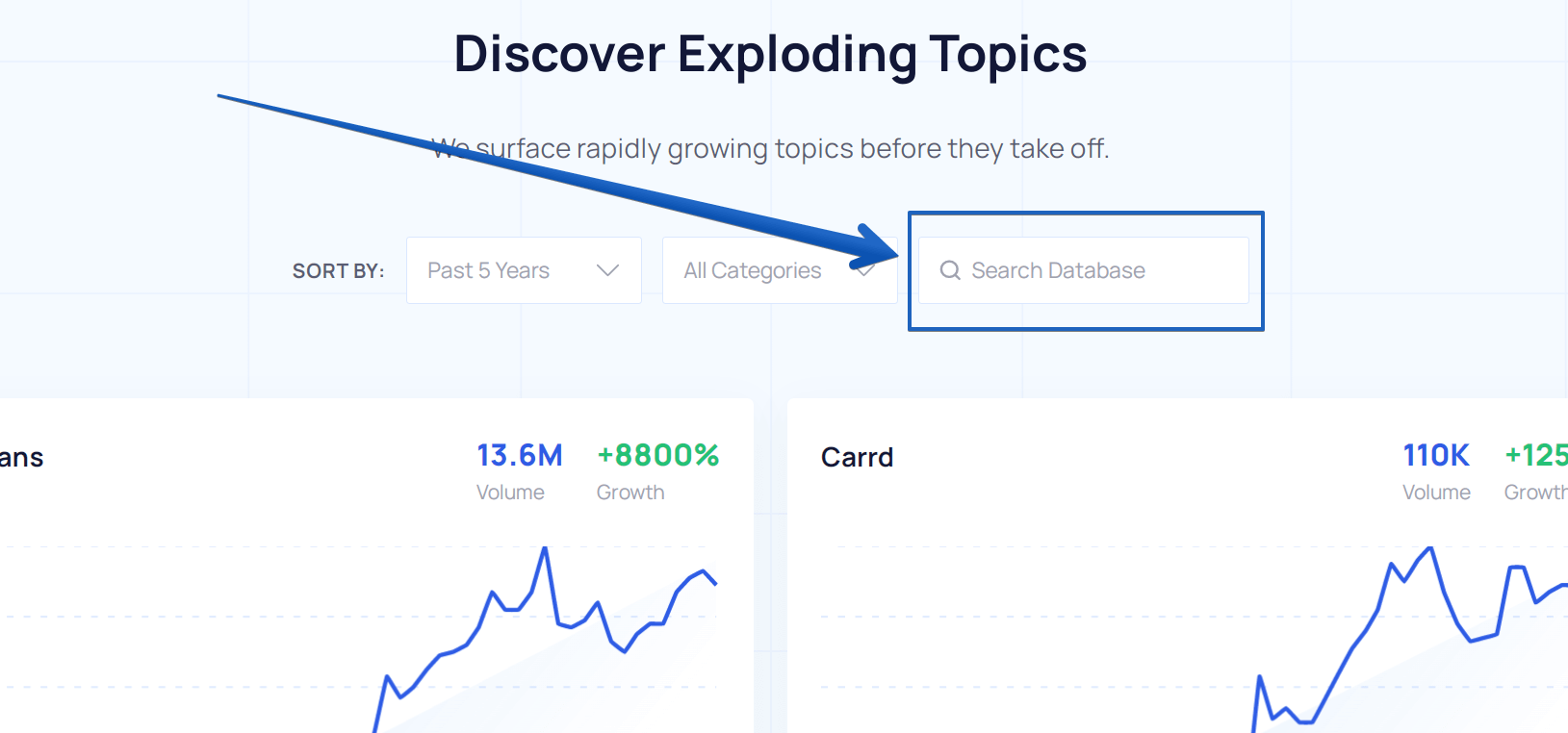 Go to the Search button.
Start typing what you are looking for and below you see suggestions:
Select your time period (15 years to 3 months) to see how the specific category was trending over that time.
It would make sense to select 6 months or maybe 1 year to have a better idea about the near future.
Pro Tip: Efficient Topic Exploration
Navigating Exploding Topics can be a breeze with this time-saving trick.
Simply hover your mouse over the suggestions, one by one, and right-click to select "Open link in new tab":
This feature enables you to swiftly open each suggestion (8 of them in the example above) in a new tab or window, making it effortless to evaluate which topics pique your interest or are currently trending.
It's a clever method to simplify your exploration and focus on the most captivating subjects.
Let's try one example here – Specialty Drip Coffee Maker:
We see that it has been trending great in the last 5 years:
However, if we switch to 3 Months, we see a decline.
So that is probably not a good topic.
Don't worry; scroll down to see the "related topics".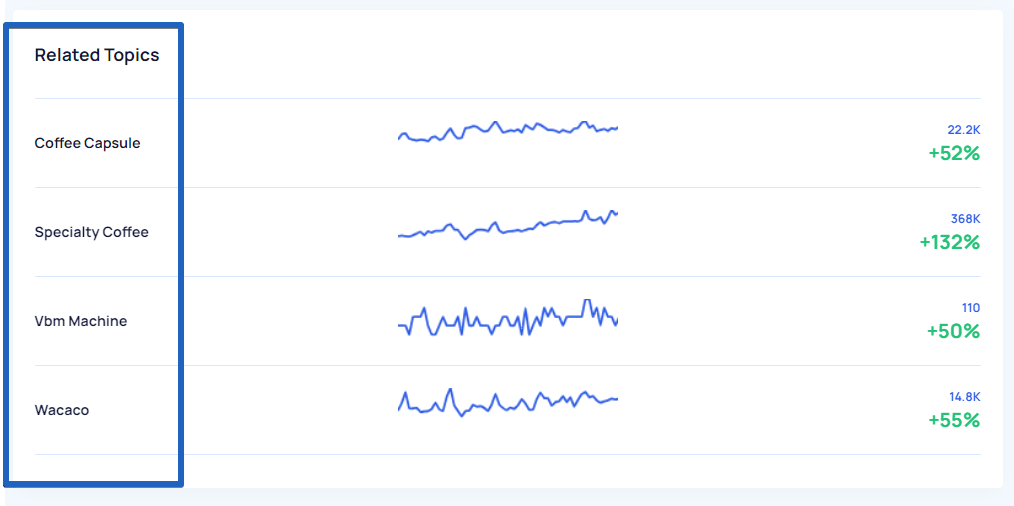 For example, the keyword 'Specialty Coffee' seems to be trending.
Or even 'VBM Machine'… Even though I am interested in coffee machines and coffee, I have no idea what a 'VBM Machine' is.
That's the cool thing about Exploding Topics.
It introduces me to ideas about something I've never heard of. What's more, these ideas are trending.
And, it has been trending quite well in the last 3 months.
And to double-check it, it looks good over the last 6 months, as well.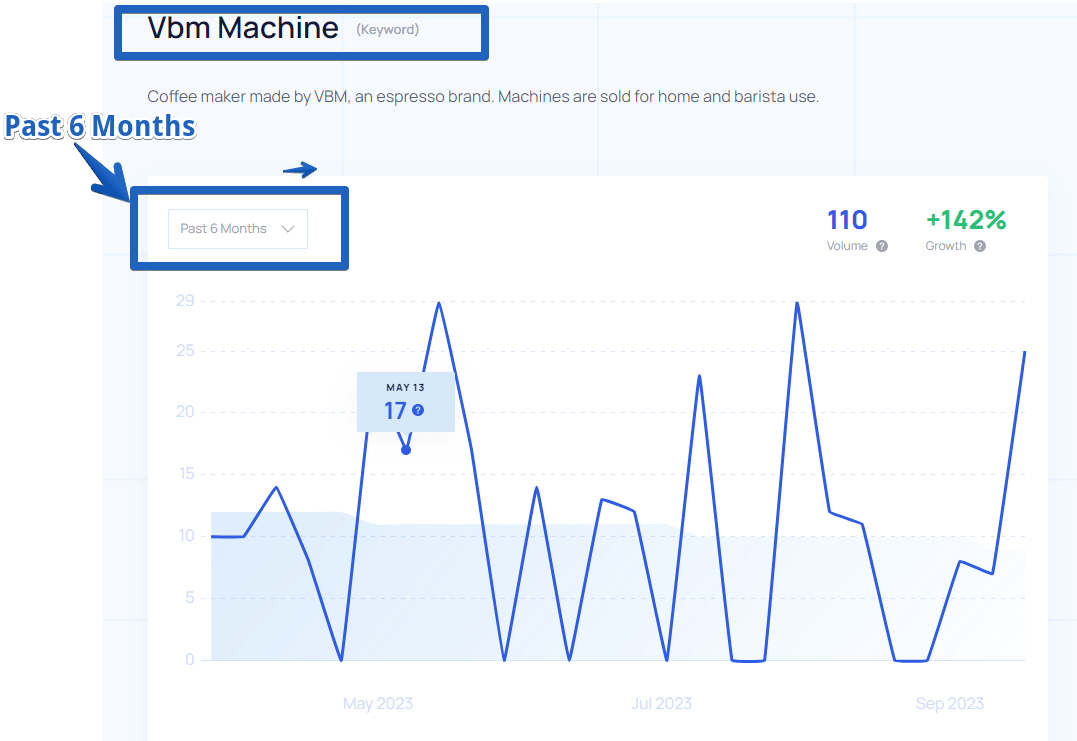 Where Does The Exploding Topics Get Their Data?
Imagine Exploding Topics as a digital trend detective.
It scours the internet, analyzing millions of searches, conversations, and mentions. But here's the kicker—it doesn't just follow trends; it predicts them.
Their algorithm is the secret sauce, identifying under-the-radar industries, products, and categories months or even years before they take off.
The data on explodingtopics.com is a treasure trove of insights from users searching on platforms like Google, Reddit, Amazon, and emerging websites.
What's truly exciting?
When I tested it, Exploding Topics unearthed phrases and trends I never knew existed.
That's the power of this tool—revealing the internet's hidden gems.
Exploding Topics – My Experience
I receive a newsletter from Exploding Topics, every Tuesday.
At the beginning of May 2022, I found one particular topic that caught my attention:
It was Snipfeed and at that time I had no idea what it was.
(Basically, Snipfeed is a link-in-bio platform designed for content creators aiming to expand their business.)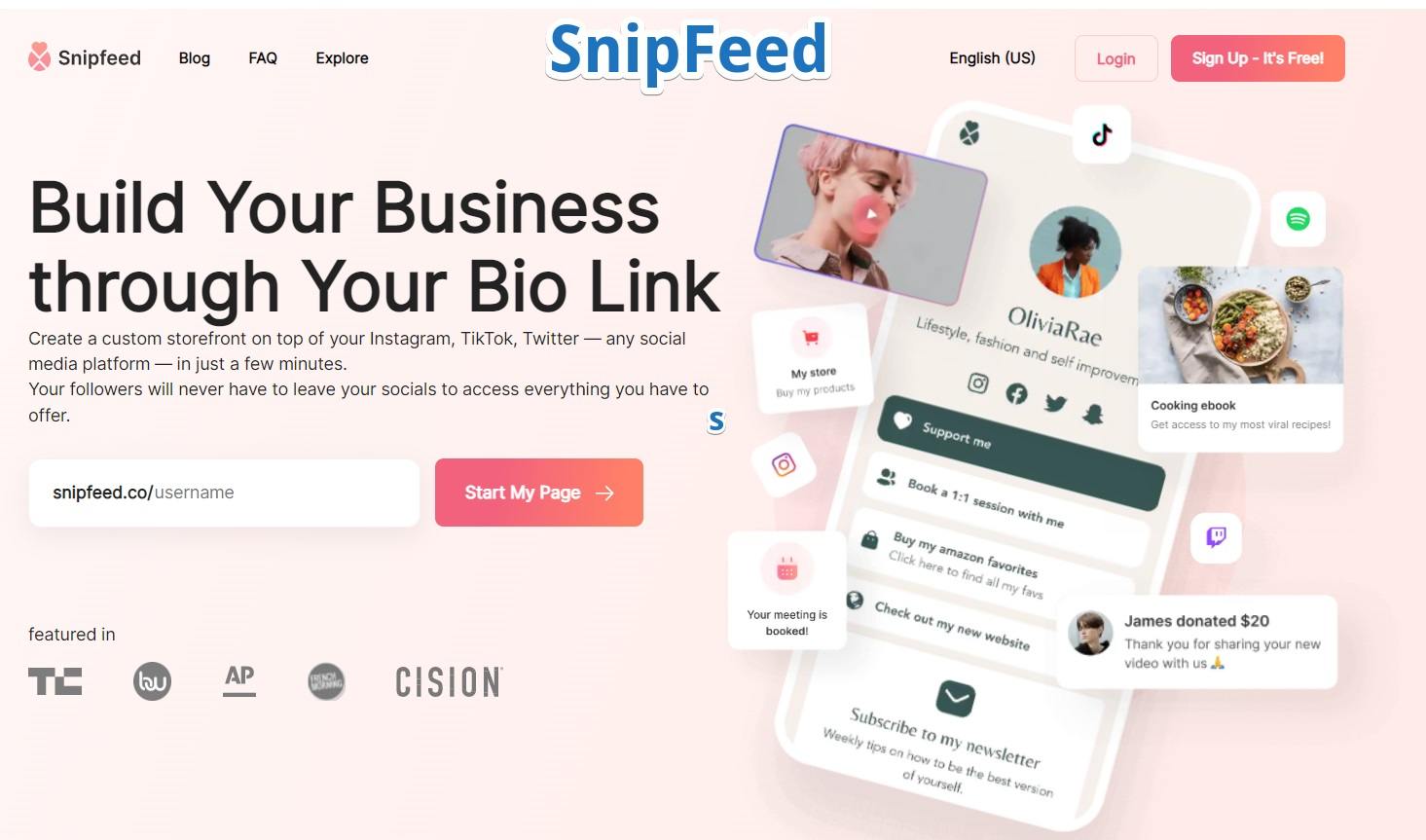 Exploding Topics vs. Google Trends
Google Trends, which reveals past trends based on search results, is a familiar tool to many.

Users can select a specific region and explore the questions people were asking in that region.
In contrast, Exploding Topics takes trend analysis a step further by 'predicting' future trends.
It offers insights into emerging topics and concepts, providing users with a glimpse into what might gain popularity in the near future.
If you're looking to not just follow but anticipate trends, Exploding Topics presents an intriguing alternative.
Discover more about how these platforms differ and find the one that aligns better with your trend analysis needs in our detailed guide on Google Trends Alternatives.
Which One do You Prefer?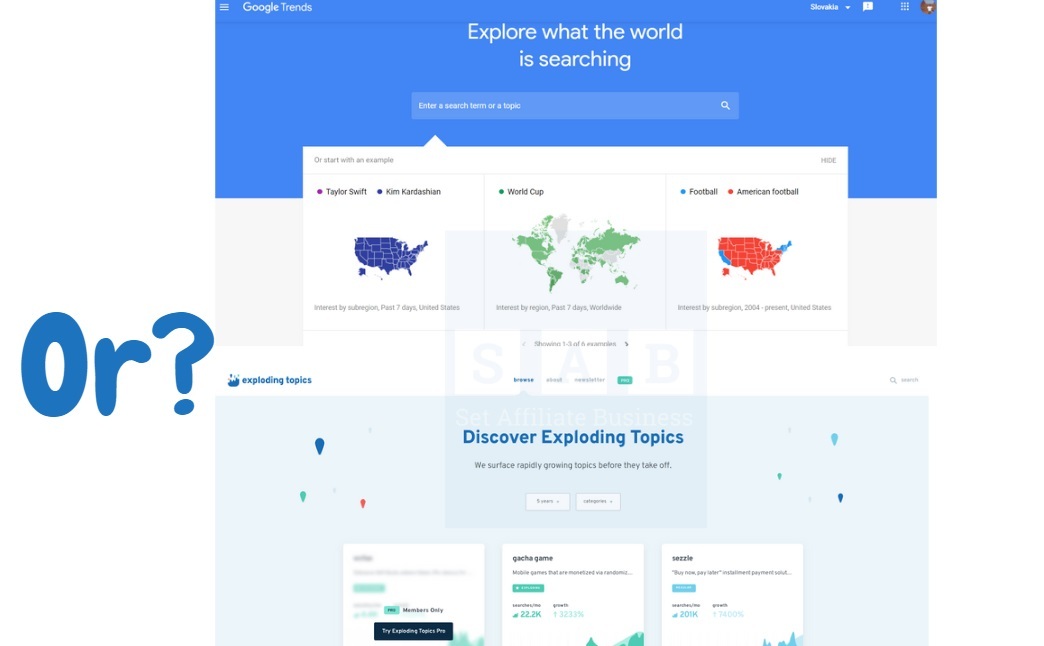 Well, you will probably need some time with Exploding Topics to answer this question.
In my opinion, you will be using both because both tools have excellent data.
Depending on your current project, you will be checking either Google Trends or Exploding Topics.
Conclusion
Whether you're an investor, an e-commerce business owner searching for new trends, or an affiliate marketer, Exploding Topics proves to be an invaluable source of information.
Furthermore, it sparks ideas that may have otherwise remained undiscovered.
By now, you should have a clear understanding of what Exploding Topics is, how to utilize it effectively, and its purpose in trend analysis.
Is there something specific on your mind that hasn't been addressed? Feel free to share it in the comments below.
As for me, I've already bookmarked this tool. So, whenever the need arises for fresh ideas, I know it won't take more than a few minutes.
Thank you for joining me on this journey,
Mike.
FAQs
What does exploding topics do?
Exploding Topics sifts through an extensive array of data, including millions of searches, conversations, and mentions on the internet.
This helps identify and predict the trends and topics that are about to gain popularity in different categories.
How do I cancel my Exploding Topics subscription?
If you want to cancel your subscription to Exploding Topics Pro, simply login to your account, go to the "My Account" section, and then click on "Cancel Subscription."
Follow the instructions to complete the cancellation process.
Who is the CEO of Exploding Topics?
Brian Dean holds the position of Co-Founder and CEO at Exploding Topics. Prior to this, he founded and worked at Backlinko.