Hello there, and welcome to my site.
From the logo and the name of ProfitGram, it is obvious that it has to do something with Instagram.
Instagram is huge and there are many people earning full-time income just from Instagram.
Is ProfitGram going to help you become one of those guys as well?
How fast?
And how much do you have to invest?
In the following ProfitGram review, you are going to learn everything you need to know.
I know your time is precious so I promise, this is going to be a brief but concise review
Let's get right into that.
Disclaimer
Please note, I am not a member or an affiliate of the ProfitGram. This review is based on research and information available online in the public domain.
Any recommendations and conclusions are only opinions and may not apply to all persons or situations.
Quick Overview
Name: ProfitGram
Website: www.getprofitgram.com/regular
Price to Join: $17 + Upsells
Recommended: No
ProfitGram Summary
ProfitGram is a newly developed software that claims to help you discover and engage with thousands of Instagram users automatically. It allows you to add them to your contact list and send them messages containing affiliate links.
The software operates on automation, which gives it the appearance of being a groundbreaking tool. However, there is a significant drawback: Instagram detects any automated activity, and accounts that send such messages are at risk of being banned.
In simpler terms, ProfitGram enables you to spam other people on Instagram, which is not a legitimate or effective approach to making money.
Therefore, I do not recommend using this tool.
Fortunately, there are other legitimate methods available for generating consistent income online. I have been using a particular method since 2018, and I've provided a link below with more information.
You can sign up for free and access the first 5 lessons.
If you're unsatisfied with it, you can explore alternative ways to make money online.
Sign up for Free and I will guide you through the platform.
No Credit Card Needed – Just your email.
What Is ProfitGram?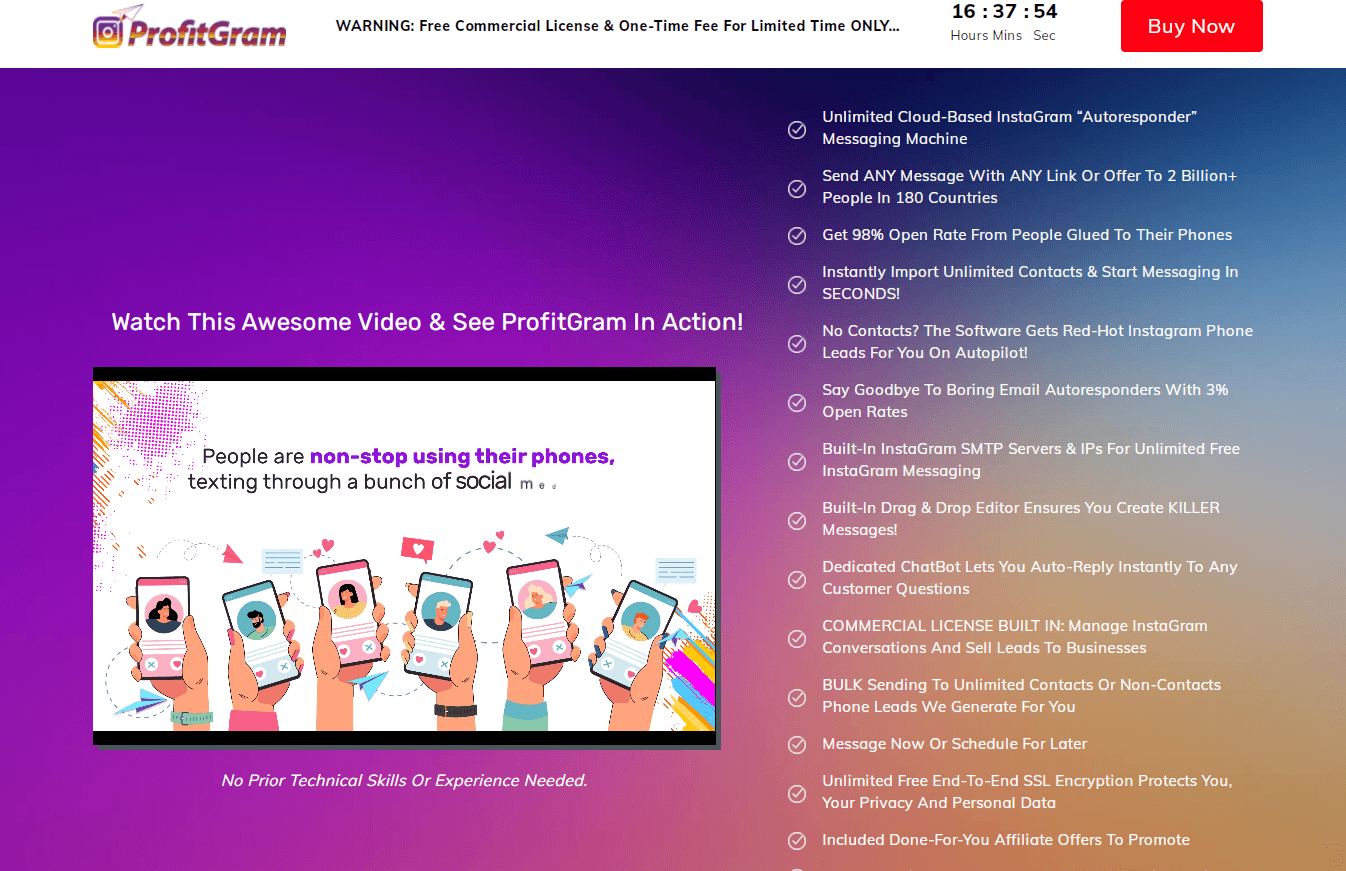 According to the sales page, ProfitGram is the first Instagram autoresponder, that automatically finds Instagram-targeted leads, add them as contact, and sends unlimited messages with an affiliate link.
That means, that by using ProfitGram, you can reach thousands of people and a certain percentage of them will click on the affiliate link.
If they purchase the product or service, you earn a commission.
In theory, you can earn thousands of dollars per week, maybe even more.
But the reality is different.
There are some major issues with this software.
First of all, Instagram doesn't allow any software that automatically finds other Instagram users.
An account using such an automation tool will be banned, soon after Instagram detects such an activity.
Who Is the Founder of ProfitGram?
Mike McKay is the guy who created this product.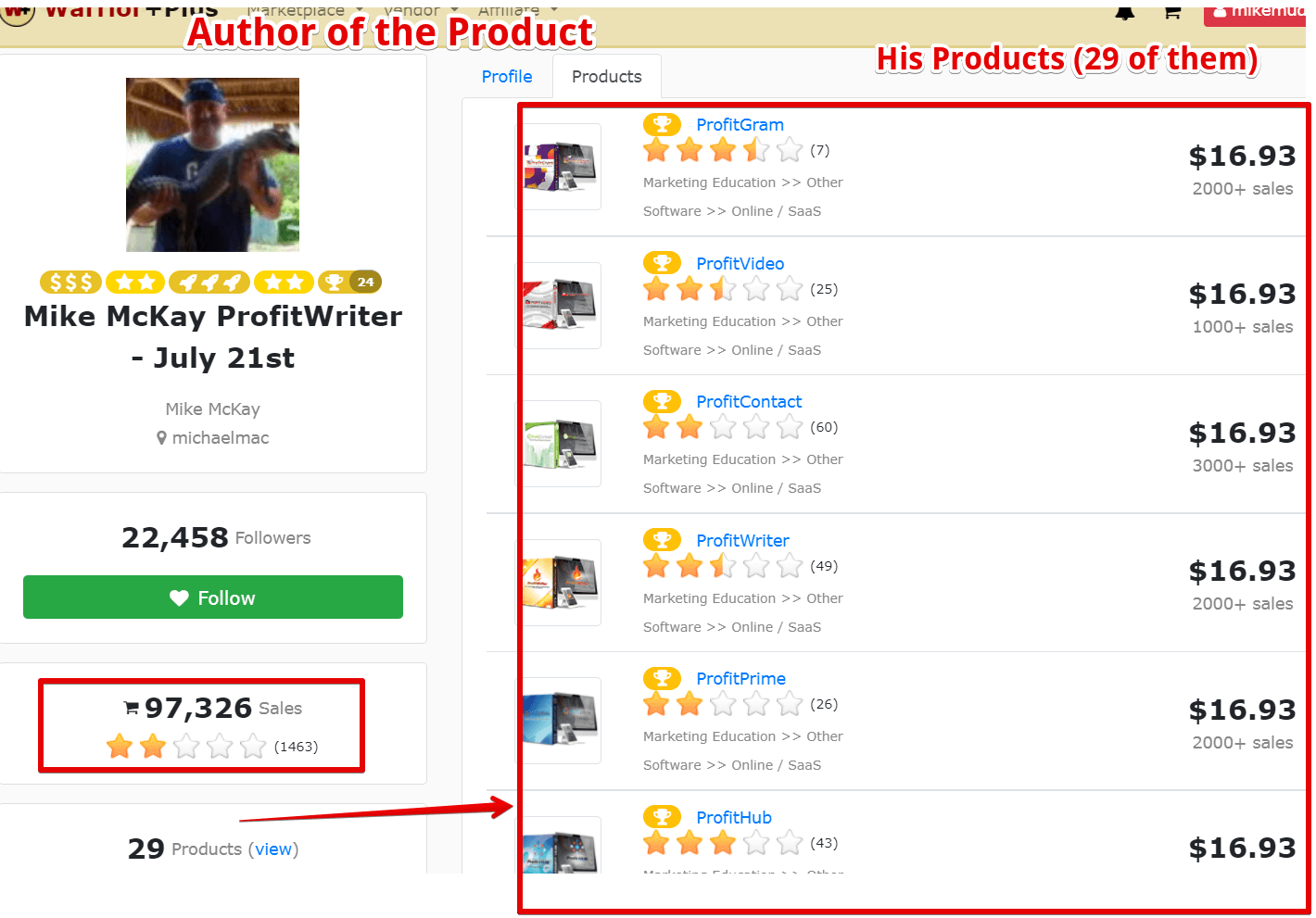 There is not too much information about this person.
But one thing is for sure;
He has 29 products and many of them are not active anymore.
This is a typical sign of these "gurus" that sell their products on WarriorPlus.
His method is simple
Create a product that overpromises (to lure in as many people as possible)
Sell as many upsells as possible (using other affiliates)
Once people lose interest, a "new" product is launched (new name, new colors, same layout, same B.S)
Rinse and repeat
I have been working as an internet marketer for 3 years.
And I still wonder how come people still spend money on such low-quality products.
Most likely, because of more and more people getting to the internet and they search for a way how to make quick money online.
I get it.
But it doesn't work that way.
Who Is ProfitGram For?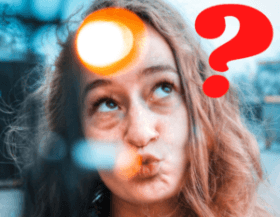 I don't recommend this product to anyone.
And in the following section, we are going to find out why.
The thing is that ProfitGram allows spamming Instagram users.
This is a big No-No.
Regardless of this specific product let me share with you my concerns:
Back in 2018, I decided to create this website. I want to inform people about digital products, courses, and software.
I want to reveal, which are good, and which are low-quality.
There are also many scams and scammers and I don't want people to fall for such scams.
In my reviews, I also reveal what is expensive, and whether or not there is a reason for a specific product to be that expensive.
The bottom line is, there is no such thing as quick money online. 
Yes, you can start making a few bucks a day doing online surveys.
But the earning potential of these legit survey sites is low.
It is possible to make $5 to $10 a day (at least 5 hours a day)
That's not viable.
Does it mean that it is not possible to make a consistent income online?
No, it is possible and I know people that started with nothing, zero-knowledge, and within a year they have been making $5,000 per month. 
What is the "secret"?
Proper education and applying what they have learned.
I am also glad I found a legitimate educational platform (that actually costs less than $1.40 a day), where I have learned a lot of stuff regarding the website, SEO, and how to monetize the website.
But I digress.
Let's back quickly to ProfitGram.
How Does ProfitGram Work?
You see there is a Dashboard with different features and menus.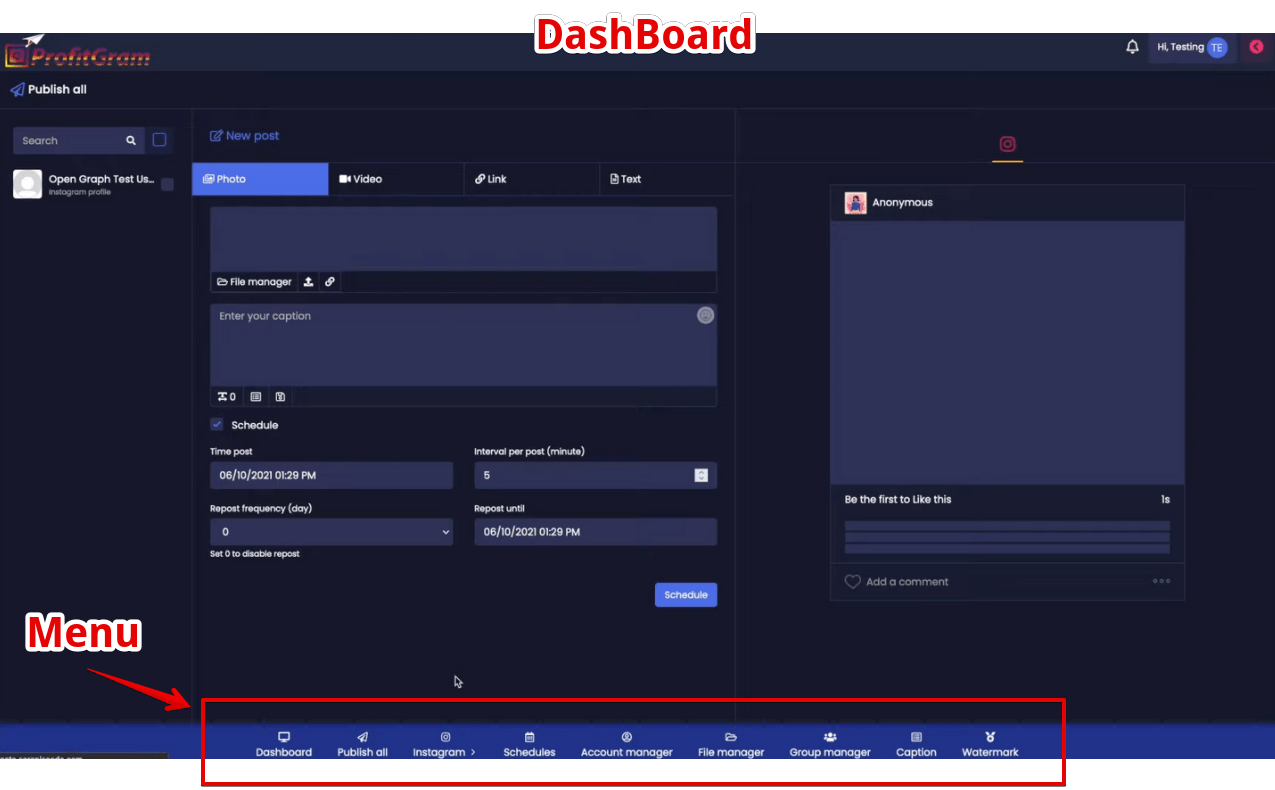 The main purpose of these features is to automate messages and follow people on Instagram.
As already mentioned this allows you to follow people and add them to your contact list.
This is not ethical since you have no permission to message people that didn't ask for it.
But that's not the main problem.
The biggest red flag is automation.
The thing is that any automation process is recognized by Instagram and any user using it will have his/her account banned.
This is basically the result of the entire ProfitGram.
Simply, it doesn't work and you won't make any money with this system
How About Other ProfitGram Reviews?
It is always good to check other reviews as well.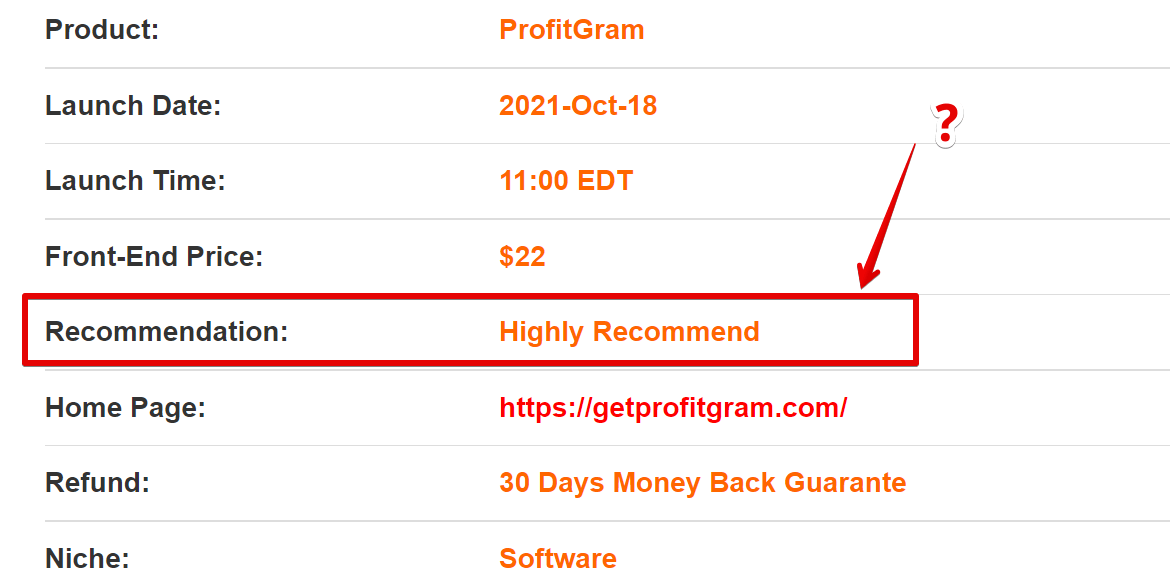 When it comes to ProfitGram (or any other WarriorPlus) we see that Google results show us many websites with reviews.
Many of them claim that this is highly recommended and/or there are no Cons.
For example :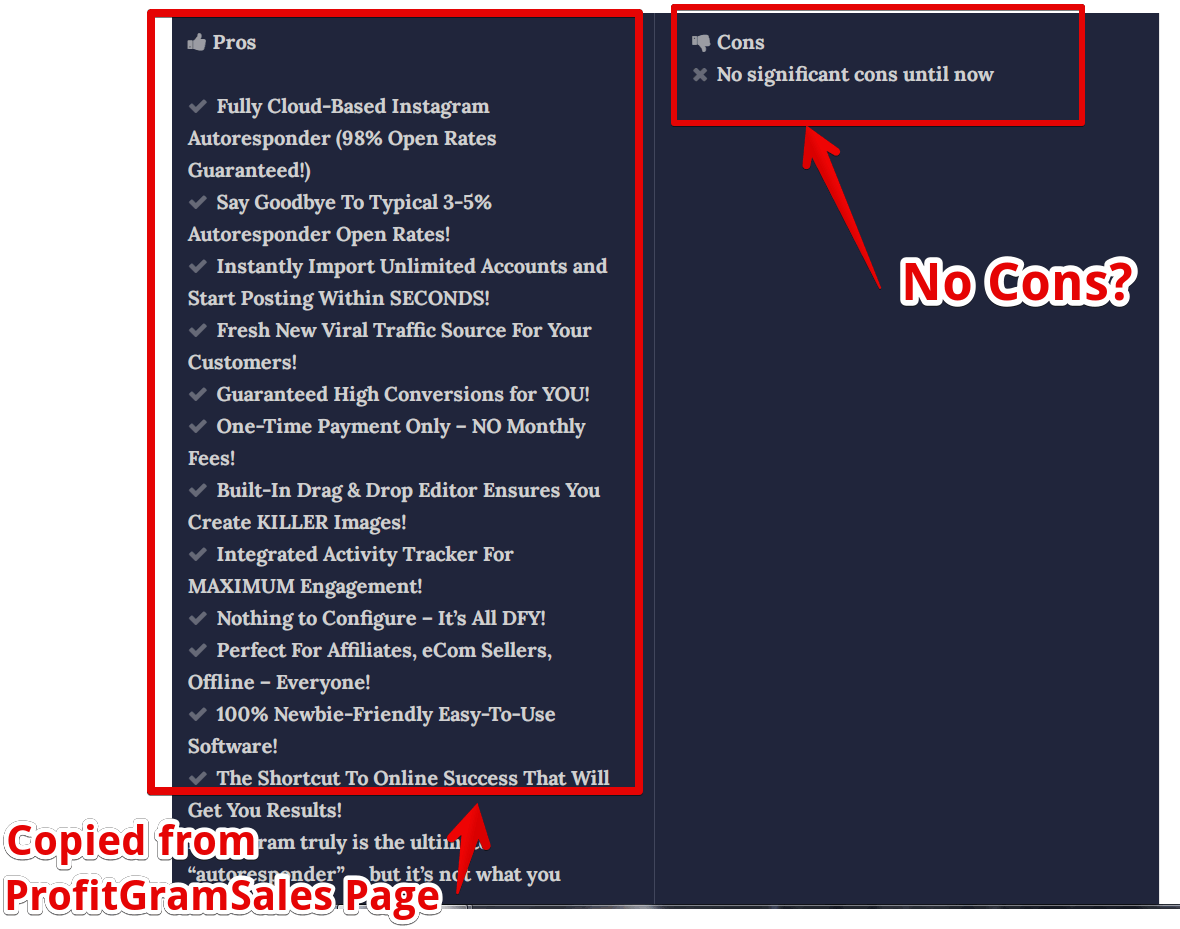 Well, these claims are significantly different from what you read in my post, aren't they?
Why is it so?
Are these biased reviews trustworthy?
Let me know in the comment section below, which reviews do you believe more.
Generally speaking, there is no such thing as a money-making machine on autopilot.
And, yet, many of these "reviewers" present ProfitGram as a great product with no Cons working for anyone and anytime…
That's just BS.
Now let's check why is it so.
(But I assume you have a pretty good idea, why)
What Is the Price for ProfitGram?
As advertised the price is supposed to be less than $17.
Not bad… But!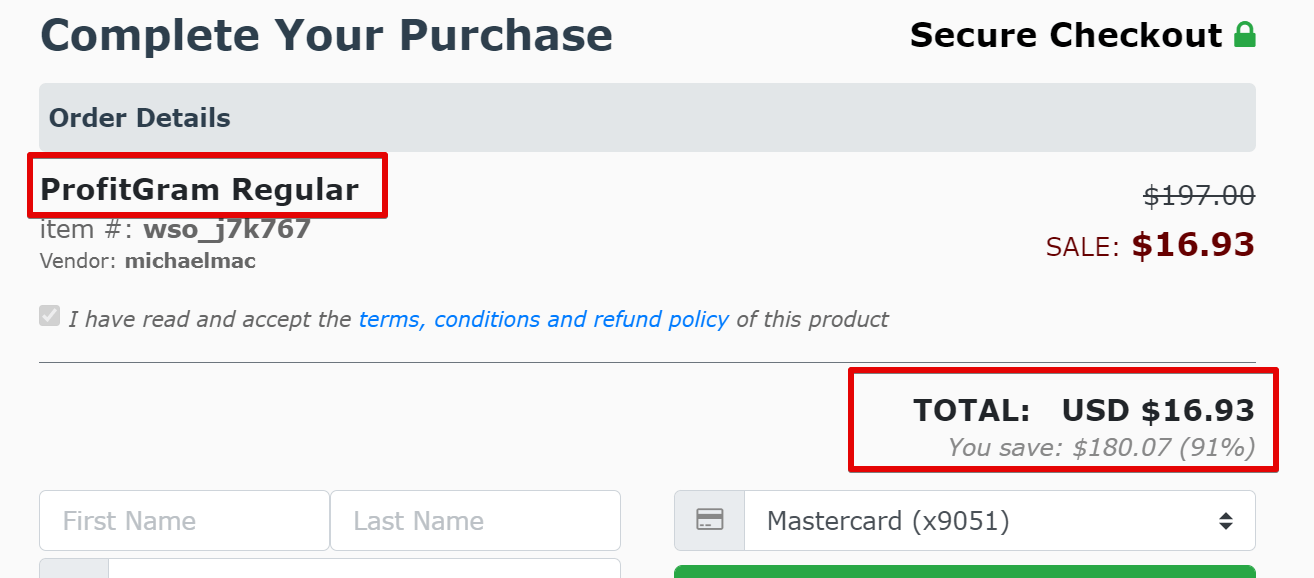 This is just a front-end price and right after checkout, you are asked to upgrade and "get more " out of ProfitGram.
It is possible to skip these "offers", but many people who are not careful just purchase the whole thing.
They might end up paying $366.86.
(With downsells, just something over $230).
Here is the screenshot from the JV page:
That means that anyone promoting ProfitGram gets a 50% commission.
So, now it is clear for everyone, why there are so many positive reviews.
Not bad right?
Well, the thing is that people soon find out this thing doesn't work.
Even the author knows it and that's why after a while he moves on and creates a new product.
Let's take a look at two more screenshots.
Fake ProfitGram's Earning Claims
Here below, is a screenshot from ProfitGram's sales page, claiming how much people earn from this thing.
And this is a screenshot from Mike's previous product called, Profit Video: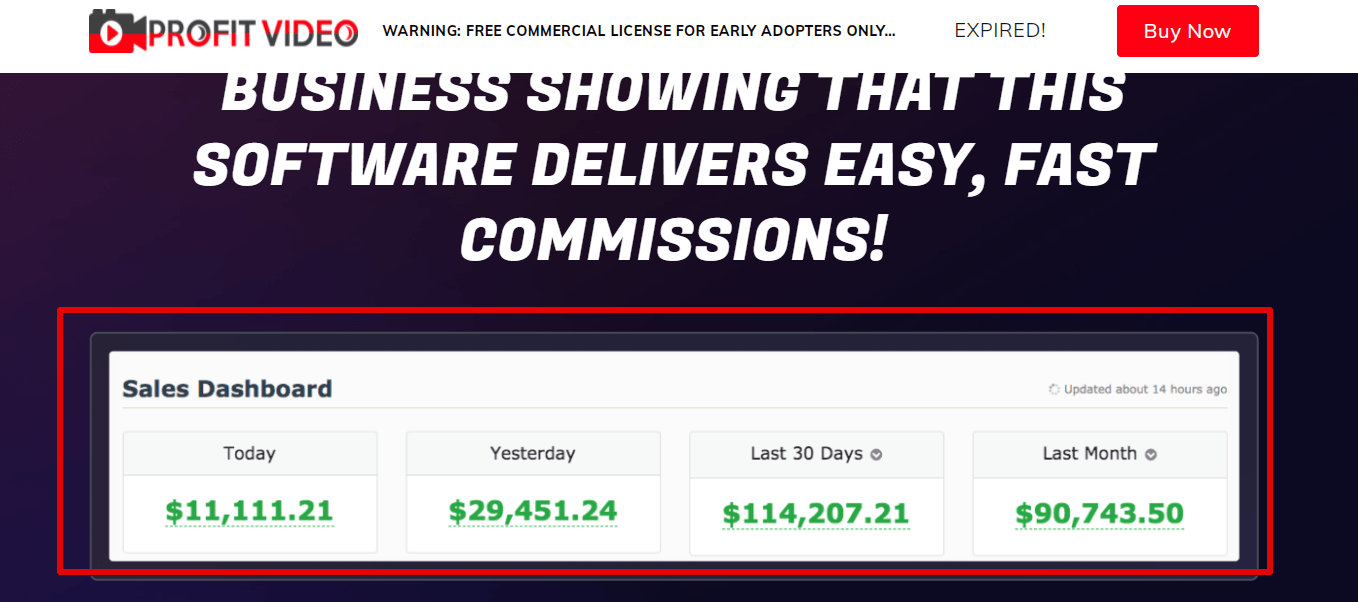 Is it a coincidence?
Or just copy and paste?
Obviously, there is no doubt that this is fake.
What I like about ProfitGram

What I don't like
Misleading Sales Video
Unrealistic & Fake Earning Claims
Too many Upsells
Conclusion
We have covered ProfitGram and found out that it is not worth it.
The sales page is very misleading and I understand that for many people might be tempting to spend the $16.93.
But please don't even pull out your credit card.
ProfitGram is software that spams people using an automation tool.
This can't work, since Instagram easily detects such activity, and after a warning, it bans the profile.
So what would be the point?
It doesn't make sense, right?
Let me know please in the comment section below, if you have experience with similar software (probably a WarriorPlus product).
Is this the first tool you stumbled upon?
Please let me know.
I will make sure to provide you with feedback within 24 hours.
I believe you find this review helpful.
My mission is to research these products and let people know which one works and which one doesn't.
Thank you for reading
Mike
How to Make Money with a Simple Website?
Check the link below, and learn how to create a website that generates consistent income.
Disclaimer:
This is not a get-rich-quick scheme.
It takes time and effort, but you won't be alone in this journey. I can be your mentor and you will be able to get in touch with me, anytime.
Be patient, follow the training, ask questions and you will become a successful affiliate marketer.