Keyword research is essential when it comes to SEO and ranking. The last thing you want to do is to create content without a specific keyword in your mind. Of course not only in your mind 😉 but most importantly in your article.
Ideally, your keyword should be somewhere in the 1st paragraph of your post and in other places of your article as well.
But, How to Find out Keywords for SEO, what is it that we want to check in our keywords – is it the length, the quality, of the KW, or the search volume…?
We must be checking the data coming from the keyword research tool and simultaneously we must have a feeling for the right keyword or instinct.
No worries, though – this instinct for a proper keyword you will easily pick up once you search for 100 or so keywords. It will become your 2nd nature pretty soon.
Also what is very important is to think the way the reader or potential customer thinks. Even if you think that the keyword looks great, it does not necessarily mean that it is a good keyword.
So we must empathize with the reader. We want to deliver what he asks for.
What Are the Keywords – How to Find Out Keywords for SEO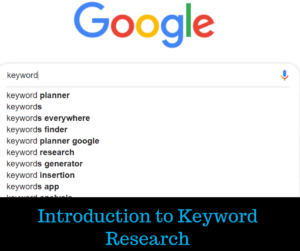 You are probably familiar with keywords and what is their purpose.
But it does not hurt to remind ourselves what the keyword is, and this will help us to think as the guy on the other side of the post – meaning the reader thinks.
Keywords are phrases that people (readers) use in order to find out something, in search engines; Or they probably seek help in these search engines such as Google, Bing, Yahoo, and other smaller ones as well. (Just one note – Yahoo and Bing is basically the same when it comes to the search algorithms).
Let's not forget about the Voice Search. That becomes popular more and more, especially in the younger generation – teenage to early 30s let's say.
Regardless of the type of search, you always want your website to be shown under the nose of a person searching for that specific term.
How do you get your site in front of the reader?
You want to know what keywords these readers typing in the search engines and which specific keywords you need to use in order to be on 1st page of Google. In other words, what are the specific keywords that would be easy to rank for?
This procedure is called Keyword research.
What Keywords to Look For – Keyword Quality Score
Let's say we have the keyword – "bed"
That is probably not the best keyword, though. We would not be ranking for this keyword.
We don't know if the person who types "bed" into a search engine, wants to buy a bed, or get better sleep, or maybe is it just a bed frame he is looking for?
Or is it a metal bed frame? -> See what we just did here. We naturally specified what we are looking for (or the guy) and we are getting to the keyword where we can easily rank -> that means Long Tail Keyword.
So, how about: "best bed frame for adjustable base"
Such a keyword has its purpose. What I mean by that is that the person using such a keyword is most likely looking for the best bed frame and yet he wants it to use for an adjustable base.
And how did I come up with such a long keyword?
Did I just make it up? No, I had in my mind just bed frame, maybe the best bed frame.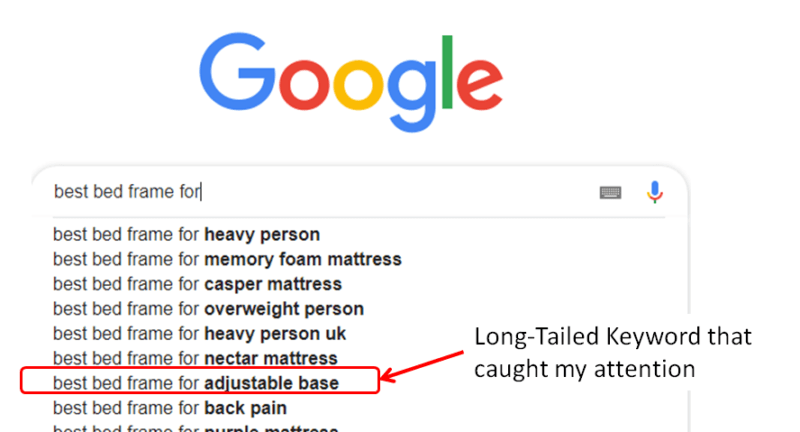 As you start typing your "basic keyword" you see the Google suggestions start to pop down.
That is based on the search history, what people look for.
Assuming that you want to monetize your website, you can probably write an article using this specific long-tailed keyword.
Because there is a pretty good chance that whoever uses such a keyword is determined to buy the bed frame, sooner or later.
3 Keyword Research Tips
Pick a Niche
This is related to what we just mentioned above. By selecting a very specific keyword, you basically are on the way to pick your niche. And if you just start out, do not be afraid of going too specific. For example in our example above – I would focus on the bed frame for back pain. That is a perfect specific niche.
If you are interested in adjustable bases, do a little more research and select that niche.
Go to Amazon and check the adjustable bed frames and see how many results we get:
Even that seemingly specific niche still gives us 6,000 results. That is still wide. So we want to narrow it down a bit. Let's say we want to have the electrically adjustable bed frame and here is what we get. I bet you want to have a list of best bed frames, so in the upper right corner sort the items according to average customer review.
That will give you, most likely, the products which customers are happy with.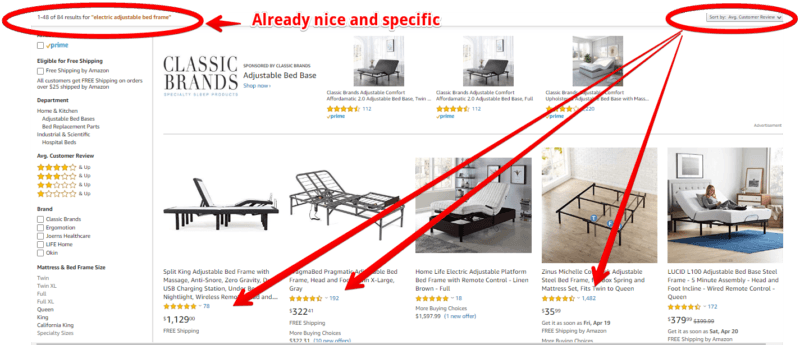 Do you see how the products got sorted out?
Tip: I would go for products with 100 reviews and more. Items that have a low number of reviews might be new, or the reviews may not be accurate yet.
Keyword Research Tools – Broaden Your Perspective
You might have had a bad day, and your brain does not work today as it did yesterday.
So you want somebody to help you to come up with ideas for better keywords, in other words, little brainstorming comes in handy, right?
In order to come up with various keywords, you want to check some keyword research tools. Not only they help you to choose the exact data for each specific keyword, but they also will show you other suggestions. I will mention just 3.
Ubersuggest is an excellent tool and it is for free.
Google Keyword Planner is free – You have to have a Google Ad account though. If you are interested you can check the review.
Jaaxy is partially free and you have all data right in front of you.
Focus on Content – Deliver Value to Your Reader
Last but not least, focus on quality content.
It might take you a bit longer to finish a post with good-quality content, but your readers will appreciate that. They will come back to your site, they will send the link to their friends, and guess what -> Google will notice this and your ranking will go up.
Simple as that.
This is the evergreen technique. No matter what Google or Bing will change in their algorithm, quality content will be always the best strategy to stick with.
Conclusion
Hopefully, the Keyword research is clear and we have covered also other aspects of the research.
It is very helpful to use tools where you see similar keywords related to your original one. You can get more ideas and also see the data for each specific keyword such as
Visits to your website if you achieve first-page rankings in the Search Engines
The average number of searches that the keyword receives per month
Number of competing websites ranked in Google for this exact keyword
And also if a domain is available (domain containing the words related to the keyword – .com .net. org)
As a result of these data you know then which keyword to use and if you do your article properly you can easily rank at the 1st page of Google ad/or Bing.
Some Keyword tools allow you to use the so-called, Alphabet soup technique. It is a simple tool where you type your keyword in. Under the bar with your keyword, you see all the letters from Alphabet. By simply clicking on the letter, this tool gives you suggestions related to your keyword and the specific letter simultaneously.
What else is cool, you can even save your keywords. So you can use that list of keywords later on. That comes in handy when you prefer to do the research first. You choose a bunch of keywords and after that, you go create the articles using the keywords from this saved list.
I know that the Keywords Research may seem overwhelming first, but learning how to drive a car a was more complicated I assume. Nevertheless, if you have any questions regarding the keyword research or any tool we have mentioned let me know in the comment section. I might even respond to the question relating to the car driving 🙂
Have fun