Hi there,
Welcome to my website.
I am glad you are doing some research on this product called Watch2Profit.
It is not easy to find a decent digital product that will help you to make money online.
How about the Watch2Profit?
This is a WarriorPlus product that has been launched in October 2021 claiming that you can make money from watching videos.
Well, is it really that easy?
In the following Watch2Profit Review we are going to find out
How it works
Who is Behind
What is the earning potential (if any)
And whether there is a better alternative.
I know your time is precious, so I won't go too much into details.
In a few minutes, you are going to learn everything important about the Watch2Profit, and also some tips about such digital products in general.
These tips will help you in the future to determine, whether or not, you are dealing with a scam.
Let's get started.

Disclaimer:
Please note, I am not a member or an affiliate of the Watch2Profit.
This review is based on research and information available online in the public domain. Any recommendations and conclusions are only opinions and may not apply to all persons or situations.
Watch2Profit Summary
Watch2Profit is a WarriorPlus product launched on October 31st, 2021 and as the name of the product suggests, you can make a profit from watching videos.
It is basically an app that you can activate in 3 steps and you are good to go.
According to the sales videos, you can make more than $200 for 48 minutes.
The price for Watch2Profit is about $19, so compared to the earning potential it is a peanut.
But is it really so?
Doesn't it sound too good to be true?
Well, it does and the truth is that Watch2Profit is extremely misleading on the sales page.
There is no way that one can make hundreds of dollars for watching a few hours of videos.
In fact, it is impossible to make a dime with Watch2Profit.
The testimonials they use are fake, to lure you in.
Watch2Profit is presented as a get-rich-quick scheme.
Stay away from it.
If you are really serious about making money online you should be determined to invest your effort into it and time
Otherwise, it doesn't make sense.
It is actually possible to start with nothing and within 10 to 14 months have a full-time income (4 figures per month).
How?
For more details click the link below.
What is Watch2Profit?
Watch2Profit is an app that was launched at the end of October 2021.
It is supposed to be a revolutionary software that allows you to get paid for watching any video. whether on Youtube, Netflix, or any other website.
Apparently, the creators of this app discovered some "loophole" and now once you activate it, you can also start making $300 per hour.
And here is the procedure what to do:
Step 1 – Click to get a copy
Step 2 – Activate the monetization – apparently this is a secret sauce, "that makes magic happen allowing to get paid $300 per hour"
Step 3 – Start watching any video and get paid for every video you watch.
Payments go directly to PayPal or bank accounts.
OK, Let's be realistic.
I have been involved in the "making money online" industry since 2016 (give or take).
In 2018, I have created this website where I review different digital platforms and let me tell you that all the claims above are extremely misleading.
And I dare to say, that it is nonsense.
Let's break it down, to find out more.
Who is Behind Watch2Profit?
The creator of Watch2Profit is an individual called Kenny Tan.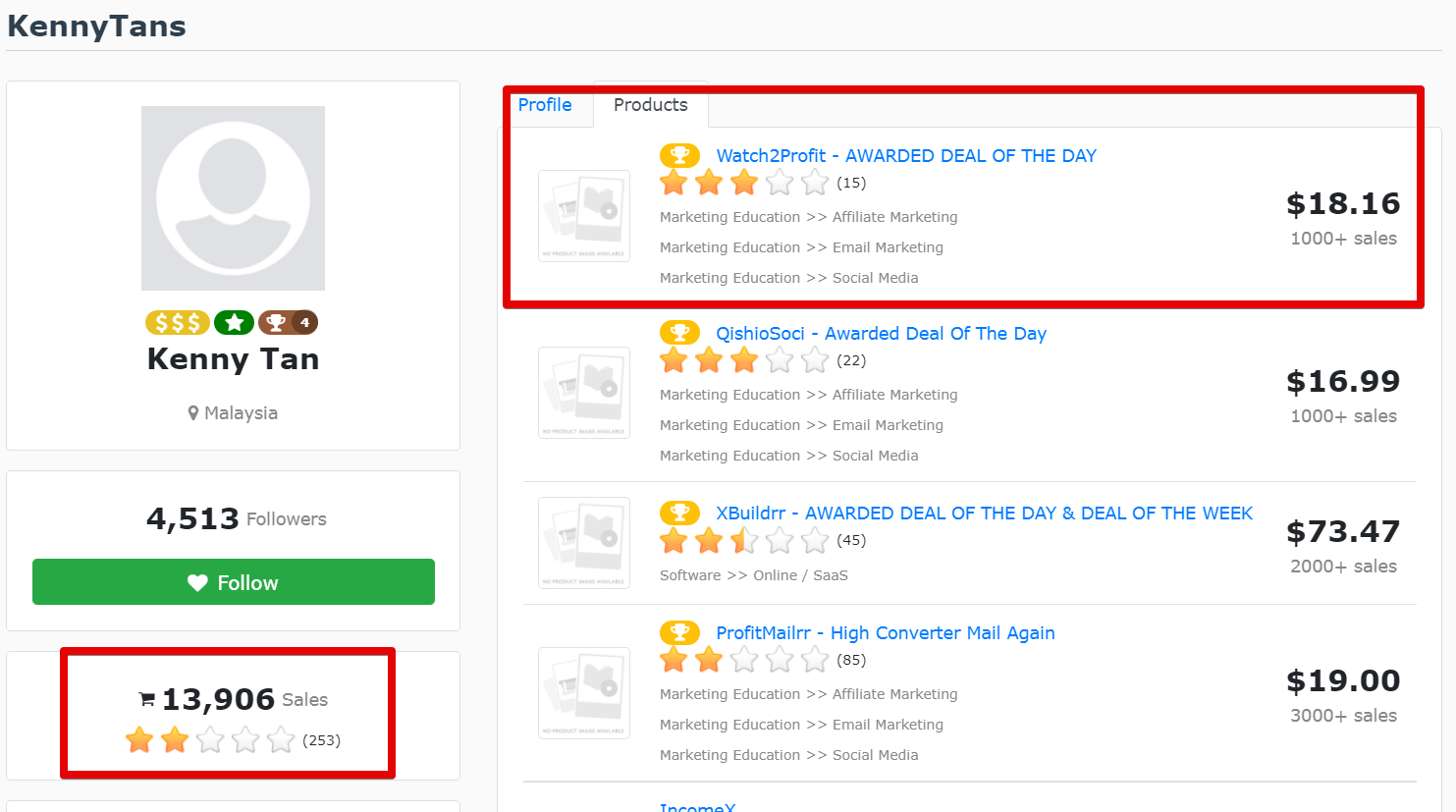 There is not a lot of information about this person, on the internet.
For us, it is important to know that he is a serial product creator, who keeps coming up with a "new software" every single month.
All of his products are offered on the WarriorPlus website.
Research shows that none of his products offer value and thus the rating – 2 stars out of 5, in the screenshot above.
And there are many "gurus" on Warriorplus offering very similar software/apps with no value.
So be careful, and check the rest of this article to get a general overview.
How Does It Work?
Inside the dashboard, you have a menu with several features.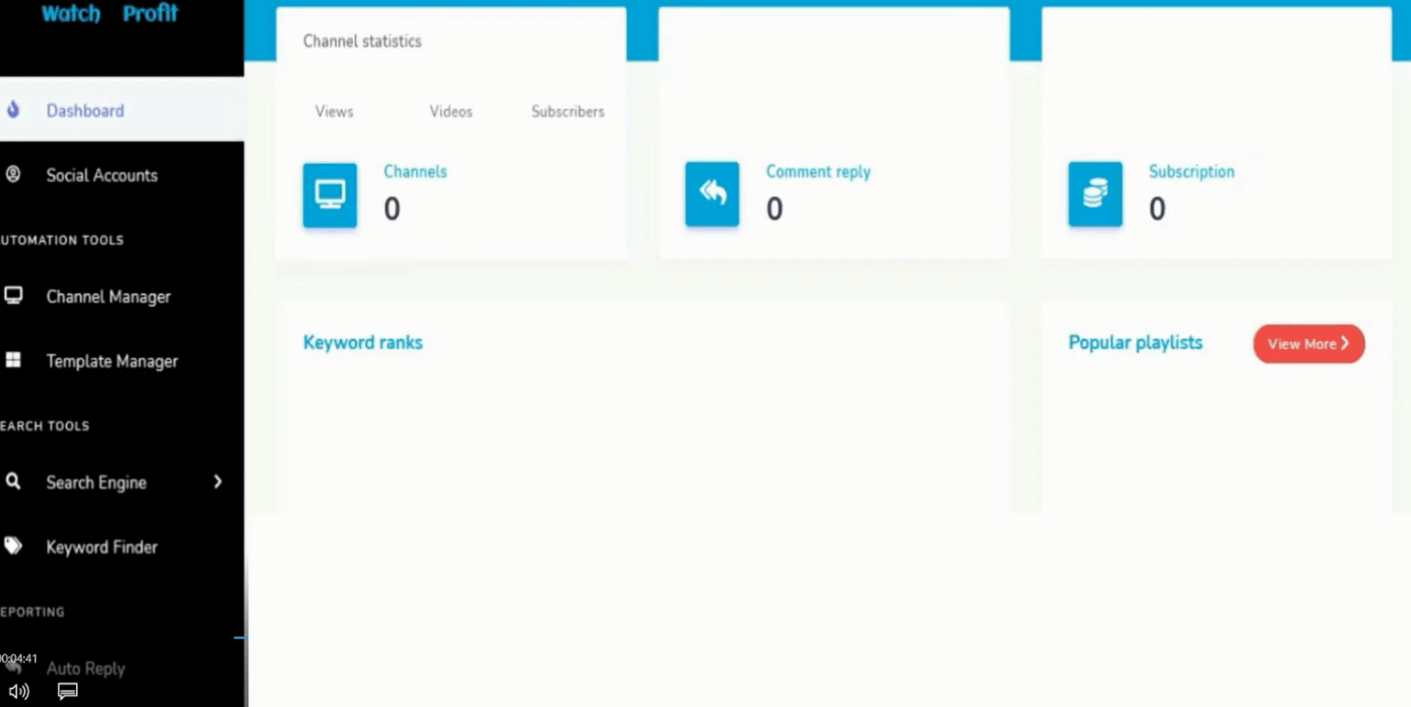 You can basically manage your Youtube channel and also there are features like:
Auto Reply Template
Auto Comment Template
Let's pause here for a second.
Youtube (including any social media) doesn't like any app or tool that automates comments or replies.
Such activity is detected and the reply or comment is considered spam.
If repeated, the account using such a tool will be shut down.
Is it necessary to go further?
I mean, a tool that actually is going to help to close your account has no value for me.
Let's check briefly what else it offers:
Seach Engine
You can even use the dashboard for search videos.
Very interesting, since as you know you can search for videos directly on Youtube or Google.
Tutorials
The tutorial is not related to the Watch2Profit whatsoever.
What is the Price for Watch2Profit?
Originally this was supposed to be sold for $1,997. At least that's what they say in the sales video.
Don't be fooled by that statement.
It is just a marketing trick to show, how "valuable" this is.
It is not.
And yet, they found the way how to charge hundreds of dollars, despite the "fact" that the front-end price is less than $20.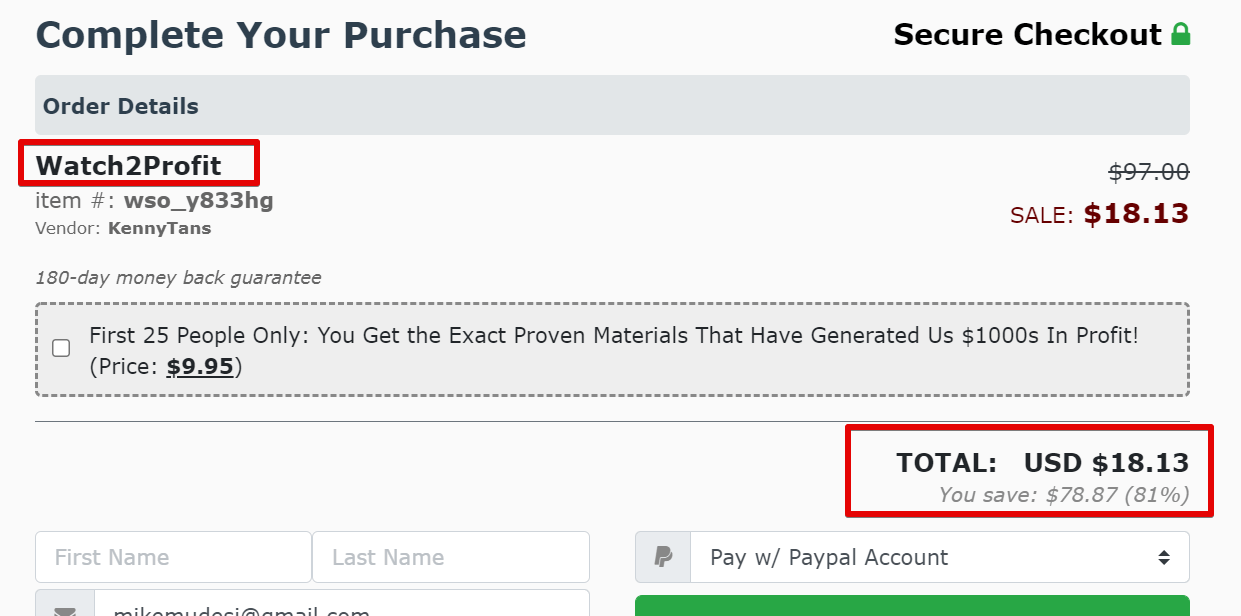 How do they do that?
Right after check out, you are asked to get an upgrade, and then again and then again.
In fact, there are 6 of these upgrades. In other words, these are just upsells, so the creator of Watch2Profit can charge you as much as possible.
This is the upsells structure, from the Watch2Profit JV page.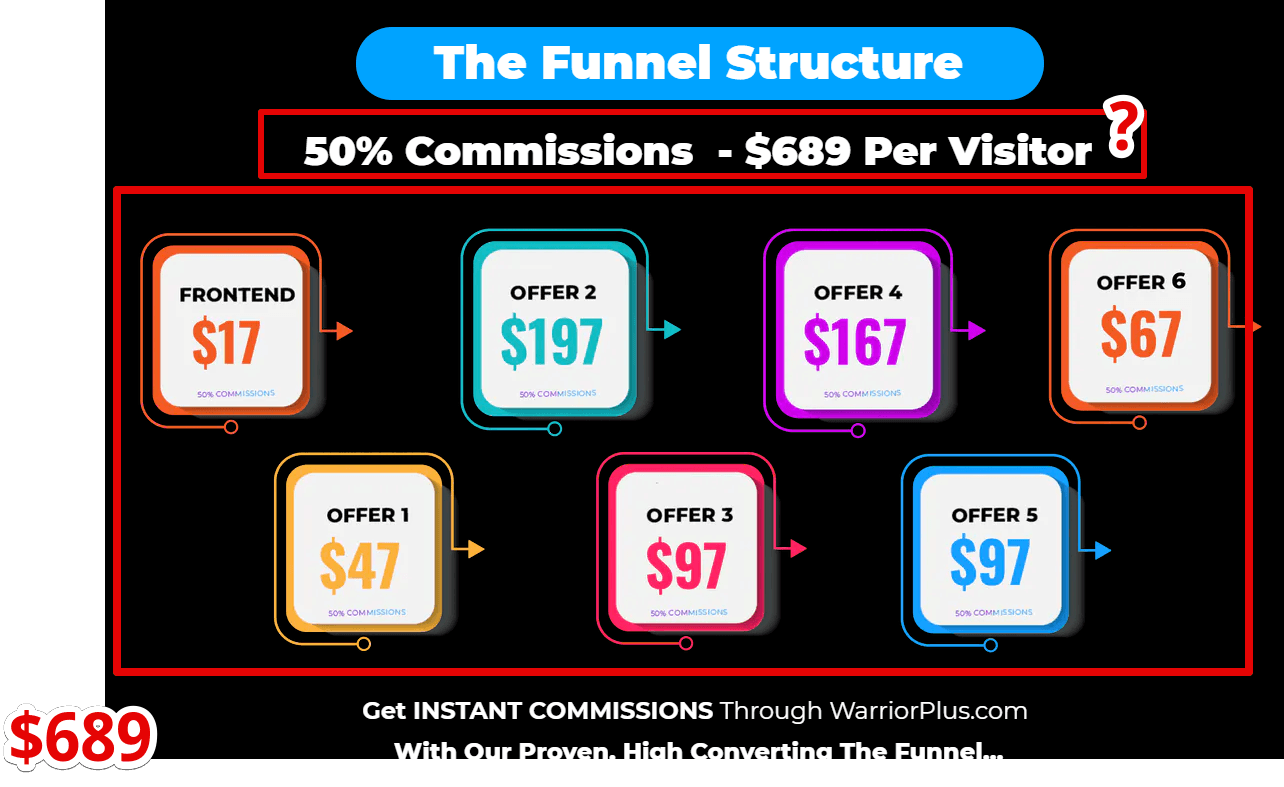 JV page is intended for people who promote this product.
Why would they do that?
Because of the commission.
As you see every person promoting the Watch2Profit gets a 50% commission.
That's a lot of money.
One Note:
The entire price as I calculate it is $689.
So how come they claim, that 505 commission is $689?
Is this just an error, or do they mislead even their "partners"?
And actually, there are many partners promoting the Watch2Profit.
These people write fake reviews;
saying that this is a great way how to make money.
For example, here is a screenshot from such a review:
Apparently, it is highly recommended.
But don't be fooled by that.
Such websites promote anything and everything just to make money.
This is not an ethical way how to make money online.
In a few months, more and more people will find out that this thing doesn't work.
Therefore, Watch2Profit will eventually fade away.
Any Red Flags?
Yes, and it is a good idea to check these red flags since these are quite common amongst many WarriorPlus products.
1) Unrealistic Income Claims
Whenever you see a website claiming that you can make hundreds of dollars per day, or even per hour without any effort, be careful.
The chances that you are dealing with scammy products are pretty high.
2) Fake Testimonials
This is supposed to be Daniel R.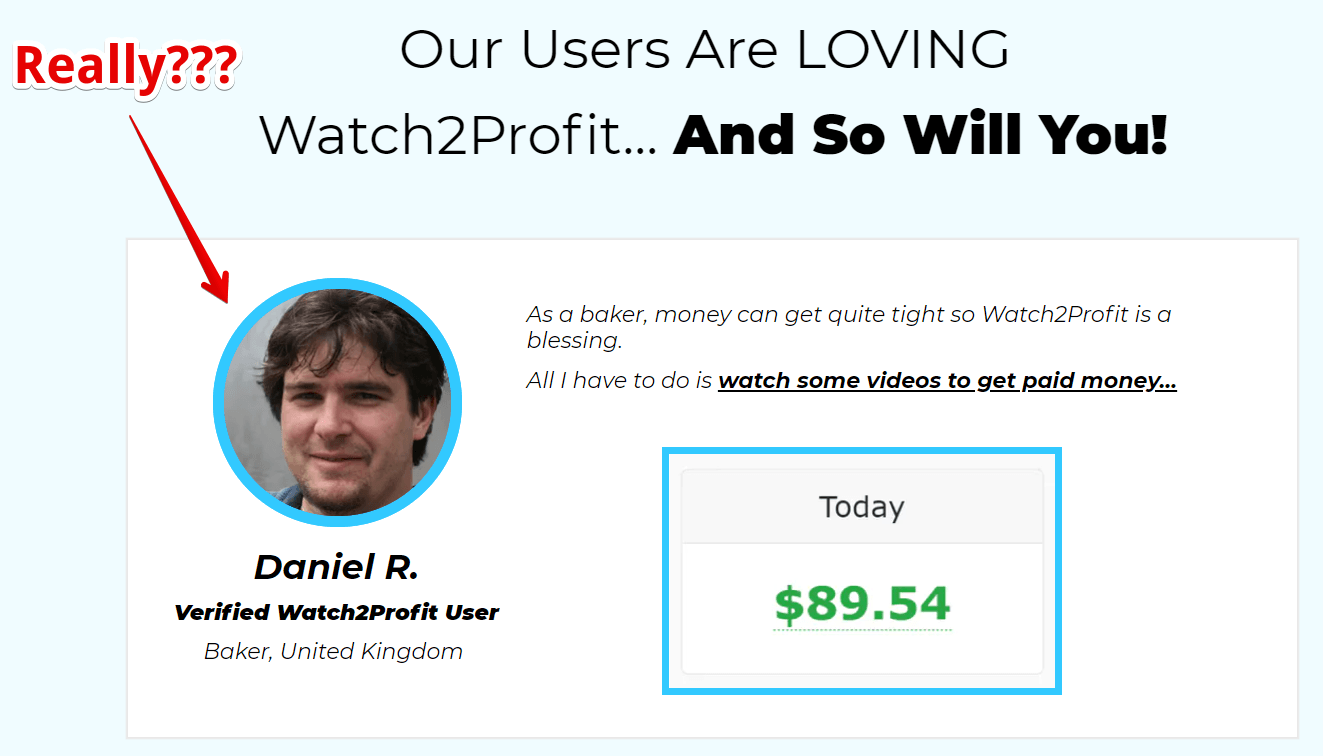 But is he?
Just search for that image on Google and this is what you find: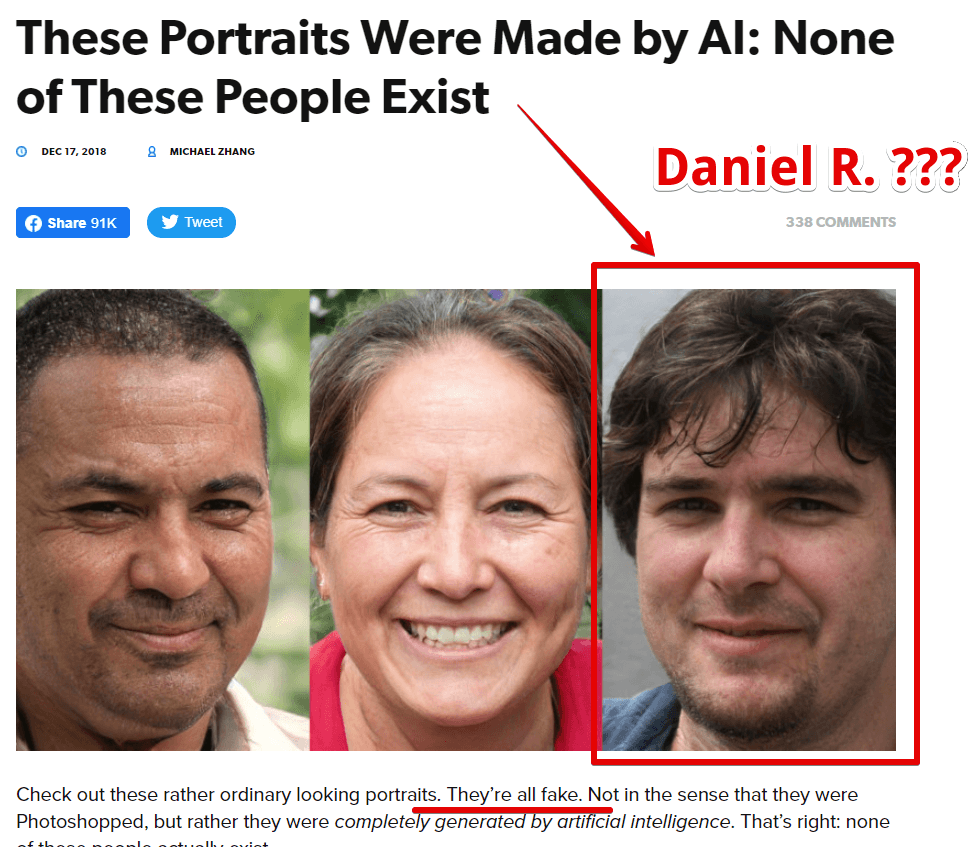 Here is another fake testimonial.
According to the Watch2Profit page, this is: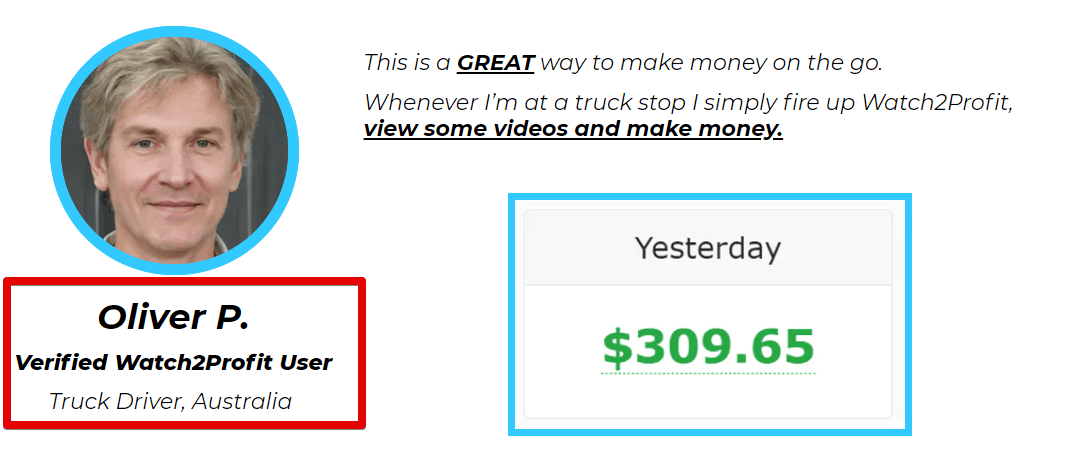 But, again a simple search shows that it is a different person.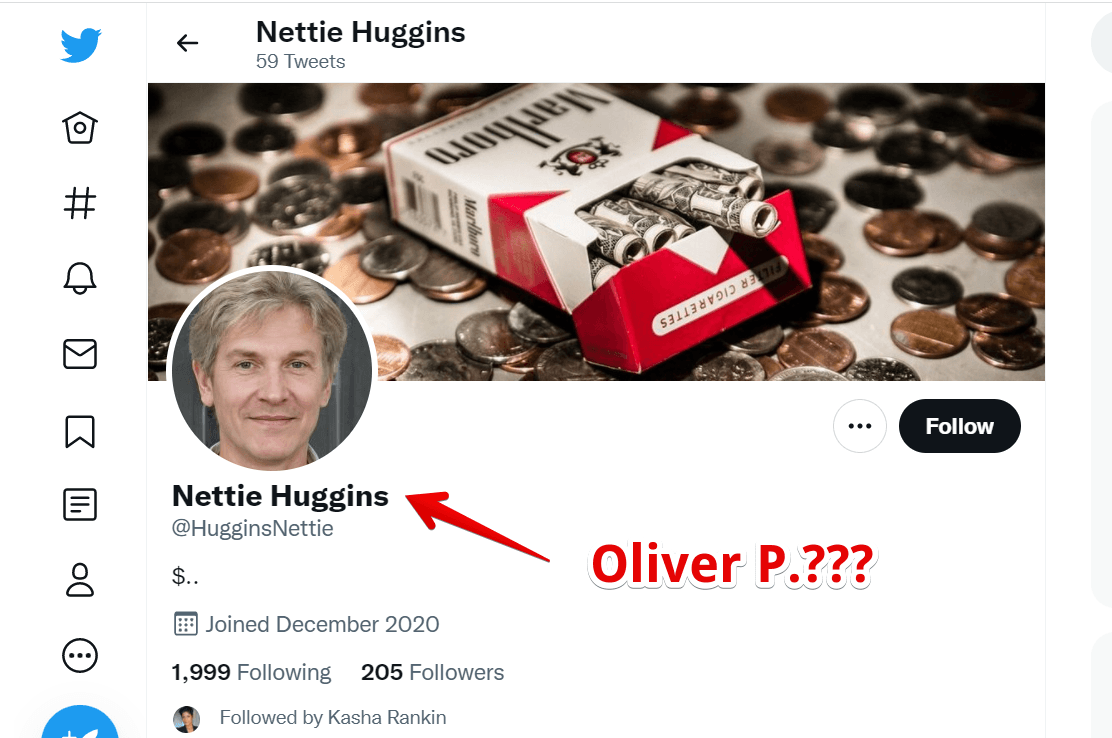 To bottom line is that they lie about their testimonials.
If the Watch2Profit is so great, I am sure they would be able to find a lot of genuine people that would love to show their faces.
3) 180 Day Money Back Guarantee
Although they state that you can get a refund, very often happens that people have real problems getting in touch with the product owners.
That applies to Watch2Profit and other similar products found on WarriorPlus.
If you can't get feedback within a week, the best is to write an email to the WarriorPlus support.
Here at the link below, you find more details.
How do I get support for a product soon on WarriorPlus?
4) No Privacy Policy
This is a huge red flag.
A legitimate site promising you to make money should have these pages spotless.

Unfortunately, the links do not work.
Not a single one.
Besides, there is no support.
One would assume that there should be a link, but again, nothing.
How to Make Money Online?
When it comes to making money online, there are 2 different approaches:
It is possible to make money within a few days. The Drawback is the earning potenial ($10 a day max)
It is possible to have a full time income (3, 4 or 5 figures per month). The Drawback is – it takes time and effort.
Regarding the 2nd point, there is also good news:
Anyone can have a consistent income online from home.
The secret is to implement a certain formula – a formula that shows how to turn your skills into profits.
And here is the formula:
Choose what interests you the most.
Create a website and implement your interest onto the website. (These days creating a website is easier than you think)
Attract people – these are visitors coming to your site (you don't have to bother anyone. They will find you using Search Engines, such as a Google, Bing/Yahoo and others)
Convert Traffic to revenue
Just check this link to find out more.
Regarding the 1st point;
Oh, and I might have forgotten;
In case you are interested more in the 1st point (make a few bucks instantly), you can check some legitimate survey sites.
Just Google for example these:
Swagbucks.
LifePoints.
Survey Junkie.
But be prepared to spend 6 to 8 hours a day to make about $10.
Watch2Profit Pros

Money Back Gurantee (Although be carefull here is well. If you happened to purchase the product and can't get in touch with the vendor, check the link above to get support from WarriorPlus).
Watch2Profit Cons
Misleading Sales Video
Unrealistic Income Claims
No Support/No Training within the Platform
Fake Testimonials
Is Watch2Profit a Scam?
I know there would be many opinions about Watch2Profit being a scam.
From those who claim that Watch2Profit is an outright scam, to those who are more conservative and say, that this is just another digital product with a money-back guarantee. And therefore it can't be called a scam.
The bottom line is, that Watch2Profit is not going to help you to make any money online.
First, they have these ridiculous claims about how easy it is to make money. Then we see how this thing really works.
And if someone is not careful he can literally lose a couple of hundred dollars.
My suggestion is – Do not fall for this.
Stay away from such misleading products. If you are really interested in how to make money online, the right way I have touched on that in the section above.
But, if you have questions regarding the Watch2Profit or any other (legitimate) way, please use the comment section below.
I will do my best to provide you with feedback within 24 hours.
Thank you for reading
Mike