Are you a beginner and want to know the important questions regarding affiliate marketing?
In the following article about affiliate marketing for beginners, you are going to find 95% of the information that a new affiliate marketer should know.
Why 95% only?
I am sorry, I am not perfect, but I do my best :).
First of all affiliate marketing is the simplest online business model, so if you want to build a successful business online, you are on the right path.
That is also why I have chosen this method over dropping shipping or any other business model…
…it is also probably because I am lazy and don't want to deal with suppliers, customers, storage room… all that stuff.
One Note:
You probably won't go through all the questions below. And that's OK.
But in case there is something missing, please free free to ask questions in the comment section at the very end.
Let's get started and let's start with the basic question;
This is a question zero that goes:
0) How Do I Start Affiliate Marketing As a Beginner?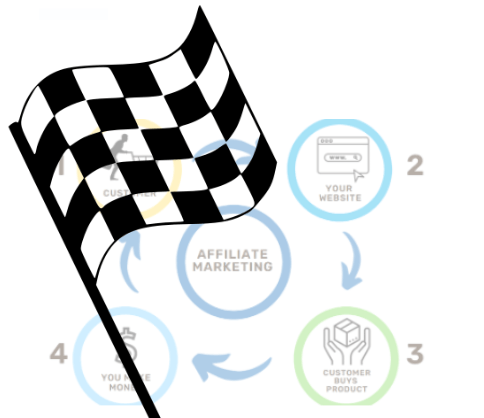 Choose your Niche (field of interest)
Build a Website, or Youtube Channel (Or even a podcast)
Create Valuable content for your audience (to attract them)
Join a relevant Affiliate program (relevant to your niche)
Be honest in your content (that concerns specific products/services from the affiliate program)
Make sure to comply with the FTC regulations (or equivalent for your location)
Let's break it down a bit and let's focus on the first few points.
The first thing is to realize that you need an audience, you need people that consume your marketing, whether it is in written form, audio, or video (or a combination of those).
How do you find your audience?
You want to choose a specific field of interest, or topic, also called niche.
To be precise, if you are truly a newbie, you should be looking at something as narrow as a micro-niche.
Once you are clear about your field of expertise, your next step is to learn how to attract an audience.
Preferably without spending a lot of money upfront.
This industry has become more complex, and therefore it is necessary to learn skills regarding:
How to get traffic (or views if you are on youtube)
How to get the affiliate link to my content
How to make the audience click on the link so you can make a commission
The most difficult at most time-consuming parts are content creation and getting organic traffic.
"With this push-button system, you can enjoy the benefits of passive income and it requires only a few minutes of your time per day.
Join Now and for only $27 you get:
Unlimited Free Traffic
Built-In system ready to attract your customers
It requires only 8 minutes per day
And no previous experience is needed…"
Sounds Familiar?
Well, there are tons of such misleading products and scams.
Don't Be Fooled by Such Statements!
Be realistic and please realize that even though affiliate marketing is a simple business model, it still requires a lot of time and effort.
Otherwise, every other person would be a millionaire by now.
On the other hand, there is a big advantage:
90% of people that start affiliate marketing quit before they see results. Time-wise it is within the first 4 months.
I am here to tell you how it really works and that is the reality.
As a beginner and aspiring entrepreneur, you can expect to see 4 digits income within 10 to 14 months.
This is how you start affiliate marketing as a beginner.
Does it take too long?
Well, then maybe you ought to check a different business model… but I am afraid it will be difficult since the very basis of any business online is the audience – traffic or views.
1) How Much Can A Beginner Make in Affiliate Marketing?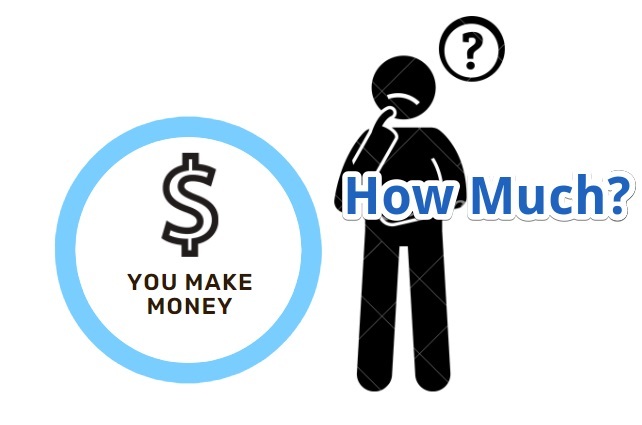 A person that starts with Affiliate Marketing today within a specific niche can start making 4 digits per month in about 10 to 14 months.
By 4 digits I mean the lower range, $1,000+ per month.
But it can take even more than a year to get to the 4 digits.
Most people starting with Affiliate Marketing (or any other business) do mistakes at the beginning of the process.
Or try to rush things.
It is normal since we are made that way – we just want to have results first.
In that case, you better have a budget for paid traffic.
With good training on Facebook Ads or Google ads, it is possible to make thousands of dollars per month pretty soon (within 3 to 4 months).
But let me rephrase – the amount are sales.
The question though – how much is your take-home?
How much do you really make after you deduct the investment into the ads?
There are companies running ads, and at the end of the month, they realize that they spent more than made.
So running ads might be tempting, but it is not for beginners.
Even as a beginner if you start making thousands of dollars per month, it might be just luck. Try to change the niche and you might struggle a bit more.
It is not to scare you off.
Just want you to know that you ought to be patient and consistent.
A beginner in Affiliate Marketing can be a person that is in business for 2 years making a couple of hundred or thousands.

Most people in affiliate marketing that already make consistent income, had failed before.
They learned and started over again.
Such a person is not a newbie.
With previous experience, he or she can start from scratch and really make $2,000+ per month within 6 months.
The bottom line is to learn how SEO works and how to drive organic traffic.
Why Does It Take So Long?
How long does it take for a restaurant to be in positive ROI?
-OK, it is not nice to answer questions with a question.
So here is the answer:
Affiliate Marketing is a business model where you make money by promoting other people's products or services.
You know that.
The best way to promote these products (in the long term) is by using free traffic.
That means SEO.
See the image above.
That's organic traffic coming to a new website. It took months of content creation until Google "recognize" the website as an authority.
And that means it may take a while until the first sale is done.
2) What Is The Easiest Way To Do Affiliate Marketing?
The easiest way to do affiliate marketing and make money off of it is to create valuable content that attracts your audience.
If you want to do it the proper way, make sure to provide a lot of valuable content to your readers.
You are a creator of the content and must be an expert in the niche.
If not an expert at least you should have some experience that makes you more educated about the specific topic than others – your audience.
Even Google tends to favor website creators that can prove their:
Expertise
Authority
Trustworthiness

Also called E-A-T.
Does it sound like something difficult to do?
Do you say you don't feel like creating content?
Well, then this business model is not for you.
Go to Google and search for any keyword and click on the first 3 or 5 results You see that every single website has a lot of content.
You ought to be able to compete with these guys.
It might seem like an impossible task.
Actually, it is quite possible to get on the first page of Google, assuming that you:
Know how to choose a proper micro-niche
Follow certain SEO rules (it is actually easier than you think)
Are consistent in content creation (again it is easy to learn)
Are patient and expect the first results no earlier than in 5 months.
All methods, then you might see, like – "buy this tool and with this push-button system you can generate hundreds of dollars pred day on autopilot" – these are all nonsense.
The same principle applies to Youtube.
If you prefer videos, I believe this might work even better.
But regardless of the method, stick to the 4 key points mentioned above.
With Youtube, you might see some results with your 30th or 40th video, already.
3) What Are the Basics of Affiliate Marketing?
You as an affiliate marketer connect the potential customer and vendor of a certain product or service.

By creating content (written or video) you attract potential buyers. They consume your content and by clicking on the affiliate link in your article they are directed to the vendor's website.
In case they purchase the product or service you get a commission.
There are certain essential steps you want to follow before even thinking about earning the commission.
Choose a Niche – that is your field of interest
Keyword Research – by using the keyword research tools pick keywords that not a lot of websites use. That way you have better chances to rank in 1st position on Google (and other search engines)
Create content about the keyword (One article = One Keyword)
Be consistent with content creation and be patient – expect some results not earlier than 5 months
It is important to realize that success in Affiliate Marketing is determined by many factors.
One of the most important factors is the proper niche selection.
Then it is about content creation and let me share with you one tip: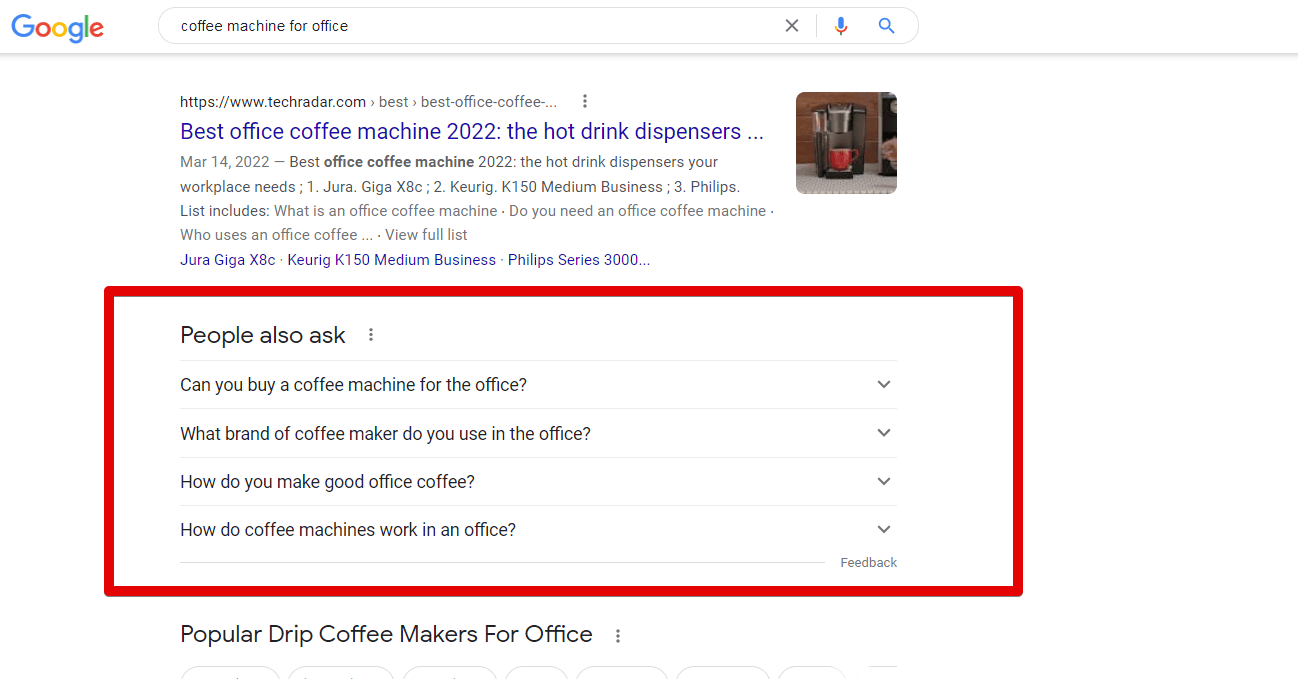 You see that order to come up with content that people searching for is not that difficult.
Google shows you what exactly people want to know.
Now another Tip:
Google the terms from the PAA section and see the results.
If you see on the st page of Google results like social media, Quora, or some blogs (user-generated content) that the chances that you rank well are pretty high.
Assuming that your website is at least 6 months old.
4) Can I Do Affiliate Marketing Without Followers?
If you don't have any followers on social media, you can always leverage paid advertising.
Facebook, Instagram, and Pinterest all have the option where you can create ads and reach out to people within your niche.
People that are interested in the offer you promote will start to follow you and if you keep creating interesting content you will get more followers.
With that being said, technically it is very difficult to do affiliate marketing without followers. It is like having a restaurant in the middle of the desert.
Affiliate marketing is promoting other's people products or services.
Who do you promote this stuff to?
People, right?
People are the only species on the planet that work with money. So you need to get some people to see your offer. That means following and even if it is only for a minute or two.
If you have good quality content, a big percentage of people that visited your content will come back.
In case you promote a bad product, or low-quality service you won't have any followers and no revenue.
5) Is Affiliate Marketing Easy?
Affiliate marketing is not easy.
Affiliate marketing is a simple business model but it is not an easy one.
Many people have this misconception that they become affiliate marketers and within a week or two start making hundreds per day.
And actually, I don't blame them.
Unfortunately, there are tons of digital products claiming that they just found a loophole and with only 12 minutes a day you can start earning revenue.
Or they show you screenshots and graphics that are similar to the image above.
That's all nonsense (at least most of it).
Building a small business online takes quite some time.
Depending on your niche, it might take 6 or 16 months.
What's the difference?
If you choose a broad or too saturated niche, it'll take much longer to be recognized by search engines, and thus some kind of authority.
It would be much easier to gain authority in a specific micro-niche than in a broader niche.
For example:
A micro-niche could be "walking shoes for pregnant women".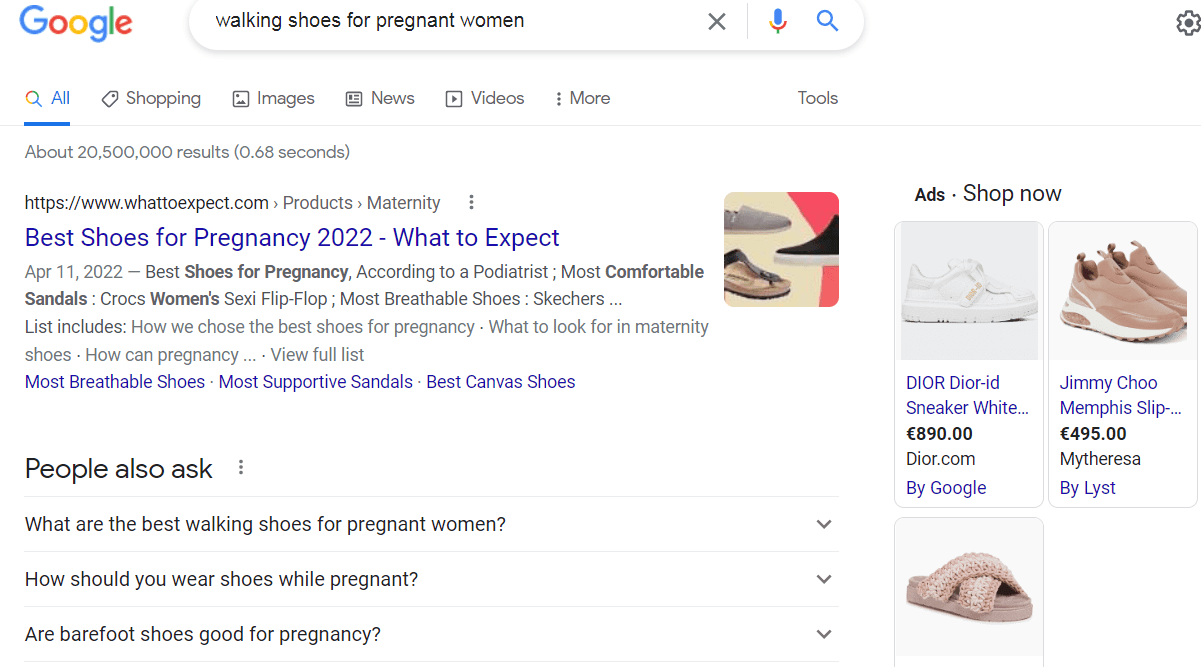 Whereas the board would be, just running shoes.
The thing is that there is competition everywhere.
At the same time, it is a good thing because you know that there are customers.
Still, you want to start with a very narrow niche, to get traction.
And slowly build up from there to the broader niche.
One example (rather extreme)
Amazon started by selling books.
How about now?
I am not saying you will have 2nd amazon in 5 years, but it is possible to generate 4 digits per month regularly within 12 t o16 months.
6) Which Platform Is Best for Affiliate Marketing?
There are many great affiliate marketing platforms that you can join. I am going to mention the most common one.
All of them have tons of products from many different niches.
You can even join more platforms and simultaneously offer more products within the same category.
It is even recommended, that you let your reader choose from let's say 3 or 5 products.
Make sure to list the Pros and Cons and be honest.
To mention the best platforms for affiliate marketing:
ShareASale
Awin (Formerly Affiliate Window)
Amazon Associates
CJ Affiliate (Formerly Commission Junction)
Rakuten Marketing (Formerly LinkShare)
Walmart Affiliates
eBay Partner Network
The advantage of joining a certain affiliate platform (or more of them) is that you don't have to deal with a single company.
You sign up, and you can promote any product that is available within the affiliate marketing platform.
Generally speaking, the best platform is probably the one that pays the most, right?
Well, yes and no.
The highest commission is within the digital products industry (on ClickBank called the e-business section).
Some companies pay up to 70% commission.
At the same time, it is more difficult to sell a digital product than a tangible one, for example, an Amazon product.
But with the physical product don't expect to make a higher commission than 10%.
In fact for the majority of Amazon products you can get a 4% to 6% commission.
7) How Can I Earn Through Google?
Assuming you have already a website, you can create a Google AdSense account and start making money with ads.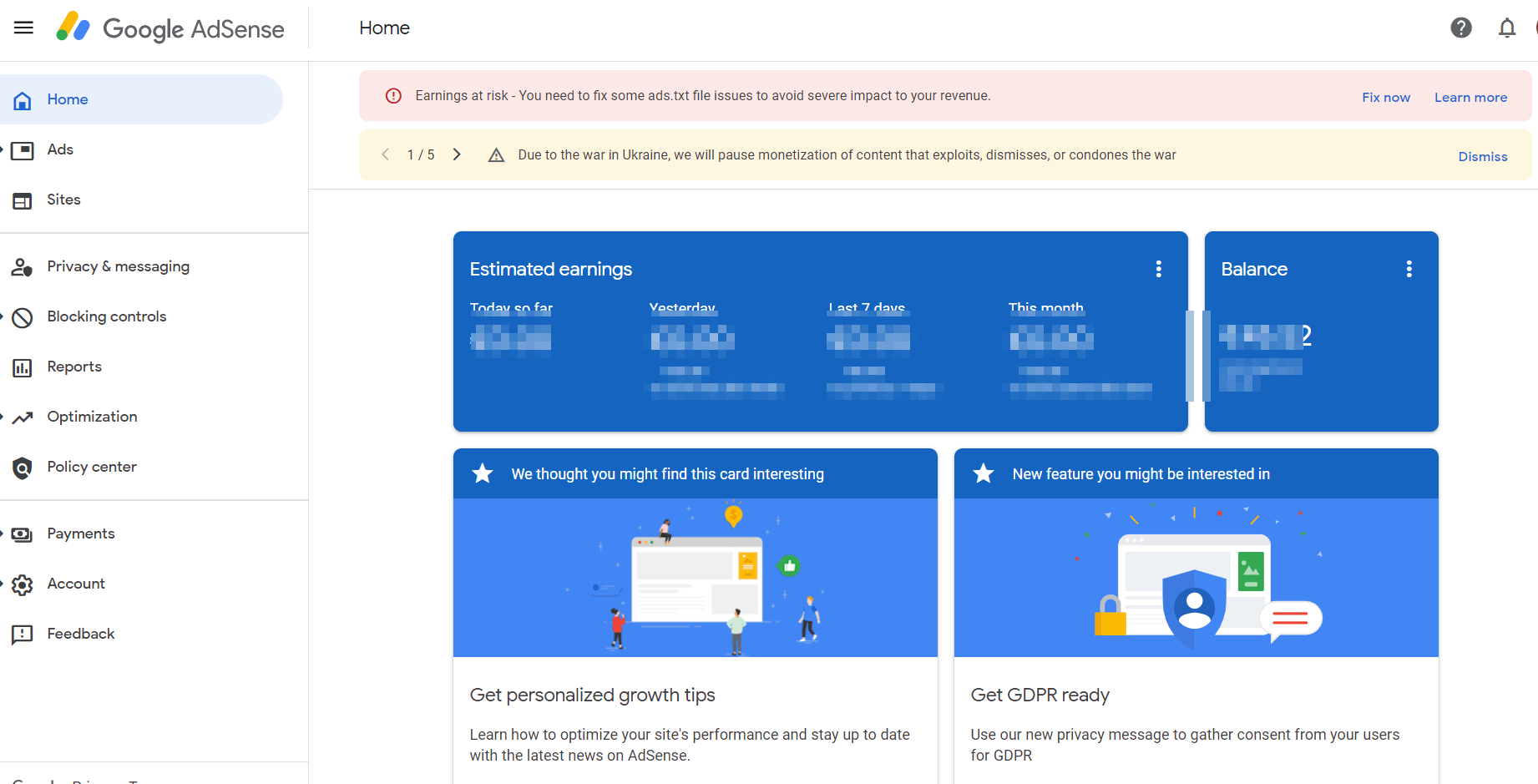 Grab the code from your Google Adsense account and paste it into the back office of your website and within a few hours, you will have ads on your website.
When some clicks on the ad, you get a portion of the revenue (Google also makes money this way and gets the other portion).
Depending on the traffic you can make from a few cents per day to several bucks, so at the end of the month, you can make an extra $50 to $200.
The more traffic you get, the more revenue you generate.
That being said, once your website has about 50,000 sessions per month you can apply for a different ad management company that pays a lot more than Google AdSense.
But for websites that don't get a lot of visitors yet, Google Adsense is a great way how to start monetizing our website, apart from affiliate marketing.
8) How Can I Earn From Instagram?
Instagram is also a great way how to generate revenue.
I am sure you know about "influencers" that make living just from Instagram.
Here is the secret:
Build up, followers you might know that 🙂
The good news is though, that you don't need a ton of followers. It is possible to make money literally with 100 followers.
In other words, you only need followers that are interested in your niche, engage with your content, and share your brand with their friends.
These people are most likely going to buy from you…
OK… OK But…
…How to Get the Followers on Instagram?
1) Bio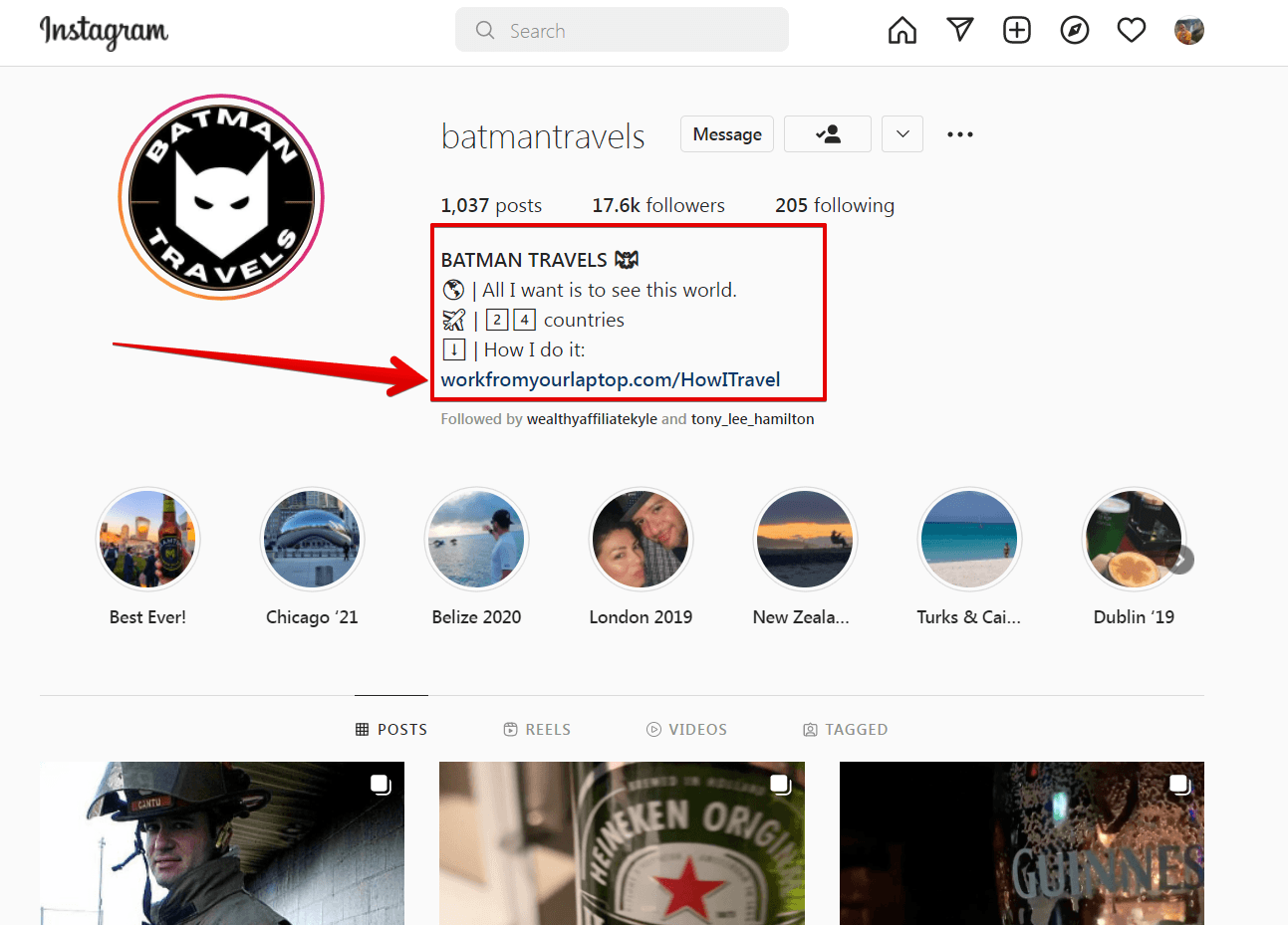 First of all the name of your IG account should be easy to remember, and close to your niche or brand name.
Try to avoid the special characters, as they won't be that easy to search for.
Make sure to have clear information about what your account is all about.
Include a link to your website (or youtube channel) in the Bio.
2) Content
Content is essential (and not just on Instagram).
Make sure to :
post consistent content a few times a day
stick to a schedule – post at the same time each day (on business days, between 9 am and 4 pm)
3) Be visible
Check bigger players within your niche and share your content with their audience.
You don't wanna be spammy though, so it must be something valuable.
Using hashtags is the best way how to get followers.
But if you are just started, you don't want to use hashtags that have 1,000 new posts every day.
As you start writing the hashtag, you see Instagram shows you the suggestions: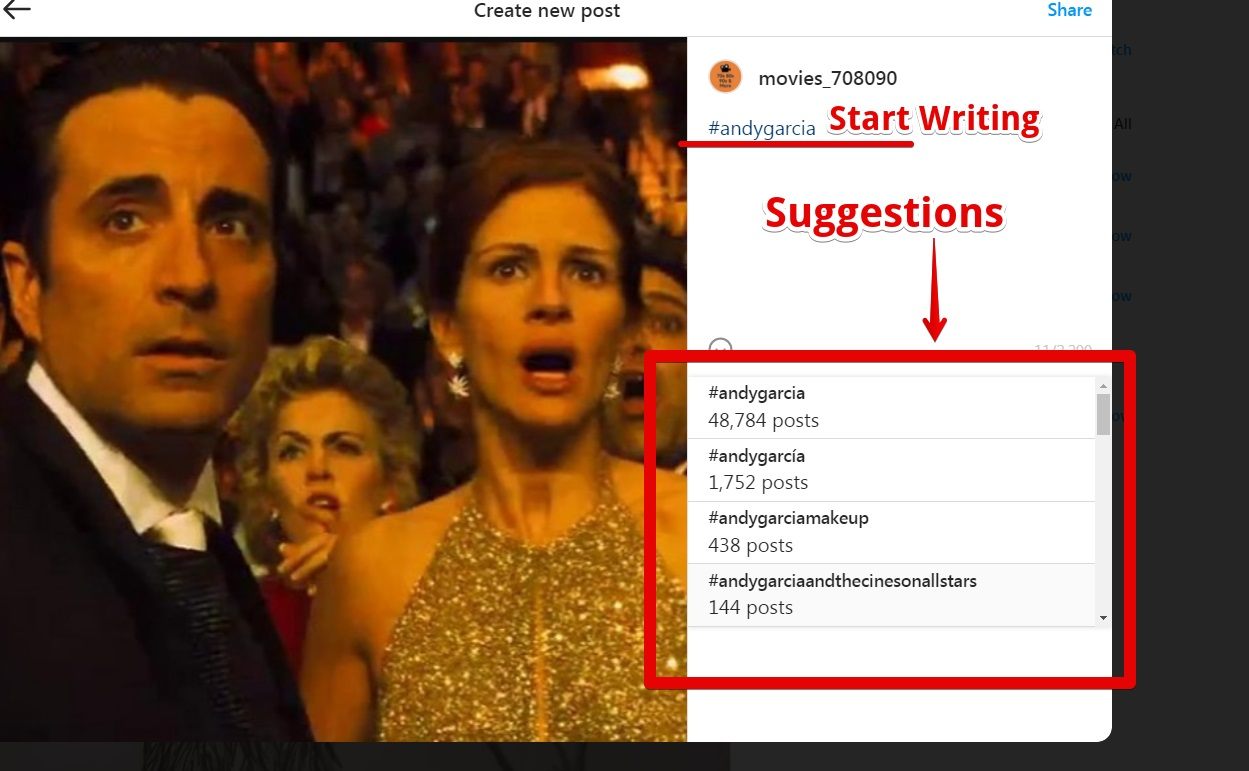 It is preferable to use those Hahstgats with fewer posts.
The frequency of posting that specific hashtag is lower and thus a higher chance that your post will be visible for quite some time.
5) Don't purchase followers
This can hurt your account.
These are mostly fake followers, with no real human behind them.
So what's the point?
They won't share your story or photo. They won't buy from you.
Instagram Niche
You can have either a personality page where you grow a personal brand or an Instagram theme page.
The theme page can be about anything, just as a few examples:
Hotel pages
Good pages
Game of thrones pages
Home pets
Sports
Business
Luxury
Technology
Celebrities…
So in theory whatever niche you choose (the one you have some genuine interest in) has the potential of making $10,000+ per month.
You just need to sell a $1,000 service to 10 people.
Again that's just theory.
In the beginning, you should be focusing on building at least a few thousand followers.
As you build followers, make sure to engage with comments.
In case there are no comments, no likes, and you have 1,000 followers – something is wrong.
Money
Once you start to grow your followers you can start to monetize your IG channel through different methods.
Others will be willing to pay you to promote their products or courses. Or even such a simple thing as shouting their page out.
You can sell your own course or digital service
And of course through affiliate links or promotions
What is also cool, you can have multiple IG pages.
People start contacting you asking you to promote their business on your Instagram pages.
You can charge them a fee.
Make sure to maintain a good relationship with your partners, so they will come back over and over again.
Can I Post Affiliate Links on Instagram?
Yes, you can, but;
There are only a few places where you can add your clickable link:
Instagram Stories
Instagram's link in Bio
IGTV Descriptions
This is the BIO:
and Instagram Story with a link: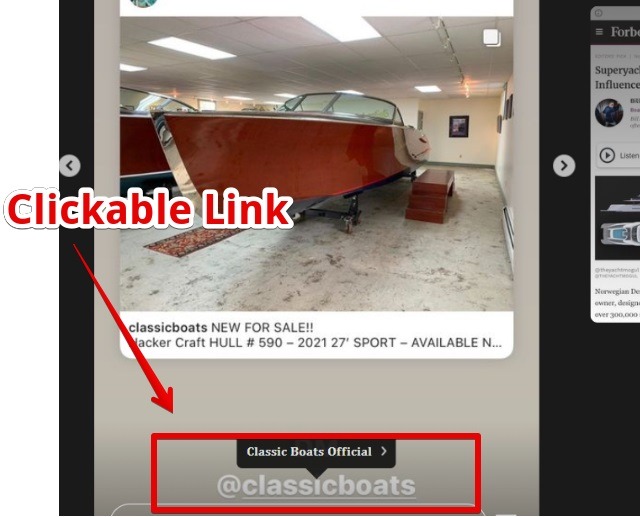 9) How Can I Earn online?
There are hundreds of ways how you can earn online.
You can either exchange your time for money and offer your service as a freelancer, or you can start your own business online.
Eventually, as you gain experience you can start selling your own product/service.
Freelancer
I would suggest going to Upwork, filling out the profile, and offering your service and expertise.
It doesn't matter, whether you are
Designer,
Copywriter
Youtube creator
There are always a lot of positions you can apply for.
Even short-term or long-term.
Your own business?
No matter what others say, you need a website.
OK, I agree, – if you want to make money off of youtube, you probably don't need a website but it is always advantageous. to have. one
Even a 1-page website might do the works
Assuming you know how to leverage youtube.
To mention a few:
dropshipping
surveys
selling courses
Amazon FBA
Youtube
website and displaying ads
Probably the simplest business model is affiliate marketing. A lot of successful internet marketers started with affiliate marketing.
Sell Your Own Product
One level above affiliate marketing.
And my suggestion is to do it with a buddy of yours.
For example, these guys sell their own course called Authority Hacker, have their podcast, and doing very well.
Also, Frank Kern seems to be a solopreneur, but he has a few people, freelancers working for him.
Not all affiliate marketers end up selling their own products. It is (so far) my case as well, so I am not going to go in-depth (yet).
10) Where Can I Post My Affiliate Links for Free?
You can post your affiliate link anywhere you want. It doesn't cost a dime.
However, you must choose wisely, since no one can see it.
Social media – unless you have lots and lots of followers, it wouldn't make sense.
If you follow a certain group that is relevant to your niche, you can comment on a certain post, with an affiliate link in it.
But if your comment is just general, most people will ignore it.
The comment must have some value, something interesting that triggers curiosity.
Also with youtube – you need to have thousands of views. Basically the more views you have the higher chance that someone clicks on that,
Makes sense right?
How about websites with the option to promote affiliate links for free?
As I was doing research about this specific topic I stumbled upon a website with a list of websites where you could post your affiliate links for free.
Here is what I have found out.
Stumblehere.com – doesn't work anymore
US Free Ads – redirects to an unsecured page (I wouldn't post a link to such a site)
ClassifiedAds.com – This is a website where people can buy and sell products and services.
The chances that you're going to make a commission from affiliate links posted on such a site are slim.
ClassifiedsForFree.com – again this is not a secure webpage
Backpage.com – this website and its affiliated website have been seized in 2018, see the screenshot below
There is no shortcut, and the places to post your affiliate links are:
Social Media (limited reach)
YouTube channel (preferably yours and you need a lot of views)
Your own Website (although you don't want to have 10 affiliate links in each 1,000-word post)
11) How Do I Promote Affiliate Links on Facebook?
You might have noticed that organic reach on Facebook is limited.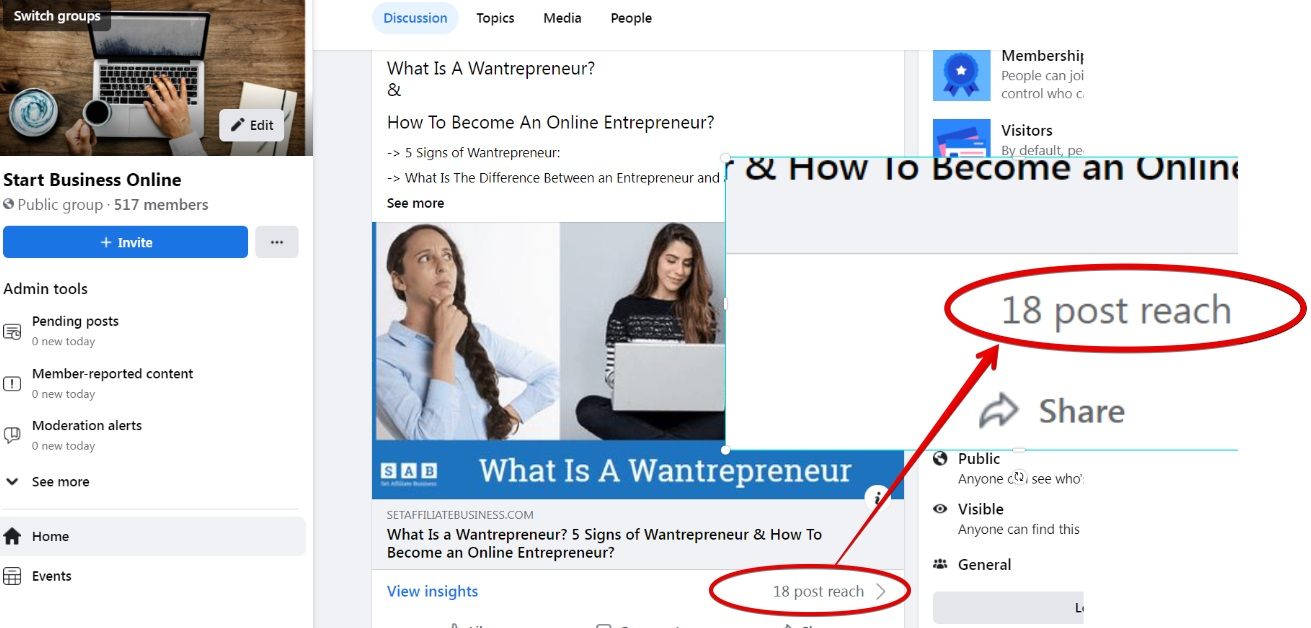 How about running Facebook ads?
That could be an option, but it must be done in a delicate way – I mean you have to comply with all their ever-changing rules and policies.
The thing is your ad can be rejected, and even your entire Facebook page can be blocked/banned without any reason.
Yes, running FaceBook ads is more difficult than ever before.
There are cases, that which you have business about a fashion and your Facebook ads are rejected, due to for example racism.
It doesn't make any sense, so you can contact support and ask them to approve it.
But the same can happen the next day – at the end of the week, you realize that you have spent 3 hours talking with support to approve your ads.
That's not efficient.
What might be a workaround:
Assuming you have your own website.
Write an article about a specific product on page A.
Don't post affiliate links in it.
Instead, create another page – a squeeze page (page B) that only briefly informs about the product with an affiliate link in it.
On Facebook run an ad that links to page A – without the affiliate link.
that way, you have good chances that your ad won't be rejected.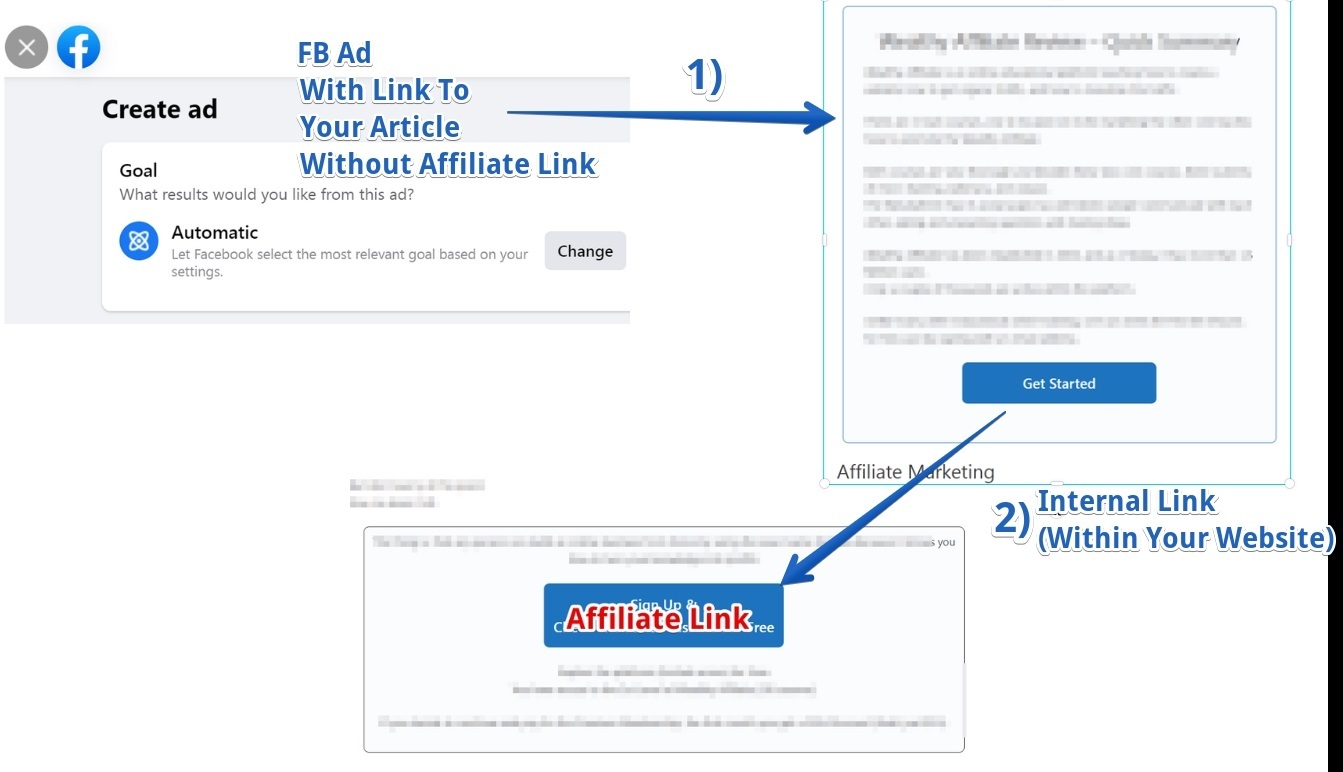 There is also another way, and you can create your own Facebook Page or Group.
We talk about that in more depth below point #27.
12) How Do I Start an Affiliate Blog?
First of all, you just want to start a blog.
But as a very first thing, chose a niche. Make sure it is the niche you have a genuine interest in, preferably you are an expert in that niche.
You don't have t have a Ph.D. in that field area – it is enough if you experienced it.
For example, do you love coffee?
Have you bought several coffee machines and are you still not satisfied?
There you go – there it is your niche.
It could be anything, but make sure you know about the topic and most importantly you are willing to learn new things about that.
Fair?
No, with the blog – you need to get your audience to your blog. That would be with content creation.
If you have a budget you run ads, but it is not recommended for newbies.
Once you have 10 to 20 posts on your blog – and you use that one of your articles ranks well, in Google, then ad the affiliate link.
There you go – you just started your affiliate blog.
13) Who Is the Richest Affiliate Marketer?
Research shows that Pat Flynn might be the richest affiliate marketer.
The truth is that is not easy to say that this is the person who made the most with the affiliate marketer.
Every affiliate marketer who starts making money with an affiliate marker diversifies the income resources and then it is difficult to say that person X made Y thousand just through affiliate marketing.
But let's consider PaAt as the richest affiliate marketer at this time.
As mentioned, a lot of affiliate marketers start making money from selling online courses and that probably becomes their #1 source of income.
I know I know – you want to have numbers.
You want to know whether this is a great way how to become rich.
Well, it is one of the ways.
Affiliate marketing is considered one of the simplest business models.
At the same time is not easy but it is possible to make $5,000 to $15,000 a month.
14) Which Niche Is Best for Affiliate Marketing?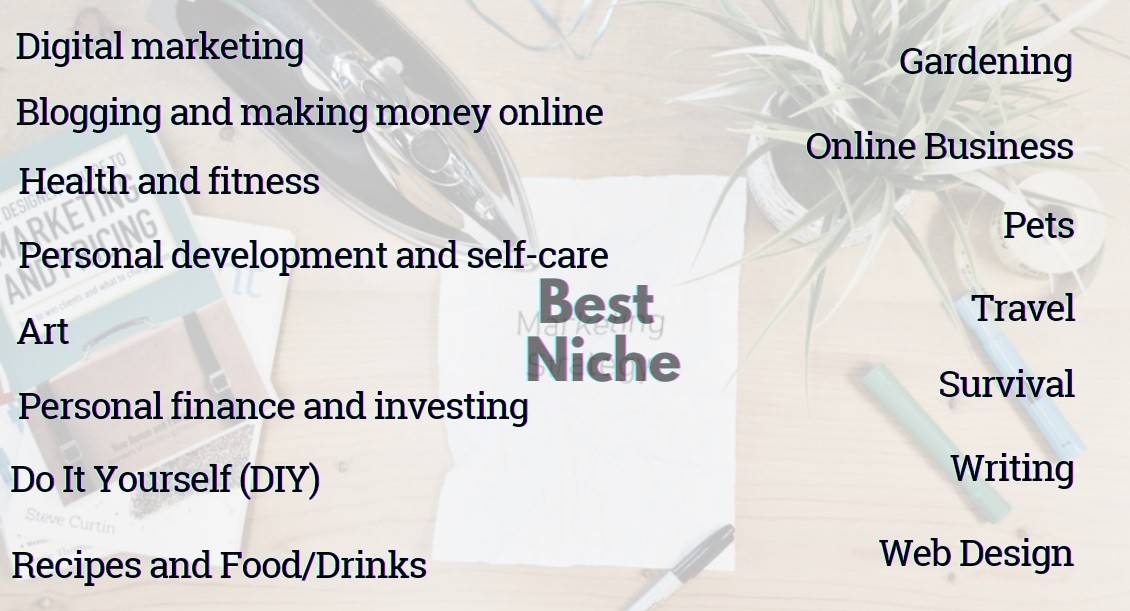 The best niche for affiliate marketing is the one that you are the most passionate about.
Or, you at least feel interested in a certain niche and at the same time, you have some experience with it.
I know this is not what you wanted to hear, but let's face it:
If I told to someone that the best niche for Affiliate Marketing is Personal Finance in traditional banking.
And this person has no idea about compound rates, or how to properly invest the money… The only time this person went to the bank is to set up the account.
My point is, would such a person be successful in Personal Finance Niche?
I doubt it very seriously.
So that's why I am here to tell you that step back and think about a funny and interesting experience you have had in your life.
To give you a clue, here is a list of the best niches for Affiliate Marketing:
1) Digital Marketing
2) Blogging And Making Money Online
3) Health And Fitness
4) Personal Finance And Investing
5) Personal Development And Self-care
6) Art
7) Do It Yourself (DIY)
8) Recipes And Food/Drinks
9) Gardening
10) Online Business
11) Pets
12) Travel
13) Survival
14) Writing
15) Web Design
Please Note:
These are not arranged according to profitability.
Just randomly and for better readability, split into 3 chunks.
I recommend digging a bit deeper into the topic of the best niche for affiliate marketing and finding the one that suits you the best.
15) Does Affiliate Marketing Work in 2022?
Oh, yeah.
Affiliate marketing is not dead at all.
People still research on the internet and in fact, in January 2022 the number of people that are connected to the internet reached 4.95 billion.
A year before, In January 2021 it is 4.66 billion.
Based on that trend it is safe to assume that Affiliate Marketing still works in 2022.
If you have a clue already about your niche, it would be great to see which topics trending, or even better, which one is going to explode.
For that purpose, there is a (still quite new) tool, called Exploding Topics, but it works great.
I mean I have only tested for a few phrases, but I am going to continue to use it.
Why?
There is a good chance that such content can explode and it can go viral (whether you write an article or create Youtube videos).
16) How Do I Participate in Affiliate Programs?
Choose one or more affiliate networks and join them by signing up.
Many affiliate programs accept almost everyone.
For example Amazon Affiliate program.
It is called the Amazon Associate program, and it is very easy to become Amazon Associate.
In fact, it is possible to join it without having a website.
(if you have a Youtube channel you can post an affiliate link in the description).
Others might have some restrictions.
For example, you need a website, or you need to prove some traffic coming to your site already.
Some Affiliate Programs are available only for marketers operating in certain locations.
(Me being in the EU can't participate in the Aweber affiliate program).
If you are about to start, just partner up with
Amazon Associates
eBay
AliExpres
ShareASale
17) Does Having a YouTube Channel Pay?
Just having a Youtube channel doesn't pay.
That would be too easy, right? 🙂
You may be asking how to make money on Youtube.
Create a youtube channel.
Start posting videos once you reach 1,000 subscribers and 4,000 watch hours in the past 12 months you can apply for monetization.
After you are accepted you can start earning by posting the Ads.
It is even possible to start making money before your channel gets monetized.
Post an affiliate link in the description and when people click on the link and purchase the product you get a commission.
18) How Can I Earn From Amazon?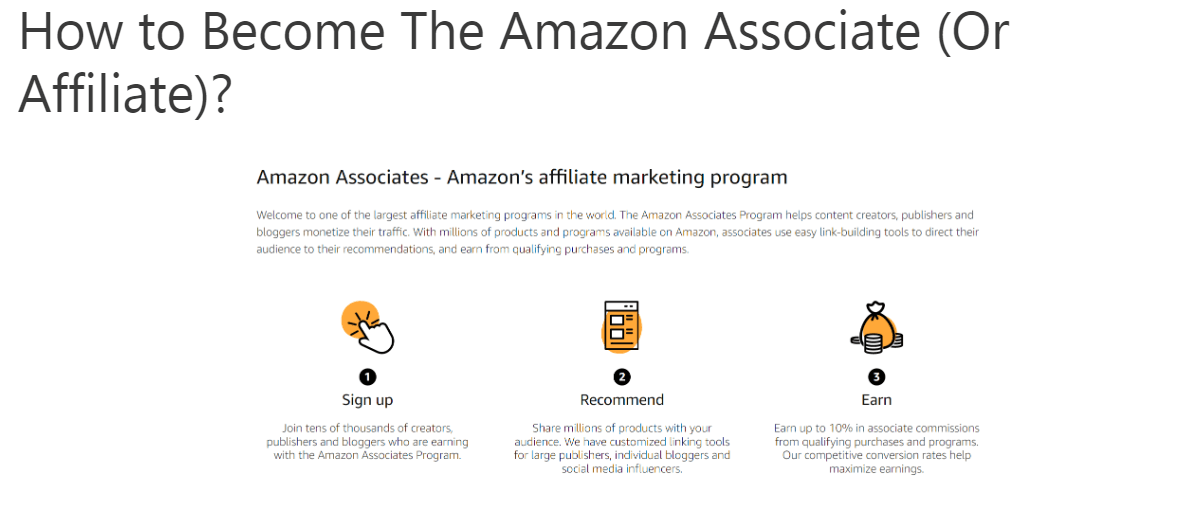 Join their Amazon Affiliate program (as described in the article below).
It takes maybe 30 minutes to become Amazon Associate.
Then, just choose the right category that is relevant to your niche.
Within that category check the products and start promoting:
Get the link
Add the link to your content
and make sure to get enough traffic to your post/article or video.
Here is a step-by-step process of how to become an Amazon Associate:
19) How Can I Earn $100 Per Day?
Choose a product that cost $1,000, and offers a 10% commission.
Drive enough traffic to that product and you can make $100 per day.
It sounds easy, but actually getting (organic) traffic requires some skills (that can be learned).
You need to master these skills and apply them and only then you can start thinking about making $100 a day.
It is also possible to make $100 a day by displaying ads on your blog or Youtube channel
Again you need traffic.
As mentioned, you can also start selling your own product.
But again – how do you promote them?
How do you let others know about your product – and where to find it?
So it is always about learning the right skills – how to get consistent traffic to your offer.
20) Can I Use Facebook for Affiliate Marketing?
Sure you can.
As you know Facebook is one of the biggest social platforms. It has almost 2.9 billion users.
A first sight it may seem that it'll be easy to use Facebook for affiliate marketing since there are tons of users.
But it is not and again I am sure you know that Facebook limits the number of people that in theory should see your post.
And not everyone is interested in the offer you promote. And at the same time, you don't want to lose friends by offering something they have no interest in whatsoever.
For that purpose, you would need to create your Facebook audience.
Which could be a Facebook Group or Facebook Page.
What's the difference?
Facebook Page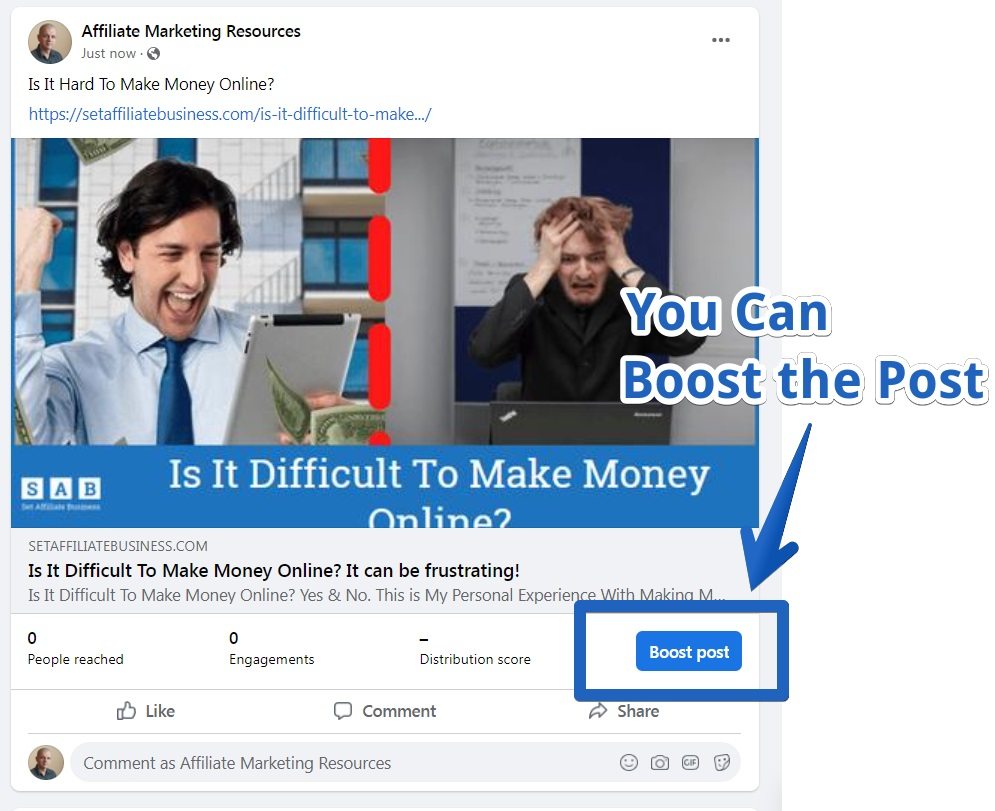 Facebook pages are for people or new companies that looking to become a brand.
With a Facebook page, you can post your content, where your audience can interact.
The disadvantage is that only a limited number of people (your audience) will see the post.
The organic reach is very limited.
Solution?
Thus you might not like it since you would need to use a credit card and run the Facebook Ads.
Facebook Ads might be very effective, but if you don't have any experience with them I don't recommend using them.
Of course, you can give it a try and spend $10 and $20 for a week, to see how it works.
But remember that at the end of the month you don't want to be in negative numbers.
Facebook Groups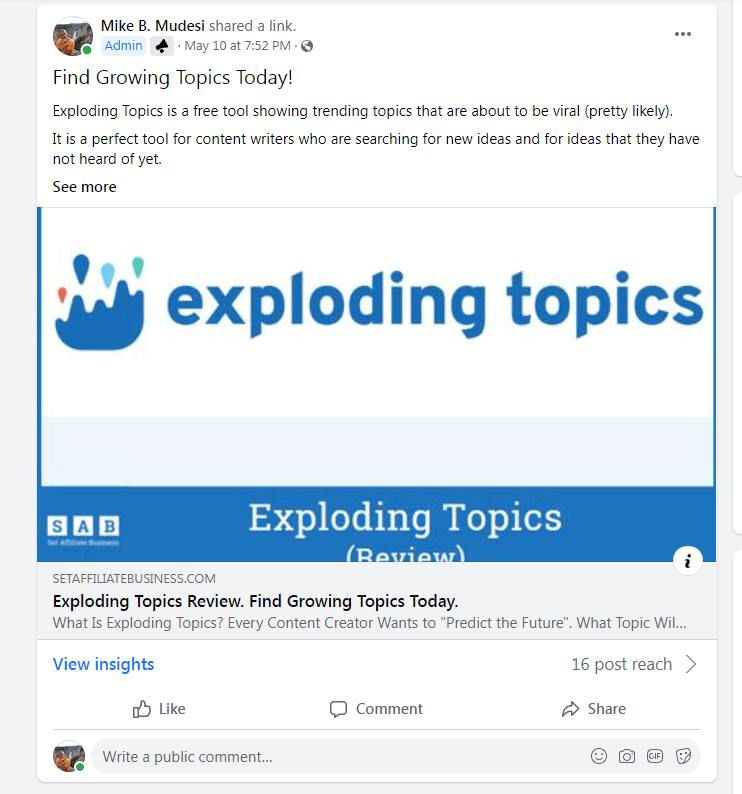 You create your group and you start inviting people into the group.
Members and also people outside the group can create their own posts.
Depending on your setting the post from external people can be set on hold until you approve it.
there are many other options.
Groups unlike Facebook pages don't have limited organic reach.
However, once you have thousands and thousands of members, it might be difficult to moderate all the posts… but that would already mean that you making some income and you might hire a moderator.
Here are some tips:
Find similar groups to your niche and join
Interact with others (without posting a link, or at least don't do it often)
Be funny, creative, and unique (easy to say, I know :))
Let me sum up the Pros and cons of using Facebook for Affiliate Marketing.
Pros
You don't need to have a website
Anyone can create a Facebook group (or page)
Easy access to potentially thousands of users (even millions)
With Facebook ads, you can reach out to even more people interested in your niche (targeted ads)
Cons
Paying for the Facebook ads might trigger a "gamble mind" – be careful since likes and comments are not the revenue
Facebook constantly updated terms of service and you can lose access to your page or group overnight, without warning
Organic traffic is limited
Just out of curiosity, here is the graph showing the Facebook audience size based on countries:
Conclusion
These are the 21 most common questions every new affiliate marketer asks.
What do all of them have in common?
Traffic!
Without traffic (your audience) you won't make a dime.
So the essential thing is to learn how t get enough traffic that is consistent.
Hope you find the answers;
I am sure you find them valuable and you can even expand your knowledge by clicking on the internal links inside each heading.
You are welcome to ask me questions about affiliate marketing, assuming you are not a bigger expert than I am 🙂
I have been working as an affiliate marketer since 2018 and made a lot … I mean a lot of mistakes.
You don't have to and most probably you won't since you do your research.
That's wonderful
Should you have more questions let me know below
Thank You For Reading
Mike