In theory, it is possible to make money in a few minutes.
But the reality is different.
When it comes to making money online, the very first thing you need is traffic.
A new website needs at least 8 to 10 months to "mature" so it receives a consistent number of visitors on a daily basis.
Let's dig deeper.
A lot of gurus claim that they have some kind of loophole that will help you generate consistent income online on autopilot… just buy this or that course.
…I am sure you have seen such claims.
But, let's be realistic, and let's break down the million-dollar question:
How fast can you make money with affiliate marketing?
I am going to explain, how in theory you can make some money. With such an example, you will better understand what it takes to have a consistent income online.
And even if someone makes a few bucks (even a couple of hundred) in a day, it is pure luck.
To make consistent income with affiliate marketing you have to have your audience.
If you don't have one, you can create one.
How?
Organic Traffic.
But no worries, it might be not as difficult as you think.
In this article, I will show you a real-life example of how long it takes for a new website to get enough traffic in 2022.
You will see the screenshots and numbers, you will get an idea of how long it takes.
As you know, traffic is everything when it comes to earning, so based on the following information you will know exactly how long it takes to make money with affiliate marketing.
Still, you need to be consistent.
At least in the 1st phase.
(It makes sense, don't you think? – consistent income requires consistent work).
OK. let's get started.
Note:
Please note that I will be using a story, that might be quite long – but that is on purpose, so you understand "live" why it takes quite a long to make consistent income online.
Therefore;
If you think that affiliate marketing is sort of quick money – you better read this.
In case you insist on some get-tich-quick scheme you are welcome to leave.
Quick Money With Affiliate Marketing – Is It Possible?
Back in 2016 when I first stumbled upon Affiliate Marketing I realized that I needed to pay for some courses.
Because the information that was available for free was not consistent and I needed some kind of training, step-by-step.
So (after a lot of effort) I finally came across one training, called Super Affiliate System, by John Crestani.
(You might have heard of John and his course. Currently, he has the 4th version of the Super Affiliate System – which is finally very valuable if you have a budget).
He was teaching that with affiliate marketing you can make your first commission within 2 hours!
Waw, I did not believe it at first, but then he explained it:
1) Go to Amazon and become Amazon Associate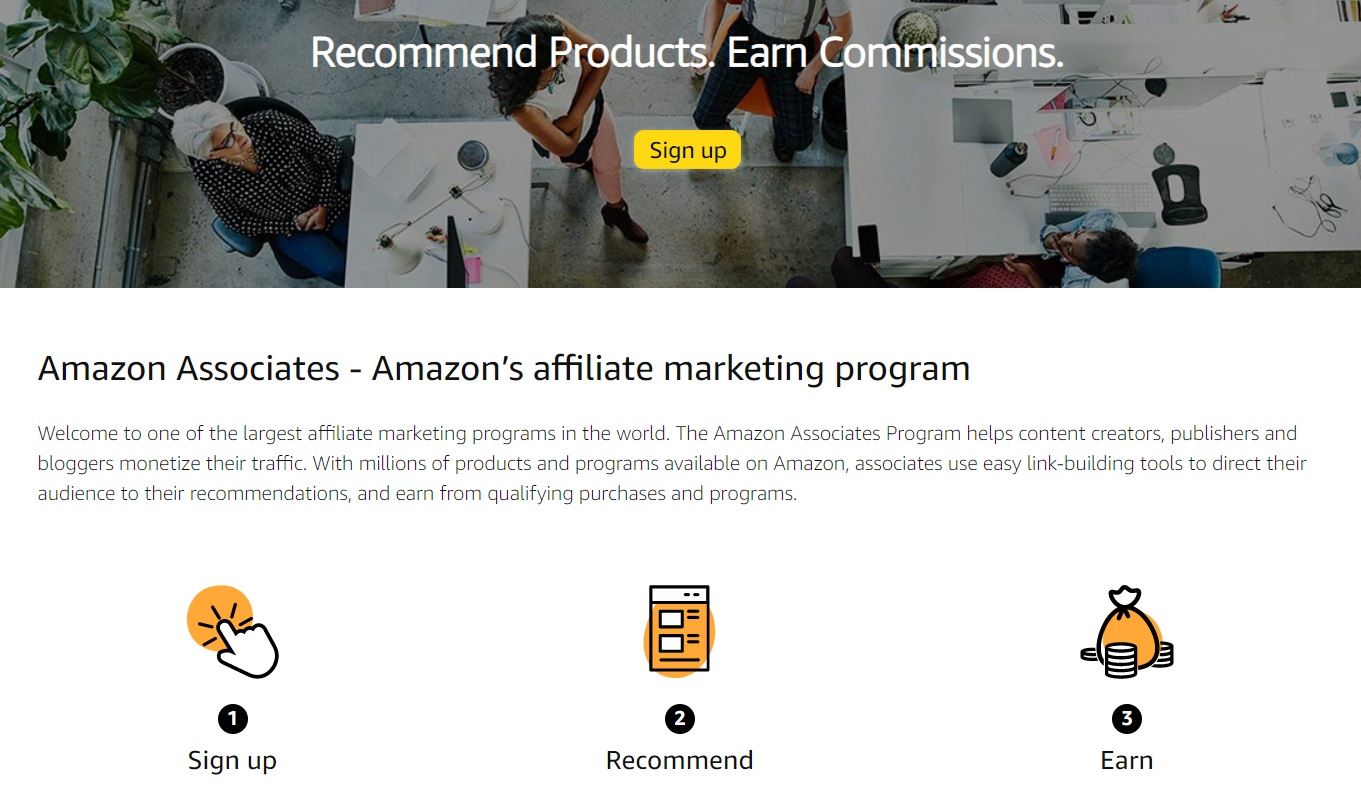 It is very easy to become Amazon Associate.
In fact, you don't even need a website and you can be accepted within a few minutes.
Once you log in as an amazon associate, you can promote any available product listed on the Amazon site.
2) Choose a specific product, and grab the link
Search for your favorite product and at the top bar, you see the SiteStripe thing (in the upper left corner).
Right next to it, you have the option to grab the link, and you can choose:
Text
Image
or Both, Text + Image
You see how the link is created.
Just copy and paste it wherever you want.
As John was explaining, probably the easiest place would be on Facebook.
3) Paste the link on your Facebook and write a few words about the Pros of the product.
So here we go,
I pasted the amazon affiliate link on Facebook.
Please note, that once you paste it, wait a few seconds until the image is generated.
Write a few words about the product and press enter.
Now, when someone clicks on it and makes a purchase, you make a commission. And it could be within an hour or two after creating the post.
Great isn't it?
What is even better?
Amazon has this 24-hour cookie.
That means that that person that clicks on your amazon affiliate links and purchases something else within the 24-hour period, get a commission for that too.
So in theory, you can go to sleep and make money.
It makes sense, doesn't it?
I remember that night I woke up and realizes anything could be possible.
It seemed like a Golden Mine to me.
Well, that was just a theory.
And I mean in theory, this method still can work, but it won't generate consistent income.
Not unless you have a specific audience on your social media profile that is interested specifically in that product.
See – I use the word specifically, twice. That makes it 2x specific = almost impossible for newbies.
So, let's keep both feet on the ground.
The Real Data on Facebook
This is how the reality looks like.
I posted a link on Facebook more than 2 days before I published this article.
One was with the affiliate link in it,
the other one without the link:
Unfortunately, it is not visible how many people saw the post (even though I asked people to like it if they spot the post).
But obviously, the one without a link reached more people.
Facebook Group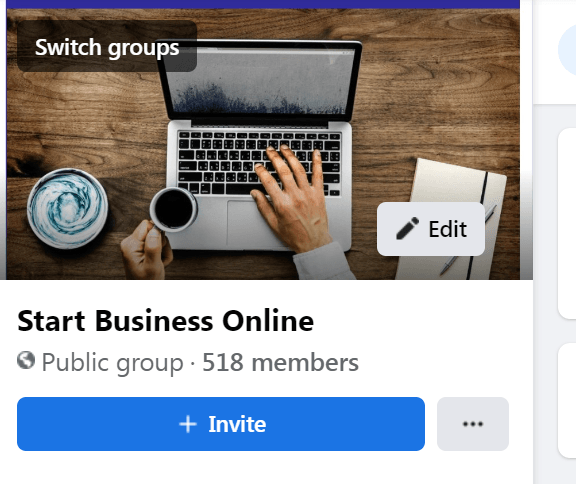 Here was another test, with my own Facebook group that has more than 500 followers.
The post without the link has reached 13 people: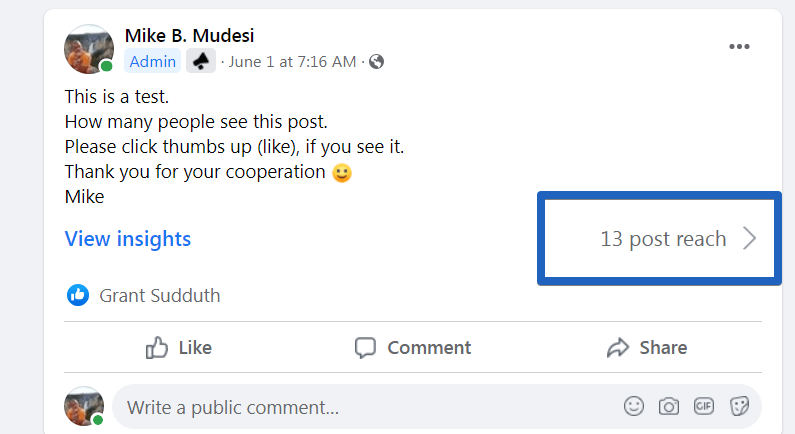 The one with the link, is only 10: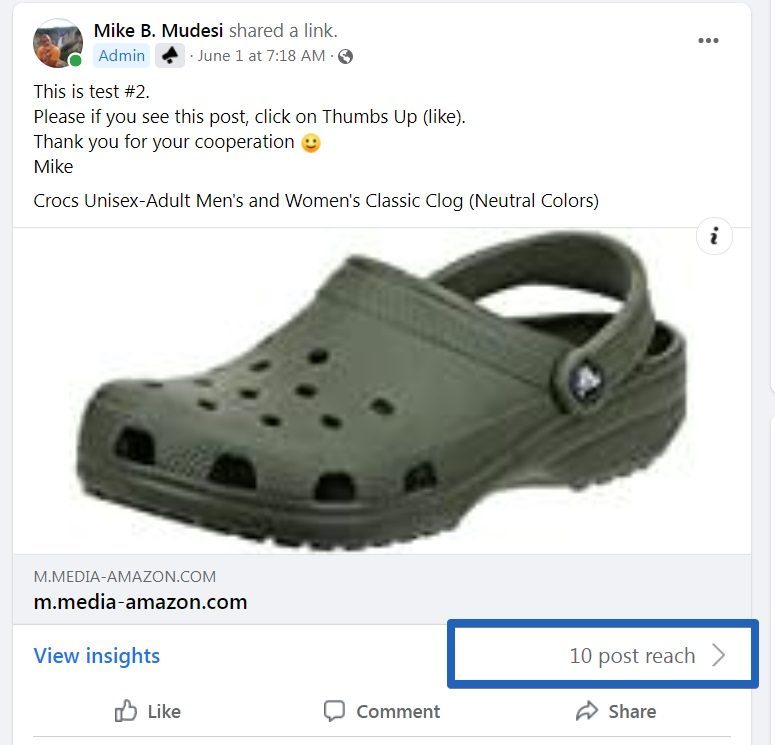 Now I think it is also important to say that I post maybe 3 or 4 times per week, which is not a lot.
In other words, I am not that active on Facebook, and that makes a difference.
But still, with 500 followers, it doesn't make sense to post an affiliate link on your Facebook page.
Whereas in theory, you could make some money, the reality is different.
Also because Facebook wants people to stay on Facebook.
And therefore such a post with external links has limited reach.
Your Audience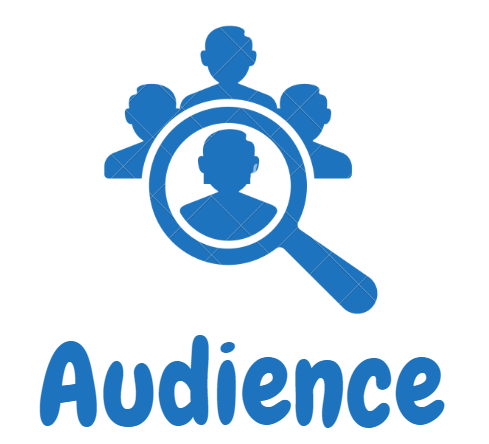 Ideally, you need your audience.
Who Is It?
You are aware of many mico-stars, so-called influencers… they have beautiful images on Instagram, showing off…
Well regardless of what you think, these people have their audience, with tens, hundreds sometimes even millions of followers.
Or let's take Facebook for example, specifically, a digital marketing veteran, Frank Kern.
He has more than 300K followers and a quarter of million people like his Facebook page.
It is easier to make money as an affiliate marketer with such a following.
They have their audience.
But are you such a person?
I doubt it (and I don't mean to be rude) but if you were, you wouldn't be reading this.
Audience
How to attract your audience?
What is the audience anyway?
Don't worry – you will attract them with your content.
You don't have to chase anyone.
They will find you by searching for specific terms (keywords) inside the Google search bar.
The question you should ask yourself is this:
What can you offer?
What is it that you have expertise and experience with?
Do you like to watch Youtube videos?
I love cars, and I do follow several channels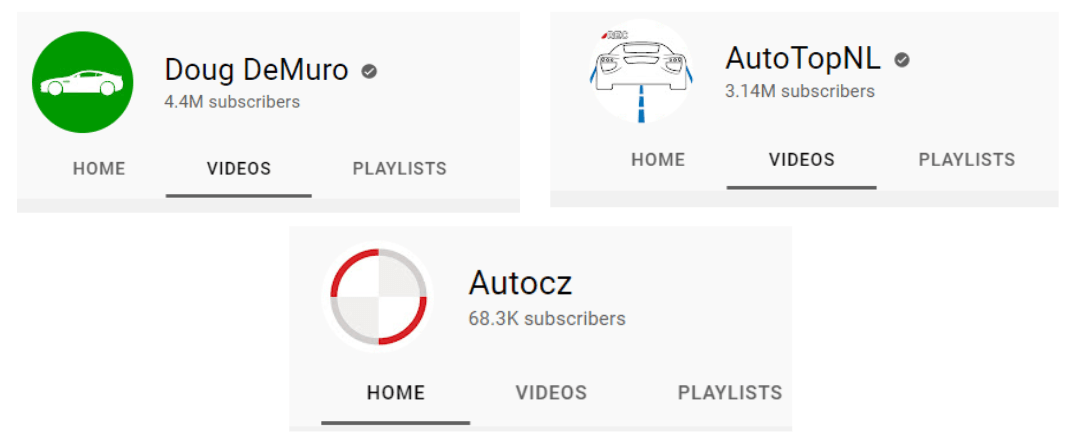 POV Top NL (created in 2010)
Doug DeMuro ( created in 2013)
Autocz ( created in 2018)

These fellas have their audience already.
Same niche, but they do it differently and all of them do it very well.
Also, note that they have been around for a decade or more. (The Autocz is a local one since the language is Czech).
They love cars and they love to drive them (one more than another).
What Does It Mean For You?
Choose a specific industry that you like and stick with it.
It doesn't have to be Youtube.
Blogging is still a perfectly viable way how to make 5+ figures per month.
So, How To Attract the Audience?
Imagine there is no internet and we are in the 1970s.
You love cameras and in fact, you were working as a designer or just in the assembly line and you know how to get together cameras.
One day you want to be on your own – become your own boss, because you realize that you can do better.
Or maybe slightly different cameras.
But the problem is, no one knows you.
What do you do?
You go to the vendor fair.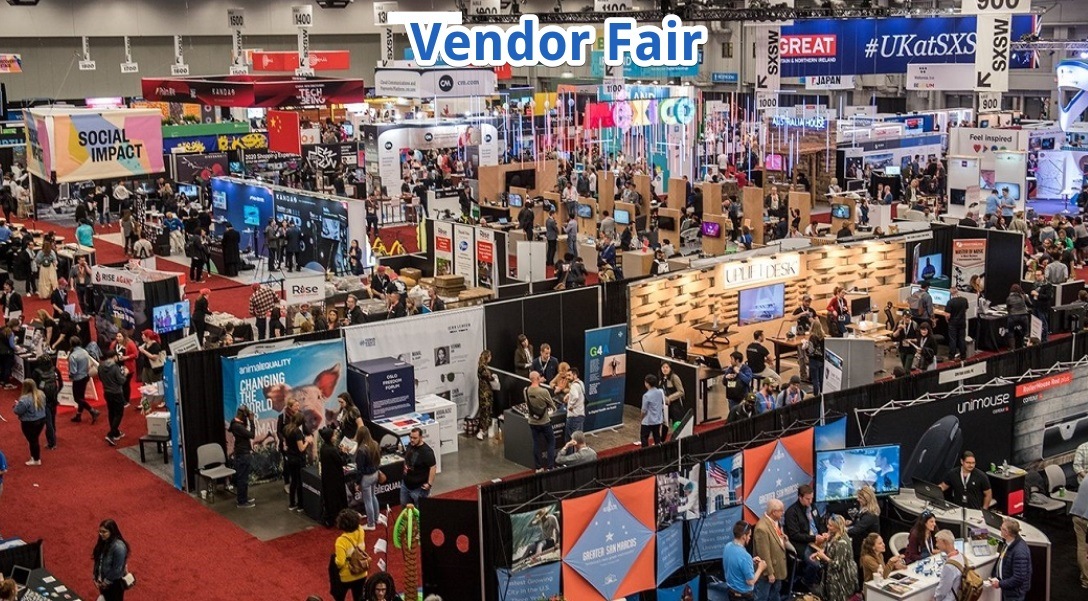 You rent a booth with your cameras and solutions.
A lot of people stop by and ask you for information. You are being helpful and providing them with as much info as possible.
Some of them will ask you for a business card. And by the 3rd day of the fair, you have dozens of new queries.
Analogically – Online World
Your booth is your website.
Fair is the internet and people learn about a specific fair by typing keywords in the search bar.
Results – it is like a specific fair with a lot of booths in that area: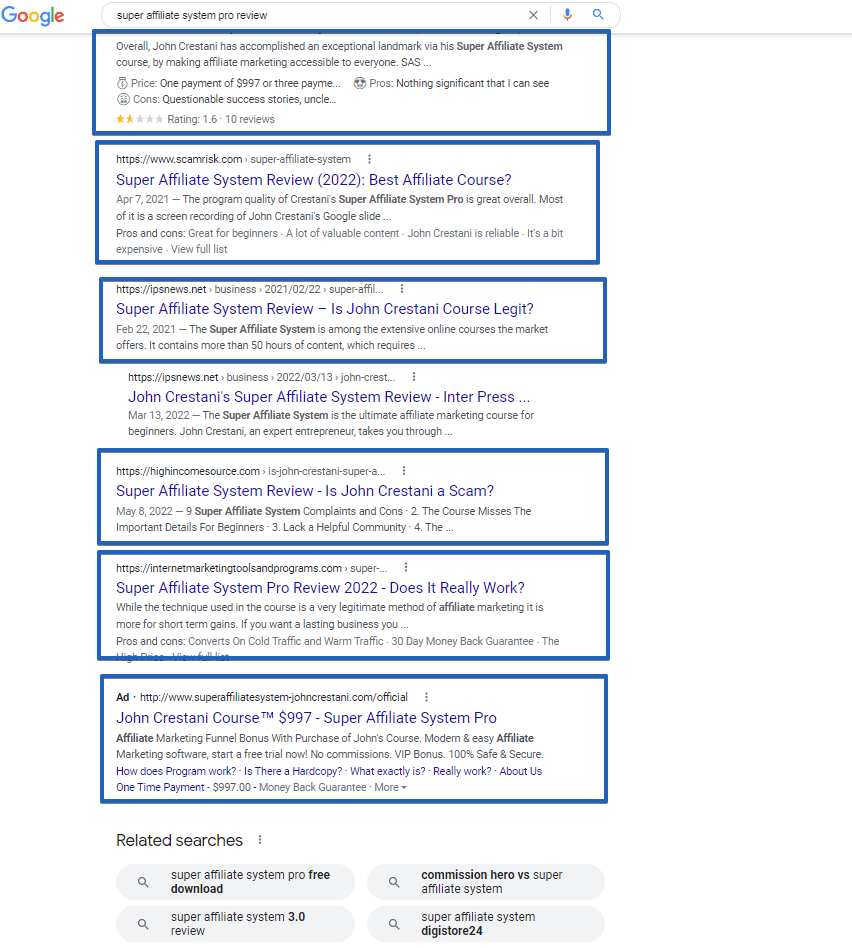 This is also called SERP – Search Engine Result Page (you have seen it at least a zillion times, right).
Better ones are in the top 10…
2nd the page – no one goes there.
So we want to get on the 1st page.
At least with one article. That might be an article:
About specific camera
or a Solution to some problem while taking photos
You have a lot of information in this industry, so you can come up with as many articles as possible.
And even if you feel like you can't, there is always a Google with tons of information, including questions people ask:
With so many ideas, you have a lot of content.
Some of these articles will get to the top 3 results. Others are only on the 1st page of Google, but many will not rank well.
That's the reality.
But probably 20% of your article will drive 80% of traffic i.e. revenue.
There you go – your audience is gathering in front of your booth – your website.
The advantage of the internet and the website is that they all can be served at once.
Are you still with me?
I have used (maybe a strange) example (from the offline word).. but you probably now realize why it takes so long to make money with affiliate marketing.
You need your website (booth)
Content – that is time-consuming – therefore you better have expertise in your chosen niche
Research and some SEO techniques are needed
The market needs to find out about your service/expertise – that means Google and Bing.
But in Affiliate Marketing you don't sell your stuff

That's right and that's even better.
Your booth (website) only gathers information, provides valuable and interesting data to your audience and you only recommend what is best for a specific client.
You don't do it actively.
Your content does it for you.
That's why there is probably the misconception that it is a passive income. Well, sort of … but the effort you must have put in first, right?
So you only point your audience in the right direction. When they buy, you make a purchase.
Once they know you, you can then go broader and have an even bigger audience.
So How Fast Can You Make Money With Affiliate Marketing?
We have touched on that and there are several variables here:
Niche – Your field of expertise
Audience – Traffic
SEO – How well do your articles rank
Depending on those 3 it can last 4 months, but even 16 months.
It is recommended to start with a very specific niche.
Let's have a look at one case study.
A Real-Life Example
It is a website that was created in October 2021.
As you see there was no real traction until spring 2022.
Here are some facts about the website:
From October 1st, 2021 to November 23rd, 2021, new articles are published every single day
Then the activity slowed down a bit, to 20 articles in December and 15 in January
Since then only about 3 to 4 articles per month
In the 7th month, the website had 104 articles
Each article is about 600 to 800 words long (so pretty short)
Remember I said in the beginning, be consistent in the 1st stage of your journey.
Then you can afford to slow down a bit and still see some traction within 6 to 9 months.
The intention of the creator of this site is not to make money tomorrow. In fact, he is an experienced marketer so why don't take his advice?
Here is the advice:
Do not try to monetize the traffic until 10,000 visits per month
It doesn't make sense to make a few bucks here and there.
Rather wait for it.
Once hit 10K, do whatever you want… and in 30 days you can get to 4 figures per moment easily.
Costs?
Honestly, maybe for training (a few hundred per year) including domain.
No paid traffic
No solo ads
No buying bac link
No outsourcing
To Sum It Up – And Prediction
This is the May 2022 traffic.
Please note that a new website needs at least 8 months to get real traction.
In terms of numbers, except that the traffic grows by 50% (in many cases even more) on a monthly basis from around month 8 to 12.

Additional Source of Income?
You bet!
Once you have traffic, you can always put ads on your website.
Pros?
– it is truly passive income and with significant traffic (1,000 visitors a day) you might even make a couple of hundred per month
Cons
– annoying for others.
With low traffic, you might make $50 to $150 per month, (maybe less).
What is better?
It is about your preferences.
Some people prefer a few bucks on the side.
With an average of 500 visitors per month, it is possible to get to the lower 4 figures per month: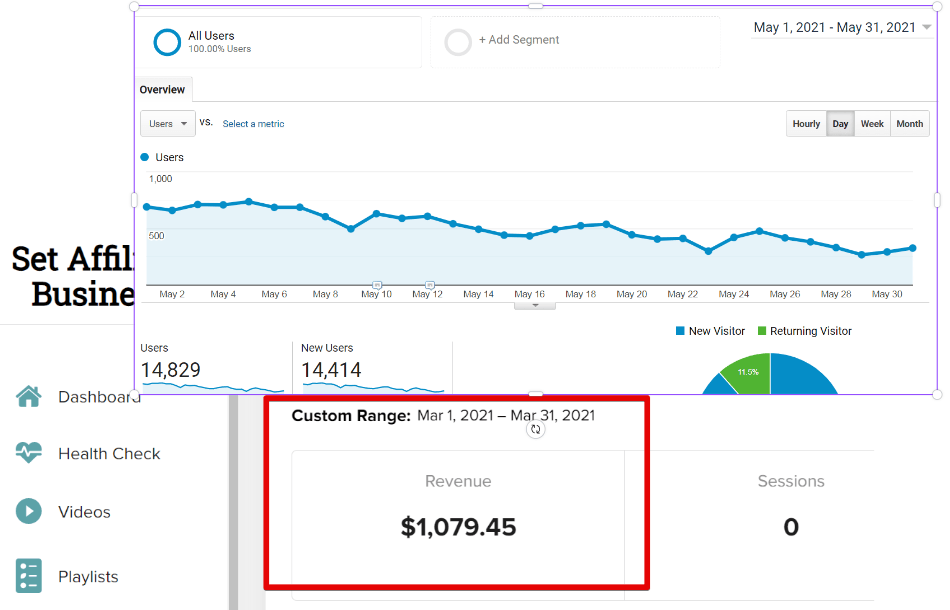 Please note, that this revenue was generated from the Ads only using one particular service called Mediavine.
To partner up with Mediavine, in 2022, you have to have at least 50,000 sessions per month. So it is a bit more difficult than prior to 2021.
But you see based on the above real-life example it is possible to achieve that within a year.
(I will keep you updated about how the website is doing, but as of now, it is highly possible that it will reach 50,000 sessions per month).
Others like to have a clean site, so the visitors have a nice experience without any distractions.
What Is the Ideal case?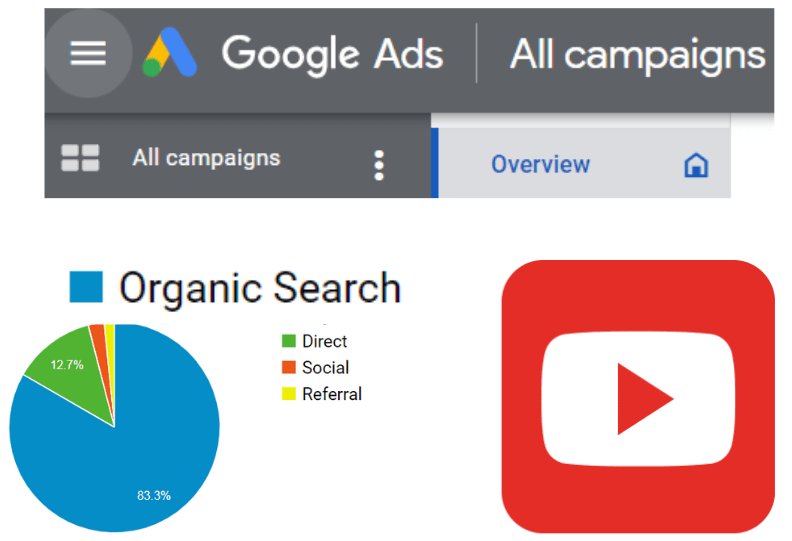 You know by now, you won't make any money without traffic.
So the question really is how to get the traffic to your website, the fastest?
It is a combination of all these:
Organic Traffic
YouTube Channel
Spend $10 to $20 per month on Google Ads (optional, or rather depending on your budget)
With the content creation, you should be consistent, at least in the first 4 to 5 months. Then you can take it easier but still make sure to upload video/publish content on a regular basis.
Maybe your first major income will come from the Ads,
Maybe it'll be from Affiliate Marketing.
At the end of the day, it doesn't matter, where the first $1,000 per month comes from right?
The Case Study Above?
Please note that the case study you see above is traffic based on organic traffic only.
there is no Youtube channel
there is no keyword research tool used (only Google suggestions)
no SEO plugin
no Social media
no email marketing
no fancy-looking website
Conclusion
Affiliate marketing is a simple business model.
By business, I mean that first, you need to put something into it. And only after you can take something out.
A pretty simple example:
How do you milk the cow?
First, you must feed the cow.
It is the same logic here.
Feed your website and at the end of the day, it will produce milk for you (revenue).
And how fast can you make money with affiliate marketing?
The answer is, that within a year you realistically can expect to make lower than 4 figures per month.
Please note that that includes the revenue from the ads (that is actually not bad).
Is this something you want to do as well?
If you want to apply that to practical life and are ready to take action, check the link below.
You will learn how to create a website that attracts a specific audience and how to monetize the audience with affiliate marketing.
Do you like Affiliate marketing as a business model
Or do you have a different idea?
Let me know what is your idea about a perfect money-making model.
I am all ears 🙂
Thank You For Reading;
Mike