Technically referral marketing is a way to get visitors to your site from an external source, like a different web page or social media.
But let's think about it more deeply.
You don't want to just drop the link somewhere and wait until somebody might click on that.
You may have heard about buying links to increase the traffic to your website.
That is considered a black SEO technique and it never works in the long run.
What we are about to discuss are referral marketing tips. We will go over the definition of referral marketing, how to find referral traffic, and what are sources of traffic other than Google.
What I find as a sustainable way of doing referral marketing is the creation of good quality content for a visitor, so he or she will share it genuinely and/or will post our link to a different place (such as another website or different blog, etc).
In some cases, we don't have control over the referral traffic, but there are certain ways we can control and we will learn how to get the traffic from sources we can control.
Referral Marketing Definition
As we all know the term Google becomes so widely used that we don't even say go search it on the internet. We say google it.
No wonder Google has a huge portion of the search engine traffic. Some data shows that about 90% of that share is for desktop and is for 95% for mobile.
Bing and Yahoo are also important web search engines.
Did you know that when you buy a PC or laptop with Windows installed in it, your default web browser is Internet Explorer and that uses Bing?
It is Microsoft property, so it makes sense, right?
There are many other sources where the traffic comes to our site.
Just let's take a look at google analytics.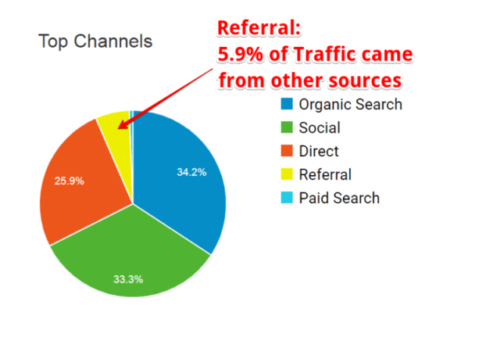 We see that besides the organic search (or SEO) there is a social, direct, referral, and paid search.
That referral means another type of traffic like for example an email autoresponder (a service that can automatically send a bunch of emails to your prospects who already reveal their email address to you), or different search engines (like yandex.ru) or different websites.
By traffic, I mean real people.
Let's not forget about that. These people came to my site from different sources. In many cases, we don't have control over this referral traffic.
But that doesn't bother us – for us, that means traffic and on top of that someone liked the content so he or she refers back to us. That is great 🙂
We must constantly keep in mind that we have to provide a good experience for those people. Meaning, we want to provide value to them. In other words, we want to do our best for these people, so they'd be better off after reading/watching our content than before.
As a result of that, they will come back to our site and ideally, they bring their friends as well.
Referral Marketing – Definition
Ironically, since we are talking about traffic beyond google, let's google the term Referral Marketing and see the results.
Most likely you get very similar results as I have (Wikipedia):
Basically, it can be understood as stated in Wikipedia, that it is a process to increase the number of referrals from word of mouth. That certainly applies to the offline world, no doubt about that.
But in the online world, it is not just "word of mouth". In the online world, we don't just write a message about something we have experienced.
We do want to share this great experience. Either we read a great post or watch a video and naturally want our buddy to read or watch that as well.
So it is about sharing the experience.
Now that buddy goes to our post or page as a referral.
Think about reviews for example. These are perfect examples of referral marketing. Let's check the offline world first.
If I go to book a hotel I make sure I read the reviews before I use the credit card.
Also, when you are on vacation in a new city and you are hungry you go to Google and check the reviews about nearby restaurants. Based on these reviews you decide where you go to eat.
So that is already a kind of mixture of the offline and online worlds. I am sure you get my point.
The same principle applies when you are about to buy a digital product (a course or some e-book). You want to make sure that you will not waste your money. Therefore you go check the reviews to get as much objective overview as possible.
How To Find Referral Traffic?
Now that we understand what referral marketing is, we want to find out how we can increase the amount of traffic (meaning the number of visitors) to our website.
The best places are forums that are related to your niche.
You go to Google and type your niche (in brackets) and community. Let's say you are in the mattress niche. More specifically you do reviews about mattresses for back pain.
Now you can go to that forum, sign up and engage with others. Be active in the forums and soon you will be recognized.
You can even make e-friends there who trust you. It will be just a matter of time before they land on your link, or they can even share your post to a different website or forum.
That is the power of referral marketing.
Check the number of results that Google gives.
There are thousands of similar websites/forums. Now, of course, many of them are outdated so there is no point signing up there. Check the last activities in each forum and if there is no activity for more than a few weeks, go to another forum or such community-based website.
You probably have noticed, that in the search results we also see many "regular" websites which are not forums. We most likely won't use these as our source for referral marketing.
HOT TIPs:
Here is TIP on how to get forum sites ONLY in the search results:
The trick is so-called "PhpBB" – If you are not familiar with this "term" – it is an internet forum package, or a kind of software just like WordPress is, but phpBB is specifically related to forums.
Instead of the forum, type PhpBB next to your niche. Now sometimes the niche is too narrow – just like in our example "mattresses for back pain". You want then to broad it up a bit and just type "mattresses" PhpBB.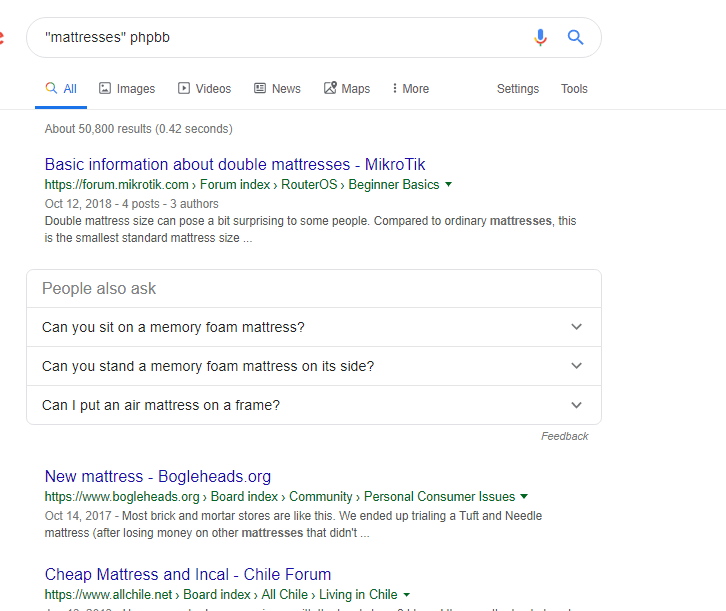 If your niche or term you are about to search still gives you broad results, you can go even more specific:
Type "Powered by phpBB" after your niche.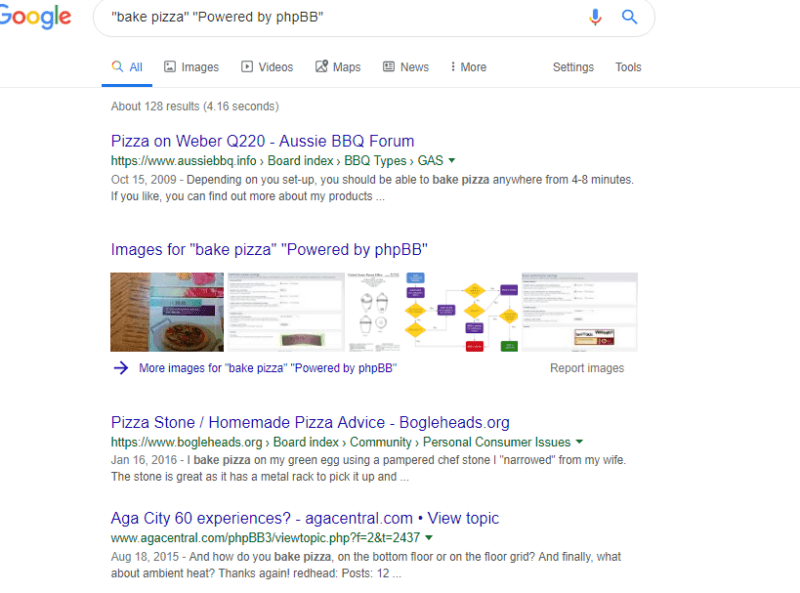 Note that there is something than 100 results and it took more than 4 seconds to get the results. That is how laser-targeted these results are.
These results (whatever your niche is) are exactly the "other sources" you can get the traffic from.
At the Google search console, on the left-hand side, you have a menu where you find "links"
By clicking on the links, make sure to check the "Top linking sites". Here you will get a list from outside your property to your property.
Four Traffic Sources Beyond Google – Referral Marketing Tips
Social Media
Everyone is familiar with Facebook, right? Or at least most of us. Facebook can be also a great source for referral traffic.
Also on Facebook people create specific communities or groups. For some of them you can join by just clicking on the "join button", in other cases you have to answer a few questions.
But that is not a big deal.
Once you are inside the community, you can share your ideas with the group, including links to your website.
Depending on your niche these groups might have 50 members or even 50K members. In the large ones do not get discouraged when nobody likes your post or you don't get any comments.
I was checking my Google Analytics and I have seen that people do click on my links and even the bounce rate is pretty small.
Of course, you don't want to behave spammy. Besides the link, write a few words about what you just posted.
Facebook likes people staying on Facebook so the longer your post is, the better results you might have.
Also, make sure that from time to time you only create a post without any link. You simply want to help the group so you can be recognized as an authoritative and trustful member.
YouTube
You have heard of Google Plus? I am sure you already know that google plus is no longer available.
Do you know what replaced Google +?
It is on YouTube.
You can now find a discussion area on your channel.
Simply go to YouTube, and click on your gravatar at the right-hand side to get to the discussion area. Here you and your followers can drop a message.
When you go to a different YouTube channel with let's say thousands (or millions) of subscribers, you can leverage that as well.
Just find your favorite YouTube channel (for example Neil Patel) and leave a comment under the video you like.
Now if someone sees your comment he can easily get to your YouTube channel and from there he may get to your website.
There, You have the Referral Traffic.
Note: Google owns YouTube, so one may say that we don't go "beyond" Google, right? In google analytics though, YouTube is categorized as a referral.
Email
We have already touched on this already (with the above-mentioned term "autoresponder").
It concerns email marketing.
If you have your list of potential customers you can send them an offer with a link inside. If you had a chance to read about email marketing you understand the power of this source.
This would be categorized as a referral source as well.
Instagram
Instagram is also a great source of referral traffic.
People post their photos and short stories. The thing is that you will not build up to 10K followers in a few weeks.
But there are certain techniques (legit ones – I don't mean buying followers with some bots), when you apply them you can have 10K followers in a few months.
Just to mention a few:
Create a "Business profile", including your real name and email
Use the link to your website within the IG profile
Post regularly – Have a schedule when posting – I mean 1 post per day
Use the story feature
Engage with the audience – when someone comments on your post, make sure you react as well
If you build up enough followers, you can leverage that – big time! Your followers will be curious naturally; They will love to find out what is it that you do so they click on the link which directs them to your website.
– there you have the referral source again 🙂
Reddit
Just a quick note regarding Reddit.
Reddit is pretty exclusive and it is not recommended to post there with the only intention to drive the traffic from Reddit.
You should be careful since they can ban you.
If you intend to contribute and share your knowledge, and experience, go ahead and do that but do not include the links directed away from Reddit.
Keep posting, check your Karma and I believe once it reaches 10, you can try to add a link to your post.
Conclusion
We have covered the term Referral Marketing. We now understand that it is not just the mere link we dropped somewhere on Facebook.
Referral traffic can be sometimes out of our control but in many cases, we can find additional sources to increase the number of visitors = people on our website.
Let's not forget to provide these people with a unique experience so they naturally will share our post with other fellas.
We can also visit specific forums or social media where we engage with the community.
Go to your Google Analytics, check the Referral traffic, and elaborate on that a bit.
Also make sure to find a relevant forum, where you can engage and be active so other members will start to recognize you. Soon you will be recognized as an authority and that is what you need.
Let me know, what your thoughts are on Referral Marketing.