I do digital product reviews and only recently (as of this writing July 2021) there was a new launch of a product called Forget About Broke.
Simple research shows that this is a great product that can help you generate sales.
Is it really?
In the following Forget About Broke Review, you are going to find out what is this really about.
What are the pros and cons and what is the full price?
The reason why I have decided to take a better look at the Forget About Broke is mainly the person behind it.
His name is Jamie Lewis.
In case you are not familiar with Jamie, he is an internet marketer since mid of 2000. Since then he launched many products, most of them were of low quality.
Therefore I decided to take a better look at his new launch,
Actually, he partners up with another guy, Jony.
So let's take a look at what he and his partner have to offer this time.
I am gonna walk you through the process of what to expect when you purchase this product, what is inside, and how it works.
Disclaimer
Please note, that I am not a member or an affiliate for Forget About Broke.
This review is based on research and information available online in the public domain.
Any recommendations and conclusions are only opinions and may not apply to all persons or situations.
Quick Overview
Name: Forget About Broke
Website: www.forgetaboutbroke.com/live
Price to Join: $12.47 + Upsells
Recommended: Not really
Forget About Broke Review – Summary
Forget About Broke is a WarriorPlus product created by Jamie Lewis and Jonny  Rose.  This product is presented as the one "with endless ongoing profit potential".
There is no need to use a PC or laptop, you don't need a website. You only need your phone. Your phone becomes "your own personal ATM machine".
Pretty hyped-up statements.
The truth is that for the front-end price (which is less than $15) you get a bunch of videos explaining how you can be paid for giving advice on the phone.
You sign up with another website (Clarity.fm) where you can get paid even hundreds of dollars per hour.
It all depends on your expertise and background.
At the end of the day, there is no need to use the Forget About Broke to get to the Clarity.fm.
Jamie and Jonny provide some basic information:
1) You are either an expert and you don't need to go through their basic video training
2) You are not an expert, and there is just not enough information within the Forget About Broke to become the expert.
This is just another Warriorplus product that doesn't really give any value.
To have a sustainable income online, one needs to create either a YouTube channel or a website.
In both cases, you need to create a lot of content that will attract people.
Regarding the website, it is not difficult to build one.
Below there is a link where one can access a platform showing how to build a website that attracts people, so you get enough traffic that can be monetized.
Sign up for Free and I will guide you through the platform.
No Credit Card Needed – Just your email.
What Is Forget About Broke?
Forget About Broke is a new product that is available on Muncheye or WarriorPlus.
Jamie Lewis is the guy in the sales video claiming that this is a new get-rich-quick system. And everyone can make hundreds of dollars per day.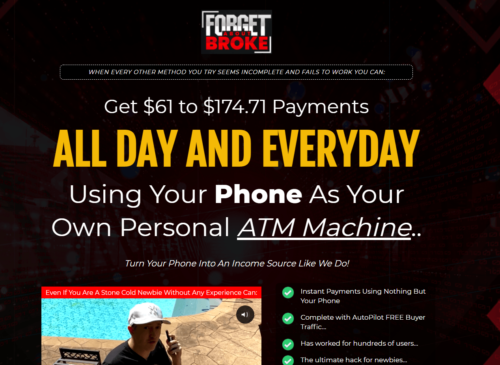 Apparently, there is no need to use a website, it doesn't require any special knowledge, just your phone.
He actually doesn't say specifically what is this about.
According to Jamie, with the Forget About Broke you can start living a laptop lifestyle without a laptop.
In other words, you can turn your phone into an income source; your phone "becomes your ATM" machine.
Pretty audacious claims, but history showed that this is probably another one of Jamies "shining objects"
But let's not throw in the towel yet.
Founder of Forget About Broke
By now we know that Jamie Lewis is the one behind the Forget About Broke.
Jamie is an internet marketer and course creator.
He has created many courses, over more than a decade.
When it comes to Forget About Broke, Jamie is not the only person behind this product.
Jamie and his partner Jonny Rose are the main persons behind the curtains.
Mainly Jonny, since he provides the training and Jamie – he is the one who sells it.
Regarding Jamie Lewis is infamous for his courses, although the quality of his products is, average, and in some cases mediocre.
All of them belong to the "get-rich-quick" schemes category.
Such products never last long, they come and go.
In other words, he never had long-time customers, since it is extremely difficult to have long-term success with Jamie's products.
Who Is It For?
First I thought that this was just another hyped-up product with no value.
The reason what made me think that way is mainly some errors within the Dashboard, and an aggressive way of promoting the upsells.
(And of course the infamous history of Jamie Lewis).
But then I learned that there is actually some value in it, although it is not necessary to go through this product.
So who is this for?
Probably people who already have some special expertise or experience with a specific niche.
For example, you have been working as an accountant and now you feel like you want to help other people and yet get paid for it directly.
So if you are an expert in a particular niche you can sign up for this website and offer your service.
How does it work?
After purchasing the product you won't get to the Dashboard right away.
Instead, you have to go through the upsells and either deal with spending more money or find a way how to skip the "offers".
We will get to that in more detail, just felt like I want to share this with you.
The main purpose of Forget About Broke is to prepare you for being able to sell yourself on the 3rd party side, called Clarify.Fm.
What is Clarify (dot) Fm?
It is a website that connects people seeking out advice and experts who give the advice.
Clarify offer:
A list of experts in different niches
A platform where you can book the call
A Specific phone number where customers and consultants dial to get in touch
All the payments and billings are done within the Clarify website.
What is inside?
Let's go over the Dashboard, so you have a nice overview.
After purchasing the product and skipping all the OTOs (One Time Offer) you finally get to the Dashboard with a menu on the left-hand side and an introduction video.
When I went through the menu here is briefly what I found out:
I was disappointed with the errors.
The Graphic editor did not work for me at all.
Regarding the Article Rewriters – it refuses to connect, in other words, it seemed like there is no internet connection.
Then the 2nd half ( the yellowish one) are the Upsells.
And I have not mentioned the Dial Dollar Trainnignm which is the core training of this basic module.
Regarding the videos Dial dollar Training.
It is divided into different parts and here is briefly what it offers.
These are all videos of different lengths:
Part 1 – Choose a Niche
Video 2:49 – Getting Started (Intro)
Video 07:00 – Availability
Video 5:32 – Popularity and Recency
4Th Video that lasts 6:16 – Step3 Competency and Confidence
Part 2 Creating a profitable profile
1:35 – Getting Started
10:55 – What to put in your profile part 1
5:41 – Optimizing your profile
4:18 – Choosing your price per minute
06:00 – Promoting your clarity profile
Part 3 – Delivering a Profitable Call
10:06 – Preparing before a call
08:14 – During and After the call
So that is it.
For about $13, not bad.
Is it really that profitable?
I don't how profitable this can be, sure there is a possibility to earn some money on the side.
But here is one testimonial that Jamie refers to.
This guy earned

Not bad.
But is it a sustainable income?
Well based on the information from Clarify.Fm, it seems that he really made that amount, but it is just a one-time thing.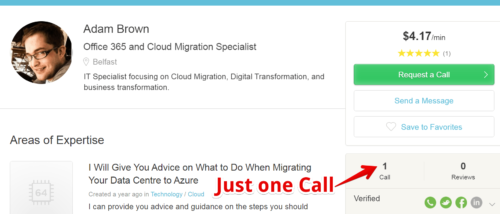 He made only one call.
My point is that this can be as a side hustle, to earn a few bucks here, a few bucks there.
Probably enough to cover the costs for Forget About Broke.
What is the Price?
They use a cheap marketing trick, claiming that the original price is $197.91.
But you are "lucky" so you pay only the price of a happy meal.
So the front-end price is $12.47, but as you guess this is not the final price.
Right after making the purchase, I was expecting to get to the dashboard.
I was naive, I guess since this is a Warriorplus product where creators make money mainly offering the upsells.
So here is the screen you get after you paid the initial $13.
It is probably just me, but I hate it when I have to deal with upsells, and yet I have not got any value from the course.
Besides, it takes a bit of effort to figure out how to skip the upsells.
I can imagine a lot of people click on the Upgrade since it really looks like this is the only way to get forward.
Well, what is your opinion about the way how the upsells are structured?
Let me know in the comment section below whether you would be OK with the way how these upsells are offered.
So I have managed to skip the 1st upsells, but then again …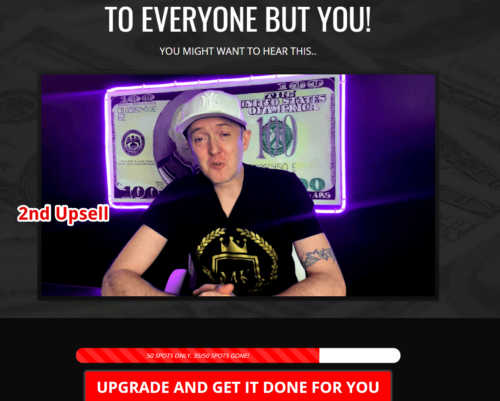 … and again…
until the last upsell.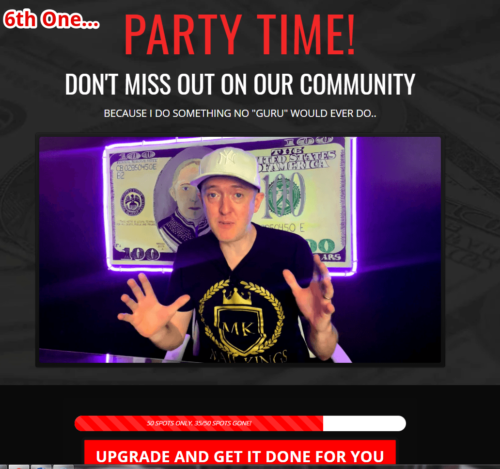 Only after that do you get to the Dashboard.
Here is what the Upsells are supposed to offer and you will find the exact same text in any other Forget About Broke review.
OTO 1 – DFY + $29 Upsell/$19.00 downsell
It's all done for you! We have put together DFY materials, profiles, swipes, and other resources that users need to get started fast. In addition to the DFY materials, we will lend a hand, personally and our VA will assist!
OTO 2 – Traffic on Tap (Traffic Jacker) $29 Upsell/$19 Downsell
Input your link and get traffic from our redirected expired domains, youtube channels, and more!
OTO 3 – PARTNER WITH JAMIE $59 Upsell/$49 Downsell
Imagine being able to meet with Jamie (The co-creator of ForgetAboutBroke) every week in an "exclusive members-only class") where Jamie will personally train you AND act as your manager, Mentor, and agent, pulling you up the hill.
Jamie has been running this weekly meeting since 2011, and has promoted students' links and sold users domains in the class, booked joint venture deals for them, and much more. This is a priceless opportunity.
OTO 4 – Ultimate Download: $97 Upsell/ $67 Downsell
This is the ultimate business in a box. Not only will you be able to download actual advertising campaigns and keywords in a zip file, but it comes loaded with actual PSD templates, videos for Whitelabel use, and a ton of actual files and sites you can resell!
OTO 5 – Unlimited Autoresponder + 6000 Swipes $27 Upsell/$17 Downsell
Mail your buns off! Our autoresponder system comes with thousands of pre-made, high-performing custom swipes!
OTO 6 – Marketplace: $39 Upsell/ $27 Downsell
Post on our marketplace! Make sales!
OTO 7 – Vendor Edition: $67 Upsell/ $37 Downsell
With this OTO upgrade, users will obtain resell rights to 5 of Jamie's most high-converting funnels. This is ONLY offered as an exclusive upgrade and is not available anywhere else on the net!
My Thoughts…
Call me whatever you want, but to me, this is a deceptive way ow Jamie earns money.
Maybe it is the way how affiliate marketing works in most cases, but I like to have transparency right from the beginning.
That was one of the reasons why I joined another particular educational platform where I knew what to expect right from the beginning.
Besides, they offer a free trial where one has access to 10 lessons for free.
And there is no need to use a credit card either, just an email.
So let's wrap up this Forget About Broke Review.
Forget About Broke – Red Flags
I don't mean this review to be too harsh but there are certain things that I find annoying
Just wanted to sum up some stuff that I find as a red flag.
1) Some Link in the Dashboard doesn't work
2) Support – only email and the website can't be found
3) Money-back guarantee – questionable.
I did ask for a refund.
It is not possible to get it via Warriorplus, which is annoying, (compared to the service that ClickBank offers)
It is necessary to contact the vendor directly, but the link does not work.
So I only wrote an email. After 7 days I should be able to get feedback regarding the refund.
Otherwise, I will contact Warriorplus and they should be able to deal with that.
What I like about Forget About Broke

Money-Back Guarantee (Although at this point I am still skeptical)
Explains how to make some money using your phone
What I don't like about Forget About Broke
The hyped-up sales video
The aggressive way how the upsells are offered
Not necessary to pay for this product if you are already an "expert" in a certain niche
Forget About Broke – Conclusion
Jamie did not disappoint me.
Again he offers a mediocre product, that in this case is not his at all.
He is simply a middle man, offering a bunch of upsells.
The bottom line is:
You don't need to pay for Jamie's product ( sorry Jamie, but using a free system and making money off of it as it was something that you made, is not an honest way how to generate income online.
And I get, it – this is also how internet marketing works, for some.
But I feel like I need to inform people about the flaws of internet marketing and that there is a better and more honest way how to make money.
2nd This is not a sustainable way how to earn money.
This can be something on the side, but not as a primary method of earning.
If you are an expert, it is much more profitable to create your own website and let people visit your site. The traffic/people are monetized even while you sleep.
I am sure some people might find this review controversial, but I just can't help myself.
People need to see the truth. They need to be informed about possible flaws.
Otherwise, there will be still such mediocre products and that is not good for anyone.
Hope you find some value in the review, if you have any questions please let me know in the comment section below.
Thank you for reading
Mike
Learn How To Make Money Online
Do you really want to learn how to make money online?
First of all please realize that there is no such thing as a push-button system that generates money on autopilot.
Choose a business model that works.
Let me share with you that the simplest business model is Affiliate Marketing
You don't have to create any products, you don't deal with suppliers or customers.
You simply create a website about a specific topic and inform your readers about the product or service.
Check the link below to learn more about a specific platform teaching these skills (and beyond).