"This New App Makes Me $476 Everyday."
– That's just B.S.!
I found out about the TweetX product on the WarriorPlus website. 
The brief research shows that this is a great product, but based on my experience I was not convinced.
So in the following TweetX Review, you are going to learn the truth, about what is this product all about.
What are the pros and cons, what is the price structure, and also some tips on how to start an online business?
Disclaimer
Please note, that I am not a member or an affiliate of TweetX. This review is based on research and information available online in the public domain.
Any recommendations and conclusions are only opinions and may not apply to all persons or situations.
Quick Overview
Name: TweetX
Website: www.grabtweetx.com/tweetx-v3
Price to Join: $12.95 + Upsells
Recommended: No
TweetX Review – Summary
TweetX is supposed to be a newbie-friendly method to get free traffic in less than a day. It claims that one can start making more than $200 a day.
The truth is that TweetX is an app allowing you to send tweets, follow and send messages on autopilot.
In reality, it is the best way how to get your Twitter account banned.
I don't recommend spending time and money with TweetX. 
None of the so-called "automated tools" work, especially in the long term. 
To create a consistent income online, one must gain some knowledge. In the link below there is a method that I have been using since 2017.
What is TweetX?
TweetX has obviously something to do with Twitter.
If you are familiar with Twitter, you know that you can follow people you can message them and you can tweet something, so your followers might see it.
TweetX is a system that lets you do this automatically.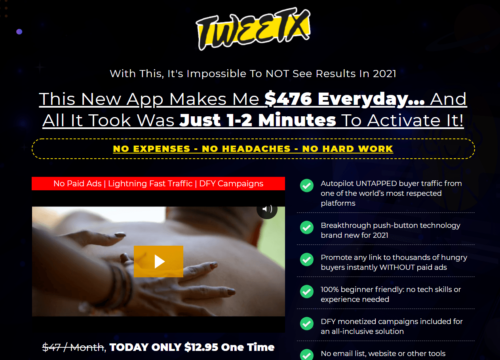 Sounds like a great tool that helps you to make more conversions. 
Let me share with you right off the bat, that this automation tool can get you in trouble with Twitter and your account might be banned as well.
Despite the information on the sales page, the chances of earning some revenue with this system are extremely low.
Founder of TweetX
The founder of TweetX is a person called Jono Armstrong.
He is a serial product creator, specifically, he has launched more than 6 products in less than a year.
When checking his ratings at the Warriorplis profile is not very flattering.
There is a bit of controversy regarding Jonno, is he a scammer, or is he not?
Well based on the research regarding TweetX, it is safe to say that his product is low quality and doesn't bring a lot of value to his customers.
Who Is It For?
According to the founder of this product, TweetX is great for beginners.
Apparently, there are no tech skills needed or experience.
Since there are Done-For-You campaigns, it really seems that every beginner can take advantage of this app.
Well, it is not true.
As you may have already noticed, this app can do more harm than good.
With that being said, I don't recommend TweetX to anyone.
If you truly want to learn how to build a consistent income online, you must realize that it requires effort and time.
There is no such thing as a push-button system.
And all these so-called Done-For-you systems, never work.
If it would be such an easy thing, well everyone would do it.
The truth is that only a few people really succeed in the online world.
The reason is simple – those who succeed have:
Skills that the majority of people don't
Tools that are not freely available
Willingness to put effort and time
Regarding the 3rd point, I am afraid I can't help you.
But the 1st two points, I believe I can show you the proper direction.
I could leave a link here, so you can click and skim over another article, but I would like you to post a short comment below whether you are interested in creating your own youtube channel or a blog that will be monetized.
Both are viable business models and these days available for every person who is serious about building a business online.
Let's continue with the TweetX Review.
How does it work?
After purchasing the product, you have access to the Dashboard or TweetX Members area.
This is what the TweetXmembers area looks like.
There is an introduction video and you are instructed to download the Google Chrome Extension.
Then you just click on the extension, TweetX and this is how it looks like: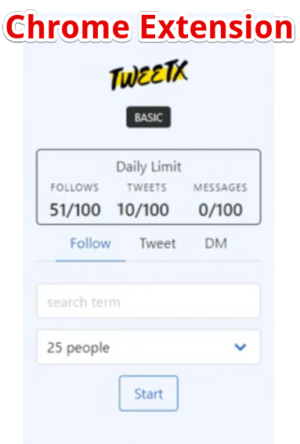 You see there is a daily limit on how many people you can:
So basically, you choose how many people you want to follow, and based on the keyword you enter, it automatically starts doing that.
Well, I am not sure whether you have tried manually following people (for the follow-for-follow purpose).
If you do it fast, Twitter will warn you.
If you try to follow a certain number of people/profiles for a specific period of time, again Twitter will warn you.
Your account can be even banned since you go against their Rules and Policies.
Now imagine, that this is being done through some automation software.
The chances that your profile gets banned are even higher.
So I would be very careful with the TweetX extension.
Me, personally I wouldn't ever use it.
What is Inside?
Besides the chrome extension, there is a sort of TweetX training as well.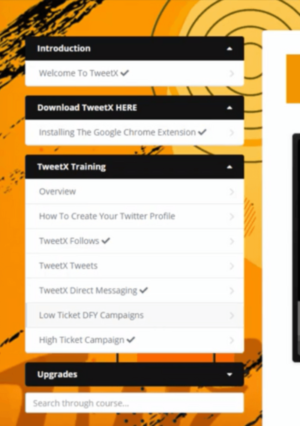 Here you find short instructions on how to create a Twitter profile, how to follow people, how to tweet, and this basic stuff that is available for free on Youtube.
Then you see there are Low Ticket DFY Campaigns. 
It is basically a page builder where you have the possibility to promote other Warrior Plus products. 
Most of them are not even low-ticket products, but also low-quality, for example, Profit Pusher. 
The last one is Hight Ticket Campaign, where you can learn how to promote high ticket programs available on ClickBank.
These are for example:
(Both of them have quite a lot of value but the prospect needs to have a budget of at least $2,000).
What is the Price?
At the first sight, the Front End price is very affordable and for less than $13, one can get access to the Dashboard.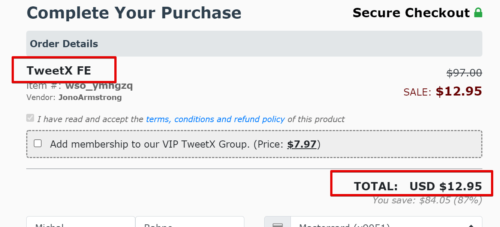 What kind of product is one purchasing?
Is there any value at all?
We have seen what TweetX does, so I personally wouldn't use it, even if it is for free.
How Jono really makes money?
There are at 6 upsells, so one might end up paying hundreds of dollars.
These upsells are usually one-click upsells, so it is very easy to get charged more than originally intended.
Let's go briefly through the upsells:
TweetX Unlimited $47.00
This upsells is supposed to let you "supercharge" with unlimited features and run unlimited campaigns.
Based on this, you should get massive results.
TweetX DFY $97.00
The second upsell should be able to get a hands-free experience where their team will set everything for the client.
That includes:
DFY Campaigns (Copy and Paste)
DFY Products to Sell
DFY Scripts t get traffic and maximize conversions
Again, some copy and paste – no technical skills required.
Think about it.
Generally speaking, If everyone uses the same Copy and Paste method, what are the chances that your offer will be successful?
In reality, No one will see the offer anyways.
TweetX Reseller Bundle $147.00
You get right to sell the TweetX as if it was your own product and take 100$ commission on the whole funnel.
What's the point?
Do you want to make more people unhappy?
I hope not.
TweetX Personal Coaching $197.00
This allows you to get a month's worth of personal Coaching alive with the TweetX team and learn everything about Affiliate Commission online.
It is always good to learn new skills, but I am sure, this has no value and the information you might get from the personal coaching are available for free as well.
TweetX Limitless Traffic + Advanced Traffic Training $197.00
According to the TweetX site, users get direct access to the ad words audience, by having "their pixels placed on all our sales pages for 365 days".
To be fair, I also want to mention that each upsells has its downsell.
That means, that in case you don't want to upgrade and want to leave the page, you get a pop-up window saying that you can get the same for a lower price.
But in my opinion, it doesn't make sense to "invest" in this method in the first place.
Positive TweetX Reviews?
Have you already checked other TweetX Reviews?
I am sure most of them claim that this is a unique and perfect method for a newbie how to generate easy money.
Obviously, whoever wrote such reviews promote TweetX, so in case someone will buy it, they get a commission. 
The commission is usually 50% on each upsell and in some cases even 100%. 
Generally speaking, there is nothing wrong with that, and it is how affiliate marketing works. 
But in my opinion, potential customers should be informed also about the drawbacks of the specific product.
I am sure you know that there is not such a thing as a perfect product.
Therefore, check also the Cons of any particular review.
If there are no cons listed, be sure it is not an objective review.
Do more research and only then decide whether to purchase the product or not.
What I like about TweetX

Money-Back Guarantee (Although it is necessary to contact the vendor since Warrior Plus is not responsible for the refund)
What I don't like about TweetX
Misleading Sales Page
The way how TweetX works, your Twitter account will be banned
The chance to make a sale using this method is almost zero
Is TweetX a Scam?
TweetX is not an outright scam, but not far from it.
The thing is that the claims on the sales page are very misleading.
At the end of the day, it is almost impossible to make a few sales using this method.
TweetX uses a method, that goes against Twitter terms and Conditions, and therefore the chance that your account will be banned is pretty high.
That's why I don't recommend using this method.
If you are serious about making money online, it requires effort and some knowledge.
I was fortunate to learn the evergreen method, that I currently use.
Do you have questions regarding TweetX, or you want to learn more about the method I use, please check the link below, or leave a message/question in the comment section below.
Thank you for reading
Mike
Do You Want To Learn How To Make Money Online?
First of all please realize that there is no such thing as a push-button system that generates money on autopilot.
Choose a specific business model.
The simplest one is Affiliate Marketing where you sell other's people products. You connect potential buyers and vendors.
Just choose a specific topic and learn how to create a simple website where you inform your readers about the product or service.
Learn the basic SEO and how to drive free traffic to your website. These skills are priceless.
Once you master that, the sky is the limit, when it comes to earning potential
Check the link below to learn more about a specific platform teaching these skills (and beyond).