Hello and welcome;
I am a full-time internet marketer, and at this website, you can find a lot of digital product reviews (courses, app, software), but also a review of tools that people use while working on their business online.
To me, it is important that my visitors are objectively informed about the online products, and one can learn how to stay away from scams.
This time, though, I am going to review a tool called FlexClip.
FlexClip is a free online editor that allows you to craft a video for your business in minutes.
FlexClip 2021 Review – Create Stunning Online Videos in Minutes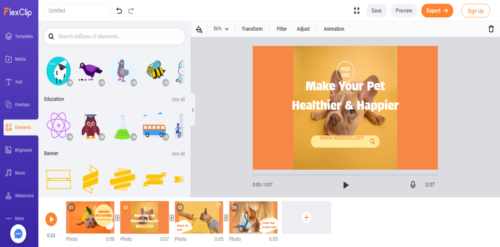 Do you want to create a video for your YouTube ad campaign, business presentation, or birthday party? Or are you a professional video blogger?
If so, you need to produce perfectly crafted visuals and graphics that can grab people's attention.
To do this, you will need professional tools and a large investment. Apart from these, you will also have to invest your time, as generally, these tools are not as intuitive to use.
Previously, I thought that video editing is a heavy task that requires a lot of time, investment, and skill. As a video blogger, I have tried to research video editing tools and software online.
After trying a plethora of tools with heavy installation processes like OpenShot, Movavi video suite, Camtasia, and many more, I found FlexClip.
In this review article, we'll take a look at this great online video maker.
Now let me tell you in detail about my experiences with FlexClip. In this review article, I'm going to walk you through some of the features of FlexClip that fascinated me and might help you as well.
What Is FlexClip?
FlexClip is the best free online video editor that lets you create personal and business videos in minutes. Do you think your PC might slow down when you run heavy video editing software? Yes, it's true. But it is not the case here!
All you need is a reliable internet connection as Flex Clip is completely web-based and will not depend on your PC specs.
Now let's take a look at some of the cool features of FlexClip.
Reasons to use FlexClip
We often have to upload photos or videos in various forums and websites, but sometimes we get stuck because it requires a particular video/photo format and size. We have to spend hours looking for video converters online.
Some video converters do not provide the required resolution, while others do not allow the different formats that we need. In such cases, we can resolve our issues within seconds using the following tool.
Feature1: Free FlexClip Video Converter
FlexClip Video Converter is much more than a video converter. Besides providing various video and image file formats for converting, such as JPEG, MP4, MOV, PNG, WEBM, FlexClip also allows you to select the custom sizes. Besides an option to reduce video resolution, you can also customize your videos and images to meet the needs of desktop, mobile, or tablet.
Feature 2: Royalty-free library
Do you need video footage or want to add background music to your video? FlexClip has a rich content library with thousands of photos, videos, and music that you can add to your content. Whether you use it for marketing promotion or video advertising is up to you. You don't have to worry about copyright. The library is completely free and is regularly updated. No one likes still videos without any effect. Right? To add flavor to your content, you should try adding special effects.
Feature 3: Motion Graphics and special effects
You can add built-in transition effects to your slides and presentations to make them more continuous. Moreover, you can also include moving images, texts, and shapes using FlexClip's motion effects to make your videos more engaging.
Suppose you want to create a video resume to apply for a new job, you will run into a ton of doubts – where to start? What effects to add? What colors will look more professional?
What if I say FlexClip has an automatic video maker for professional-quality video resumes and presentations? Plus, the models have already infused relevant transitions and stock videos. How satisfying it would be to find such a feature. Your job will be made easier in many ways. Right? That's what I love about FlexClip
Feature 4: Premade video templates
You will get a pre-made video with text compositions, transitions, effects, and much more related to the category you want. There are different categories of models on FlexClip, such as:
Video Template for Social Media
Whether you are an influencer or someone who wants to regularly post personal photos and videos, you will need the optimal size and settings to suit your social media app feed. FlexClip offers ready-to-use social media templates that contain pop-ups, transitions, and popular music.
For example, if you want to make a customer review video to post on your social media, you can use the premade infographic video to display the data about your company or service. Moreover, by using FlexClip, you can directly upload your videos to social media platforms like YouTube, Facebook and Instagram without any fuss.
Video templates for marketing
Video advertising campaigns can directly drive sales and conversions. You can publish your video ads on platforms like Google and YouTube using Google AdWords. But for this, you need to create a video ad yourself. FlexClip offers a wide variety of marketing video templates. You can create a video ad and post it directly to boost your business instantly. Here you can find out more about Google Adwords.
FlexClip Price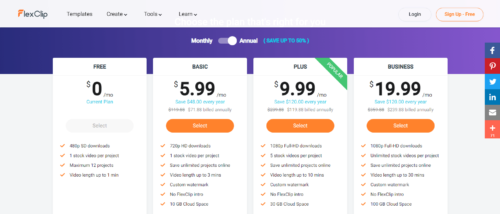 If you compare the price of this tool with other similar editing software, you will find it relatively cheap and affordable.
You can still use the free plan of this best editing software and use the essential features.
But, I'll tell you when to buy the paid accounts:
Basic plan: for those who want to create videos for personal use such as greetings, social media posts, travel notes, etc.
Plan Plus: If you are a small business owner who wants to create videos for various ad campaigns, marketing plans, or if you are a video blogger, you should go for the plus plan.
Business: As the name suggests, if you are a dedicated video blogger or believe your business has the capacity to grow quickly, you should go with the business plan for sure.
Summary
FlexClip is an awesome online video maker for users of all skill levels. With extensive resources for music, picture, and video, it is easier for anyone to create short videos for advertisements, business, graduation, party, festival, holiday, best time, best friend, birthday, etc.
Once you use the tool, you will find it quite intuitive to use. Indeed, I would say that FlexClip is the best video editing software for beginners. This means that you don't have to spend time locating the different features, tools, and controls.
You will become a master in minutes. In addition, ready-made templates will secure your work collectors.
Now give it a try!