Welcome to my website.
You have stumbled upon a product called Post 'N Earn and you want to know if the claims on their sales page are real or just hyped up.
I am glad you are doing your research since you can save a few bucks (even a few hundred – you will see in a minute).
In the following Post 'N Earn Review you are going to learn what is this all about, who is behind it, how it works and what is the earning potential.
Right off the bat, let me share with you that Post 'N Earn is not what it looks like.
Let's dig a bit deeper.

Disclaimer:
Please note, I am not a member or an affiliate of the Post 'N Earn.
This review is based on research and information available online in the public domain. Any recommendations and conclusions are only opinions and may not apply to all persons or situations.
Name: ProfitGram
Website: www.getprofitgram.com/regular
Price to Join: $19 + Upsells (A few hundred)
Recommended: No
Post 'N Earn Summary
Post 'N Earn is an app launched in November 2021, on Warriorplus, that promises you to make $37 for each post you make on a specific platform.
The "best" part is that you can use other people's videos, and you can post as many as you want.
Well, not so good part is that this is not legal and your account can be banned.
Post 'N Earn is just another get-rich-quick scheme that doesn't work.
Quite opposite, you would only lose money, due to the Post 'N Earn price structure.
The entire package cost more than $500 and it is absolutely useless.
Stay away from Post 'N Earn.
There are other ways how to make money online.
Do you want to know the secret?
There is no such thing as a push-button system generating income on autopilot.
It takes certain skills and a bit of time but with proper education, anyone cant earn 4 figures a month.
For more details click the link below.
What is Post 'N Earn?
This is supposed to be a new "online income system" that allows you to earn $37 every time you post a video.
According to the sales video, you can post as many times as you want, so in theory, you should earn, for example, $1,850 for posting 50 videos.
Apparently, you don't use your own videos, so there is zero experience required.
Is this another get-rich-quick scheme?
Well, here is how you can get started in 3 simple clicks:
Purchase the Post 'N Earn.
You should hurry up because the price rises with every new sale made. This is just a marketing tactic. It is called fake scarcity.
Activate
Apparently, there is a button inside the app, that you can turn on, just like a light switch.
Well, there is not!
Profit
You can get paid directly to your bank account or PayPal Account.
Does it seem too good to be true?
You bet.
And there are other issues with this entire system.
Who is Behind Post 'N Earn?
Jason Fulton and Seun Ogundele are the people who created the Post 'N Earn.
This is not their first product.
Their username on WarriorPlus is "elitemediaonline"
As typical for any WarriorPlus product, there is a person (or in this case, two individuals) that keeps creating (almost identical) digital products and sells them on the Warriorplus site.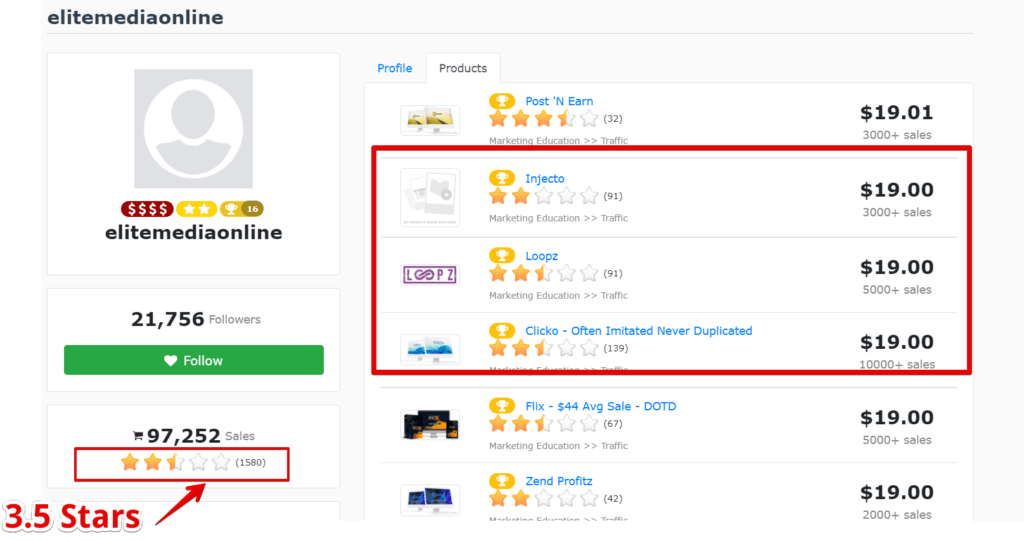 From the screenshot above, it is obvious that people are not very happy with this user (see the rating of 3.5 stars only).
No wonder, since none of those products work.
As we see, this username is also behind already reviewed products, like Injecto, Loopz, or Clicko.
How Does It Work?
Or maybe, how it doesn't work…and let's check it very briefly.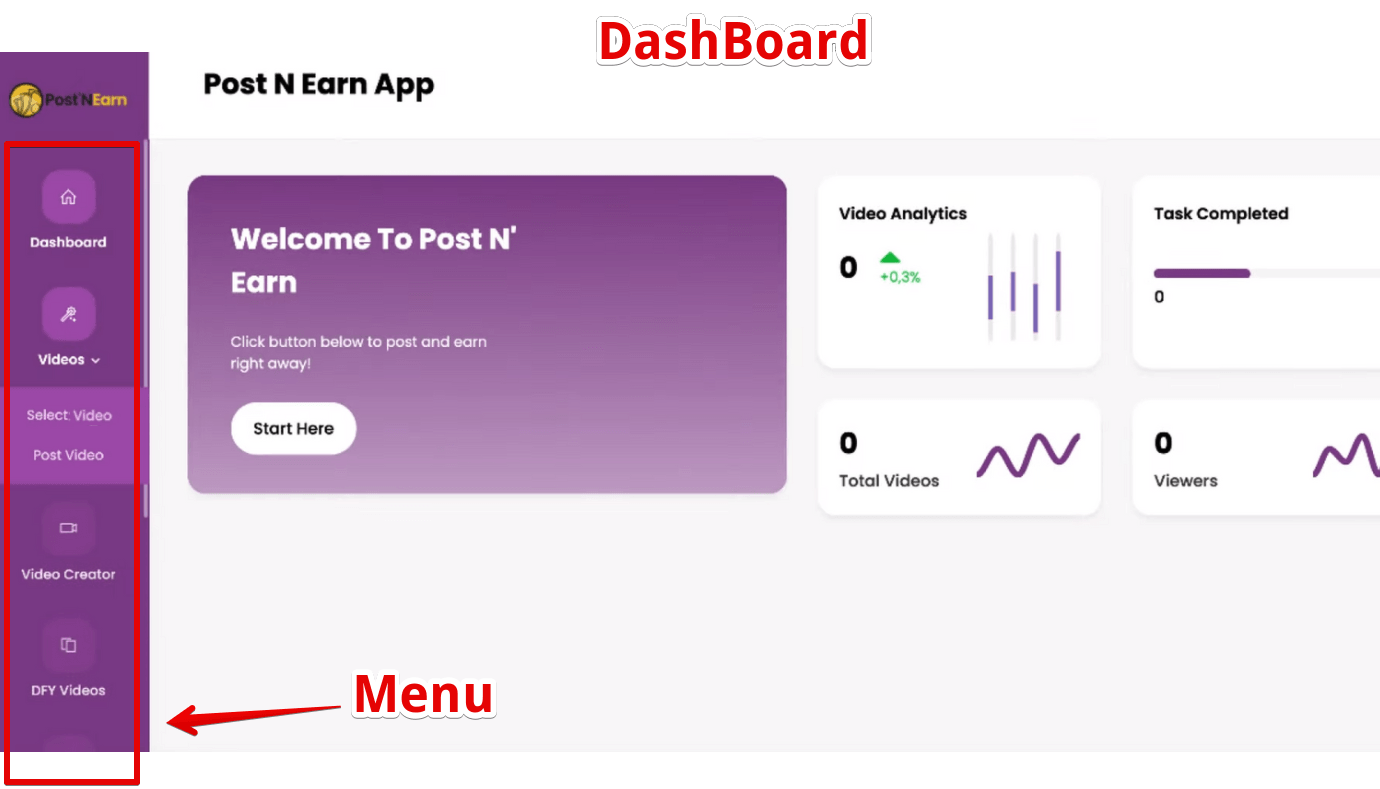 Dashboard
First of all, there is no such thing as an already promised button "Activate".
So what is inside the platform?
You find a welcome video, an overview video, a training video, and a few others.
Videos
Here you have the option to select an existing video and post the video. Apparently, these are "License Free" videos.
Without going any deeper, let me assure you that these videos are NOT license-free.
All the videos you find within the dashboard are literally taken from YouTube.
So what's the purpose of Post 'N Earn? All of the videos are available directly on Youtube!
Within this feature, you have the possibility to post the video;
Regarding posting the video, you are redirected to a website where you can download the video.
The problem is that this particular site is not available in the USA anymore and here is the message you get:
Not sure if you can read it, so here is the exact text taken from the site above.
It says:
"Subject: Discontinuation of Service in the United States
April 16, 2020
Dear Savefrom User:
As you may have heard, our industry has been under strenuous attacks by certain US copyright holders. Because of these attacks, it has become financially impractical for Savefrom to continue to provide services in the United States.
Accordingly, Savefrom will be terminating its services in the United States as of April 28, 2020.
We thank you for your past loyalty and patronage and wish you health and safety during the present health crisis and beyond.
Very truly yours,
Savefrom"
Video Creator
This is a video slide show maker.
Again this tool has nothing to do with Post 'N Earn. In other words, it is just an embedded external website into the Post 'N Earn dashboard.
This video's slide show maker is a free-to-access tool outside of Post 'N Earn.
Just go to: slideshow.myvedit.com
DFY Videos
Here is a list of videos that you are "allowed" to clone.
Thumbnail Creator
A very simple thumbnail creator that has limited features.
Again, in case you want to create a thumbnail, I can recommend Canva.
It is much better and it is free.
There is absolutely no reason why anyone should spend $19 for Post 'N Earn.
How Much Does It Really Cost?
The front-end price is something below $20.
While checking out, you can get an upgrade that is supposed to give you a bigger earning potential.
That is all nonsense.
The basic product doesn't work, why should the rest of the upgrades?
Now let me share with you that the process of these upgrades is very tricky.
Right after checking out, you are "forced" to purchase the upsells.
It takes a bit of effort and concentration to skip these upsells, but if you are not careful enough you can end up paying more than $500…
…to be precise $574.
Now, as you can see, anyone that promotes this product and sells it can make $287!
(That's 50%).
No wonder about the numerous unethical reviews out there, promoting the Post 'N Earn.
Any Red Flags?
Yes, there are many red flags, and let's just mention 3 of them.
1) Unrealistic Earning Claims
It is just not possible to get paid $37 for a posted video.
Ideally, if you have a youtube channel that is monetized, you can earn about $4 for 1,000 views.
That is just a rough estimation.
2) Not allowed to use YouTube Videos
Within the dashboard, they say, you can clone other videos.
In theory, you can, but there are fewer and fewer videos with no copyright.
With that being said, even though you successfully manage to upload a video, you won't get paid, since you are not an author of that video.
3) Too Many Useless Upsells
We have seen that the price of $19 is not the final.
The way the upsells structure is built is very tricky and many scams use this tactic.
(It is difficult to skip the "offer" after purchasing the basic product)
How About Other Reviews?
This is probably not the first Post 'N Earn Review that you are reading.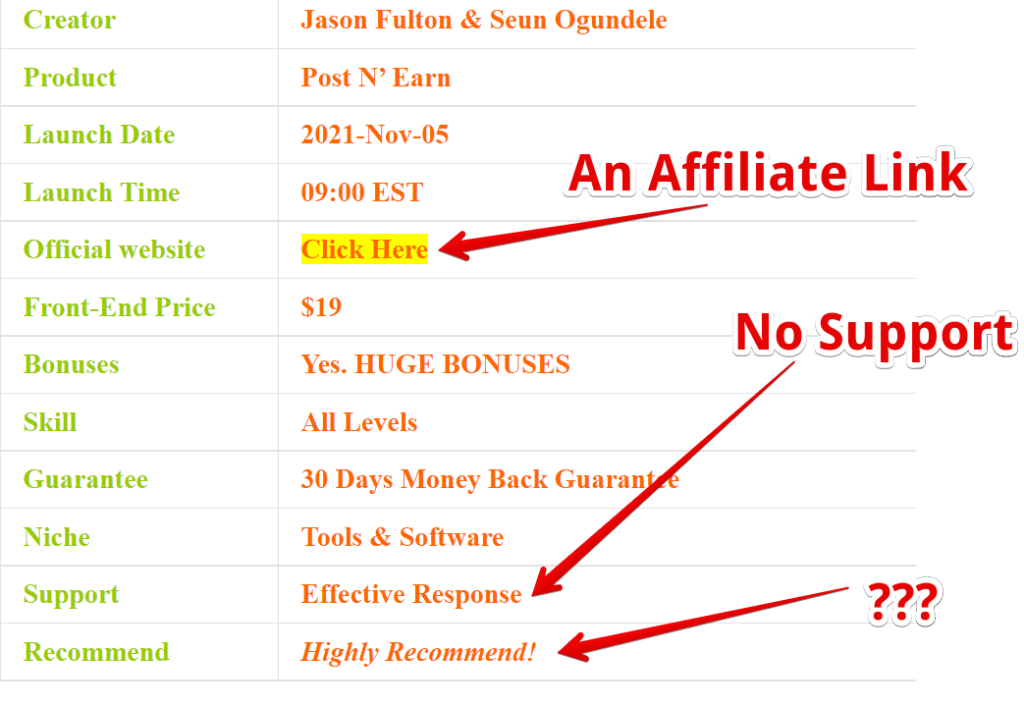 It might be confusing, since there are many other reviews, claiming that Post 'N Earn is highly recommended.
Well, don't trust these reviewers.
The only reason why they promote the Post 'N Earn is a thick commission;
In the section above concerning the price, we see, that the entire app costs more than $500. Any affiliate who successfully sells this product gets a 50% commission.
That's a lot of money.
But does it make sense to sell such a scammy product?
To me, this is not ethical and I was taught that affiliate marketing is first of all about providing the visitor (you) with valuable information.
Sure every affiliate needs to make money, but there is a great way how to sell products that actually work.
You have guessed it right – I also promote one specific educational platform teaching how to make money with affiliate marketing.
But the main difference is that the one I recommend has real step-by-step training that anyone can test out.
That's right, getting started with this training doesn't cost you anything.
Once you like it, only then you can upgrade and become a premium member for less than $1,50 a day.
But I digress.
Product Pros

Money Back Guarantee (If a vendor doesn't respond, contact WarriorPlus Support Page)
Product Cons
Hyped Up Sales Page

Rehashed Old Product
Using Other People's Videos is Not Legal
Useless Product
Is Post 'N Earn a Scam?
With all the information above, what would you say about Post 'N Earn?
Please use the comment section below.
Here are my two final thoughts on Post 'N Earn.
1) A person interested in Post 'N Earn is told that there is a button that after activation, he or she can start earning right away.
The truth is, that within the dashboard there is no such button.
Inside the Post 'N Earn, there is a menu where you can search for videos, clone them, and upload them.
You can even create thumbnails… and that gets me to the 2nd point.
2) The functionalities within the dashboard are absolutely useless.
Everything can be done without paying for the Post 'N Earn membership.
So what is the conclusion?
The entire Post 'N Earn is useless.
Please stay away from this product and save your money.
I have also mentioned a legitimate method how to make money online, so you can check it above.
But I understand that you might have questions, so please feel free and use the comment section below.
Please share this article, so more people will learn how Post 'N Earn really works.
Thanks a lot, for reading
Mike