Hello and welcome to the Injecto Review.
I would like to make one thing clear.
The majority of products that are available on the Warriorplus site are very misleading.
There are many reviews of such products on this website that you can take a look at and learn how to avoid them and why to avoid them.
Now Injecto has been released at the end of September 2021 and again it promises to make quick money.
Let's briefly check this product, and as much as I want to be objective I have some doubts already.
Disclaimer:
Please note I am not a member or an affiliate of Injecto.
This review is based on research and information available online in the public domain. Any recommendations and conclusions are only opinions and may not apply to all persons or situations.
Quick Overview
Name: Injecto
Website: www.grabinjecto.com/injecto-exclusive
Price to Join: $19 + Upsells
Recommended: No!
Injecto Summary
Injecto is a web-based software, that generates money on autopilot. According to the sales page, there is nothing you need to do get access to Injecto, hit the button and your money starts to flow to your Paypal account. 
Obviously, this is nonsense.
First of all, after purchasing the product for $19, you have to manage to go through and get rid of the "upgrade offers" that cost several hundred.
Once you are at the dashboard, you learn that there is some work you need to do:
Download the video (that is not yours)
Make it your own and add an affiliate link
Upload it to Twitch and hope that someone will see the video.
So in the real world, this thing does not have any "button" that generates money on autopilot.
On top of it, you need to do some work, which is actually not a bad thing.
But the problem with Inject is that after uploading the video (with your affiliate link in the description) only a few people will see the video.
And only a small percentage of people watching the video will click on the link and an even smaller number of people will actually purchase the product.
Injecto is just another product from Seun Ogundele that generates money, but only for him as a creator.
My recommendation:
Stay away from Injecto. It is waste of time, effort, and also money.
At the bottom of this article, there is a link where you find more information about a platform teaching how to make consistent income online.
What is Injecto?
Injecto is a WarriorPlus product that has been released on Friday, October 8th, 2021.
It is software that lets you cash in on 5 different platforms simultaneously and receive $20 payments over and over again.
Apparently, it runs on autopilot and anyone can do it.
After watching the sales video, I can't help myself but it reminds me of a virus that is injected into a company's software, withdrawing slowly but surely penny after penny.
(Just like guys from the movie Office Space from 1999)
Is Injecto illegal?
Let's dig deeper and let's start with the founders of this system.
Founder of Injecto
The creator of this product is a guy named, Seun Ogundele.
According to his Facebook page is from Lagos, Nigeria.
His Warriorplus username is elitemediaonline.
He is just another person that keeps creating such products on monthly basis.
In fact, they are all pretty much the same.
Both Loopz and Clicko, I have already reviewed and in both cases, I came to the same conclusion. 
Stay away from both of them. 
Is Injecto going to be different?
Based on the experience, I doubt it, but let's continue with the review.
How Does Injecto work?
As mentioned in the beginning, this system generates money on autopilot.
Here are the 3 steps that need to be followed:
1 Get access to Injecto (apparently they are going to pull this offer down soon… Just a marketing trick)
2 Activate Injecto to start exploiting the five platforms "loophole worthy of almost $140 Billion Dollars (they don't forget to use the fake scarcity, again)
Apparently, you just need to hit "Inject" and you are going to receive payments of $20, 12 times a day or more…
Well, after purchasing the product it is obvious that it is not what it looked like.
How Does Injecto Really Work?
After purchasing the product (and skipping the Upsell offers) you get to the Dashboard.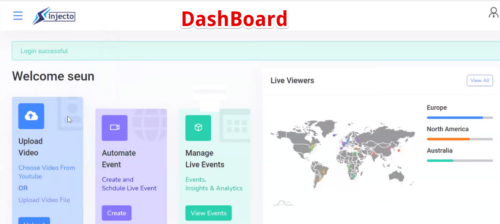 At this point, one might search for a button that says "Inject", but sadly there is no such button. 
Here is how it really works
You take YouTube videos and upload them on Twitch.
Twitch is an American video service that focuses on video game live streaming, but it also offers music broadcasts, creative content, and more recently, "live" streams as well.
(Source: Wikipedia)
As mentioned you are supposed to search for existing videos. Download them add a description with an affiliate link and schedule it on Twitch.
In theory, you should take a video that already has some tension. 
So with this, you can only hope that someone finds the video and clicks on the link.
The odds that are going to purchase it are extremely low. 
The number of views that the video gets is low.
Let's take a look at a real example and let's consider YouTube. 
Assuming that you have your Youtube channel up and running, you need to upload sometimes hundreds of videos until it gets some attention.
Meaning, thousands of views. That's effort.
But we were told that this requires "Zero Effort"
So isn't the Injecto sales page extremely misleading?
Besides, since it is not your video, it can be reported and taken down.
Do you really need this?
There are other features within the Injecto Dashboard, that you don't really need.
Video-maker
This is an extremely simple tool for what it does, you don't need to pay for Injecto.
Just go to google and search for YouTube Video Maker.
You are going to find a lot of tools, for free.
Thumbnail creator
This tool is supposed to help you with creating thumbnails, or simple graphics.
Well, you don't need to pay for Injecto.
Just go to Canva.
It is free and I have been using it for years.
Canva is great as:
source for inspiration (pre-made logos, graphics)
it has tons of fonts, graphics, videos, animations, and templates
and beyond…
…and all this for free.
(There is also a Premium version, but as a beginner, you don't really need that).
Is It Possible to Make Money with Injecto?
By now you know the answer.
Let's break it down a bit:
Looking at the Twitch videos, these are mostly for gaming.
Meaning people play games, record them and upload them. Others watch these videos for fun. 
Similar to watching a football match on TV. 
That being said, people watching gaming videos on twitch have no interest in the products like Loopz or any other low-quality WarriorPlus products.
In other words, this is not the proper audience.
I am sure you realize that in order to sell something, you have to find the right audience.
Any Red Flags?
Sure there are and I don't want to take up any more of your time.
So let's go over a few of them, just briefly;
Apparently, this thing has been making a profit for more than 7 years now.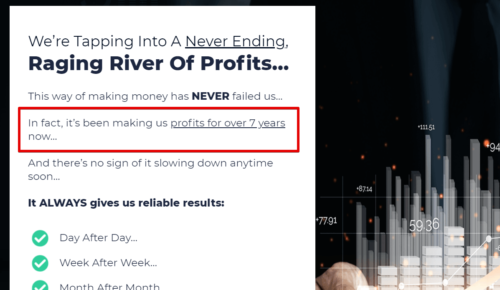 Now, I wonder how they have done that, since the website is only 1 month old, as of this writing.
To be precise, the website was registered on September 14th, 2021.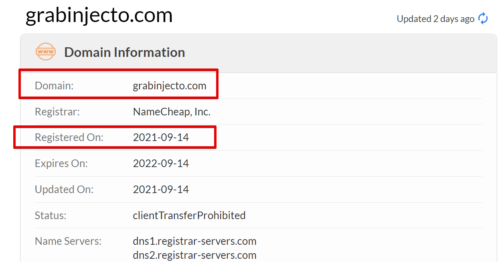 Besides, the entire Injecto is just a re-hashed product. 
meaning, the creator, keeps creating the same thing, he only changes some names, and colors and releases it as a new one. 
These are screenshots from his previous products called Loopz and Clicko.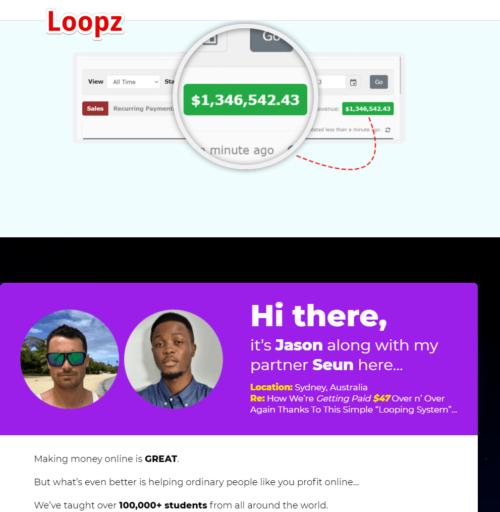 Clicko: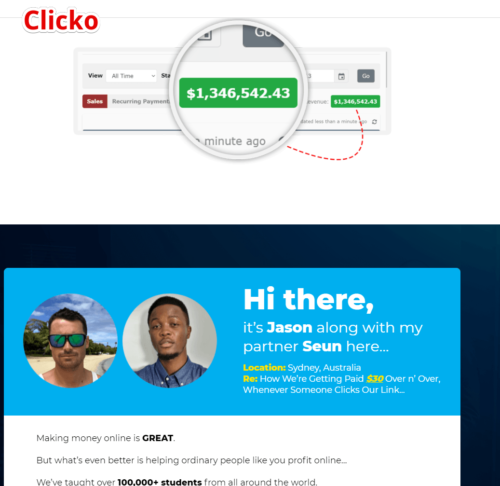 and Injecto: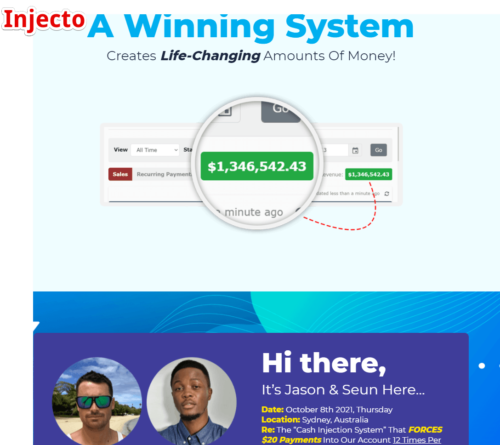 Are we really to believe that all of them made exactly the same amount to the penny?
Of course not.
It is all just B.S.
What is the Price of Injecto?
On the sales page, they say they could sell this for $497 a month.
Of course, they don't, since they need as many people as possible.
In other words, they are willing to cut a deal, for a limited time only (another fake scarcity).
And therefore you can get this for $19.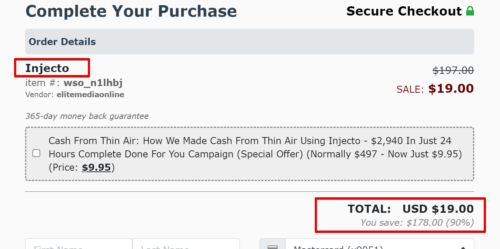 Not bad right?
Well, that's not it.
After checking out there is a bunch of upsells (upgrades) that you need to skip in order to get to the real product.
If someone is not careful enough he or she can spend up to $574!
This is the upsell funnel that is presented on their JV page. That means that anyone who promotes Injecto can get a 50% commission.
That's why you have probably seen many reviews promoting this useless product.
What I like about Injecto

 30-Day Money Back Guarantee (Also be careful, since WarriorPlus is not responsible for the refund)
What I don't like
Hyped up Sales Page
Exaggerated earning claims
The product itself is not what is presented on a sales page
Too many upsells (Final price more than $500)
Some Thoughts at the End
Injecto is a truly misleading product, in fact, it doesn't surprise me (having a chance to review dozens of them).
It is still the same thing:
overhyped up sales video/page
after purchasing the product, there is nothing like what was initially described
on top of the Front-end price, there is a bunch of upsells, that often cost more than $500
the actual product doesn't work, since it doesn't show you how to make the offer visible to other people.
So that's it.
I don't recommend Injecto to anyone.
In fact, please stay away from this product.
And as a rule of thumb, whenever you see a "new" product claiming that it is a push-button money generator,s run for the hills.
There is no such thing.
What is possible though, is to generate consistent income online.
But one has to have a website. There is nothing to worry about since today there is a One-click website builder available.
To be precise – a website can be built within a few seconds.
Don't get me wrong.
I don't mean that it is possible to create a website that attracts thousands of visitors the next day.
What I mean, is an empty website. It's like an empty canvas.
It is important to bring content there, so people are going to recognize the content and eventually are ready to purchase the service or products.
People willing to learn new skills often can make a full-time income within 8 to 12 months. 
Basically, the business model I offer is as follows:
There is a product or service
There is a source of traffic – these are real people and thus potential customers
Now you are a liaison between these two (with your website)
This business model is called affiliate marketing and has a huge earning potential. People make 4 digits monthly. 5 digit monthly and some even more.
This is not possible with Injecto.
In case you have questions or concerns, please let me know in the comment section below.
Also if you had any experience with a similar product, please share it with others in the comment section.
Thank You For Reading
Mike
Learn How To Make Money Online
Do you really want to learn how to make money online?
First of all please realize that there is no such thing as a push-button system that generates money on autopilot.
The simplest business model is Affiliate Marketing where you don't have to create any products, you don't deal with suppliers or customers.
You simply create a website about a specific topic and inform your readers about the product or service.
The beauty of it – you don't chase your prospects. They find your content in Search Engines like Google, Bing/Yahoo, and others.
Therefore you want to learn some skills, on how to get free traffic to your website.
Once you master that, the sky is the limit.
Check the link below to learn more about a specific platform teaching these skills (and beyond).