You have stumbled upon this product called Clicko and you are wondering whether it has some value or not.
It is a Warriorplus product and I have reviewed quite a lot of these products.
Unfortunately, most of them I just couldn't recommend (even though they pay 50% commission to their affiliates), because they don't live up to their promises.
How about Clicko?
In the following Clicko Review, you are going to learn everything you need to know about this system. I will also mention an evergreen method on how to make a consistent income online.
Let's start with the Clicko Review right away.
Disclaimer
Please note, I am not a member or an affiliate of Clicko. This review is based on research and information available online in the public domain.
Any recommendations and conclusions are only opinions and may not apply to all persons or situations.
Quick Overview
Name: Clicko
Website: www.grabclicko.com
Price to Join: $17 + Upsells
Recommended: No
Clicko Summary
Clicko is a software promising to make 100% passive income on autopilot, without any experience or knowledge.
With Clicko you can take videos from Youtube, add them to "your website", created through Clicko, and monetize them.
There are 2 ways how to make money:
By adding an affiliate link to "your" website
Showing Ads on "your" website
Here are 2 main problems with Clicko.
These videos are essentially stolen from Youtube
No one will find the content on the "website" since it is just a Clicko subdomain with no authority whatsoever.
The only way how someone can click on this subdomain is to share it on Social media.
With a ton of followers, you might earn a few bucks, but in case you have a lot of followers, you are most likely not reading this review.
You are reading this review because you want to learn how to make money online.
The truth is that it is possible to make a lot of money by showing ads and/or by selling other people's products. That is called Affiliate marketing.
However, it is important to learn certain skills and in the link below, you can find more.
Sign up for Free and I will guide you through the platform.
No Credit Card Needed – Just your email.
What is Clicko?
Clicko is software that can be purchased on a WarriorPlus. It promises you to make easy money fast, and yet you don't need to have any experience.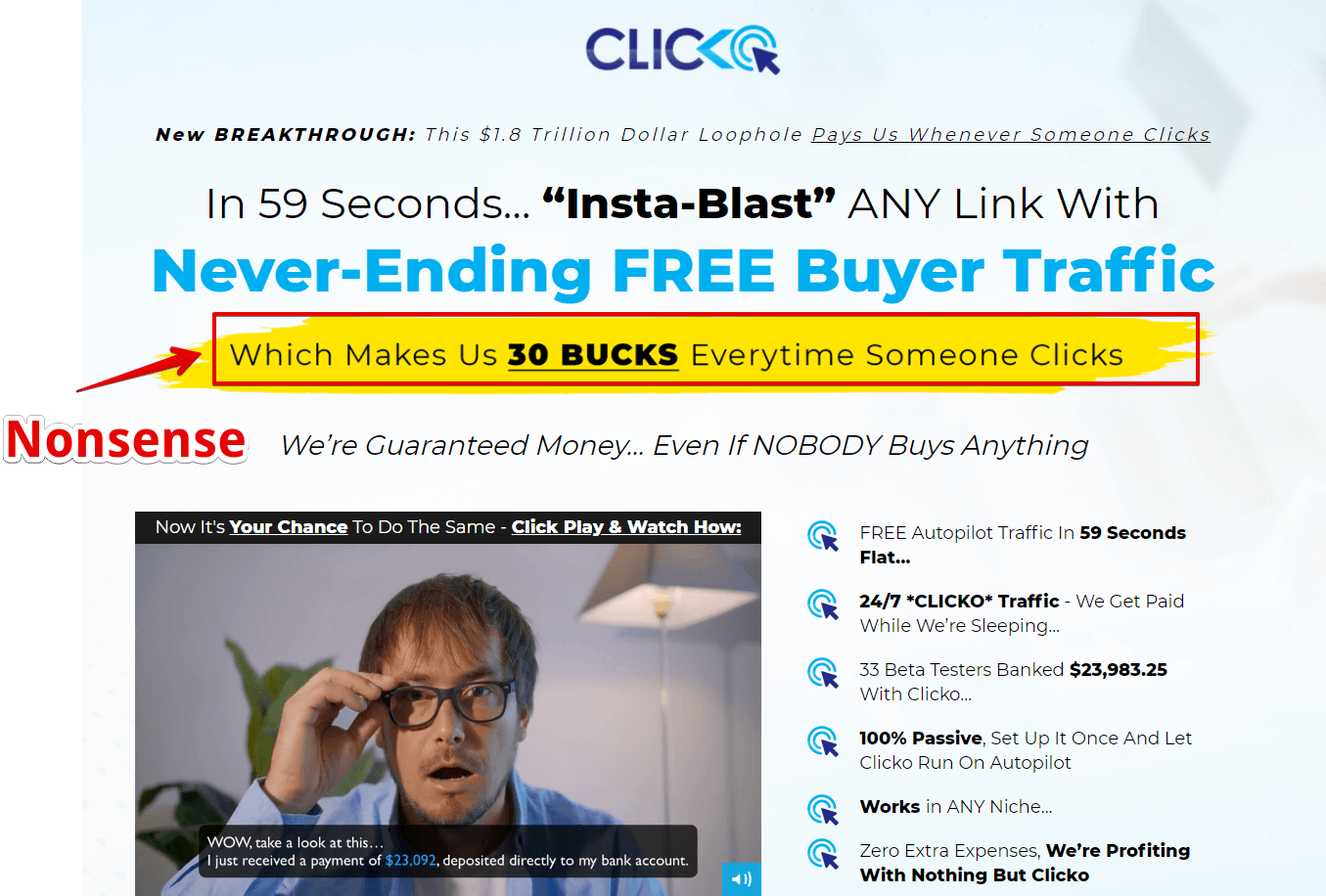 If you have been already searching for ways how to make money online you are probably familiar with the fact, that there is no such thing as easy and quick money.
But is Clicko different?
No, it is not.
Clicko allows you to take other people's videos from Youtube. Within the Clicko dashboard (we are going to check the dashboard in a bit) you can add these videos on "your" subdomain.
You are then promised to get unlimited free traffic, so you can either post affiliate links to this subdomain or even Ads,
So when someone clicks on the Ad, you get paid.
If someone purchases the product or service via the affiliate link, you get paid.
Sounds like a good method. And in theory, this could work.
There is one big problem though – there is no free traffic and we are going to explain why.
Founder of Clicko
We know by now that this is a Warriorplus product.
From my experience, most of the products listed on WarriorPlus are of low quality. Also, the creators tend to rehash their old products.
Clicko's creator is a company or a person with the user name "elitemediaonlie".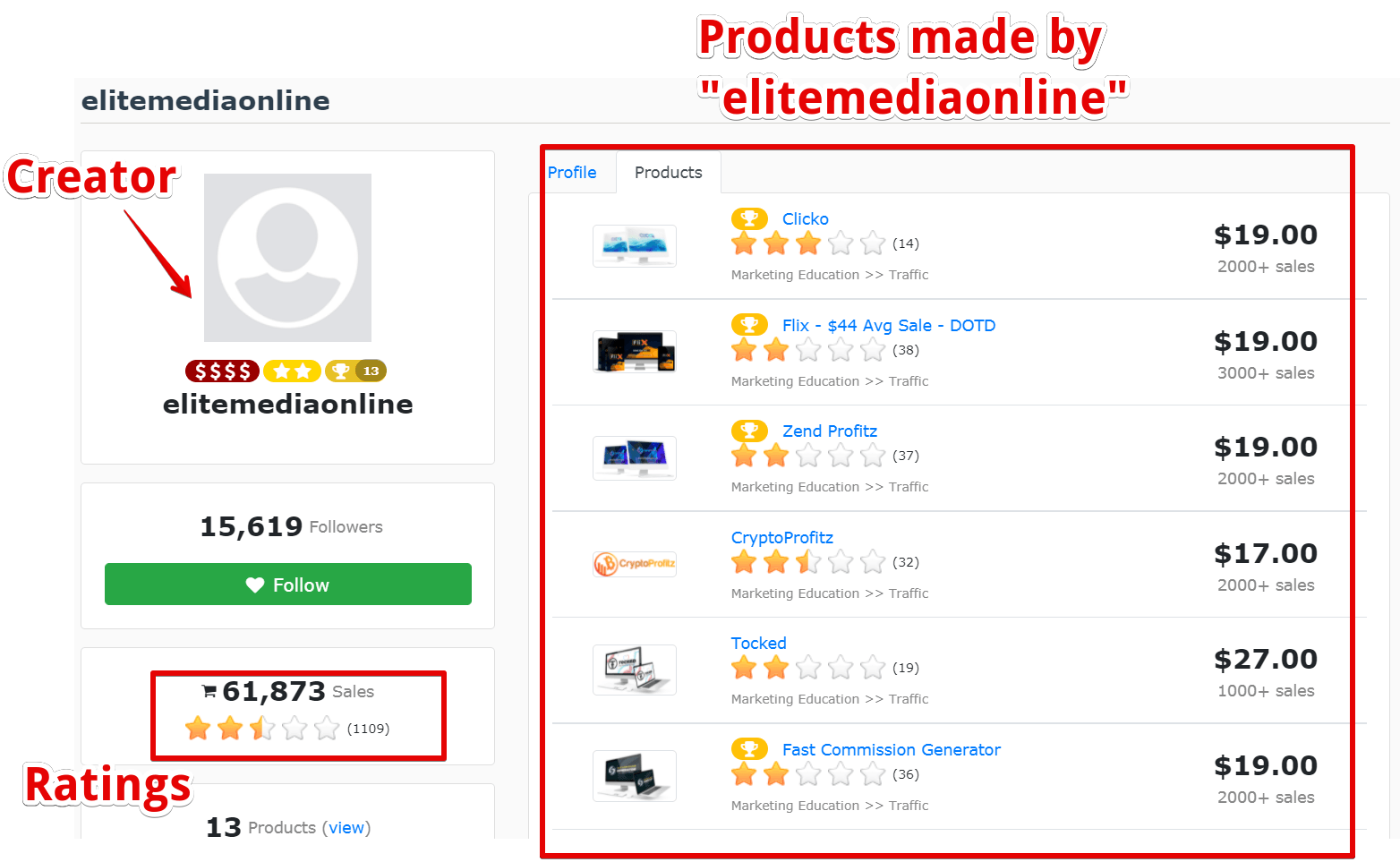 They have come up with many products in the last few months, that have mediocre or even worse ratings.
The same applies to the creator's profile.
Other than that, there is no specific information about the founder.
So for such a person (or company), it is easy to scam people and move on without being punished.
Who is Clicko for?
According to the Clicko sales page, this is great software for complete newbies.
And actually, I agree,
Because people who already have done some research know that this thing just can't work.
Don't get me wrong.
It is not the fault of any newbie.
The thing is that the sales page is very misleading and a person with no experience might fall for such statements.
It did happen to me as well.
It is quite natural and it is part of the learning process.
So hopefully you are at least skeptical about the Clicko by now.
If not, and you still believe that you can start making hundreds of dollars with the Clicko, please do let me know in the comment section.
How Does Clicko Work?
We have already touched on how this software works or should work.
You are going to build a website using the Clicko page builder.
In essence, you choose a keyword (for example Make Money with Shopify) and within the Clicko Dashboard, you are going to see a bunch of videos that are taken from Youtube.
You select 5, or 10 of them and use them on your site.
So you have a bunch of videos that you selected (or have stolen) and now you can monetize the site.
Basically, there are 2 main ways how you can monetize this
Image Ads – revenue from the Ads
CTA Button – where you put a link to (affiliate link) and you get a commission or if you have your own product, you can direct the visitor there
What are the Issues With Clicko?
There are 2 main problems with Clicko;
You are basically stealing the content (other people's videos)
No one will ever see the content since you use only a subdomain, with no authority, whatsoever.
Let me elaborate a bit on these 2 issues.
First of all, Clicko allows you to steal other's people videos.
It is considered as re-used content that can't be monetized on Youtube.
But these videos are not uploaded to Youtube, right?
Yes, these videos are uploaded on the webpage that you have built within Clicko.
And here is what it might look like:
See?
It is only a subdomain, and there is no way that this "webpage" can be found by search engines.
The alleged, free traffic you are promised on the sales page, is just sharing the link on Social media.
Now the question is:
How many followers d you have?
With hundreds of thousands of followers on Instagram, you might get some traction, but believe me, most of your followers would consider it spam.
This is not how internet marketing works these days.
You can't just post a link on Facebook and expect sales.
The first thing is to offer some value. In other words, people must trust you.
The most efficient way is to let them find your content.
That can be done, by creating a website, or your own Youtube channel and learning how to get free traffic.
Let's get back to Clicko and see how much they charge.
What is the Price of Clicko?
As with many WarriorPlus products, the front-end price is pretty cheap.
It costs only $19, and if you decide to leave the page, you get a $2 discount.
But that's not it.
After the payment, you are asked to get an upgrade and promised to get more stuff, so you can learn more.
Briefly, one can end up paying more than $500.
Let's check the Upsells or as they call it OTO (One-Time-Offer).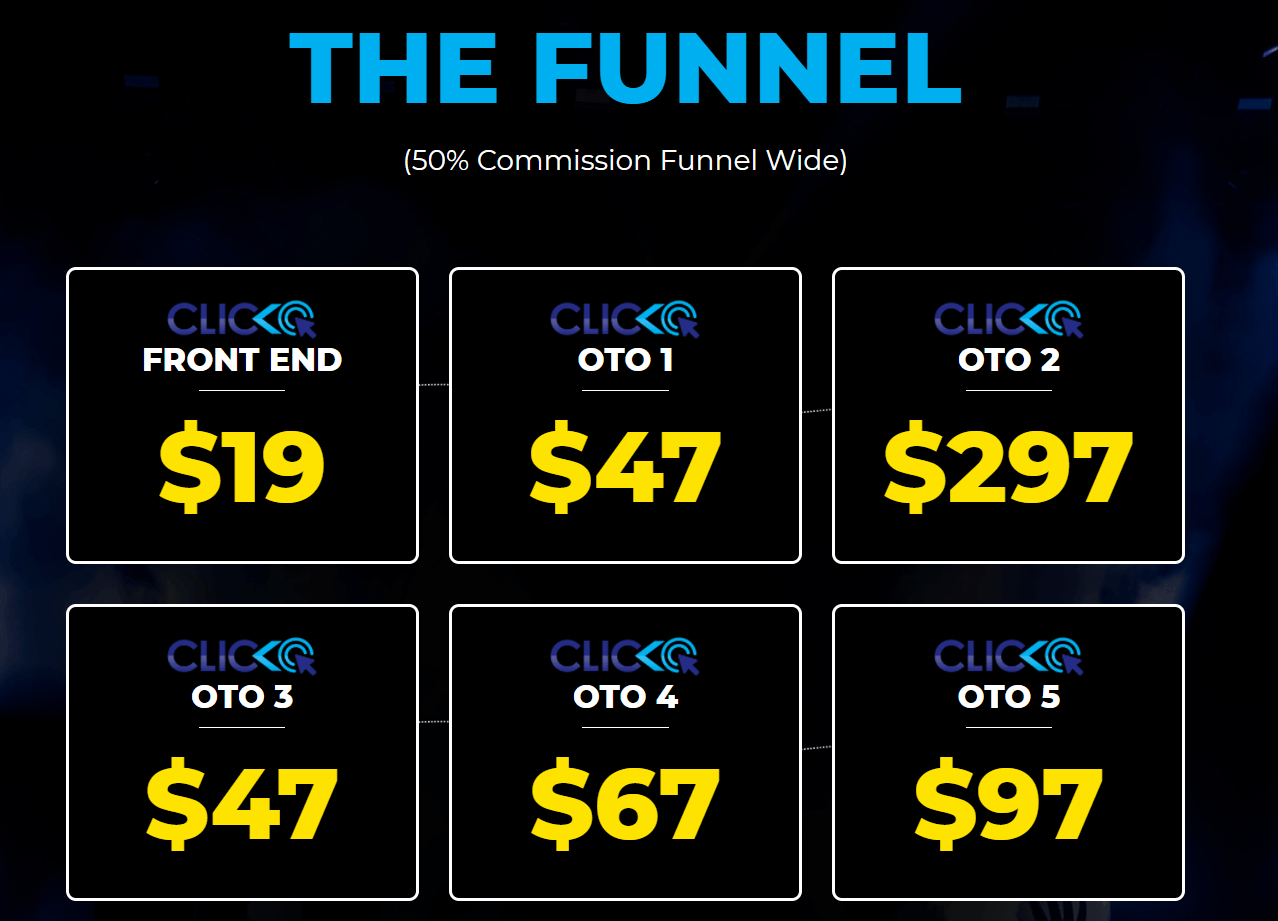 You see the final price might be $574!
That is a quite lot to pay for a system that barely works.
One thought before we wrap up
Just a few lines before we wrap up this review.
The thing is I could easily promote this product as well as other Warriorplus products.
And many people do.
Just go to Google and enter a keyword, for example, "Borrowify Review":
Here is what you get: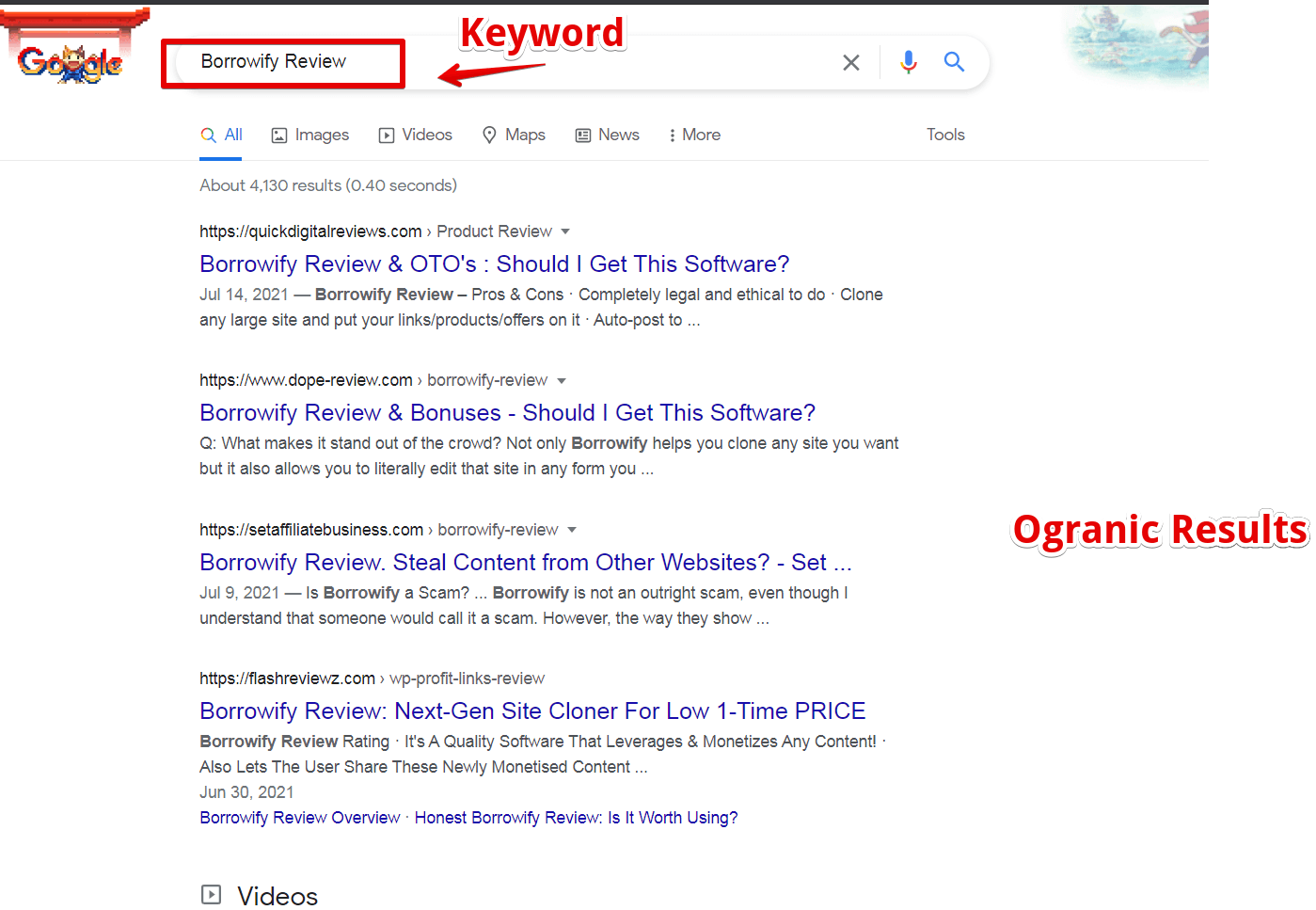 At least 3 out of 5 sites promote the Borrowify product.
Despite the fact, it is low quality and the earning potential is extremely low.
My point is that I want to reveal the truth to my readers, to you.
I want you to know what is possible and what is not.
Even though this is the internet and it seems easy to make thousands of bucks next week, the truth is it is not.
I am not saying it is impossible. But first, there are certain skills needed before making a consistent income.
As you may have seen in the image above, I now know how to rank well on Google. That means traffic.
I have invested time, effort, and a little bit of money in education and I am glad I did.
Being able to create a website and know how to drive traffic is a very demanding skill.
There is a link at the bottom of this article where you can learn more.
I am not saying that you will like the method I use, but at least you can test it out for free.
What do I like about Clicko?

365-Day Money Back Guarantee (although in my experience this can be tricky to get the refund)
What I don't like?
Misleading sales page
You are not building your own site
Clicko "allows" stealing videos from Youtube
The odds that someone clicks on "your" page are slim to none
Conclusion
Is Clicko a scam?
No, it is not a scam, but let's call it a very misleading product with no value.
there is no training, there is no information about how affiliate marketing works.
Besides, they don't show the right way how to make consistent income online.
This is just one of many Warriorplus products, where the customer should pay the Front End price, and then he or she is lured into the OTOs.
An Alternative?
You can call it a shameless plug, but at the end of his article, I offer you some information about how to start making money online.
And I don't feel bad about it, since that is the method I have been using for years.
Besides, you can test it out for free.
In case you have questions concerning Clicko or you want to know more about affiliate marketing, please let me know in the comment section below.
Thank you for reading
Mike
How to Get Started with Affiliate Marketing Business?
If you're looking to start your own online business, I highly recommend checking out Wealthy Affiliate.
With their comprehensive training program and supportive community, you too can achieve financial independence and enjoy the freedom that comes with being your own boss.