You are looking for ways how to invest in precious goals and now you are wondering whether the 7K Metals is a legit company?
I am glad you are doing your research since these days it is easy to get scammed.
Is 7K Metals a scam?
Right off the bat, I can tell that it is not a scam.
But is it possible to make money with 7K Metals?
The answer is not that straightforward and in the following review, we are going to explain how it works, how much one has to invest, and what is the earning potential.
I believe you are aware that this is a Multi-Level Marketing company, so someone might also ask, whether this is a pyramid scheme.
So, let's get right into the review.
Disclaimer
Please note, that I am not a member or an affiliate of the 7k Metals.
This review is based on research and information available online in the public domain.
Any recommendations and conclusions are only opinions and may not apply to all persons or situations.
Quick Overview
Name: 7k Metals
Website: www.7kmetals.com
Price to Join: $199 per year or $499 + Monthly Fees (From $105 to $179)
Recommended: Not really
7k Metals Review – Summary
7K Metals is a network marketing company that sells gold, silver, coins, and precious items. Its members can purchase the products for a discounted price and sell them outside the company.
7K Metals operates only in 7 countries and anyone from these 7 countries can become an associate as soon as he or she has a sponsor.
Apparently, it is possible to make $7,000 per week, however, in real life, this is not so easy.
(More in the section concerning Compensation Plan).
Compared to other MLM companies, 7K Metal is actually one of the better ones. and their members can earn without doing too much recruiting.
But still, the "real money" is in recruiting.
If someone doesn't like the idea of bothering their families and friends, it is necessary to learn how to attract people online.
That means, social media, website and organic traffic, YouTube, or any other online channel.
With such skills, though, one doesn't have to be part of any Multi-level marketing and can become an independent affiliate marketer where the earning potential is much higher.
For more detail check the Alternative below:
Sign up for Free and I will guide you through the platform.
No Credit Card Needed – Just your email.
What Is 7k Metals?
7K Metals is an MLM company, dealing with investments in precious metals. It is a US-based company that has been registered in 2016.
Members of 7K Metals are allowed to purchase the metal for reduced prices.
They have the opportunity to sell the metal and enroll new members.
It sounds very promising since the value of precious metals like Gold and Silver keeps rising.
But how it really works and what is the earning potential.
If you are a bit familiar with MLMs, you know that 99% of people lose money.
Is it the case with 7K Metals as well?
Compared to other MLMs, you don't need to have that many associates underneath you.
But still, it is not an easy job to recruit others.
We are going to check the Compensation plan in a minute, so you will have enough information to determine whether or not this is for you.
What Else Do We Know About 7K Metals?
Sometimes the information about the date when a certain company started is false.
That's why I always check the website registration date.
As per the screenshot above, we know that 7K Metals started in 2016.
So everything is fine here.
The company is based in the USA, Idaho, and here is proof that they do have a brick-and-mortar office (headquarters).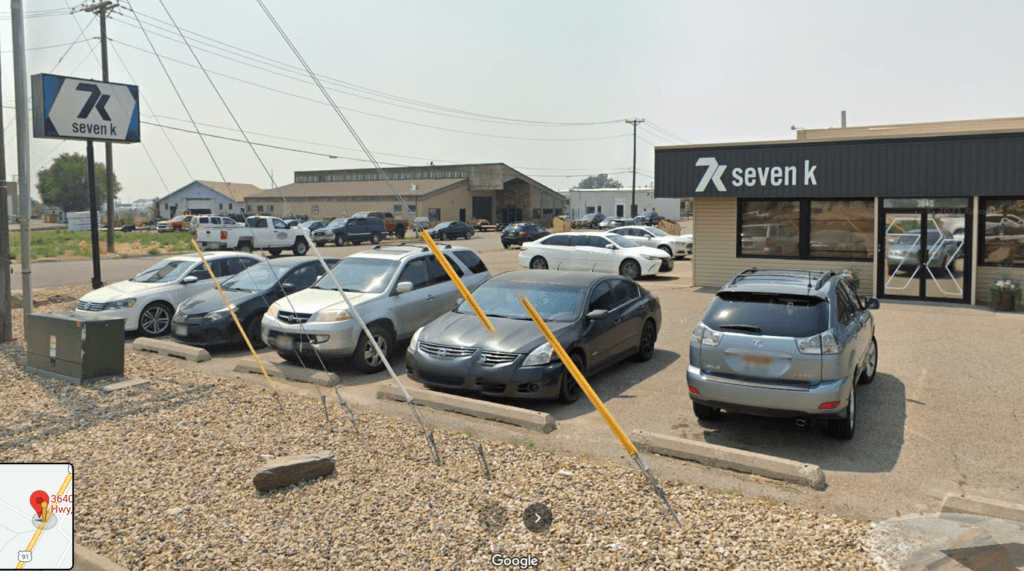 7K Metal has expanded and it is active in 7 different countries including North America, the EU, and Asia.
Founder of 7k Metals
This MLM company is co-founded by Roger Ball, Zach Davis, Richard Hanses, and Josh Anderson.
Zach Davis started to work for a network marketing company where he was still a student.
Since then he has encouraged thousands of people to get involved in MLMs.
Since November 2016, he is a Co-Founder of 7K Metals.
John Anderson has also many years of experience with MLMs. As a matter of fact, he got involved with his first MLM company when he was only 21 years old.
Is 7k Metals a Pyramid Scheme?
Let me tell your right away, that 7K Metals is not a pyramid scheme (at least it doesn't appear so far).
But just to be sure, let's take a look at what is a Pyramid Scheme according to the FTC.:
Let's briefly go through typical signs of a pyramid scheme.
Get rich quick promises
Recruit Recruit Recruit
No tangible products
Regarding the 1st point (about earning fast money), I have not seen such a statement on their website.
So far so good.
How about the 2nd one, regarding the huge emphasis on recruiting.
We will see in the compensation plan, that recruiting is important in order to make money within 7K Metals.
But it is not the only way and we are getting to the 3rd point;
7K Metals have a lot of products to sell and there is naturally a certain demand for these products, gold, silver, coins, etc.
So even though there is a slight sign of a pyramid scheme I believe it is safe to say, that 7K Metal is a legitimate MLM company.
Also, it has been around since 2016, without any legal issues (not that I am aware of ) so good for someone who is interested in joining the company.
Who Is the 7k Metals For?
7K Metal is intended for people interested in investing in gold and silver.
People looking for financial security realize that keeping cash in their bank accounts is not a good idea.
Those who become 7K members have access to silver and gold for wholesale prices.
That is at least, what they claim.
So basically this opportunity is for anyone interested in precious metals.
It is also important that the company doesn't operate worldwide.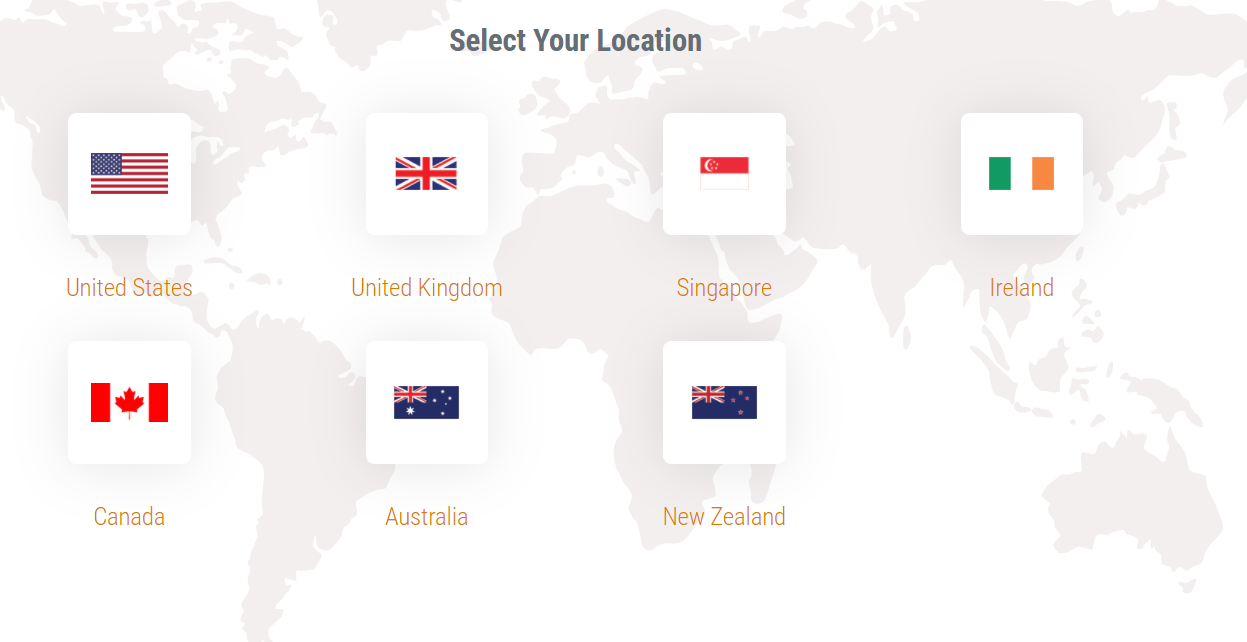 It is limited to certain areas only, and as of this writing the company is doing business in the following countries:
United States
Canada
Great Britain
Singapore
Australia
New Zealand
Ireland
7K Metals can't ship products to locations outside of these countries above.
I have actually gotten in touch with them and here is the message I got:
"Only residents with addresses and identification within these 7 countries are eligible for enrollment. Our banking partners require personal identification from within these countries in order to sign up for soundmoney™ wallet.
We strongly discourage shipping to any address that differs from where you currently reside. If you choose to ship to a different address, 7k will not be liable for lost or stolen packages after the shipment is delivered to the indicated shipping address. By using a different address, you accept all risks and responsibilities.
7k metals do not permit Business Builders that are residents outside of the 7 countries where we are currently open. If you live outside of one of these seven countries, you will not be able to earn a commission.
We are working hard to expand internationally and hope to do business with your country in the near future.
We look forward to working with you,
7k Team"
What Products Do 7k Metals Offer?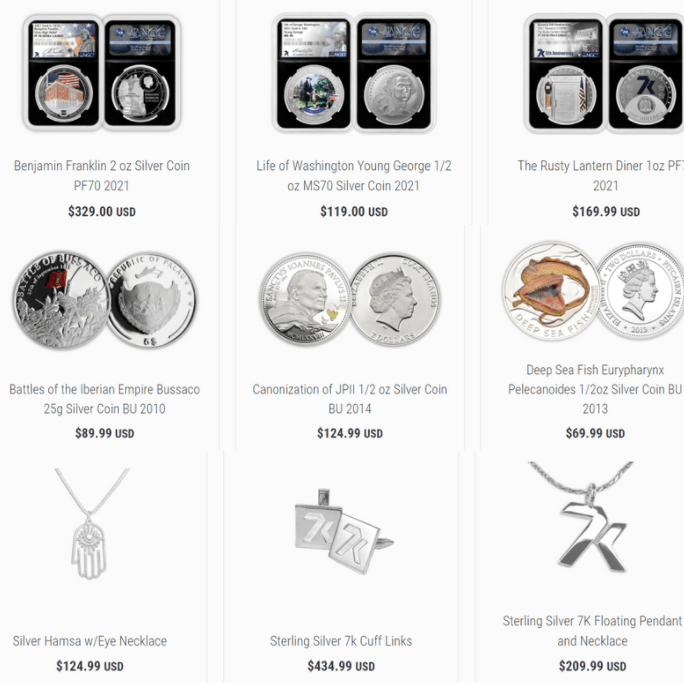 It is obvious from their website, so it doesn't really make sense to list all products they offer.
The important thing is that if you are a member, you can get the products cheaper.
Ideally, you can then sell it to non-members, or you can ask them to join to get a discount.
Depending on your marketing skills you may build up your team this way.
I was curious about the price of certain products and let me just mention the cheapest one (and the most expensive one) I find:
The cheapest is NGC/PGS plastic Slab Holder Box for 10 Slabs. The price is $14.99 USD
Ok, how about something metallic?
You can also get a sterling silver 7K Tie Pin for $119.99 USD
And here is the most expensive item I have found:
1 Kilo Generic Gold Bar – The Price: $61,6428.40

What Is The Price To Join 7K Metals?
There are 2 entry levels for different prices.
When you are about to join the 7K Metal, you are advised to join the Premium level.
The reason is that you get 2 coins right away and you might earn 150 points.
In the 7K Metal language, 150 points are approximately $150.
The number of points also determines your rankings.
But let's take a look at the different levels and what you get: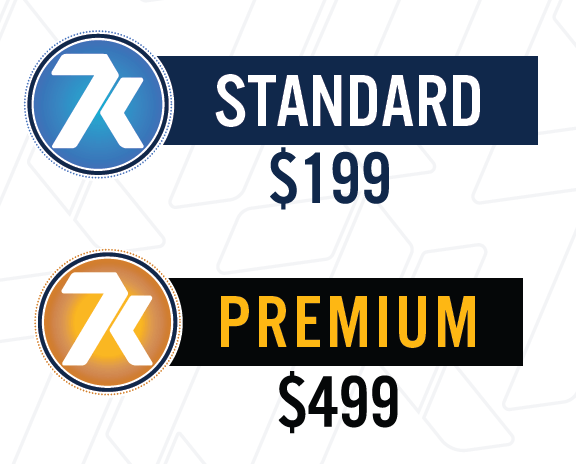 $199 USD per Year
You get a coin and benefits:
1-year Membership
Buyer's Certification Training
Collector's Training
Member Direct Pricing
3 Months Technology Credits
Gem Uncirculated Coin
Total Value $400+
$499 USD per Year
You get multiple coins and the most benefits:
1-year Membership
Buyer's Certification Training
Collector's Training
Member Direct Pricing
12 Months Technology Credits
MS 70 Coin
1 Silver Bullion
4 Wealth Strategy Books (voucher)
24 Business Cards (voucher)
Total Value $1,100+
On top of it, there is a monthly auto-ship cost, that you should take into consideration.
It happens that people overlook this fee and then they complain.

There are 3 different price levels:
Variety AutoSaver Coin for $139/month
Basic AutoSaver Coin for $105/month
Specialty AutoSaver Coin for $179/month
It is not a cheap thing to be a member of 7K Metals.
The cheapest would cost you $199 per year + $105 monthly. This equals $121.58 per month
On the other side, the most expensive would be $499 per year + $179 monthly. That equals $220.58 per month.
But how to make money with 7K Metals?
Let's check the Compensation Plan.
7k Metals Compensation Plan?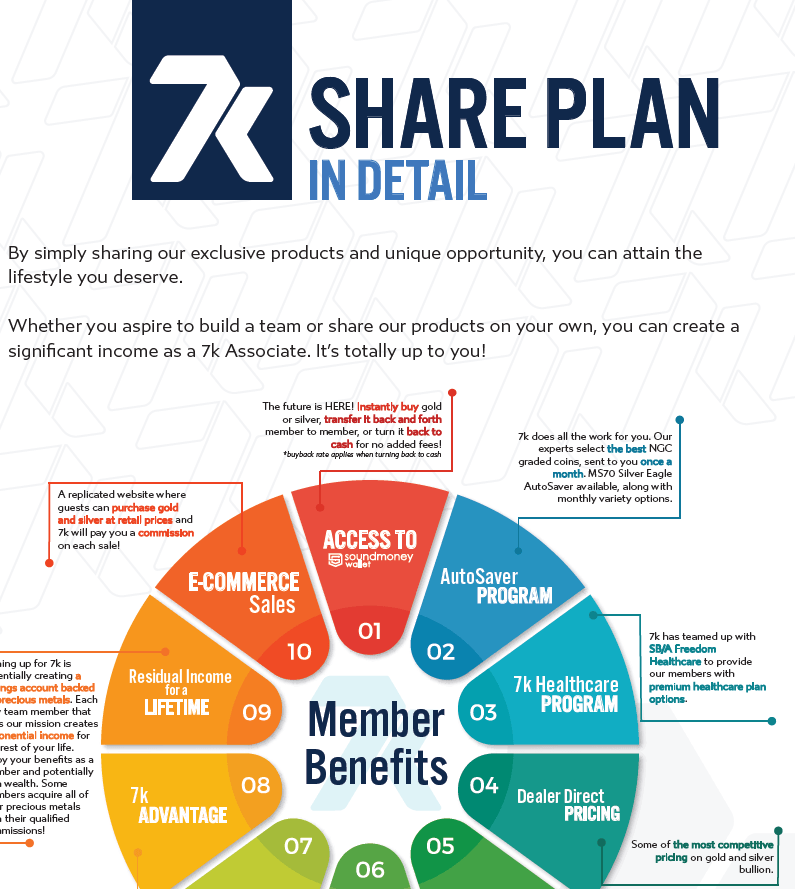 A lot of MLM companies have difficult compensation plans, but 7K Metals is quite easy, so let's go through the different levels, briefly.
Position #1 Associate
You would need 2 personal partners – one on your left and one on your right.
You see that the requirement for becoming an associate is 500 points on your left and 500 points on your right.
That's the volume of points your partners need to earn.
Do you remember how many points one gets when becoming a premium member?
that's right 150 points.
So that is 8 people per week.
Now, if you have a huge family with lots of cousins, and uncles… you might reach the Associate level within a week…
… and make $500.
But do you feel like bothering your family members and/or friends?
I personally hate this, but certainly, there are people who enjoy this kind of "business".
Another way how to quickly build a team of 8 people, is to have tons of followers on social media.
And I mean hundreds of thousands…
My guess is, that a person with such an amount of followers doesn't look for this type of business opportunity.
But let's go further in the compensation plan and you can decide whether or not you have a chance to climb the ranks within the 7K Metal organization.
Position #2 – Copper
in the 2nd week, you would need 14 people to become a Copper.
The earning potential is $1,000.
So by the end of the 2nd week, you should make $1,500.
Assuming that at least 2 of your members are already Associates. Meaning each of them has to have at least 4 people on the right + 4 people on left.
Do you think this is something you can achieve within 14 days?
Position #3 – Bronze
Here you would need 28 partners to get to the Bronz Level and 2 of your team members would have to reach the Copper Level.
Let's go check the rest of the rankings really quickly.
Position #4 – Silver
To get to the 4th Level, called Silver you need a total of 48 partners (24 on your right and 24 on your left).
And on top of it, at least two they have to reach the previous level – the Bronze.
Up to this point, you should earn $7,000.
1st week – $500
2nd week – $1,000
3rd week – $2,000
4th week – $3,500
Whoever would recruit you, these are the numbers they want you to see.
What they don't show you is the annoying process of recruiting and most importantly keeping these people on your team.
Position #5 – Gold
You at the Gold Level must have 8 personal teammates on your left side and 8 on your right side.
Each side must recruit 47 people, so that is 94 in total.
The earning potential for this week is then $7,000.
Position #6 – Executive Gold
Here you need 10 personal partners on your Left and another 10 on your right.
Each side needs to have 64 people, so that is 134 in total.
Earning potential is $10,000 in addition to the $14,000 made in previous weeks.
Position #7 – Presidential Gold
And finally, a person who reached this level has 14 personal partners on each side, that's 28.
Now, these 28 partners have to recruit additional 168 people in order to earn the promised $12,500.
And here is the overview of an example based on the Premium Membership (which costs $499).
So in 7 weeks, it is possible to make $36,500
That's the theory and it always looks nice on the paper.
Let's also not forget that there are certain requirements.
The thing is that to maintain the membership one must generate at least 15 points every 6 days. Otherwise, you are not an active member.
Is this a business model you want to be involved in?
Well, I know that I wouldn't
I have my personal experience with MLM company, and I know that on the paper it looks OK. But the reality is different.
The number of rejections, cold calls, bothering friends and families, and on top of that a pressure from the upline… naaahh.. thank you…
I'll pass.
Let me know in the comment section below what you think about this business model.
What Do I like About 7k Metals?

Large Variety of Products
Relatively Simple Compensation Plan
What I Don't Like About 7K Metals?
The MLM side of the company
The company is not registered to sell gold and silver
Without proper marketing skills, it is difficult to make living
Is 7k Metals a Scam? (Conclusion)
If you like the MLM business model, then this is probably one of a few companies where you can actually make some money.
The good thing is that gold and silver are products that everyone wants.
You don't have to convince people about the quality of the product – unlike other MLM companies.
But I also want to point out that it is still an MLM kind of business and regardless of the product, there are many drawbacks.
First of all, you will be asked to recruit your friends and family.
Are you Ok with that?
I certainly wouldn't be.
Is there any other way?
Sure there is – you can leverage the internet.
Make a blog, create a YT channel, and learn how to get free traffic t your website or YT channel. That way you won't be bothering, people
They come to you naturally so t speak. But be transparent.
Thank you for reading
Mike
How to Create a Simple Website that Gets Thousands of Visitors Daily?
I have invested my time and energy into one particular educational platform where I have learned how to build a website that gets thousands of visitors.
This platform shows an evergreen process that can be applied in any niche, whether you deal with silver and gold, coffee machines, outdoor cloth or make money online.
Check the link below to find out more.